Coinbase Review 2021 - Is It Safe?
Full address:
548 Market St #23008 San Francisco, CA 94104
Fees:
PRICING TIER: TAKER FEE / MAKER FEE
Up to $10k: 0.50% / 0.50%
$10k-$50k: 0.35% / 0.35%
$50k-$100k: 0.25% / 0.15%
$100k-$1m: 0.20% / 0.10%
$1m-$10m: 0.18% / 0.08%
$10m-$50m: 0.15% / 0.05%
$50m-$100m: 0.10% / 0.00%
$100m-$300m: 0.07% / 0.00%
$300m-$500m: 0.06% / 0.00%
Fees:
PRICING TIER: TAKER FEE / MAKER FEE
Up to $10k: 0.50% / 0.50%
$10k-$50k: 0.35% / 0.35%
$50k-$100k: 0.25% / 0.15%
$100k-$1m: 0.20% / 0.10%
$1m-$10m: 0.18% / 0.08%
$10m-$50m: 0.15% / 0.05%
$50m-$100m: 0.10% / 0.00%
$100m-$300m: 0.07% / 0.00%
$300m-$500m: 0.06% / 0.00%
Apr 20, 2021
In our modern world, people value multifunctionality and reliability. Today we will talk about the Coinbase service, which is well-known not only for a wide range of functions but also for its reliability and high level of security. Is Coinbase safe to store funds there? Is it a scam or reliable service? all these questions we will review in this article.
What Is Coinbase?
Coinbase is a leading digital currency platform and wallet where sellers and buyers can transact with new types of digital currencies such as Bitcoin, Ethereum, Litecoin, and Bitcoin Cash. The exchange was founded by Brian Armstrong and Fred Ehrsam in 2012 and is based in San Francisco, California. They focus on the US market, however, the company currently operates in 31 countries and offers storage of bitcoins in 190 countries around the world.
In 2014, the company created the Global Digital Asset Exchange (GDAX), a platform for trading a wide range of digital assets and directly exchanging Bitcoin and Ether for fiat currency. GDAX is intended primarily for professional traders who work with large volumes. Subsequently, the GDAX trading platform was renamed to Coinbase Pro.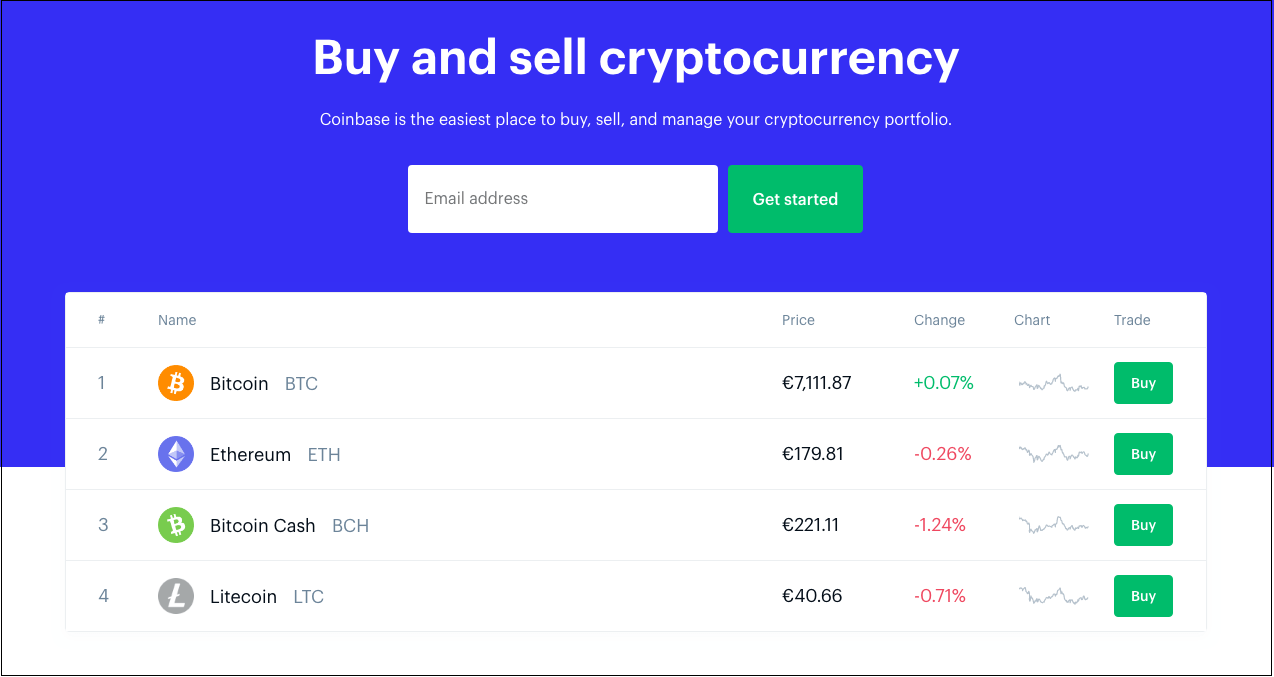 In 2018, Coinbase Payments received a license from the British regulator FCA and the ability to transact with electronic money (E-money License) in EC countries. The company plans to obtain a banking and brokerage license.
Coinbase is actively acquiring various crypto assets. The decentralized exchange Paradex was purchased, startups Earn and Cipher Browse, broker Keystone Capital. In 2018, the company began its promotion in the Japanese market, opening the first branch there.
The mission of the Coinbase exchange, as indicated on their official website, is to create an open financial system for the whole world. Today, Coinbase is deservedly included in the list of leading cryptocurrency exchanges, has a solid trading volume and high capitalization. The number of users exceeds 30 million people, and this number is growing every day. Work with fiat is available on the exchange: American dollar, Euro, and British pound.
The company focuses specifically on the international market, and the interface of the official Coinbase website has been translated into 19 languages, including Chinese, Russian and other languages.
However, only users from certain countries can fully work with Coinbase, the list of partner countries is constantly updated and published on the Coinbase exchange website. The list of countries limits the function of buying/selling cryptocurrencies, as well as passing verification. Despite this, in any case, other Coinbase functions will be available to you: storing cryptocurrencies in a Coinbase wallet, sending and receiving assets, recurring payments, etc.
The platform is suitable for both experienced traders and beginners. The advantage is that for inexperienced clients, various training materials are provided. For example, on the website, you can find the Coinbase Earn section, which allows you to study cryptocurrencies and the trading process. To make it easier for customers to access their own account and platform functionality, a mobile application was developed. Thus, with the help of his smartphone, the user can log in to the account anytime, anywhere. Both iOS and Android versions are available.
You can read more about Coinbase in these articles:
How to transfer Bitcoin from Coinbase to Kraken
How to Use Shapeshift with Coinbase - The Ultimate Guide
How to Transfer from Coinbase to Bittrex and from Bittrex to Coinbase?
Is Coinbase Safe to Link Bank Account? | Coinbase Security Analysis
How to Transfer from Coinbase to Binance - 5 Easy Steps
Coinbase vs Kraken vs Gemini - Which One Is Better in 2021?
30 Best Coinbase Alternatives for 2021 - Ultimate Guide by Cryptogeek
Compare Exodus vs Coinbase - Which Wallet Is Better In 2021?
Everything You Need to Know About Coinbase IPO | by Cryptogeek
Binance vs Coinbase comparison
Features
Coinbase is a platform for buying, selling cryptocurrency, and an online wallet. The platform is divided into several services:
Coinbase Pro (formerly GDAX) - an interface for professional trading using a terminal with advanced features.
Coinbase Wallet -  a service for storing cryptocurrency on a mobile phone (available for Android and iOS).
Coinbase Custody - a service for large buyers and sellers (minimum amount is 10 million US dollars).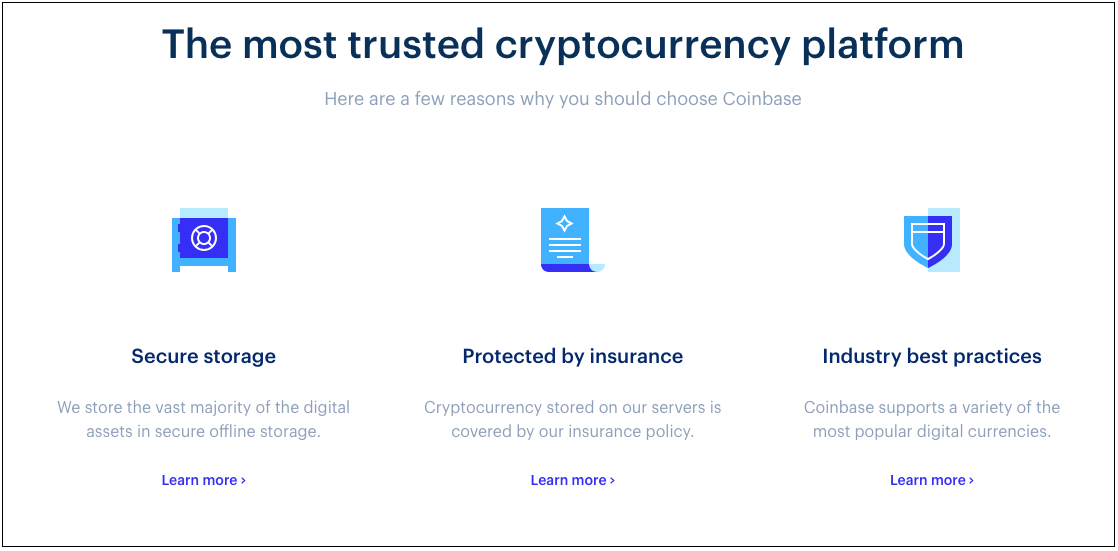 In addition to the above, the company has additional projects and services:
Coinbase Wallet
Apart from a cryptocurrency exchange, Coinbase provides cryptocurrency wallets using the same brand. Coinbase wallet is regarded as one of the safest hot wallets. Users can safeguard their accounts via 2-factor authentication. This security measure is one of the best ways to protect the account from intruders. Besides 2-factor authentication there are such features as multi-signature (it ensures that without the validation of several actors the transaction is not going to make it), and confirmation requests. No breaches in Coinbase wallets security  were reported in years. However, hot wallets are online wallets, they can be accessed remotely while cold wallets are not. If you look for the highest possible protection level, a Coinbase wallet is not what you need. There are safer wallets that offer storing your coins locally on your device. Private keys are not available for Coinbase wallet users. Many members of the crypto community prefer to use wallets that allow users to store private keys on their own.
Another advantage of this wallet is its user-friendly interface. In general, Coinbase is focused on making the product easily available for a huge audience without any special prior knowledge. Both Coinbase exchange and wallet are good at being intuitive and clear. The wallet can be installed on the mobile device as an app (there are Android and iOS versions) or accessed via the Internet browser. The constant internet connection is necessary to access the wallet and perform any actions on it.
Coinbase wallet supports many cryptocurrencies. They are Bitcoin (BTC), Ethereum (ETH), Ethereum Classic (ETC), Bitcoin Cash (BCH), Litecoin (LTC), XRP (XRP), Stellar Lumens (XLM), Dogecoin (DOGE), and all ETC-20 tokens. This list is quite solid, however, as the crypto market develops, more coins become popular and wanted. Many of them are not supported on Coinbase Wallet. For instance, there are no privacy-focused coins on the list, or such top currencies as Polkadot, Binance Coin, or Chainlink. Those who need safe wallets for these and other coins will have to use a different brand.
Coinbase Fees
In accordance with the Coinbase website, the service charges a spread of about one-half of one percent (0.50%) for cryptocurrency purchases and cryptocurrency sales. However, the actual spread may be higher or lower due to market fluctuations in the price of cryptocurrency on Coinbase Pro between the time we quote a price and the time when the order executes. 
Coinbase also charges a Fee (in addition to the spread), which is the greater of (a) a flat fee or (b) a variable percentage fee determined by region, product feature, and payment type. The flat fees are set forth below:
If the total transaction amount is less than or equal to $10, the fee is $0.99 | €0,99 | £0,99
If the total transaction amount is more than $10 but less than or equal to $25, the fee is $1.49 | €1,49 | £1,49
If the total transaction amount is more than $25 but less than or equal to $50, the fee is $1.99 | €1,99 | £1,99
If the total transaction amount is more than $50 but less than or equal to $200, the fee is $2.99 | €2,99 | £2,99
For example, if you are in the United States and wish to purchase $100 of bitcoin and pay with a US bank account or your USD Wallet, the flat fee would be calculated as $2.99. The variable percentage fee would be 1.49% of the total transaction, or $1.49. Since the flat fee is greater than 1.49% of the total transaction, your fee would $2.99. If you wanted to purchase bitcoin with a debit card, Coinbase would charge a fee of 3.99% since the variable percentage fee is higher than the flat fee.
The information above was taken from the Coinbase website. For more detailed information about the fees, please check the following article from the official website.
How to Get Started with Coinbase
To start working with the platform, as with any other service, you must go through the registration process. To register you need to press on the "Get started" button in the right upper corner.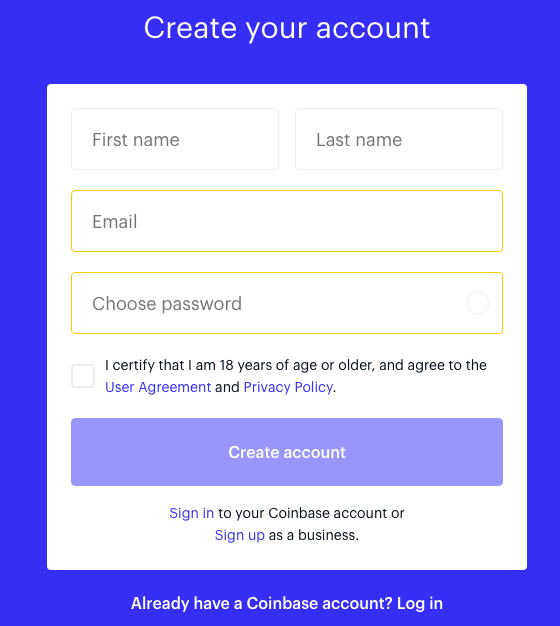 In the form given you need to indicate your First Name, Last Name, Email, and Password. Upon a completion, certify that you are 18 years or older, and agree to the User Agreement and Privacy Policy. Press the "Create account" button.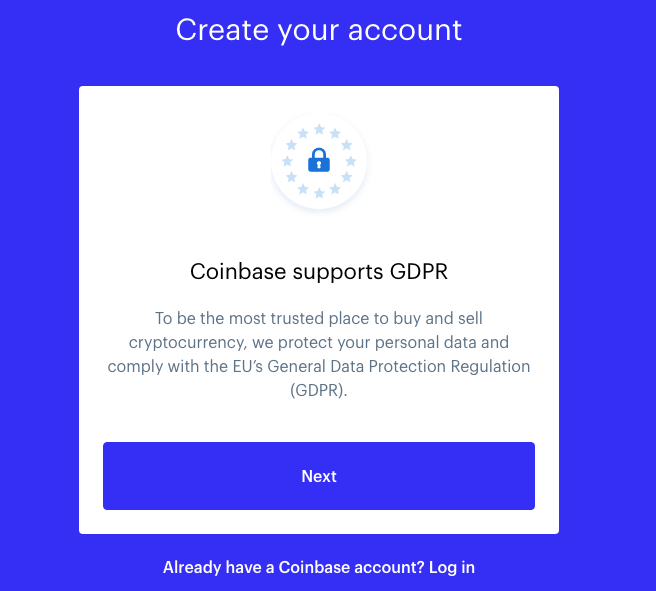 Coinbase notifies you that the service supports GDPR. To be the most trusted place to buy and sell a cryptocurrency, Coinbase protects your personal data and comply with the EU's General Data Protection Regulation (GDPR). To continue with the registration process, press "Next".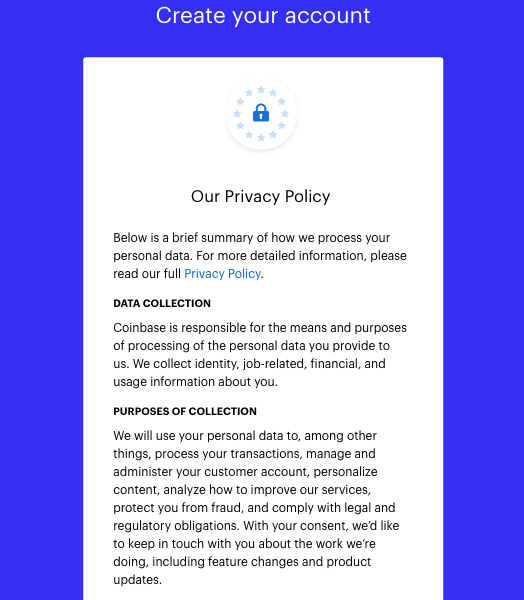 To go to the next step you need to view the Privacy Policy. Below you will see a brief summary of how Coinbase processes your personal data. For more detailed information, please read Coinbase full Privacy Policy. To go to the next step press "I acknowledge".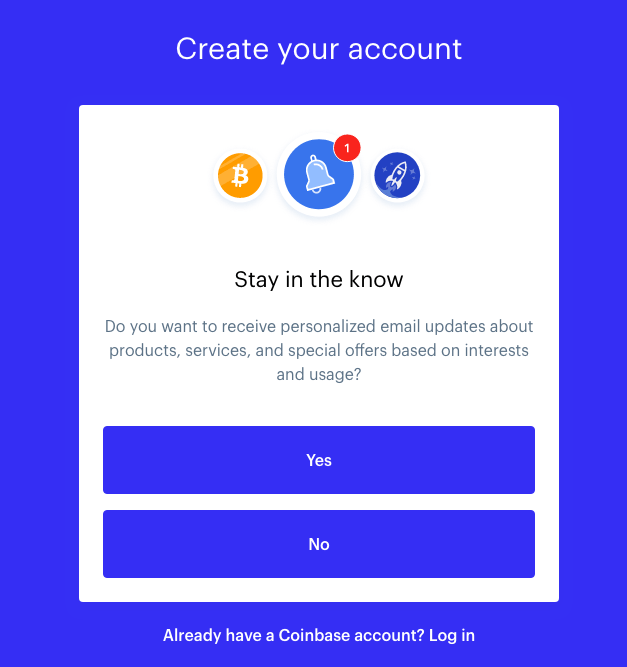 Choose whether you want to receive personalized email updates about products, services, and special offers based on interests and usage. Press "Yes" or "No" to continue.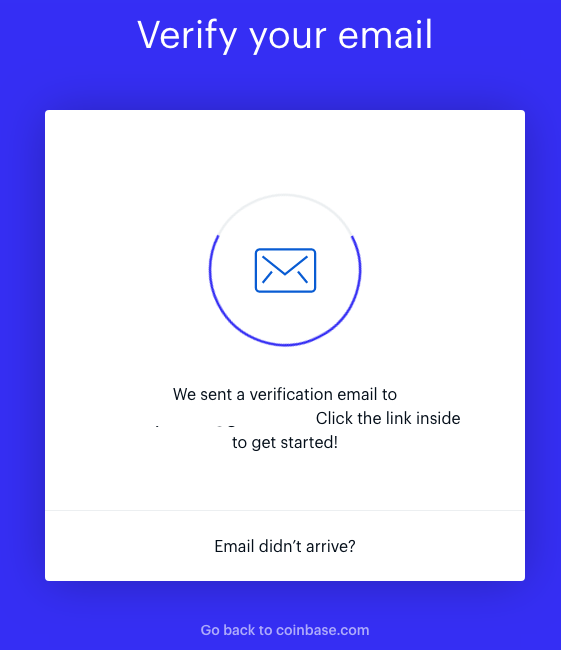 The Coinbase confirmation message was sent to the email address indicated. Check your mailbox and open the message to verify your account (if it did not arrive, check the Spam folder).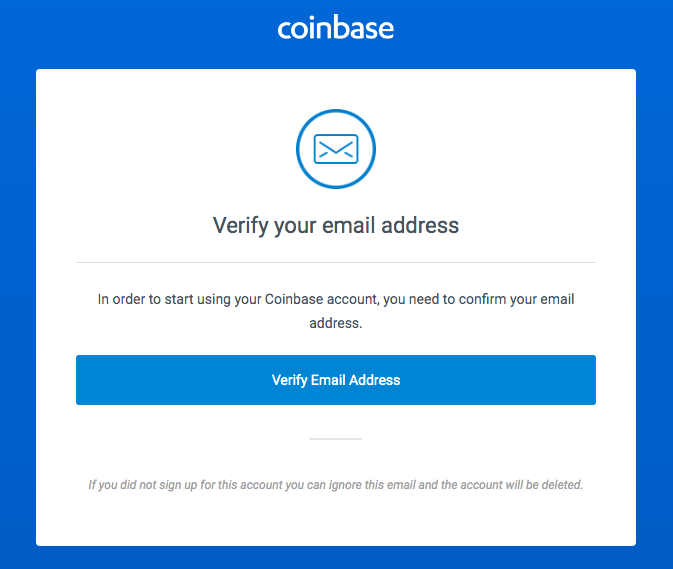 Once the message is opened, press the "Verify Email Address" button and your email address will be automatically verified.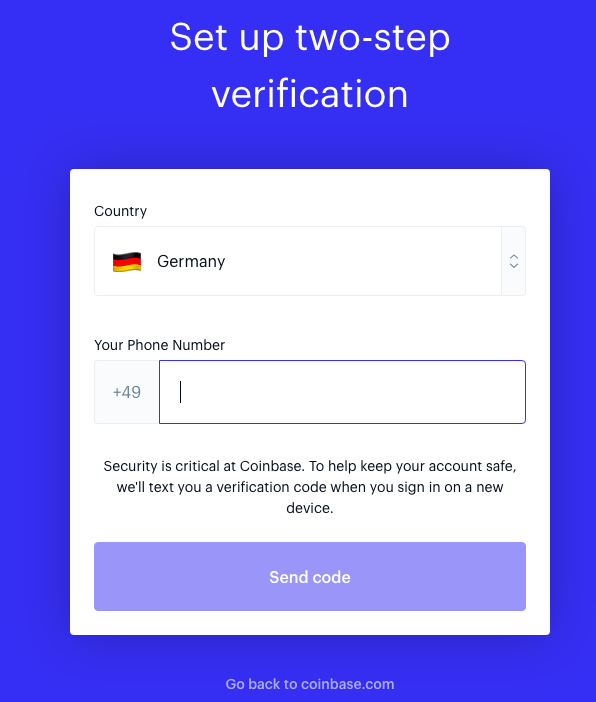 Security is critical at Coinbase. To help keep your account safe, Coinbase will text you a verification code when you sign in on a new device. To set up two-step verification, indicate your mobile number and press "Send code".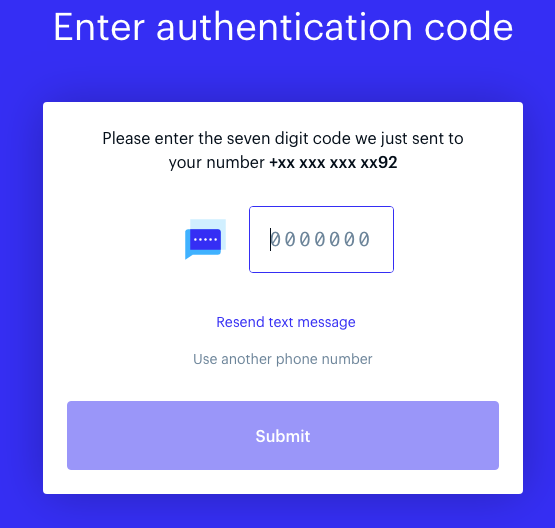 Coinbase will send you an SMS with an authentication code to your number. To go to the next step you need to enter the seven-digit code in the window and press "Submit".
Verification
Coinbase has 4 levels of verification, the first 3 levels take just a couple of minutes. The last level may take a little longer, usually a few days. Completing each level increases weekly buy/sell limits.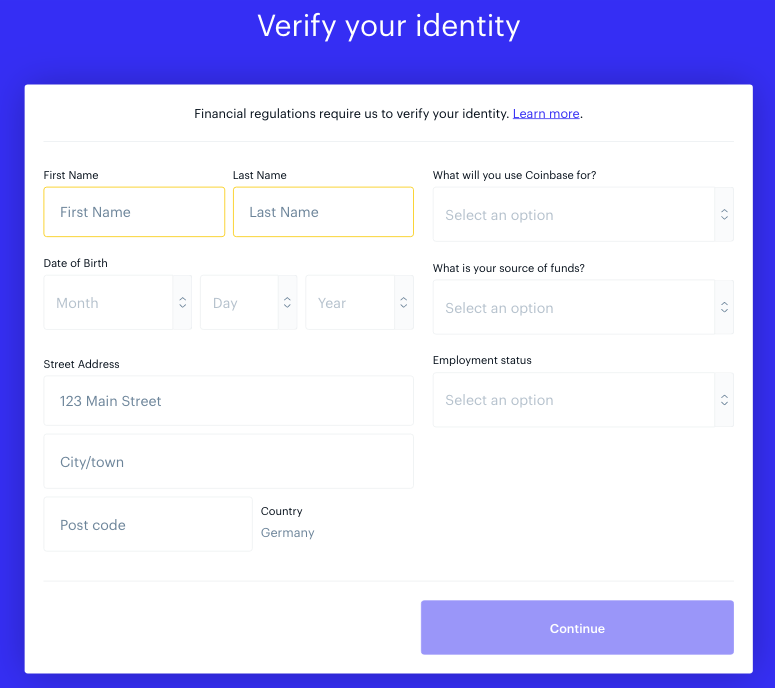 In the first step, you will need to enter your First Name, Last Name, Date of Birth, Street Address (123 Main Street, City/town, Post Code), Country. In addition, you need to indicate the purpose of using Coinbase (investing, trading, business, etc), source of your funds (occupation, investments, inheritance, mining) and employment status (employed, unemployed, retired, etc). Upon a completion click "Continue".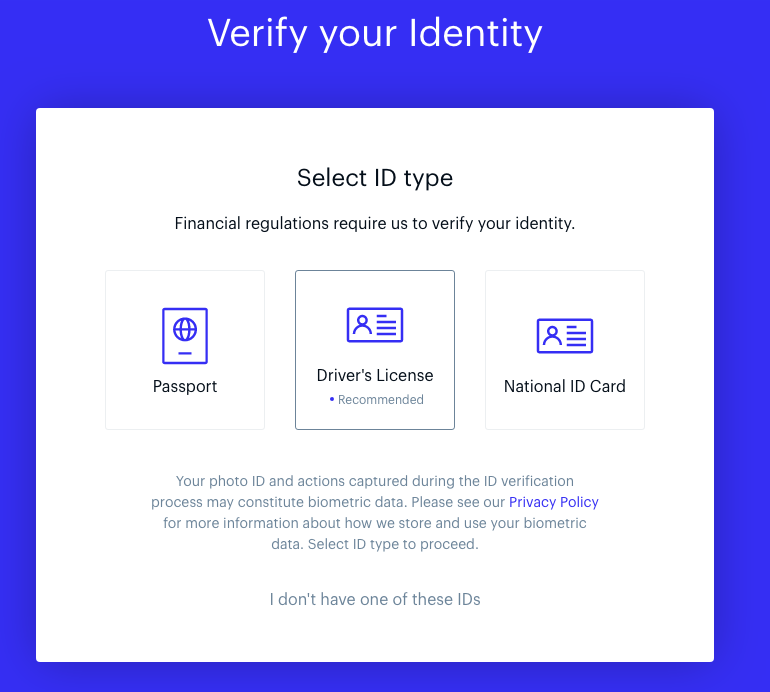 In the next step, the service will ask you to provide an identity document. Select the ID type (Passport, Driver's License, National ID Card) to proceed with the verification process.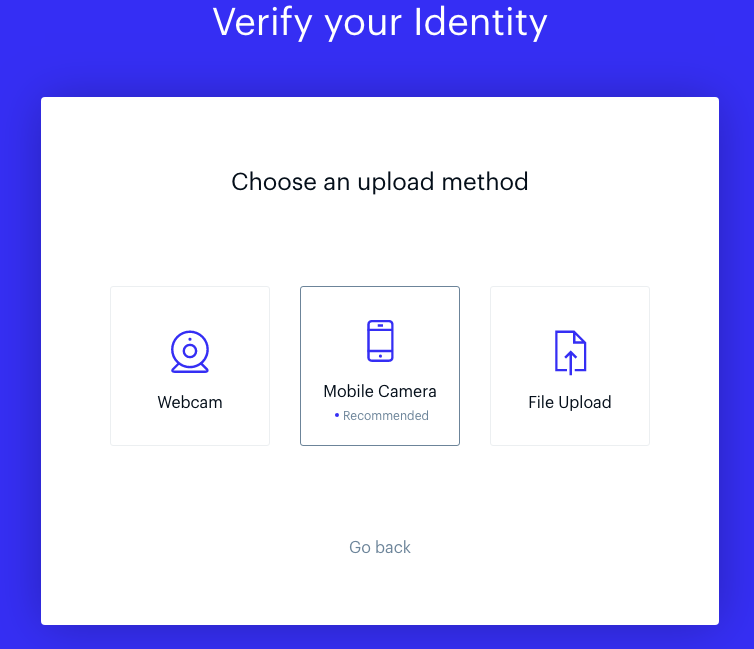 Once the ID is selected, choose the upload method (Webcam, Mobile Camera, File Upload) to proceed further. 
Usually, verification does not take more than 1 day.
How to Use Coinbase 
After successfully completing the registration and verification process, you will see the Coinbase platform dashboard.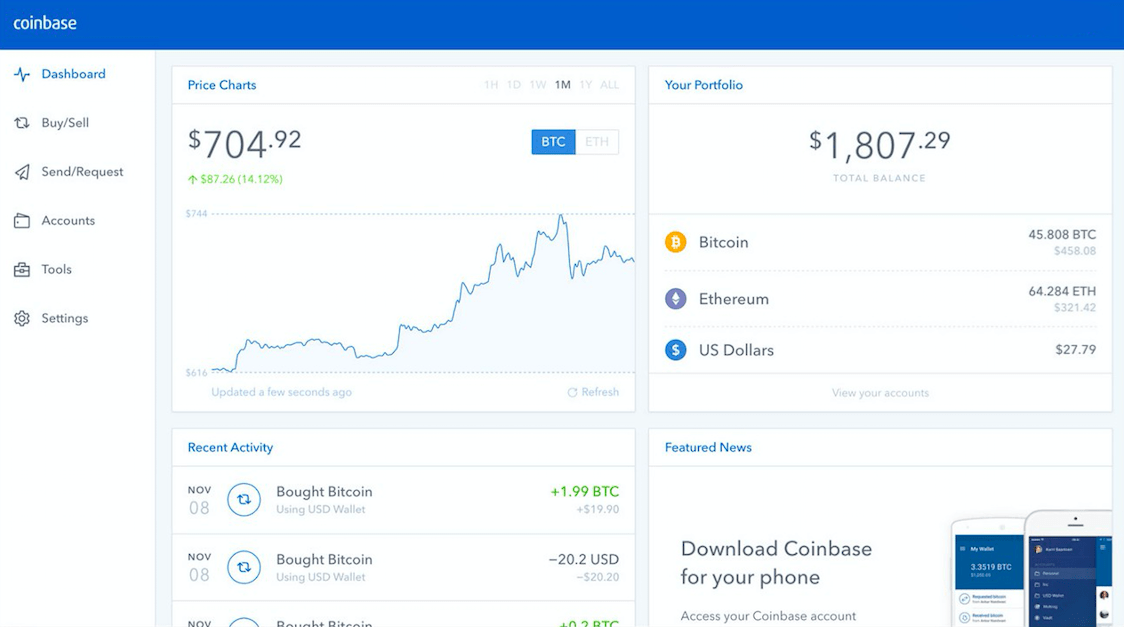 Here you can see the price charts of the chosen cryptocurrency (hour/day/week/month/year and all-time), your portfolio with the balance reflected, recent activity, and news. On the left side you see Buy/Sell, Send/Request, Accounts, Tools, and Settings.
How to Deposit to Coinbase
If you need to replenish the balance of funds on their personal wallet, then in the menu you need to select "Buy/Sell". To deposit, you can use any of the available payment methods: bank transfers, transactions through Singapore Bank Payments, as well as using crypto-wallets. Choose the cryptocurrency you want to buy, payment method, and indicate the amount. Upon a completion press "Buy". 

If you want to top up your Coinbase wallet from another service, press "Accounts", choose "Receive" in the cryptocurrency menu that you want to replenish, copy the wallet address, and send the funds to the address provided.
How to Withdraw from Coinbase
To withdraw funds from the platform, just select the "Accounts" section in the dashboard menu and choose "Send". There you will need to choose the currency you intend to withdraw and specify the necessary information for the transaction (amount, address, etc), check it, and confirm the sending of funds. Usually, the withdrawal time depends on the sum and the currency you send. But normally it does not exceed the limit of several hours.
How to Trade on Coinbase
For users, a separate platform for trading digital assets Coinbase Pro is provided. Each user who is already registered on the site can join this functionality by improving their account. On the platform it provides the following functionality:
An order to buy and sell cryptocurrency;
An order book;
A price chart with information about the selected trading pair;
Trade history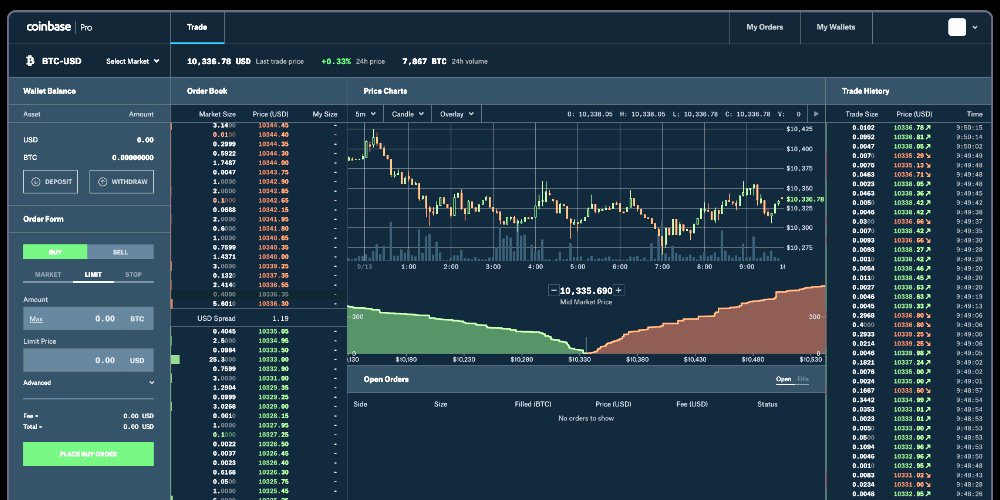 The platform is suitable for both experienced traders and beginners. The advantage is that for inexperienced clients, various training materials are provided.
Customer Service and Reviews
Coinbase has a well-developed Help Center where users can find all the information related to the keyword indicated. In case you need to contact the manager, you can submit a request and provide the detailed information of your query in the form given.
The exchange is quite popular among users who write a lot of positive reviews about its work: it is convenient, has regulation, a reliable degree of security, it has its own mobile application. Almost all cash reserves are transferred to closed storage in offline access, this ensures their safety.
Nevertheless, traders note a number of shortcomings of the site: a very narrow range of coins, instant purchases using a card are available only to US residents. In addition, it is possible to start work only after a complete rejection of anonymity and the indication of personal data. More reviews you can find on Coinbase Trustpilot.
Is Coinbase Safe?
Coinbase is probably one of the safest crypto exchanges on the market. The platform strives to fit the laws and regulations. There is no chance that Coinbase can be a scam. The fact that in April 2021 went public and was listed on Nasdaq says that the platform is legit and can be trusted. For years, there were no cases of Coinbase hacking. In general, without a doubt this company can be trusted. 
The company thoroughly checks the criminal background of the job candidates. The work in the company offices is organized the way that employees cannot access each other's working devices and cannot meddle in the processes they are not involved in.
Coinbase provides compulsory deposit insurance formally registered with supervisory authorities. The loss of coins due to the hacking of the exchange will be completely reimbursed by the reserve fund. Any force majeure situations with customers, including theft of all personal crypto assets that have occurred due to the loss of keys or passwords, are not considered insured cases. No refund will follow.
98% of all cryptocurrencies are stored offline. It means that if a Coinbase hacking takes place, criminals won't be able to steal much money. 2% of money stored on hot wallets is insured. More than that, private keys and other data are encrypted and stored in a distributed way. The data is split and kept separately in several parts of the world. Data is stored on paper and on USB drives. The website traffic is encrypted with SSL while the stored data is protected with AES-256 encryption. 
Also, there is a Vault Wallet crypto wallet available for Coinbase users. For security purposes, the withdrawal permission can be individual or group. The first option provides confirmation of operations with two passwords sent to 2 different user email addresses. 
In order to secure the account you should enable 2-factor authentication. This protection layer makes it impossible to access the account or withdraw money without providing a one-time password. It can be delivered in different ways — for instance, via email, SMS, or it can be generated in Google Authenticator or similar app. The idea is simple: no one who cannot access the account owner's mobile device cannot enter the account or withdraw money from it. The measure is efficient and very popular in the crypto sphere. It is used on most platforms. To make sure your account is not accessed by strangers you can always monitor the activity in your profile.
Conclusion
Coinbase exchange is quite popular among traders, it provides a wide range of services, quick withdrawals, reliable storage of coins in wallets, and opportunities for profitable investment. It is worth noting the availability of licenses, which makes cooperation with the exchange more reliable. This platform is more suitable for more experienced traders who do not really care about their anonymity, however, even newbies could understand how to trade and use the service with the Coinbase guides and training materials.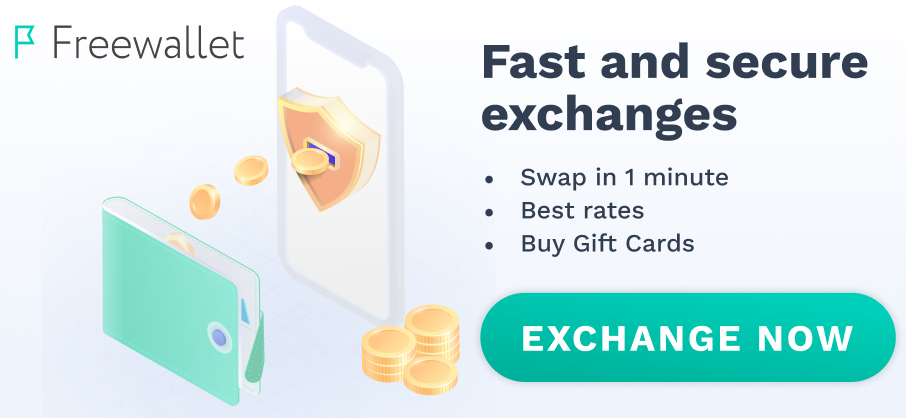 They never let us withdraw, and they will never reply to there email or calls, I have no choice but to call an expert recovery company Finalresolute. com and in no time they got my funds back for me. contact them if you or any friends are involved in such situation.
Adam D. Roorda
6 September 2021
It's extremely safe and easy to use. Funds are protected and insured. They make tax compliance a breeze too
My account has been "under review" for over 6 weeks with no explanation of why a review is required. Support just tells me to wait...unacceptable.
One star off for not showing ALL crypto currency, who cares if it is or is not tradeable. SAFEMOON (The real Safemoon) should be available for viewing like the fake safemoons.
I used to be able to call coinbase customer support. Not anymore. Their excuse, "COVID-19". Coinbase should at leaset be more responsive via an email.