Latoken Exchange Review 2021 - Is It Safe?
Full address:
Msida, MT (The exchange does not disclose the exact location of its office)
Fees:
Withdrawal fee: 0.0005 BTC
Taker fee: 0.28%
Maker fee: 0.22%

Full fee schedule:
https://latoken.com/moments/tag/fees/
May 24, 2021
The rise of multiple crypto exchanges has made it mandatory for users to make a proper analysis of the exchange best suited for them. The rising number of scam crypto trading platforms also means that the best platforms are those where the user feels safe and secure to trade tokens. 
Today we will be analyzing fast-rising crypto platform Latoken, placing emphasis on its exchange and token. The review is objective and reading through. You will be able to decide whether Latoken is the right platform for your trading needs. 
What Is Latoken?
Latoken is an Estonian cryptocurrency exchange. It was created in 2017 as a decentralized trading platform that supports a wide variety of digital assets. The exchange is based on a directed acyclic graph (DAG) technology, which differs slightly from blockchain technology. 
Get profits with HODLing on Binance Earn
DAG makes the exchange achieve quicker speeds and transaction volume without many delays. The exchange is registered in the Cayman Islands, which is one of the few countries with laws regulating crypto exchanges. 
The exchange is overseen by LAT Foundation PTE founded by CEO Valentin Preobrazhensky. Preobrazhensky is a respected stakeholder in the crypto sector, which lends credibility to the crypto platform.
Supported Currencies
Latoken is one of the exchanges that support lots of crypto tokens. Since it is a major player for IEOs, the exchange has over 60 supported currencies and 145 trading pairs for digital assets on its platform. 
Popular cryptos are supported with Bitcoin (BTC), Ethereum (ETH) Tether, and (USDT) pairs available for users for trading. The exchange also has its native Latoken token LA which can also be traded with most coins on the platform. 
You can also trade other popular altcoins like Stellar, Tron, and Basic Attention Token on the exchange. However one disappointing note is that the exchange does not support fiat to crypto trading. This is surprising given the vast number of altcoins supported on the platform. 
Users can deposit coins directly from their wallet or buy supported coins via credit/deposit method. 

This makes it easier for new traders as they can simply fund with their cards. It should be noted that wire transfer or PayPal is not supported on Latoken exchange. 
Supported Countries
Latoken supports different countries from across the globe with its major users from Australia, UK, the USA, China, and Switzerland. There are over 200,000 registered users on the exchange, making it one of the fastest rising exchange in the market. 
The exchange also has four language options which includes English and Mandarin which suggests that the sort of market Latoken is targeting. 
However, there are some countries that are not supported by the platform and the list includes. Bosnia And Herzegovina, Syria, North Korea, Sri Lanka, Tunisia, Uganda, Iran, Pakistan, Iraq, Ethiopia, Trinidad and Tobago, and Yemen. 
Latoken Fees
Latoken does not charge deposit fees on its platform. Users can deposit as many funds without being charged extra fees. However, the exchange charges a flat trading fee rate of 0.05% for trading pairs in LA while other crypto pairs have a trading fee of 0.01%. 

This is similar to the industry standard trading fees charged by many similar exchanges in the market. However, Latoken has an extensive chart of withdrawal fees for the different cryptos offered on its platform. 
Popular coins like BTC and ETH have a withdrawal fee of 0.0005BTC and 0.0091 ETH, respectively. 
Security
You should make sure that the exchange offers all the security measures you consider critically important before depositing your money.
Latoken exchange offers state of the art security features for users to secure their funds on the platform. All the data circulating on the exchange is encrypted. What's especially good — there are different types of encryption for different kinds of data. For instance, Latoken safeguards the users' private keys encrypting them with AES-256 protocol. The passwords used by the exchange customers are encrypted using Salted SHA-256.
Almost all the user funds are stored offline. According to the platform website, only 0.5% of the user's money is stored on hot wallets. It means that it's nearly impossible to lose money if the exchange gets hacked. Moreover, the user funds are guarded with multi-signature.
In addition, the platform uses an encrypted protocol HTTPS to secure its connections, which prevents attacks from hackers. Latoken also has anti-DDoS attack encryption for safeguarding users' information. 
As for the security measures that can be applied by users, the platform provides enough protection features, too. The main one is 2-factor authentication (aka 2fa). It is highly recommended to turn it on, as it dramatically decreases the chances of losing your money in a hacking of your individual account. 2fa makes it impossible to sign into an account or withdraw the money without entering a one-time password that cannot be retrieved from anywhere apart from the account owner's mobile device via an authenticator app. 
Is Latoken Safe?
On one hand, we have a list of security measures that the exchange provides in order to make its use safe. We consider the set of encryption, cold storage of user funds, and 2-factor authentication to be a solid protection base. On the other hand, it's important to read through the user reports in order to understand if Latoken is really safe to use or if there are some other factors that make the use of the platform not so safe.
A good sign is that the comments section on the Latoken Twitter account is free of user complaints. It means that there are not many frustrated users who have issues but cannot get assistance from the support team. A bad sign is that the team behind the exchange is anonymous. The exchange is accused at promoting scam coins. On TrustPilot there is much criticism from the alleged users of the platform. Some of them claim that the money deposited on the Latoken account had disappeared without reason and explanation. More than that, users claim that the platform is buggy. To most of these reports the Latoken representative responds asking to contact him via email. On Reddit, there is even a story by a person who allegedly worked for Latoken and claims he was scammed by the exchange.
Considering the things said above, it is better to approach Latoken with caution and do a better research on the company before depositing your money to it.
Customer Support
Latoken customer support seems to be responding to criticism online. However, what happens when users try to reach out to the support team is unclear as many people complain about the lack of support.
#Bitcoin is closing in on $40,000 again. 🚀

Missed the previous bull-ride and chance to make profits?

Get #BTC right now at $39200 on LATOKEN
➡️https://t.co/3ywyJ0RL61

Trade crypto on our mobile app
➡️https://t.co/KCi6RVJYL7 pic.twitter.com/ZdArpCNyUa

— LATOKEN (@latokens) January 14, 2021
Users can send mail to the official email address or directly contact the support team via the platform. The platform also maintains an active Telegram group where customer's issues are routinely addressed. In addition, the FAQ section is detailed with comprehensive tutorials on major problems faced by users on the platform. 
Registration and Verification
Registration is pretty easy and takes less than five minutes to complete. All you need to do is to access the homepage and click on the signup page. This will lead you to a simple drop page where you fill your details in the boxes and click sign up.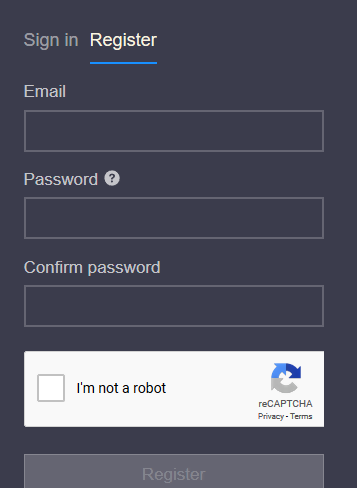 You would be sent an email for verification. Access your inbox and click the confirmation box to verify your account.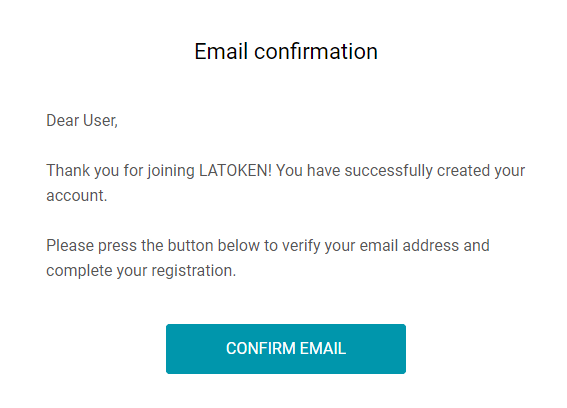 After confirming your email, you will be redirected to a terms and conditions page, which is the final stage. Tick the confirmation box and your account becomes active for trading and transactions. 
Trading Platform 
Latoken presents a user-friendly web-based trading platform, which makes it easy for new traders to begin trading. The trading platform is easy to navigate and gives it a good advantage over some exchanges that have highly complicated platforms. 
As you can see below, the menus are easy to navigate with a chart provided by Trading View with access to different indicators. You can view token sales on the platform and access other information by clicking the seven-day chart. 

In addition, you can switch between LA pairs, ETH pairs, TRX pairs, BTC pairs, and USDT pairs. This is cool as users can access complex trading features in easy to use menu and indicators. 
LA Token Review
Latoken token (LA) is an ERC-20 token that is the native token of the crypto exchange. The token was launched in 2017 as a multi-asset trading token and raised $19 million during its ICO. LA is envisaged with having the potentials of becoming asset token that can be used to exchange for real estate, stocks, and other assets. 
Latoken token (LA) has been promoted by the Latoken foundation in recent years, with the organisation sponsoring seminars teaching the potentials of the coin. 
Latoken believes that LA can be used to tokenize real-world assets, bringing them to the blockchain world and would allow holders diversify their trading. The token is also the base currency of the exchange, with users given 50% discount on trading transacted with the coin. 
LA has also been used for trading tokenized shares of Apple, Tesla, Google, and other blue chips, as well as gold, oil, and real estate ETFs. The coin is currently ranked 332 in the crypto rankings and has a maximum circulatory supply of 400,000,000 LA. 
As at the time of writing LA has been listed on six crypto exchanges, including HitBTC, which is in the top 10 exchanges in market volume. According to Latoken, there are plans to list the token on other platforms in the coming months. 
The token can be purchased via credit card on the Latoken exchange platform or can be exchanged with other crypto pairs. 
Pros
Fast transaction time
Easy to use for tokenization of assets
Cons
Listed on few exchanges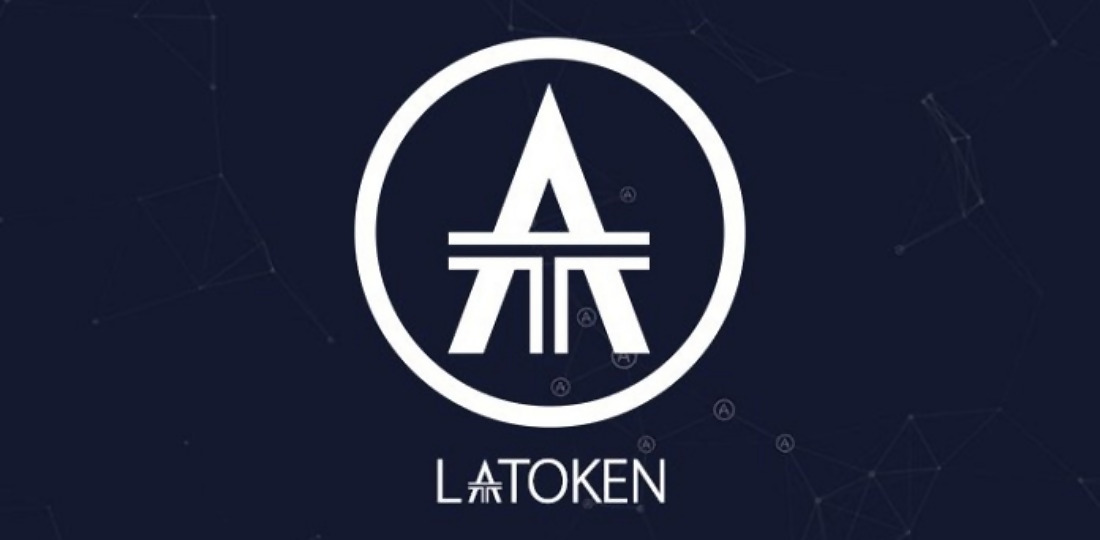 Latoken ICO Review 
Latoken ICO happened in 2017 with the blockchain platform raising $18 million from August to October 2017. The ICO, which was successful saw over 9000 investors partake in the crowd sale with ETH and BTC the accepted currencies.
The use of fund raised were as follows: 15% - Liquidity Asset Token module development (issuance, transaction and asset data storage) 10% - Liquidity Assets exchange 10% Proof-of-Assets servicing deployment 10% - AI underwriting development 10% - Business development (boarding of banks and investors to the platform) 10% - Marketing 20% - LATO Fund 10% - the team bonus pool (max $1 mn) 5% - administrative expenses. 
Latoken promised to develop a blockchain protocol and platform for creating and trading asset tokens and a native token. So far, it is largely delivered on its promise with its exchange, one of the fastest-growing in the crypto community.
In addition, Latoken is one of the most popular IEO platform for new crypto projects. This is partly due to its friendly criteria which makes it easy for startup crypto firms to list tokens on its platform. 
However, the platform will have to do more to promote its token LA which has only been listed on six platforms. One way in which it can embark on this is via partnerships with payment processing companies. 
Looking at Latoken's homepage website, the list of its partners is not comprehensive, with AmbCrypto the only known platform on the list. 
Conclusion
Latoken from our analysis and observations is a company with a doubious reputation. There are a lot of unanswered questions concerning the money that allegedly disappeared from the users' accounts. Sometimes similar accusations don't mean anything as they are false. Unfortunately we are yet to figure it out when it comes to Latoken.
New traders will love the simplified trading view, and the non-requirement of KYC will also attract crypto traders that value privacy. In addition, there has been no news of a breach or hack on the platform which shows its dedication towards the security of users' data.
There are some areas where it could improve. It's a trading platform currently lacks margin or leveraged trading. This is true for most cryptocurrency exchanges, although margin trading is becoming increasingly common. With the increase in margin trading at other exchanges, it's possible Latoken will also add margin trading.
In conclusion, Latoken is one of the crypto platforms that is quite easy to use for both beginners and advanced crypto users.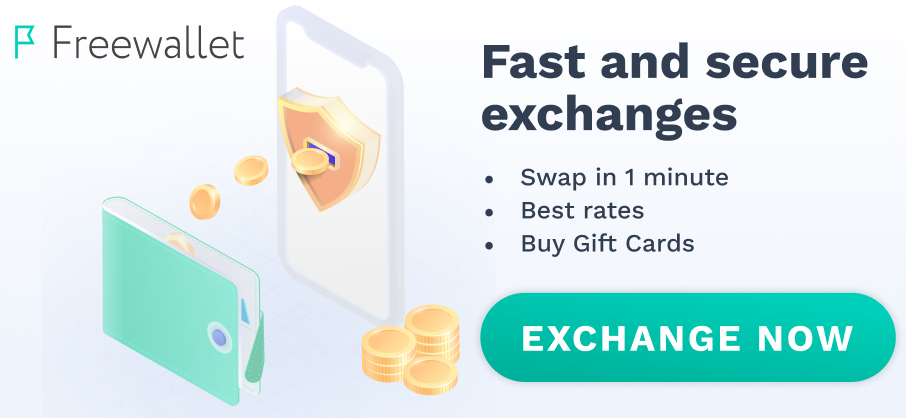 Jociel Trennephol Schneider
27 December 2021
Plataforma muito ruim para negociar, dificil achar onde suas ordens estão espostas, muito poluida.
In general, I am satisfied with Latoken. Sometimes I notice a pending with my funds, but usually it takes no longer than 2 or 3 hours. The support answers pretty fast and well. I definitely recommend this exchanges it's credible.
I had a great experience with Latoken. I've been trading for a few moths and didn't find any problems here. Once I contacted the support about my investments and I received the full responds within 10 minutes. Great speed of the support! I like it a lot.