Advcash Reviews 2022
Jun 03, 2020
In the age of modern technology, almost everyone who works with online payment methods has an idea of electronic wallets. Today our review will be about one of the most famous payment systems - Advcash. Also, we will answer the questions: Is Advcash safe, legit, and secure? Is it profitable to use Advcash? How to use Advcash? Let us together now consider all the strengths and weaknesses of this service.
Note: You can exchange cryptocurrencies at the best rate in a few minutes here.
Advcash Review
Advcash is an online payment processing and money transfer system that has been operating since 2014. This is a Belizean company, in addition to Advanced Cash Limited, the name AdvCash appeared in 2014, compared to PayPal and other market leaders, this EPS can be called a newcomer to the market. ADV Project Limited also belongs to the payment system.
On the website of the Belize regulator, you can see that the payment system is certified. The registration address is also indicated there.
The service offers more than 20 different ways to replenish a virtual wallet, which effectively replaces the physical one in the online and mobile environment.
Advcash supports transfers in both fiat (national) currencies and cryptocurrencies. The last option to withdraw funds involves transferring money to cryptocurrencies without commission at the internal rate of the service.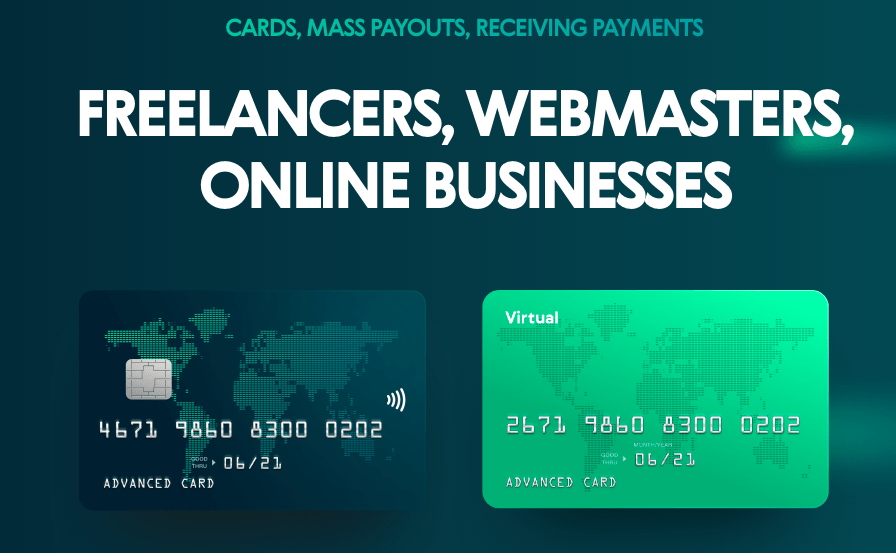 The electronic payment system gained popularity fast due to the fact that it allows you to use the wallet without verification. The limits are among the highest in the industry.
Get a Loan Secured by Your Crypto Assets
Get a Loan Secured by Your Crypto Assets
Advcash Features
Funds from the Advcash wallet can be exchanged for other payment systems (Payeer, Perfect Money, Qiwi etc); Bitcoin (BTC), Ethereum (ETC), Bitcoin Cash (BCH) cryptocurrencies or use any other withdrawal methods. Advcash is used as a method of replenishment or withdrawal in many investment projects, on cryptocurrency exchanges, as well as a method of payment in online stores and for receiving payments from customers.
From January 2015, you can order a MasterCard in dollars or euros on the platform. With this card, you can withdraw earned funds by transferring them to the Advcash wallet, and then withdrawing them at any ATM, making a transfer to a plastic Visa / Mastercard bank card of any bank. It is possible to order and withdraw money from an account to a prepaid card, transfer to other electronic wallets, exchange for cryptocurrency, etc.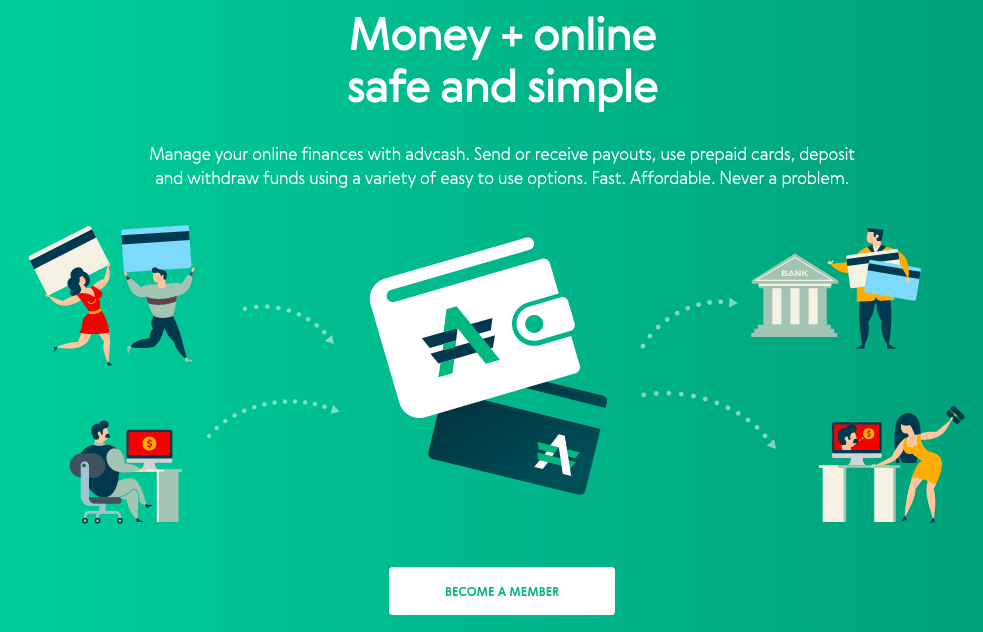 The release costs $ 14.99, and further maintenance will be free. Purchases made in card currency will not be subject to a commission.
In addition to classic banking, there is the possibility of issuing a virtual card, which can be used for online shopping. Despite the fact that a plastic card is more functional, a virtual one has advantages precisely for purchases on the Internet, as it ensures the safety of user data.
As for other features and plans of Advcash, in the near future, the service will release a mobile application for smartphones and tablets on Android and IOS.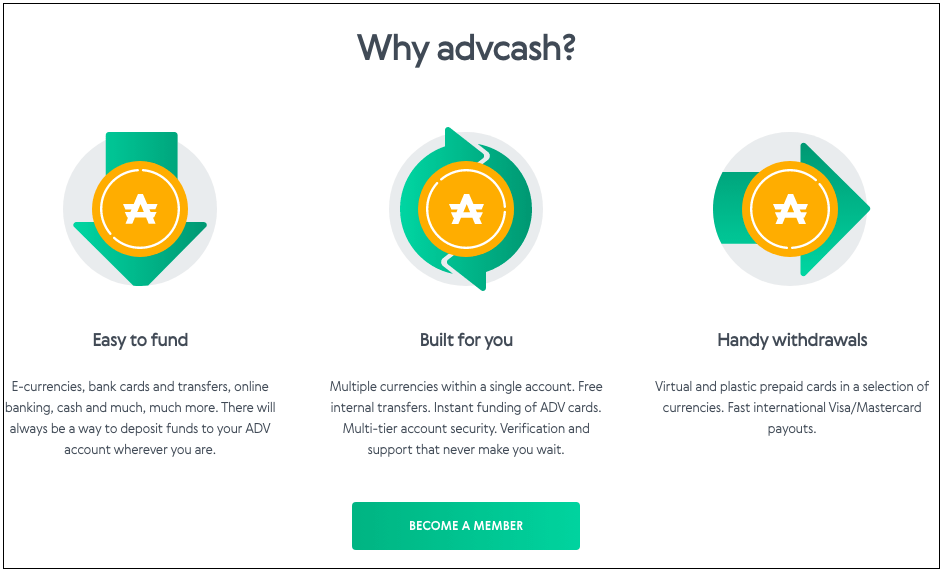 Also, it is worth noting that Advcash has a large number of partners, including Bitpay (processing bitcoin payments), Protectimus (data protection), IDchecker (document verification, and user identification), Interkassa (payment aggregator), etc.
All the news and updates are published on Advcash Twitter and Facebook pages, feel free to subscribe and stay tuned.
The service is available in the English language only.
Buy & Sell Crypto In Minutes Lowest Fees on Crypto Market: Binance Exchange
Buy & Sell Crypto In Minutes Lowest Fees on Crypto Market: Binance Exchange
Advcash API
The payment system offers a referral program with favorable conditions. Earnings can be received from any paid referral transaction, up to 20% of earnings. You can also accept bulk payments using the Merchant API technology. Merchant API lets your applications use all the features of Advanced Cash, automate sending and receiving payments, obtain transaction history data, search for transactions, and more. The service provides instructions for connecting the API.
Advcash Fees
When creating your account, you do not pay for monthly account maintenance.
its always high fees other plateform is about 1.50usd

— Achlord (@TheAchlord) February 19, 2020
Also available are free internal transfers and many deposit and withdrawal methods. Advcash provides minimal fees for transfers.
Fees dropped again, for the 4th time this month! Send SEPA transfers for just EUR 5 + 0.69%, payouts to Visa/MC cards for USD/EUR 4 + 1.69%, to Russian cards for RUB 50 + 1.69%. https://t.co/WRJ5CVuv49 and QIWI features are cheaper too. Log into ADV, check the new fees and save!

— ADV payment hub (@advcash) April 14, 2020
The standard fee for the transfer is 3.99% of the amount, depending on the service you use. You can find more detailed information on the fees here.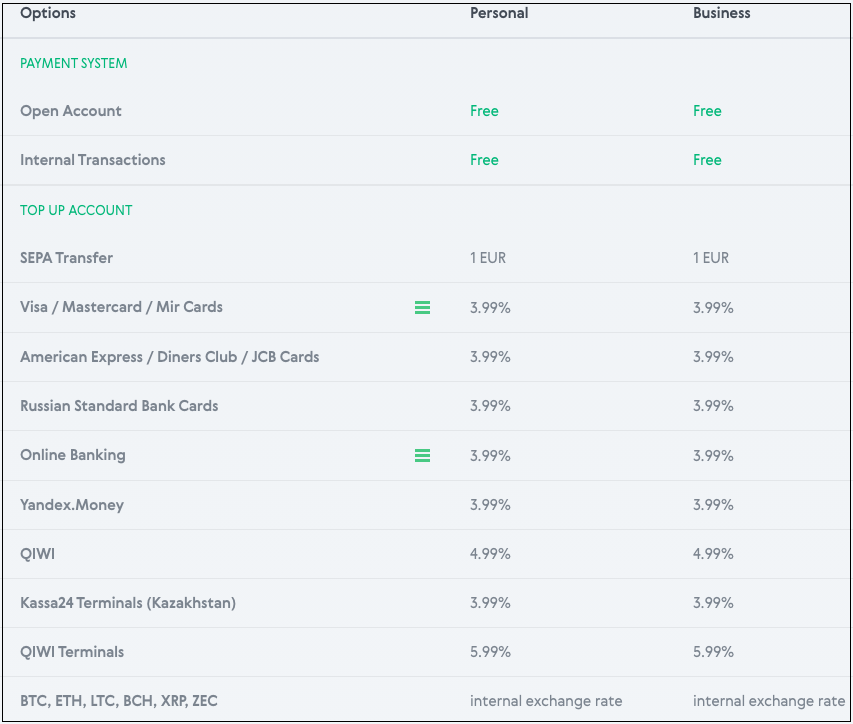 How to Use Advcash
In order to create an account on Advcash, we need to register. To do this, in the upper right corner of the site, click on the "Registration" button.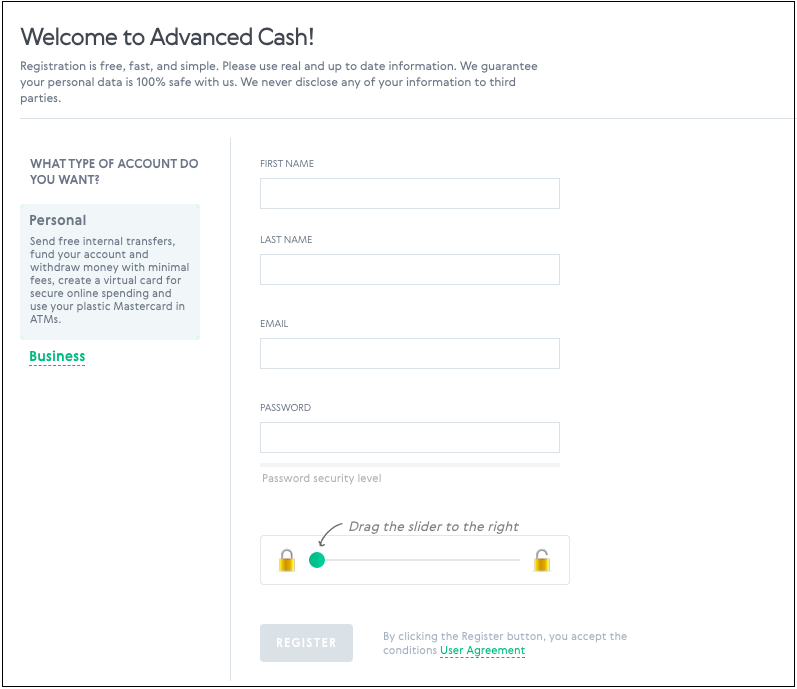 Here on the left side, the type of account is selected, by default "Personal" is set, that is an ordinary wallet is not for business, but for individuals. Advcash personal account allows you to use all the functionality in full: deposit, withdrawal, transfer, the connection of payments on the SCI website, ordering a card, payment for services, etc.
A business account has a number of features: it allows you to automate the API for bulk transfers and other operations, has increased limits for depositing and withdrawing money. To pass the verification of the business account, you need to provide a certificate of registration of the company and a document proving the identity and address of the owner.
We chose the personal account type, and fill the form with your First Name, Last Name, Email, and Password. Advcash reminds us that the registration is free and that your personal data will be 100% safe. Once everything is completed, drag the slider to the right and press "Register".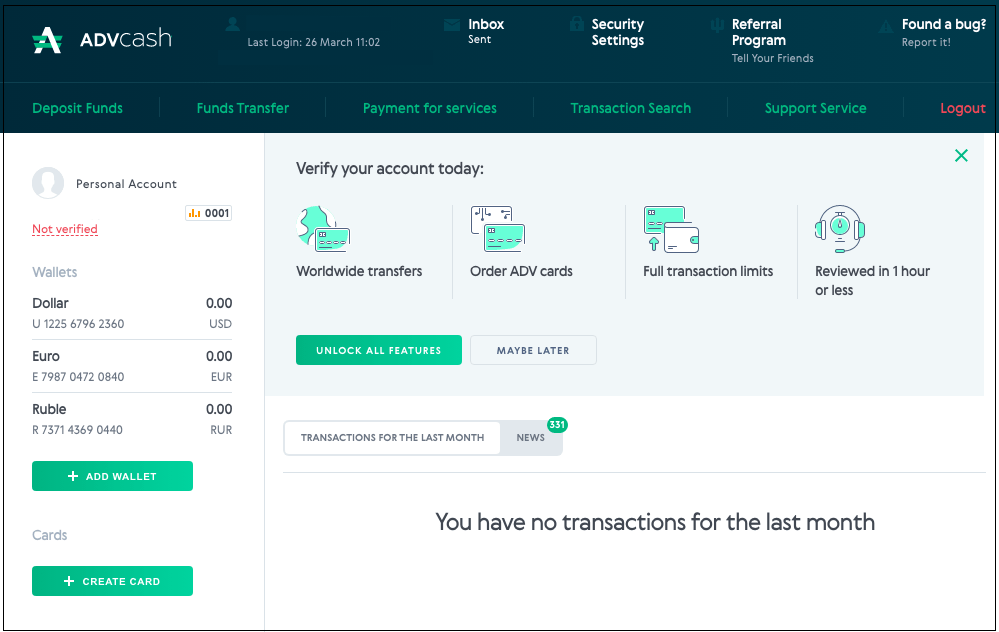 Registration is completed. You can immediately start to work or pass verification.
If you plan to use Advanced Cash to work with large amounts, we recommend immediately increasing the wallet's security. For this press "Security Settings" in the upper menu.
Verification 
In order to pass verification, you need to go through a few simple steps. Data validation is divided into 3 stages:
Identity Verification - a scan of a passport or both sides of a driver's license is suitable;
Address Verification - a scan of a receipt for payment of utility bills, an extract from the bank about the state of the account or a page from the passport with information about registration will do. The document must not be older than 3 months;
Phone Number Verification - confirm that the number belongs to you.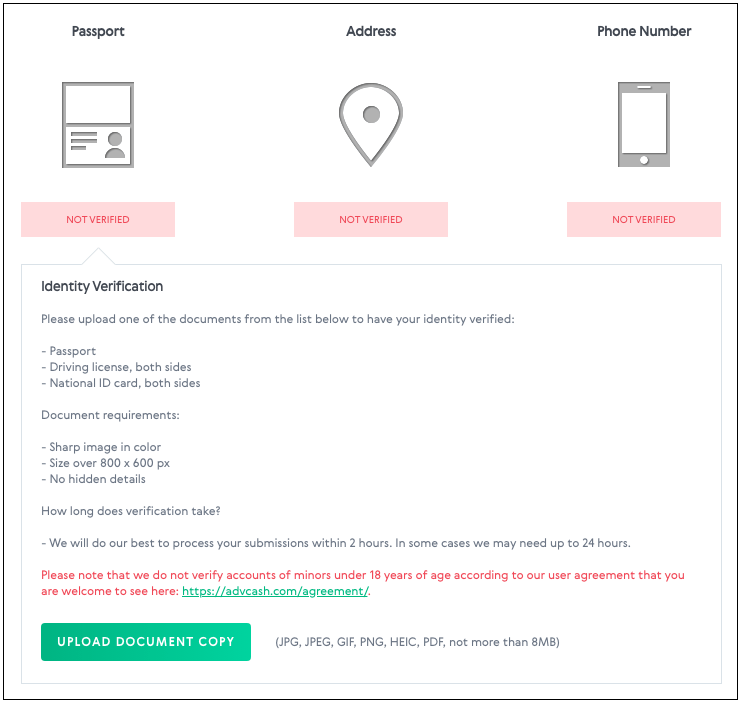 The client agreement states that the verification of documents takes no more than 24 hours. If the package of documents is rejected, then the answer must indicate the reason.
Verification is simple, so we recommend you go through it immediately after registration. Uncover the EPS 100% functionality.
Advcash Cards
These are standard plastic cards with a balance linked to the wallet account. You can cash money in ATMs or pay for purchases in stores, while the money will be debited directly from the AdvCash wallet.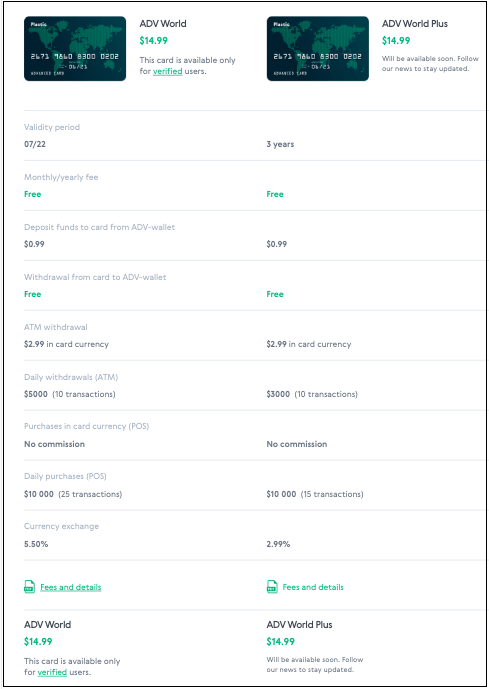 For World card type two options are available: ADV World and ADV World Plus. To get this card you have to pay a one time fee, the future service is free of charge. You can find more information on ADV Cards on the website.
How to Deposit on Advcash?
The set of options for depositing and withdrawing money depends on the country of the client. For some countries, it comes down to bank cards and transfers, so do not forget to verify your account.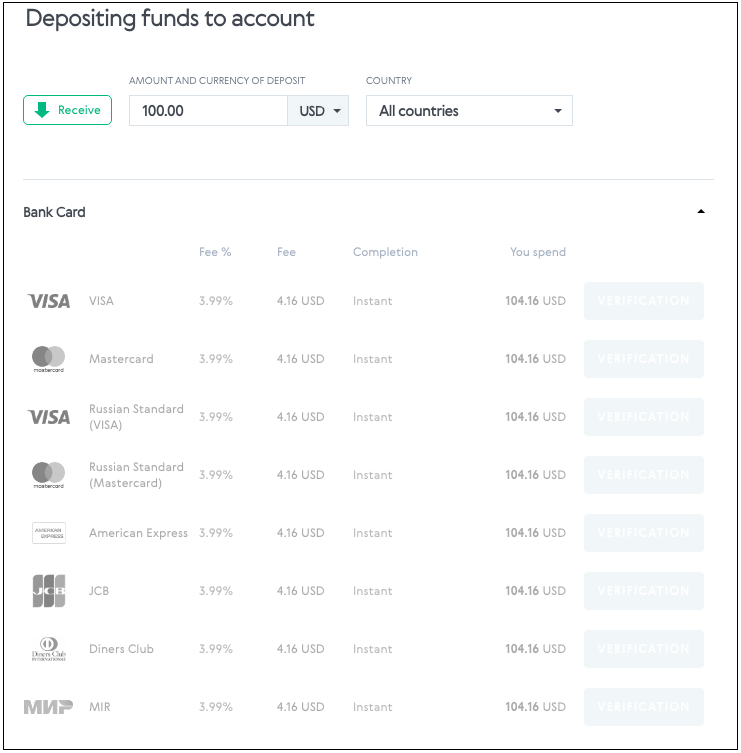 To top up your Advcash wallet, you need to click on the "Deposit Funds" section on the menu.
There are various deposit options available depending on the amount, currency, and country of residence. In real-time, you can calculate the amount of replenishment and the fee for the transfer. After selecting the replenishment method, click on the "Deposit" button. You can find more information about possible replenishment methods on the website.
Win up to $1.8M in Futures Trading Competition
Win up to $1.8M in Futures Trading Competition
How to Withdraw from Advcash?
In order to make a withdrawal from the Advcash wallet, you need to go to your personal account and select "Funds Transfer."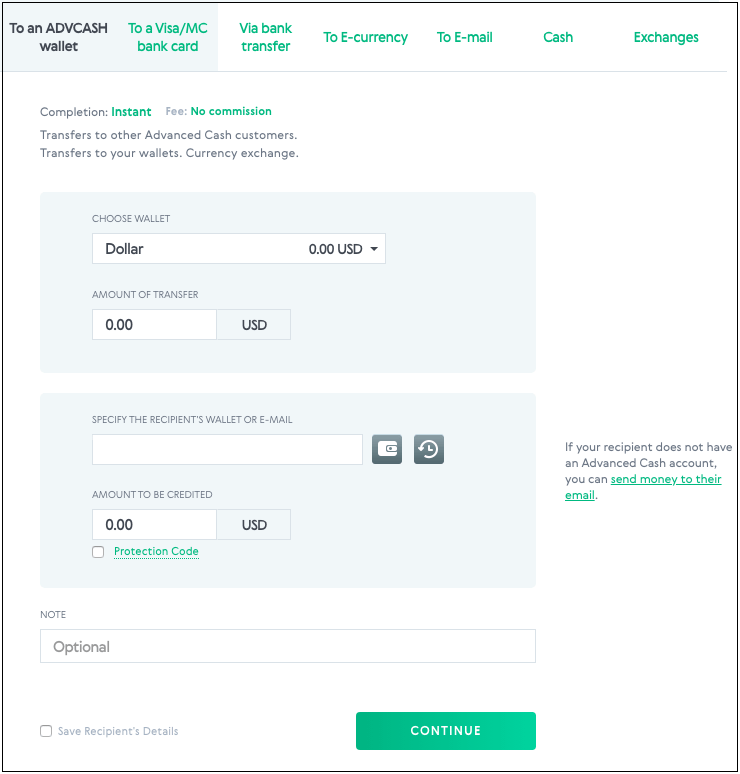 You can withdraw AdvCash on the official website using the following options:
A transfer without commission to any other wallet in the payment system;
Cash-out money from the wallet using your ordered card from Advcash or transfer to the cards of other users. You can withdraw money from it at any ATM;
Via bank transfer;
Transfer to electronic money;
To the email of any person who is not even registered in AdvCash, indicating the surname, name and email address;
Cash;
Using exchanges.
Choose the best option for you, indicate all the information and press "Continue".
Is Advcash Safe?
Advcash offers many different ways to protect a user's personal account. To connect any of the available functions, you must go to the "Security Settings" tab.
 The following account protection options are available on Advcash:
Intelligent identification and binding to IP addresses

. These features are considered medium security. The AdvCash platform can set some parameters or set a list of IP addresses for login. Thus, if any parameter or IP seems suspicious to the platform, the entry will be allowed only if you enter a password that will automatically be sent to the email address.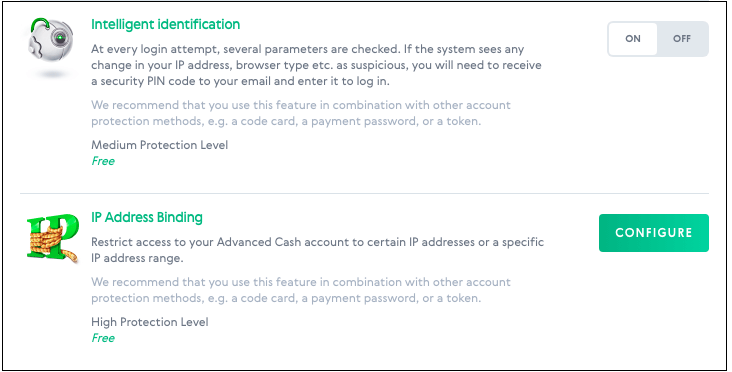 Two-factor authentication.

Both your account and all your transactions will be secured not just with a standard static password, but also with one-time passwords (OTPs) refreshed every 60 seconds. Choose one of 3 types of OTP tokens: hardware keychain token, iOS, and Android app or chatbots in Telegram, Viber, and Facebook Messenger.

Payment password

. Another nice feature, after activation of which each operation will need to be confirmed with a password. The password can be created in the settings.

Code Card

. Activate this to get a code card with reusable codes used for transaction authorization. The code card is available for downloading immediately after activation. If you lose your code card, you can obtain a new one by contacting customer support.

SMS authorization

. This feature guarantees high protection. When you try to enter the account, a message will be sent to the user's phone. For activation, it is important that the specified phone number is verified.

Also, the relationship between the company and users is regulated on the basis of applicable laws and the internal rules of the company. Studying these documents allows each side to understand the framework within which it can act, analyze possible risks, and evaluate the available benefits. All of these protection measures and security options are referring to the fact that Advcash is not a scam and the team takes care of their users.
Trade With Up To 125X Leverage on Binance
Trade With Up To 125X Leverage on Binance
Conclusion
Advanced Cash has become popular due to customer loyalty. It worth noting that using ADVcash can be convenient for users with different requests and requirements. Transfer speed, ease of use of the system, a high level of security are the undoubted advantages of ADVcash.
Also, more advantages can be noted:
Lack of fee for operations within the service;
Cards with free service;
Virtual cards;
Passive income (affiliate program);
Bitcoin support;
Support for EPS in 200+ countries and almost all Internet services, including cryptocurrency exchanges;
Relatively low fees;
High security.
As for the disadvantages, the following points can be distinguished:
Lack of information about the owner of the company (however, many well-established crypto platforms stay anonymous, too);
It is impossible to roll back the payment if you made a mistake when entering the recipient's data;
There are currently no applications for managing a wallet from a smartphone or tablet.
By the number of clients, AdvCash is inferior to the top payment systems, but, given the set of strengths, it can be recommended to almost everyone. AdvCash is suitable for freelancers, Internet business owners, and those who just want to get a convenient card with a balance linked to an electronic wallet.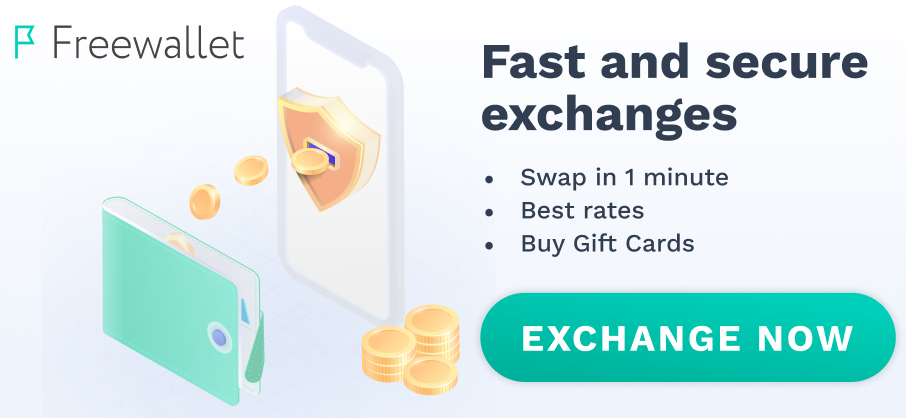 今のところ快適に使えています。プラスティックカードの発行には非常に時間がかかりましたが、発行された後は、街のATMで日本円の現金が引き出せています。またクレジットカード(デビッドカード)としてモノも買えています。サポートは非常に良く対応も早いです。bitcoinは預けると4%の利子が付き、さらにdai等は8%の利子が付きます。残念なことは口座の値がAPIで取得できません。これはnexoに預けているからのようです。
The stole my money. Holy hell do not use this site
Keep away of this people, your money is not safe. This is a SCAM company. They are not reliable.
Awfull experience, keep away of this platform, Patricia did not make a good analysis, your money is at risk in that platform, the client service is repetitive and they do not provide any solution if there is a problem.