Compare Exodus vs Coinbase - Which Wallet Is Better In 2022?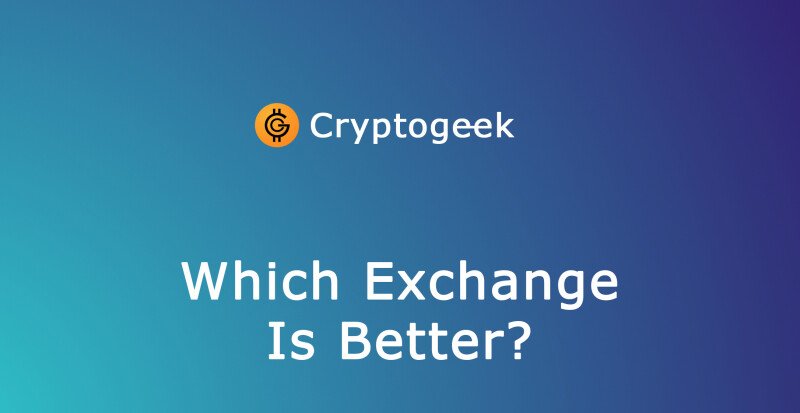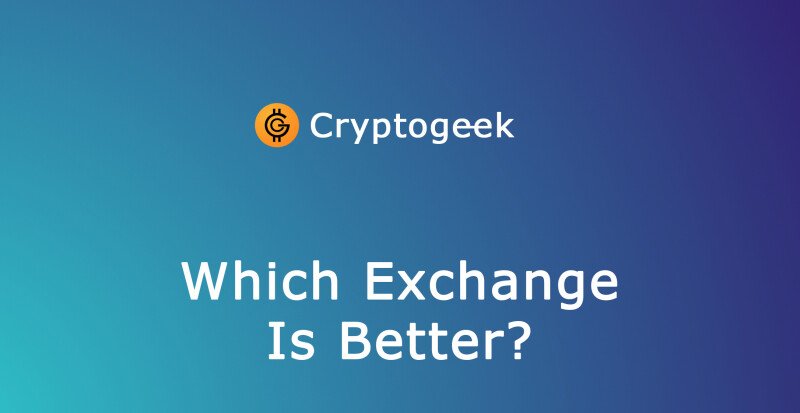 Online wallets allow you to store, receive, and transfer cryptocurrency without reference to a specific digital device. It is convenient and relatively reliable, but they have their own security flaws. Some crypto exchanges like Coinbase have their own wallets.
As a rule, if you plan to store a significant amount of funds in digital currency, it is better to have full and sole control over the private keys to your wallet. In the case of online wallets, private keys are stored on servers of a third-party service. And, theoretically, you are not insured against access to your funds by third parties. Those who trade cryptocurrencies on exchanges are always advised to withdraw their coins on personal wallets as often as possible so the importance of a quality crypto wallet cannot be underestimated. What is the most secure wallet in 2021? How to avoid scams and protect your funds?
Today we will shed the light on these topics and will consider the pros and cons of the crypto multicurrency wallets Exodus and Coinbase.
Note: You can exchange cryptocurrencies at the best rate in a few minutes here.
Exodus
The crypto wallet Exodus appeared in 2016 and almost immediately began to gain popularity in the crypto community. Its convenient, functional, slightly futuristic design has appealed to a large number of users. Exodus is an anonymous multi-cryptocurrency HD wallet for storing and performing operations with virtual coins. A desktop application designed to be installed on devices running operating systems: Windows, macOS, Linux. In 2019, a mobile application (Android, iOS) was released.
Exodus Mobile has arrived for Android and iOS.

Get it here 👉 https://t.co/9pqivPmobR pic.twitter.com/LMPwDgv2KO

— Exodus (@exodus_io) July 1, 2019
Unlike most similar solutions, the interface of this wallet is so simple and understandable that even beginners in the cryptocurrency field can use it.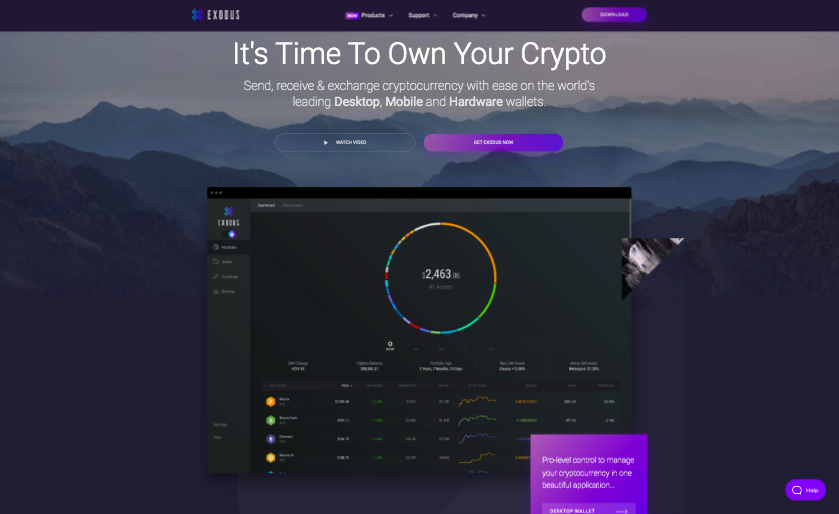 Coinbase
Coinbase exchange is a reputable trading platform with a solid trading volume and high capitalization. Crypto-exchange allows authorized users to earn money from conducting exchange or trading operations. In addition, the Coinbase online wallet is accessible to everyone, using which you can safely store cryptocurrencies, observing all the rules and conditions of the service.
You can now buy crypto from https://t.co/bCG11KMQ6s right within Coinbase Wallet. Dapp and DeFi users can go from 0 to 1 with just one easy app install.

Learn more about how to make crypto purchases directly within Coinbase Wallet here: https://t.co/YzvQO31oBT

— Coinbase (@coinbase) October 12, 2020
Coinbase is a regulated company with headquarters in San Francisco. It owns a lot of cryptocurrency services. The beginning of work is 2012. The company consists of two divisions: Coinbase UK and Coinbase Payments. In most US states, Coinbase has the necessary activity licenses.
Coinbase supports mobile applications for Android and iOS.
It also supports 2FA authentication, the secure payment gateway for settlements with online stores, and the storage of keys on the service.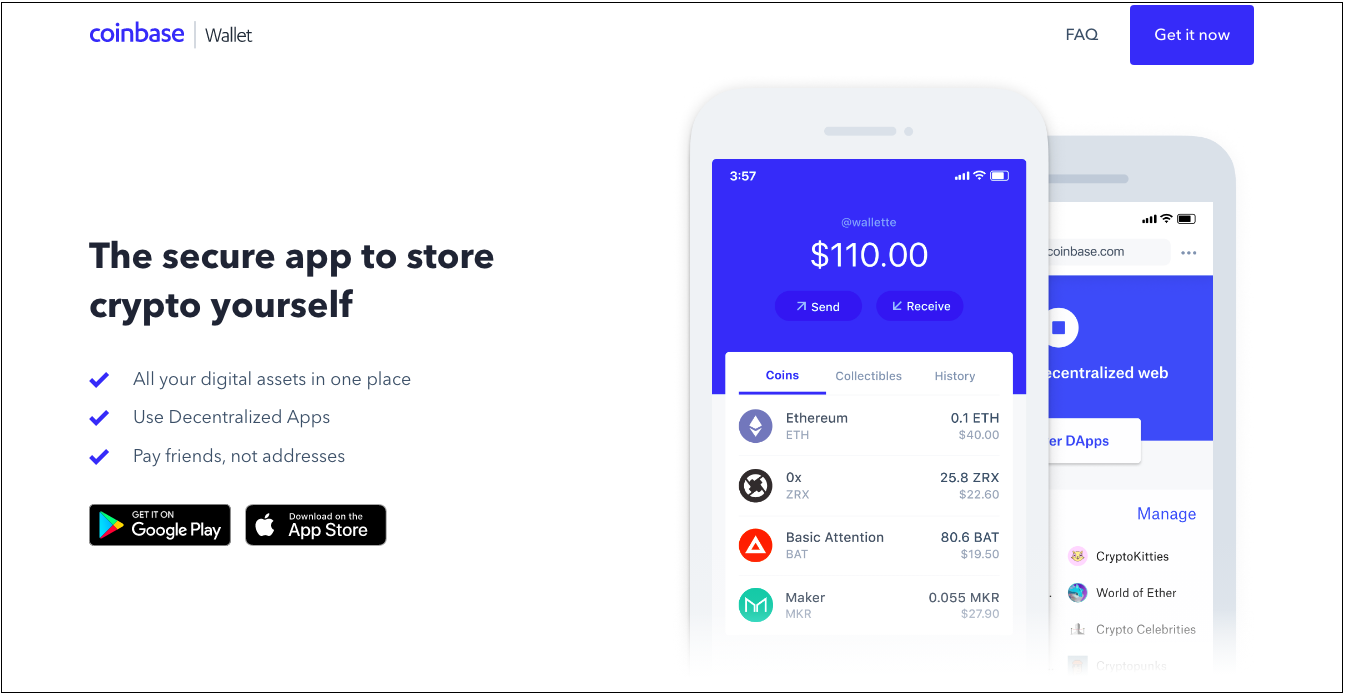 Features
Exodus
The Exodus application allows you to export private keys that are created locally and download them. The wallet interface is simple and perfect for newbies. In addition to standard input and output operations, Exodus also has a cryptocurrency exchange for converting coins. Founders and project managers: Daniel Castagnoli and JP Richardson.
The crypto wallet supports the storage of the most popular and liquid coins. At the beginning of 2020, Exodus supports 100+ cryptocurrencies and tokens: Bitcoin, Ethereum, Bitcoin Cash, Litecoin, Tron, Dash, Binance Coin, Ethereum Classic, EOS, Zcash, and others. Full list of currencies you can find here.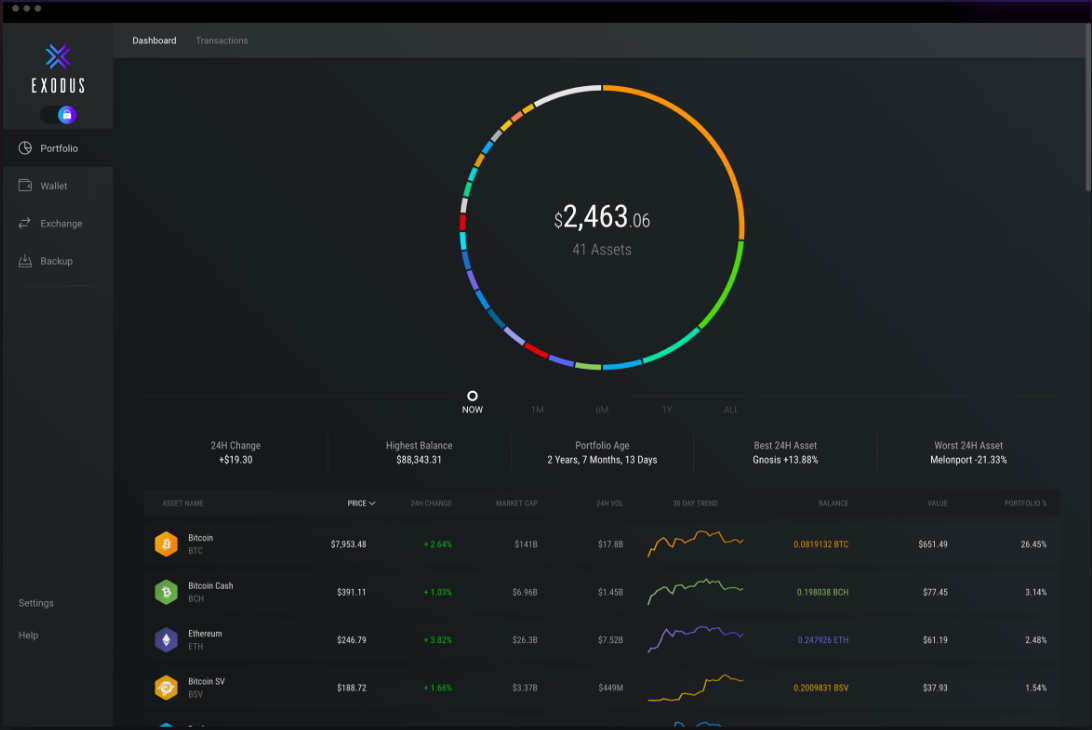 Advantages
Exodus wallet has the following features that distinguish it from other cryptocurrency storages:
No registration. You just need to download the installation file of the program from the official sites exodus.io and start the installation.
There is no verification.
Private key unloading is available.
Exodus belongs to the "light" wallets and doesn't download the blockchain network to disk, but synchronizes online with the servers.
The support service is open around the clock.
Multicurrency. Listing 100 of the most promising cryptocurrencies. Supported cryptocurrencies in the application.
Intuitively very simple and easy to use.
The ability to backup using seed phrases.
A dynamic fee, which is set automatically and goes to the miners for including the transaction in the nearest block. You cannot change it. Exodus does not charge its commission for withdrawals or deposits.
Private keys and other sensitive data are securely encrypted and stored locally on your computer. Third parties, including Exodus employees, do not have access to them and do not store them on their servers.
Disadvantages
Note the cons of Exodus wallet:
Closed source.
Only English translation.
To save seed, you must first replenish your wallet.
You cannot set a fee manually.
Despite the shortcomings, the Exodus cryptocurrency wallet is popular and there are practically no complaints about its work.
Coinbase
Coinbase is a platform for buying, selling cryptocurrency, and an online wallet. Exchange Pro Coinbase (formerly GDAX) is an interface for professional trading using a terminal with advanced features. Wallet Coinbase is a mobile wallet for storing cryptocurrencies. Custody Coinbase is a service for large buyers and sellers (the minimum amount is 10 million US dollars).
Depending on the trading platform and region, Coinbase supports operations with about 28 crypto assets, among them Bitcoin (BTC), Basic Attention Token (BAT), Bitcoin Cash (BCH), Ethereum (ETH), Ethereum Classic (ETC), Litecoin (LTC), 0x (ZRX), USDC, etc. Full list of currencies you can find here.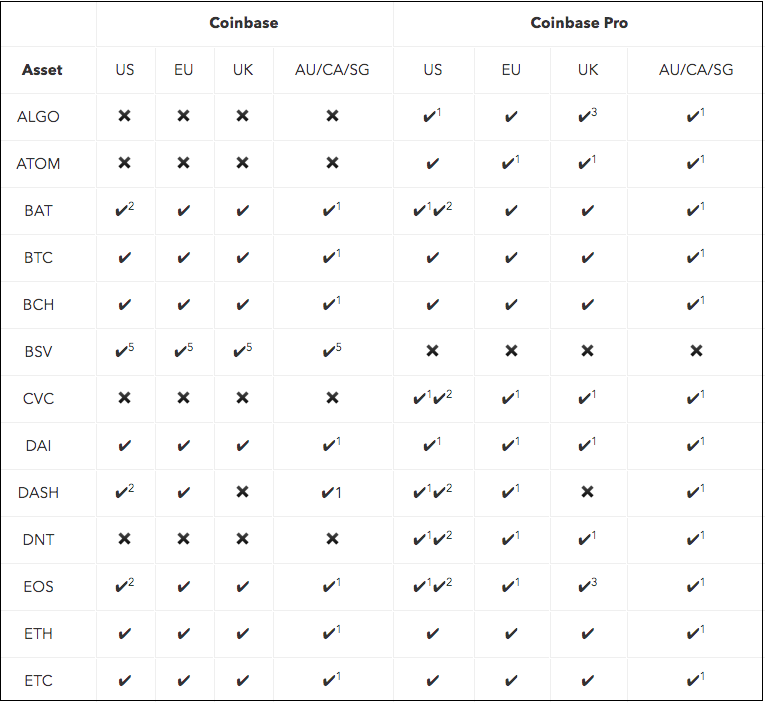 Advantages
The reputation of the platform. No hacks were recorded during operation.
Quickly execute transactions. Users note the speed of transferring coins to other clients on cryptocurrency wallets.
Compulsory deposit insurance formally registered with supervisory authorities. The loss of coins due to the hacking of the exchange will be fully reimbursed by the reserve fund. Any force majeure situations with customers, including the theft of all personal crypto assets that occurred due to the loss of keys or passwords, are not considered to be insured cases. No refund will follow.
Through PayPal, you can sell bitcoins.
98% of all cryptocurrencies are stored on cold wallets autonomously and securely stored.
Vault Wallet crypto wallet available. For security reasons, permission to withdraw may be individual or group. The first option provides confirmation of operations with two passwords sent to 2 different user email addresses.
All cryptocurrencies that traders and speculators at Coinbase can work with are very volatile and always in demand. If you correctly apply the well-developed trading strategy, but even day trading will bring a solid profit.
The secure payment gateway for settlements with online stores.
For some countries, it is possible to work with fiat: through debit cards or bank accounts for American customers; SEPA transfer, debit cards with 3-D Secure - for Europeans.
The Coinbase exchange has a really impressive set of wonderful qualities and positive opportunities. But, you can not forget about the cons, which are also presented.
Disadvantages
In addition to the mass of advantages, the trading platform has enough negative points. It is these shortcomings that block Coinbase from entering the TOP rating of cryptocurrency exchanges.
Essential restrictive criteria limiting the deposit and the number of withdrawal amounts.
Frequent disregard from the technical support side in problematic situations. Cases of ignoring were described in complaints and claims. The best way to "shake" the consultants and the administration of the Coinbase exchange is to publicly submit the problem to a special project channel on the Reddit social network.
Private keys are stored on an insecure server, which reduces the level of anonymity on the network.
Claims from users regarding the similarity with standard banking organizations, i.e. the ability to track transactions, account blocking, freezing payments, cooperation with law enforcement.
How to Deposit and Withdraw
Exodus
Receiving and sending operations of coins displayed in the "Portfolio" are carried out through the menu item "Wallet" (Wallet).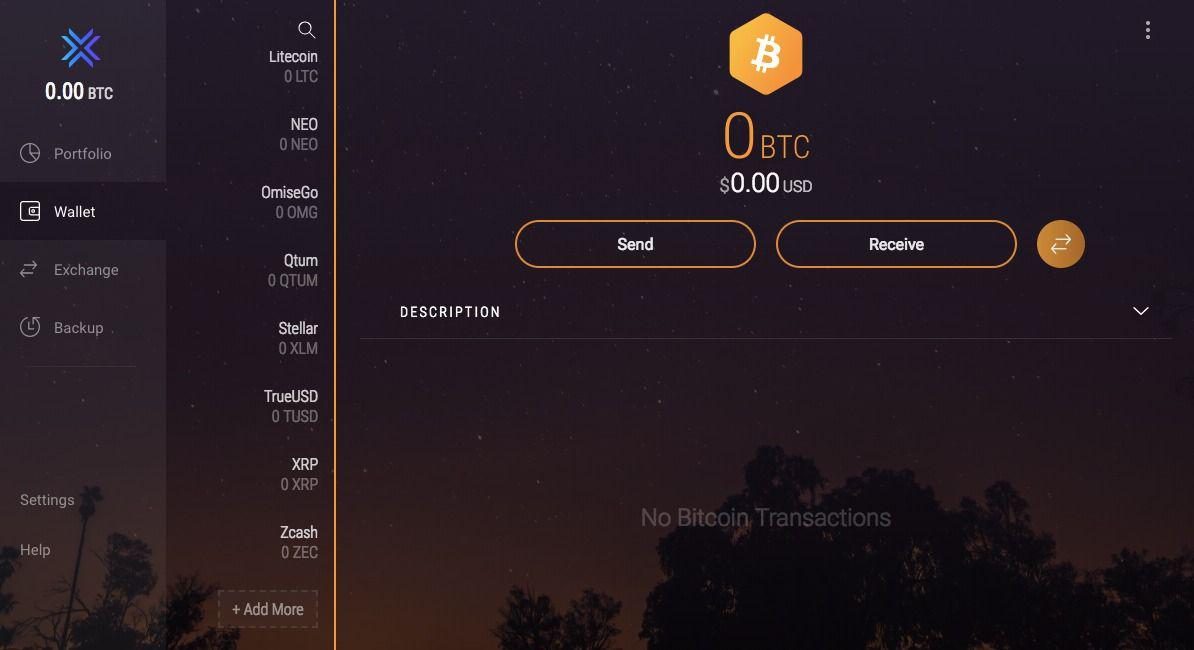 To send funds, select the required crypto asset in the list and click the "Send" button. In the window that opens, the recipient's wallet address and the number of coins sent are indicated.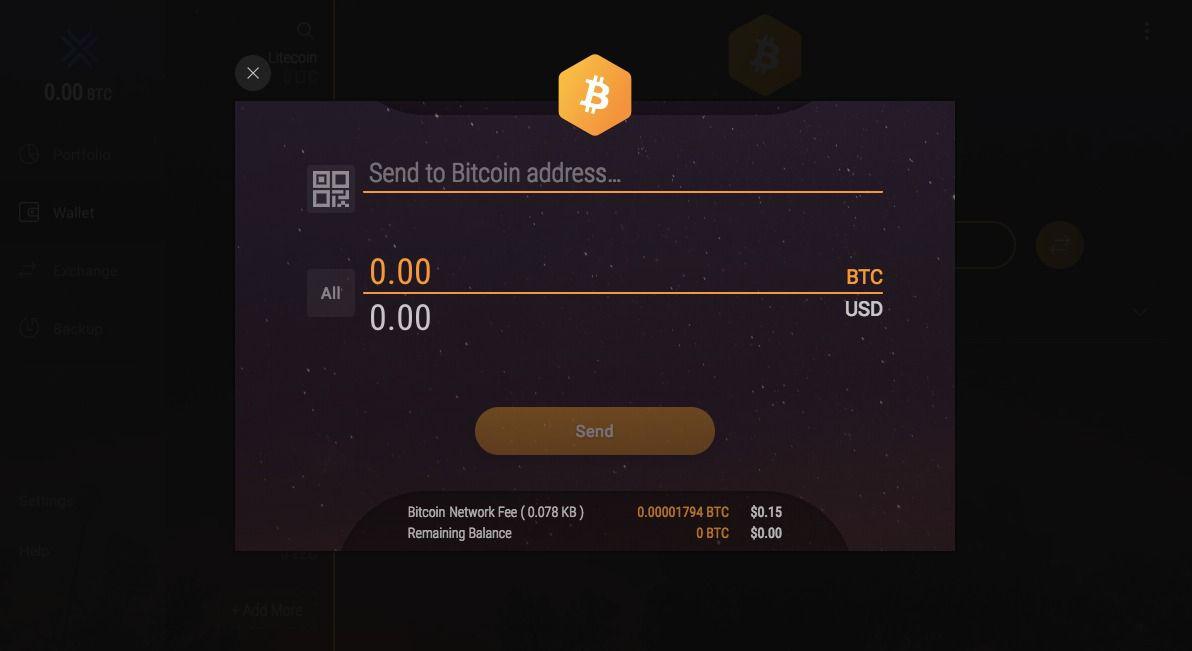 In the case of sending coins that operate on their own blockchains (BTC, ETH, XRP, etc.), sufficient funds should remain on the balance to pay the transfer fee. If we are talking about sending ERC20 tokens, the account should have enough Ethereum for this purpose. In both cases, the estimated size of the commission is indicated at the bottom of the window for the formation of the operation for sending funds.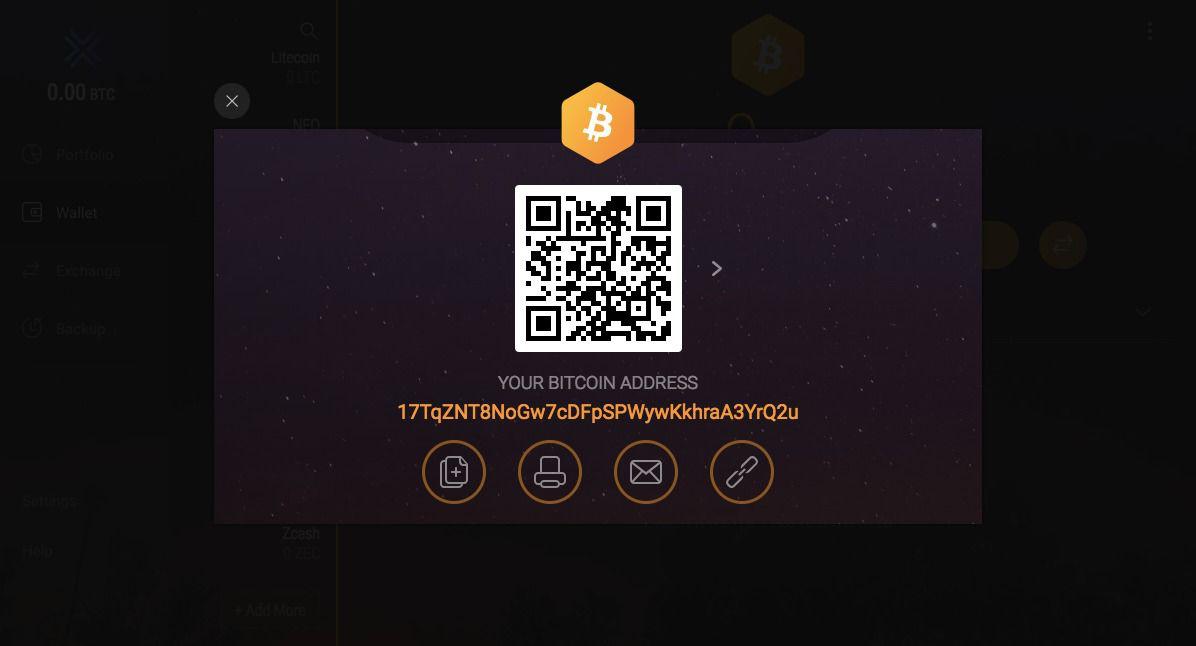 To receive assets using Exodus, you need to copy the wallet address from the window that appears when you click the "Receive" button and transfer it to the sender.
Coinbase
To see the contents of your wallets for all types of digital currencies that are supported by the service, you must enter the "Accounts" section. Then the desired crypto is selected and the "Receive" button is located on the right. The system will issue the generated code in alphanumeric and QR form.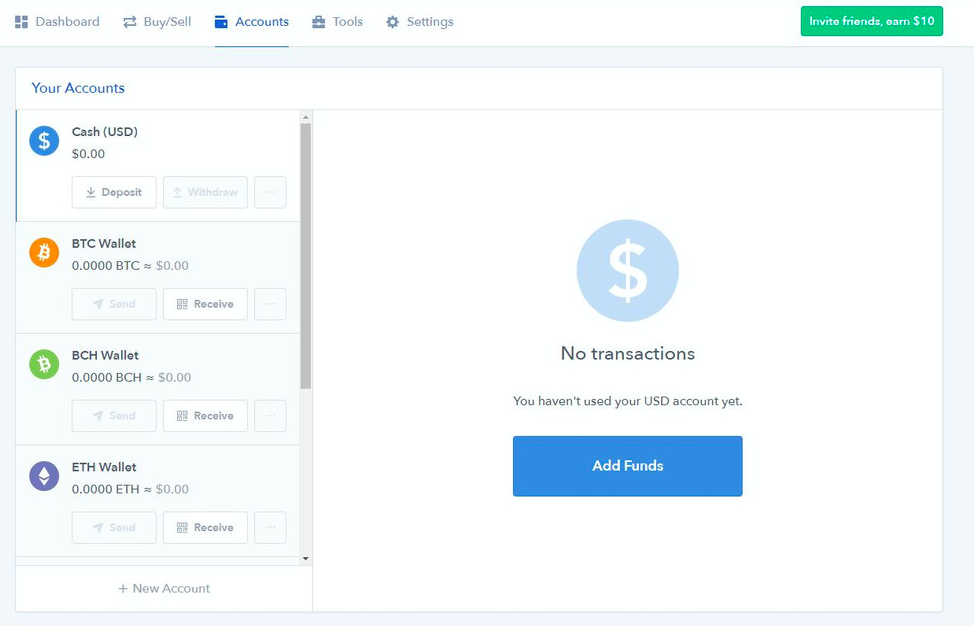 After each operation, the wallet number may change. Also, the user has the opportunity to create new cryptocurrency wallets, give them other names, and if necessary, quickly transfer all crypto from one account to another.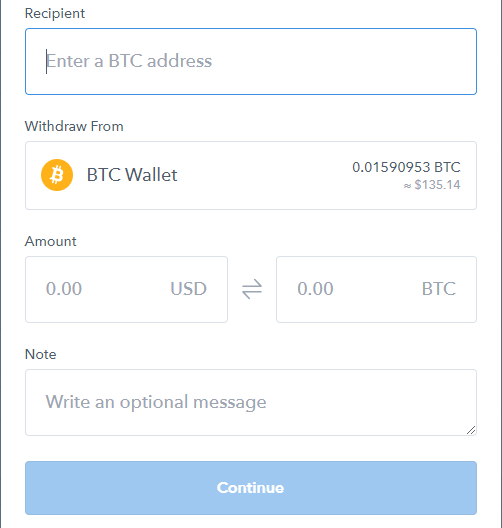 To send a coin to another user, you need to perform the following sequence of actions: 
Choose the currency and select "Send";
Enter the recipient address, email address, and code in the field;
Indicate the transferred amount of currency; 
Select the desired wallet to send from the list provided;
Click on "Send Funds".
Fees
Exodus
Exodus has a dynamic commission, which is set automatically and goes to miners for including a transaction in the nearest block. However, the fee is quite high and depends on the currency. As a rule, it is from 5 to 10% of the amount exchanged. Exodus does not charge its commission for withdrawals or deposits.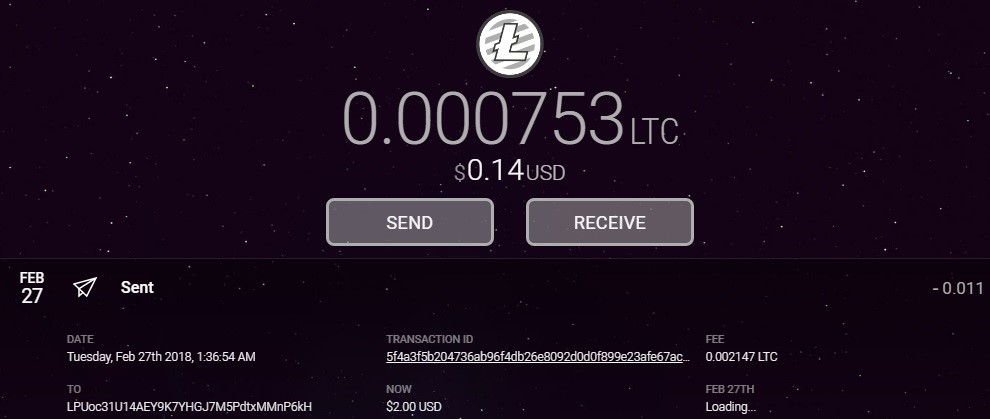 You can find more information on the Exodus Fees here.
Coinbase
Coinbase exchange charges a commission of 1.49% for each purchase or sale of cryptocurrency. This commission increases 3.99% for transactions made with a credit card. But in general, on the Coinbase wallet, there are very low commissions (average 2.5%), and there is no commission at all between the two Coinbase users. In the software system, the exchange of cryptocurrency for fiat is instantaneous, but this option is available only if you are a US citizen.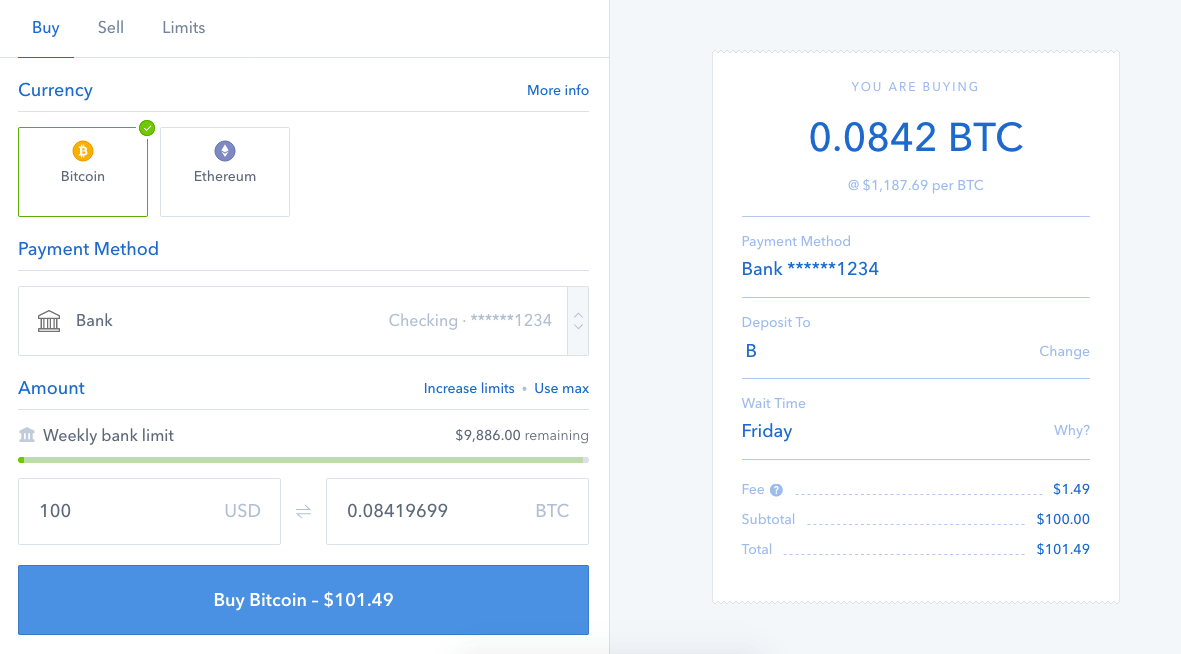 You can find more information on Coinbase fees here.
Security
Exodus
The most important aspect of any wallet in the world of cryptocurrencies is its security. Exodus in this regard offers you a relatively safe way to store cryptocurrency for everyday use. Since this is an online wallet, it will always be inferior in security to offline wallets (like hardware or paper). It is also worth noting the lack of some features that makes it less secure than its competitors in the market. But before that, let's talk about the benefits.
If the device on which your Exodus wallet is installed is lost, stolen or broken, then you can still access your cryptocurrency. Exodus offers two ways to do this.
Using a standard 12-word keyword phrase. It will be given to you the first time you create an account. Write it down and keep it in a safe place. No one is immune from various risks associated with technology, so it is better to always have an additional way to restore access.
Restore access by email. When you create an account, you receive an email with a link to restore. Clicking on it will allow you to restore your account.
The recovery functions may be convenient, but they do not provide a sufficient level of security against hackers and malware. Perhaps several layers of protection could make Exodus safer, but it would no longer be so easy to use.
Exodus Wallet does not offer two-factor authentication. This simplifies the task for hackers when using keyloggers. The only barrier to gaining access is only your password. Once hackers recognize it, your cryptocurrency will be in jeopardy.
Another feature that would be good for Exodus is address protection with multi-signatures. It is a function similar to two-factor authentication. And, of course, adds another layer of security for the wallet. Using it, you can specify the number of devices that must confirm the operation before performing it. An example of confirmation can be an e-mail or SMS.
Coinbase
Despite the fact that online exchangers and exchanges can never achieve 100% security, Coinbase reviews consider it one of the safest online wallets.
Coinbase stores almost 98% of its assets in cold storage, which cannot be accessed - this eliminates the risk of hacking platform storage. Only 2% of the platform's assets are available online in the hot wallet system and these assets are insured against any unpleasant circumstances. Thus, if your money is ever stolen from Coinbase, then you will definitely get your money back.
Also, few people know such information about Coinbase that it is one of 4 exchanges that has a NY license as part of the BitLicense pilot program. In this way, Coinbase adheres to strict KYC (Know Your Customer) rules and remains as compatible as possible with regulatory rules and regulations.
Although this makes Coinbase safe, for many it can be a problem. To begin with, Coinbase is required to report the users and their data to the governing bodies that control it. This means that your assets in crypto will be in official records, and in the worst case, you should expect a tax payment requirement when adopting the relevant regulations.
This actually negates one of the purposes of the cryptocurrency for some, as it should be a decentralized and anonymous way of conducting transactions.
Another problem is that Coinbase also tracks how users spend their coins. They can freeze your Coinbase wallet if they suspect that you are conducting suspicious transactions, such as paying or receiving money for illegal services, gambling, selling illegal things, or something that seems illegal.
Customer Service
Exodus
Exodus technical support is professional and responsive. The problems of individual users are most often resolved in a day or several days, depending on complexity. In general, individual problems rarely occur and are most often associated either with the fact that the user has not updated the program to the latest version, or (less often) with the incompatibility of the program with the operating system or the technical parameters of the computer.
User wishes are clearly taken into account, but selectively: for example, developers quickly respond to requests for the addition of certain cryptocurrencies but are not going to expand the functionality.
Beginners are helped promptly, there is a rather informative FAQ. True, all this has one drawback: the information is exclusively in English, and communication with specialists will also have to be in English.
Coinbase
CoinBase is trying to work well on its level of technical support. The platform has a FAQ, in which the team answers many customer questions.
On the Coinbase website, there is a section on the most popular questions, the number of articles and answers to them is more than 100, but if you can't find what you are looking for, you can write your question through the customer feedback form or chat with the Ada bot, which contains the Coinbase database
If users are really stuck or have complaints, then customers can contact Coinbase through the email form on the site. The response time is from several hours to one or several days, depending on the complexity of the question. Also, many reviews were recorded about the long wait for a response from technical support, and sometimes even ignoring the issue.
Reputation and User Reviews
Exodus
Exodus is a hierarchically determined cryptocurrency wallet. It is perfect for various operations with coins. The main thing is to save the seed phrase and ensure its safe storage.
There are practically no negative reviews about Exodus. Questions may arise for those who are poorly versed in blockchain technology, in cryptocurrencies and security.
When reading information about Exodus, reviews most often note excellent customer support and the ability to store various cryptocurrencies. There are more reviews on the Exodus work on Trustpilot
Coinbase
Overall, Coinbase is an excellent platform, although it focuses primarily on the US and Europe. There is its own exchange for working with fiat currency and crypto. People like it when everything is assembled in one service. Nevertheless, customers hope that over time, the support service will become more responsive, and the countries of Eastern Europe will get full access to the Coinbase wallet. There are more reviews on the Coinbase work on Trustpilot.
Conclusion
You can also check this page Coinbase wallet vs Exodus to compare these wallets.
Coinbase has a significant advantage of this service is the "cold" storage of funds, 98% of them are stored on servers that are not connected to the network, which ensures a high level of security. The rest of the crypto located on Coinbase is covered by insurance.
Also, for security reasons, a two-level authentication structure has been added, the confirmation of which is carried out using a mobile phone.
As for transactions with the currency itself, this wallet has very low commissions (2.5%), and there is no commission at all between two Coinbase users. In the software system, the exchange of cryptocurrency for fiat is instantaneous, but this option is available only if you are a US citizen.
Exodus is great for people who are still completely new to the crypto world. This is one of the most convenient and simple wallets. It does not scare away users with complex additional options and settings. All wallet functions are convenient to use and easy to learn. Built-in access to exchangers can also be interesting for those who do not want to use large services.
Unfortunately, the flaws also did not pass by the Exodus wallet. The commission is the way higher than in Coinbase and the wallet is not that secure. It does not allow us to recommend it for those who want to store a large amount of cryptocurrency. They just won't let you feel safe. In this case, Coinbase will suit you better. However, Exodus is the best solution for newbies and for people who do care about their anonymity and do not store very large amounts.

By the way, if you want to change your cryptos, like BTC, ETH, USDT or others with the best rate and speed, you can use this widget 
---
---