LakeBTC Exchange Review 2021 - Is It Safe?
Full address:
Suite 606, 231-1 Ludi Avenue, Kunshan, Jiangsu, China Postal Code: 215332
Fees:
Taker: 0.2%
Maker: 0%, if your past calendar month volume > 20,000 BTC.
0.02%, if volume > 15,000 BTC
0.04%, if volume > 6000 BTC
0.06%, if volume > 3000 BTC.
0.10%, if volume > 500 BTC.
0.15%, otherwise.
Fees:
Taker: 0.2%
Maker: 0%, if your past calendar month volume > 20,000 BTC.
0.02%, if volume > 15,000 BTC
0.04%, if volume > 6000 BTC
0.06%, if volume > 3000 BTC.
0.10%, if volume > 500 BTC.
0.15%, otherwise.
May 21, 2021
Important info! The exchange is not active. LakeBTC is known as one of the oldest and safest exchanges on the crypto market. However, the company ceased updating its social media amidst the second phase of its native token sale. Judging by the user comments, it looks like the support team has stopped answering the users' requests and people cannot withdraw their coins. The website is online, however it doesn't seem that any trading takes place on LakeBTC as of May, 2021. It's better to stay away from this exchange.
Below you can see the review we've gave LakeBTC prior to figuring out that it's not active anymore.
What Is LakeBTC?
LakeBTC is a Chinese cryptocurrency exchange. Even though LakeBTC is located in China, it's owned by Lake Investment Limited, a company that is registered in the British Virgin Islands. Given that it's a crypto exchange, it's easy to assume that the BTC in the name represents Bitcoin; however, it stands for "Lake Banking Technology Company," which is the official name of the entire project.
Since its beginning in 2013, the platform has been among the most popular platforms, with the majority of its popularity coming from the Asian region. The exchange accepts customers from around the globe except for US and Chinese residents. Is LakeBTC really safe to use? Read this review and find out.
LakeBTC Features
Being a top exchange, the platform boasts some impressive features including;
High liquidity – the platform provides great liquidity, which is backed by top trading pairs, fast trade matches, and high volume.
Security – the platform values security and uses cold storage, SSL encryption, SMS withdrawal confirmation, two-step verification, trade notifications, and many more methods to secure user accounts. So far, the platform has never been hacked; however, it did lose some funds when EgoPay was breached.
Excellent user experience – not many complaints online about the exchange, with many users claiming to have a great experience on the platform.
Multiple trading tools on offer – trading APIs for sophisticated users that prefer algorithm trading, market making, or arbitrage are offered on the exchange. Also, LakeBTC offers a trading interface that features a minimalistic design with two different interfaces for trading Bitcoin. These include the standard trading interface and the LakeTrader, which is for advanced users.
Fairness – the platform claims to have no under the table deals, no back channels, and no privileged access to ensure it offers an excellent platform for all its users. Also, it carries out comprehensive risk management, strict internal controls, and has a market surveillance program to ensure it maintains fairness.
Advantages
Highly secure
Charges low fees
Many fiat currencies are supported
Various modes of payments are supported
Disadvantages
The website can be improved
No telephone support for international users
Available Deposit And Payment Methods
The exchange supports several payments methods, including:
Cash, LakePay, OKPAY, PayPal, Skrill, Bank Wire, Perfect Money, CHATS, Western Union, Payza, Leupay, Neteller, and MoneyGram.
As for deposit fees charged on the platform, it depends on the method used. 
So, depending on the method of your choice, you will be given a few reviews before you submit any request to deposit. 
Since there are many deposit methods supported, you may be wondering which is the least pleasant or the one you should avoid by all means. 
Well, that would be the bank wire option; it will cost you more and also consumes the most time. 
It gets worse when it comes to withdrawals with withdrawal time, sometimes taking even five business days. As for the charges, they vary from $15 up to $65.
Because the exchange is based in China, international users will notice there some international transfer fees involved. 
However, to be on the safe side, you can choose to deposit in crypto like Bitcoin and XRP or System Banker, where no fees are charged. 
In summary, LakeBTC fees entail; a 0.2% trading fee for takers, and for makers, see the table below 

However, the exchange allows users to deposit virtual currencies for free.
You can see the full LakeBTC fee structure below;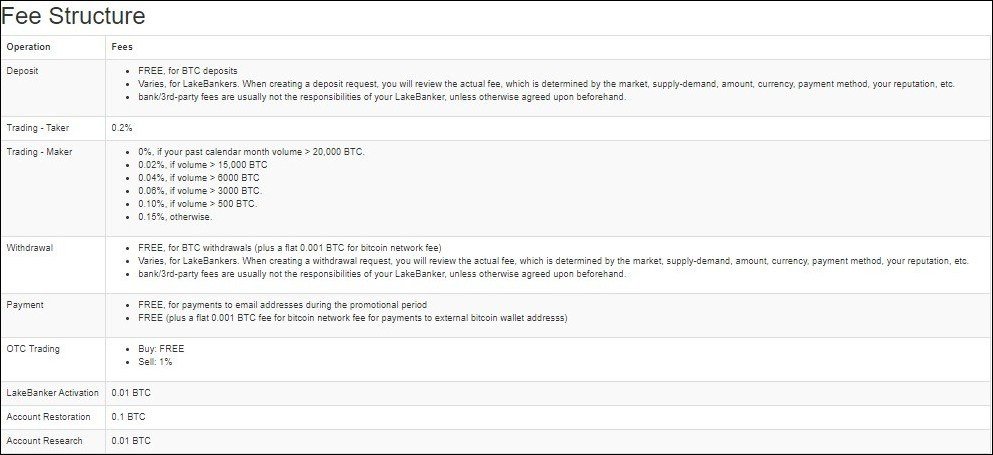 LakeBTC API
LakeBTC API rate allows developers to make requests on market data ticker. In return, they can receive vital information on the last price, best ask, best bid, 24 hours high, and low prices in the state of New York and the US. 
Calls to the API can also return information on the trade history and the order book offering details on all recent trades.
How to Use LakeBTC Exchange?
1. To get started on LakeBTC, visit the official website of the exchange (LakeBTC.com) and click on the "Register" icon.

2. You will be taken to the next page where you will be required to enter your email address and set a strong password. Ensure you check the reCAPTCHA box to ensure you agree to the exchange's terms and conditions, including confirming that you are not a resident of the USA or China.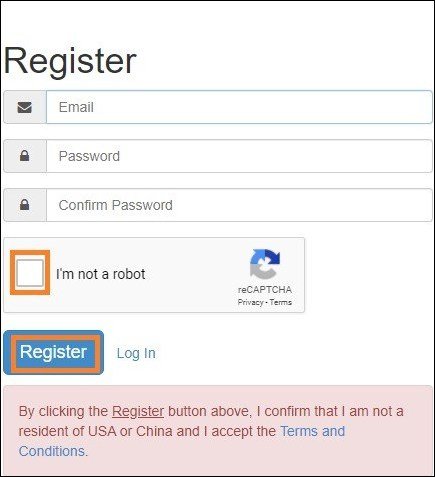 3. Then check your mail inbox to confirm your email address to proceed.

4. Click on the link that has been sent to your inbox, and you will be taken back to the login page where you are expected to enter your email address and password to enter the site.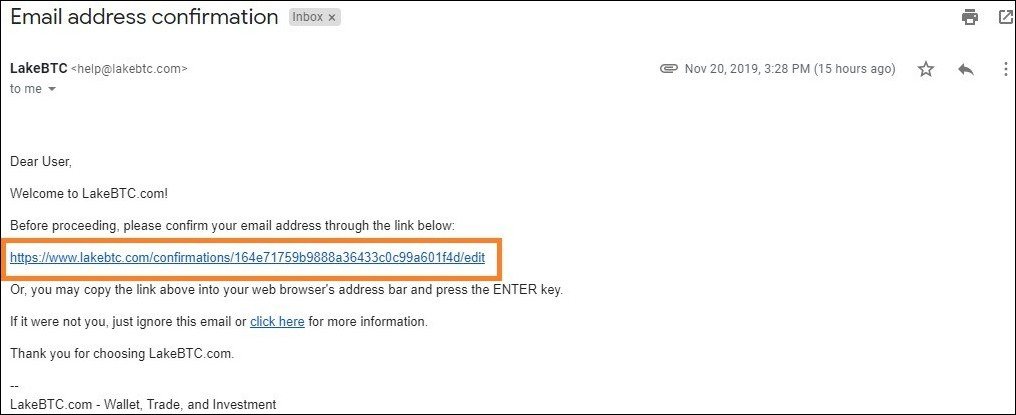 5. Now that you have successfully created an account on LakeBTC, its time to verify your account. Click on the 'Me' icon on the top bar then select 'Verification.'

Proceed to fill in the form. Ensure you enter the exact names that are on your bank accounts and ID since you can only withdraw funds to accounts that bear your official names. Also, ensure you follow the instructions given above the form as you provide your personal information.

If the account you are opening is a business/corporate account, you will be required to submit a government-issued business registration document. You will realize that the exchange supports three different accounts i.e., Trading account, BTC deposit and withdraw account, and the deposit/withdraw account using Bank Wire. As a new user on the platform, you will have the ability to trade even without verifying your ID as long as you are not using fiat currencies.
6. Now that you have successfully verified your account, its time to secure your account by setting up the 2-factor authentication (2FA). The process helps confirm the user's identity. Go to the 'security' section and select 'Google Authentication.' Ensure you install the google authentication app on your phone from the play store.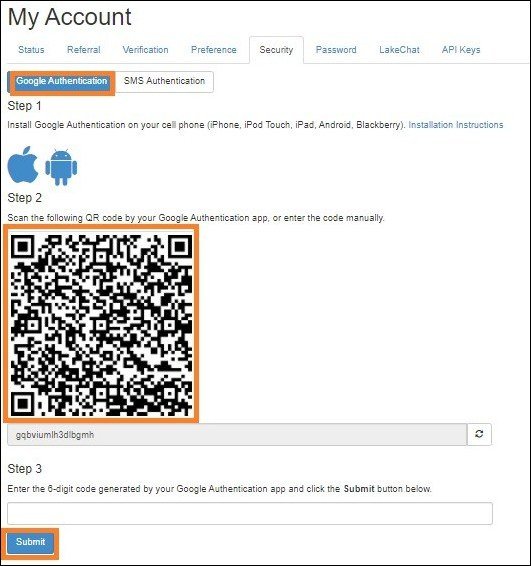 Then scan the QR code on the page using the app or enter the code manually. Enter the 6-digit code that will be generated by your Google Authentication app and select the 'Submit' button to continue.
7. Now that your account is secure, its time to fund it. Login using the information you have used to set up, and you will be taken to the 'My Wallet' section of the site. 

To begin funding, you will be required to create sub-accounts.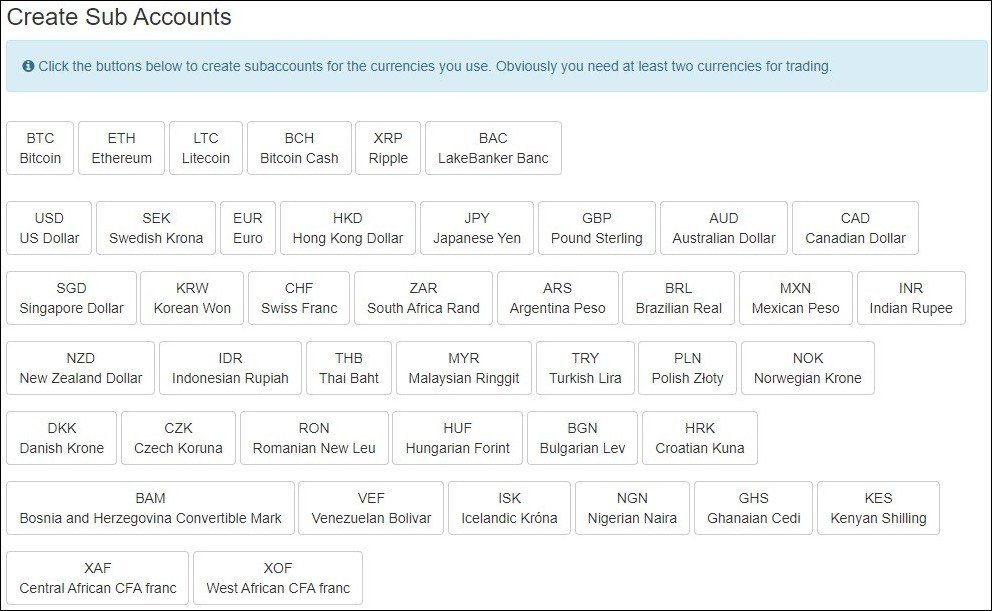 Select the sub-account you would like to make transactions with and click on more. You will be taken back to the 'Wallet' screen, where you will be required to select your currency.
8. Proceed to select your preferred mode of payment and enter the amount you wish to deposit and click on the 'Submit' button.
9. Now that you have successfully funded your account, its time to start trading. LakeBTC gives users the ability to buy Bitcoins even without registering an account, which is possible through the use of cryptocurrencies through the 'Unverified' account.
10. On clicking the 'Trade' tab, you will be taken to the 'Buy' tab, and there you can select the market of your choice. Enter your desired price and amount and place your bid order. The BTC will reflect in your account once your order is matched with the other orders. It's also possible to purchase BTC using the OTC option. To do this, click on the 'OTC' icon next to the 'Trade' icon and select the 'New OTC Order' to submit your request.

Customer Service
The platform's customer support team can be reached through SMS, email, social networks, telephone, and instant messaging. However, the phone support is for users that speak Mandarin. 
Frequently Asked Questions
The site also has an extensive FAQ page that provides answers to all the most common questions that users ask now and then. The page can be accessed in several languages, including English, Spanish, French, Portuguese, Chinese, Swedish, and Japanese.
One common concern among users is LakeBTC always high bid. Even though the platform may seem like the perfect place to sell your BTC due to the high prices that are ever offered, LakeBTC withdrawal fees are not always transparent in these situations. Due to the influx of Bitcoins and increased withdrawals, the fees are likely to be higher, and they are likely to clean out any profits you may have made. 
Is LakeBTC Safe?
This LakeBTC review wouldn't be complete if without the analysis of the exchange's security.
From our research, we found no hack reports. The platform has some of the most reliable security features around ensuring user funds are well protected. As for LakeBTC scam allegations, none exist online, with many users quite pleased with the platform. 
Conclusion
LakeBTC is one of the few exchanges that can be accessed by users from anywhere around the globe with high liquidity and robust security. 
It's an excellent platform for users that are getting started with cryptocurrencies as the registration process is quite straightforward, and the trading interface is very simplified. 
Add the many fiat currencies and cryptocurrencies on support, and you see why this exchange is the perfect platform for starters and even more experienced users. 
However, the exchange isn't the epitome of perfection and has a few things that could be improved if it's to rival the likes of Binance for the title of the best cryptocurrency exchange in the world. 
Some of the areas that need improvement include; engaging its community of users on social media platforms, improving its trading interface, and also adding on the list of crypto pairs that are supported on the platform.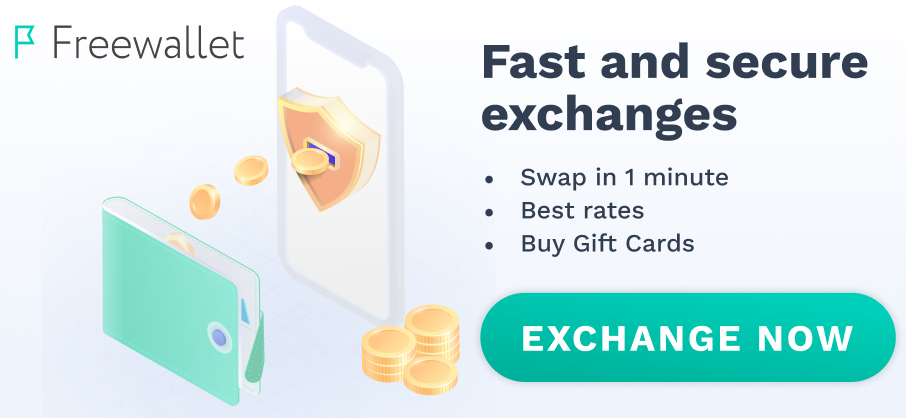 Lakebtc is a scam, I lost money at Lakebtc
Arnaque à fuir !!

J'ai connu LakeBTC par le biais de Conigy pour faire de l'arbitrage.
J'ai transferré mes bitcoins afin de les revendre mais en voulant retirer IMPOSSIBLE, aucune réponse aux mails.
J'ai donc fait la manipulation inverse, à savoir revendre mes Euros contre des bitcoins mais la transaction est à 40% depuis plus de 12h,
je ne sais pas si je vais récupérer mes 1500€ !! Donc je tente d'avertir un maximum de personne, ne vous laissez pas avoir !!

----------------------------------------------------------------------------------------------------------------------------------

Scam - Run away if you don't want to loose your money !!

I used LakeBTC because of "Conigy" in order to do arbitrage.
I transferred my bitcoins to sell them but when I wanted to withdraw... IMPOSSIBLE, no response to any of my emails.
So I did the opposite, reselling my Euros for bitcoins, I loose some money. Then I asked a withdraw and the transaction has been blocked at 40% for ever,
I don't know if I will get my 1500€ back, it might be to late for me !! So I try to warn as many people as possible, don't be fooled !!
I use it from time to time, it seems to be working good when I need it