Is Coinbase Safe to Link Bank Account? | Coinbase Security Analysis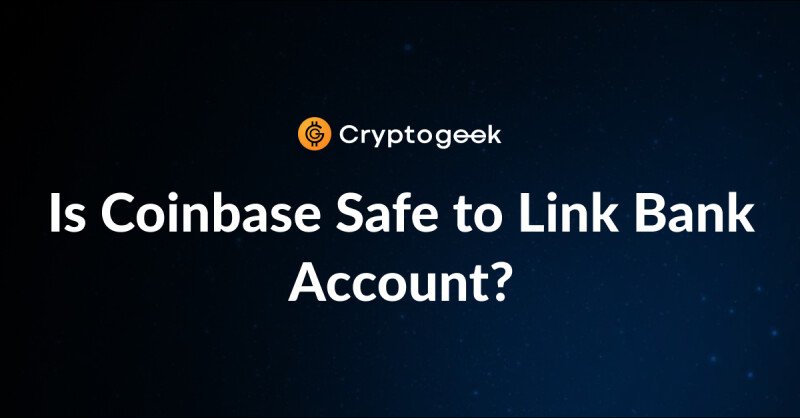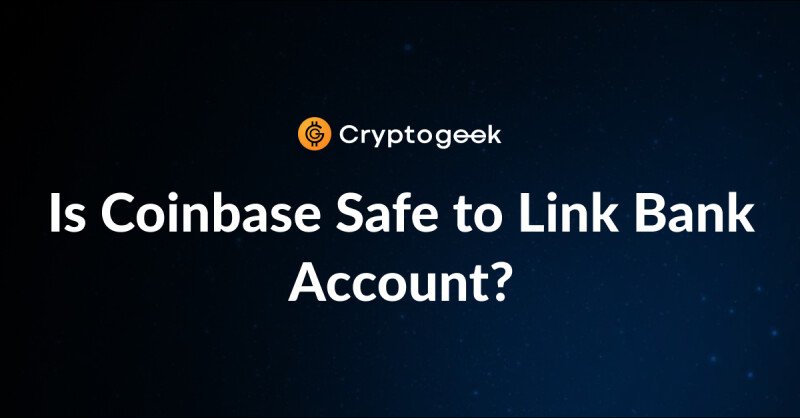 Is Coinbase really safe to link bank account? Many traders, investors, and cryptomarket enthusiasts at one point of time may have asked this question. So let's answer this question.
Excited to announce instant digital currency purchases using a US bank accounthttps://t.co/HybDElz7gq

— Coinbase (@coinbase) October 12, 2017
What is the first step every cryptocurrency trader or investor should do, which is also like the Forex market as well, and even the stock market? The answer is simple: do some due diligence and search whether the company is officially regulated or not. If the company is regulated by an authority such as FINRA, NFA, SEC, FinCEN, FCA, then there is a high degree of safety in financial transactions as these financial regulatory authorities monitor the various companies providing financial services such as Coinbase and can impose fines in case there are violations of rules or services provided. 
The questions related to Coinbase safety can be answered as Coinbase in the U.S. is licensed to engage in money transmission in most U.S. jurisdictions. Furthermore, Coinbase is registered as a Money Services Business with FinCEN. 
The Financial Crimes Enforcement Network (FinCEN) is a regulatory authority in the U.S. with a focus on information about financial transactions to fight domestic and international money laundering, potential terrorist financing, and other types of financial crimes. 
Besides, Coinbase must comply with many financial services and consumer protection laws, such as The Bank Secrecy Act, The USA Patriot Act, and finally, Coinbase must comply with most states' money transmission laws and corresponding regulations. 
On an international level for residents with a nationality other than the U.S., there is a contract with a company called C.B. Payments Limited, with a base in the U.K., being authorized by the Financial Conduct Authority. 
So, the answer to the question is Coinbase safe to link bank account is yes, it has a considerable degree of safety. 
Some opinions on Coinbase from Reddit can provide a lot of useful information about the safety of Coinbase. The Bitcoin community on Reddit with 1.2million users is a good source of information related to Bitcoin and Coinbase. Many users ask if Coinbase is safe and reliable. 
There are answers such as people who never had a problem. Many people say that Coinbase is the best, most reliable exchange out there with actual customer support you can call. 
There are, however, a lot of users that consider Coinbase safe but suggest further safety precautions such as it seems safe to buy on Coinbase but move bitcoin off to your wallet immediately; it is fine to buy bitcoin on Coinbase but look into trusted wallets or cold storage wallets. 
A lot of people though complain about charges and fees. And there are concerns about the fact that in the past the big exchanges and mining pools got hacked and lost some of their money. In 2019 some notable cryptocurrency exchange hacks are the stories related to Bitrue, GateHub, Binance, Bithump, and CoinBene. However, some exchanges withstand hacks successfully. For instance, HitBTC which charges nearly the smallest fees has never been hacked since the very launch in 2013.
What about some technical issues (bank transfer, transfer time, verification, etc.)?
Coinbase bank transfer
What is the Coinbase bank transfer time? 
It doesn't take long.
- The request to the bank is sent instantly;
- The time for the bank to process the request is about 3-5 days.
However, there are differences related to international withdrawals, and Coinbase bank transfer time can differ. For European customers, withdrawals take up to one to two business days. For Canadian customers, the Coinbase transfer time is the same as for the European customers, i.e., one to two business days. 
For Singapore customers, the time for processing withdrawals is a bit higher, two to three business days. But there is an option if a Singapore customer wants a much quicker time for same-day processing the withdrawal request with a S$2.99 fee. There are fees for Coinbase bank transfer for European customers and Canadian customers. The fee for European customers is €0,15, and for Canadian customers, there is a $1 fee to withdraw Canadian Dollars.
Coinbase bank account
What about Coinbase bank account verification? 
Coinbase takes necessary steps to keep sensitive information safe, and one very sensitive information is the personal bank account of any user or customer. They use encrypted servers and SSL certificates while there is a rigorous background check on all employees. U.S. customers can verify their bank accounts within a few minutes. 
The actual banking credentials are not sent to Coinbase itself. Still, there is another third-party service used, called Plaid Technologies, Inc., with the purpose to provide instant verification of the accounts. Users can change at any time their online banking password once they have had their accounts instantly verified. 
Bank accounts can be added by clicking the payment methods page. A customer can use the get started menu on the upper right of his/her main account page. There is a selection of various banks such as Bank of America, Chase, Citibank. 
The online banking username and password will be requested for any U.S. customer, a one-time verification step. Additional security questions may be asked, depending on the bank's security procedures. 
For users or customers who do not feel comfortable sharing their online banking username and password, there is another option by selecting 'Other Bank' from the main menu and choosing the deposit verification process, a process which generally takes 2-3 business days to complete. 
The deposit verification is a procedure that will perform two small test deposits to the user's account. After two or three business days, the user can verify the bank account by simply clicking on the confirm button using the payments page. By entering the correct two deposit amounts and pressing the verify deposit amounts, the bank account is finally validated. 
For other nationalities such as European customers, there is a requirement to make a complete SEPA deposit to their Coinbase EUR wallet. The steps are simple, and it only takes one to three business days for withdrawals to complete.
---
---