Everything You Need to Know About Coinbase IPO | by Cryptogeek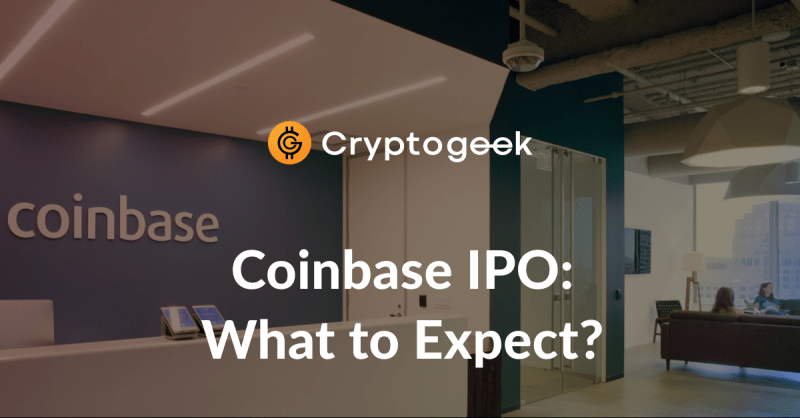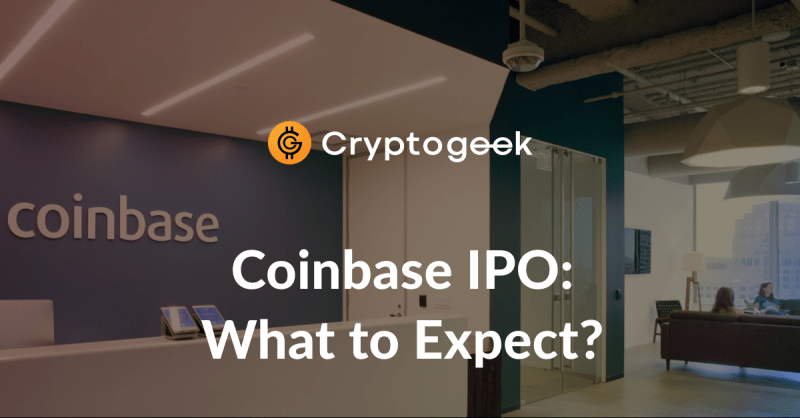 One of the oldest, most popular and well-known cryptocurrency exchanges Coinbase is launching its initial public offering this Wednesday. Coinbase will be the first big cryptocurrency-related company to do so. On Nasdaq, Coinbase's stocks are traded under the ticker $COIN. There are 114,850,769 shares of stock listed by Coinbase. The company is valued at $100 billion by some while others argue that the real value is around $20 billion. Some experts already call this IPO the most important IPO of 2021. Below we will sum up everything we should know about this breakthrough listing.
What Coinbase Has Accomplished As of Today?
Coinbase has been existing for a long time. The company was launched in 2012 in the US by Brian Armstrong and Fred Ehrsam. The best known Coinbase products are a crypto exchange (Coinbase Pro) and crypto wallets. In the USA, Coinbase is the largest crypto exchange in terms of trading volume.
Unlike many early crypto exchanges, Coinbase Pro has always been striving to follow the laws and regulations. For several huge exchanges the US laws were too tough so they preferred to fully abandon the American market rather than to follow the rules. Coinbase was a company that decided to stick with the regulations and turn it into its power. For instance, the clean legal status of Coinbase turned its trading platform into one of the safest crypto exchanges.
The functionality of Coinbase isn't that impressive for experienced traders. The fees are quite high, too. There are other high liquidity exchanges that seriously outperform Coinbase by the number of the supported coins. For instance, HitBTC supports over 470 coins; Binance has nearly 300 currencies. However, Coinbase's customers can rest assured their coins are safe on the platform. The exchange has a beginner-friendly design. Coinbase Pro is usually recommended as a good platform for first time crypto buyers/traders. In this sense, we can say that the fact that Coinbase will be the first big crypto platform for Nasdaq is somewhat symbolic.
*CRYPTO PRICES SURGE AHEAD OF COINBASE IPO 🚀🚀🚀 pic.twitter.com/DWF2xQAchI

— Investing.com (@Investingcom) April 13, 2021
According to the Coinbase website, there are over 56 million verified users on the platform now. There are over 20 million daily visits on Coinbase Pro while the 24h trading volume exceeds $2.5 billion. There are over 1,700 employees working for the company. 2019 was unprofitable. In 2020, Coinbase made $322 million. Officially, 87% of this money was earned by trading cryptocurrencies. The annual profit exceeded the 2019's income by 139%. By some accounts, the figures are even much better. In 2021, the growth became faster. Most parameters in the first quarter saw the increase by 30 to 50%.This growth alongside the boosting crypto market made it possible for Coinbase to head for a greater exposure via IPO. 
What Does This IPO Mean For Coinbase and Crypto Industry In General?
Despite the fact that Coinbase is already a very popular company and the crypto market is on the rise, such an IPO can introduce both the exchange and the industry to the new market players. For some people this listing is a signal saying that the cryptocurrency business isn't a shady obscure industry with a dubious reputation. The stigma of cryptocurrencies as a crime currency is fading away and the IPO is a serious step ahead on this way.
It is not an exaggeration. The IPO process means that the company will open a part of its documentation to the side professionals namely investment bankers. Companies that do IPOs are trusted by wide audiences, they have better finance, and can develop faster. Most probably, the potential success of Coinbase IPO will make it easier for other crypto giants to get to the stock market which in perspective can seriously increase the mass adoption of cryptocurrencies and blockchain technology in general.
Is It a Good Idea to Invest in Coinbase?
There is no way to predict if this IPO will be a success or not. In general, experts advise to invest in the companies that already have proved themselves great on the market. New Constructs CEO David Trainer says that the $100 billion valuation is a mathematical impossibility meaning that the hype is based on ill-founded calculations.
Investing in Coinbase is riskier than in more established public companies so it's up to you if you want to take a chance with it. There's the opinion that investing in Coinbase is a kind of investing in the future success of the overall cryptocurrency.
Post Launch Update (April 19, 2021)
The first days after the IPO launch were successful for Coinbase. Binance supported $COIN and added this instrument to their list. In general, the price is fluctuating above the $330 mark. The early venture investors who invested $300,000 in the exchange now gained  $565 million. 
The Coinbase IPO was met by the crypto community with mixed feelings. The thing is that people like cryptocurrencies for different — if not conflicting — reasons. For instance, some believe that cryptocurrencies are here to replace banks and fiat currencies. Others like the way they can earn fiat money via trading or mining cryptocurrencies. Some people want to get rid of the middlemen in finance, while others don't mind middlemen and only see cryptocurrencies as a tool to get richer. No wonder, there were people criticizing Coinbase's IPO as a selling out.
Via F2Pool, Coinbase celebrated the opened listing on Nasdaq through attaching a New York Times headline in the Bitcon block. It reads "House Gives Final Approval to Biden's $1.9T Pandemic Relief Bill Mine''. The first (''genesis") block of the Bitcoin network was referring to a traditional monetary system crisis by embedding a then-modern headline "Chancellor on brink of second bailout for banks". Mimicking Satoshi's act can seem controversial, too, as Nakamoto was introducing the fully decentralized censorship-free solution aimed at creating a finance space free of middlemen while Coinbase is integrating with the old-fashioned centralized elitist finance sphere via this IPO. But things are a bit more complex than it seems. By this listing, Coinbase is not only earning more money (which they do) but also attracting more attention to cryptocurrencies as a powerful tool shaping the future of the financial sphere. More than that, the platform helps new people to effortlessly buy their first crypto and then these people are free to do whatever they want with it. They don't have to stick with a centralized government-friendly platform forever. What's more important is that Coinbase itself spends money supporting new decentralized platforms. So they grow a new economy in the background while going public as a moderately conservative entity. Once again, it seems that we can only praise the move by Coinbase. 
---
---