Freewallet Review 2021 - Is It Safe?
Security:
Third Party Encrypted
Has trading facilities:
yes
Features:
2 Factor Authentication, Multi-Signature, Hierarchical Deterministic
Jan 21, 2021
Freewallet is a cryptocurrency wallet brand supporting over 30 currencies. It provides both single- and multi-currency wallets. The wallet is available for iOS and Android, and also exists in the form of a web interface application. There are several single-currency wallets and two multi-wallets — Crypto Wallet and Freewallet Lite. Users of Freewallet can transfer coins to each other for free. Another significant feature is the ability to pay for mobile phone service via this wallet. The web version features an in-built crypto exchange. Freewallet users can buy Bitcoin, Litecoin, and Ethereum with a credit card. The wallet is available in English, Simplified Chinese, Spanish, Russian, French, German, and Italian languages. 
Providing its users with so many available coins for purchase, Freewallet is actually a leader in this indicator, especially when compared with other wallets that offer not so many coins.
On the Internet, one can find scam allegations concerning Freewallet so it is reasonable to find out if Freewallet a scam or is it a legit service? Most of the allegations are quite standard. People accuse Freewallet of blocking accounts or complain that sent money didn't reach the address. Usually, these issues are successfully solved by the support team and have nothing to do with malicious activity.
Trade With Up To 125X Leverage on Binance
Freewallet History Review
Freewallet development team had started its work in 2016 in Tallinn, Estonia. The first product of the Freewallet team was the FantomCoin wallet. As the app proved itself to be successful it was followed by the production of wallets for Ether, Bitcoin, and Monero. All these wallets were created for Android. In the same year, the Ethereum wallet quickly became one of the most popular apps on Google Play and all the wallets became available for App Store.
The next big step was the launch of the first multi-wallet by Freewallet in 2017. It was a web-based app. The same year Freewallet created the first Bitcoin Gold wallet (for Android) and the first Bitcoin Cash wallet (for iOS and Android) which were followed by other single currency wallets. Also, Freewallet is responsible for the creation of the very first Tron wallet and early support for Bytecoin, the currency based on CryptoNight protocol. The brand became more popular when it was featured in one of the episodes of the OA TV series (Netflix) in 2019.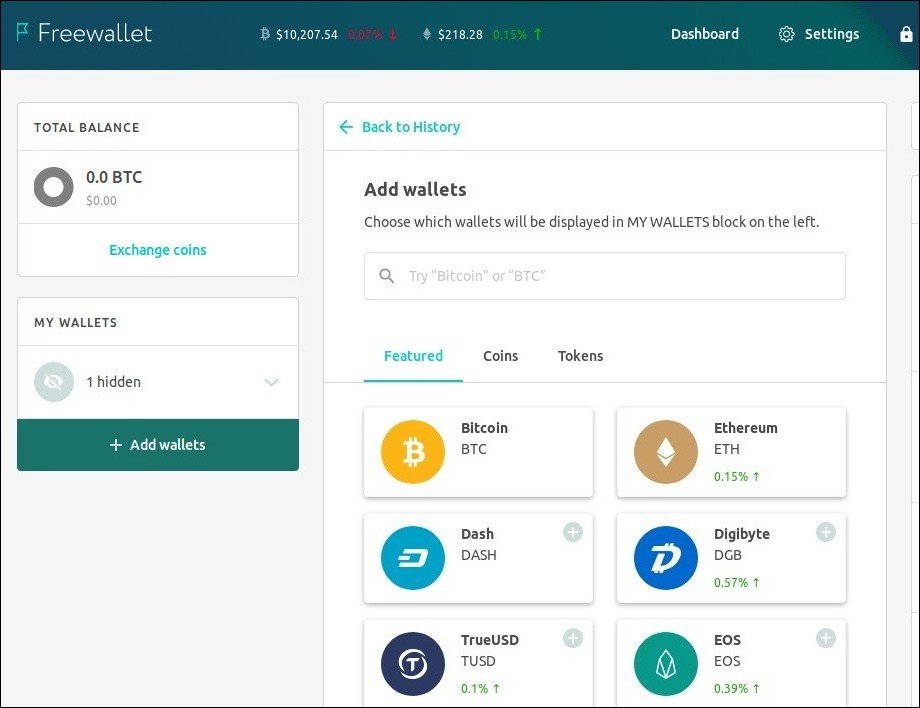 2021 Update
As of 2021, Freewallet keeps on growing. In January, a series of giveaways were held among the Freewallet users. To make a community stronger, Freewallet has significantly gained its social media presence in late 2020. Additionally, in 2021, there was established a partnership between the wallet and the MoonPay payment provider. This collaboration significantly increases the comfort of buying cryptocurrencies with credit cards on the Freewallet platform. Since MoonPay supports 42 fiat currencies it is safe to say that Freewallet became an international crypto gateway. 
Types of Wallets Available
1. Crypto Wallet. This app is a multi-currency wallet available for Android and iOS. Also, it has a web version. Crypto Wallet makes it possible to store over 30 currencies in one place. These currencies are Bitcoin, Litecoin, Monero, Ether, Bitcoin Gold, Doge, Zcash, Stellar, and others.
There's no backup option for Crypto Wallet. In this case, when a user needs to recover this wallet he needs to contact the support team and provide certain information. Private keys are not available for users and are stored by the company. Crypto Wallet users can send coins to each other for free.
2. Freewallet Lite. This is another multi-currency wallet. Just like Crypto Wallet, it is available for Android and iOS. The Lite version supports a different set of coins. Freewallet Lite users can store BTC, ETH, and ERC20 tokens in it.
Unlike Crypto Wallet, the Lite version requires backup for recovery of the wallet (restore of the wallet requires the use of the mnemonic phrase), private keys are stored by the wallet users and the transactions between the users of the Lite version are not free. This wallet is hierarchical deterministic, absolutely anonymous, and requires no registration. The new address is created for every transaction. Lite version has real-time cryptocurrency charts and a feature of balance in the fiat currency of choice.
3. Single-currency wallets. To date, the Freewallet family includes dozens of dedicated single-currency wallets. Most of these wallets are available both for Android and iOS. These wallets request a phone number, Facebook, or email address for logging in.
Some of the currencies (for instance, BTC) can be bought right via the wallet app with a credit card. Bitcoin can be used to top-up the cellphone balance. Single-currency wallets have free transactions inside of the Freewallet network. Users sending coins to third party wallets can choose one of the four fee plans (it is relevant only for Bitcoin). These wallets can be funded with other cryptocurrencies that can be exchanged right via the app interface.
The full list of the assets supported by Freewallet can be found here.
How to use Freewallet: Registration
The registration process doesn't take much time. The user provides an actual email address that should be confirmed (users cannot withdraw their funds until they confirm the email address). Besides inserting the email address the user needs to create a strong password and short 4-digit PIN. This PIN is requested when the user performs any significant action with the wallet. When the PIN is set and the email address is confirmed the registration process is finished and it's better to turn on all the protection measures for the wallet.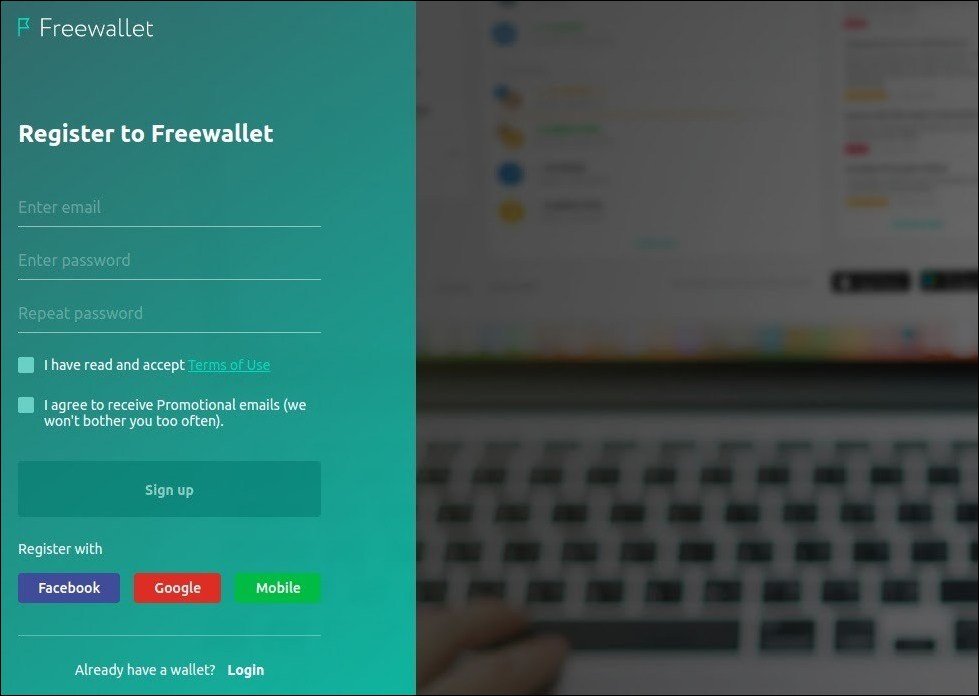 It's worth mentioning that the use of Freewallet Lite requires no registration as this wallet is privacy-focused and fully anonymous.
How to use Freewallet: Setting the Security Measures
This is the second recommended step after the registration of the account and confirmation of the email address. Security should not be neglected and there are many aspects that depend on users no less than on the platform itself.
All the wallets can be secured with five protection features.
1. PIN. We have already mentioned PIN while talking about the creation of a Freewallet account. The functionality of PIN is the same as for PINs used for traditional bank cards.
2. Touch ID. The user may set a Touch ID that will request his/her fingerprint to log into the account.
3. 2-factor authentication (2fa). This protection measure is very important because it creates an additional security check before the withdrawal of the funds. When password and PIN (which can be obtained by hackers from compromised emails or messages) are inserted, one needs to insert the unique code (One Time Password) that is generated (updated) every 30 seconds on the user's device. So without this device, no one cannot withdraw funds from the user's account.
4. Multi-Signature Email Confirmation (Multisig). This protection measure (if enabled) makes it impossible to withdraw funds without confirmation of the transaction via email. To make this step more efficient Freewallet allows setting up to 5 email addresses for the email confirmation. The transaction is finished only after the withdrawal gets confirmed from all of the addresses.
5. Setting the Maximum Daily Amount of Withdrawals. This step is quite intuitive. In the emergency case when the violator somehow managed to withdraw some funds, a part of this money can be saved via this limitation.
If users don't bother to enable these protection measures, their accounts might be vulnerable to thieves. Some hackers get the user's password and PIN via phishing websites (such sites are well-spread in the cryptocurrency sphere) or via fraudulent schemes on social media platforms (some thieves impersonate the official pages of cryptocurrency platforms in order to obtain its users' login data). Knowing the user's email, password, and PIN number can be enough to empty the user's account via the web wallet. That's why Multisig, Touch ID, and 2-factor authentication are very important to provide maximum security and make the wallet safe.
How to Add Funds to Freewallet Account?
The instruction for Crypto Wallet. In order to send money to Freewallet, one needs to proceed to the "Receive" tab of the application and specify which currency will be sent to Freewallet. The application will display the "Receive address" and the QR code. This address should be used as a destination address while sending coins from the sender's address. For sending some assets one needs to add a message for the transaction identification.
Single-currency wallets have a little bit different algorithm for adding funds. One needs to tap on a plus icon at the bottom of the screen and then choose the "Receive" option on the menu. Then the user will be provided with an address and QR code which should be used by the sender to send money to the Freewallet account.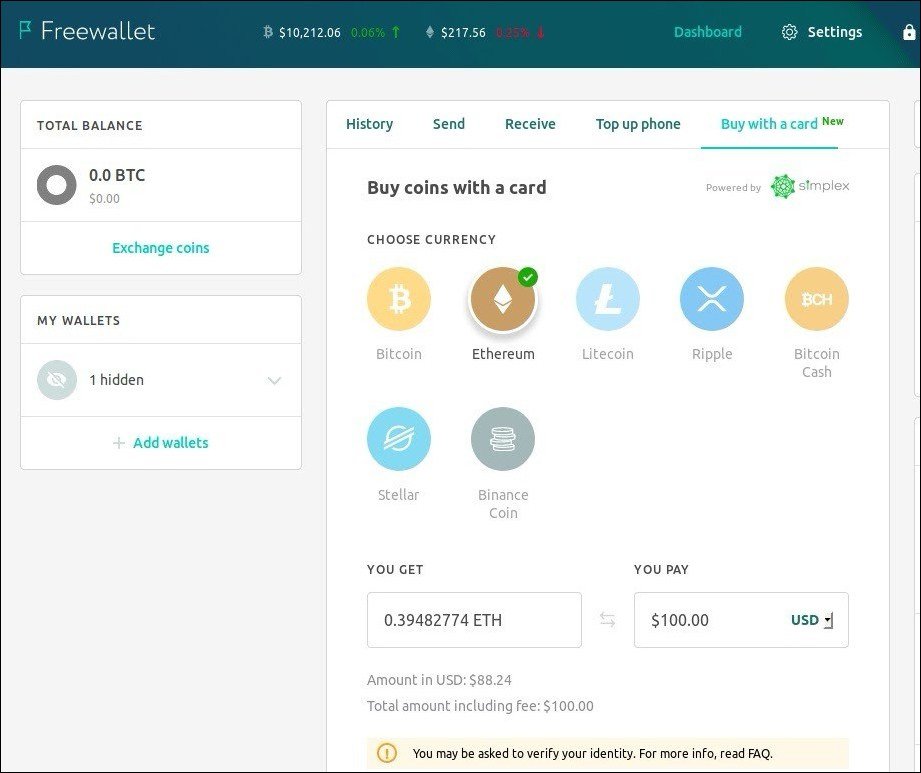 How to Buy Cryptocurrencies With a Credit Card?
Freewallet provides an easy and instant way to buy cryptocurrencies with a credit card. Nevertheless, there are some limitations to consider before buying cryptocurrencies with a credit card on Freewallet. For instance, although the company supports most of the existing cards (including Visa, Master, and even some virtual and prepaid cards), the Freewallet team doesn't guarantee that the bank won't decline the transaction due to the rules of this bank.
More than that, there are limitations in the amount of money one can spend on cryptocurrency. The minimum amount that can be spent on cryptocurrencies in one transaction is $50. The maximum amount that can be spent on cryptocurrencies in a length of 24 hours is $20,000. Users can't spend more than $50,000 on cryptocurrencies per month.
When buying cryptocurrencies with a card, Freewallet collects fees. The fee amount is 7%. The minimum fee is $11. In the case of buying cryptocurrencies with a card that has currency different than USD or EUR, the bank will charge additional fees for the conversion of the user's assets.
Freewallet service is available for the residents of 36 countries (members of FATF). These countries are the UK, Germany, France, Russia, the US, and others.
In order to buy cryptocurrencies via credit card one needs to do the following steps:
1. Log in to his Freewallet account.
2. Choose the "Buy with a card" tab in the upper right corner.
3. The next step is choosing a proper cryptocurrency and its quantity. Freewallet allows buying BTC, ETH, and LTC with a credit card.
4. After that, one needs to choose the fiat currency that will be used for the payment (there are two options: USD and EUR).
5. The next step is specifying the sum. It's important to hold in mind that the payment provider used by Freewallet will probably ask some questions to identify the user. The verification process may take up to 2 hours.
6. The transaction gets processed and the user receives the desired amount of BTC, ETH, or LTC.

More than that, Freewallet has partnerships with MoonPay and Simplex. Thanks to these services, buying with a card became very simple. There are over 40 national currencies available for Freewallet users. The minimum payment is $20.
Inbuilt Exchange
Although crypto trading platforms like HitBTC or Huobi can offer more options and features for traders, the exchange of coins can be easily made right in the wallet interface. Freewallet provides a feature of exchanging crypto assets within the user interface of the wallet. The process is quite simple: there are two boxes on the page of the exchange. The first one is for the quantity and the type of cryptocurrency the user is going to send, and the second one is for the quantity and the type of cryptocurrency the user is going to receive. There is a choice of over 50 available cryptocurrencies to choose from. The exchange is processed via the "smart transaction" algorithm that quickly changes one currency for another. There's no way to set the fees of the Freewallet exchange service but it's safe to say that this feature can be time-saving and useful in cases when the need to change the currencies is urgent.
Freewallet has joined forces with Changelly to combat the crisis by opening off-chain exchanges for a list of 54 coins and ERC20 tokens, including BTC, ETH, EOS, and LTC. Off-chain exchanges are executed in 2-3 minutes and characterized by better rates and enhanced anonymity.
Off-chain exchanges are transactions in which digital assets are moved outside of the blockchain itself. By moving assets outside of the blockchain, users are able to enjoy three distinct advantages over on-chain transactions. 
Tracking Transactions
Another feature that makes Freewallet more convenient is an inbuilt transaction tracker. There's a separate page on the Freewallet website where any user is free to put a special code that is called Request ID in the proper box to see the status of the transaction and all the related information.
The request ID is a code similar to the transaction hash. This code is generated for each transaction that takes place within the Freewallet ecosystem. Request ID can be found in the History section by tapping on the transaction from the list of transactions (request ID is displayed right under the transaction hash).
One of the possible functions of the request ID is proof of the fact that the transaction took place. Request ID can be sent to a receiver as evidence.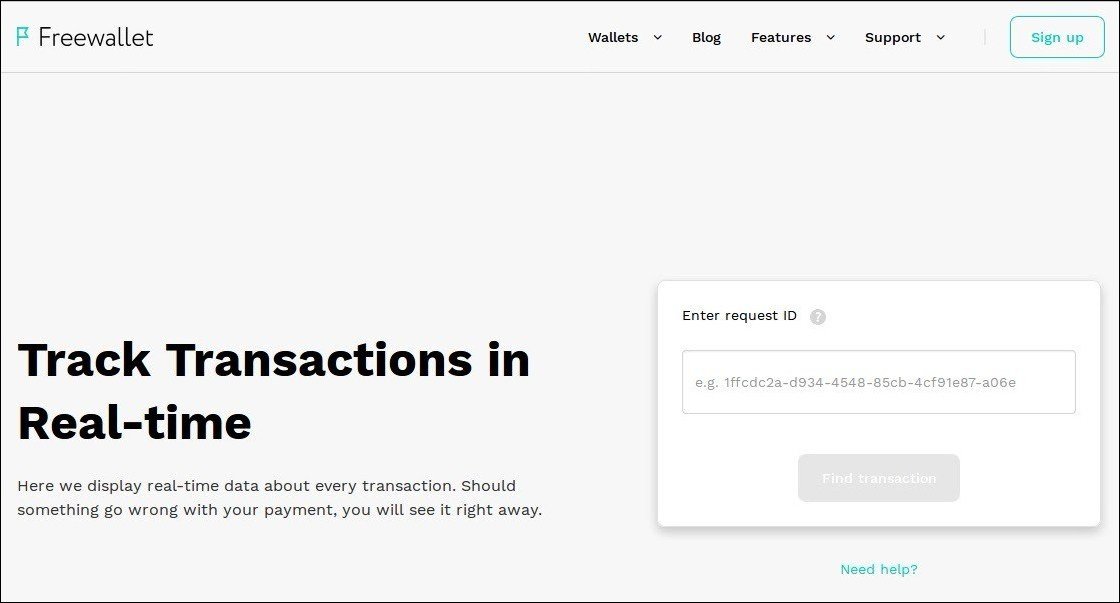 On Freewallet the following transaction statuses are possible:
1. "Created" — the transaction had appeared on the Freewallet side, the request ID was generated.
2. "Validation" — the transaction was interrupted by the sender or wasn't confirmed via email.
3. "Waiting for hash / Received hash" — the transaction is yet to be included to the blockchain and awaits confirmation. At this stage, the transaction cannot be canceled nor deleted.
4. "Pending" — at this point, the transaction is processed by the node. After processing the transaction should be confirmed and added to the block.
5. "Confirmations" — the final stage before the finalization of the transaction and adding it to the block. On the "confirmations" stage the user can check in real-time the number of confirmations the transaction gets.
6. "Confirmed" — this status means that the transaction was finished successfully and the assets have reached the receiving party.
The transaction status is displayed only for the first 7 days after the transaction took place.
Freewallet Fees
The users of Freewallet don't pay transaction fees when they send coins to each other. Nevertheless, they have to pay network fees. Free transactions are achieved thanks to off-chain transactions technology.
I know Coinbase is rather naff, but at least they let you send coins for free to other Coinbase customers. Freewallet also offer free transfers to other Freewallet customers (and has a larger selection of coins and tokens).

— Simon Breedon ⛏🇬🇧⚡️ (@SBreedon) August 28, 2020
When sending Bitcoin to a third-party wallet, the user is free to choose one of the four fee options (the higher the fee, the faster is transaction).
Is Freewallet Safe?
We have already made a security measures review of Freewallet, but we should understand how safe this platform practically is. As the cryptocurrency sphere is still a point of attraction of numerous fraudsters, it is important to figure out if Freewallet is really a trustworthy service. Does it provide a decent security level? Which potential issues should be taken into account?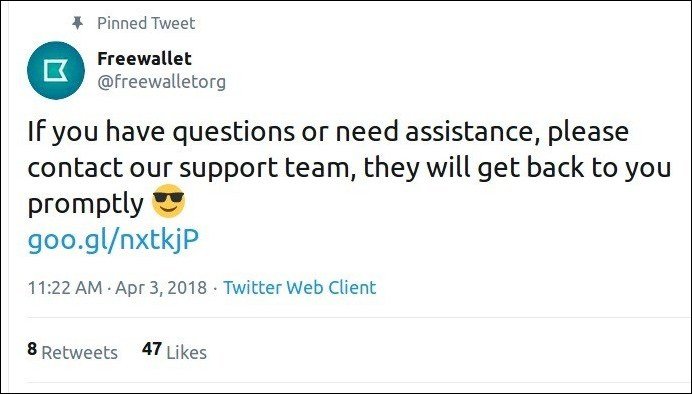 As it was mentioned above the user is required to set up a password and a PIN and is free to enable 2-factor authentication, Multisig, withdrawal limitations, Touch ID. Besides, there are default safety measures applied by the platform. Freewallet uses cold storage technology to store users' assets. The assets are kept offline and the company guarantees the safety of its users' money. Another safety measure is called the Active Sessions Control. This feature provides the user with the opportunity to check if there were any suspicious activity associated with the user's account, get the info about such actions (IP address of the violator, device type, etc), and manage these connections remotely. So far there were no registered cases of successful hacking of the Freewallet cold storage.
Is Freewallet a Scam?
It's possible to find user reviews claiming that Freewallet is a scam. For example, there's a warning in the Monero Reddit community "Did you know? Freewallet is a scam." The warning page contains links to threads with alleged evidence, but those who read carefully won't miss the hypothetical nature of these allegations. Moreover, the most concerning thread contains responses from Freewallet representatives explaining the reasons for the inconvenience. It doesn't seem that people have really lost their coins, it's more likely that some of the wallet users faced some withdrawal delays. This thread is mentioned twice (two different links lead to the same thread). The rest two threads are almost identical. An OP asks Redditors if Freewallet is trustworthy because it turns out that private keys are not available for users. Many users are following the motto "not your keys, not your coins". For such people, the Freewallet team has already created a Lite version that allows users to keep their private keys. The years have passed since these threads were created, but the wallet is still in operation, and Monero is still on the Freewallet list of coins.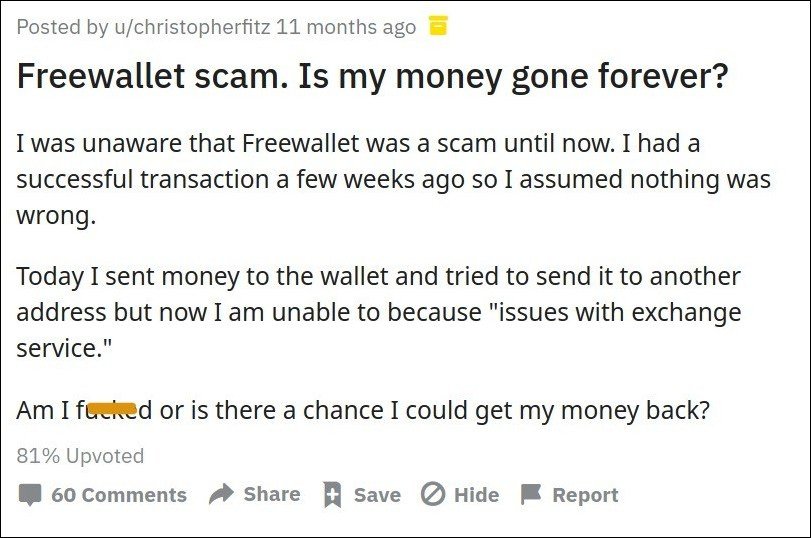 The screenshot above showcases a typical attack on Freewallet (although it's fair to say that similar accusations haunt many other companies, too). A Redditor starts a post with an "I was unaware that Freewallet was a scam until now" line although in the headline he expresses the lack of confidence that the money was gone. Many of those people who "know" that Freewallet is a scam are not sure if anything wrong has happened. We can see that this Redditor even got a message that service is not available at the time but for some reason instead of reaching out to the support team he decided to create a thread on Reddit and call the platform a scam. Interestingly, such posts gather positive responses from the Reddit community despite misguiding headlines and the lack of details, arguments, screenshots.
BEWARE OF USING FREEWALLET
No private key NO coins, point

Where are my private keys?

Freewallet is a hosted wallet, that's why it's not possible to provide the private keys to the individual wallet addresses.

— Essafiofficial (@essafi_k) May 17, 2019
Moreover, Freewallet is known for monitoring new posts on the forums and social media in order to find the customers' complaints and solve the occurring issues. So, those who bother to scroll the comments under "Freewallet = scam" posts down will find out that representatives of Freewallet contact people who make posts about problems with the wallet and address the issues. Some examples can be seen here.
Many crypto-related companies face scam accusations from time to time because algorithms are not always working smoothly and people tend to worry about their money. What matters is if the company takes responsibility for the shortcomings and solves the problems. Freewallet team seems to care for its reputation and helps its users although the responsiveness of customer support is not always praised. Some users have to remind the support team of their queries multiple times and post negative online reviews to speed up the customer service reaction. Happily, in many cases the support team takes action. So we can say that this wallet is not free of potential stumbles upon, but in general, Freewallet is rather safe than not. 
Final Thoughts
In a conclusion, we can say that Freewallet provides a complex set of features (some of which are innovative) and solid functionality that can fit both novices and experienced cryptocurrency users (more likely they will be eager to use a Lite version to gain more control over their funds). The interface is intuitive which makes this wallet quite appealing, but at times users have to wait for lengthy periods of time to withdraw their coins. Freewallet doesn't seem to be a scam platform. It solves the issues and continues its work, but there are some aspects that should be improved.
para mi no esta nada mal pero cobra comiciones muy alta en sus transsacciones no entindo debito a q es tan alta los fee q cobra comparado con otras wallet
Cristian
4 March, 9:13 PM
I've been waiting since yesterday for someone to send me an email with information about my transfer from Hitbtc to the Freewallet wallet. Hitbtc already answered me and they confirmed that the transfer was confirmed in the blockchain and had been confirmed successfully. But in the Freewallet wallet the cryptocurrency appears at 0, and without being able to work with it.
It is a shame that nobody answers an email, and says that they work 24 hours a day and 7 days a week ...
Well, nobody solves anything for me or sends me an email so I think they lie a little ...
User d823eac9
I have been using freewallet for a while now and it has not let me down until last week. Previously i have lost transactions due to being less than the minimum but now i sent from my coinbase and luno and these transactions showing as confirmed but not in my wallet. I made a support ticket 3 days ago no reply and again today. I would like to know whats happening with my funds
285796
Michael Rudzinski
2 March, 2:11 AM
i sent crypto to my acct on sunday and it did not transfer that day. i sent ticket request and have tried live chat, to my surprise i have not recived any email or live chat response to anything i have sent. so im not sur ehwat else to do, so yeah i have funds lost in the web.
marcos
27 February, 1:57 PM
do not recommend, I have a canceled exchange for 8 days and support does not respond
Игорь
24 February, 9:54 AM
Приходят коды подтверждения регистрации. Я не регистрировался. Что делать?
hugo olivares
23 February, 7:04 PM
no soy experto, pero siento que la comisión es alta, por ejemplo quise pasar 0.00075 btc a hitbtc y el costo de la comisión era de 0,00054 por lo que iba a recibir aproximadamente 0.00029 en hitbtc lo que encontré nada conveniente, no se si estoy bien o mal solo fue un análisis que hice en su momento
saludos
Tallin
12 February, 1:01 PM
Amazing wallet, I appreciate their work
Aidar
9 February, 8:54 AM
Hello!
When can the TRON be withdrawn again?
Terrence ferry
7 February, 5:32 PM
You've suspended my account saying my information was attacked by a phishing site but give no proof. But you want proof from me of who I am and proof of funds which iv sent . You still haven't verified my account and let me access my funds to exchange my btc for eth , I'm losing earnings and losing out in profits as of now .
I have no faith in free wallet any more . Yes you did a good job stopping my coins going to some scum bag but you've locked me out which is highly illegal and unethical and definitely unprofessional. You can't keep my coins and I'd love to know how many times have you done this despicable villain type scam you call (protecting) my account, ha who you protecting it from ME the owner of the funds ? Crazy 😜 and unprofessional and dam right wrong and did I mention illegal.
It's cool to see a great wallet with a low fee.
Terrence ferry
3 February, 2:07 PM
A friend of mine a sent me some btc in March 2019 so he could help me become a trader. Due to unforeseen circumstances (motorcycle accident) this never happened and the coins lay dormant in my freewallet account. 14 months later (after recovering from accident and on my birthday) I tried logging into my wallet and no funds were showing. I contacted support and it turned out that I had clicked on a phishing site by mistake. They reassured me that my coins were secure and advised me to set up a new wallet with a different email address and 2fa security so that they can forward my coins there.
After following their instructions, they transferred my coins as promised and unsurprisingly, asked me to go through the same security measures as when I set up my account (photo ID, bank statement, photo of me with app open etc) which I gladly sent them, great, I thought.
Still unable to use my wallet, I asked support what was happening and they said that due to the security issue with my account, they needed to see the outgoing transactions from the wallet I received the coins from. I contacted my friend who gladly sent me photos of the transactions, but 3 days later support informed me that these weren't good enough and required screenshots. Again, I contacted my friend who happily obliged and sent me the screenshots which I forwarded to support.
Another week later (this has been going on for almost 7 months now) they reach out to me asking to see my proof of funds, when I explained that the coins were originally sent for me to begin trading and that they came from a friend, they wanted more information about my friends wallet. Although i didn't feel I had to, and because I thought it would speed up the process, I reached out to my friend again, and he sent me 30+ pages of trades and 5 screenshots of pages of his incoming transactions to a blockchain wallet, which I forwarded to support.
It has now been another week since I sent that information and still no reply.
I can understand them asking for proof of my funds (which I provided) but why ask my friend about his activities, it's not his wallet?
I can understand that I made a mistake by clicking on the phishing site, but after sending in the relevant ID and more information than I needed to supply, why am I still unable to use my wallet. I can log in to my wallet and see my funds but no more.
It is starting to feel like I am being scammed, it's been 9 months since I had my account changed and still no further forward, BEWARE
Has anyone else experienced the same and if so, how did you move forward?
Fabien
2 February, 12:21 AM
I had a bunch of DOGE added IN FREEWALLET at the begining of 2018. Now it's impossible to have access to my account. Really upset by this situation!
I am not really confident with this wallet.
dewayne
29 January, 7:44 AM
I sent ETH to my freewallet on Jan 8th to exchange it for DOGE had no problem with them receiving or exchanging to the coin when it was worth 1 cent. I saw how much it had gone up and around 10:30 pm est i made a request to withdraw DOGE when it was at 6 cent and thats when all my problems with the wallet started. After waiting 3 hours it was still pending and then out of no where it failed. It feels like once it became worth something they didn't want to release my coins back to me or they never did the exchange and had them to send back to me. Im in the middle of making a 2nd request for my coins and have lost over 200 dlrs in value with no success and no answer from the support team to help with this issue. I will not use this wallet again and suggest anyone reading this to stick with more dependable exchanges like Binance. I am writing here because it seems writing on this site might be my best change on hearing back from someone.
Andy Haris
26 January, 11:00 AM
Iam really satisfied with freewallet team becouse very committed and fast to solve your problem.

Freewallet Review 2021 - Is It Safe?