Exodus Wallet Review 2021 - Is It Safe?
Has trading facilities:
yes
Features:
Hierarchical Deterministic
May 21, 2020
Exodus is a top-tier multi-cryptocurrency wallet with rich opportunities for personalization and numerous available features. It was founded in 2016 with the idea to provide crypto beginners with a convenient tool to handle their coins. There is no sign-up or maintenance fee charged for its use.

Exodus is based on software. It is not an online wallet. The number of supported coins is quite large (currently 45+). As of now, it covers the major part of altcoins. With token assets being added to this, the total number of supported assets is over 100. In here, you'll have access to private keys. 
How to Use the Exodus Wallet? Overview and Features
There is a dedicated desktop Exodus crypto wallet application. It fits Windows, Linux, and OSX OS.
Apart from that, you can use mobile apps on both Android and iPhone devices.

You won't need to sign up with email or personal details in order to get into the wallet. Just set your password.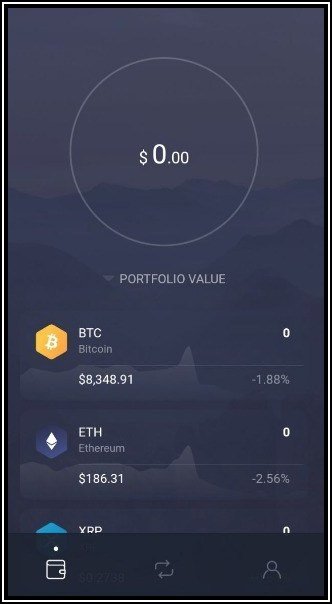 Exodus offers to employ Trezor hard wallet as it has a partnership with Trezor. It means that you can buy, install and pair Trezor with Exodus wallet, using the software.
When you are creating an account, you are given a 12-word passphrase. You will be also sent an email with the backup link. Once you download an app, you'll straightly get into the wallet without authentication and/or putting your personal login details.
Exodus works as a handy tool for storing, sending, receiving and exchanging cryptos.
Interestingly, you won't find Dogecoin on the list of the offered assets. This is due to the fact that in 2017 the platform removed Dogecoin from its list explaining it by lack of necessary updates from the side of the coin's Dev team.  
Exodus supports a certain list of ERC20 tokens. If you happened to transfer an unsupported token, you'd need to employ the private keys in order to handle this.  
The wallet has an elaborate and well-thought interface. It can boast a wide range of national currencies (up to Mexican peso or Israeli new shekel), in which you can reflect your coins.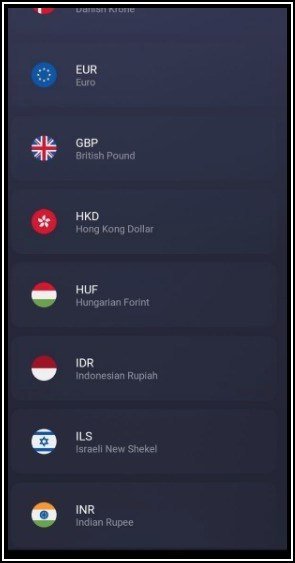 Also, users can take advantage of the built-in trading feature. The exchange is integrated into the wallet as an extension. Using this swap function on the wallet is recommended only for the amounts that would notably surpass the accompanying fees. 
There is a page on the website where you can track the online status of currencies. Customers enjoy real-time live charts as well as the history of price on the app's screen. 
We'd like to highlight another great advantage of the wallet. As for the backup options, one would be able to restore private keys provided they saved the seed phrase. This is an automatic action. 
Customer Support
As many online wallets, Exodus does not offer phone support or in-app hot service. If you need assistance and check out the relevant option in your app, you'll be redirected to the Knowledge Base (which is quite elaborate though) or section where you can submit your customer query. The "instant" answers option on the website is quite helpful.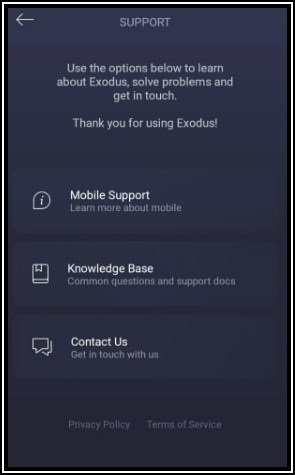 Live chat is offered in the form of dialogue in the "Slack" channel. It takes a long time to get loaded and as far as we can see it offers a special Slack account to be created first. 
Exodus Fees
The wallet applies a dynamic pricing model. In the "Help" section of its website, you are advised to check fees in the lower part of the sending section right in the wallet's window. However, Exodus wallet fees will be different if you are sending Ethereum and smart contracts. 
In general, all you need to know about Exodus wallet fees is that they are based on the dynamic price model. It means that at the time of sending out your transaction the wallet automatically sets the most suitable fee in order to be able to push your transaction through blockchain and make it receive a faster confirmation. Of course, it means that you'll need to reserve some extra money if you are sending a transaction in the congested blockchain. 
In its explanation on the official website regarding the company's business model, Exodus refers to the "portion of spread on exchanges" as the main source of revenue. On average, the wallet's fees are considered to be higher than on the most part of crypto wallets. Exodus is also compared with other platform allowing to customize transaction fees on users' side. 
How Secure Is the Exodus Wallet? Is It Safe To Use?
If you are wondering how safe the Exodus wallet is, let's try to find it out. 
The point which could jeopardize the security of the wallet to many potential customers is the lack of a 2FA feature. Similarly, Exodus misses multi-signature confirmation. In one of the articles in the 'Help' section on their website, the Exodus team explains that instead of offering "traditional 2FA", the company implements a higher level of security with the help of Trezor wallet. 
No PIN code is required, which also simplifies the task for potential hackers. 
The wallet team ascertains that it does not store any sensitive data about your wallet on their server. The information about the user's wallet is only stored on their own PC or mobile device. 
While making your research on the wallet service, you may encounter the combination "Exodus Eden wallet". This is the option that must be carefully used only by advanced crypto enthusiasts. Upon that, the Exodus support team does not maintain support Eden wallet option. This way, you only have to rely upon yourself when dealing with this option. 
In a number of tips and articles on the company's website, it warns customers against storing significant amounts of funds on software Exodus or Eden wallets. As an alternative, a more secure Trezor wallet is suggested. 
The company's explanation of the lack of "traditional" security features is that nobody in the team has access to end-users' credentials and, therefore, would not be able to reset access in case there is a problem with any sort of additional identity confirmation, such as 2FA, or PIN code. This way, a relative disadvantage (such as lack of 2FA) is interpreted in a different light and comes as a testimony of a higher security layer offered to Exodus customers. In other words, the whole security concept of the company is to maintain the security process on its own rather than relying on any 3rd party. Instead of offering additional security features, Exodus encourages you to enhance the overall data security via the use of Trezor hardware wallet. 
Being a hot wallet, Exodus can be subject to online attacks. 
Of course, the wallet developers aim to keep the whole operation process as easy as possible. That is understandable. Upon that, the safety precautions receive a lower rank on the list of priorities. So, we cannot give a definitely positive answer to "How safe is Exodus wallet" question.
How to Cash Out From Exodus Wallet?
How to cash out from Exodus wallet or what are withdrawal options? 
You can encounter a lot of queries on how you can cash out from the Exodus wallet.
In the meantime, crypto-to-fiat exchange, or to put it simply, the possibility to withdraw your funds as the real (fiat, hard) currency is not provided by Exodus. As the team explains on their Medium blog, introducing this feature would require tremendous changes in the form of stronger legal compliance, tough regulation and necessity to implement a KYC-check. With the new regulations, users would have to sacrifice their privacy, which is not acceptable.
Feedback
Trustpilot customer experience platform shows a rather high rating for Exodus: 4 stars. General feedback on the wallet and its service is positive. If you may encounter mixed opinions: most probably, this discontent is caused by the security issue.
Conclusion
We can definitely conclude that the UI, navigation, and design of the Exodus wallet make it intuitive, easy-to-use and comfortable for users of all levels. The number of cryptocurrencies offered, quick swap of coins inside the wallet and backup option make Exodus the choice of many users. However, there are certain security concerns, which we've specified in the above-written profile.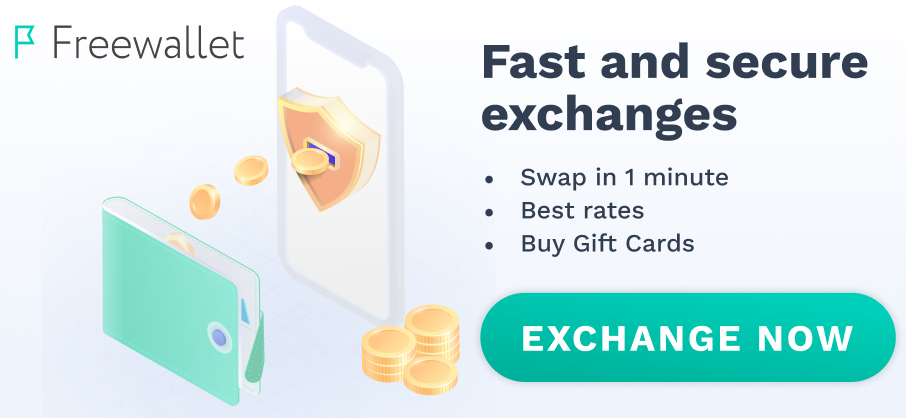 I exchanged ETH for BTC in my exdus wallet, but I haven't received it for over an hour.
persönlich sind mir die gebühren zu hoch die auswahl der coins ist beschränkt einige sicherheits details von denen ich kein fan bin wenn diese fehlen. und für mich ein no go USA.
transaktionen dauerten mir viel zu lange.
Использую как горячий. Полезно, что приватные ключи можно сохранить. Непонятно почему тянет ресурсы видеокарты - майнят?
The main thing is stability. I found it here.
Odriosola
6 December 2020
I like the simple registration process, just password and the login. Cool