MetaMask Wallet Review 2022 - Is It Safe?
Features:
Hierarchical Deterministic, Open Source
Jun 06, 2020
MetaMask is an open-source multi-cryptocurrency wallet and a gateway to Ethereum-based decentralized applications. As the wallet is made for work with the Ethereum blockchain, it's understood that it supports only Ether and ERC20 tokens. This wallet is designed to let users control their data and assets at the fullest and doesn't store the data and assets of its users. MetaMask is a mobile application but those who need a desktop version can use a MetaMask browser extension. It is available for Chrome, Brave, and Firefox browsers. 
Is MetaMask safe to use? Should you really use it? Read this review and find out.
History
The company was created by ConsenSys in 2016. The founder of the project is Aaron Davis. Now the team is international and consists of over 20 people. Most of the team members live in North and South America. In the first years, MetaMask existed only in a browser extension form. The mobile app was developed two years after the wallet's launch. At the moment of writing this review, the user base of MetaMask was amounting to over 1 million people. It makes MetaMask a top ERC20 wallet in terms of popularity.
Functionality Review
To learn what MetaMask is, it's better to review its features. MetaMask allows users to access Ethereum DApps via the browser interface. One doesn't need to run a full node of Ethereum to use these DApps or sign smart contracts via MetaMask. It significantly simplifies the use of the Ethereum ecosystem. The transactions can be sent easily, too. In general, one of the main purposes of MetaMask is to introduce Ethereum to a larger audience via a safe and convenient interface. Needless to say that considering these goals, MetaMask developed a minimalist and intuitive user interface. It's worth saying that people not familiar with Ethereum might find the MetaMask interface not fully clear enough.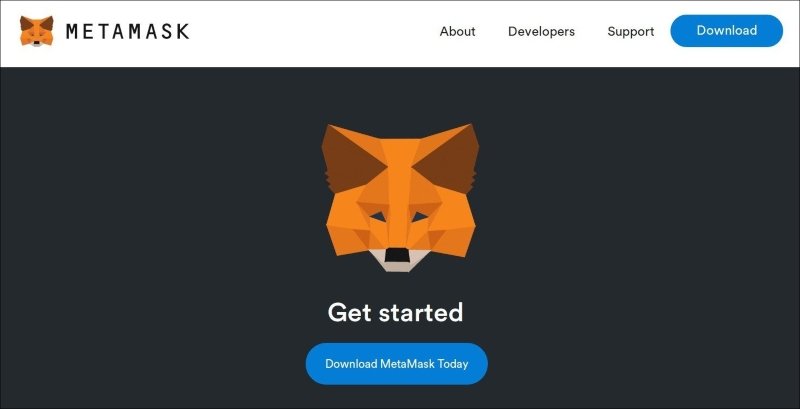 Among the DApps compatible with MetaMask are CryptoKitties, bulktokensending, dex.blue, MTonomy, alias.earth, IXTUS, Opporty ICO, and many others.
Another important feature of MetaMask is that it provides a personal key vault. It can keep the logins and keys for any amount of user's accounts on all websites. Moreover, one can sign smart contracts using this vault.
MetaMask has a direct connection with ShapeShift and Coinbase exchanges so the users can exchange their Ethereum tokens in a safe and easy way there.
Fees
The fees charged from MetaMask users are Ethreum transaction fees. Users can set the fees in "Advanced Options" making fees higher in order to make transactions quicker or instead make transactions cheaper but slow.
Is It Safe to Use MetaMask?
Although MetaMask is a web-based wallet, its security level is quite good. Of course, it can't be compared to cold wallets but it's fair to say the MetaMask team managed to develop as safe a web-wallet as possible. For years since its launch in 2016, no one did hack this wallet.
All the keys and data are stored in the user's browser. The browser itself cannot access the data but it collects the information about the facts of MetaMask use. Theoretically, this information can be compromised.
MetaMask is a hierarchically deterministic wallet so it keeps keys for numerous wallet addresses associated with the same user. For a third party, it is almost impossible to figure out how much money is stored or sent by this or that person.
The recovery of the account is possible via the 12-word seed phrases. It's important to save these phrases after the creation of the account in order not to lose access to the wallet.
The wallet doesn't support such security features as 2-factor authentication and multi-signature.
Meet MetaMask Swaps 🎉MetaMask users can now seek out the best prices & swap tokens directly in the wallet! Available now in the Firefox extension. Coming soon to other browsers & MetaMask Mobile: https://t.co/OfAEiZKSML #MetaMaskSwaps #wallet #ethereum #defi

— MetaMask (@metamask_io) October 13, 2020
All in all, it's up to users to avoid phishing attacks and not to compromise their data or devices. The wallet team has done much work to maintain security. We found no user reviews that would claim that MetaMask is a scam. That's definitely a good sign considering the fact that even many well-known legit cryptocurrencies platforms usually get accused by unsatisfied users.
How to Use MetaMask?
Now we will provide a step-by-step MetaMask tutorial that will help to start using its basic functions. As an example, we are going to use a Firefox browser extension.
Proceed to the MetaMask official website (the URL is https://metamask.io) and find a Download MetaMask Today button next to a 3d logo of the wallet (a fox mask). When you click on this button it takes you to a download page of the website where you should choose a particular version (a browser extension, iOS or Android version).
When the add-on is installed to the browser you should click on the fox icon and start setting the account. The first question is whether you already have a seed phrase or you are new to MetaMask. The options are "Import Wallet" and "Create a Wallet". If you don't have a MetaMask seed phrase choose "Create a Wallet".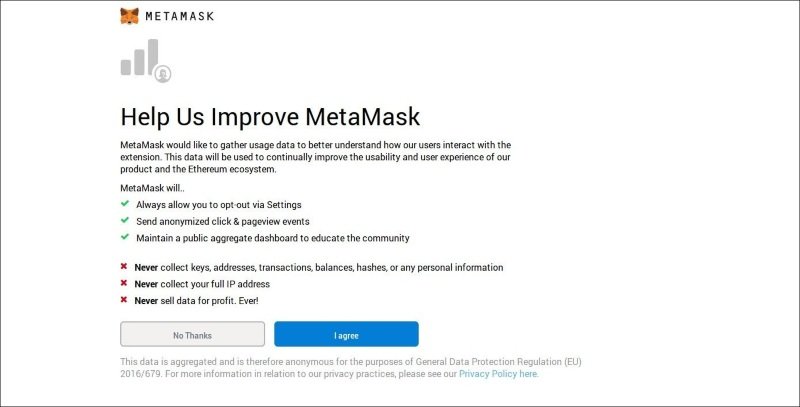 Before the creation of a wallet, the user is offered to help to improve the service by sharing some data. You can see the full announcement in the picture above. Then you are required to agree to the terms of the use of MetaMask and set the password.
The next step is generating a secret backup phrase. The phrase is generated in one click. The website recommends to store it as one password in a password manager, or write it down on a piece or several pieces of paper that should be stored in a safe place. When the phrase is generated, the user must confirm the phrase by choosing the words in the correct cohesion. When the seed phrase is confirmed you can start using the wallet.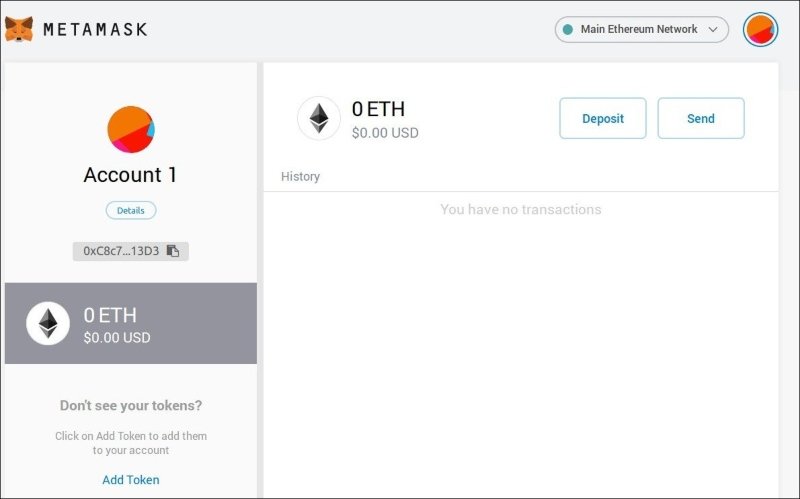 The picture above shows the default page of the fresh MetaMask wallet. As you can see the interface is really minimalist. On the left, there is a list of tokens. By default, no tokens are displayed except for ETH. You can add some tokens via the "Add Token" link. For more comfort, the value of tokens is duplicated with a value in USD. The Details button opens a window with a QR-code of the user's wallet address. In the same window, you can export your private key or proceed to an Etherscan website and see your wallet there.
The default page is the Main Ethereum Network. In the upper-right corner, there is a popup menu where you can switch to a different network. Currently, there are Goerli Test Network, Rinkeby Test Network, Ropsten Test Network, and more. Users are free to add custom networks.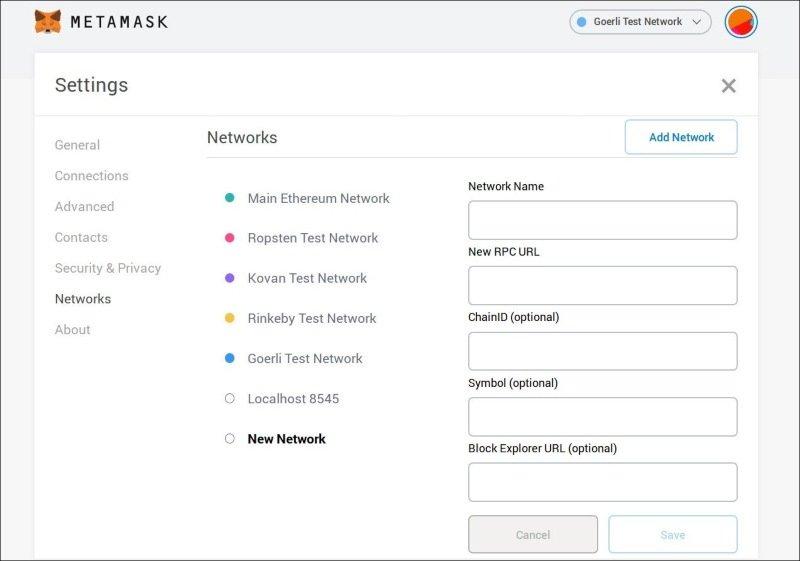 Depositing money to MetaMask is easy. There are two buttons on the right side of the home page: DEPOSIT and SEND. Clicking on the Deposit button takes you to a new window with deposit options. If you have some ETH you can send the needed amount using the MetaMask wallet address (the one that can be found on the left under the Details button). The rest two functions are good for those who don't have any Ether yet. You can buy some ETH with a credit card using Wyre or buy ETH in exchange for other cryptocurrencies on CoinSwitch.
How to transfer tokens from MetaMask? Sending tokens is easy, too. You just need to insert the wallet address of the receiving party and specify the amount.
Conclusion
MetaMask is popular for a good reason as this service is easy to use and safe despite being a hot wallet. The platform keeps on developing to meet the users' needs — for example, the mobile app was made due to multiple requests from the MetaMask community. Today MetaMask is one of the key platforms associated with the Ethereum ecosystem. If you are not a hardcore cold- or USB wallet fan, then you should give a shot to MetaMask.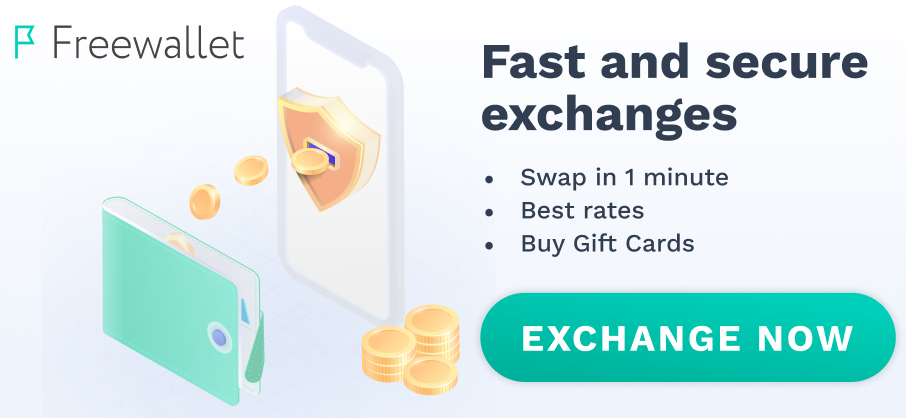 Victims of Funds/crypto and other digital assets such as NFTs kept increasing on daily basis. This is so disheartening and discouraging potential investors to partake in the ever-blooming world of digital currencies that have a lot of profits. However, you are rest assured your funds can be recovered if you've been swindled by this online evil scheme. Have you heard about Matt Dunham? He's a prolific and genuine fund recovery expert who uses newer technologies to recover stolen funds vai; [email protected] / WhatsappChat † ① ⑧ ⑦ ⓪ ③ ④ ⑤ ⑦ ⑨ ③ ⑦
NO CUSTOMER SERVICE , UNREGULATED CRIMINAL ENTERPRISE
STEAL SMALL AMOUNTS IN WALLET.
DO NOT USE
Кошелек отличный, нидавно веб версия появилась. Кто нибудь пользовался? webmetamask
с пула ничего не доходит.
тех подержка молчит
короче мошенники они
worst crypto wallet ever!!!. STAY AWAY!!!
i probably lost all my funds and customer support is as good as everybody complained 9 months ago. practically inexistent. be careful. it glitches a lot. only use for simple transactions then remove funds.
they don't care to improve their product, nor the support because they don't care about you and your funds