Cryptonator Wallet Review 2021 - Is It Safe?
Features:
2 Factor Authentication
May 30, 2020
Cryptonator is a multi-currency digital assets wallet. It's worth mentioning that Cryptonator accepts fiat currencies as well. It is a software hot wallet with the inbuilt function of the assets exchange. As the wallets (especially hot wallets) are subject to numerous hacker attacks and phishing it's important to understand if Cryptonator is safe before start using it. The following review will help to make the right decision.
The wallet was created by Andy and Brian Chan in 2014 in Hong Kong. Currently, the CEO of the company is Brian Chan. Allegedly, nowadays Cryptonator has over 1 million active accounts.
Cryptonator Features
The website is available in 6 languages. They are English, Spanish, Russian, Indonesian, German. and French. Cryptonator is an online wallet. So it can be easily accessed from the browser (Chrome or Firefox only) or through mobile devices. To date, the platform is available for Windows, Mac, iOS, iOSX, and Android. 
Cryptonator provides the separate wallets for the following cryptocurrencies: Bitcoin (BTC), Litecoin (LTC), Ethereum (ETH), DASH (DASH), Monero (XMR), Zcash (ZEC), and Ripple (XRP). Besides, Cryptonator is compatible with hundreds of currencies (Bitcoin Cash, Dogecoin, Ethereum Classic, Peercoin, and many others are among them) including fiat money (US dollars, Euro, Russian rubles, and Ukranian hryvnias).
There are two types of accounts on this platform: a Personal Account and a Merchant Account. A Personal Account is a free multi-currency wallet. This wallet is capable of storing numerous currencies, making peer-to-peer transactions, send or request payments through emails, and paying invoices. Another notable feature is an instant automated exchange of currencies. The basic account holders can exchange Bitcoin, Ethereum, Ripple, Monero, Zcash, Litecoin, Peercoin, and DASH.
A Merchant Account is a little bit different. Just like Personal Account, it is a multi-currency wallet (there 9 supported cryptocurrencies on Merchant Accounts), but it offers withdrawals in fiat money to bank accounts. The exchange is processed automatically and fast. With a Merchant Account type, users can have a unique identifier (a merchant ID). Another feature is Secret. Once generated it will be signing all the requests to the Cryptonator payment API. Without it, one cannot validate HTTP-notifications. Also, the Merchant Account holder can set the transaction confirmation policy choosing the number of confirmations needed to mark a transaction as paid. Moreover, this type of account makes it possible to receive HTTP-notifications triggered by change of invoice status.
Both types of accounts have a user-friendly interface. It's safe to say that Cryptonator can be convenient for both newbies and seasoned cryptocurrency holders.
One of the notable features of this wallet is anonymity. The registration doesn't require sharing much personal information — the email address is the only piece of information that the platform takes from the user. This email address is not displayed to third parties. This characteristic makes the wallet attractive to those who value privacy and anonymity. Moreover, the lack of a detailed identity check saves much time and prevents all kinds of protraction which is familiar to those who have user experience with KYC-compliant platforms.
There are set minimum amounts of currencies that can be sent or withdrawn. For Bitcoin, it is 0.0001 BTC, for Bitcoin Cash, it is 0.0001 BCH, for Ethereum, it is 0.001 ETH. for Ethereum Classic, it is 0.001 ETH, for Litecoin, it is 0.001 LTC, the minimum for Zcash is 0.0001 ZEC, for Ripple, it's 1 XRP,  for DASH, it is 0.001 DASH, the minimum payment for Dogecoin is 10 DOGE, for Monero, it's 0.001 XMR, for Bytecoin, it's 10 BCN, for Peercoin, it's 0.01 PPC.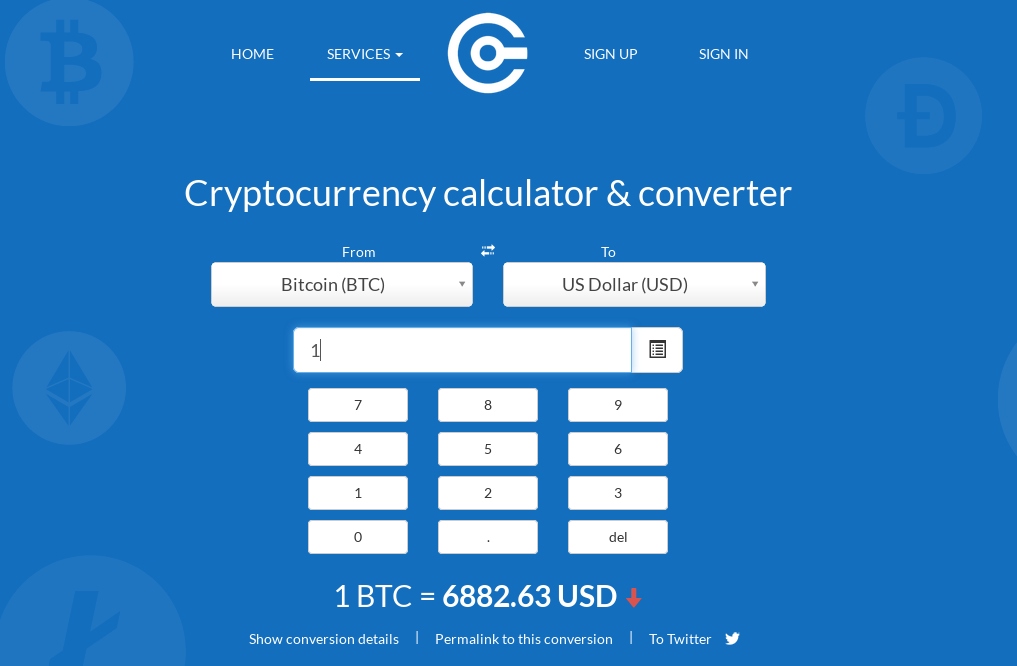 For those who are looking for a profit, Cryptonator is offering several features. One of these features is a cryptocurrency calculator and converter. It provides the current prices of numerous cryptocurrencies against other currencies (including fiat currencies). The interface of the converter is quite basic and intuitive. The data is updated once a minute. The prices are taken from several cryptocurrency exchanges via the APIs of these platforms. Another similar useful feature is the Cryptocurrency Prices and Exchange Rates tab where users can check the prices and the trend (if it's positive or negative).
One more feature is the Winners and Losers tab. It showcases the changes in the market of cryptocurrencies in the last 24 hours. It uses the same data that the converter does. There are two columns: the currencies that gained their value in the last 24 hours, and those that lost in value. There is an option to choose a different time interval and see the lists of winners and losers of the last month or the last week. Moreover, certain currencies can be filtered. The price can be set against BTC or the supported fiat currencies. The columns are charts. The top positions belong to the coins that gained or lost the most value. The percentage is displayed, too. 
One of the best features of Cryptonator is an opportunity of instant automated exchange of one currency for others. Fiat money can be exchanged with the help of bank wire transfers (including SEPA transfer). Credit cards are not supported on Cryptonator. The exchange lacks any features usual for cryptocurrency exchanges. There are no graphs, no order book, no different types of orders (stop-limit orders, fill-or-kill, etc), no leveraged trading, and so on. All one sees in the Exchange tab are Sell and Buy boxes where the user should specify the name and the amount of the currency she/he is going to buy or sell. It's important to realize that no fees are displayed in the time of the exchange and the user gets the amount she/he sees in the box but it's unknown how this amount is calculated. According to the website, the exchange is happening "at the actual exchange rate". On one hand, such a minimalist approach can please people who don't know about crypto trading too much, but on the other hand, the lack of trading features almost guarantees that profitable trading is impossible on this platform. It is rather a convenient way to buy some currency in a hurry or get rid of it. Another concern is that the trading fees are higher than on the popular cryptocurrency trading platforms. Anyway, the exchange integrated right in the multi-currency wallet is a nice feature that can be very useful in some situations. Definitely, it's better to have it rather than not to.
Bytecoin and Peercoin are not on the list of the supported coins since December 31, 2019.
Cryptonator Fees
Cryptonator doesn't take pay for incoming transactions. The users have to pay fees for sending money off their account. If we speak of cryptocurrencies, the fees are flat. The amounts are as follows: Bitcoin is 0.0001 BTC, Bitcoin Cash is 0.0001 BCH, Ethereum is 0.001 ETH, Ethereum Classic is 0.001 ETC, Litecoin is 0.001 LTC, Ripple is 0.1 XRP, DASH is 0.001 DASH, Zcash is 0.0001ZEC, Monero is 0.001 XMR, Bytecoin is 0.1 BCN, Dogecoin is 1 DOGE, and Peercoin is 0.01 PPC.
Fees for sending fiat money are proportional. The fee for SEPA Euro transaction is 1% while the use of Payeer or Advcash is charged with a 4.9% fee.
It is mentioned on the website that the fees can be changed without notice.
The fees for the exchange service are not specified on the website, although according to Cryptonator reviews these fees are relatively high and can't be called favorable by the experienced cryptocurrency traders.
Cryptonator API
Cryptonator provides users with API. It helps to retrieve actual market data from dozens of cryptocurrency exchanges. It can be really helpful for those who are going to exchange the coins at a better price. According to the announcement on the website, it's better to check the prices because the platform cannot guarantee 100% accuracy of the provided information.
With API, Cryptonator wallet owners can set the receiving of payments in cryptocurrencies on their websites and in their applications.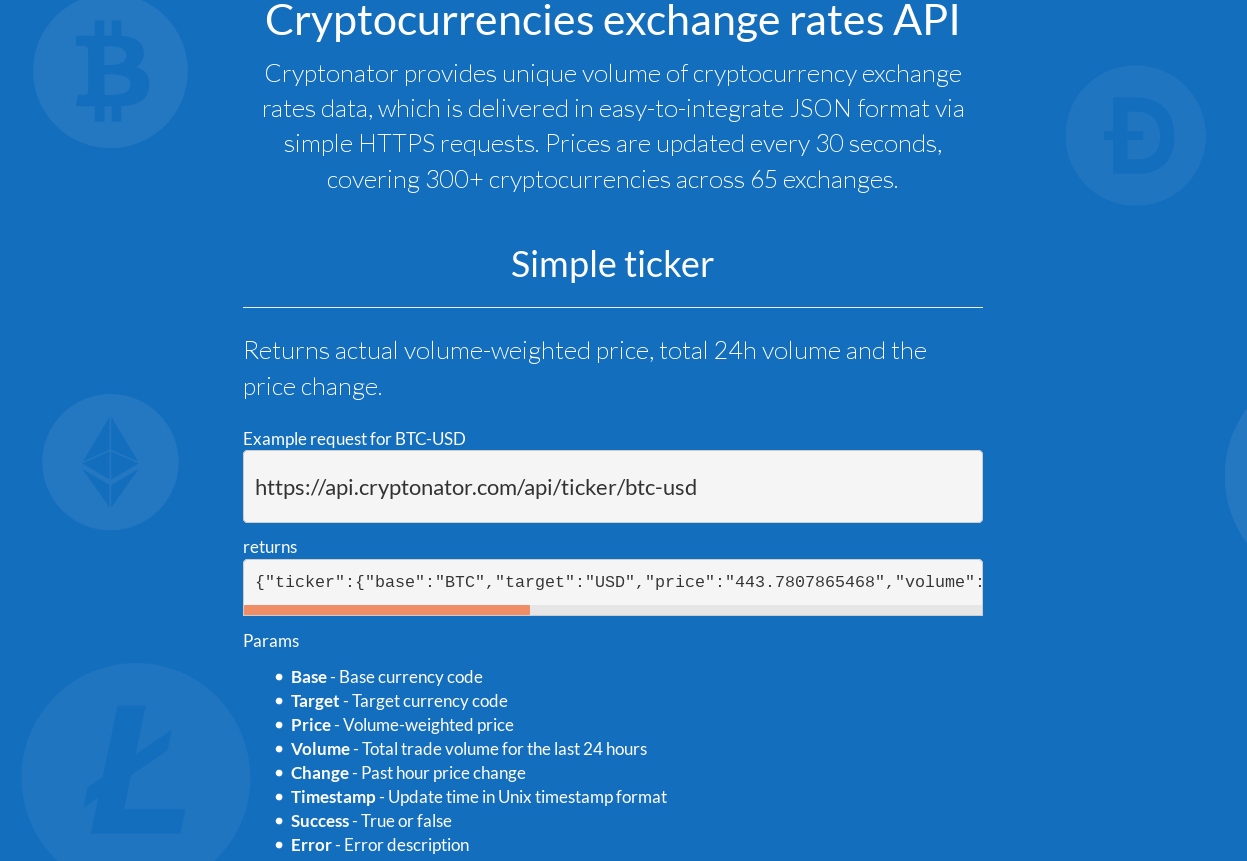 How to Use Cryptonator?
The registration process is quite usual. The user should provide an email address and set the password. The user should decide if she/he is going to open a merchant or a personal account. Then the registration should be confirmed by clicking on the link sent by Cryptonator to the user's email address. The next step is specifying the currencies one is going to use. One should enable or disable the currencies in the list of all supported coins. The next step is generating an address for each chosen currency. Then, the user should enable 2-factor authentication or/and other protection measures. This step is critically important because without it the wallet will be vulnerable to theft.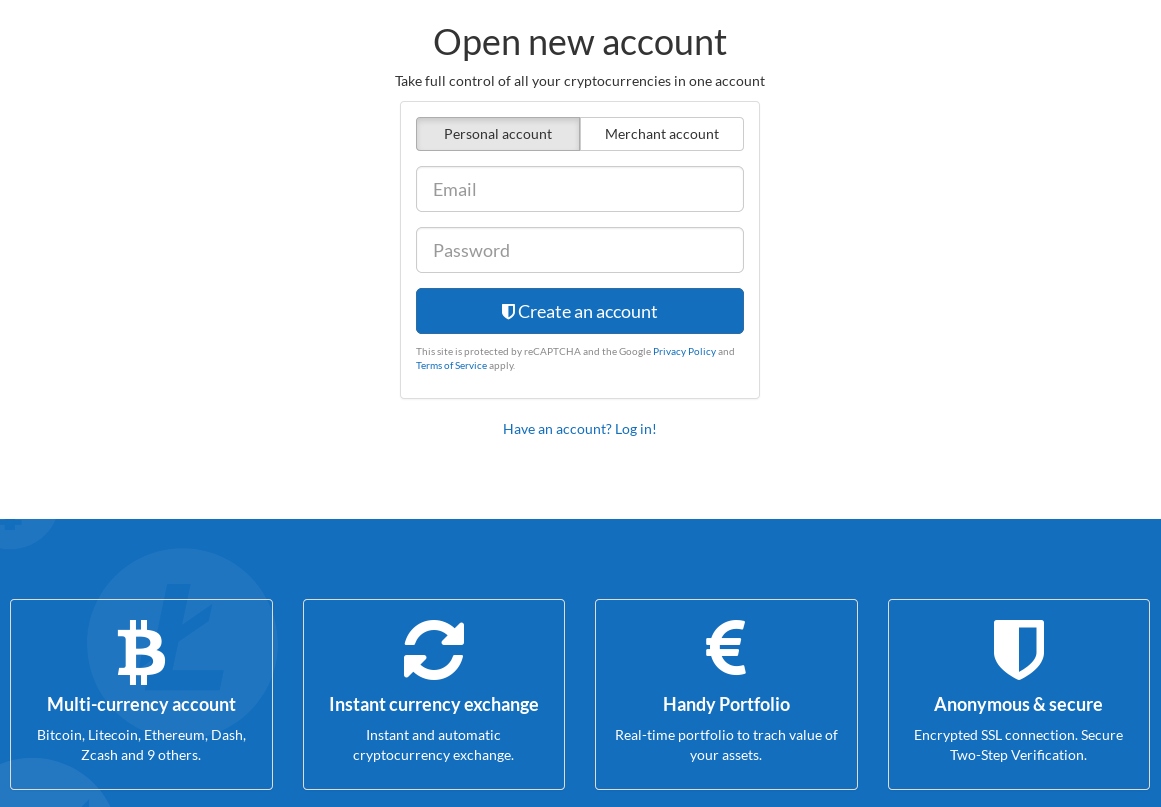 In the web interface of the wallet, there are the following tabs: BALANCE, SEND, PAY, EXCHANGE, ACTIVITY, PORTFOLIO, and SETTINGS.
In the Balance tab, one can check the balances of all wallets (currencies), request the payment in a certain currency, create a new address, or activate the Auto Exchange option (to change one currency for a different one). Also, this tab can be used to receive some money.
The Send tab is used when the user is going to send some money to a different address or withdraw them in fiat currency. The process is very clear: one chooses the currency, specifies the amount, puts the address of the receiving party, and clicks on the Send button. That's it.
The Pay tab is designed to use the coins stored in the wallet as a payment means. The Exchange tab is another way to proceed to the inbuilt Cryptonator Auto Exchange. The Activity tab displays the history of transactions. The Portfolio tab is needed to see all the wallets 
Customer Service
Unfortunately, it appears that the Cryptonator team is not very active on social media. One can find numerous complaints from users on Twitter, but there are no replies. It's unclear if these issues are getting solved. People complain about the delayed transactions and being blocked "for no reason". It's not easy to distinguish if it's the platform is to blame for these problems. Some people claim Cryptonator is a scam.
Cryptonator is now available for iOS https://t.co/zic2Jyeomi

— Cryptonator (@cryptonatorcom) June 7, 2019
In general, it is safe to say that most wallet platforms are subjected to similar accusations. Moreover, some people complain that they had to wait for a response from the Cryptonator support team for several hours. However, at times on many cryptocurrency platforms users have to wait even longer.
Is Cryptonator Safe?
It was already mentioned that Cryptonator provides its users with 2-factor authentication  — a protection measure that makes it impossible to access the account without the user's mobile device. This means of protection proved its efficiency against intruders trying to break into individual accounts. 2fa became one of the most well-spread protection measures at the market of cryptocurrency-related products. Besides 2fa, users may opt to use secure email notifications. More than that, users are free to specify the trusted IPs so the login attempts coming from the rest addresses won't have any effect.
90% of all funds are stored offline and the Cryptonator employees have no access to this money. It decreases the risks of theft. All the traffic on the website is SSL encrypted which makes it harder to hack the wallet website. Another important safety feature is that users have full control over their private keys. Not all the wallet services provide such an opportunity to the users.
It's worth mentioning that Cryptonator doesn't follow KYC rules and is not regulated. It creates the opportunity for bad actors to create numerous accounts for committing malicious activity but at the same time the company doesn't collect much personal information hence this info cannot be stolen on this platform.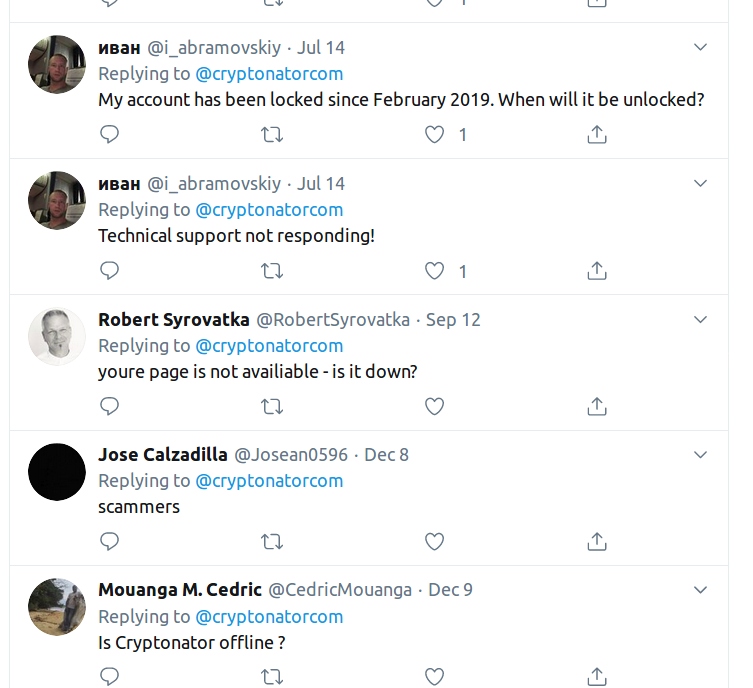 Despite all of these protection features, some people on the web claim that their money was stolen. Unfortunately, it's impossible to prove or dispute these statements and find out if these problems were addressed by the Cryptonator support team and who to blame.
Conclusion
Cryptonator is quite a convenient multi-currency wallet with some nice features that are not usual for most cryptocurrency wallets.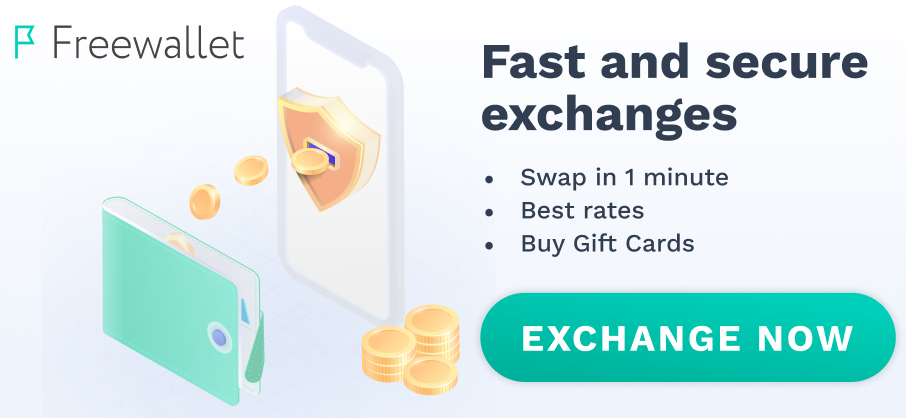 Victims of Funds/crypto and other digital assets such as NFTs kept increasing on daily basis. This is so disheartening and discouraging potential investors to partake in the ever-blooming world of digital currencies that have a lot of profits. However, you are rest assured your funds can be recovered if you've been swindled by this online evil scheme. Have you heard about Matt Dunham? He's a prolific and genuine fund recovery expert who uses newer technologies to recover stolen funds vai; [email protected] / WhatsappChat † ① ⑧ ⑦ ⓪ ③ ④ ⑤ ⑦ ⑨ ③ ⑦
Hace mas de un mes que se mantiene offline y tiene congelado los ahorros de la gente. Una verguenza
Access to the different currencies has been offline for a month... be very careful because apparently it has become a way to bring people down
Estafa asegurada. No devuelven el dinero, no contestan a los mails de soporte. Evitar cualquier tipo de relación con ellos.
All wallets are in the Offline mode. Support is not responding. My $400 in wallets appear as lost.