SpectroCoin Wallet Review 2021 - Is It Safe?
Security:
Third Party Encrypted
Has trading facilities:
yes
Has vouchers and offers:
yes
Features:
2 Factor Authentication
May 31, 2020
SpectroCoin is a web-based crypto multi-currency wallet initially established as a cryptocurrency exchange in 2013. The wallet was created by Mantas Mockevičius, Vytautas Karalevičius, and Justas Dobiliauskas. The company behind the wallet is Spectro Finance Ltd. The management of the company is based in the UK, while product development takes place in Lithuania. SpectroCoin provides numerous payment options and offers an original prepaid VISA debit card applicable for shops and ATMs. The other features of SpectroCoin are the currency exchange platform and providing payment solutions to merchants.
At the moment, the wallet is available in around 150 countries. SpectroCoin wallet is rather more convenient for EU users than the residents of the USA. The supported cryptocurrencies are Bitcoin, Dash, Ethereum, Litecoin, Ripple, Tether, and so on. Moreover, users may store 30 fiat currencies (USD, EUR, and others). The total number of supported cryptocurrencies is 14.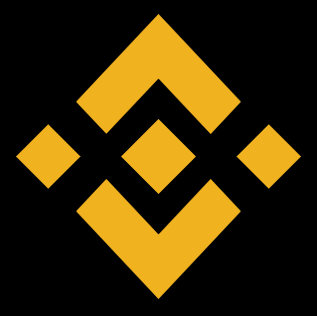 Get Profits with HODLing on Binance Earn
The reviews and reports about the wallet are quite polar. SpectroCoin has a really strong rating at the TrustPilot website while some accuse the company of being a scam. Usually, it's not easy to tell if scam accusations have a real ground or just an emotional reaction from the disappointed customers. We will try to figure it out in this review.
SpectroCoin Features
SpectroCoin is available as a mobile app (both for Apple and Android) and as a web-version. Besides the access to all the addresses associated with the SpectroCoin account, the app provides cryptocurrency exchange functionality and the opportunity to buy different cryptocurrencies instantly. The interface for instant purchases is designed in a very simple manner. It reminds of the platforms where people buy or sell cryptocurrencies to brokers but in the case of SpectroCoin, the users are trading with the company, not brokers. In order to start trading, one needs just to proceed to the Exchange tab of the SpectroCoin website. In the upper part of the Exchange page, there are Buy/Sell buttons. Clicking one of these buttons takes a user to the Cryptocurrency Exchange section. BTC, USDC, TUSD, PAX, EUR, USD, XAU, XEM, DASH, ETH, BNK, or USDT can be exchanged for any currency from this list.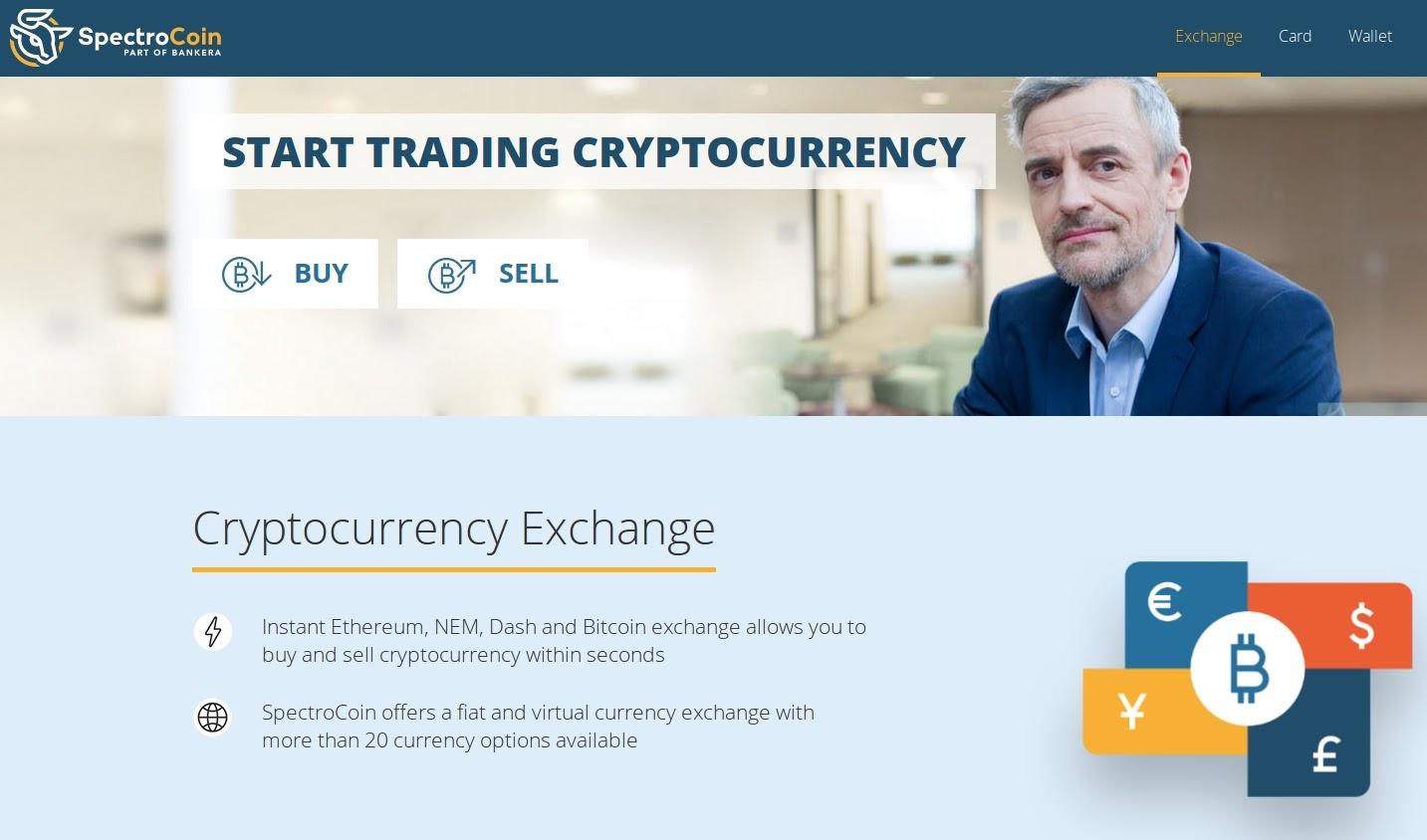 Blockchain wallet supports Bitcoin, Ethereum, Dash, Stellar Lumens, Litecoin, Bankera, Ripple, NEM, and such stablecoins as USD Coin, Tether, USD PAX, and TrueUSD. Other supported currencies are United States Dollar, Euro, British Pound, Japanese Yen, Chinese Yuan, Danish Krone, Swiss Franc, Russian Ruble, Georgian Lari, Hong Kong Dollar, Swedish Krona, Norwegian Krone, Brazilian Real, Australian Dollar, Singapore Dollar, Polish Zloty, Canadian Dollar, Czech Koruna, South African Rand, Turkish Lira, Croatian Kuna, Ukrainian Hryvnia, Kazakhstan Tenge, Belarusian Ruble, and Gold.
We are delighted to announce that SpectroCoin is now a full member of Infobalt - recognized as the biggest and the main contact point between Lithuanian business associations and government organizations dealing with Blockchain initiatives: https://t.co/V57XfA5hqN pic.twitter.com/P7NzN2E28X

— SpectroCoin (@spectrocoin) July 27, 2018
One of the main purposes of SpectroCoin is bridging cryptocurrencies with fiat money. That's why there are so many fiat currencies that can be used on the platform. More than that, there are 20 payment methods for buying Bitcoin, Stellar Lumens, Ether, or Dash on SpectroCoin. The following options can be used on the platform for both deposits and withdrawals: local bank wire, SEPA transaction, Skrill, PerfectMoney, Payeer, and voucher code. Besides the options mentioned above, customers can use the following ways to deposit money: credit or debit card, iDEAL, SOFORT, GiroPay, and Neteller. Amazon vouchers and mobile top-up can be used as withdrawal options.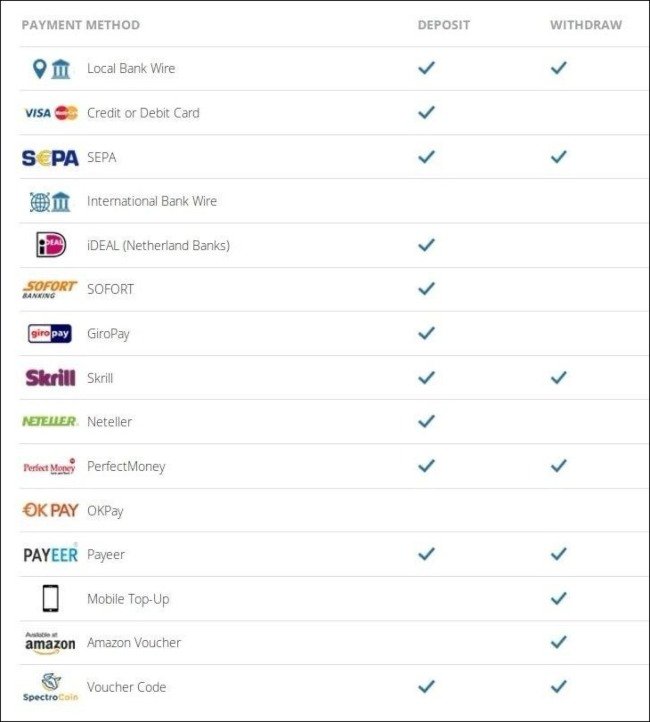 Such diversity of payment methods makes it really convenient for users of different levels of cryptocurrency knowledge to use this platform and switch from digital money to fiat currencies or gold and back.
Another notable feature aimed at making the use of cryptocurrencies easier is a prepaid SpectroCoin debit card. This card can be used as a regular payment card but unlike them, it also has cryptocurrency storage functionality and allows paying in crypto. The company claims that funds from the blockchain wallet reach the SpectroCoin wallet instantly. Reportedly the card is accepted in over 30 million ATMs around the world and in 20 million shops and sites. Each SpectroCoin user can't have more than one prepaid card. The maximum transaction sum is limited to €7,700. Considering the fact that the maximum balance is €8,000, this limitation is not significant. One cannot withdraw more than €300 via ATM. The use of the card requires activation and passing a KYC procedure.  
Besides providing storage, exchange, and payment options for cryptocurrencies, SpectroCoin has tools for merchants. These functions are presented in a very intuitive manner (just like any other SpectroCoin option). In the Merchant tab of the website, one can create or manage the merchant projects or use the integration tools. These tools include the use of API (it will be reviewed more thoroughly below), payment buttons that can be added to the online shop, crypto payment plugins (such as Drupal Commerce, Magento, OpenCart, PrestaShop, WHMCS, WooCommerce, VirtueMart, Zencart, and Magento2). In addition, users are provided with libraries (Java wallet and merchant libraries and PHP merchant libraries).
API
SpectroCoin API is applicable to the following products: Bitcoin Wallet, Bitcoin Exchange, Bitcoin Payment Processor, and Bitcoin Prepaid Debit Card through the easy in use programming interface. REST API can enhance the processes of buying, selling, and sending cryptocurrencies. Additionally, SpectroCoin users can apply payment plugins from the following platforms: WHMCS, PrestaShop, WordPress, OpenCart, Magento, Magento-2, Drupal, ZenCart, and VirtueMart.
SpectroCoin Fees
The fees on SpectroCoin vary depending on the country of the user's residence. As an example, we will observe the fee schedule actual for the European residents. For those who deposit through the debit card, the deposit fee is 5.5% (the minimum fee is €1.50 while the minimum deposit is only €1.00). Deposits made through Payeer are the most expensive. The fee is 20%. Despots made via the rest means (such as GiroPay, Sofort, PerfectMoney, etc) cost from 2 to 7 percent. Unlike the banking cards which are limited to deposits in Euro, these means are capable of depositing the US dollars, as well.

Withdrawals through SEPA are free (the minimum amount is €1.50, the US dollars can't be withdrawn via SEPA). PerfectMoney withdrawals are free, as well. Unlike SEPA, PrefectMoney allows withdrawing in USD. Skrill collects a 2% fee, while withdrawals through Payeer cost 5%. Both options provide the opportunity to withdraw in EUR and USD.
Transfers of cryptocurrency between the wallets of SpectroCoin users are free. The minimum cost of the withdrawal of Bitcoin to external wallets is 0.0005 BTC. The maximum fee is not disclosed. 
The prepaid SpectroCoin card is delivered to the EU residents almost instantly. The cost is €9. American residents have to wait for several days and the cost is $50. The daily service fee is €1/$1. The deposits in cryptocurrency are charged with a 1% fee. Cryptocurrency exchanges cost 3%. ATM withdrawals cost 2.5%.
In general, it's safe to say that SpectroCoin fees are high.
How to Use SpectroCoin?
The account opening is simple. Just like in the case of many other platforms, it only takes to insert the email address and create and confirm a password. Email verification is obligatory, as well. Due to European requirements, fiat and cryptocurrency exchanges must match the AML5 directive. That's the reason why the use of all SpectroCoin's functions is possible only after completing KYC. This measure is aimed at protecting the personal data provided by users and safeguarding their assets.
The KYC procedure includes filling out the questionnaire (phone number, residence address, first name, surname, date and place of birth, citizenship, and email address) and sending the photo of the ID and a selfie with the ID. The verification takes around 3 business days which is quite fast.
Buying crypto (we are going to use Bitcoin as an example) is not a hard thing on SpectroCoin. One needs to proceed to the Deposit section of the EUR wallet. The next step is specifying the country of residence (or host country), the account, and the desired amount of money. The user should choose her/his local bank as a payment option ("Bank" for manual payment or "Bank Auto" in the case of instant exchange). If the user's bank is absent from the list of available options she/he may use SEPA transfer. Then the user should tap the Pay button and confirm the action. As soon as funds hit the wallet, the user should proceed to the Exchange tab. There one should specify the deposited currency in the Pay Currency box and input the amount of money that will be spent on BTC. The next thing the user should do is choose BTC in the Receive Currency section and submit the entered data.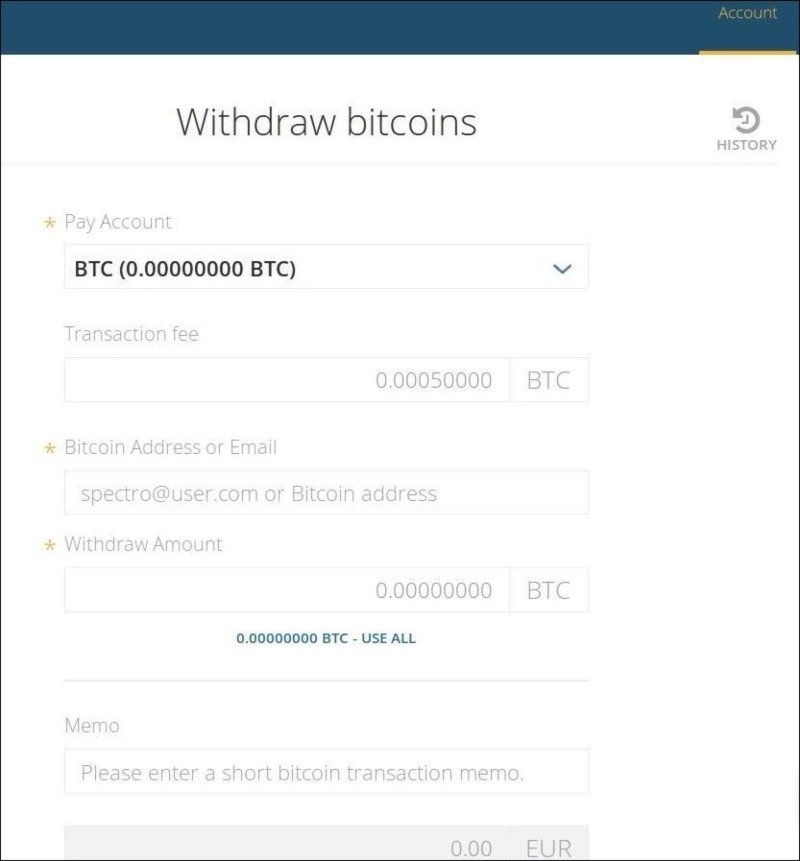 Withdrawals are processed in the Withdraw section of the Account tab. The user is required to choose the currency she/he is going to withdraw and input the amount. Moreover, it's needed to enter the wallet address. If the user wants it she/he can add a short memo to a transaction. The final step is choosing between the sending options: Bulk BTC Send (which is sending BTC to several addresses), Add Receiver or simply Submit. If 2-factor authentication is enabled (it is highly recommended not to use the platform until this feature is turned on) the network will request the user to input a one-time password to make sure that the withdrawal is performed by the real owner of the account.
Is SpectroCoin Safe?
Most websites of cryptocurrency platforms highlight their security features. We can't say the same about SpectroCoin. There is almost zero information about the security measures provided by the platform although several facts are available. First off, we can learn that users are recommended to enable 2-factor authentication. This quite well-spread means of protection creates an additional layer of security. The main aim is to make it impossible to enter the account, withdraw money to an external wallet, or change the critical settings or personal data associated with the account without physical possession of the owner's mobile device. 2-factor authentication if enabled requires one to enter a temporary one-time password that is generated on the user's device as the user. On SpectroCoin 2fa exists in three variants: one can get one-time passwords through the Google Authenticator app (or similar apps) on the smartphone, another option is getting this code via SMS or email service. Please note that SMS and email 2fa options are considered to be risky as it's easier for hackers to obtain access to SMS or email than to the authentication application. In addition to this, SpectroCoin customers can set a security question that will improve the safety level. Another notable fact considering the security on this platform is that 99% of users' assets are stored offline. Not many cryptocurrency projects can boast such a high percentage of money stored in cold wallets. It makes hacking and theft of users' assets not probable.

In some sense, the requirement of completing the KYC procedure can be considered as another security measure provided by the company as fraudsters are barely eager to identify themselves. They won't be committing crimes knowing that their identification data can be shared with law enforcement. Of course, many fraud schemes don't require registration but at least some of the malicious and scam activity won't happen on the SpectroCoin wallet already due to the KYC compliance.
Besides 2-factor authentication, users should take care of saving a private key in order to maintain exclusive access to the account and be in full control of the funds. Even if the website is down, the user having his copy of the key is still capable of managing her/his funds. Multi-signatures are not supported on SpectroCoin meaning that large transactions can be processed at the own responsibility of the user.
SpectroCoin users are targeted by fraudsters on social media. For example, they impersonate the wallet account on Twitter to get users' login data and steal their money. Fake accounts impersonating the platform follow people while other bots pretending to be ordinary Twitter users post tweets like "SpectroCoin has followed me" and attach a link to a fake account. This extra effort is aimed at making the false account look legit. The saddest thing is that some of the users who lose their money this way may accuse SpectroCoin of being a scam although it's totally a users' responsibility to stay away from phishing and fraudsters, never share their login and password, and safeguard their accounts by all means provided by the company.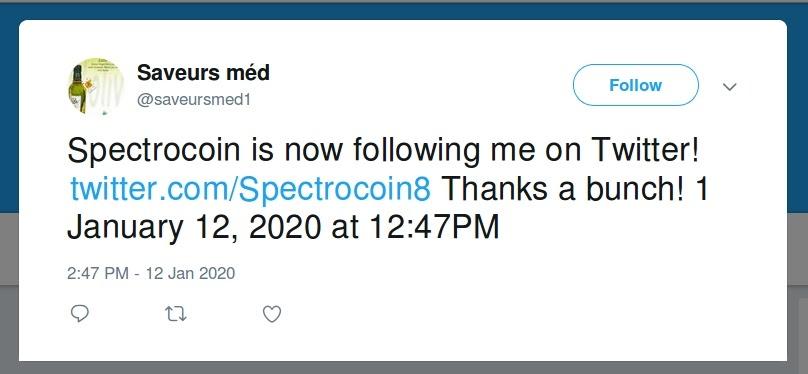 In the mid-2010s SpectroCoin and the company CEO were harshly criticized on BitcoinTalk and Reddit. The alleged wallet users were claiming that SpectroCoin was freezing their accounts without any proper reason. In some cases, the company representatives were participating in these discussions making it clear that some of the accounts were blocked indeed (although it's still not clear if there was a proper reason for doing this). Some of the users were complaining that their cards were blocked and money was not recovered although the company promised to do that. Allegedly the customer support is not always working swiftly. One of the Redditors alleged that European users receive proper customer service while the USA-based users have to wait for the response for long periods of time. It's hard to check if these claims are true. It's worth saying that in recent years the volume of complaints and scam allegations had seriously declined. Moreover, recent allegations are usually inconsistent and are opposed by the comments of people who have a positive user experience. Summing this up it is hard to firmly call SpectroCoin a safe platform although if we concentrate on most recent user reviews we will see that the vast majority of users are satisfied with the service.
Common User Problems
Although we have figured out that most of the SpectroCoin users seem to be satisfied with the wallet there are enough reports to highlight the most spread problems.
First off, it seems that some users have to wait for a long time for a response from the support team. The EU residents have an alternative opportunity — instead of mailing they can call the support team members on the phone provided on the website of the wallet. In general, complaints about the support team working too slowly is one of the most widespread complaints in the cryptocurrency market. We cannot even call it a disadvantage because it would assume that most of the exchanges and wallets don't have such a problem but that's not so.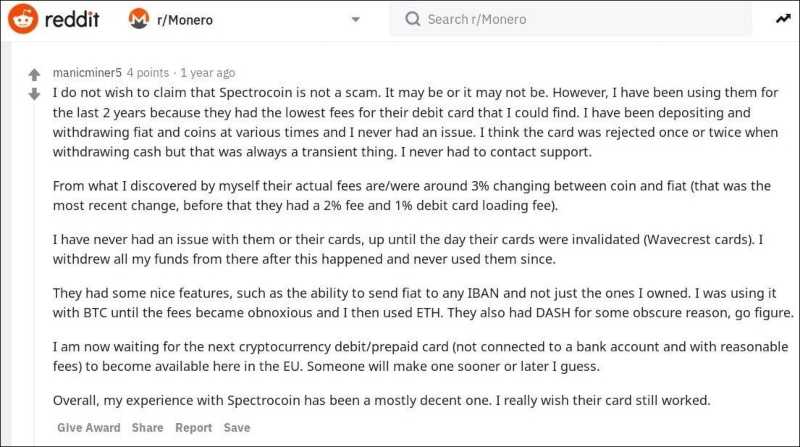 Another problem that seemingly happened to at least several users in the past was the unexpected termination of service of the prepaid debit card. According to some reports, the money was recovered but the very fact that the card service was finished abruptly is a real problem. Moreover, some users claim they didn't manage to recover their money although hypothetically it may be explained by the violations of use on their side. Actually, there is not enough data to make a proper conclusion. The fact is that SpectroCoin users should be prepared for such unpleasant unexpectedness.
Conclusion
SpectroCoin is a convenient wallet and exchange platform that should be used with some caution though. Probably it's better to use it for small transactions and it seems that despite being a global company SpectroCoin will be rather a better choice for the EU residents. Also, it's worth mentioning that not many cryptocurrency companies offer debit cards while SpectroCoin provides such an option and it's a decent card.
This is s scam. They keep your money or large parts of it due to some mystically high fees.
Es un robo, deposite 500€ esta semana para comprar bankeras, y al pasar en su página principal los 500€ a bitcoin e inmediatamente a bankeras, que es el proceso que hay que hacer, me quitaron 204€ de comisión, de vergüenza total. Y si quería pasar de nuevo las bankeras a bitcoin y luego a euros mis 500€ iniciales ya desparecían. Para mi es una estafa total. He reclamado el dinero de las comisiones pero ni si quiera dan la cara. Muy lamentable, espero que esto ayude para que otros no pierdan tanto dinero como yo.
wesley john
4 March, 5:20 PM
i just want to log in
Selen
24 January, 10:06 PM
I see many bad reviews, but in my experience, I didn't have any big problems do far.
It's a good wallet, exept fees. Guys, I calculated I spent almost 2 % just for keeping money, it's a lot.
Kevin
10 December 2020, 5:14 PM
Why would you invest or use this platform when it does not support a license?
Cerata
25 November 2020, 3:19 PM
Spectrocoin is a good app for keeping BTC.
Kastro
19 October 2020, 8:11 AM
Dash transactions passed through fast. I needed that speed and I found it here.
Matias
12 September 2020, 4:37 PM
I trade here with the small transactions and it seems fine.
Trello
27 August 2020, 10:05 AM
It could be the best wallet but the fee is rather high. Sometimes it's better to get low service then pay a big commission. I Guess.
Ferment
22 August 2020, 9:33 PM
I'm able to buy the coins with my credit card. I felt lack before without that feature.
Itil
6 August 2020, 8:40 PM
I can use my credit cards and make purchases. I like it.
Peter
23 July 2020, 10:55 AM
Very good! You can buy crypto with a big variety of payment options including local bank transfers, credit or debit cards, e-wallets. Most of the payment methods are instant, so you receive your funds immediately.
Hugo
23 July 2020, 10:52 AM
I'm using SpectroCoin services for several years, never had any issue. Recommended!