Top 10 Binance Alternatives for 2022 - Ultimate Guide by Cryptogeek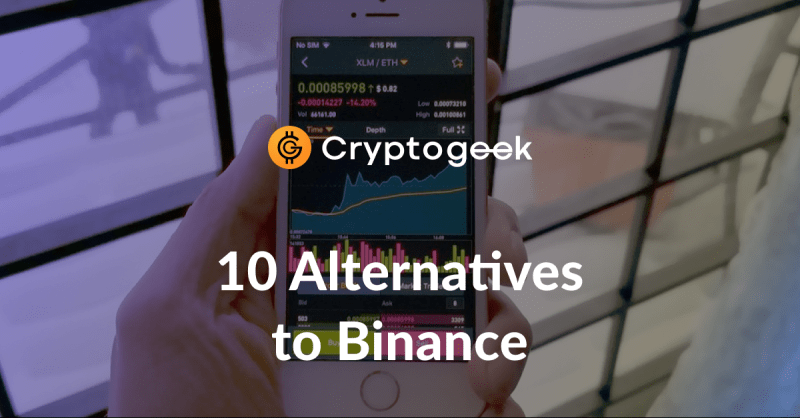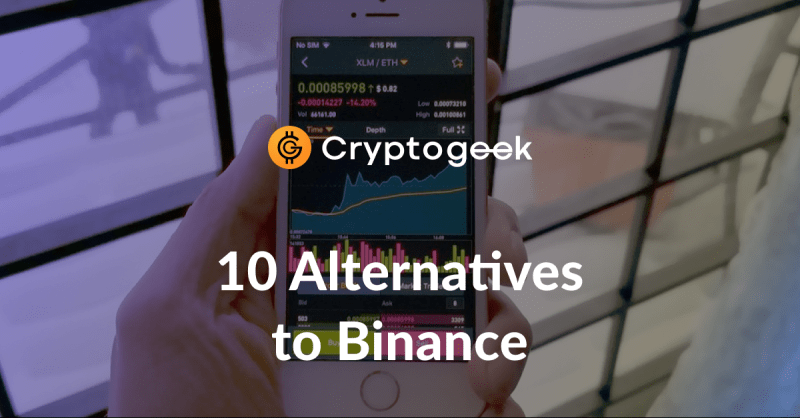 Binance is a cryptocurrency exchange with the highest liquidity. The platform was founded in Hong Kong in 2017. It took only several months for Binance to become one of the most popular crypto exchanges in the world. However, Binance is not dominating the market as many people prefer to use other exchanges. In this article, we will learn what exchanges are the best alternatives to Binance and why people choose them.
Binance Pros and Cons
The trading platform is known as an exchange supporting hundreds of crypto coins. The speedy matching engine provides smooth and swift trades. Binance doesn't require users to share much personal data in order to trade on the exchange. Another nice feature is that Binance charges small trading fees. Also, there is a futures trading service and the OTC desk on Binance. People who don't have any crypto coins to start trading can buy them right on Binance. It's worth mentioning that not all the options are good in all the regions — certain payment methods are not available for residents of some countries.
It's understood that the most popular exchange has a number of downsides, as well. First and foremost, Binance is not accessible in a number of countries including the USA. The residents of the US actually can trade on Binance US, but this platform doesn't provide all the features that the original exchange can offer.
Although it is possible to buy cryptocurrencies with a credit card or via a wire transfer trading fiat currencies against digital ones is not supported on Binance. Probably that's not a big deal considering the fact that most exchanges don't provide such an option, too. What's more concerning is that Binance is not excellent in sustaining safety. In 2019 hackers managed to steal 7,000 BTC as a result of a security breach.
cons: 4 While it is a very expensive lesson for us, it is nevertheless a lesson. it was our responsibility to safe guard user funds.

We should own up it. We will learn and improve.

As always, thank you for your support!

— CZ 🔶 Binance (@cz_binance) May 8, 2019
People who prefer to trade on fully regulated legit platforms will probably need to look for other options than Binance as the exchange team is suspected in elaborate deception of the US regulators. If it's true this means that the team behind the platform is not aimed at 100% lawful activity.
The Best Alternatives Available in the US and Other Countries
The US cryptocurrency regulations are tough to follow for many companies. That's the reason why some exchanges prefer not to allow US residents instead of getting permission to work in America. Here, in this chapter, we will name the best Binance alternatives available for US residents.
Kraken
Kraken is one of the safest crypto exchanges with large liquidity. Definitely, it can be one of the best alternatives to Binance. Unlike the latter, Kraken is fully regulated and legit. Traders interested in margin trading will appreciate the respective feature on Kraken, too. As a regulated exchange, Kraken will require a more invasive KYC procedure. However, users can rest assured their funds won't be stolen. As for downsides, Kraken is less stable and lags from time to time, the fees are higher than on Binance, and the set of supported coins is 5 times smaller.
Coinbase
Coinbase is the top US crypto exchange in terms of the trading volume. The company strives to follow the legal requirements so the customers can be sure that the platform is legit and safe. The interface is simple. For beginners, Coinbase might be a better option than Binance. Coinbase offers a much smaller set of supported coins and is not available in a large number of countries. Fees on Coinbase are less friendly than on Binance, too.
Gate.io
Gate.io is an American crypto exchange founded in 2017. This platform has a huge trading volume and an impressive number of supported coins — this number exceeds Binance's selection nearly by two. Some traders might be turned away by the fact that Gate.io doesn't allow depositing fiat money and the higher fees compared to ones on Binance. 
Bittrex
Bittrex is another US exchange. It was founded in Seattle in 2014. The platform is known for fast order execution. Like Binance, it supports hundreds of currencies. Bittrex even outperforms Binance by this measure. Fiat money on Bittrex can be deposited via the banking card. As for cons, Bittrex charges higher trading fees than Binance — 0.2% per trade.
Cex.io
Cex.io is a British crypto exchange. It charges a bit higher trading fees than Binance. However, the platform has big liquidity, allows trading over 60 coins, accepts multiple payment methods, supports margin trading, and strives to follow all the regulations.
Crypto.com 
Crypto.com is a Hong Kong crypto exchange launched in 2019. It supports around 70 coins and has a large 24h trading volume. The fees are almost as low as on Binance. Multiple payment methods are supported. Apart from trading, Crypto.com users can do staking via the platform. In 49 states of the USA, the exchange can be accessed only via the mobile app.
The Best Alternatives For Traders Outside the US
Some of the best exchanges are not allowed in the US. In this chapter, we are going to name the best Binance alternatives popular outside the USA.
HitBTC
HitBTC is a crypto exchange registered in Seychelles. It was founded in 2013. HitBTC supports over 440 (!) currencies. The fees are even lower than on Binance (0.09% and lower depending on the monthly trading volume of the user). In contrast to Binance, HitBTC doesn't have a history of hacking incidents. The exchange offers such features as margin trading, OTC desk, and buying crypto for fiat money.
OKEx
OKEx is one of the world-leading exchanges in terms of liquidity. It has low fees (makers pay only 0.1%) and provides numerous payment methods for fiat money deposits. OKEx allows trading over 250 assets. Derivatives and futures also can be traded there. All in all, this platform is a decent alternative to Binance.
Changelly Pro
Changelly was created in 2015. The brand established itself as a platform where users can trade at the best prices from the several associated side exchanges. However, in 2020, Changelly Pro was launched — a full-fledged exchange with good liquidity, low fees, and the support of nearly 40 coins. The exchange allows depositing fiat money via multiple payment methods. Leveraged trading is also in place.
Bitfinex
Bitfinex is an exchange from the British Virgin Islands. It boasts a large trading volume, low fees, and the support of 150 coins. As for payment methods, it doesn't accept banking cards, however, wire transfers are available. The other nice features are margin funding and margin trading.
---
---