GateHub Wallet Review 2019 - Expert and User Reviews
The crypto revolution in the past decade has seen the emergence of a new industry with several blockchain firms cropping up to offer financially related services. One of the popular blockchain firms within the crypto community is GateHub. This is largely due to its blockchain wallet but the platform actually offers more than just wallet services.
In this review, we would be looking at a detailed insight into what GateHub stands for and its operations within the blockchain industry. In addition, we would highlight the major features and security questions regarding the blockchain platform
By the end of the review, you will be able to have sufficient information regarding GateHub and its different services on offer.
What Is GateHub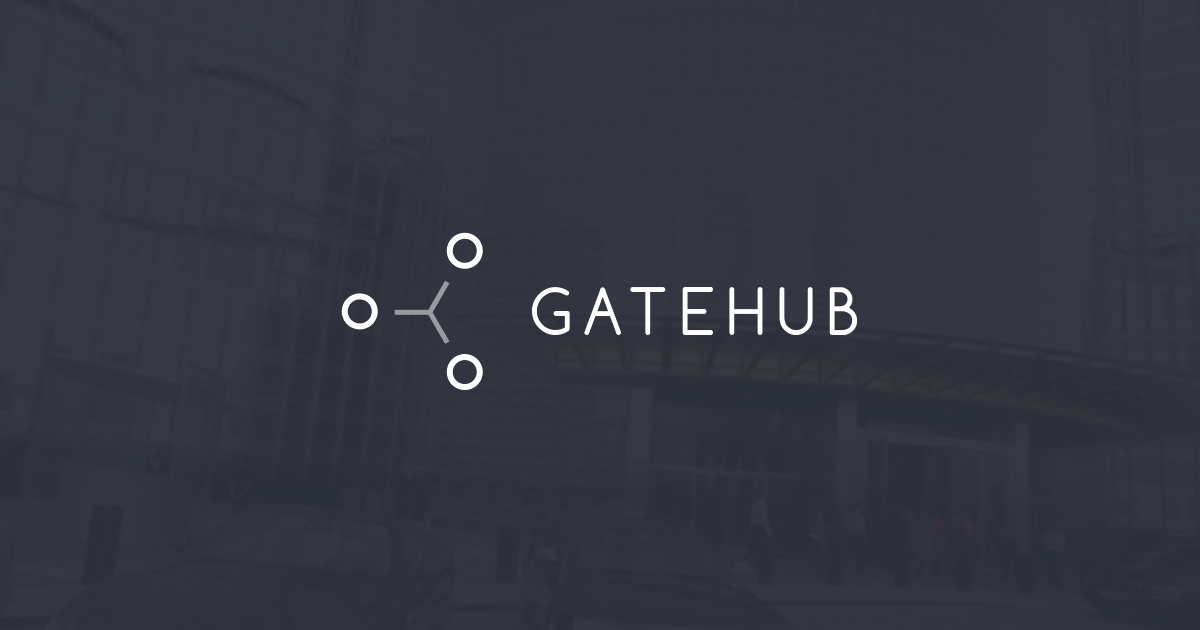 GateHub is a blockchain firm that was launched in 2014 and has become a key financial service provider within the blockchain sector. Originally launched as a wallet for Ripple currency, GateHub has evolved in the past few years to encompass other financial instruments to its platform.
It currently offers different services which include its popular crypto wallet, an exchange platform for trading crypto pairs and an advanced payment portal that uses Ripple technology to make cross-border transactions.
GateHub does not impose strict restrictions on withdrawals and storing cryptos which is one of the major advantages that attract users to the platform.
Where Is Gatehub Located
GateHub is primarily located in the United Kingdom. It is registered and regulated by the UK authorities which makes it a credible blockchain organization. Gatehub supports a number of Fiat Currencies alongside popular cryptos like Bitcoin, Ethereum and Ripple.
In addition, the crypto platform offers services to all countries in the EIU, Australia, the United States, and Canada. Users can also register from outside these nations as long as they are able to verify their identity on the platform.
Gatehub Wallet Review
The most popular service rendered by GateHub Limited is its famous crypto wallet. The wallet which was initially launched for Ripple currency has been extended to support other currencies in recent years.
GateHub Wallet is regarded as one of the best and safest in the market. The Wallet has a simple interface and excellent features. In-addition all funds kept in the wallet is 100% backed in the advent of hacks.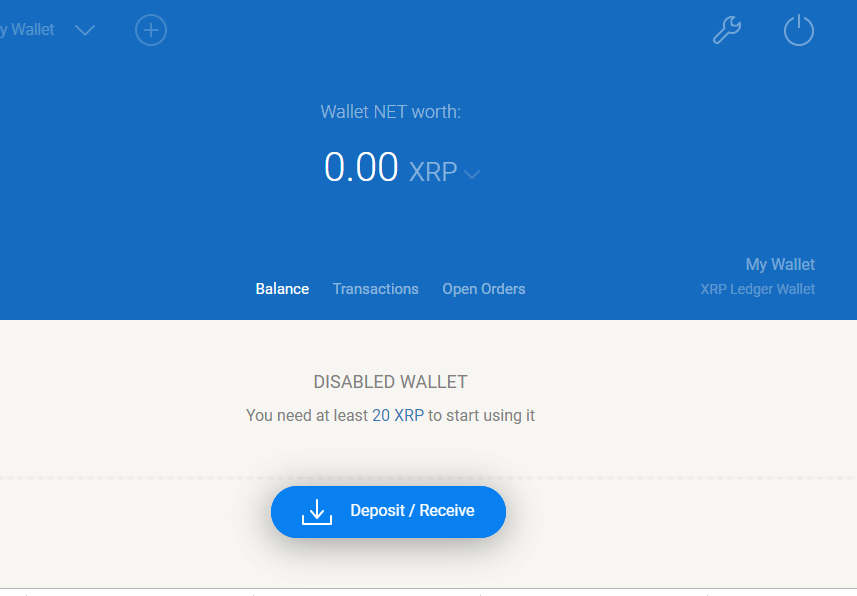 GateHub supports eight cryptocurrencies which include Bitcoin (BTC), Ripple (XRP), Bitcoin Cash (BCH), Ethereum (ETH), Ethereum Classic (ETC), Dash (DASH), Augur (REP) and Xaurum (XAUR).
In addition, the wallet has a payment gateway that allows you to deposit funds via fiat currency. At the moment the payment gateway supports transactions in the US Dollar, Euro, Chinese Yuan, and Japanese Yen. GateHub accepts payments from fiat currencies via SWIFT and SEPA.
However, you will need to be verified before you can make such transactions. You will be required to fill your personal details and upload a copy of your ID and proof of address. The process of verification could take a few days as they would need to verify your details.
If you need to fund your GateHub wallet for urgent transactions it is advisable to deposit digital currencies as this is quick and requires no verification. GateHub is available on multiple platforms with mobile versions for iOS and Android devices.
GateHub Fees
Gatehub has a well laid down rule for its fees for both deposits. One major thing about the platform is that it mandates that Ripple holders must have a minimum of 20 XRP in their wallets. This means that if for a deposit of 100XRP only 80XRP will be made available for transactions.
This is a general protocol for most Ripple wallets and it is important to note that. Gatehub fees are some of the lowest in the market and the platform does not charge transaction fees for most of the coins on its platform.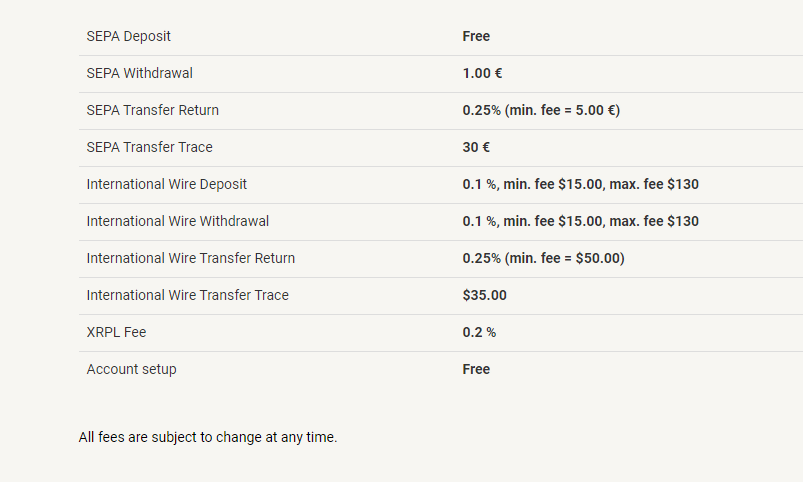 Deposit Fees
These below are Deposit fees for the major coins on its platform
Bitcoin: Free
Dash: Free
Ether: Free
Ripple: Free
Withdrawal Fee
These below are the withdrawals Fees for major coins on its platform
Bitcoin 0.001 BTC
Dash: Free
Ether: 0.005 ETH
Ripple: Free
Transaction fees
Since all transactions done on the platform are done via Ripple blockchain technology. Gatehub collects trading fees depending on the coin that is traded by the user. The trading fees for other coins are pegged at 0.3% apart from Bitcoin that has a transaction fee of 0.2%.
This could be because Bitcoin is the most traded cryptocurrency within the crypto sphere.
Minimum deposit/withdrawal
Gatehub also has different minimum deposit and withdrawal amounts for the major coins on its platform. Some of these have been highlighted below.
IS GateHub Safe?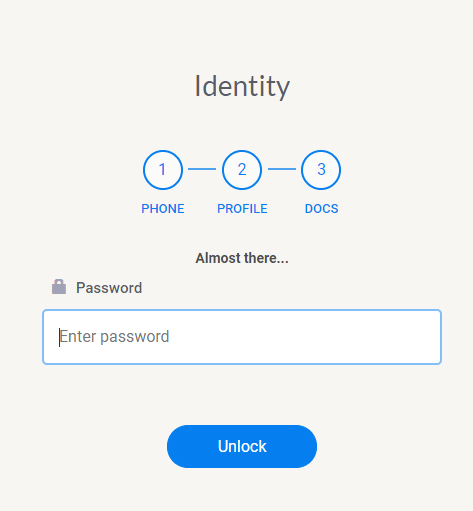 GitHub has several mechanisms put in place to protect its platform from security breaches. The most important one is the Two Factor Authentication that requires a code to be sent to your mobile device any time you attempt to log in.
Gatehub also requests for email confirmation whenever a new IP address or device attempts to log into your account.
Gatehub uses a military-grade algorithm to help secure your accounts. This has been further reinforced since the hack attack in 2017 where more than $5 million cryptocurrencies were stolen from the platform.
This was due to hackers breaking into their centralized servers and take advantage of the loopholes in its security. Since then, there has not been any major security breach on the platform as it encrypts all of its data which further secures your personal details.
In addition, Gatehub cannot access your login keys as it is stored on a separate server from the main server. This is similar to what most security agencies use with the downside being that if a user loses his login details, it would be virtually impossible to regain funds.
According to various polls, Gatehub is considered one of the safest crypto platforms within the crypto community.
Customer Service
Gatehub has extensive customer support options which is not surprising since it offers multiple crypto services. The crypto platform is active on popular social media platforms like Facebook, Twitter, and Linkedin.
In addition, users can send complaints and inquiries via email to the customer support team. However, there have been several complaints from users regarding the slow response to requests by the customer support team. This is one major flaw from the crypto platform.
There is a well-detailed blog where new information is regularly updated regarding the latest developments on the platform. There is also an extensive FAQ section that properly tackles popular problems faced by users on the platform.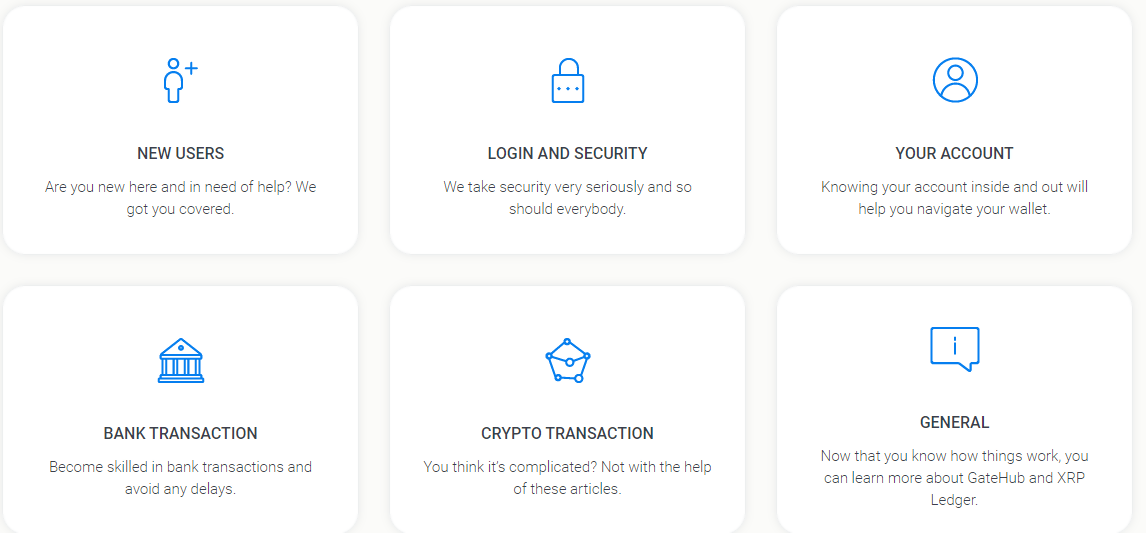 Checking through the FAQ section it can be said that it gives good information with several articles on popular questions. There were also articles informing users about potential Gatehub scams which we found interesting.
Conclusion
After a comprehensive overview of Gatehub, it can be concluded that the platform is legit due to its features and widespread use.
Its wallet is one of the best in the industry and the option of buying cryptocurrencies directly from your bank account is also a cool feature. The only major issue is the customer support system which needs to be faster in responding to users' complaints.
In conclusion, Gatehub is one of the crypto platforms that is excellent for both beginners and advanced crypto users. If you are interested in using it, you can find more information about it in this guide.
You can leave your reviews about this wallet here.

Leave a review
I like the work of Gatehub. They are always ready to help and give me the answers and explanation. Moreover, it's simple to navigate and get knowledge about the coins and funds.I am to going to give up using the wallet.
I'm here since 2016. I can say that I have had some issues but eventually I can admit I haven't lost any money and it seems to me it's a very important thing. I always received the responds from the support and they were trying to help me out.