Minergate Review 2022 - Is It Safe?
Mar 30, 2022
Some prefer to earn cryptocurrencies via trading on exchanges while others mine crypto on mining pools and then trade what they mined on platforms like Binance, Coinbase, Kraken, HitBTC, and others. Today we will speak about one of the well-known mining pools called MinerGate. MinerGate is a cryptocurrency mining brand. The platform provides convenient software for mining a number of crypto coins and a mining pool in which this software or one of the supported side apps can be used. The platform was founded in 2014 and has gained a multi-million user base since then. Is it safe to use this pool? Is MinerGate a scam? Which features this miner offers to its users? These and other questions are answered in the Cryptogeek review.
What Is MinerGate?
MinerGate was developed and is managed by an anonymous team of crypto enthusiasts. When it first appeared in 2014, MinerGate was the only pool to support the CryptoNote algorithm which gave life to such a popular crypto coin as Monero and a number of others. MinerGate was the first pool to introduce the merged mining function which allowed users to mine two different currencies simultaneously without the loss in the hashrate. If the currencies are based on the same algorithm, the shares sent for one of these coins are accessible for the second one, too, when the merged mining mode is on. Thanks to it, the early MinerGate users were able to mine Monero along with Bytecoin, Fantomcoin, Dashcoin, and some other currencies. However, today merged mining is only possible for the ASIC mining pools.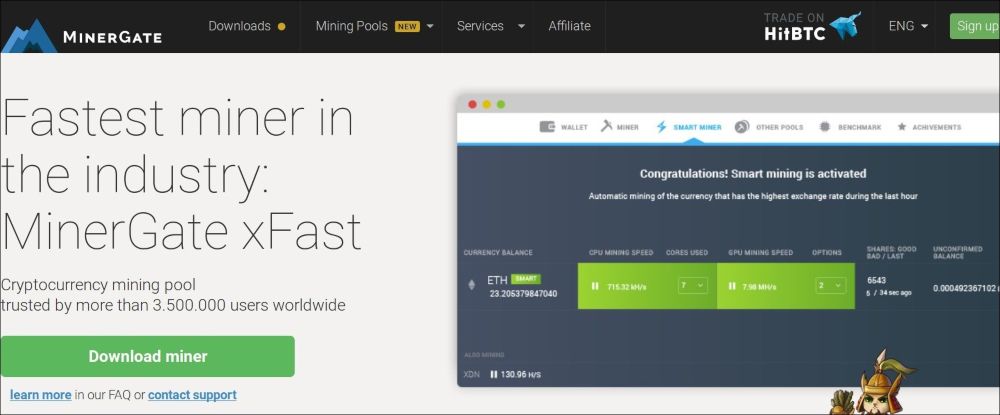 From the very beginning, MinerGate was supposed to be available for as many platforms as possible meaning that it would make it user-friendly — anyone would mine with whatever device she/he likes, using a MinerGate or side software, etc. However, Apple and iOS didn't approve the mining apps so MinerGate users with devices from Apple couldn't use the miner. Eventually, MinerGate for Mac was designed. In 2018, MinerGate became one of the mining apps affected by the crypto mining apps ban by Google Play Market. It forced the MinerGate team to change the functionality of the app, removing the ability to mine with a mobile phone. Since that moment, the app has become only useful for monitoring the active miners. The name of the mobile app has changed to MinerGate Control.
#MinerGate is the first #cryptocurrency mining software pool that supports merged mining. This means that users can mine for several different altcoins on #MinerGate's pool without lowering their hashrate for major coins.
https://t.co/YvXb3BJWbB

— Amazon Best Sellers (@AmazonBSellers) November 1, 2020
MinerGate has a number of partners including a HitBTC exchange, a decentralized content distribution platform Decent, Changelly p2p trading platform, and a crypto news platform Coinspeaker. The most important partner of MinerGate is Freewallet. MinerGate users can withdraw to Freewallet wallets effortlessly. They don't even have to register accounts on Freewallet as these accounts are initiated automatically when the user agrees to withdraw money to a Freewallet account. These withdrawals are free of charge so some miners can find this option attractive. Moreover, in cases when the withdrawals to other wallets get blocked, the Freewallet option is usually remaining available. 
Main Features
Currently, there are 5 MinerGate mining pools. The available coins are Ethereum (ETH), Ethereum Classic (ETC), Monero (XMR), Zcash (ZEC), and Bitcoin Gold (BTG). For some time, there was an ASIC merged-mining pool supporting the merged mining of Monero Classic (XMC) and Bytecoin (BCN). These coins couldn't be mined separately from each other and are not available for users who don't have ASIC devices. Eventually, the pool went offline. ASIC BTC and LTC pools that existed for years were closed by 2019.
MinerGate is head over heels for the recent #Monero hard fork. Not only did it keep the network decentralized and extremely secure, but also brought some major benefits for #CPU miners. Eager to know more?
Visit our blog for details: https://t.co/YeUibobV8Z

— MinerGate (@MinerGate) February 15, 2020
MinerGate provides a feature known as Smart Mining. When enabled this mode automatically switches the mining app to the current most profitable pool considering such factors as mining difficulty, the user's hash power, the current value of the coins available for mining, and so on. So, the user only has to leave the mining equipment on and Smart Mining will take care of using it for mining the most expensive currencies.
In order to provide users with the ability to customize their mining experiences, MinerGate allows mining via numerous applications, using multiple video cards, ASIC miners, and CPUs, GUI and console miners, on PC or Mac with OS, Windows, Linux, and Ubuntu.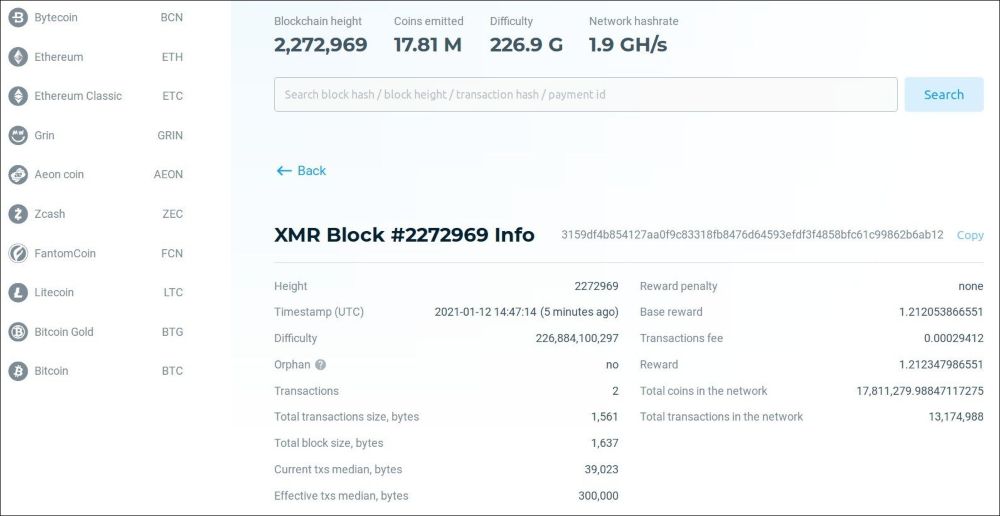 MinerGate client is equipped with the original block explorer so users can check the transactions on-chain. It can be important when withdrawing money off the platform or sending coins to crypto exchanges. The explorer provides such info as the blocks in the certain blockchain, the current network hashrate and difficulty, blockchain height, and the number of emitted coins. In the explorer, one can see the contents of certain blocks including transaction hashes, block rewards, and other properties and facts. 
In the Pool Stats tab, there are hashes of blocks found by the MinerGate pool miners. Clicking on certain currencies, it is possible to check the current hashrate of the network, more than that, the hashrate both on MinerGate and in the world are displayed. The System Monitor tab contains the table with info on the active MinerGate pools. There, people may quickly check if some of the functions are currently available or not or the entire pools are offline. The table contains such marks as "online", "temporary offline (7 months ago)", and so on against such columns as Mining, Withdrawals, etc.
In the mining profitability calculator tab, one can learn how much money she/he can make up per hour, day, or week while mining. To get the figures, one needs to specify the currency she/he is going to mine and indicate the hashrate provided by her/his mining rig. The potential profit calculation formula applied by MinerGate is Reward = ((hashrate * block_reward) / current_difficulty) * (1 - pool_fee) * 3600. The hashrate can be checked via the MinerGate app (a benchmark feature).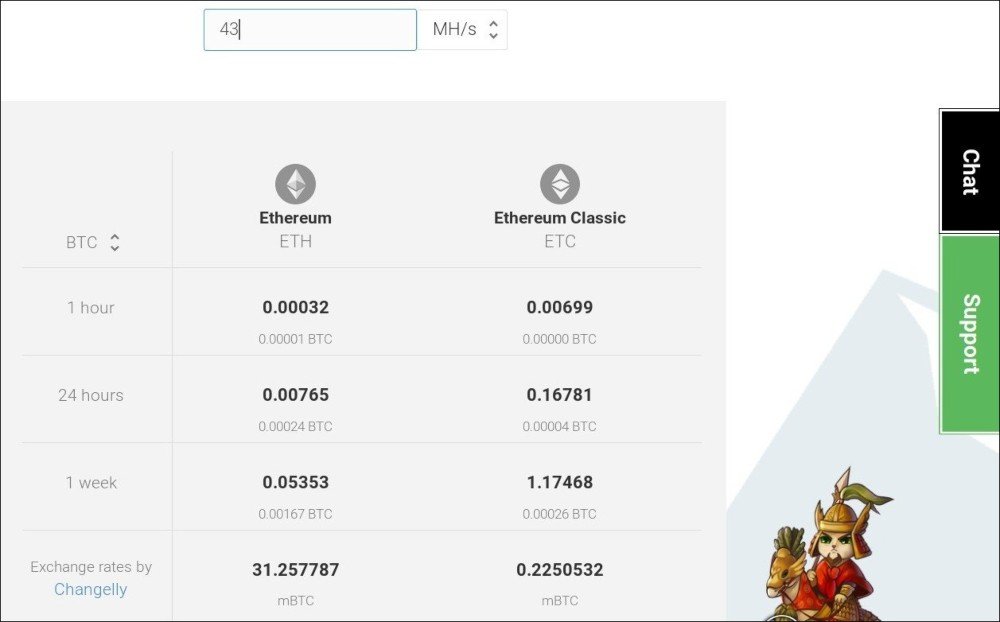 Users are free to choose between GUI and console mining. GUI mining is performed via the intuitive user-friendly graphical interface. This interface consumes some of the hashing power but is easy to use by those who have little to zero experience in mining. The user should only set the account, open a mining client, choose the currency, and click the Start button. The number of cores (in the case of CPU mining) can be specified in the client, as well. The same goes for the GPU mining rigs having more than one graphic card — if the rig consists of several workers (mining units), they can be set for mining different currencies (understandingly, the hashrate will be distributed). Console miners are capable of providing a better hashrate but they require a better understanding of computers and mining as they have no graphic interface and are managed through a command line.
Cloud Mining
For several years, MinerGate was providing a cloud mining platform where people could mine BTC and other coins via the cloud mining service meaning that users were able to rent some of the hashing power provided by the mining farm associated with MinerGate. Before the 2017 crypto boom, the contracts were quite cheap and quite profitable, however, after 2017 the profitability of this option has declined. As the number of unsatisfied users was growing, the company has abandoned the cloud mining service completely.
Reward Methods
The mining process is all about solving math puzzles. This requirement protects the network from spam attacks. The puzzles are very difficult and spammers cannot provide enough power to solve them quicker than the rest of the mining community. To do so spammers would need to control over 50% of the network's power. The puzzles are solved by the mining equipment whether it's ASICs, CPUs, or GPUs. The solutions sent by the mining device are called "shares".
There are two accessible reward methods on MinerGate: PPS and PPLNS. PPS stands for "Pay per share". It is the most straightforward scheme meaning that a miner gets paid for each valid share she/he sends. Each payout is equal. This method doesn't deal with luck or any kinds of serious fluctuations. The more one mines the more she/he gets. The percentage of the sent valid shares equal to a percentage of the block reward the miner gets.
PPLNS means Pay Per the Last N Shares where N is a specific number set by the pool. The reward percentage is calculated depending on the timeframe the miner was sending shares. This payment method assumes that mining in a certain hour of the mining round can bring a bigger reward than PPS while many other participants won't get anything. It works backward, as well. PPLNS is a risk of not getting any rewards if the right time for mining was missed. The miners who want to get benefits from the PPLNS reward method are recommended not to switch off their rigs 24/7 in order to avoid mining in vain. On the one hand, PPS allows getting stable rewards however, PPLNS is the way to get a bigger block reward percentage although the risk is involved.
MinerGate & Side Miners
Those who want to mine in the MinerGate pool but don't want to use any of MinerGate miners are free to choose third party mining apps. Not all of the side miners are supported by the pool, however, the list is quite long, and for years people were using their favorite mining software to get coins in the MinerGate pools.
Those who want to mine ZEC coins can use nheqminer (NVIDIA, CPU) that is applicable for Windows x64 and Linux. It supports both CPU and GPU mining. Another Windows x64 option is Claymore's Zcash AMD GPU miner. One more ZEC miner is working only on Windows with CUDA 10. It is a ccminer by tpruvot (NVIDIA). And the final option that can be used for Zcash mining on MinerGate is EWBF Cuda Equihash Miner. The miner can be run on Windows x64 and Linux x64. The same app can be used for Bitcoin Gold mining.
Those who crave Ethereum can use Ethminer that exists in the Windows x64, macOS X, and Linux versions. Ethminer is good both for CPUs and GPUs. Additionally, ETH can be mined via Genoil's Ethereum GPU Miner which is available only for Windows x64.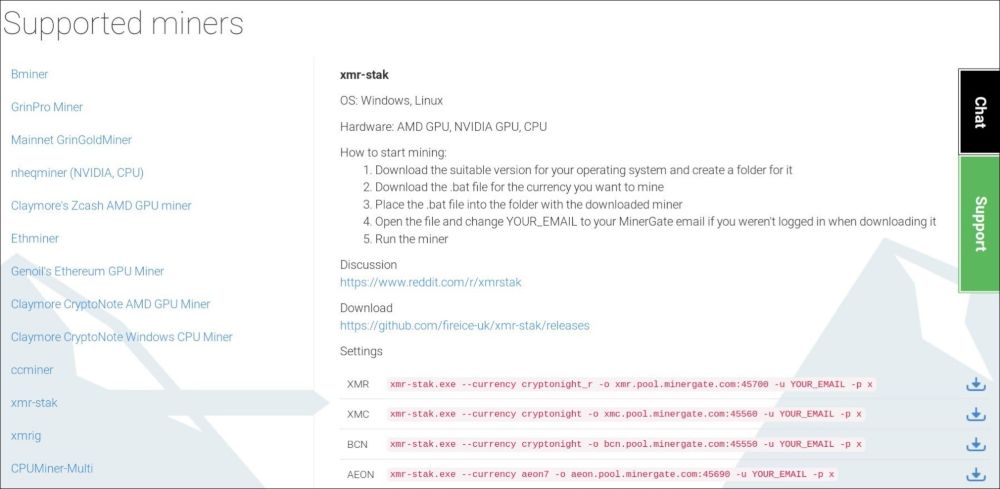 Monero can be mined with xmr-stak and xmrig. Both apps can be used on Windows and Linux and are good for AMD and NVidia GPUs and central processors.
Fees
As for fees, there are the following types of commissions on MinerGate: a pool fee (charged from everything a user mines in the pool) and a withdrawal fee.
The withdrawal fee varies from zero (in the case if the user is withdrawing money to Freewallet) to larger amounts specified for each currency. The actual withdrawal fees are not disclosed anywhere. As for pool fee, everything is clear: MinerGate collects 1% from miners using the PPLNS reward method and 1.5% from those who prefer PPS.
Affiliate Program
Like many other cryptocurrency platforms, MinerGate provides an affiliate program. It helps the company to gain more users through the invitations sent by those who already have accounts on the platform. The users who managed to get at least 10 people to mine on MinerGate receive the revenue of 30% of MinerGate's profits made from these affiliates' activity. Those who have brought from 11 to 30 people to the platform have a 50% reward while bringing over 30 affiliates gives a user the biggest reward — 65%. So it makes sense to take part in the affiliate program if you like MinerGate and believe you can tell people about the platform.
Is MinerGate Safe?
There are many ways how MinerGate users can secure their funds and data. First off, you should set a strong password. Don't underestimate this measure. It's better to create a new password that you don't use on other platforms so in case of a phishing attack you won't compromise all of your accounts. In the Account tab you can monitor the activity on your account. You will be able to see the IP addresses and locations associated with actions on your account, so if someone breaks into your account it won't get unnoticed. You will be able to terminate all sessions in one click and change the password. If it turns out that the intruder has already withdrawn your money you can request the blocking of the intruder's account via the customer support service. If it's not too late, they can return the stolen coins.
To avoid the problems mentioned above, you can do such a simple step as enabling 2-factor authentication. When this feature is enabled, no one cannot withdraw money from your account or even enter it without providing a short one-time password. The password is generated on your mobile device via a special app (Google Authenticator or a similar one). Therefore, those who don't have access to your mobile device won't be able to withdraw anything, enter your account, change the password or do other critical actions. One more measure similar to 2-factor authentication that can be applied for your account on MinerGate is an email confirmation. 
Some individuals claim that MinerGate is a scam. Mostly these accusations concern the inability to withdraw the coins. At a close look, we can figure out that some of these users didn't reach a minimum withdrawal threshold. Others (most of the unsatisfied users) cannot withdraw coins due to temporarily locked withdrawals of certain currencies explained by the tech maintenance. At times, this maintenance was continuing for months making people lose their trust in the platform. However, there are no proven cases of thefts performed by MinerGate, so we believe that the company is legit.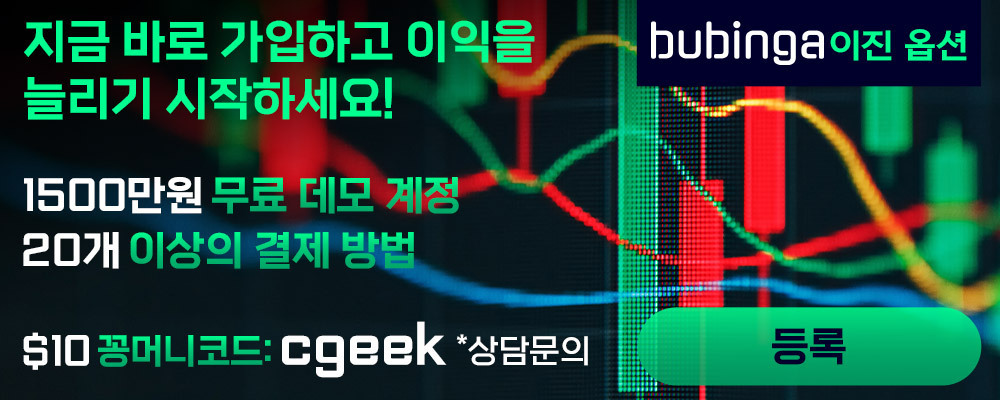 WARNING.
Minergate are thieves.
They kept my mined XMR - for themselves.
Customer support stopped answering my emails.
1 an aprés le mining je n'ai toujours pas reçu de paiement pour ce sont des malhonnétes voleurs!
jesus berrios
7 September 2022
Un robo, tengo 4 meses esperando se confirme lo minado y todavia no lo confirman, llevo 3 correos pidiendo estatus y no me dan respuesta, me abren otro ticket y tengo que seguir esperando,hasta cuando? no los recmiendo, perdi 2 meses de mineria. son unos estafadores
Onalu ejike Jude
5 August 2022
I'm here to make sure that this company grow up faster everyday to make sure discontent being standard for Eva thank you very much for accepting me here
Es un verdadero ROBO. Es imposible retirar las "comisiones" y piden para retirar los fondos foto de mi documento... Al principio no te piden nada... Ya después te das cuenta que te roban