Nicehash Review 2022 - Is It Safe?
Mar 30, 2022
Although most people prefer to earn on trading cryptocurrency, many crypto enthusiasts are more attracted to mining. Beginners who are just starting to mine are always faced with the need to find a pool and other necessary services. Many of them choose cloud mining, but you should be aware that it is not only private companies that provide it. Using the service that will be reviewed today in this article, one can buy and sell computing power. All operations are performed in bitcoins, and the service supports all the most popular algorithms such as Ether mining or Monero. In this article, we will review the Nicehash service and answer the questions: Is NiceHash profitable? How safe NiceHash is? Is it not a scam? Also, we will tell you how to work on this site. 
Note: You can exchange cryptocurrencies at the best rate in a few minutes here.
What is NiceHash?
Nicehash is a market that allows sellers and buyers to trade computing power for crypto mining around the world. Sellers can earn using NiceHash Miner software, and buyers can buy power on any favorable mining algorithms on profitable terms.
NiceHash started operating in 2014, from the moment of registration of the company. NiceHash is headquartered in Ljubljana, Slovenia and has production servers in the USA, Brazil, Japan, India, China, and the Netherlands. But, until the fall of 2017, the project was narrowly focused. On the cryptocurrency hype, NiceHash specialists changed the interface of the site and expanded its functionality.

The official website of the project is available in 7 language interfaces: English, Chinese, German, Spanish, Portuguese, Russian and French. It is worth noting that cryptocurrencies for mining based on more than 30 algorithms are available on the site. Among which: Scrypt, SHA256, X11, X13, Lyra2REv2, CryptoNight, Equihash, and others.
Trades are carried out in real-time without the use of long-term contracts. NiceHash also works as a backbone network, indirectly influencing the generation of new digital coins and transaction confirmation. 
Another feature provided by NiceHash is also popular - profitability calculator. With it, you can determine the profitability of your mining.
Join World's Largest Crypto Exchange
Join World's Largest Crypto Exchange
Pros and Cons
Studying all the tools available at NiceHash and the nuances of their work allows us to highlight a number of the following advantages of the service:
Ease of use for both buyers and sellers;
There are no restrictions on the size of the acquired NiceHash hashrate (within the total capacity available on the market);
Support for dozens of popular hashing algorithms;
Affiliate program;
Ability to cancel created orders for the purchase of NiceHash power even if they are partially executed;
Automatic configuration of NiceHash Miner and switching between hashing algorithms depending on changes in their profitability;
Internal exchange of funds between wallets;
Own wallet for cryptocurrencies;
Low fees;
Stable payments;
A long period of operating (6 years) suggests that NiceHash is obviously, not a scam.
If you want to learn how to start mining cryptocurrencies, i highly recommend @NiceHashMining to start with. 👍

— Twizz Ballista (@BallistaYT) August 17, 2020
As for the disadvantages, NiceHash has them in much smaller quantities:
Profitability when using NiceHash is much lower than when mining on your own equipment;
The service limits the freedom of users in choosing a payment method - the purchase of capacities is available only for BTC, which is a rather slow means of payment with high commissions;
This type of remote mining is not suitable for long-term investment since transaction execution time rarely exceeds 10 days;
NiceHash is an intermediary that scares some off in terms of security.
How Does NiceHash Work?
NiceHash is an online brokerage market that brings together buyers and sellers of mining power. Power is a computing resource, an indicator of how much power hardware spends to run the software and solve Proof-of-Work algorithms.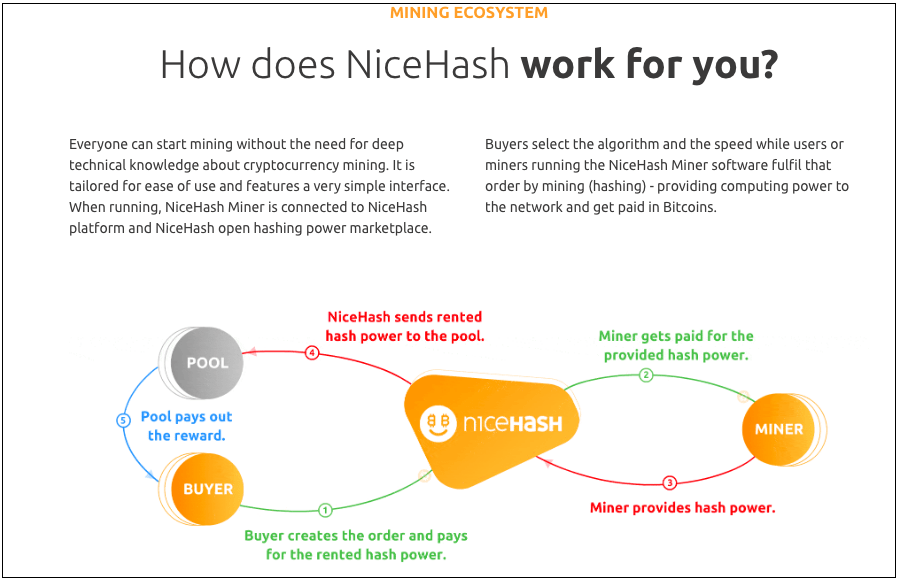 You can be either a power buyer or a miner (power sellers).
Power buyers. Choose the cryptocurrency you need, a mining pool, set the price that you can pay for the service, and place an appropriate order. When the order is filled with miners, the buyer receives the cryptocurrency mined by the pool. This is convenient since the buyer does not perform complex actions on his/her own and can do without investing the money in the purchase of equipment.
Miners (power sellers). Install and run NiceHash software, connecting their computing power (PCs, farms, ASICs) to the buyer's order and platform servers. Power is directed to the pool selected by the buyer. Payment for each validation is received in Bitcoins. The cost is determined by the average for the current moment and is updated every 60 seconds. The process is as automated as possible.
At first sight, the services provided by NiceHash seem very similar to cloud mining, since here we are also talking about remote leasing of computing power. However, there is one key difference - NiceHash does not have its own data centers with equipment, as is the case with companies mining in cloud mining. This service offers exclusively intermediary services, helping some users buy a hashrate from others, and at the same time acts as a guarantor of transactions.
In addition, there are several other different points:
On NiceHash, the buyer pays only for the work performed by the miners, while long-term contracts with advance payments are made by cloud services;
The price of computing power on NiceHash is formed on the basis of the offer market, and in cloud mining is set by the service provider;
Cloud services most often impose their cryptocurrency mining conditions, while NiceHash gives users freedom in such things as choosing and setting up a mining pool.
The service has accounts on social networks Twitter, Facebook, Reddit, and others. It publishes important site news, for example, on technical work, any innovations, and updates. There you can also find user discussions, reviews, or contact technical support if something does not work for you or does not start.
Pool Tokens to Earn Rewards on Binance
Pool Tokens to Earn Rewards on Binance
NiceHash Fees
For all services provided to users, NiceHash charges a fee, the amount of which varies depending on the type of operation.
For the creation of each new purchase order, a commission of 0.0001 BTC against spam is charged. Plus 3% of the amount spent on the order. This 3 % does not apply to the unspent amount of canceled applications.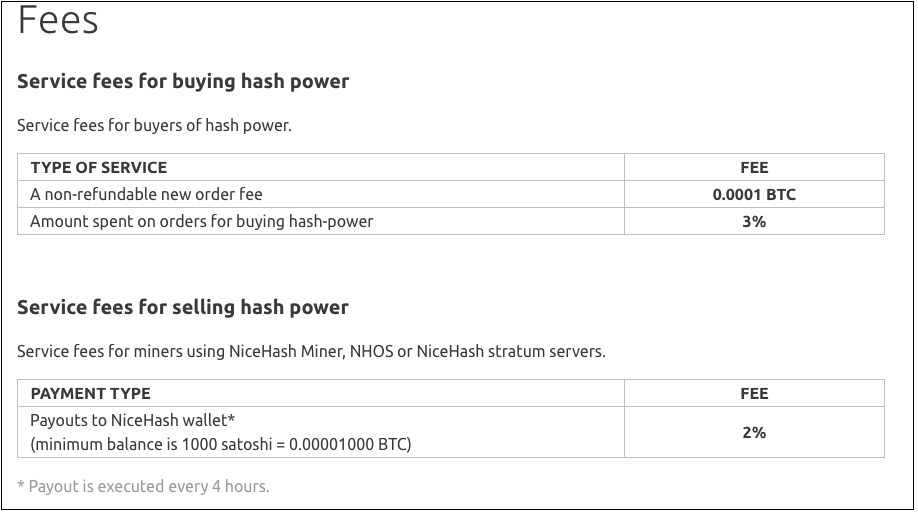 For the sale of power, the following commissions (charged when withdrawing to external wallets):
If the balance is less than 0.1 BTC - 5%
If the balance is more than 0.1 BTC - 3%
NiceHash Exchange has a very simple fee structure with maker and taker fees. Trade levels are calculated based on your lifetime activity. Once you reach a certain level, you will never go to a higher fee again! You can find more information on NiceHash fees here.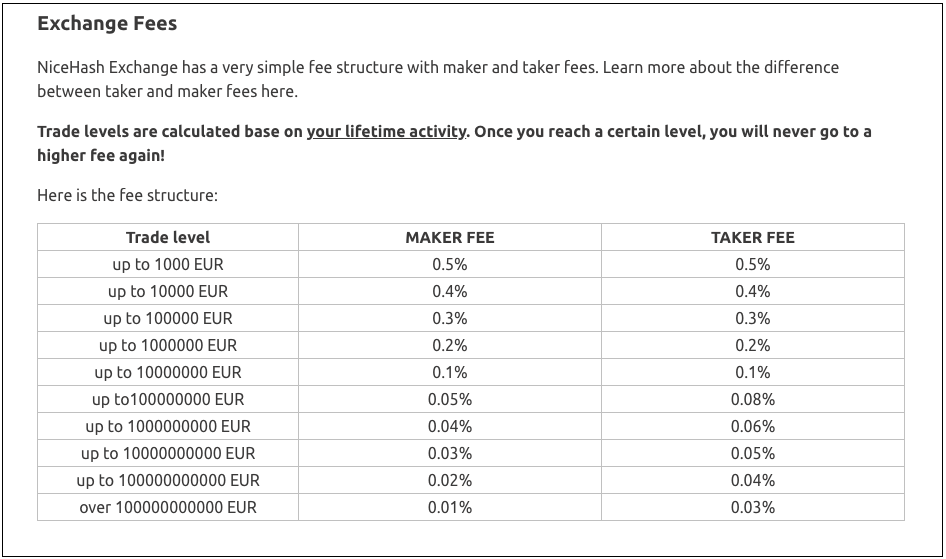 NiceHash API and Affiliate Program
The platform offers users earnings via an affiliate program. Access to it opens after creating an account. You must provide technical support with information about the resources where you plan to place links. The administration of the resource may approve or reject your offer. If successful, you will have access to graphic materials that can be posted on the website or blog. Your potential earnings will be about 5% of all funds that can be attracted by invited users. A small bonus will also be awarded once, which will amount to 0.000005 BTC. The information about NiceHash API you can find here.
How to Use NiceHash?
In order to register on the NiceHash platform, you need to go to their site and in the upper right corner of the site click on a "Get Started" button.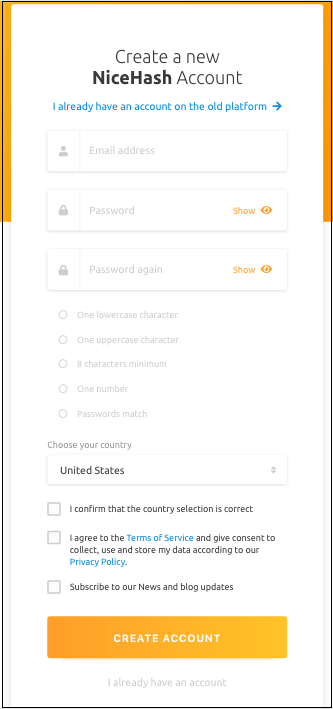 Enter your email address, enter the password you have created 2 times, agree to the rules and regulations and click the "Create Account" button.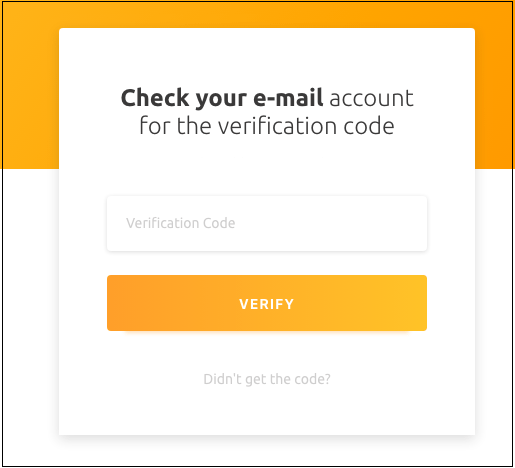 After that, you will receive a confirmation code in the mail, which will need to be entered on the site.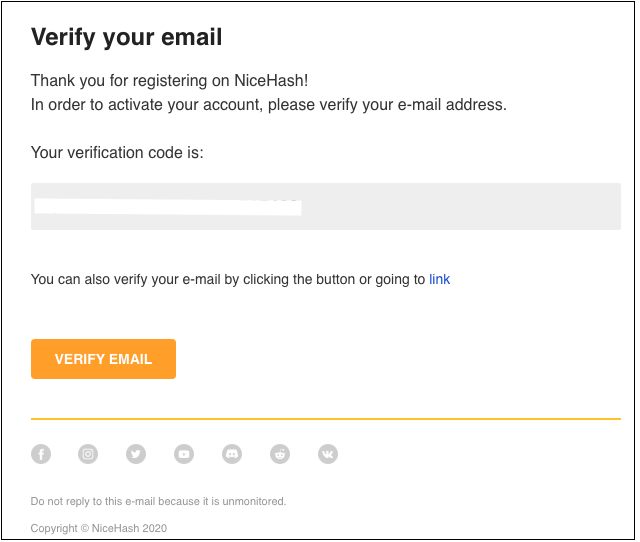 After entering it, once again fill your username and password in the appropriate places on the site to enter.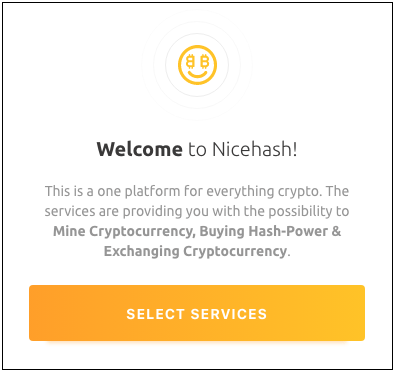 Now, you've got inside NiceHash dashboard and you can fully learn about its functionality.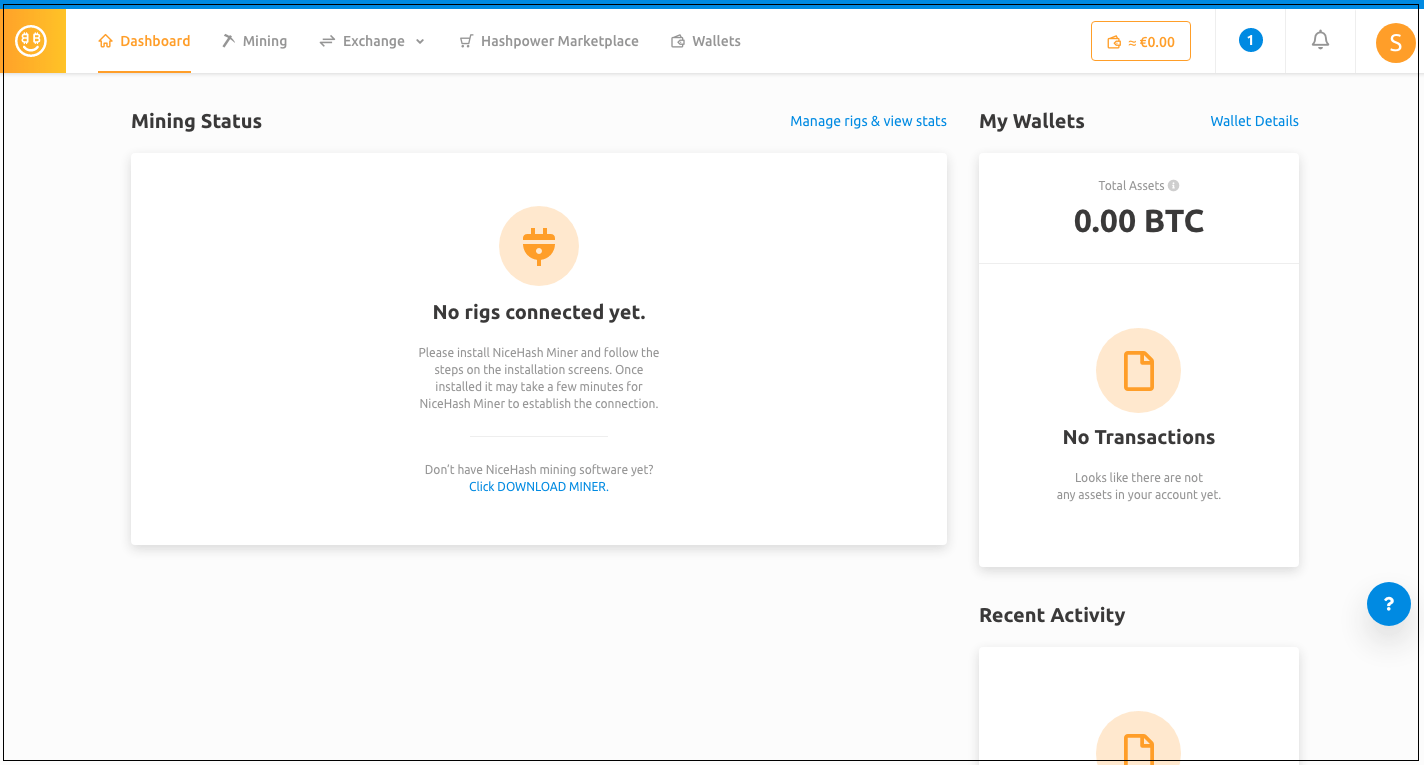 In the dashboard the following sections are available for the user:
Mining status - this displays a list of equipment added to NiceHash to provide computing power;
My Wallets - a list of user wallets with a positive balance;
Recent Activity - A history of recent funds deposit/withdrawal operations.
Get a Loan Secured by Your Crypto Assets
Get a Loan Secured by Your Crypto Assets
How to Setup NiceHash
NiceHash Miner is an application that allows you to connect your computer or mining farm to the NiceHash market. With it, you can rent out your computing power and make a profit for it.
The new version of the application - NiceHash Miner Legacy - also includes third-party miners, as a result of which developers warn about its use at their own risk. In addition, it is recommended to add the program to the antivirus exclusion list.
Nicehash Miner supports:
AMD and Intel processors, AMD and NVidia graphics cards.
Automatic switching from one algorithm to another.
The ability to withdraw funds to either a Bitcoin wallet or to Payeer or Coinbase.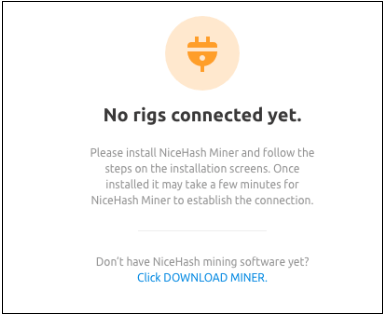 To start working with NiceHash, you need to click on the "Download Miner" button on the site's toolbar. Once you click there you will be shown the options:
On video cards and processors via NiceHash Miner;
On mining farms with NiceHash OS installed;
On ASIC miners via stratum servers NiceHash.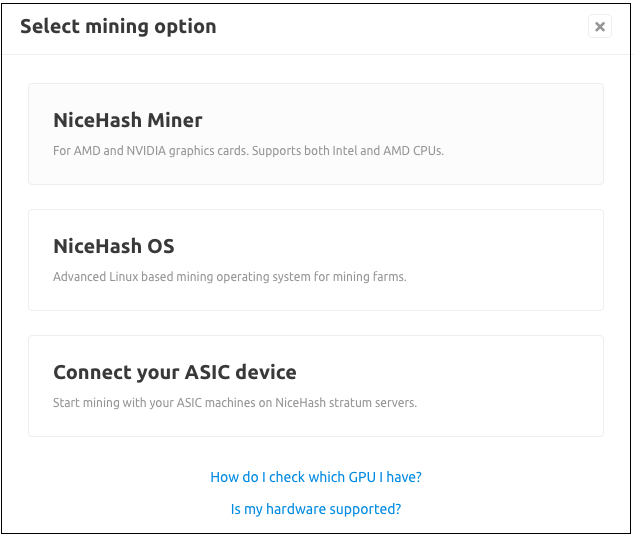 All that the user needs to do after starting the miner is to wait for the system to automatically check for supported equipment (powerful AMD / Nvidia video cards and Intel / AMD processors), indicate the appropriate geographical location option, BTC address (issued in the account on the website) to receive a reward for leasing their computing power and PC name.
Also, you need to run a benchmark to determine the most cost-effective algorithms.
At this point, the running software is synchronized with the user's account on the site, which results in the appearance of the tested devices in the list of rigs in the "Mining" section.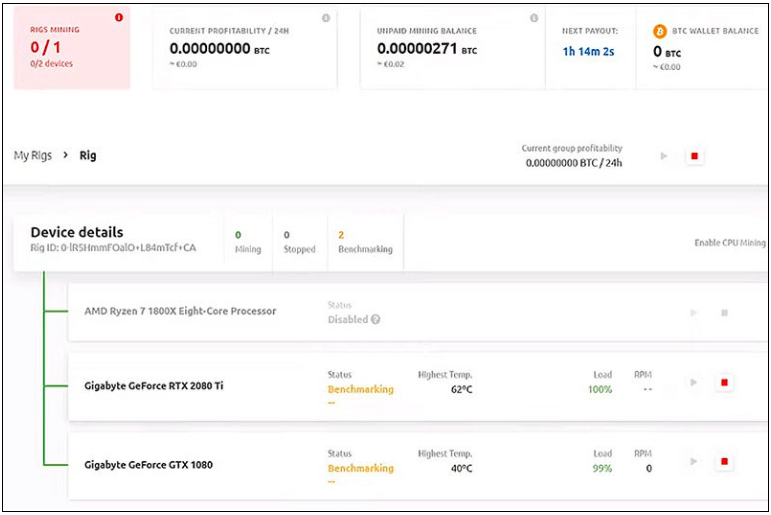 Mining will start after clicking the "Start" button opposite the selected equipment via the site interface or NiceHash Miner. You can check if everything works by the change in the indicators of device load (in the application interface) and the appearance of a command prompt window with the process displayed in detail. Earned rewards will automatically be credited to the specified wallet.
How to Withdraw From NiceHash
The payment system on the service does not imply any hidden fees and users respond well to this side of the service. The withdrawal is made automatically immediately after reaching the desired threshold for payment. You can exchange earned funds using any cryptocurrency exchange or exchanger, and from there you can withdraw to a card. In addition, you can use bitcoins in some online stores or pay for certain services.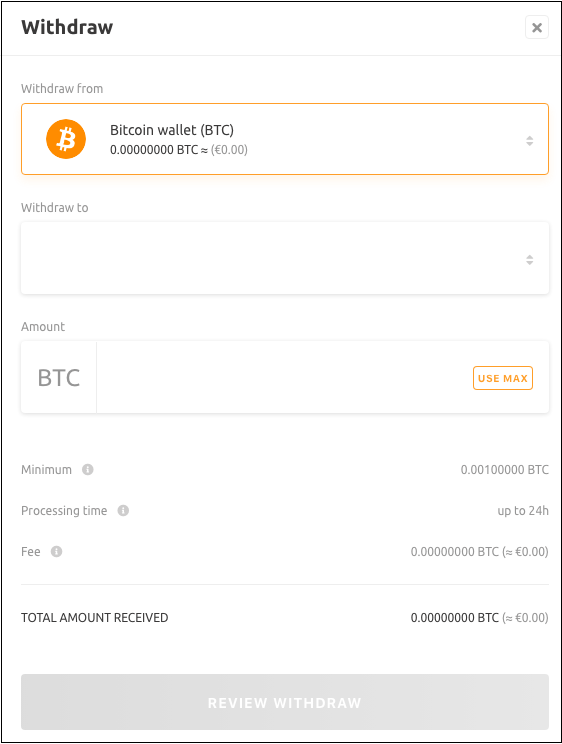 To make a manual withdrawal to the address specified or to the Coinbase account connected you go to the "My Wallet" and press "Withdraw" (next to the "Deposit" button in the menu on the left side). In the form, you should indicate the withdrawal currency, the address and the desired amount. Once all the information is provided, press the "Review Withdraw" button. Funds are withdrawn to the service wallets every 4 hours. 
After you have withdrawn your coins, you can trade them anywhere, for example at HitBTC.
NiceHash Minimum Payout
According to the information indicated on the NiceHash website, the minimum payout is 1000 satoshi = 0.00001000 BTC). The payout is executed every 4 hours.
Alternatives to NiceHash
The most famous alternatives to the NiceHash service are the MinerGate and Kryptex projects. 
MinerGate is a multi-currency cryptocurrency mining service. The pool was created in 2014, and today it gives the opportunity to mine 5 digital currencies, including Bitcoin Gold, Ethereum, ZCash, Monero, and Ethereum Classic. Minergate is also considered one of the first services to provide combined mining services. This means that by connecting to the pool, you can simultaneously mine different coins without losing the hashrate for mining the main currency.

Kryptex is a cryptocurrency mining service founded in 2016 based on users' PCs. To install the software, you will need a 64-bit Windows-based computer. The program works on the basis of the calculated capabilities of the PC and encodes the information. At the moment, the service supports 7 currencies, including Ethereum, Ethereum Classic, Monero, Expanse, Grin, Beam and Ravencoin.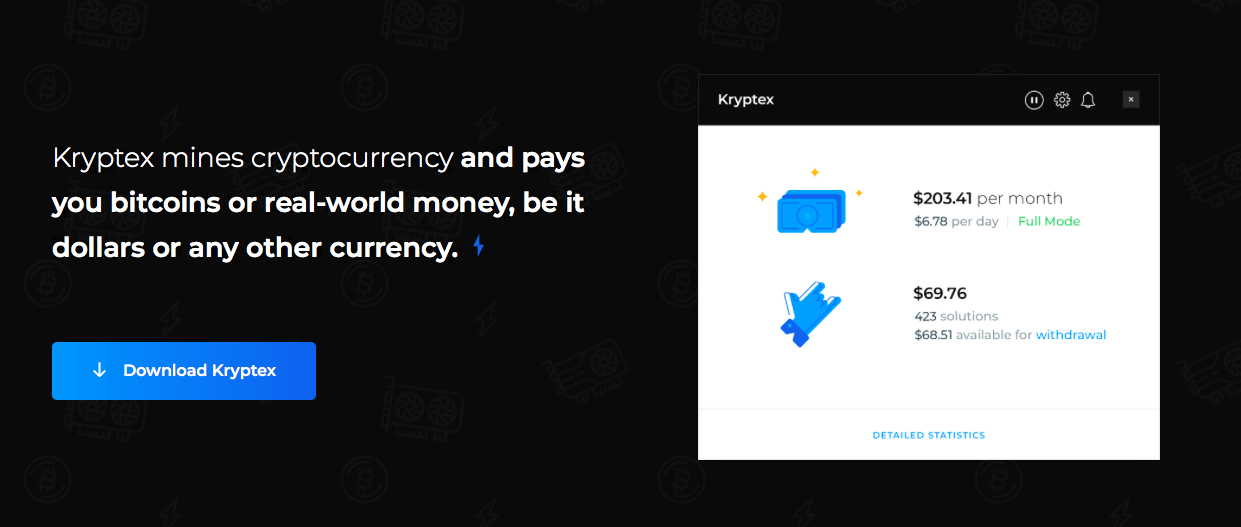 Both of the services also offer users a simple way to work with cryptocurrency and easy organization of its mining processes. And while Kryptex is very minimalistic and offers nothing but the application itself, the MinerGate is already a serious analog with a lot of features.
Win up to $1.8M in Futures Trading Competition
Win up to $1.8M in Futures Trading Competition
Is NiceHash Safe?
NiceHash is one of the safest platforms, according to
CER.live
. Mining through NiceHash is completely anonymous and quite safe. The software does not pose a threat to miners. However, some users download software from untrusted sources, as a result of which they endanger themselves and bring viruses to the computer, which may cause problems with the protection of personal information.

As for the security of funds on the service, the site has the option of connecting two-factor authentication to your account. To enable this feature, you will need to click on your account in the upper right corner and go to the "My Settings" section and make your account more secure by setting 2-FA authentication. To do this, in the "My Settings" section, select the "Security" subsection and select "Enable 2-Factor Authentication". 
I got burned on that #nicehash hack. They are about 30-40% paid back now though which is cool.

— Zack Scriven (@zackscriven) May 14, 2018
However, in 2017, the service experienced a serious hack, which greatly damaged its reputation. This whole situation speaks of a weak security system at that time (not the fact that it was improved). Therefore, this resource is unlikely to be suitable for long-term investment.
Conclusion
It should be said that the monitored project is a good example of a service for beginners. However, the safety of using NiceHash is in doubt, as it was subjected to serious hacking, which significantly damaged its reputation. However, we can hope that this will not happen again in the future, and the developers will pay more attention to security. One way or another, this site can be recommended for use, but you should withdraw funds as often as possible and remember all security measures.
For sellers, NiceHash is a quick way to start making money on cryptocurrencies. Most of the process is automated, so a minimal amount of effort is required, and at a fair price. The option is suitable for those who are not able to devote a lot of time to earning, but who want to receive additional income.
For buyers, NiceHash, like cloud mining, is a convenient tool to avoid buying expensive equipment. If you have already chosen a profitable coin, then working with NiceHash can help you make a profit from it.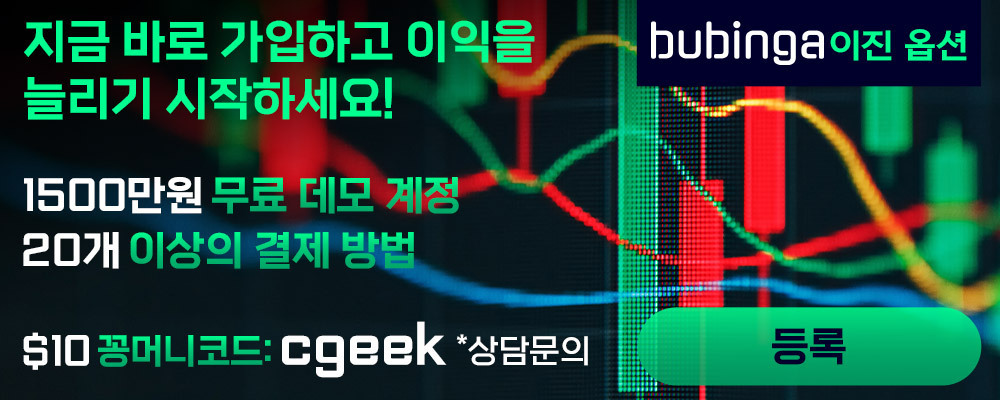 NiceHash are a bunch of crooks. I gave them $200,000 in December of 1021 and made it up to $400,000. When I asked for my money they refused to give it to me. Now my account is down to $100,00 and they still refuse to give me my money. They are thieves.
Elegant Coconut
12 April 2022
Good for inexperienced miners who don't know jack about Bitcoin and want something for their video card to do while it's idling. This kind of reminds me of the old SETI thing I used to do have running on multiple machines years ago, but now I am getting money for it instead of just being on a high score list.
It's easy to transfer to a Coinbase account if you are in the US. And from Coinbase to paypal. It takes about 1 hour for the whole Nicehash to Paypal. I seriously don't see why more people aren't doing this, it's like free money. (not much money, but it pays for my internet bill each month)
Eduardo Alfredo Perez
28 March 2022
Estoy usando Nice hace un mes. Hace cuatro dias me enviaron un e-mail alarmante diciendo que un IP podia estar queriendo entrar en mi maquina y que si no era el mio que bloquease la cuenta en el boton indicado. Lo hice y bloquee la cuenta porque en es momento recordé mi pi privado y no ese. Despúes me di cuenta que era el mio publico. Y ahora no consigo desbloquear mi cuenta y el soporte de Nice no da ni bola. Parece un forma de quedarse con fondos de los que cliquean más rapido de lo que piensan, como yo. Es extraño.
ultima versione 3.0.6.8 shows a virus inside w32.bitmainer. pay attention. My antivirus has already the exceptions inside and it works well with all old versione such as 3.0.6.5 etc... but it provides to delete the file .exe in the new version 3.0.6.8.
Depositei 25 euros mais 11 euros que o meu banco me cobrou pela transferência internacional.
Já passaram 4dias e a minha conta NiceHash continua a zero