Mercatox Exchange Review 2021 - Is It Safe?
May 29, 2020
Mercatox is a centralized cryptocurrency exchange founded in October 2015. At the moment, it has over half a million active users. By some accounts, this exchange is one of the top 100 cryptocurrency exchanges by trading volume. Mercatox supports numerous cryptocurrencies (over 400 coins which means that some of the currencies can be barely found on other exchanges) and provides a convenient trading interface.
Among features of Mercatox, there are trading platform, multi-currency wallet, margin trading, lending service, and peer-to-peer currency exchange. Moreover, the exchange provides an API for developers and can be integrated into the website if needed. The website is available in three languages: English, Russian, and Chinese.
As the cryptocurrency sphere is still attractive for all kinds of scammers, we have to be cautious when choosing the trading platform. Before using exchange we should make sure that it provides a decent level of security and is not involved in any fraudulent schemes. Trading itself is a risky business, so we can't afford to increase these risks by trusting the shady platforms. Is Mercatox a scam? Is it safe to use this exchange? In the following review, we will try to answer these vital questions.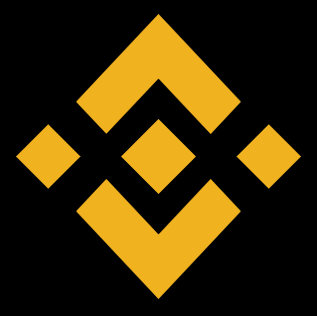 Get Profits with HODLing on Binance Earn
Where Is Mercatox located?
Mercatox is located in the United Kingdom. However, users from around the globe can access the exchange, including those based in the United States.
One can directly contact the exchange to see the full list of supported countries.
Interface & Functionality Review
The user interface is easily one of the selling points of Mercatox as the platform is intuitive and has a convenient design. It can appeal to experienced traders and to novices, as well.
The homepage informs all visitors about the advantages of the platform and describes all the features in short. In the upper part of the website, there is a menu with 3 tabs (Trade, Lending, and E-Wallet).
In the upper-right side of the Trade tab, one can see the box containing the list of all the crypto markets and e-currency markets. Below there is a Margin Trade button and an active chat room where traders can interact with each other and share information on topics related to cryptocurrency trading. This chat can be especially useful for those in need of quick assistance regarding the use of the platform. Under the chatbox, there is another section providing news associated with the Mercatox exchange. That's where users can see the announcements or learn that some of the coins are temporary cannot be traded due to the maintenance, and so on. 
On the left side, there is a trading candlestick chart. Besides a generic candlestick graph, there are such options as Hollow Candles, Heikin Ashi, Baseline, Area, and Line. Moreover, there's a rich choice of indicators that can enhance the trading process of experienced customers who know how to use sophisticated analysis tools. Above the charts, one can see the numbers (24-hour change, 24-hour volume, 24-hour peak price, 24-hour bottom price, and so on).
Under the candlestick graph section, there are Buy and Sell boxes and My Orders section. The users can place one of the three types of orders: limit, stop, and market orders.
Market orders can be used to buy or sell assets at the current price (the trader cannot specify this price when placing a market order). In markets with high liquidity, market orders usually get filled instantly. The chance that the market order is not going to get filled is very little. The final price can depend on the moment when the order gets filled.
Stop orders are used to buy or sell the assets at the best market price (just like market orders). The difference is that these orders get triggered only if the market price reaches a specific figure.
Limit orders allow trading with lower risks of losses. These orders get triggered only at the specified or better price. Some of the limit orders are not getting triggered. It happens when the market price doesn't reach the price specified by the user or gets worse than this price. What's good is that if such order gets triggered it always gets triggered at the desired or better price.
Another tab is Lending. There one can make money without trading by lending assets to interested individuals at an interest. The feature was added on the platform back in February 2017. Also, the Lending feature might be useful to get extra money for margin trading. To get started in this section, one has to set the terms of engagement with the borrowers, i.e. amount, terms and interest rates. According to Mercatox, lending is a high-profit exercise that has no risk. In fact, it's better to adequately estimate possible risks and profits before making the decision to use this feature.
The E-Wallet tab contains the Mercatox E-Wallet service. In fact, it is a multi-currency wallet. It allows users to send and receive crypto-assets instantly. Moreover, Mercatox users can purchase goods via this wallet. Users can withdraw coins from the exchange to this wallet for free. The deposits made via this wallet are also free of charge. Business owners can use the Mercatox wallet to accept payments through the integration of the wallet into the business website.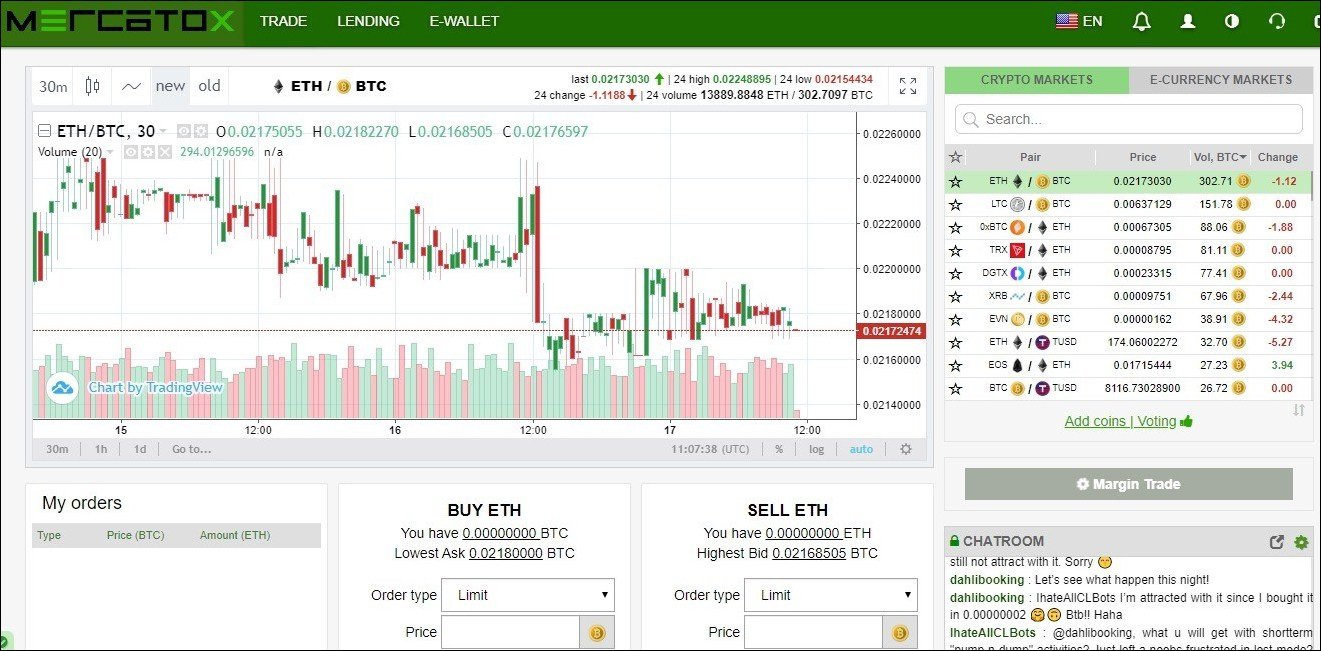 Supported Cryptocurrencies
Mercatox supports over 100 cryptocurrencies, including the likes of Bitcoin, Ethereum, Litecoin, Tronix, Tether, Basic Attention, and many more. 
Users of the exchange also have the option of voting on coins they would like to see added on the platform. The tokens that get the most votes are included in the exchange's growing list of cryptocurrencies.
Also, there are a plethora of obscure coins that can be found, and this is one of the biggest sources of criticism for the exchange with many of the tokens dubbed useless by the platform users.
On the positive side, Mercatox supports three fiat currencies; USD, EUR, and RUB. What makes Mercatox even more convenient is the opportunity to deposit fiat money. Nowadays not many exchanges provide this option. This opportunity makes Mercatox an appealing gateway platform for people who only start their cryptocurrency journey.
Deposits on the exchange can be made through cryptocurrency, Perfect Money, Payeer, Qiwi, and Yandex money. 
Mercatox Fees
Just like an absolute majority of cryptocurrency exchanges, the platform does not have any deposit fees.
As for trading fees, Mercatox is slightly more expensive than most of the other exchanges. While some exchanges incentivize traders to place limit order (and add liquidity this way) via collecting lower trading fees from them or even rewarding them for limit orders, Mercatox doesn't apply special conditions for market makers and collect the same 0.25% fee both from market makers and market takers.
Withdrawal fees on Mercatox vary depending on the currency. The exchange also has transfer limits, and it imposes minimum limits on the amount one can deposit or withdraw. Interestingly, the Bitcoin withdrawal fee is displayed in the fees schedule on the Mercatox website this way: 0.0003 < FEE < 0.005 BTC. Most probably the fee can be set in order to prioritize the transaction. Anyway, such uncertainty on the withdrawal fee for BTC is quite confusing. The Ether withdrawal fee is 0.002 ETH which is higher than on many other popular exchanges.
Withdrawals and deposits have their limits. These figures vary depending on the currency to be withdrawn or deposited. The instant withdrawal limit in the BTC equivalent is constant. Verified users can withdraw an amount worth 5 BTC per day while unverified users can withdraw only up to 0.5 BTC worth amounts.
Below there is a list of some of the fees and limits. The screenshot is taken from the Mercatox website.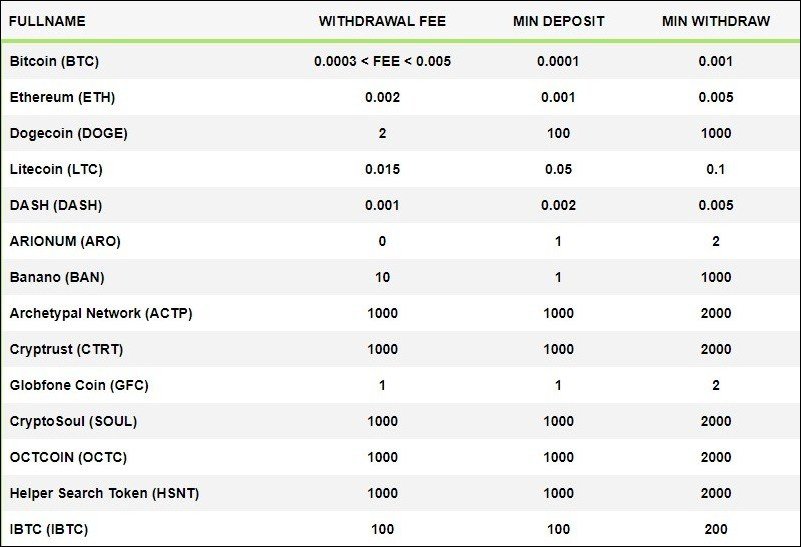 How To Use Mercatox Exchange
To get started on Mercatox, one should visit the official website (mercatox.com) and click on the Sign Up icon.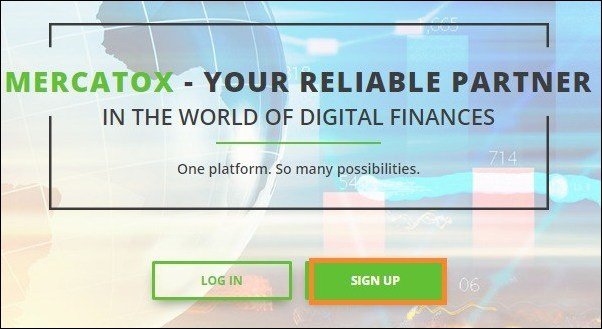 Then the potential user is required to submit an email address, set the password, and agree on terms and conditions. Then, one needs to pass the Captcha check ("I'm not a Robot"), and click on the Register button.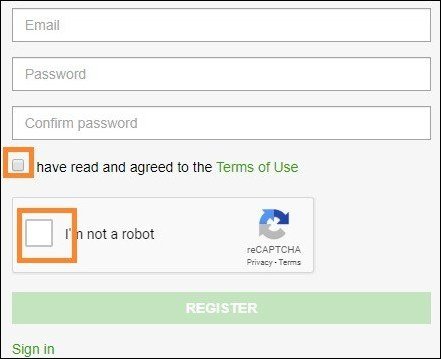 The next step is checking the email. There should be a message from Mercatox containing the link that confirms the registration and takes the user to the website.
Once logged in, it's always advisable for a user to proceed to the security settings. The one should click on the profile icon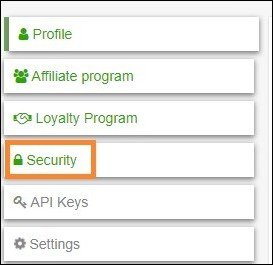 and proceed to the Security section.
Enabling 2-factor authentication is probably the most important step to protect the account of hacking. If one needs the opportunity to withdraw over 1 BTC per day, she/he should submit personal information to verify the account. The exchange allows users who have not verified their accounts to trade, deposit and withdraw funds, too.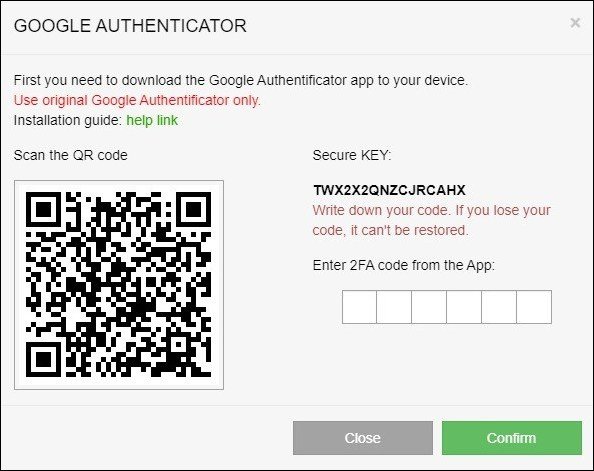 However, for higher withdrawal limits, one has to verify the account by uploading two pictures of their ID and an official document containing the personal address. By verifying the account the user gains access to withdrawals of up to 5 BTC in 24 hours.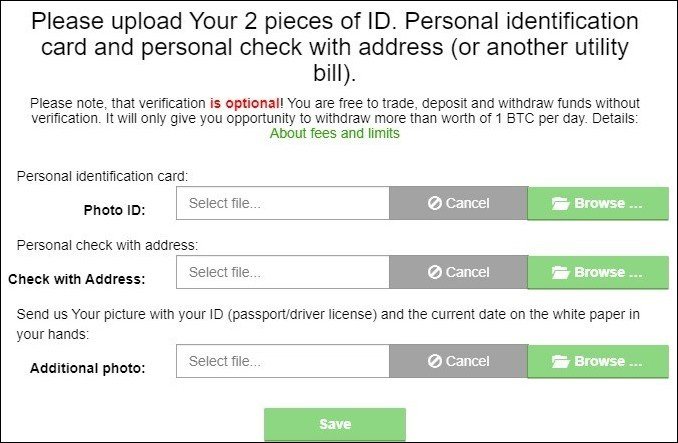 How To Buy On Mercatox Exchange
On the top bar, one should click on the TRADE icon and start trading. On the right side, there are various trading pairs displayed. On the left, there is a chart of the pairs to choose from. Below, there are two boxes — one box is for buying and the other is for selling. That is where the order can be placed. One needs to click on Buy or Sell in order to complete the trade.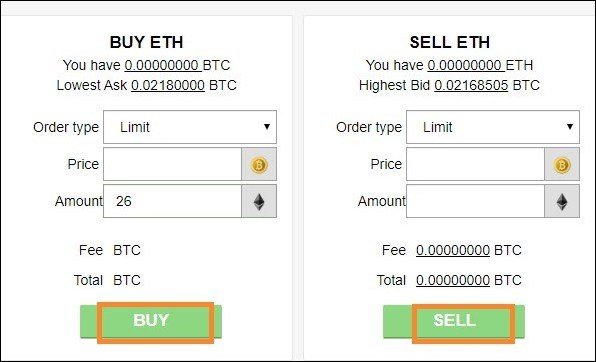 Loyalty Program
The program was launched to reward points to those users who help promote the platform. The points can be redeemed later for certain privileges such as discounted fees for trading, voice privilege when voting for the addition of new coins, double affiliate program and daily payment of annual interest for assets in the Mercatox wallet.
These are some of the privileges users get to enjoy. However, the list is updated regularly with new possibilities like the ability to sell your points likely to be added soon.
To get the reward points, users can do the following promotional actions: reposting the website's news on social media platforms, creating and managing topics that concern Mercatox on popular forums, managing and translating topics on Bitcointalk, and finally for users that own personal blogs, being able to conduct heading about the exchange.
All in all, the loyalty reward program is designed to incentivize recommending the platform to more users.
Affiliate Program
The platform also offers users the opportunity to earn more through its affiliate program. The process is simple. By signing up on the exchange, every user gets an affiliate link that can be used to invite friends (or anyone who sees this link) and, in the process, earn money through it. The user will receive a percentage of the profits for every exchange transaction that is made by the referrals.
The referral program has two levels; there is the first level that involves personal invitation where a user earns 15% commission from the transaction conducted by the ones they brought to the platform. And the second level is also known as guest level 1, where the user earns 5% of the transaction. The profit is calculated instantly, and the amount earned is sent directly to the user's wallet.
Security
Mercatox doesn't clearly state how they protect user funds. However, they do encourage users to turn on two-factor authentication to increase the safety of their accounts. This step creates an additional layer of security as users will not be able to log in without inserting a one-time password generated on the mobile device of the user. Hackers who don't have the user's mobile device will be failing to log in to the accounts of Mercatox users due to the inability to log in without this one-time password. Even if they have obtained the email address and the password, hackers won't enter the account and won't steal any coins. There are no other serious security options on Mercatox.
There is almost no information about the ways Mercatox secures the funds of users and safeguards the data. That's a serious drawback because people should realize what risks they take before investing their money.
Warning about Phishing/Scam
Note that the website https://t.co/8KOz4H3oJB and telegram bot https://t.co/y6yUd6fDhe is fake.
Original Mercatox - https://t.co/NpoYKOztJs
Find our official contacts here - https://t.co/PL9205VRRn
Taking care of our users,
MercatoxTeam pic.twitter.com/kWhYJNMy01

— Mercatox (@Mercatox_info) January 5, 2020
We have found out that the exchange security was breached on September 17, 2018, and some user wallets had been "compromised by hackers." After this incident, the exchange has released a message to reassure its users. The statement reads; "At the moment we are investigating that incident and upgrading protection of some hot wallets. You can be sure that your coins are safe and you can trade in normal mode. Mercatox is here for you to make your trades comfortable and safe! The normal work of all coins will be restored soon."
Customer Support
To cater to its wide range of users from around the globe, Mercatox has its website available in three languages: English, Russian and Chinese.
On the website, users will find the official Mercatox contact info, including several email addresses, social media pages, and so on. 
There is also an option of getting help through voice calls and by writing to the customer support through the website's social media accounts, including Facebook, Twitter, and Telegram.
Is Mercatox safe? 
We have already highlighted the lack of details on how the exchange protects user funds, however, we have no doubts that Mercatox is legit given that it has been in existence since 2016 and has over 500,000 users from different parts of the world. We cannot dismiss Mercatox as a fraudulent company only because this platform had a hacking incident in 2018 and has too little available information about the security measures.
Nevertheless, it's also important to note that there are many complaints online from users who purport Mercatox is a scam after losing their funds on the platform. Some of the complainants claim that even after reaching out to the customer support, they didn't get the kind of assistance that they sought.
In general, the Mercatox user community is quite active in the comment section of the Mercatox Twitter account and it's safe to say that most of them are loyal to the platform. There are almost no complaints, most of the reactions showcase the positive and trustful attitude.
On Reddit, there are posts containing serious accusations of Mercatox. The author of one of the posts that gained significant attention finishes his statement by saying that he/she doesn't have enough facts to prove that Mercatox is a scam (although it seems that the OP believes her/himself that Mericatox is a scam). Unfortunately, such proofless accusations are not rare in the cryptocurrency sphere and each of us independently decides whether we should take such reports into account or not.
Our advice is always the same when it comes to crypto exchanges, always ensure you do your due diligence before deciding on the platform that suits your needs best. 
However, there is no taking away the fact that Mercatox lists a variety of crypto tokens and users have access to some obscure altcoins that would be hard to find on other exchanges. 
The platform can also be accessed from anywhere around the world, and most incredibly, it supports deposits in three fiat currencies; not many exchanges can match that.
Stolenmoney
18 March, 1:16 PM
They support a lot of bogus coins they maybe In it as well.
Kndc
Christopher
6 March, 1:47 PM
Proprio una porcheria sono 2 messi che ci sono delle manutenzioni sulla moneta Kin non posso prelevare per colpa di loro nel frattempo perdo i soldi e loro non se ne fregano
Absolute shit exchange couldnt withdraw anything and no communication from the support! AVOID THIS EXCHANGE
Maxx
20 September 2020, 9:14 AM
It's got a long waiting from the support, I wish it could be faster
Resu
14 September 2020, 9:49 AM
The support abondons this place. I've been trying to contact them since August, but without any results.
Nicks
5 September 2020, 6:47 PM
I trust this exchange, for the last year it never failed me, the decent traiding room
naga
16 August 2020, 1:40 PM
I was scammed of $63700 by these guys months ago and I had lost every hope I had of recovering my funds but i exercised patience and came across someone who helped me through the process of recovering all my lost funds back from them. If you ever need assistance with recovering your lost funds from your broker or maybe your broker manager has been asking you to make more deposits before you could make a withdrawal or your account has been manipulated by your broker manager or your broker has blocked your account just because they need you to make more deposit to your account. If you're interested in getting all your lost funds back kindly get in contact with Dave from afx active intelligence search licensed private investigator he was the one who helped me get back my lost funds, contact him via his email : [email protected]
Eduard
15 August 2020, 3:00 PM
The mark is low. Dunno, I got a positive experience with them.
Dempsey
6 August 2020, 8:42 PM
I hope they'll fix the bugs with the website. It could be frozen for a couple of minutes. However, much internat connection is ok.
Arjen
31 July 2020, 6:50 PM
The rate of the exchange is an extremely low here. I used have pendings and long transactions. But, come on guys, it's not so critical. Eventually, all my transactions have been procceded and finished. I got my money and never lost them. The exchange isn't so bad, i think.
Borman
25 July 2020, 2:37 PM
I'm also surprised to see such a low rate. In my opinion the exchange isn't so bad. Sometimes I experienced maintenance and small bugs on the website, otherwise I didn't see my money stolen or something like that. All exchange's actions are correct.
Pena
2 July 2020, 9:50 PM
Why the mark is so low? I don't consider, that the platform is so awful. I experienced some long pending but I can't say that the exchange is bad. It's relatively ok.
jonel
22 June 2020, 3:14 PM
please help me. I have a pending withdrawal transaction last june 11. until now, i havent received it in my wallet. it is almost 2 weeks now
Atir
14 June 2020, 12:21 PM
I got a number of inresolved issues with my funds. I can't say that I got a huge amount, but I'd like to see a good support work in any cases.
I wish the support works promptly. But I'd give the exchange 4 stars. It's got a good charts.