Expert Review
Sep 10, 2019
Mercatox is a fascinating cryptocurrency exchange. It's more than an exchange; it has an e-wallet that allows users to hold accounts in a variety of cryptocurrencies.
The platform also supports lending, gives users the chance to trade regularly with professional tools for traders, and there is an API for developers.
Mercatox has been around for about three years now after launching back in 2016.
The exchange offers a variety of services as it tries to appeal to traders including; margin trading, a multi-currency e-wallet, lending, a variety of payment methods and interestingly, franchising capabilities on top of referral and loyalty programs.
The platform claims to make it easy for users to conduct peer-to-peer trading of crypto assets.
Mercatox also prides itself on the ability to offer "unique currency pairs."
The exchange has listed several obscure altcoins alongside the usual suspects of Bitcoin, Ethereum, Dash, Dogecoin and many more.
Trading Interface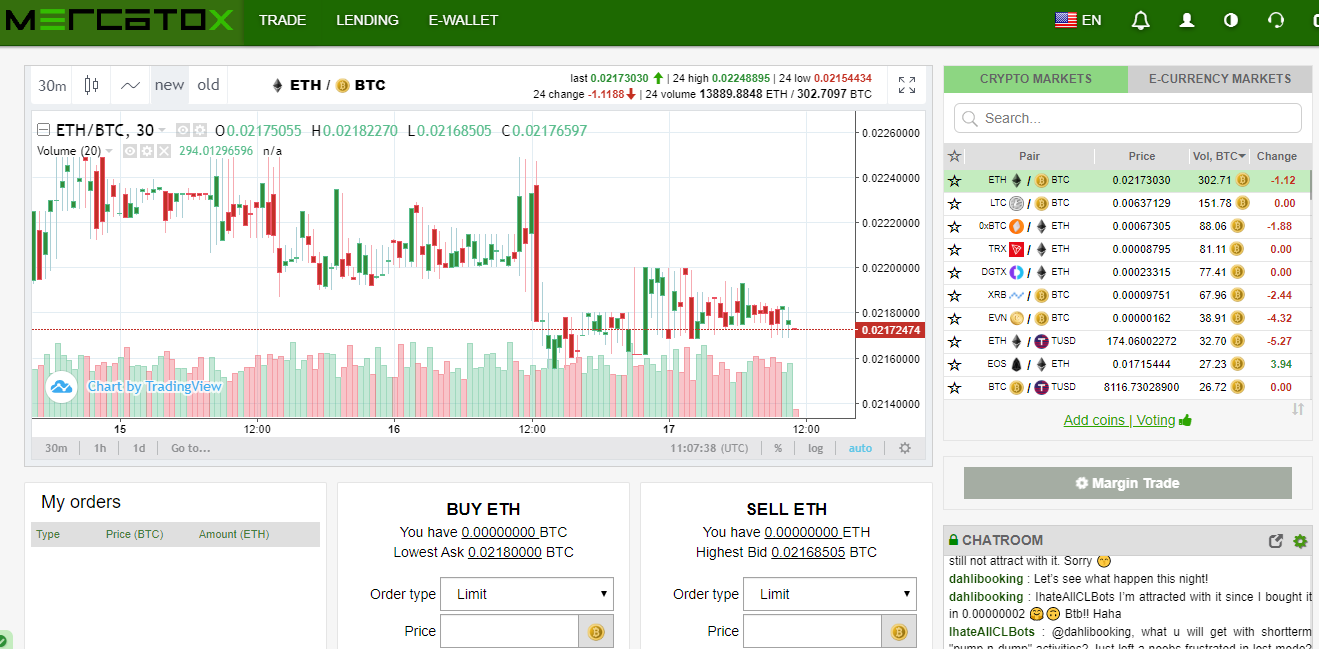 New users will find the trading interface of Mercatox quite friendly and easy to use.
On the right side of the home page, you will see the crypto markets and e-currency markets where all the trading pairs offered on the platform are listed.
Below the pairs, you will see an active chat room where traders can interact and share information on all things crypto trading.
If you are a new user, you can use this section if you need any help within site.
However, you should be careful as not every member of the chat room has the best intentions for you.
On the left side, there is a trading chart that displays the trading pair which you pick.
Below the chart, you will see a section that displays all your orders. Also, there is the buy and sell boxes where you can place your orders and execute them.
Below the two boxes are all the sell and buy orders that have been placed on the exchange coupled with all the trade history.
Finally, there is a news section where announcements on new token additions and other relevant information about Mercatox is displayed.
The exchange interface also has a lending section that is designed for traders.
The feature was added on the platform back in February 2017. It allows one to make money without trading by lending your assets to interested individuals at an interest.
To get started on this section, you have to set your terms of engagement with the borrowers, i.e. amount, terms and interest rates.
Mercatox claims that lending is a high-profit exercise that has no risk.
However, we are not so sure about this, and our advice is you ought to be very careful before engaging in this activity.
Where is Mercatox located?
Mercatox is located in the United Kingdom. However, users from around the globe can access the exchange, including those based in the United States.
One can directly contact the exchange to see the full list of supported countries.
Supported Cryptocurrencies
Mercatox supports over 100 cryptocurrencies, including the likes of Bitcoin, Ethereum, Litecoin, Tron, Tether, Basic Attention, and many more.
Users of the exchange also have the option of voting on coins they would like to see added on the platform.
The tokens that get the most votes are included in the exchange's growing list of cryptocurrencies.
Also, there are a plethora of obscure coins that can be found, and this is one of the biggest sources of criticism for the exchange with many of the tokens dubbed useless by users.
On the positive side, Mercatox supports three fiat currencies; USD, EUR and RUB.
Deposits on the exchange can be made through cryptocurrency, Perfect Money, Payeer, Qiwi and Yandex money.
Mercatox Fees
A fee of 0.25% applies on all small trades on this exchange which is quite fair compared to other crypto exchanges.
The platform doesn't have any deposit fees.
As for Mercatox withdrawal fees, they vary depending on the currency one wishes to withdraw.
The exchange also has transfer limits, and it imposes minimum limits on the amount one can deposit or withdraw.
Moreover, these restrictions vary depending on the currency one chooses.
Below is a list of some of the fees and limits that are involved on Mercatox.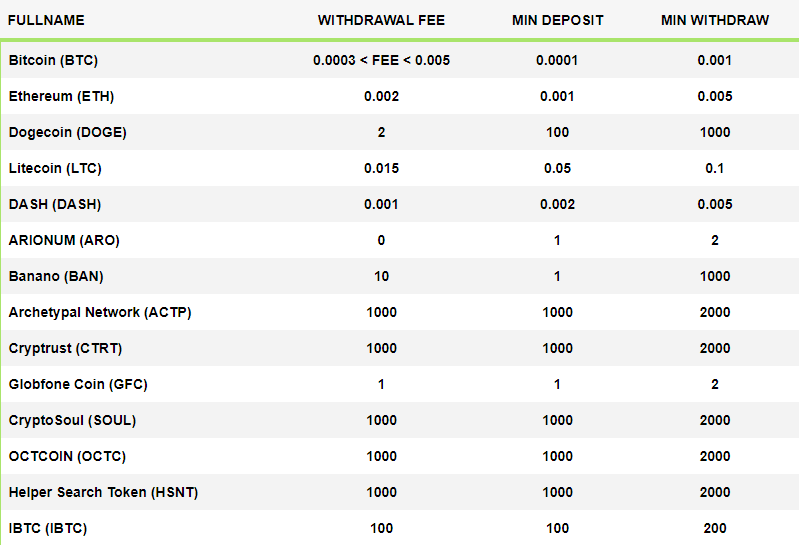 How To Use Mercatox Exchange
To get started on Mercatox, visit the official website (mercatox.com) and click on the Sign Up icon.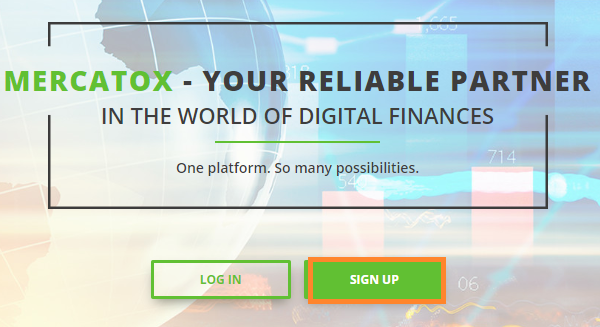 Then enter details about yourself; email address and a password. Then tick the Captcha box and click on the register icon.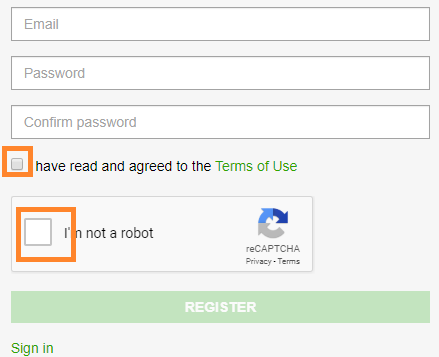 Proceed to your email inbox and click on the link that has been sent there to activate your account. Then log in by entering your email address and password.
Once logged in, its always advisable you proceed to set your security settings. Click on the profile icon

and select the Security icon.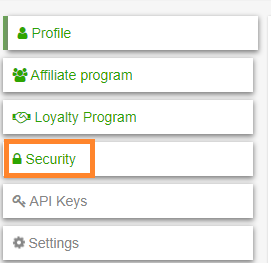 Set the two-factor authentication as this will protect your account from easy access by hackers or anyone who comes by your login details.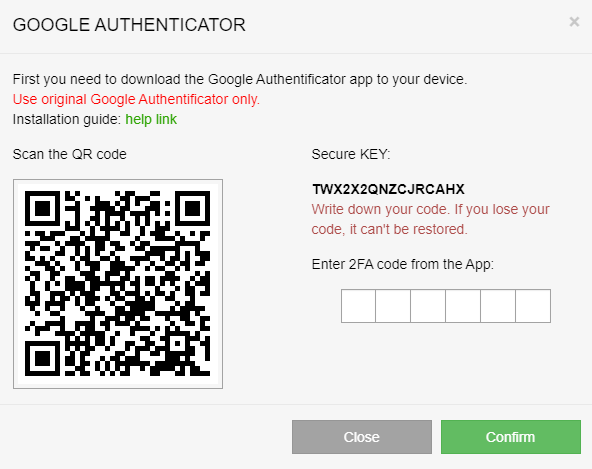 Go the profile section and add all the relevant information about yourself.
Verify your account to gain access to withdrawals of more than 1 BTC per day.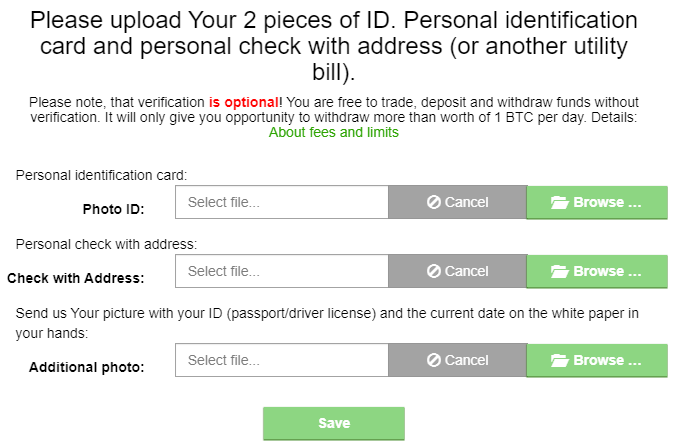 The exchange allows users who have not verified their accounts to trade, deposit and withdraw funds.
However, for higher withdraw limits, one has to verify the account by uploading two pictures of their ID and an official document that has their personal address. By verifying your account, you gain access to withdraw up to 5 BTC in 24 hours.
How To Buy On Mercatox Exchange
On the top bar, click on the TRADE icon, and you can get started with trading. On the right side, you will see the various pairs.
On the left, there is a chart of the pair you pick, and below it, you will see two boxes one for buying and the other for selling.
There you can place your order and click on either buy or sell icons to complete your trade.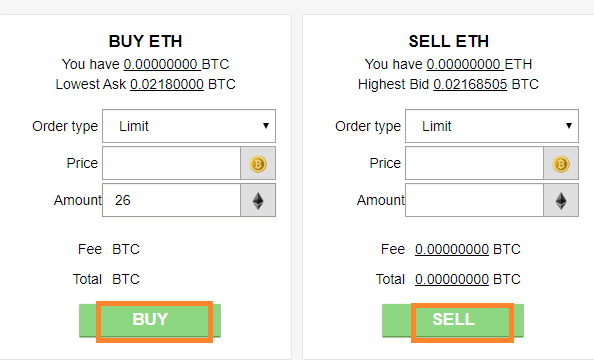 Loyalty Program
The program was launched to reward points to users that help promote the platform.
The points can be redeemed later on for certain privileges like;
discounted fee for trading, voice privilege when voting for coin additions, double affiliate program and daily payment of annual interest for assets in your Mercatox wallet.
These are some of the privileges users get to enjoy. However, the list is updated regularly with new possibilities like the ability to sell your points likely to be added soon.
If you are wondering what kind of promotions that get rewarded points, they include; reposting the website's news on social media platforms, creating and managing topics that concern Mercatox on popular forums, managing and translating topics on Bitcointalk and finally for users that own personal blogs, being able to conduct heading about the exchange.
All in all, the loyalty reward program is designed to incentivize recommending the platform to more users.
Affiliate Program
The platform also offers users the opportunity to earn more through its affiliate program.
The process is simple. By signing up on the exchange, you get an affiliate link that you can use to invite your friends and, in the process, earn money while at it.
A user will receive a percentage of the profits for every exchange transaction that is made by their referrals.
The referral program has two levels; there is the first level that involves personal invitation where a user earns 15% commission from the transaction conducted by the one they referred.
And the second level is also known as guest level 1, where the user earns 5% of the transaction.
The profit is calculated instantly, and the amount earned is sent directly to your wallet.
Security
Mercatox doesn't clearly state how they protect user funds. However, they do encourage users to set up two-factor authentication to increase the safety of their accounts.
Because of lack of information on the security measures that are implemented on the platform, you may be wondering if Mercatox has ever been hacked?
As we researched on this Mercatox review, we found that the exchange was breached on September 17, 2018, and some user wallets had been "compromised by hackers."
However, later on, the exchange released a message to reassure its users.
The statement reads; "At the moment we are investigating that incident and upgrading protection of some hot wallets. You can be sure that your coins are safe and you can trade in normal mode. Mercatox is here for you to make your trades comfortable and safe! The normal work of all coins will be restored soon."
Customer Support
To cater to its wide range of users from around the globe, Mercatox has its website available in three different languages, i.e. English, Russian and Chinese.
On the website, users will find the official contacts of the company, including an email address.
There is also an option of getting help through voice calls and by writing to the customer support through the website's social media accounts, i.e. Facebook, Twitter and Telegram.
Advantages
Users have access to a wide range of cryptocurrencies
There is a loyalty program which rewards users that promote the exchange
There is a transparent 0.25% fee on all trades
Users can place limits, market and stop orders
There is a multi-currency e-wallet
Disadvantages
The exchange doesn't support credit or bank transfer deposits
There are low trading volumes on many currency pairs
There is a limited amount of information online about the exchange
The platform lacks a mobile trading app
It's unregulated like so many exchanges and also too many bad reviews from users
Is Mercatox safe?
When have already highlighted the lack of details on how the exchange protects user funds, however, we can let you know that Mercatox is legit given that it has been in existence since 2016 and has over 300,000 users around the globe.
It's also important to highlight the fact that there are many complains online from users who purport Mercatox is a scam after losing their funds on the platform.
Some of the complainants claim that even after reaching out to the customer support, they didn't get the kind of assistance that they sought.
Our advice is always the same when it comes to crypto exchanges, always ensure you do your due diligence before deciding on the platform that suits your needs best.
However, there is no taking away the fact that Mercatox lists a variety of crypto tokens and users have access to some obscure altcoins that would be hard to find on other exchanges.
The platform can also be accessed from anywhere around the globe, and most incredibly, it supports deposits in three fiat currencies; not many exchanges can match that.
Donni
12 November, 7:31 AM
My BTC has been taken by the exhange without me knowing. I was shocked a little bit that it charges the fee for depositing. What a unpleasant surprise.
Inzel
11 November, 8:41 PM
I was trying to reset my Google code, I was texting to the support but I got no response. Is it so difficult procedure? Perhaps, the support has time of their live and decided no to help.
Lana
11 November, 2:58 AM
My advice goes to anyone out there willing to invest.

I was scammed of $6700 by these guys months ago and I had lost every hope I had of recovering my funds but i exercised patience and came across someone who helped me through the process of recovering all my lost funds back from them. If you ever need assistance with recovering your lost funds from your broker or maybe your broker manager has been asking you to make more deposits before you could make a withdrawal or your account has been manipulated by your broker manager or your broker has blocked your account just because they need you to make more deposit to your account. If you're interested in getting all your lost funds back kindly get in contact with Matt Crocker, he was the one who helped me get back my lost funds, contact him via his email : [email protected]
I don't like the interface of the exchange. It doesn't provide the correct info about my account. For instance, I made a transaction and see the money in my account, but if I finish the session or refresh the page it shows that I don't have that funds. That's strange, because I have to calculate all my operations by myself, the correct data can appear in the couple of days. It's inconvenient.
Costas
2 November, 9:11 PM
So much criticism about the support and I agree with that. They hardly work. I asked just the simple question, when approximately my transaction can be finished. My transaction was successful and two days later the support told me that my transaction is ok. That's hilarious. Why did you even answer like that? Poor support.
Sardinia
1 November, 6:28 PM
What's about the private data? After the registration here I am getting some strange messages like "send as 0.2 BTC or you are account will be blocked", " We've traced the suspicion activities, pls confirm you personality and provide all you personal information ". I understand, that these are the scum requests, but where did they take my data from? I got the feeling, the exchange suffers from leaking the information, accidentally or not, but it's true. I'm afraid to trade, I'm worried about the security.
Jurgen
31 October, 6:54 AM
I accidentally made a transaction and I quickly contacted the support to cancel it. But it didn't help. The support of the Exchange is unwieldy heavy. I'm sure, that there was a possibility to cancel it if the support just tried to assist a little bit. But now, I see my money nowhere. Neither on my account nor the other one. Deeply disappointed.
My transaction has been pending for more then one week, I'm glad that is not a big amount, but anyway, why so long and complicated? The support just apologizing for the delay, but I'm fed up with that apologizing I'm looking for some action and I don't see any.
Murelo
26 October, 12:55 PM
I think, this exchange is an interesting project, the interface and all the others things performs great. But they have a feature, they can disable any coin all of sudden. And it literally means that you'll never get this funds back. It's really frustrating that you've got some plans but it won't happen. I'm asking the support to make an announcement of the future Disabling.
Chloe
25 October, 6:35 AM
I didn't get, how the withdrawal works, I tried to withdraw 0.5 btc, it has to be as simple as possible, but then I realized, that the platform took 0.214,that's almost a half! It's an extremely high. Moreover, I didn't find the info about that fee.just after the transaction you can see this, when you can't stop. That's not fair.