8 Best Platforms Where You Can Buy Vechain (VET) in 2023 | Cryptogeek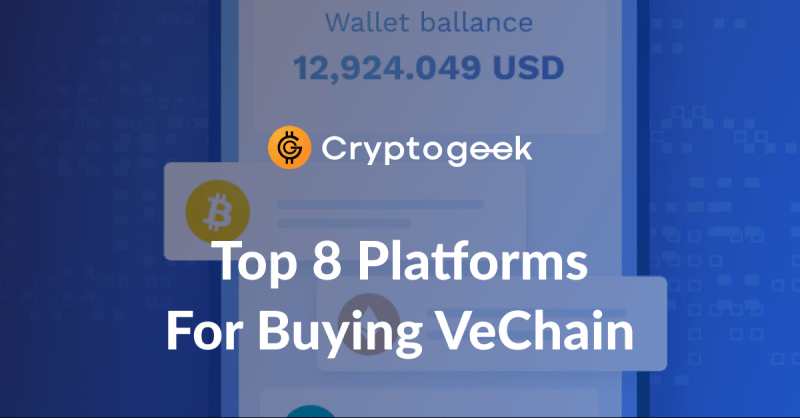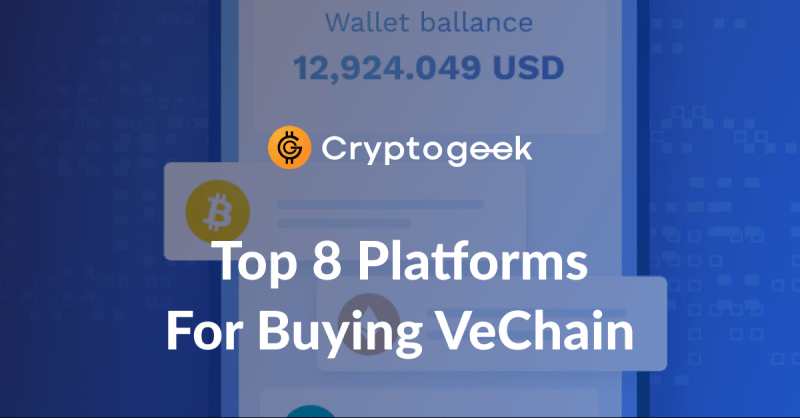 A revolutionary piece of cryptocurrency, VeChain is designed to help with supply chain management. The currency or VET for short debuted in 2015 and has since been helping companies streamline business processes through the use of a distributed ledger technology (DLT). Today, VeChain's popularity is undeniable, and as such, it has been listed on some of the biggest exchanges.
If you are wondering where to buy VeChain, we have you covered by listing not one but eight platforms where you can hold a VeChain wallet and purchase or trade the currency as you see fit. Without further ado, let's jump straight into a top 8 list.
1. Freewallet
An established multi-currency wallet brand Freewallet provides a nice opportunity for buying VET. The platform offers a wide functionality that is not limited to providing wallets for numerous coins.
Freewallet provides such features as in-built crypto exchange, instant swaps, free transactions within the Freewallet network, and finally buying crypto with a credit card — that's exactly what you need to buy some VET.
Paying in fiat money for VET makes Freewallet a gateway cryptocurrency platform meaning that even people without any crypto can purchase VET or other cryptocurrencies effortlessly.
To buy VET on Freewallet you should sign up. It doesn't take much time. If you use a desktop version (web version) of Freewallet, you should open a "Buy with a card" tab and click on the VET icon. The next step is specifying whether you are going to use Simplex or Moonpay. Then insert the amount of USD (or a different fiat currency you want to use) in the You Pay box. Please note that the minimum amount is $28. Then click on Buy VET. You will proceed to the Simplex or Moonpay page to complete the purchase.
Exciting news!🚀

Freewallet enables more payment options through the @MoonPayHQ partnership!
Purchase #BTC, #ETH, #BCH & many more with your debit/credit card!

Read more about the benefits of this integration on our blog: https://t.co/jrZ0Rmm845 pic.twitter.com/3xPwiXHsm7

— Freewallet (@freewalletorg) January 13, 2021
A similar procedure is available in the Android and iOS versions of Freewallet. The overall operation is easy while the wallet has proved to be safe and handy. No special skills or crypto knowledge is required for using Freewallet.
2. Binance
Binance is the world's preeminent crypto exchange offering a variety of exchange pairs, buying options, and more. Binance runs a detailed breakdown of everything from pricing to fluctuations and has a user interface that is more detailed and deep, and in some ways, it may discourage less experienced consumers.
However, the platform's advantages are unquestionable. Binance allows you to buy VeChain and trade against numerous pairs. A listing on Binance is a testimony to a currency's reliability as each new currency undergoes scrutiny.
The platform comes with an intuitive menu featuring trade history, order history, and funds as well as numerous available exchange pairs such as altcoins and fiat money. One of the drawbacks of the platform is that it may prove a little too overwhelming for people who have no past experience trading.
In this regard, Freewallet is still much more streamlined not only for pro traders but also for those breaking the ground. All in all, Binance is definitely a great place to buy VeChain quickly and easily.
3. Changelly
Changelly is an instant cryptocurrency exchange with numerous support pairs and a multi-currency wallet. It's one of the favored places to buy VET as well. The apparent strength of the exchange is that it's "non-custodial."
In other words, it doesn't store any liquidity, making for a safer and quicker choice. All transactions are instant, adding to the overall user-friendliness and the exchange is available in over 50 markets with competitive trading fees.
Changelly offers low withdrawal fees for the most popular coins, but it may have slightly discouraging fees for the less popular ones. Overall, Changelly, is a place to go if your priority is transaction speed.
4. Bitfinex
Looking where to buy VET? Bitfinex is a good place to start. The platform makes any purchase of VeChain a simple enough process. Whether you are just looking to buy or buy and trade, Bitfinex will live up to your expectations.
The platform offers numerous solutions for traders and those seeking to lend, and it comes with a dedicated mobile platform making any operations easy and intuitive. Bitfinex is tailored to more of a trading audience, although this is no bad thing to begin with.
One minor thing here is that in the past, the platform was attacked by third-parties, but the exchange has come a long way in improving since 2016 and is a great place to buy VET in 2021.
5. KuCoin
KuCoin has many advantages, including full-fledged support for VeChain. The exchange runs comprehensive solutions for over 200 cryptocurrencies, with VET as one of its main pairs. You may purchase VeChain using some of the most popular fiat currencies.
Another advantage here is that KuCoin is often touted as one of the safest options for purchasing cryptocurrencies thanks to its bank-level of asset security. It will allow you to use micro-withdrawals to further boost the safety of the offer, and consumers will be invited to benefit from various staking and lending features, including a KuCoin Shares (KCS) bonus and earning mechanism.
While the platform still offers the depth, it doesn't bother people who are new to crypto or trading with as much excess information as Binance. KuCoin is also non-custodial, meaning that your funds will be safer, and if you ever run into trouble, there is 24/7 customer support to help out.
KuCoin has grown significantly since 2017, and even though it still has some catching up to do, it's a great place where you can buy VeChain and feel safe about it.
6. Crypto.com
Crypto.com is a fairly new crypto exchange that will allow you to purchase and meet your VeChain needs in full. As a new operator, the website offers slightly better fees and has 3 million active users who have chosen to trust it, not least because of the better transactional costs.
The exchange features over 72 pairs, including VET, which adds up for a good overall experience. There are numerous deposit and withdrawal methods available, making for a flexible overall experience.
Consumers will find an intuitive user interface along with a dedicated mobile app to facilitate transactions. Now, there are a few drawbacks that Crypto.com has, and they include restrictions to US residents and a somewhat limited selection of assets.
The website started with a slightly clunky user interface, but this has improved. Overall, Crypto.com is a decent choice to purchase VET in 2021.
7. CoinSwitch
CoinSwitch is a trusted name and the exchange is both a safe and legitimate option for anyone looking to get started with crypto. It's often compared to Binance and Coinbase Pro when it comes to the quality of the overall product, and this is a good thing.
As per CoinTelegraph.#Mastercard is reaching out to cryptocurrency firms and encouraging them to apply to become partners as part of its newly-expanded cryptocurrency card program." #cryptocurrency #cryptotalk

— CoinSwitch (@coinswitch) July 24, 2020
CoinSwitch allows you to buy and trade VeChain as you see fit, with no cap on the trades, meaning you can have free reign over your funds. There is no liquidity on the exchange, meaning you don't have to worry about any third parties seizing control of your VET as well.
There is a referral program for some extra synergies with the platform if you choose to. Some minor complaints have surfaced about customer support, but none of this seems to be the case.
CoinSwitch is a decent place to purchase VeChain today, and you should probably pay the platform a visit.
8. Huobi
Huobi is a fairly big name among crypto exchanges. With over 290 cryptocurrencies available, VeChain has been curated and included as a worthwhile asset on one of the leading exchanges this year.
They are endorsed by the community for their quick customer service that is geared towards experienced and inexperienced traders alike, adding up for a good selection of options.
A VIP membership adds to the experience, but also gives you a reason to pursue a long-term utility of Huobi and certainly for the purposes of buying or trading VeChain. The exchange has a user interface reminiscent of Binance in terms of details and offers smooth navigation.
9. WhiteBIT
WhiteBIT, one of the largest cryptocurrency exchanges in Europe, boasts a global user base exceeding 4 million individuals. With an impressive array of features, as well as more than 350 trading pairs and 270 assets (including VET), WhiteBIT has an ATH trading volume of up to $2.5 billion. WhiteBIT offers spot, margin, and futures trading options. The platform supports leverages of up to 20x, adjustable to suit individual preferences.
Regarding security, the cryptocurrency exchange WhiteBIT stands out as one of the top three most secure crypto exchanges, as recognized by CER.live. Additionally, an independent audit conducted by Hacken has awarded WhiteBIT the prestigious AAA rating, solidifying its position as the second most secure exchange worldwide.
WhiteBIT implements identity verification (KYC), two-factor authentication (2FA), and an Anti-Phishing code for enhanced account security to ensure the utmost transparency and protection.
In 2023, WhiteBIT remains a reliable and suitable option for individuals seeking to purchase VET (VeChain).
---
---