Wirex Card and Wallet Review 2021 - Is It Safe?
Apr 01, 2021
Wirex is a payment platform for buying, selling, storing, exchanging, and transferring digital currencies. In this review, we will report critical information such as a general Wirex overview, main features of the service, customer service, the Wirex card review, platform wallet, Wirex fees and other stuff that the customer needs to know.
What Is Wirex?
The physical location of the application is at 34-37 Liverpool St, London EC2M7PP, United Kingdom. It was founded in 2014. Wirex Limited is authorized by the Financial Conduct Authority (FRN: 902025) to perform financial activities such as issuing of electronic fiat money and payment instruments. The mobile application is available on the App Store for iOS devices and Google Play for Android devices.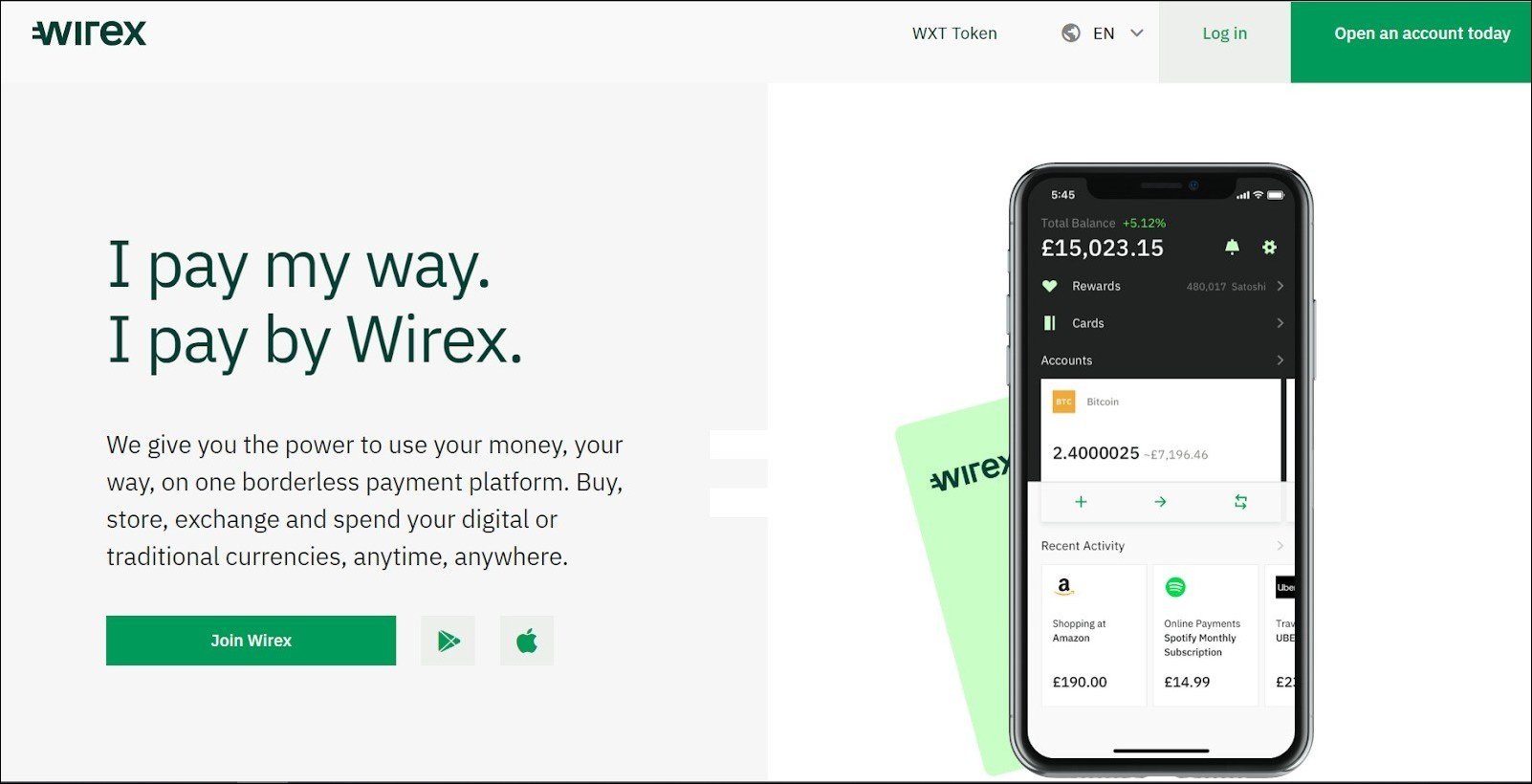 The platform is regulated by the Financial Conduct Authority (FCA), the main financial services regulator in the UK.
What are the supported countries that can use the Wirex limited payment platform?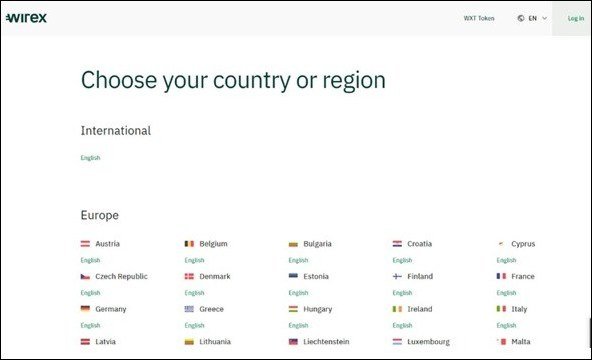 There are many European countries such as Germany, United Kingdom, Italy, France, Sweden, Netherlands, Norway, and several countries from the Asia-Pacific region such as Australia, Singapore, Japan, South Korea. China is not in the list of supported countries, and neither the USA is.
What Are the Supported Coins on the Wirex Platform? 
There are only four digital currencies and twelve traditional or fiat currencies. The digital currencies or cryptocurrencies are Bitcoin (BTC), Ethereum (ETH), Ripple (XRP), and Litecoin (LTC). The traditional currencies are the British Pound (GBP), Euros (EUR), Canadian dollars (CAD), Czech krona (CZK), Hong Kong dollars (HKD), Swiss francs (CHF), Japanese yen (JPY), Singapore dollars (SGD), Mexican pesos (MXN) and Australian dollars (AUD).
What you can do with the currencies are essential financial activities such as buying, exchange, transfer, and store them. Wirex application is not just a Bitcoin wallet, but an application to perform the mentioned financial transactions anytime and globally. Wirex is not only regulated in the UK but also registered with FINTRAC in Canada to act as a Money Service Business.
They claim to have two million clients in one hundred thirty countries, with a substantial volume of transactions, processing over $2 billion in transactions every year. Another critical fact to be mentioned in this Wirex review is that they are the only financial platform with access to over-the-counter market (OTC) and interbank rates, claiming that you will get the best value without taking into consideration the actual size of the financial transaction.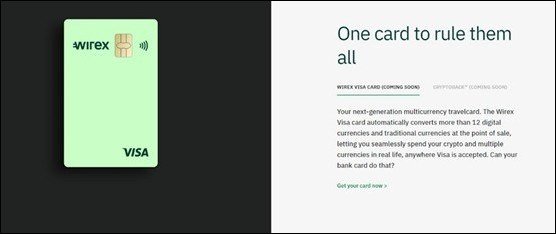 Wirex Features
Next, in this Wirex review, we will mention the main features, specifications, and main advantages of the payment platform.
Main key features:
- Customization of the mobile application, choosing only the desired currency and hide the rest of them;
- Ability to track payments, and focus on personal finance, managing the amount of spending with live in-app messages;
- Wirex is regulated by the Financial Conduct Authority (FCA), the financial services regulator in the UK;
- Absolutely high level of security;
- Wireless Visa card available with enhanced protection against fraud;
- Cold multi-signature storage, segregated customer accounts that add extra protection against any hacking attempts;
- Several funding options are available;
- The central concept is to make it easy to use cryptocurrency in daily financial transactions;
- Ability to become a professional affiliate;
- There are personal and business accounts;
- Stellar partnership to convert, buy and spend XML;
- Reward program named Cryptoback which rewards loyalty with free Bitcoin without having any limits on the amount you can earn;
- Social media presence on Facebook, Twitter, Medium, YouTube, Instagram, LinkedIn.
How many ways can you exchange with Wirex?
🔁 Crypto to Crypto
🔁 Crypto to Fiat
🔁 Fiat to Fiat
🔁 Fiat to Crypto

What's more? We're the only platform to offer our customers unconditional access to #OTC and #interbank rates!$BTC $LTC $XRP $ETH $WAVES $DAI $NANO $XLM $WXT pic.twitter.com/XjSMFuZ5Ii

— Wirex (@wirexapp) August 29, 2020
Wirex Community for sharing feedback. suggesting new business features, learning about the latest announcements, and interacting with other users
Wirex token (WTX) with a discount on fees such as bank transfers or withdrawal fees and additional rewards on various services such as travel insurance.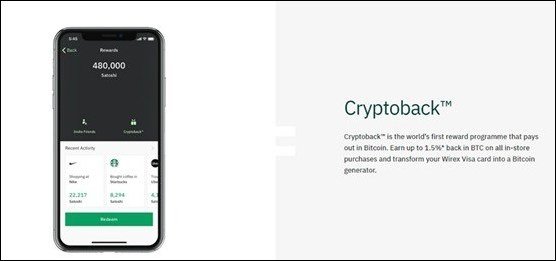 There is an offer until Monday, December 2, 2019, to earn up to 3% back in Bitcoin for all the in-store purchases, posed on the main Twitter account of Wirex. Marketing promotions like these to help you earn as an incentive Cryptoback rewards have also existed in the past.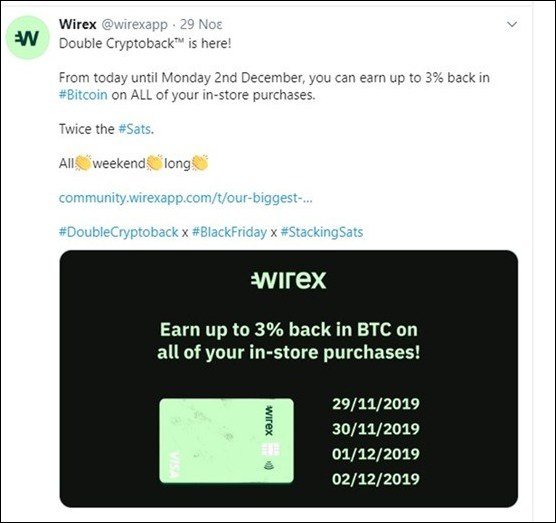 What Are the Wirex Available Deposit and Payment Methods?
For payment methods, there are available international payments in fiat and cryptocurrencies; the most common ones are SEPA and SWIFT. With Wirex Visa Payment Card, you can spend the cryptocurrency in daily financial transactions like restaurants or shopping.
There is an instant conversion of the cryptocurrencies, which allows for payments as if you used real fiat money. There is the main drawback, though; to this, the digital payment platform supports not all cryptocurrencies, but only four, as mentioned before. The four supported cryptocurrencies are Bitcoin, Litecoin, Ripple, and Ethereum.
What Are Wirex Tools and Possibilities?
There is a Wirex Visa, which gives them an incentive to the users to earn Bitcoin cryptocurrency rewards with every in-store purchase in daily financial transactions. You can exchange and spend money instantly and globally both in-store, at automatic teller machines (ATMs), and naturally online as well.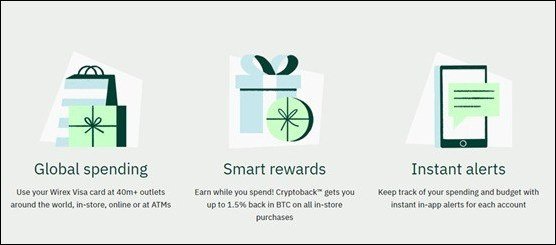 You get additional features for using the Wirex Visa card, smart rewards, and instant alerts to keep track of your spending limits, helping you with budgeting purposes. There are rewards up to 1.5% back in Bitcoin. This is for the in-store purchases. But some promotional campaigns run both on social media and there are announcements about these on the community dedicated page as well. More information about the Wirex card review and Wirex debit card is given next.
A lot of emphases are given to security with the presence of cold-storage cryptocurrency accounts, 2-Factor Authentication (2FA) in combination with a device authorization for maximum protection, using PCI DSS Level 1-certification. We remind again that Wirex is licensed with the FCA regulator in the UK. 
It is worthwhile to note that the card and the delivery of it are free of charge. The use of the card, however, is not free. There is a small fee to use it and cover any operational and administration costs. The monthly fee is 1.0 British Pound, 1.2 Euros, and 1.5 US dollars.
The way to fund the Wirex card is via bank transfer, using the current balance of your cryptocurrencies in your wallets and with the widely used means of credit or debit card. One of the main advantages of the Wirex card is that you can use it practically anywhere. Visa is widely accepted as a method of payment, which means globally in thousands of stores. To order the Wirex card, you need to register with Wirex. You cannot bypass this process.
Similarly, if you decide to use the Wirex token (WXT) to pay various services, then there are merchant offers and rewards as an incentive for that.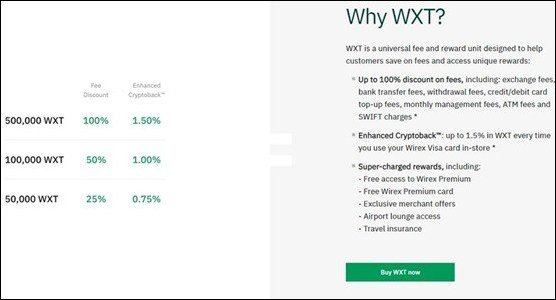 There is a fee discount based on the volume of Wirex token (WXT). The fee discount is 25% up to 50,00 WXT, then it reduces to 50% for 100,000 WXT, and it goes up to 100% discount for 500,000 WXT. Similarly, there is a scheme for Cryptoback rewards connected to the volume of Wirex token. For 50,000 WXT there is a Cryptoback reward of 0.75%, which increases to 1.0% for 100,000 WXT and then to 1.50% for 500,000 WXT. To buy the Wirex token, there are a few options.
The easiest option is to do so through the Wirex mobile application. You need to be a verified customer, though. Some of the exchanges that support transactions for the Wirex token are the Huobi, OKEx, and Kucoin exchanges.
There is an important disclaimer to take into consideration the Wirex token. Any users, traders, or investors having bought the token from June 24 to June 30, 2019, which was a pre-sale period, cannot sell the tokens for six months from the actual date of purchase until late December 2019. 
More detailed information and frequently asked questions related to the Wirex token and the Initial Exchange Offering (IEO) of the token are available in a detailed whitepaper, available in English, Chinese, and Russian.
There is information about the Wirex token (WXT) on the CoinMarketCap website.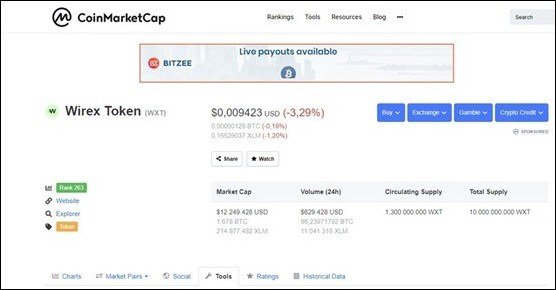 As of December 1, 2019, the Wirex token (WXT) has a price of USD 0,009423 (-3,29%), the market capitalization of USD 12.249.428, the volume for the past twenty-four hours is USD 629.428, the circulating supply is 1.300.000.000 WXT, and the total supply is 10.000.000.000 WXT.
Wirex Fees
Next, in this Wirex review, we will mention the various Wirex fees.
There are several fees and limits, which are separated based on geographical location. There are three areas, EEA which refers to Europe, APAC, which refers to countries such as Singapore, South Korea, Australia, Thailand, and there is a third category for the rest of the world.
Account and Card Fees
For all three geographical areas, the account fee, multi-sig crypto accounts, and multi-sig fiat accounts, there is no fee. There is a card maintenance fee only for Europe, as mentioned before, being 1 British Pound, 1.2 Euros, or 1.5 US dollars, while for the other geographical areas, there is no fee. Card issuance is free for all regions, and card delivery is free for EAA and APAC regions, and not available for the rest of the world. For the APC region, there is a small fee of five-twenty-five SGD for delivery with DHL courier.
Top-up Fees
The external debit/credit card fee is the same for all regions, for the crypto account, it is 1%, and for fiat accounts, it is free. There are several bank transfer fees, which are mostly free for the EEA region, and not available for the other two areas.
Transaction Fees
There a lot of transaction fees for using the Wirex app. First, in the list of transaction fees for the Wirex app is the fee for the cryptocurrency exchange, which is the same for all regions, that is, over-the-counter rates (OTC) plus commission. The fiat exchange and internal transfer fees are free for all areas. For external transfers in cryptocurrencies, there are blockchain fees that apply. For ATM, chargebacks, and spend in foreign currency, there are variable fees.
Rewards
The Wirex app uses marketing and promotional ways to reward active users. For the EAA and APAC regions, there is Cryptoback reward of up to 1.5%. For the rest of the world, this is not available. There is also another way to get rewards, it is called refer-a-friend, and for the EAA region, you get 10 USD, and for the other two areas up to 5 USD in Bitcoin (BTC) each.
Limits
What are the Wirex card limits and the Wirex withdrawal limit? Again, there are several limits. For the exchange, there are no limits for all regions. To transfer out cryptocurrencies, there is a limit of ten thousand USD per transaction for all areas, and fifty thousand USD per day for all areas. For Credit / Debit card top-up, which is confirmed, the limit is five thousand USD per day for the EAA and APAC regions, and not available for the rest of the world. If your card is not confirmed, then the limit declines to only fifty USD per day, still not available for the rest of the world.
The limit for card spends is ten thousand USD per transaction for the EAA region, five thousand USD per transaction for the APAC region, and not available for the rest of the world. The maximum account balance is unlimited for all areas. The maximum card balance limit is 20 thousand USD for the EEA region or the equivalent of fifteen thousand British Pounds (GBP), and not available for the other two areas.
Finally, for the automatic teller machine (ATM), the limit is 250 GBP, 250 EUR, and 250 USD per day for the EAA region, 300 USD per day for the APAC region, and not available for the rest of the world.
In general, the fees and limits scheme is very complicated for the Wirex app.
How to Use Wirex App?
Registration is quick and easy. You must verify your email and your mobile phone as a verification code is sent by SMS. Then you must verify your identity. For this, you need to scan a QR code with your mobile phone. Then upload your identification, passport, driver's license, or residence permit card taking photos with your mobile phone and upload a selfie as well.
The main menu is simple. You can add several accounts for your Wirex wallet. Your address for the Wirex token is visible once activated. To do so, you need to set up a memorable word. Then there are the options to add funds and link new cards, send, and exchange. You can order a card, and you can click on Wirex rewards. To add funds to your other cryptocurrency wallets, the process is the same.
For Bitcoin, as an example, you need to choose a method, either from an external Bitcoin account or link a new card. To send Bitcoin, you must enter the BTC address, create a label name for the address, and click continue. The main action is to link your existing debit/credit card to your Wirex account.
Customer Service
For customer service, there is a Wirex help center with frequently asked questions, a blog, and a community as well. There is also a live chat. And you can submit a request for additional information.
Are you going to fix what ever is wrong with your systems? Almost £5K sitting in limbo!!!

— Stacy Nelson (@StacyDNelson) September 8, 2020
What about Wirex reviews? On the Trustpilot website, the Wirex app has over one thousand and five hundred reviews with an average score. 55% of the reviews give an excellent rating, but 28% give a bad grade, and 8% of the reviews give an average and a poor score. Some of the typical user problems is being locked out of the accounts, and delays of funds to appear on the accounts. Wirex, however, responds to these reviews and complaints on the TrustPilot website.
Is Wirex Safe?
Wirex is safe. There are several reasons for such a conclusion. First, it is licensed by the FCA regulator in the UK. It means that the company is responsible and controlled by a third party. In case of the wrongdoing from the company's side Wirex can be subjected to legal action.
Another important point is that the company uses the PCI DSS Level 1 certificate, considered to be one of the most advanced levels of security. All the communications within the company servers are secured with 256-bit SSL (Secure Sockets Layer). It safeguards the connection between the servers and browsers with strong encryption and makes it nearly impossible to steal the data. Furthermore, additional safety measures exist as funds are stored in cold-storage wallets. There is little to no chances that anyone can steal money breaking the company's servers. So if Wirex customers avoid phishing websites, don't share their passwords to others, etc, most probably their funds will be kept safe.
One more protection seal is the confirmation through the email. If this feature is turned on all the basic actions require the confirmation by the user via email. A similar feature is 2-factor authentication. Instead of confirmation via email it uses a confirmation through one-time passwords that can be generated exclusively on the user's mobile device and are not accessible for strangers. Wirex applies KYC (Know Your Customer) verification with a detailed verification process, such as selfies, national identities, and passports focusing on os safe transactions and avoiding any types of fraud. So only trusted, identified and verified users are allowed to use the platform. If a Wirex user abuses the company's features, he will be easily identified by the company and the person will have to deal with law enforcement. 
Conclusion
Wirex app is a new mobile application for electronic payments using both cryptocurrencies and fiat currencies. A lot of attention and focus has been given on building a brand name and using unique features such as the Wirex token and the Wirex Visa for payments of daily financial transactions. The idea of storing cryptocurrencies and fiat money in the same account is exciting.
Wirex is licensed by the financial regulator in the UK, the Financial Conduct Authority, adding a considerable degree of safety for the users. For now, Wirex is not available in the United States. It is convenient, though, in many other countries. There is the potential to get rewards for using the Wirex token and Wirex Visa, and the fees scheme is very complicated. But several marketing promotions encourage users to become more active and get rewards.
The main layout of the mobile application is straightforward and easy to use. Overall Wirex app has several advantages, and it is an excellent idea for mobile payments, combining both cryptocurrencies and fiat money at the same account.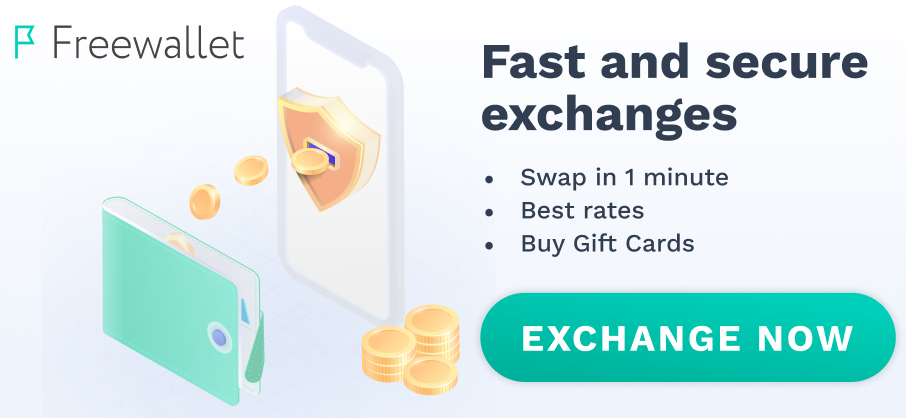 After a year and two months my wirex account is still blocked, I only receive excuses and more excuses, saying that they understand my discomfort and that they are solving it. Wirex steals! Wirex Scam
Alexander Levitskiy
25 Mar
Не связывайтесь с Wirex! Все вроде было хорошо. С криптокарты оплачивал покупки в магазинах Европы. Привязал карту в GooglePay. Одни раз приложение было заблокировано без объяснения причин. Было указано, что для разблокировки нужно связаться с техподдержкой. Написал. В ответ тишина, даже номер тикета не пришел. Через 3 дня все само заработало. Через месяц потребовалось оплатить в США покупки. Перевел 1200 USDT. Оплатить с виртуальной карты удалось 15 и 500 долларов. Дельше все транзакции отклонялись с пометкой- превышен лимит. Поддержка не отвечает. Хотя на сайте Wirex указаны огромные дневные лимиты. Открывал новые виртуальные карты, но не помогало. Решил вывести остаток UDST на другой кошелек. Транзакция висела в обработке несколько часов! потом была отклонена без объяснения причин (кошельки и сеть указал верно). Удалось вывести деньги через перевод знакомому по Paypal - для этого привязал виртуальную карту. Перевод с физической карты, которая ранее была привязана в Paypal, не сработал. В итоге все красиво и сайт, и идея, и приложение - а получается г@мно.
Definitely the worst service. Wirex closes your account saying false reasons like outstanding balance, which is totally false in my case. I'm not the only one, in the Wirex community and other sites you'll find a lot of complaints about this scam company. I suggest to those who use this service to ASAP withdraw your crypto and close your account, then move to other better service. Wirex will block you soon or later and ask for 30 GBP to send your remaining crypto to your bank account. #NotYourKeysNotYourCoins
Alex Montesdeoca
5 July 2022
Tengo la cuenta bloqueada desde hace 8 meses, se han quedado con 1.200 € y 1 BTC en su trampa de "x-account".
Responden tarde y mal en soporte y no solucionan nada ni devuelven los capitales, simplemente se han quedado con todo.
WIREX = SCAM