Uphold Review 2021 - Is It Safe?
Security:
Third Party Encrypted
Has trading facilities:
yes
Features:
2 Factor Authentication
Apr 01, 2021
There are a large number of different crypto platforms that can be very convenient to use. But how many of them offer trade between cryptos, national currencies, and metals? Today we will review - Uphold, one of the most multifunctional crypto services. Is Uphold safe to store funds there? Is it a reliable service or a scam? All of these questions we will review in this article.
What Is Uphold?
Uphold is a multi-asset platform that allows users to store, buy, and convert various crypto assets. The system supports not only 30 cryptocurrencies (and Utility Tokens) but also allows you to exchange 27 national currencies and 4 precious metals.
This digital wallet is designed to quickly and easily store assets, send funds to other Uphold users around the world, and instantly exchange currency. Using a 100% redundancy model, Uphold subsidizes all user assets in a 1:1 ratio from its own funds. 
Trade With Up To 125X Leverage on Binance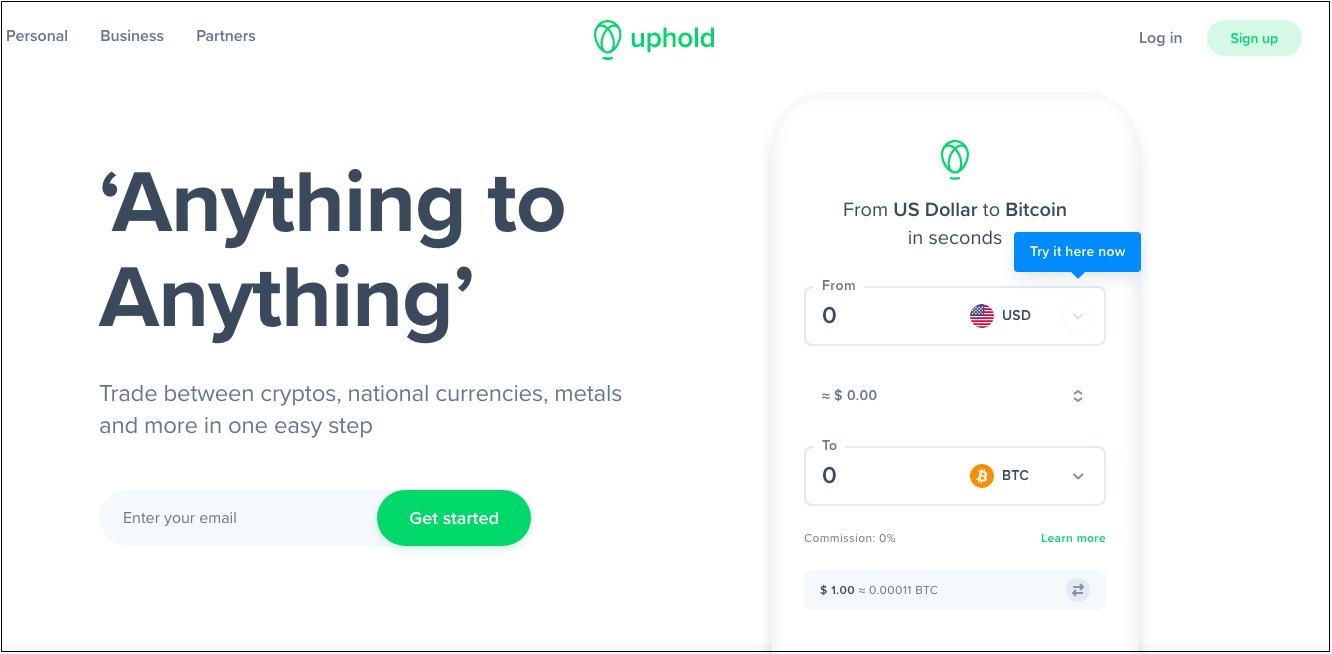 The service was launched in 2015 and is licensed in the USA and Europe. During its operation, the platform funded transactions worth more than $ 4 billion. This is an advantage for those who prefer to work with regulated websites. Now the platform offers its services in more than 180 countries and supports more than 30 crypto and fiat currencies.
Uphold combines a platform app model with payment connectivity to offer financial services to a global market. The purpose of creating the Uphold payment service is to protect users from the volatile market, giving them the opportunity to instantly, profitably and safely convert digital money into dollars, euros, and other fiat currency.
The service is available not only for PC but for IOS and Android. The platform is translated into 6 languages including Spanish, Italian, and Turkish. Unfortunately, there is no Chinese and Russian translation yet.
Features
As is it was previously mentioned, the website functions as a virtual wallet for both cryptocurrencies and fiat money. Perhaps this is one of the main advantages over competitors. Moreover, users can use the application not only as a mobile wallet but also to exchange various fiat currencies for cryptocurrencies, such as BTC, BCH, LTC, ETH, and so on.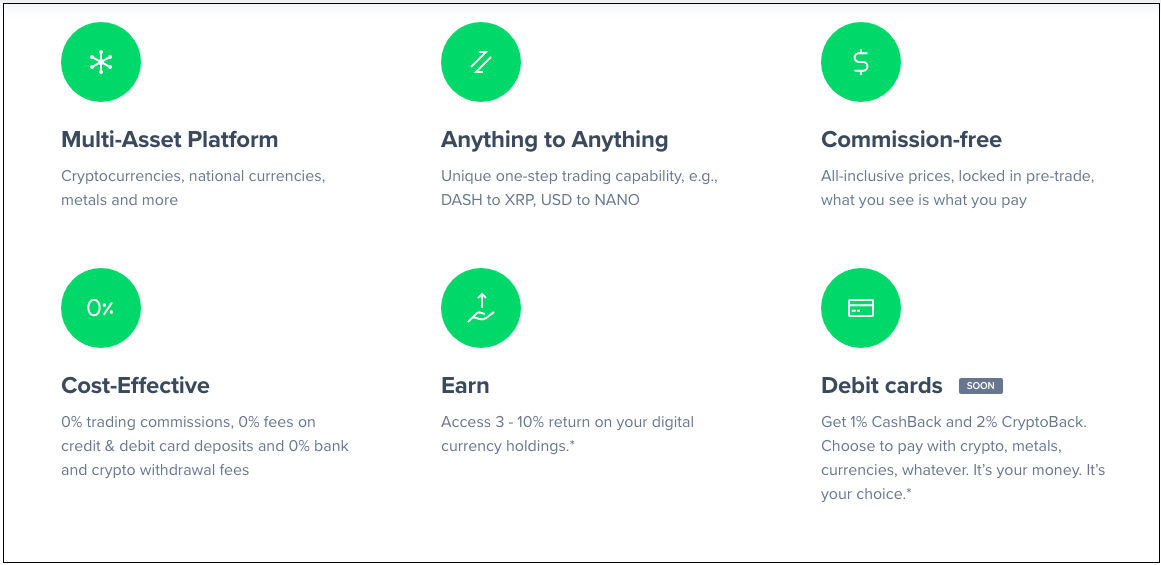 Among all the features, the following advantages can be distinguished in the service:
Support of the wide range of popular cryptocurrencies, fiat currencies, and precious metals;
Licenses availability;
Easy to open and use;
Mobile applications for Android and iOS;
Two-factor authentication;
Easy money transfers to users inside the Uphold system.
However, like any other service, the platform also has its disadvantages:
The methods of the account replenishment depending on the user's place of residence;
A conversion fee is charged whenever you buy or exchange currency.
The service also offers a virtual MasterCard for all currencies. This means that even if you have an exclusive cryptocurrency account, currencies can also be used to make purchases in stores.
Uphold Fees
In accordance with the information on the official website, Uphold is not a free service. The service does not charge any commissions on trades, withdrawal, and deposit. However, you'll pay for certain activities such as withdrawing funds to private wallets on crypto networks, or to banks through the Swift network in a small number of countries. Uphold also includes a small spread in the price of any asset you buy.
Withdrawals to European banks through SEPA, and to US banks through ACH, are free. 
On Uphold FAQ we can find card usage fees:
Withdrawals: $2.50 (per transaction)
International Withdrawals: $3.50 (per transaction)
Domestic purchase: Free
Foreign exchange: Free of charge
Limits 
Maximum spend: $10,000 per da
Cash withdrawal: $1,500 per day
Cash withdrawal per transaction: $500. 
How to Get Started with Uphold
Registration is very simple and takes only a couple of minutes. The registration process consists of 3 easy steps. To get started, click "Sign up" in the upper right corner.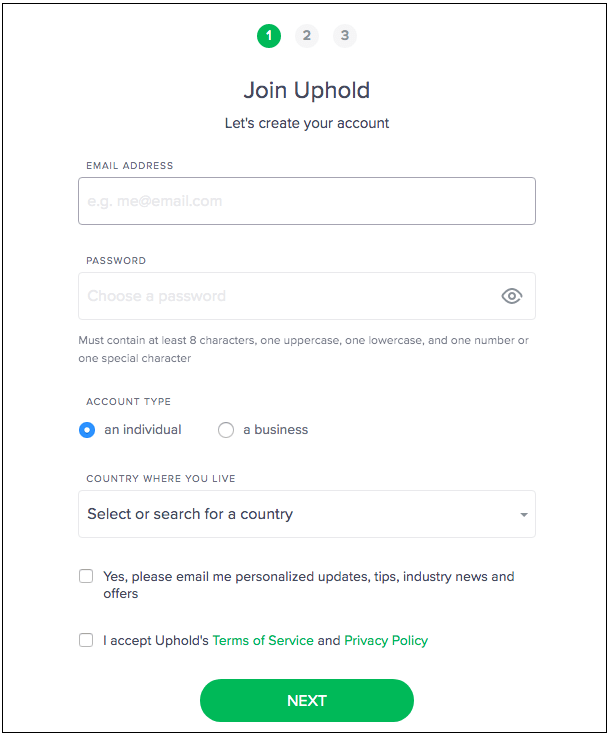 In the window that opens, enter your email address, password, select your personal account (individual), country, and state of the province. The password must contain at least 8 characters, one uppercase, one lowercase, and one number or one special character. Upon completion, accept Uphold's Terms of Service and Privacy Policy and click "Next".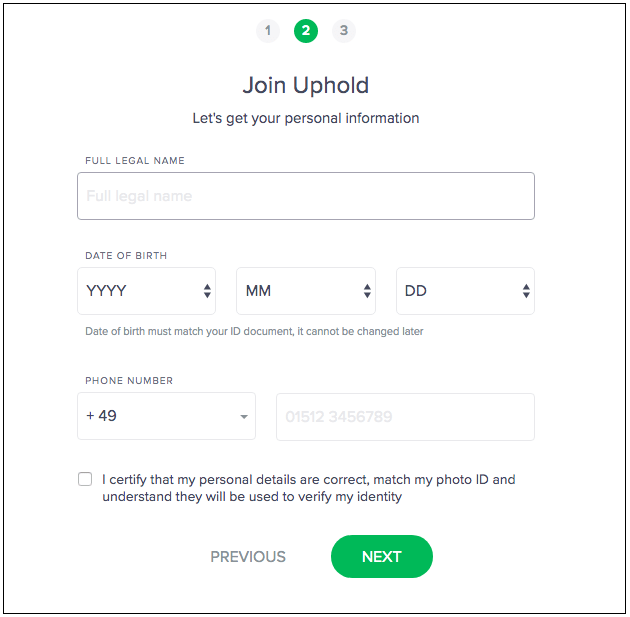 In the provided form you need to indicate your Full Legal Name, Date of Birth, and Phone Number. Once the lines are filled, certify that your personal information is correct and press "Next".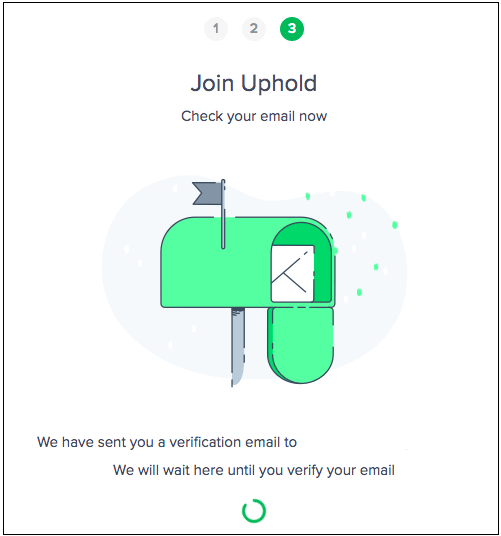 Uphold will send you the verification email to the address provided. To go further you need to go to your email address, find the message, and activate your account.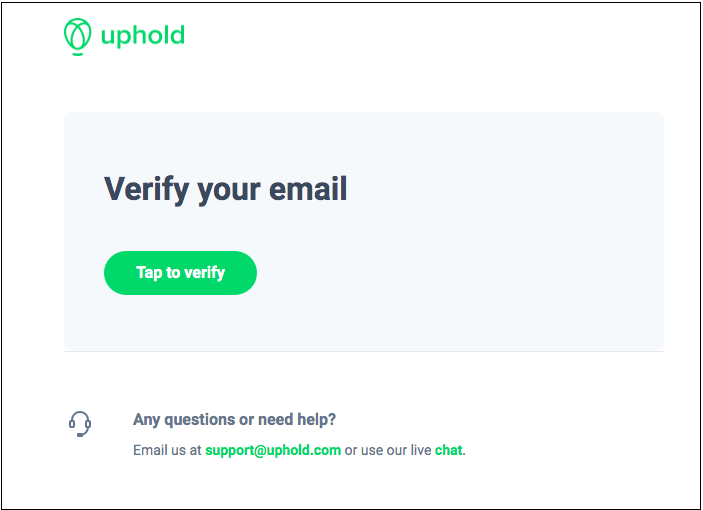 Once the Uphold email is opened, tap to the green button to verify your address.
That's it! You are successfully signed up and now all the Uphold features are opened for you.
How to Use Uphold 
On the main screen, you can see the cards with available and open assets. To add a new one, click on the "Add card/currency" button and select the desired asset in the drop-down list.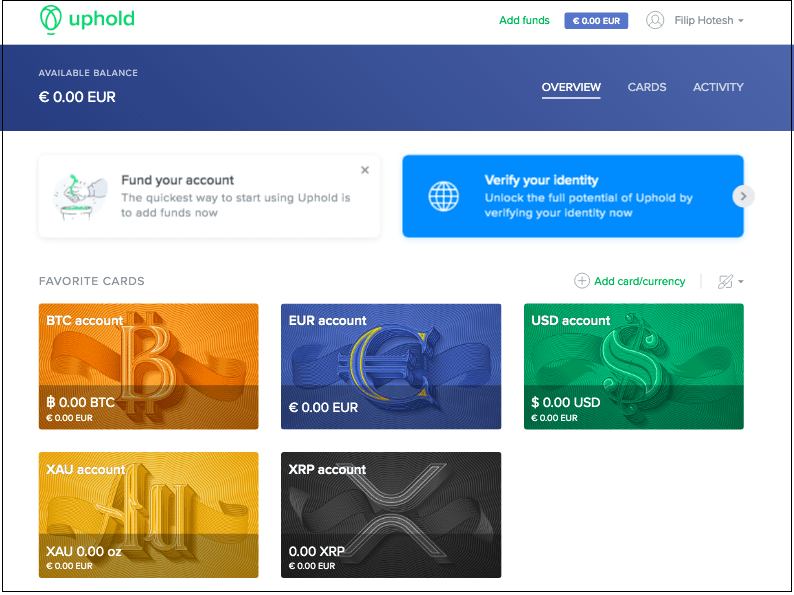 To unlock the full potential of Uphold you need to verify your identity.
Verification
Verification with confirmation of documents also does not take long. This service is provided by a third-party service, respectively, all the data is stored by the verification service.
Verification is carried out using a mobile phone. You will be prompted to scan the QR code using your phone and all further actions will be carried out in it. You can read the requirements below:
Selfie on phone camera selfie
Photo of an identity document on both sides (passport, driver's license, id card)
Once all information is provided and sent, you need to wait a couple of minutes. In case everything is well, you will see the status of verification.
How to Deposit to Uphold
To replenish the account on your Uphold wallet, you need to click on "Add Funds" in the upper right corner, choose a top-up method in the Uphold system, indicate the relevant information, and click "Add Funds".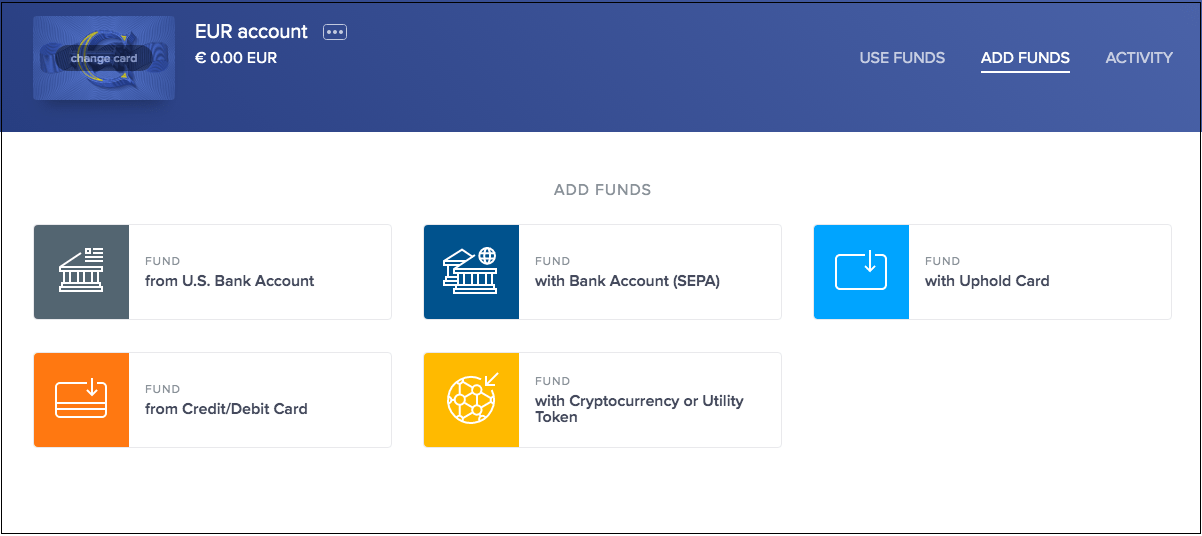 There is also the option to top up with cryptocurrency. To do this, you need to select a cryptocurrency and generate an address which you will send funds to.
How to Withdraw from Uphold
To withdraw funds, you need to click on "Add Funds" in the upper right corner and select "Use Funds" in the opened menu. Here you will need to choose a method of withdrawing funds (Uphold card, bank account, crypto wallet, etc.).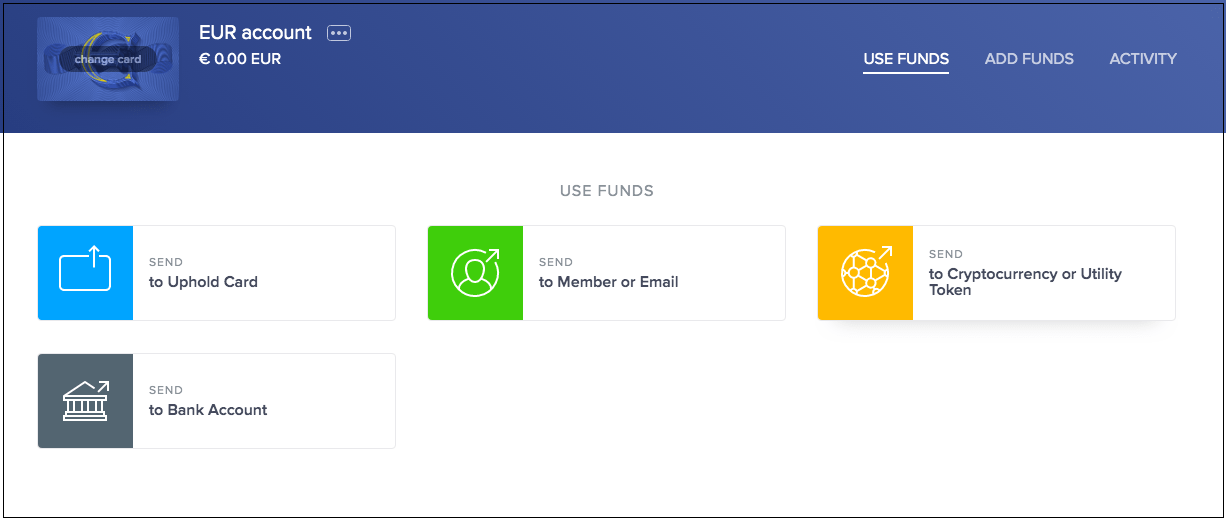 In the case of a wallet, select the currency you want to withdraw, enter the address, amount, and message (optional) and send the funds to the wallet provided.
Customer Service
Uphold cares about its customers and strives to provide support in no time. However, most of the answers to questions that may be of interest to users were collected by the service in the Help Center. Everyone can use the keyword to find all references to a topic that interests the user.
If you could not find the answer to your question, then you can Submit a request and provide all the details in the form given. Normally the response from the customer support does not take more than several hours.
Is Uphold Safe?
Uphold uses various security measures to protect users' assets. The Uphold platform information security monitoring center monitors its own systems 24 hours a day to detect and prevent suspicious activity. Uphold also claims that its employees undergo rigorous security checks, such as thorough background checks. Team members must also use two-factor authentication on all administrative accounts.
To provide extra security, the Uphold system provides two-factor authentication (2fa) to users, so they can set an additional layer of protection on their accounts. When 2fa is enabled, users must provide a one-time password each time they enter the account or request the withdrawal of money. The password is generated solely on the user's mobile device. If a hacker doesn't have access to the account owner's device, he cannot break into account. Private keys are stored by Uphold. Some people dislike services that don't let the customers hold their keys, however, such services usually have more resources than individuals to protect these keys. There is no single opinion over is it good when the platform stores the keys for users. All user private keys are encrypted to prevent hacker attacks.
Uphold is regulated by the U.S. Department of the Treasury and the U.S. Treasury Department for Financial Crimes, and in Europe, Uphold has partnered with the Authorized Payments Institute, which reports to the U.S. Financial Regulatory Authority. As Uphold is a regulated financial services provider, it must also implement anti-money laundering measures. All of the above factors prove that Uphold is not a scam. More than that, if 2fa is enabled and the wallet is used carefully, the chance of losing your money is very little. The fact that service is regulated means that in the case of troubles, the company is not going to disappear with users' money. 
However, some people claim that Uphold is a scam anyway. It seems that at times there is a lack of accordance between the actions applied to users funds by banks and Uphold. The transactions on Uphold get blocked by the banks and users blame Uphold on that. Hopefully, this issue gets solved in the future.
Conclusion
Uphold is one of those services that combines ease of use and a high level of protection of information and useful tools. The platform provides a wide range of features and is adapted for both PCs and mobile devices. This service is suitable for both newbies and experienced users who value their time and a high level of data protection.
Hey Shelbo, I'm in the same situation as you. I put over $10,000 in Uphold and they pulled the same shit on me. They closed my account randomly after I been using them for years. They sent me some generic message about getting my money back in 65 days. This is the perfect scam to pull once an asset goes up. They have to know, that they'll be sued for this in the end.
Uphold is a scam! At the moment they're running an elaborate scheme. Once you have a large amount of XRP or any other asset and the price of that asset is at an all time high, they close your account randomly and take the profit of your assets. I'll definitely be pursing legal action against this Ponzi scheme of an exchange.
Hello,
I am reaching out to you because I am not getting any response from the support team on the Uphold app. I sent a bank wire from my bank( Wells Fargo) in the amount of $1100.00 on March 15th to purchase XRP tokens. The website states that a bank wire takes
2-5 days for the money to be reflected in my online Uphold wallet. It's been
17 DAYS since my money was given to Uphold. I trusted that Uphold would honor their side of the transaction. That didn't happen. None of the money or tokens are reflected in my Uphold wallet and I have sent numerous emails asking for help as to what happened. No response from anyone! I verified with my bank that indeed the money has been transferred to Uphold and now I don't know who to turn to for help. I am using every review board I can find to attempt to connect with someone at Uphold . Could someone from Uphold PLEASE contact me?
Ticket # 1160442
Ronald Cobley
21 March, 8:47 PM
All crypto in my account disappeared over the weekend with no record of any transactions at all. An email was answered by a Dulce & Team, but that's it. No follow up after 2 days.Left Message on 800# no humans. Not feeling good about this.. will update
Unimpressed with UpHold
20 March, 1:06 AM
Did they pay you for this review? You obviously have not had any dealing with UpHold - there is no customer service - they will not respond to customer emails - I raised a ticked a month ago and still nothing despite mutliple attempts to contact them - many more have complained about being ripped off by them - Beware People - this review is suspicious!
How do I get my BAT out of Uphold without them taking 1/2 of it as a "Network fee"??

My Brave BAT earnings are in Uphold wallet. I wanted to transfer it to another wallet - about $40 USD worth, but they want to take nearly $16 of that as a "network fee".
MI HANNO BLOCCATO L'ACCOUNT E NON POSSO UTILIZZARE I MIEI(!) SOLDI COME VOGLIO!
HO SCRITTO PIU' VOLTE E NON DEGNANO DI RISPONDERE!!!!!! NON DICO ALTRO!
Please don't recommend UpHold. They don't have support, so you won't pass identity verification, without it your money will be stuck there.
quy duc nguyen
16 March, 4:33 AM
Uphold is a scam
They make it very easy to open an account and deposit money , But when you need to withdraw your fund they will disappear on you
The customer service is not existing with Uphold .
They only have one phone number (888)420-5801 but they never answer the phone
Try to call them yourself before you decide to open an account with Uphold .
te bloquean el dinero y se lo quedan es una estafa
Uphold is horrible. They have restricted my account when I joined and never have released the restriction. They are holding my money/crypto hostage and refuse to give me any explanation why my account is restricted so that I cannot withdraw my money. On Trust Pilot the Uphold exhcange has a 2.3 out of 5.0 stars review total out of many reviews posted. Many other reviews are like mine and even far worse because thank God I only invested a little to get the account started but there are others who have lost much more money and have not received their money back from Uphold. I will tell anyone interested to never invest anything into Uphold as you will most likely lose your investment. So far this exchange appears to be a complete SCAM!!
Support is dead. Can't go through verification at all.
Terri m mcadams
19 February, 3:40 PM
I am trying to transfer money to another wallet ! every time i try i don't get an email back for verification ! i been trying to get this resolved for 4 days ! this is unacceptable! i want my money out asap ! ticket number 1100334
Gerald Fike
17 February, 12:16 AM
Can not receive my funds from this site in any way! Even after exchanging the 4 tier cryptos I really wanted into Etherium just to withdraw them to an external wallet at an astronomical fee. I couldn't because they force you to use 2 part verification whether you want to or not. To protect MY funds of course. My funds are only protected from me.

My ticket ID# is 1094080
From the sounds of their replies, they "will reach out through email" at sometime.
JamesF
15 February, 2:49 PM
I use Uphold wallet and Uphold Card and have found them to be easier and cheaper than Coinbase. I like the fact that I can buy into precious metals to diversify. The Uphold Card, a debit card, can be linked to any of the accounts. I recommend linking it to the USD account and sell crypto into that as needed. My only minor gripe is that the list of crypto wallets is mostly limited to mainstream cryptos.

Uphold Review 2021 - Is It Safe?