Uphold Reviews
Jun 10, 2020
There are a large number of different crypto platforms that can be very convenient to use. But how many of them offer trade between cryptos, national currencies, and metals? Today we will review - Uphold, one of the most multifunctional crypto services. Is Uphold safe to store funds there? Is it a reliable service or a scam? All of these questions we will review in this article.
Uphold Overview
Uphold is a multi-asset platform that allows users to store, buy, and convert various crypto assets. The system supports not only 30 cryptocurrencies (and Utility Tokens) but also allows you to exchange 27 national currencies and 4 precious metals.
This digital wallet is designed to quickly and easily store assets, send funds to other Uphold users around the world, and instantly exchange currency. Using a 100% redundancy model, Uphold subsidizes all user assets in a 1:1 ratio from its own funds. 
Exchange cryptocurrencies at the best rate in a few minutes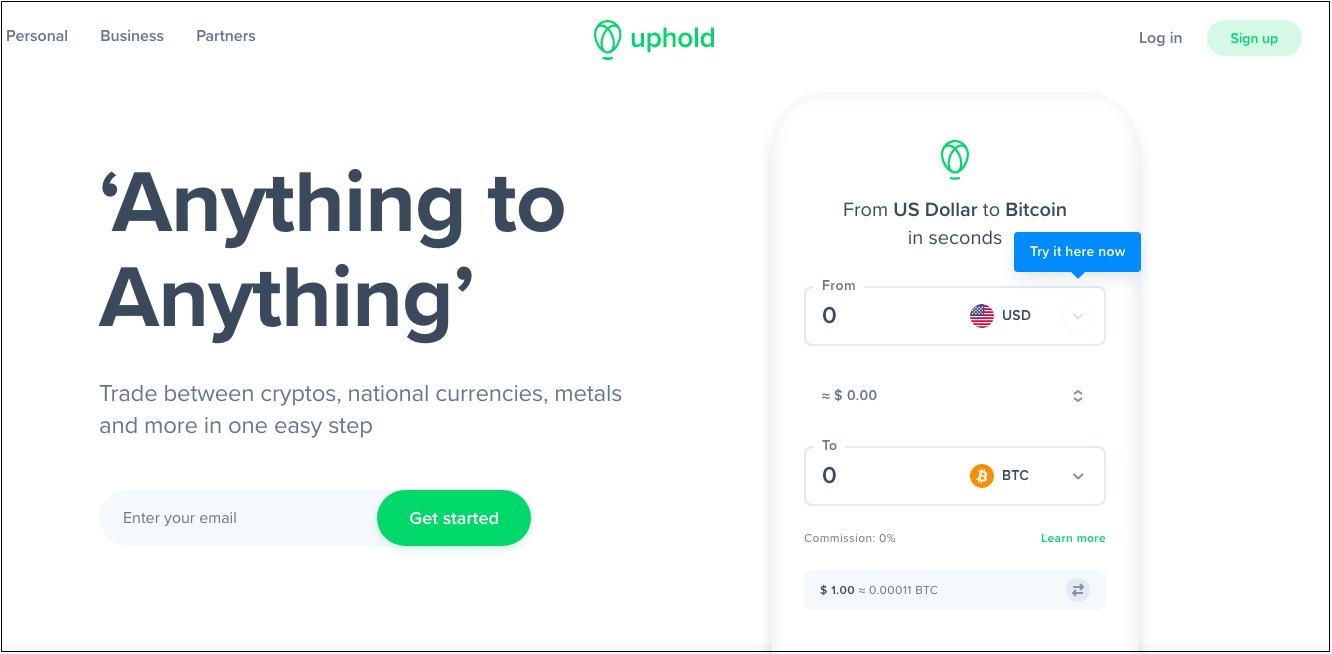 The service was launched in 2015 and is licensed in the USA and Europe. During its operation, the platform funded transactions worth more than $ 4 billion. This is an advantage for those who prefer to work with regulated websites. Now the platform offers its services in more than 180 countries and supports more than 30 crypto and fiat currencies.
Uphold combines a platform app model with payment connectivity to offer financial services to a global market. The purpose of creating the Uphold payment service is to protect users from the volatile market, giving them the opportunity to instantly, profitably and safely convert digital money into dollars, euros, and other fiat currency.
The service is available not only for PC but for IOS and Android. The platform is translated into 6 languages including Spanish, Italian, and Turkish. Unfortunately, there is no Chinese and Russian translation yet.
Features
As is it was previously mentioned, the website functions as a virtual wallet for both cryptocurrencies and fiat money. Perhaps this is one of the main advantages over competitors. Moreover, users can use the application not only as a mobile wallet but also to exchange various fiat currencies for cryptocurrencies, such as BTC, BCH, LTC, ETH, and so on.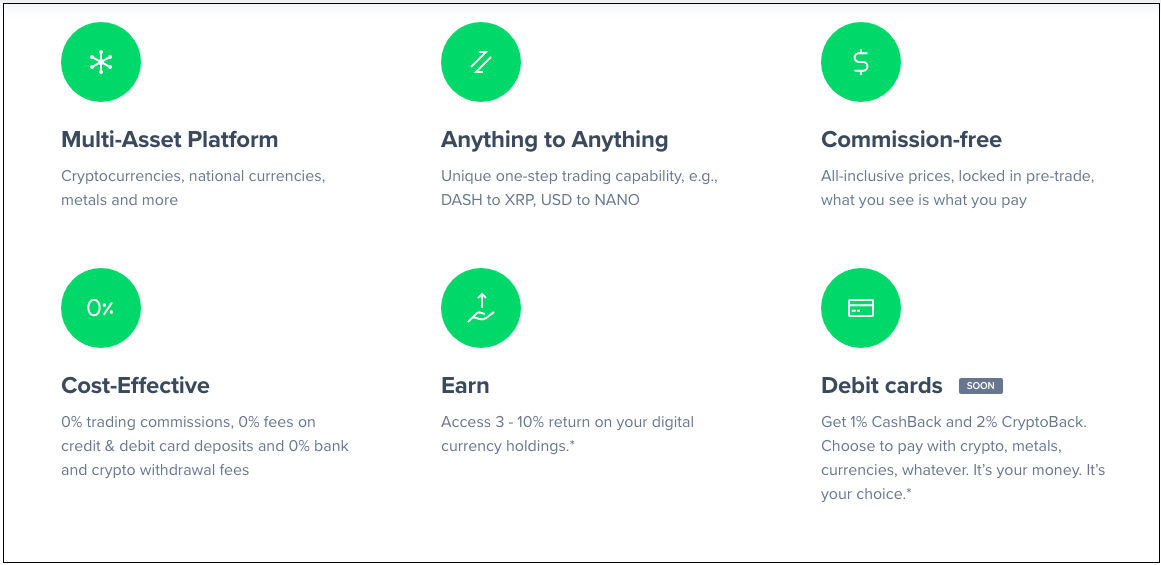 Among all the features, the following advantages can be distinguished in the service:
Support of the wide range of popular cryptocurrencies, fiat currencies, and precious metals;
Licenses availability;
Easy to open and use;
Mobile applications for Android and iOS;
Two-factor authentication;
Easy money transfers to users inside the Uphold system.
However, like any other service, the platform also has its disadvantages:
The methods of the account replenishment depending on the user's place of residence;
A conversion fee is charged whenever you buy or exchange currency.
The service also offers a virtual MasterCard for all currencies. This means that even if you have an exclusive cryptocurrency account, currencies can also be used to make purchases in stores.
Uphold Fees
In accordance with the information on the official website, Uphold is not a free service. The service does not charge any commissions on trades, withdrawal, and deposit. However, you'll pay for certain activities such as withdrawing funds to private wallets on crypto networks, or to banks through the Swift network in a small number of countries. Uphold also includes a small spread in the price of any asset you buy.
Withdrawals to European banks through SEPA, and to US banks through ACH, are free. 
On Uphold FAQ we can find card usage fees:
Withdrawals: $2.50 (per transaction)
International Withdrawals: $3.50 (per transaction)
Domestic purchase: Free
Foreign exchange: Free of charge
Limits 
Maximum spend: $10,000 per da
Cash withdrawal: $1,500 per day
Cash withdrawal per transaction: $500. 
How to Get Started with Uphold
Registration is very simple and takes only a couple of minutes. The registration process consists of 3 easy steps. To get started, click "Sign up" in the upper right corner.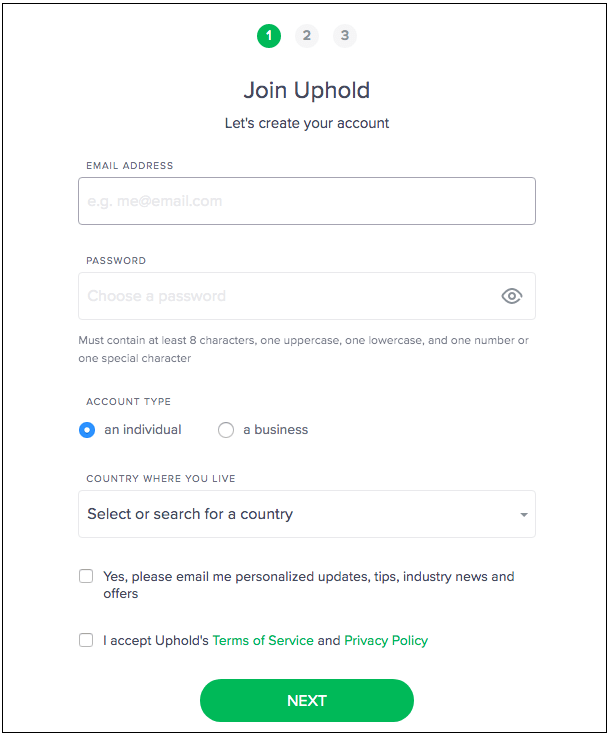 In the window that opens, enter your email address, password, select your personal account (individual), country, and state of the province. The password must contain at least 8 characters, one uppercase, one lowercase, and one number or one special character. Upon completion, accept Uphold's Terms of Service and Privacy Policy and click "Next".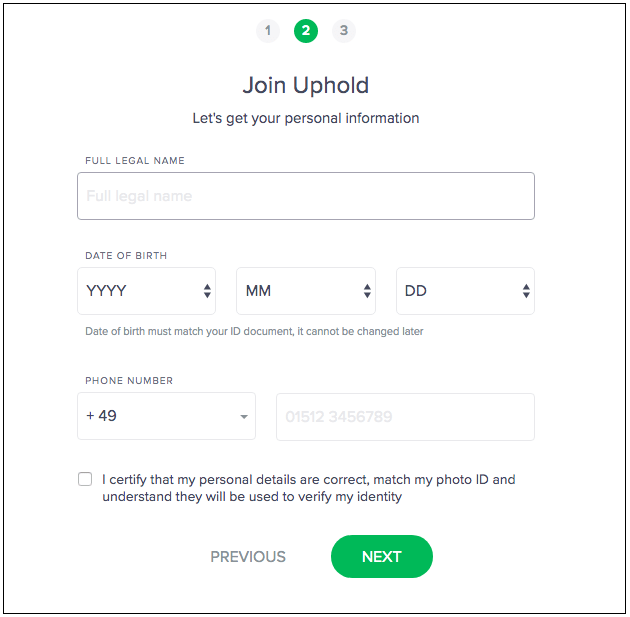 In the provided form you need to indicate your Full Legal Name, Date of Birth, and Phone Number. Once the lines are filled, certify that your personal information is correct and press "Next".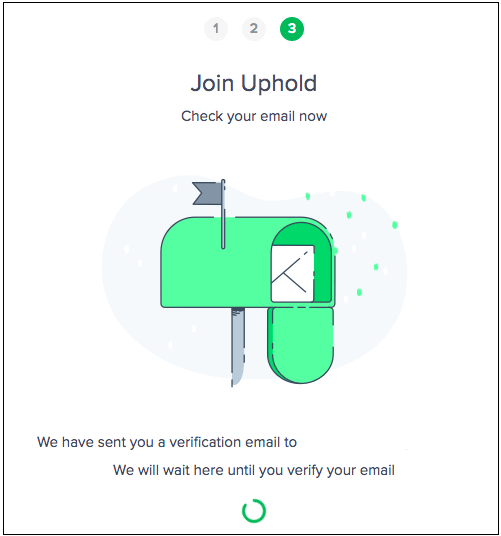 Uphold will send you the verification email to the address provided. To go further you need to go to your email address, find the message, and activate your account.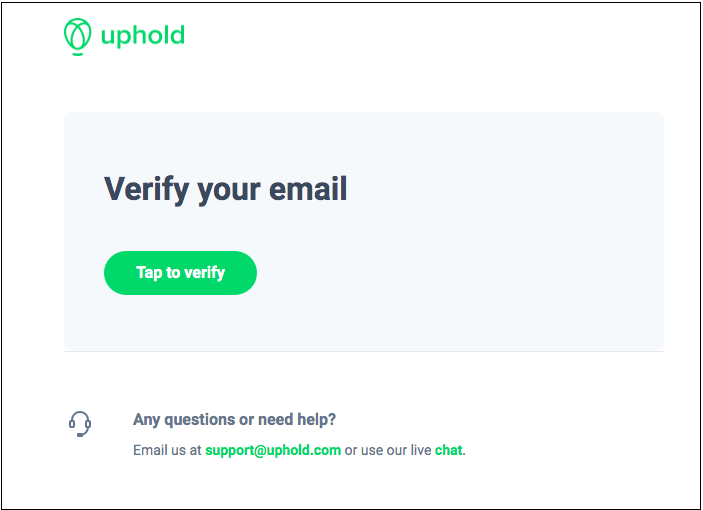 Once the Uphold email is opened, tap to the green button to verify your address.
That's it! You are successfully signed up and now all the Uphold features are opened for you.
How to Use Uphold 
On the main screen, you can see the cards with available and open assets. To add a new one, click on the "Add card/currency" button and select the desired asset in the drop-down list.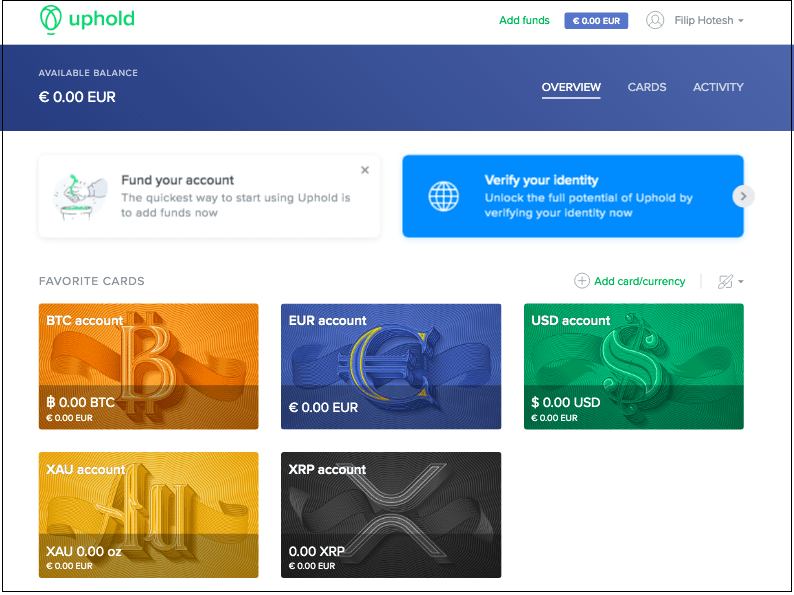 To unlock the full potential of Uphold you need to verify your identity.
Verification
Verification with confirmation of documents also does not take long. This service is provided by a third-party service, respectively, all the data is stored by the verification service.
Verification is carried out using a mobile phone. You will be prompted to scan the QR code using your phone and all further actions will be carried out in it. You can read the requirements below:
Selfie on phone camera selfie
Photo of an identity document on both sides (passport, driver's license, id card)
Once all information is provided and sent, you need to wait a couple of minutes. In case everything is well, you will see the status of verification.
How to Deposit to Uphold
To replenish the account on your Uphold wallet, you need to click on "Add Funds" in the upper right corner, choose a top-up method in the Uphold system, indicate the relevant information, and click "Add Funds".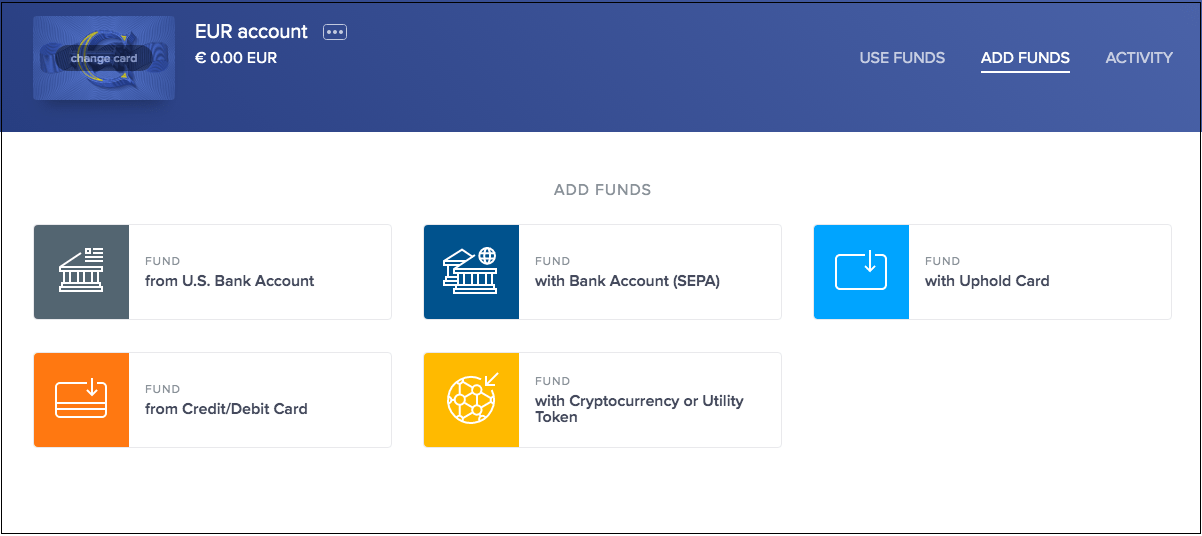 There is also the option to top up with cryptocurrency. To do this, you need to select a cryptocurrency and generate an address which you will send funds to.
How to Withdraw from Uphold
To withdraw funds, you need to click on "Add Funds" in the upper right corner and select "Use Funds" in the opened menu. Here you will need to choose a method of withdrawing funds (Uphold card, bank account, crypto wallet, etc.).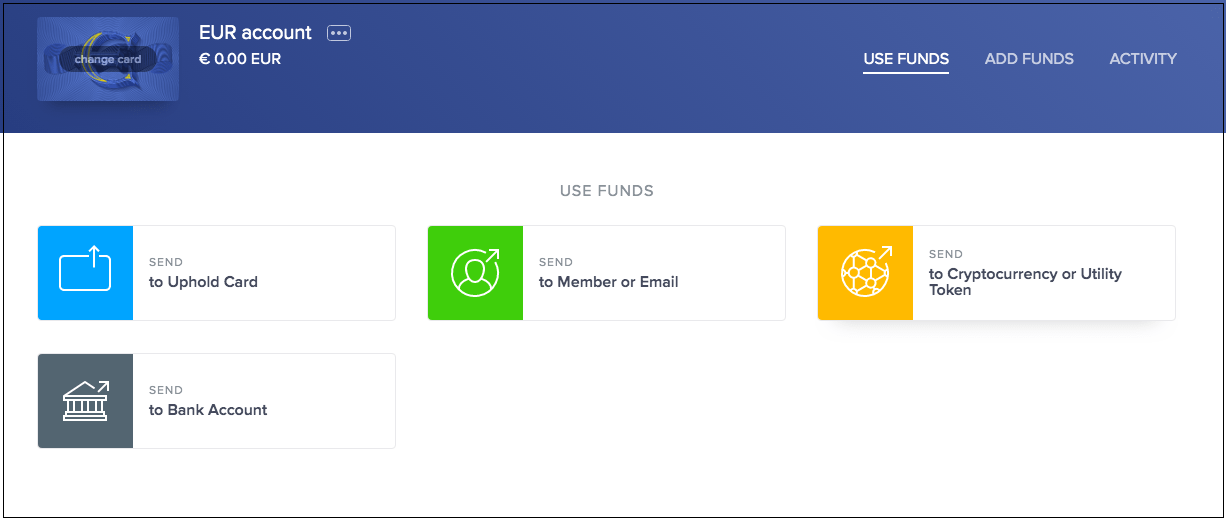 In the case of a wallet, select the currency you want to withdraw, enter the address, amount, and message (optional) and send the funds to the wallet provided.
Customer Service
Uphold cares about its customers and strives to provide support in no time. However, most of the answers to questions that may be of interest to users were collected by the service in the Help Center. Everyone can use the keyword to find all references to a topic that interests the user.
If you could not find the answer to your question, then you can Submit a request and provide all the details in the form given. Normally the response from the customer support does not take more than several hours.
Is Uphold Safe?
Uphold uses various security measures to protect users 'assets. The Uphold platform information security monitoring center monitors its own systems 24 hours a day to detect and prevent suspicious activity. Uphold also claims that its employees undergo rigorous security checks, such as thorough background checks. Team members must also use two-factor authentication on all administrative accounts.
To provide extra security, the Uphold system supports two-factor authentication, so users can set an additional level of protection on their accounts. All user private keys are encrypted to prevent hacker attacks.
Uphold is regulated by the U.S. Department of the Treasury and the U.S. Treasury Department for Financial Crimes, and in Europe, Uphold has partnered with the Authorized Payments Institute, which reports to the U.S. Financial Regulatory Authority. As Uphold is a regulated financial services provider, it must also implement anti-money laundering measures. All of the above factors prove that Uphold is not a scam.
Conclusion
Uphold is one of those services that combines ease of use and a high level of protection of information and useful tools. The platform provides a wide range of features and is adapted for both PCs and mobile devices. This service is suitable for both newbies and experienced users who value their time and a high level of data protection.
Hulagirlhands
28 August, 7:17 PM
I know too many people that have had the money in their uphold accounts locked up. There is too much evidence to ignore. Beware that there is no legitimate way to contact them. They slowly start ignoring your emails and then will block access to your account.
Wow, I really like the review. It's truly detailed description of the wallet. I used to to think to try it, I'm definitely gonna do it right now.

Uphold Reviews