Coinify Wallet Review 2022 - Is It Safe?
Jun 06, 2020
What are the most important characteristics of the crypto wallet? Certainly, it must include a high level of data protection, support popular currencies, have a clear interface and also, this service must have a good reputation. Today we will talk about Coinify. Is Coinify secure enough to store the funds there? Is it a scam or reliable service? Let's take a closer look at this article.
Coinify Review
Coinify is an open-source cryptocurrency wallet and asset browser application that is actively offering solutions in Europe, Asia, and other regions. Coinify supports such popular coins as BTC, ETH, as well as ERC-20 tokens and other cryptocurrencies.
Coinify was created by a group of young developers in Denmark. The project appeared on an already developed market, but the founders of the service, Mark Heygaard, and Lasse Birk Olesen focused on what is really important for users - special security of the storage. The team also sought to realize the maximum of useful functions.
Industry first announcement:
Verify your #crypto purchases with your hardware wallet!@ledger and @coinify are joining forces to offer crypto purchases directly within the #LedgerLive app.

At launch, you can buy four prominent cryptos #btc #eth #bch #dash with card or wire. pic.twitter.com/RdGOyAWMuL

— Coinify (@coinify) June 18, 2020
The team consists of strong backgrounds in payments, finance, risk, e-commerce, and compliance areas and is also experienced in working with digital currencies since 2010. The company was incorporated in 2014 and is backed by SEED Capital Denmark, SEB Venture Capital, and Accelerace.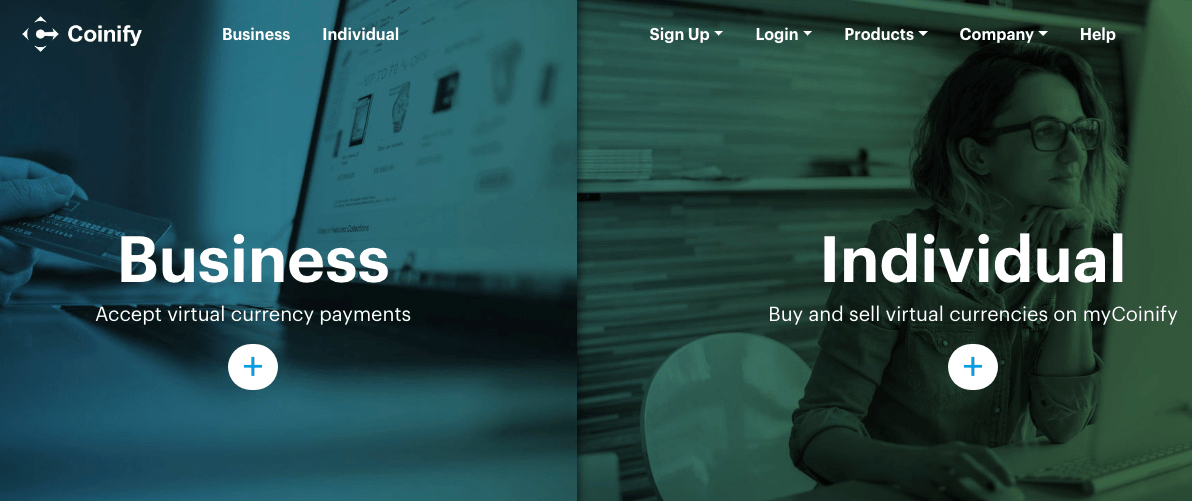 The startup was able to establish partnerships with cryptocurrency companies and received multimillion-dollar investments from many different companies. A little later, Coinify joined forces with the Luxembourg-based company Blockchain, which enabled the British to purchase Bitcoin using the wallet interface of the same company.
The Coinify mission is to mainstream the use of virtual currencies and thus help businesses and individuals to adopt financial innovation. Moreover, Coinify can be seen as a bridge for merchants that can e.g. accept blockchain payments in 15 currencies and receive payouts in fiat.
Features
The platform is easy to use and has an intuitive interface. Coinify's service includes individual currency trading, corporate brokerage, payment processing services, and Enterprise solutions via Coinify API.
Coinify allows client companies to accept bitcoins for payment, converting them into euros, dollars, kroons or other currencies in one day. In addition, the company offers customers a plug-in for BigCommerce, Magento, Shopify, and WooCommerce systems, etc, which allows accepting cryptocurrency for payment at any time.
The browser application is available both for mobile platforms and for the web. The Coinify interface is available in English language only.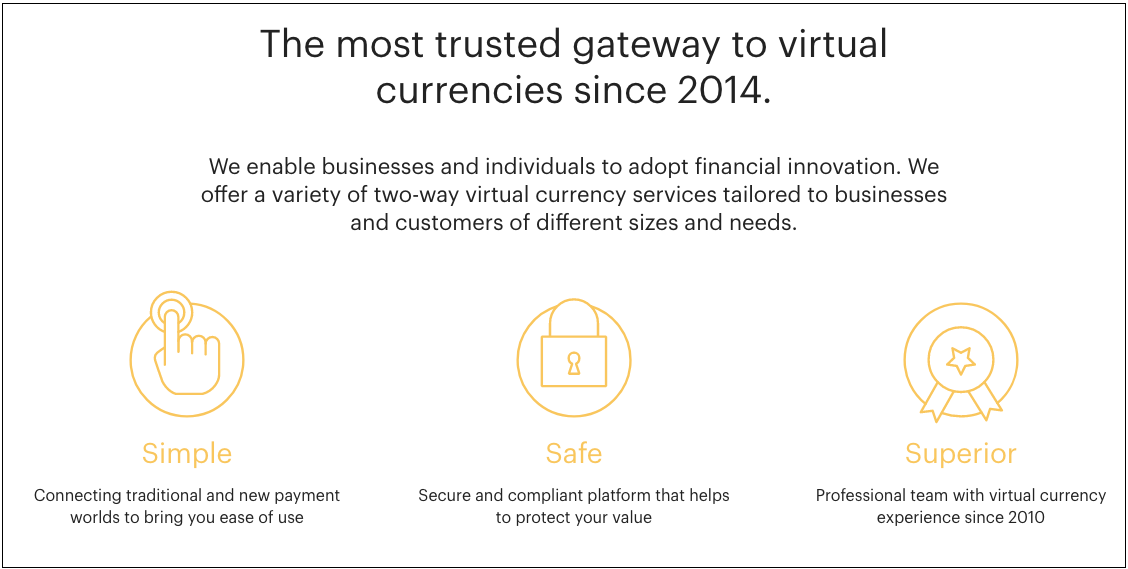 Among all the advantages, the platform has a number of features:
Payments. Coinify Payments allows online and brick-and-mortar merchants and PSP's to accept virtual currencies while receiving payouts in traditional currencies at no extra cost.
Deposits. Allow the customers to make deposits to their accounts with direct virtual currency deposits and receive the amounts in traditional currency.
Withdrawals. Allows businesses who hold client funds to offer the attractive service of facilitating withdrawals to Bitcoin for their customers.
Invoices. Allows Business and Professional Services to offer the option of paying invoices issued in traditional currencies with virtual currencies, and Coinify will settle the invoice in face-value.
Trade Solution. Allow the customers to easily exchange between traditional and virtual currencies without leaving your website or app.
Wallet Trading Solutions. Increase user engagement by giving your users easy access to move between traditional and virtual currencies without ever leaving the wallet.
Coinify Fees
When you make a buy or sell order, the transaction fee for the transaction processing will be automatically calculated for your order and the interface will show its actual monetary value. This information will also be available in your Buy Order Receipt which Coinify will send you per email.
The Network transaction fees add up to the total of fees you pay for having your order processed. 
Coinify API
Coinify's REST APIs and customized e-commerce plugins are created with the needs of the partners in mind. The Coinify APIs allow you or your developers to take full control of the application process, build your own clients and more.
There are two API solutions:
Wallet Trading API. REST API for virtual currency trading available for Coinify Wallet Trading Solution partners.
Payments API. REST API for virtual currency payment processing available for Coinify Payment partners.
You can find the corresponding API documents for Wallet Trading here. As for the Payment API, you can find the documents related here.
How to Get Started with Coinify
Registration
In order to start working with the service, you need to register. To do this, click on the "Sign Up" button and in the pop-up menu choose "myCoinify". This option is for individuals. In addition, Coinify provides the business with the "Merchants", "PSP's" and "Wallet" options.

Agree with the Coinify's terms of Service and associated policies and press "Sign Up" to continue.

In the following window, Coinify will ask you to indicate your Residential Country and select a payment method that is available to you (Visa/Mastercard, Bank Account, Virtual Currencies or do not have any). Upon a completion, click on the "Continue" button.

The service will send you a verification mail. Click to the link included in the letter and verify your email address and continue registration.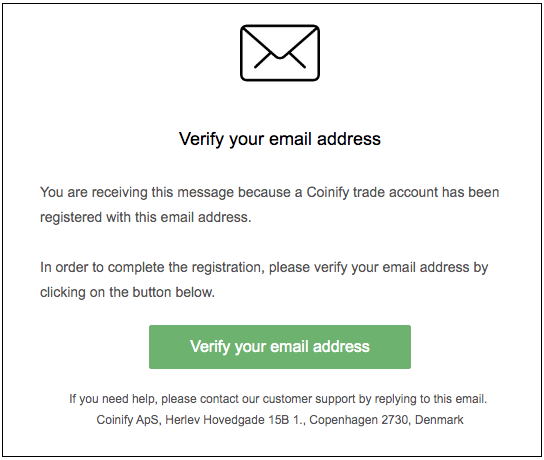 When you find a letter in your email, press the "Verify your email address" button.

You will be redirected to the "About you" form, where you need to indicate your Legal Name, Legal Surname, Residential Address (including Street Name, Postal Code, and City), and Country of birth. Once the form is filled, click on "Continue".

The last step will be to share some information about your intention of using your funds. The form consist of two questions: 
How much do you expect to trade with us annually?
What is the main origin of funds, you will be trading for?
Before you go to the next step, do not forget to confirm that any and all funds, which you will trade for, originate from legal activities. Upon a completion press "Continue".
The following steps will be linked to Identity Verification.
Verification
To start the verification process on Coinify you need to prepare your ID. This measure was taken in a case to protect your account from any fraudulent activity. Once you are ready, press "Start".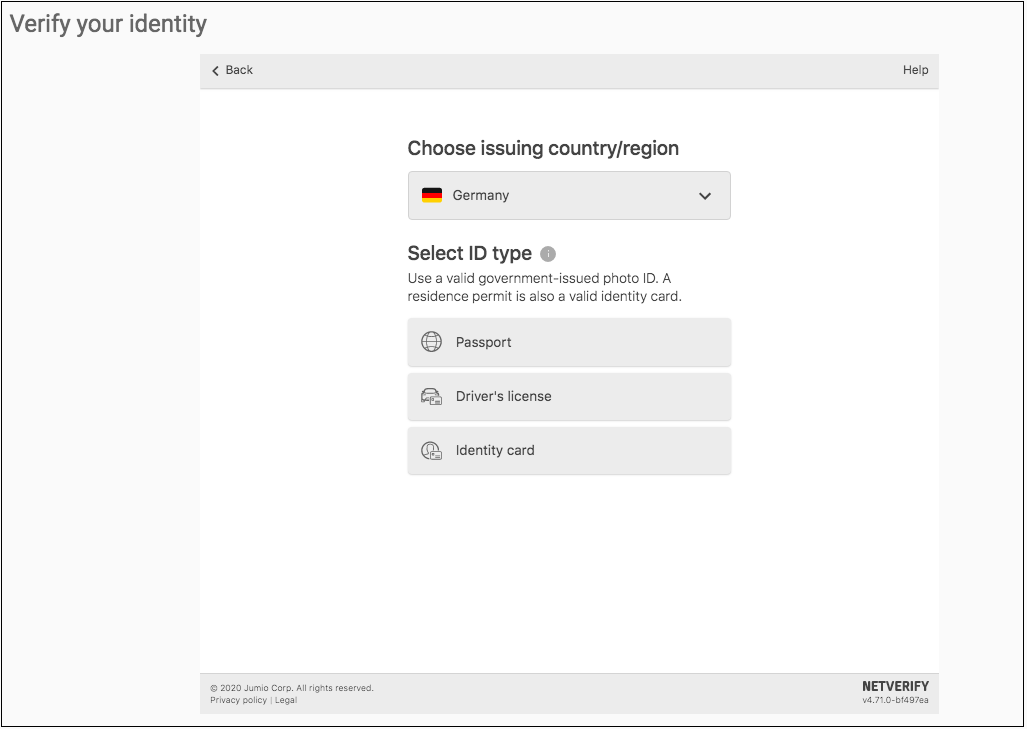 You need to choose your issuing country/region and select the ID type (Passport, Driver's license or Identity Card).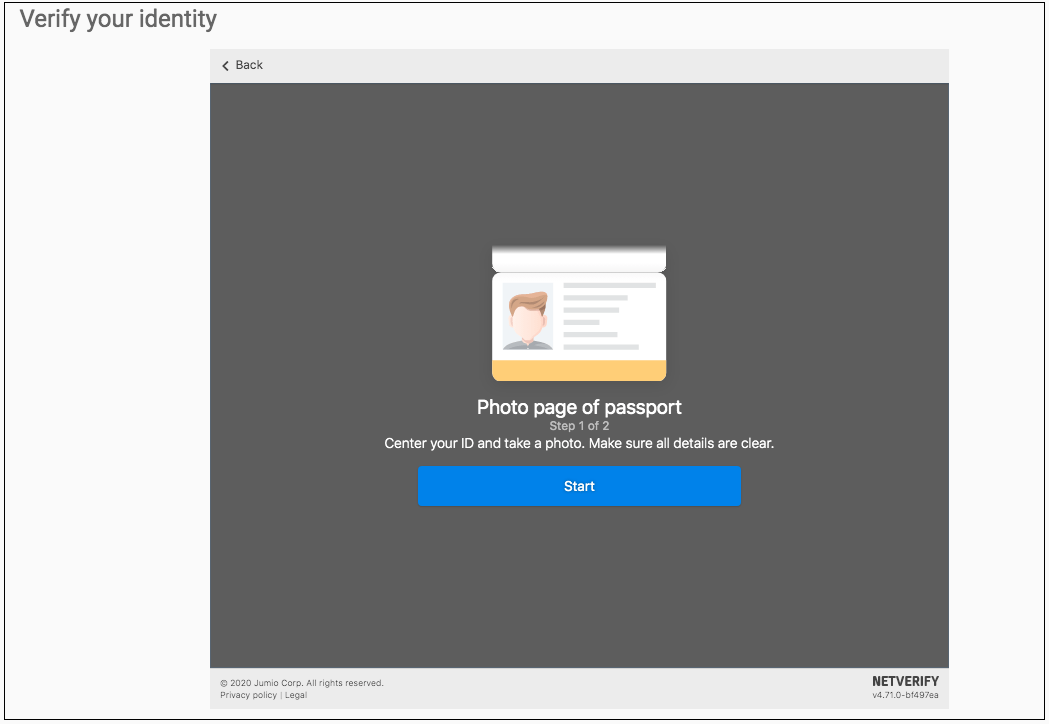 When you choose the type of the document, you will need to center your ID and take a photo. Make sure all details are clear. 
How to Use Coinify
Immediately after completing the verification, you will be redirected to your personal account. You will see a window with the blue menu located on the top.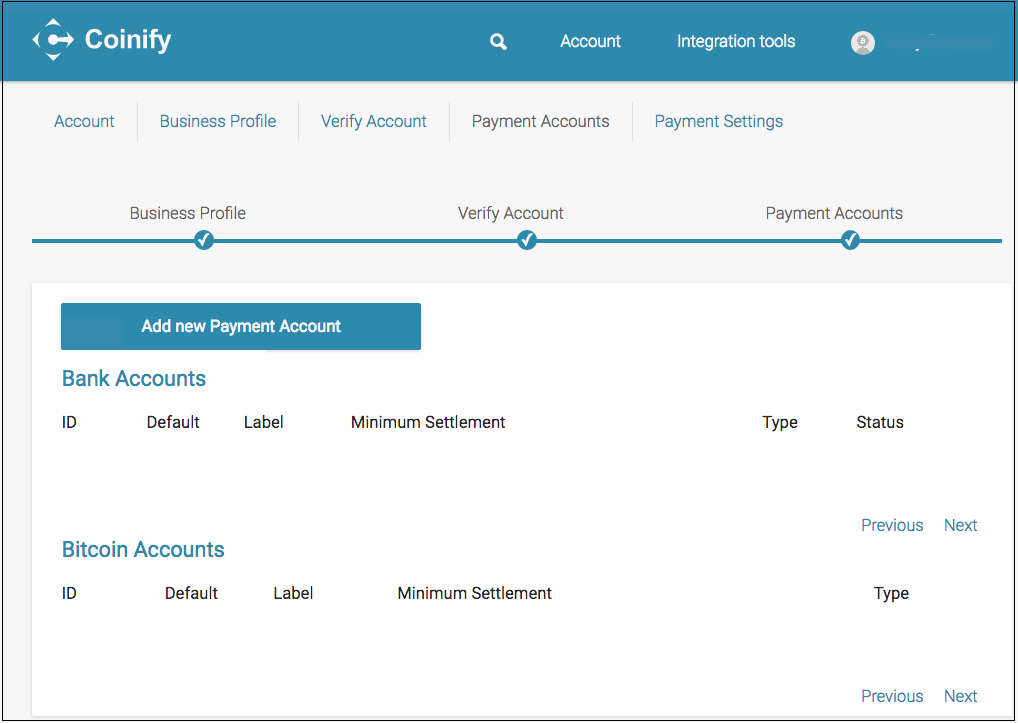 Transfers from one portfolio to another are made using a QR code. It is enough to copy it and send it to another person who has the same wallet. It is possible to receive and send cryptocurrency. You can withdraw money from the wallet to another payment system, as well as pay for any purchases by making a transaction, selecting it from the menu above. The feature is handy both for those who deposit money on the crypto exchanges (like HitBTC) and those who simply send money or pay for something.
Is Coinify Safe?
All private keys are stored by the user only and are encrypted in the browser. As a result, each transaction will require the owner to enter a password. Coinify also provides the ability to set different passwords for each asset.
Coinify wallet creates a seed phrase for all users, which is better to print. Also, the service does not store private keys on a third-party server.
Hello @coinfy, it seems that your payment processor does not adjust correctly with the actual price Bsv / usd when making payments.

A payment of $ 14 ended up being $ 18 for this poor conversion.

Curiously, this does not happen in Btc, where the rate is adjusted appropriately.

— David L💫🌷 (@Deathkonen) May 20, 2020
Although, the developers did not consider it necessary to add a two-factor authentication function to the service. However, all of these facts could show us that Coinify is not a scam.
Conclusion
This wallet is suitable for people who make operations with cryptocurrencies often and pay for their goods. But there is one complication: you cannot start working with a wallet without going through full verification. This is a big disadvantage for customers who value their anonymity.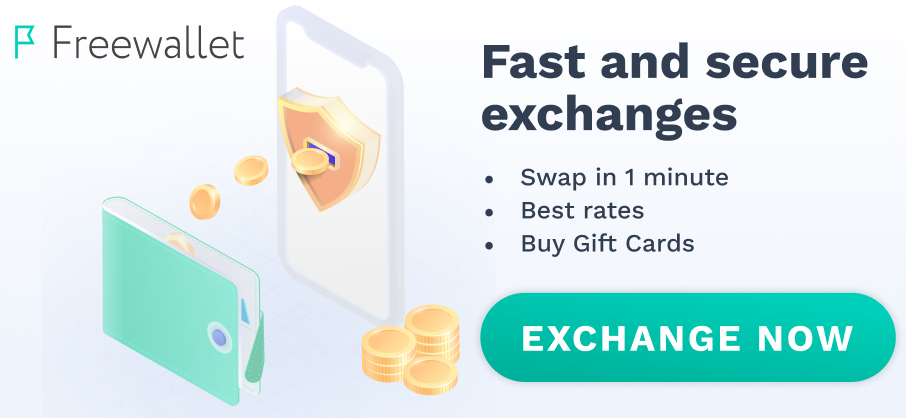 Coinify is unreliable. I tried to buy some tokens via my Ledger at Coinify, they asked a rate of 4,25%. This is total fraud. I stopped the transaction immediately. Dot use them !
No lo recomiendo, intente comprar cryptos con ellos y 10 días después no he recibido mis cryptos, apenas han respondido un correo. Esto parece scam
Die Gebühren sind viel zu hoch
You easily buy with credit card but when you decide to sell your crypto for fiat currency it's a nightmare! This is 4 times that they say my banks bounced the transfer. If we can buy with credit card we should also be able to receive the money on our credit card. I feel that my money is taken in hostage, or worst, stolen. Counify replies promptly but does not offer much solutions. Their partner Ledger is awful. NO service!! Do not buy Ledger product
What can I say you have your own key. I just started using them but so far they are great