Blockchain.com Review 2021 - Is It Safe?
Jun 05, 2020
Since recent times, the cryptocurrency world has been replenished with more and more services for storing digital assets. But as a rule, the most proven services are services with a long history of work. Is it so? Today we will review one of the first services for storing cryptocurrencies - Blockchain.com. Is Blockchain Wallet secure enough to store funds there? Is it a reliable service or scam? All of these questions we will review in this article.
Blockchain.com Review
Blockchain wallet is an electronic wallet for the online storage of digital currencies. Initially, only Bitcoin was supported, but the platform was developing, and now, in addition to Bitcoin (BTC), Ethereum (ETH), Bitcoin Cash (BCH), Stellar (XML), Paxos Standard stablecoin (PAX) are available.
The service was created in August 2011 at the Luxembourg-based software development company Blockchain. The service was launched as the Bitcoin Wallet Blockchain, i.e. exclusively as a wallet for bitcoin.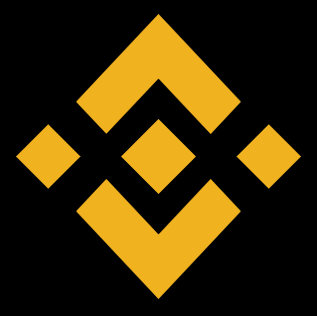 Get Profits with HODLing on Binance Earn
In August 2017, the Blockchain wallet moved into the multicurrency category, as Ethereum (ETH) cryptocurrency was added. Until the summer of 2018, the platform was located on another domain - blockchain.info. Now blockchain info is not used.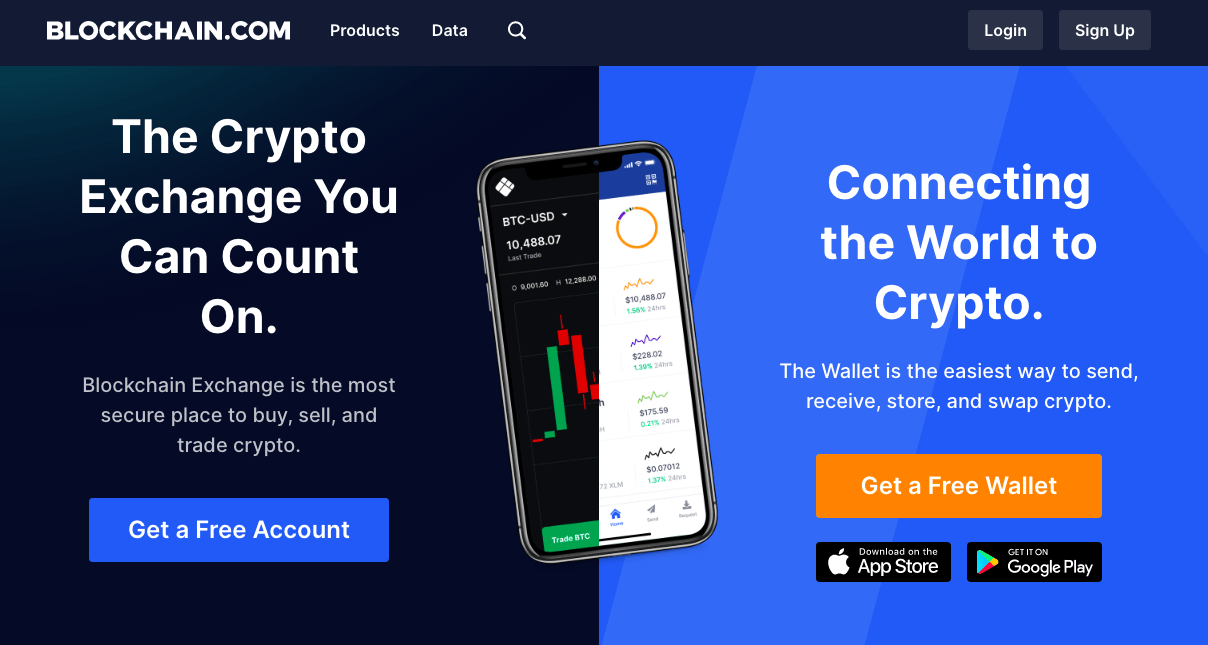 Over the entire period of existence, not a single hacking fact was recorded, and the number of cryptocurrency addresses created in the Blockchain wallet exceeds 41 million. In addition, the volume of transactions conducted through the accounts of users of the Blockchain wallet exceeded $ 200 billion.
Blockchain networks operate in a decentralized way: instead of the host server, information arrays are stored simultaneously on all PCs and other devices connected to the blockchain. Money transfers are carried out using the Peer 2 Peer system, from one user to another without the participation of intermediaries and high commissions, transparently and quickly. 
In addition, the service provides detailed statistics for each address or transaction, data on the state of the market, mining and network activity in general.
The platform supports more than 20 language versions. Blockchain wallet can be obtained using a mobile application that is easy to download on Android or iPhone.
Features
At the moment, the cryptocurrency online Blockchain wallet is the main, but not the only Blockchain product. Among other services, the site features a block explorer, The Pit cryptocurrency exchange, tools for tracking asset prices in real-time, as well as various cryptocurrency graphs and statistics.

The main benefits of Blockchain.com web wallet include:
Intuitive design;
3-level security system;
Ability to display account balance in different currencies;
Built-in tools for the purchase and exchange of cryptocurrencies;
Binding a mobile gadget with the installed Blockchain application to the web version of the wallet via a QR code;
Interaction with hardware devices;
Internal Swap exchange and charts to track the current cryptocurrency rate;
Low service fees;
Fast support service;
Mobile application for Android and iPhone.
Despite the impressive list of positive qualities, the Blockchain wallet still has several disadvantages:
A small number of supported cryptocurrencies;
Not all countries have the function of buying/selling bitcoin for fiat.
Blockchain.com Fees
In Blockchain.com the fee depends on the cryptocurrency being sent and can vary greatly, depending on a number of factors, such as transaction size and network conditions.
Your Blockchain wallet will automatically calculate the appropriate fee for sending your chosen cryptocurrency. The fee for sending ether is static (you can view the fee for sending ether by clicking "Send" and selecting Ether as the currency), while the fees for sending bitcoin, bitcoin cash, and stellar are dynamic and will be calculated by your wallet after you input the amount you want to send. You can find more details in this article that explains bitcoin transaction fees.
How to Get Started with Blockchain.com
Blockchain is considered to be one of the simplest and most affordable Bitcoin wallets. So, many users choose this particular service due to its simplicity since it is enough to register on the site and gain access to the account.
Since Blockchain does not require installation on a PC, it will take a couple of minutes to create a wallet. To start, by going to the official website, click on the "Sign Up" button.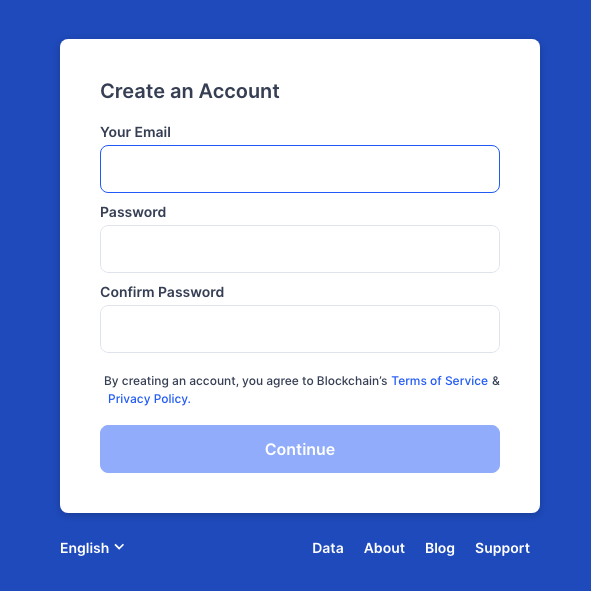 It is the only form that you will need to fill. Indicate your email address and password (twice). The password must contain at least 8 characters including letters and symbols.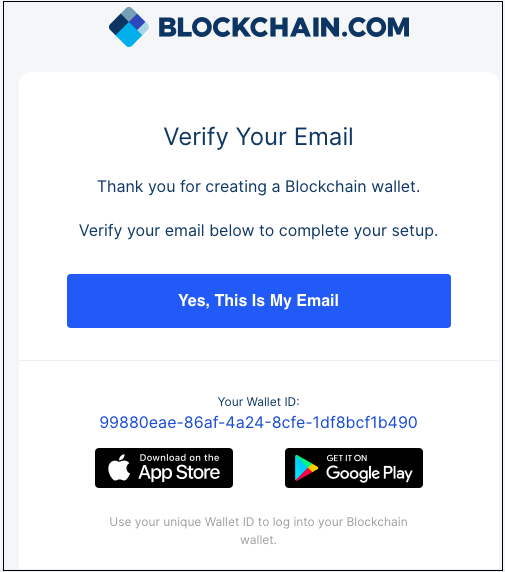 Do not forget to confirm your email address in case to protect your account. After clicking on the button "Yes, This is My Email" in the received letter, you will be automatically logged out from your account on Blockchain.com. You can re-enter it only with the password specified during registration and the wallet ID, which is indicated in the same message.
That's it! Now you are ready to start working with Blockchain.com.
How to Use Blockchain.com
The user profile on Blockchain.com consists of several blocks. On the left are the Dashboard, Buy, Swap, Airdrops, PIT exchange, Borrow tabs, as well as available cryptocurrencies. In the central part displays balances for each currency. On the right is the graph of the rate of the selected cryptocurrency for different periods (day/week/month/year/for all time).
Above the graph, the total balance of the user is displayed in a particular currency, which is supported by the platform. By default, the balance is displayed in US dollars, but instead of the dollar in the settings, the user can choose a different local currency.
On the menu bar above are bookmarks are FAQ with answers to frequently asked questions, Security Center and Settings (General, Profile, Preferences, Wallets and Addresses, Logout). By clicking on the Profile, you can set the Swap exchange limits.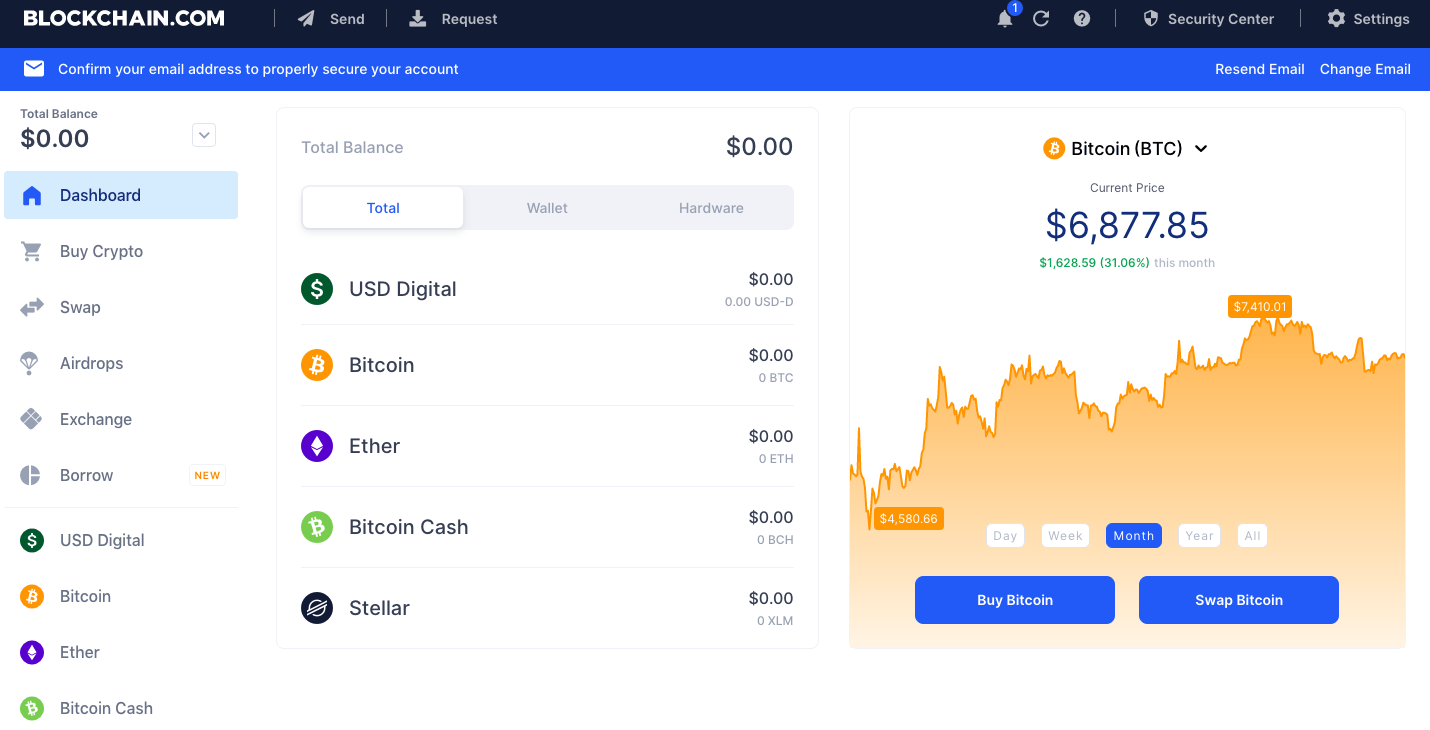 Verification
An important step in working with the platform is verifying your account through email confirmation. This allows the service to send codes to enter the system or inform the user about suspicious or unusual activity in the account. 
By email, the user also receives a wallet login ID and messages about bitcoin payments upon receipt. You can also attach a phone number to your account and use it to receive a 2FA code or notifications about transactions. To do this, in the account settings, select the tab "Preferences", find there a "Mobile phone number" tab and there press on "Add mobile phone number".
How to Withdraw from Blockchain.com

To withdraw the funds from the Blockchain Wallet and send it to another address you need to click on the "Send" button in the upper left menu.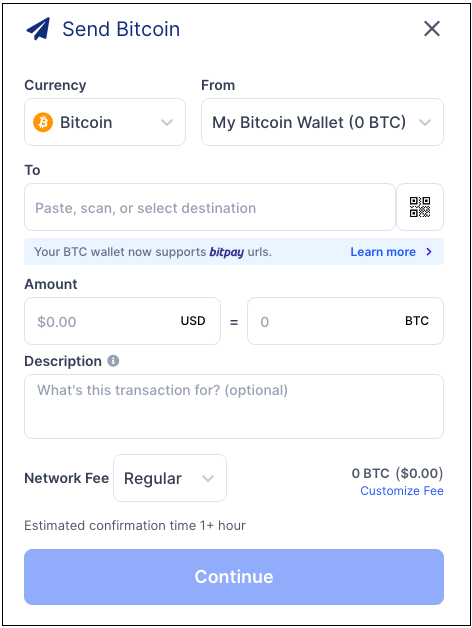 There you need to choose the currency, the wallet you will send your funds from, the wallet you will send your funds to, amount, description (optional), and type of network fee. 
Note that in the right-field "Amount", the number of bitcoins is indicated, and in the left-field, the price of BTC is in dollars. If the recipient wants to receive confirmation of your payment or asks to indicate from whom and what the money arrived for, then you can specify this information in the "Description" field.
Upon a completion check everything twice and press "Continue".
How to Deposit on Blockchain.com
To replenish the balance of your Blockchain wallet you need to click on the "Request" button in the upper left menu.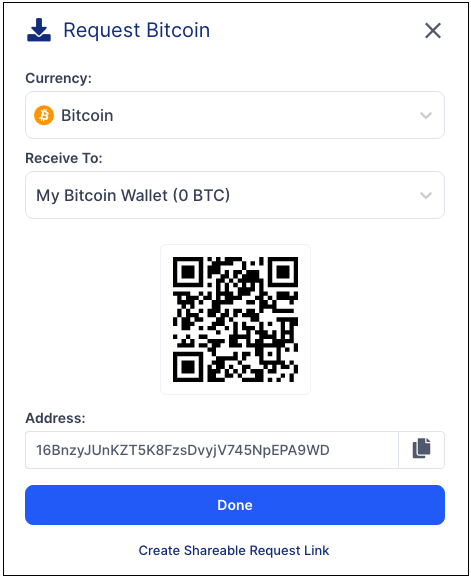 In this form, you need to choose the currency you want to deposit and the wallet you want the funds to be received to. Blockchain wallet will generate you the recipient address that you need to copy and subsequently send the funds to.
How to Swap at Blockchain.com
The service allows you to instantly exchange cryptocurrency for a cryptocurrency inside your secure Blockchain wallet. To do this, select the "Swap" tab, indicate the direction of the exchange and enter the amount to transfer. The total transaction amount is indicated on the right, taking into account the network fees. If everything suits you, click "Exchange".
Limits
The swap of the Blockchain wallet offers you to exchange one cryptocurrency for another without leaving your wallet. There are 2 levels of Swap exchange: Silver Level (daily limit $ 1000 and annual limit $ 1000) and Gold Level (daily limit $ 25 000 and annual limit $ 100 000).
The swap exchange limit is the amount of cryptocurrency that a user can trade per day. To get the Silver level you need to verify your email and enter personal data (name, date of birth, address). To get the Gold level, you also need to verify your email and enter personal data (name, date of birth, address), and in addition, provide an identity document (ID, passport or driver's license) and send a selfie with the document in hand.
Exchange limits are required to comply with security requirements and prevent fraud.
Customer Support and Reviews
In case of technical difficulties or lack of information, you can find the corresponding information in the Blockchain Help Center using keywords. This Help Center consists of guides and articles that describe the issue in detail.
If you still need assistance you can Submit a Request and provide the detailed information of your query in the given form. Experienced staff will consider your application as soon as possible and help to solve the problem. 
Follow the Blockchain.com social media Twitter and Facebook in case to stay tuned with the latest news and updates.
Users like the simple and intuitive interface, wallet reliability and support of popular currencies. However, users do not like the lack of a cryptocurrency purchase function for fiat for all countries and the very limited number of supported currencies. You can find more reviews on the Trustpilot.
Is Blockchain.com Safe?
In addition to the user-friendly interface, the service is distinguished by high security, which is the cornerstone when working with digital money. Therefore, many use the Blockchain wallet to store assets for the long term.
The basis of the security system of the cryptocurrency wallet Blockchain is made up of three levels:
Level 1. On the first level, the wallet provides users with features helping them to maintain the authorized access to their accounts. The users are required to verify their email addresses and set 12-word backup phrases. This phrase is used when the password is lost. As the phrase provided, then the user can reset the password and recover the access to the account. Another feature is setting a password hint. The best thing is that Blockchain doesn't store passwords on its side. Therefore, the passwords cannot be stolen if the Blockchain servers get hacked.
Level 2. The features associated with this level are made for preventing unauthorized access to users' accounts. The most popular and efficient feature is 2-factor authentication. It makes it impossible to access the account for anyone who doesn't have access to the account owner's mobile device. The user protects the account with a one-time password that is changed automatically every 30 seconds. The only way to get this password is checking it in the special app installed on the mobile device. Another way to guard the access to the account is linking a phone number to the account so the password is sent via SMS.
Level 3. The third level provides users with the opportunity to block requests sent from Tor. This can protect the wallet from unwanted guests.
In 2016, the Blockchain wallet became a hierarchically-deterministic wallet (or an HD-wallet). In simple terms, it means that each wallet account is not linked to a single address. So every time a user receives some money, the wallet creates a new address. It makes it nearly impossible for strangers to track what money does this or that person own. It raises anonymity and funds safety to the next level. In general, Blockchain Wallet is considered to be a safe wallet.
Conclusion
Blockchain.com wallet is a long-operated resource with an excellent reputation. Successful experience and the trust of millions of users is an undoubted plus of this popular service.
Specialists recommend Blockchain.com as the optimal, very convenient option for daily payments. And the main cryptocurrency capital needs to be kept on cold wallets, since no one, even the most reliable online resource, gives a 100% guarantee against a hacker attack.
Marcel
17 August, 1:45 PM
Bin seit Anfang an dabei noch bevor es die App überhaupt gab. Und was soll ich sagen bin die ganzen Jahre voll zufrieden!
Giovanni Marocchi
24 April, 9:11 AM
ieri subito dopo aver fatto uno swap di prova BTC/ETH qualcuno è entrato nel mio conto e ha fatto piazza pulita....
April 23 2021 @10:39PM
To:3QCvzV6TEHkgpFcc6jXqrTFPXNsuwvpWP9
From: Il mio portafoglio bitcoin
0.00... BTC €.....pochi soldi per la verità e per fortuna....ma tanto basta per denunciareil fatto.
Money Blocked by Blockchain Support
27 March, 2:18 PM
Money Blocked by Blockchain Support

I ve purchased also Bitcoin and Eth on blockchain.com and now after 20 days all my money is STILL in Review Status, blocked by blockchain support.

As a proof of my incomes: my recent payslip, employer certificate nothing wasnt enougt to get my funds back. All my money is blocked.

MY Ticket #2206410

A VERY BAD EXPERIENCE STAY AWAY FROM THEM and MY MONEY IS STILL BLOCKED !!
Frank Schoene
11 March, 7:06 PM
On January 6th, 2021 I transferred € 800 to the account in Estonia specified by Blockchain. Since then the money has disappeared - has never been credited. I wrote a few emails to the support and sent all documents and receipts from my house bank. But apart from a ticket number (# 1942961) and meaningless statements, no answer was received. My money is gone! My bank couldn't get my money back either, it was already debited from the blockchain. Stay away from these scammers and take a look at the other reviews, e.g. on trustpilot. Full of deceit!
Brandon Greyling
7 March, 5:14 AM
Unlike the one just read, this review will be very short.
On the surface they appear to have all the security and features you need but they simply don't work if you have internal fraud, as they appear to have.
I have 2FA turned on, my codes were 100% secure in my own encrypted files which no-one had access to and I was only at Silver status so limited to withdraw $1k per day. My wallet was cleaned out in 1 single transaction.
I eventually heard from Support after 23 days and after contacting their Compliance department ([email protected]) but their emails soon ended and they never explained what had happened. Emails now are never answered.
I have reported them to Action Fraud in the UK as that is where they are registered but they are unregulated and seem to think that they are immune to everyting.
ROB LAMB
16 February, 5:25 PM
I would not trust this platform I had 23k worth of BTC on the platform along with other lesser coins checked my balance one morning as the value of BTC was going up nicely, checked it again at lunch time and the account had been robbed all gone , the trade was pending so I could see the wallet it was going to, sent support a urgent message to say what had happened to please reverse the trade and return my coins , support said sorry we are a non custodial servcie we cant do anything, even tho I could see the thief. see the trade I could done nothing next day the trade confirmed and I had lost everything Support just said nothing to do with us even tho the thief had hacked past security and no 2FA request no email about the transaction its apparently my problem, I would not recommend this firm they just don't want to know when things go wrong
Brandon Greyling
10 February, 3:06 AM
No security worth anything. My wallet was hacked even though I had 2FA and the rest and was not even authorised to Send as I was not at Gold status. Support non existent as now 9 days and waiting. Facebook Support has more scammers posing as employees than anyone else. KEEP WELL AWAY.
Romulo
29 January, 4:13 PM
They got a bad publicity, I think it deserves better.
Delan shali
25 January, 1:30 PM
Made a huge ETH purchase, the transaction was stuck on "pending" for a week, then complete account crashed. This happened to a lot of people at the same time. Blockchain mentioned they fixed the problem they had. They had the nerve to blame it on a hacker.

Now 3 weeks in and my funds are still no where to be seen, the support team keep dragging me on saying the next 48 hours you get your funds back, but 10 days later, they are just ignoring me. Iv had no choice to write this review.
Oberlick
17 January, 2:41 PM
Same old story. It's almost impossible to withdraw the money. Come on, it's an appropriate.
Laith
10 January, 5:28 PM
Blockchain is a SCAM, they stole my funds and no one replied to my emails and tickets, transaction is in review since ever
DO NOT USE BLOCKCHAIN, CHECK REVIEW ALL OVER THE WORLD THEY ARE STOLING FUNDS
Magma
10 January, 11:04 AM
As an online keeper it works fine. But anyway I wouldn't recommend to keep big amount of fund on it.
Exel
27 December 2020, 9:37 PM
I got a block for doing my regular operations. The most annoying thing is that I've been ignoring from the support. Bad job.
Brendan
20 December 2020, 7:29 PM
Amazing app
Dorsel
16 December 2020, 7:36 PM
They don't have a big number coins. That's not good.