OceanEx Exchange Review 2022 - Is It Safe?
May 30, 2020
OceanEx is a centralized cryptocurrency exchange founded in November 2018. The company has headquarters in the Cayman Islands. 
Among the core members of the OceanEx team, there are people who worked in CISCO, Samsung Research, Baidu, Morgan Stanely, and some other big companies. One of the platform's strategic partners from the cryptocurrency world is VeChain.
In the first year of existence, the exchange gained some significant trading volume and became one of the top 100 cryptocurrency exchanges (Coinmarketcap ranks it slightly below the 60th position). According to the company's website, OceanEX exchange provides high-level security powered by AI.
📢We are excited to announce that #DEFI/USDT, $COMP/USDT, $DOT/USDT and $LINK/ USDT perpetual contract trading are now available on website, IOS and Android APP. Trading on #OceanEx by https://t.co/6VcHUbwhto@compoundfinance @Polkadot @chainlink
More Info:https://t.co/4fVUBMXZSQ

— OceanEx Official (@OceanexOfficial) September 3, 2020
The trading features are quite diverse and can fit experienced professional traders. What's especially good is that this platform is available for the residents of most of the countries as the company has representatives in the US, Luxembourg, Singapore, and China. Nevertheless, residents of some countries cannot use this exchange yet. Citizens of Cambodia, Congo, Iraq, Iran, Libya, Myanmar, North Korea, Sudan, Somalia, Syria, and Yemen are not allowed to trade on OceanEx by this time.
OceanEx Features Review
Graphs and information presented to users on the Exchange page can seem quite familiar to those who have been visiting other cryptocurrency exchanges. There is a candlestick chart that can be configured choosing a different time-lapse or form of the chart (the user is allowed to change the colors of the candles, wicks, boarders, and price line), turn on and off certain scales, and regulate the timezone. One can add lots of indicators on the candlestick charts (there's a rich choice of around 80 indicators including Average True Range, Chaikin Oscillator, Moving Average, Relative Vigor Index, and others). Such tools for working with the graph as brush, pitchfork, text, etc, are also presented. 
Also, there is a Market Depth chart. Above the graph, one can see the numbers (24-hour low, 24-hour high, 24-hour trading volume, 24-hour change). Besides these quite regular tools, there's a Token Info tab which opens a text window with a short review of the currency and a row of statistical data including market capitalization, total supply, and so on.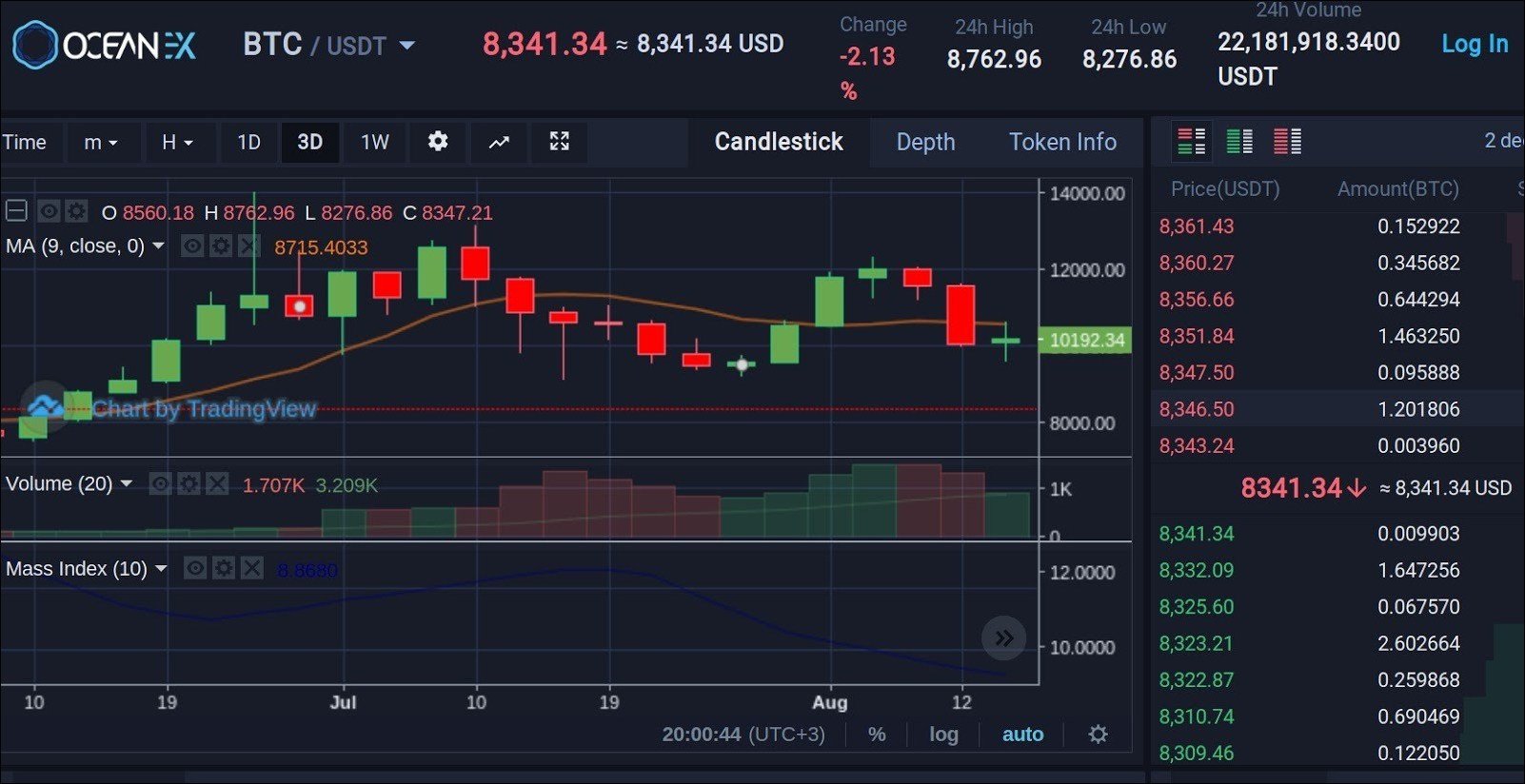 Traders may place both market and limit orders. That's a nice feature because trading without these options is too risky. Unfortunately, stop-limit orders are not supported on the OceanEx exchange at the time, but the platform representatives announced that this feature will be added later.
Another unusual feature can be found in the CryptoFarm tab. It's a  service that allows users to gradually increase the amount of a certain cryptocurrency passively. The contracts can be opened on certain dates. The company announces when the new contracts become available. In the past contracts were associated with different coins and different time periods of lock-up (15 to 30 days). The agreement between the user and OceanEx specifies that the user's funds will be held in the custody of a third party while using CryptoFarm. It's mentioned that the service is low risk but there are no guarantees due to the high volatility of the crypto market and other factors. The source of potential profit is not disclosed anywhere.
One more feature is the OCE Club. OCE is a native OceanEx token. OCE Club members (the OCE holders) can enjoy some benefits. The holders have up to 90% trading fee discounts. The advanced referral program promises OCE club members a reward as big as 50% of the trading fee paid by the invitees. Also, club members have better terms of use of the CryptoFarm service. The membership starts at holding 2,000 or more OCE (that's the first level). There are 5 levels of membership depending on the amount of OCE by the user. Each level provides members with better benefits.
What are the plans with the OCE token? It's hard to see that there is no vision behind Oceanex's token.

— $OCE WHALE (@OceWhale) September 3, 2020
In the Turbo tab users can buy XMX tokens (computing power tokens) with a discount and get a reward in OCE. It takes 2 steps: XMX subscription and then, distribution and OCE refund.
Those who look where to buy VeChain probably can consider buying it on OceanEx as the 2 projects have a strong partnership and it's safe to say that buying VeChain (VET) tokens on OceanEx is the most convenient way to get this asset. Around 30 currencies can be traded against VET and USDT while a significantly lower number of assets (slightly above 10) can be traded against BTC. The most popular coins cannot be traded against BTC, but available for trading in pair with VET. Alternatively, VET can be traded on HitBTC.
OceanEx Fees
This platform charges the same trading fees from all traders doesn't matter if they are makers (users who make liquidity by placing new orders on the exchange) or takers (those who just take the placed orders decreasing the liquidity). The trading fee is 0.1%. It's quite a low trading fee if we compare it to fees on the other exchanges. Moreover, as it was mentioned, OCE holders may pay lower fees. At times, the platform decreases trading fees for certain trading pairs.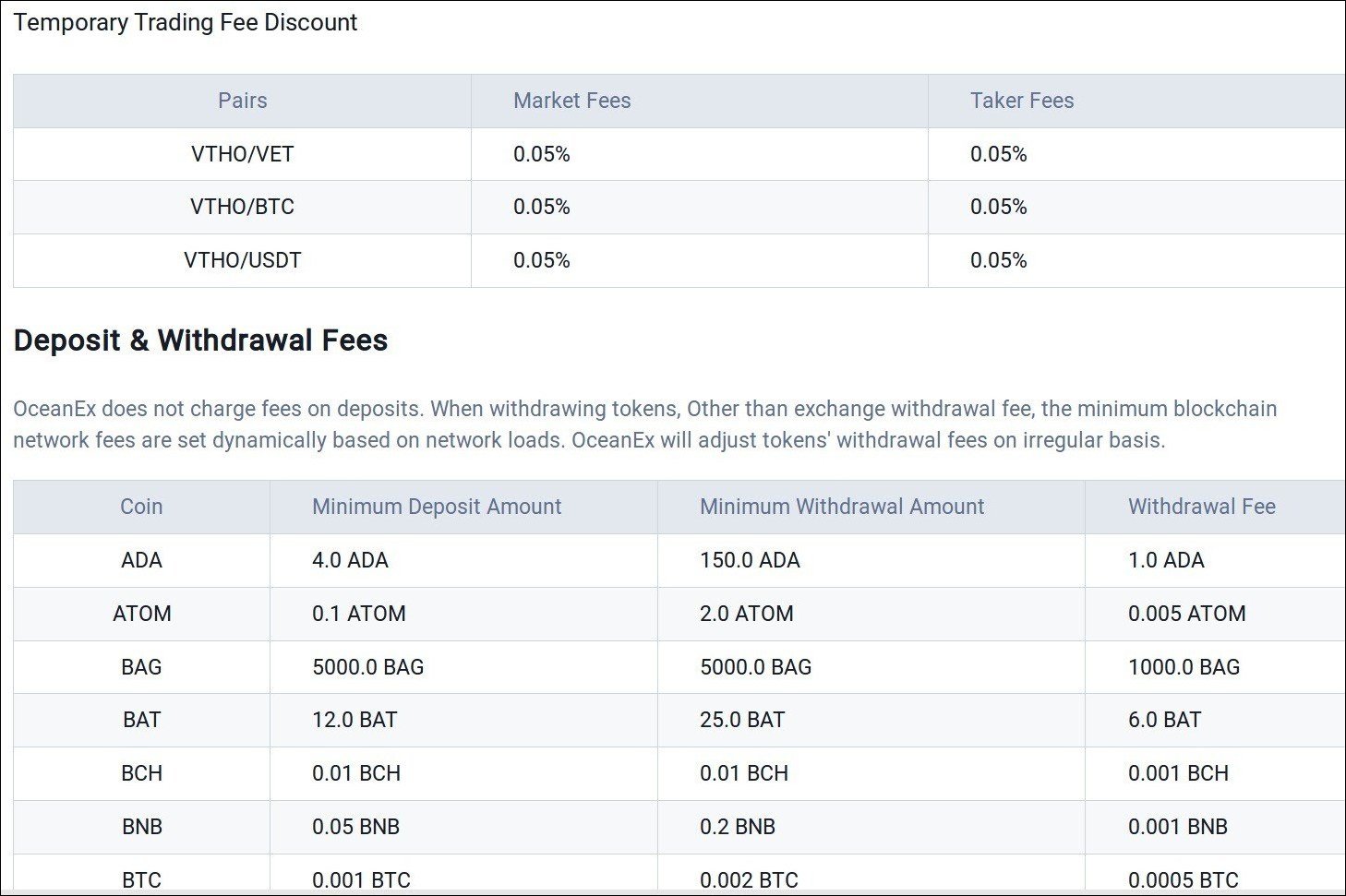 Withdrawal fees are dynamical. They depend on the network load and can be adjusted by the platform from time to time. At the time of writing this article, the BTC withdrawal fee is 0.0005 BTC, Ether withdrawal is 0.005 ETH, and Litecoin is 0.01 LTC.
OceanEx doesn't charge any fees for deposits. 
Is OceanEx Safe?
There are several layers of security provided by the company. Some of the activities aimed at the maintenance of security should come from the user. First of all, it's the user's duty to set a strong and unique password. Another critical protection measure is setting the 2-factor authentication option on. To set 2FA one should download Google Authenticator or another authy app to the mobile phone and scan the QR code in the Account/Verification section of the website. Scanning the QR code creates a security token in the app and it starts generating one-time passwords requested each time somebody is trying to enter an account, withdraw the funds, etc. Without having an account owner's mobile device it is impossible to do any harm (even if the password and login are obtained).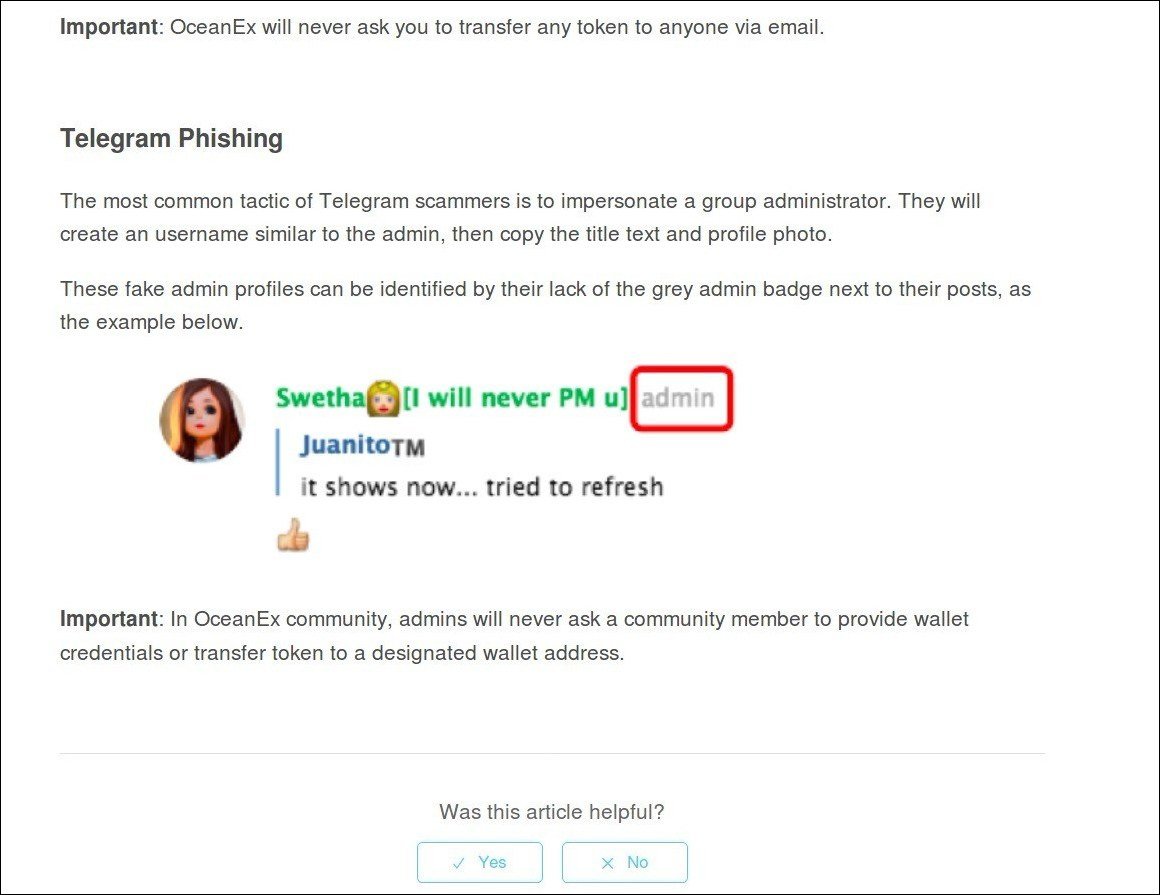 More than that, the user should beware of phishing attempts. All mails sent from the addresses different than [email protected] and [email protected] have nothing to do with OceanEx and most probably sent by fraudsters. On Telegram, all real admins have a grey "admin" badge next to the name and none of them will ever ask users to provide data that can be used to withdraw the coins or enter the account.
Other security measures are executed by the exchange itself. For example, the money cannot be withdrawn from the account in 24 hours after the change of the password, the use of the "forgot password?" option, and turning 2-factor authentication off. So if the hacking takes place there is additional time to figure out that the malicious activity takes place and take action.
Now, if we look at the other side of security, we'll see that the platform itself seems to be legit and won't likely to pose a threat to its users' assets. A good sign is that one can't find serious complaints about the work of OceanEx on social media. There are some conspiracy theories over their intentions, but such posts haunt any cryptocurrency product.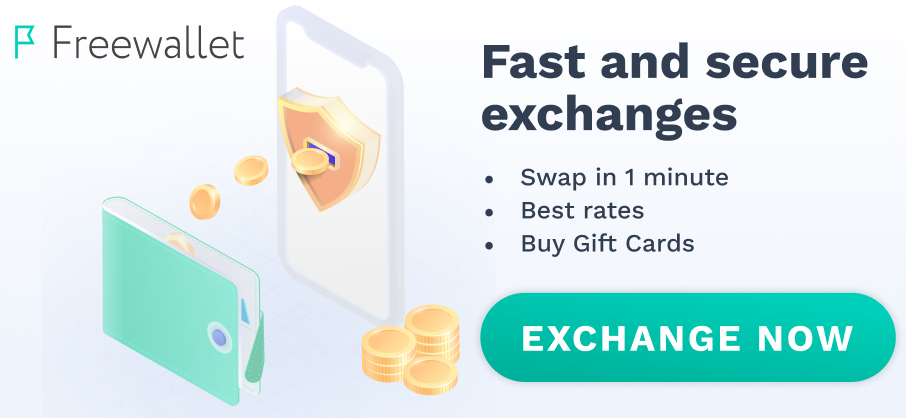 Amazing support from real people real fast. The exchange itself is smooth. Get your vtho rewards for vet weekly. And trade tons of pairs with the lowest fees.
Bonne application mais il reste du travail à faire dessus ....
I feel lonely, the support left me and I lost my funds
Notimportant
1 February 2021
OceanX is not safe. They 'blacklisted' my withdrawal address for 'suspicious' activity. While i only made one deposit from this address, and now i am trying to withdraw to the same one.
This exact address i use for VET - has been used many times with Binance (KYC verified) and crypto.com transactions with no single issue. Stay away from small exchanges. And be ready to lawyer up.
The luquidity doesn't help gaining more income. They need to figure out that problem.