Gemini Exchange Review 2021 - Is It Safe?
Full address:
600 3rd Ave, New York, NY 10016, U.S.A
Fees:
Fees vary according to volume exchanged. See full fee schedule here: https://gemini.com/trading-fee-schedule/#trading-fee-schedule
Fees:
Fees vary according to volume exchanged. See full fee schedule here: https://gemini.com/trading-fee-schedule/#trading-fee-schedule
May 27, 2020
Initially launched in 2014, Gemini began operations in October 2015 and today stands as one of the most popular crypto trading platforms. 
Within the four years of existence, the exchange has managed to gain a significant portion of the crypto trading market. 
The platform believes in transparency and empowering its users. 
Therefore, Gemini outlines its principles of operation, including actions and methods they believe, are correct and necessary to advance crypto and develop its ecosystem the right way.
In this Gemini exchange review, we are going to have a look at the various features, currencies, how to sign up, and other unique perks offered by the platform. 
Gemini Exchange Overview
Gemini exchange is a fully licensed virtual asset exchange and custodian that is built for both individuals and institutions. 
The platform claims to be a "New York Trust company" that is regulated by the New York State Department of Financial Services (NYSDFS). 
It was founded by the Winklevoss twins, Cameron and Tyler, who have been in the cryptocurrency space for quite a while now.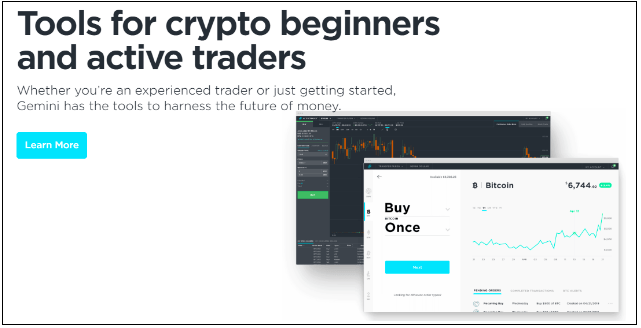 The two brothers famously invested $11 million into Bitcoin back in April 2013 when one coin was going for around $120. 
As of the time of writing, the Gemini exchange has a trading volume of $42,979,310, according to coinmarketcap.com. 
The exchange has its own stablecoin, the Gemini dollar (GUSD), which allows its users to send and receive USD across the Ethereum network.
Announced on September 10, 2018, the GUSD is pegged 1:1 to the U.S. dollar.
The token combines the price stability and the creditworthiness of the USD with blockchain technology. In addition to the oversight of U.S. regulators to be more specific, the New York State Department of Financial Services (NYDFS).
Where Is Gemini Exchange Located?
Gemini is located in the state of New York, and 2016 managed to achieve the status of being the first licensed exchange in the world. 
Supported Currencies
Currently, Gemini supports six cryptocurrencies, including BTC, ETH, BCH, LTC, ZEC, GUSD, and one fiat currency, the US dollar. 
Gemini Exchange Fees
There are two types of fees on this platform; trading fees and transfer fees. 
The trading fees are charged on all trades that are conducted by traders on the exchange, also known as dynamic maker-taker fees.
As for the transfer fees, they are charged whenever a user moves funds in and out of their accounts.
When it comes to placing a buy or sell order through the exchange website or mobile app, a 0.5% convenience fee is applied to all transactions.
Below is a table containing the various order sizes and the fees involved.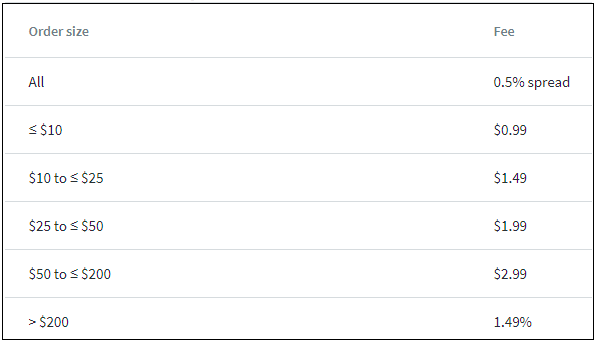 Some ActiveTraderFees apply when one is buying and selling from the exchange's continuous order books or through the Gemini auction on the ActiveTrader interface.
You can switch this interface on and off from the account settings. Once switched off, the above-listed fees will apply. Below is a list of the active trader fees involved.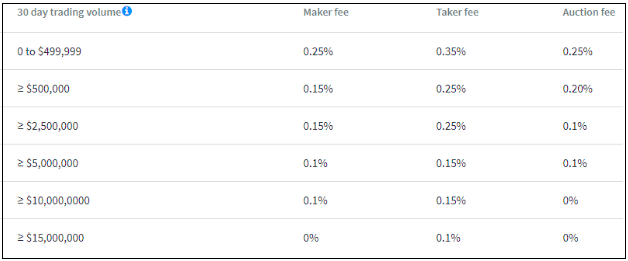 For deposits, the exchange doesn't charge any fees. However, there are fees that could be associated with bank deposits and wire transfers. 
Also, forex fees could apply for users that may be transferring currencies other than the US dollar.
Gemini Exchange Limits
When it comes to the Gemini exchange deposit limit, there is a $500 daily and $15,000 monthly limit for individuals using bank transfers. 
However, for wire and crypto transfers, there are no limits involved.
As for withdrawal limits, individuals are entitled to $10.000 daily and $100.000 monthly withdrawals. 
But there are no limits when it comes to wire and crypto withdrawals. 
Time Taken For Funds To Appear On Your Account
For deposits, bank transfers can take up to 5 business days to clear. And as for wire transfers, it can take 3 business days or even longer.
For crypto transfers, it takes only a few minutes, depending on the coin being transferred. 
When it comes to withdrawals, it can take several working days for both wire and bank transfers to clear.
Payment Methods Accepted
Gemini accepts payments in cryptocurrency, wire transfers, and bank transfers. Both deposits and withdrawals can be made in the seven supported currencies. 
Gemini exchange also accepts credit cards. The cards accepted include MasterCard, VISA, and American Express. 
Countries Where You Can Access Gemini Exchange From
Gemini exchange is available in all states in the US except Hawaii. The platform has also been expanding its services to other nations, as you will see below.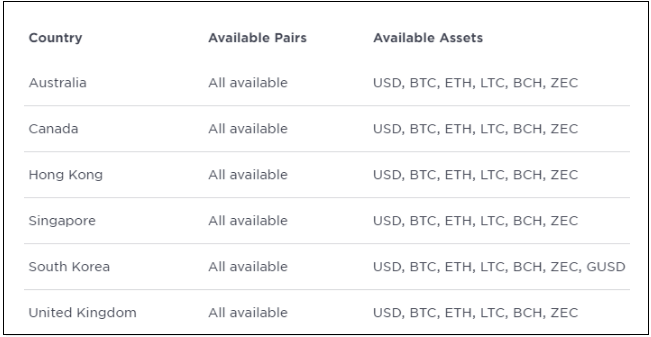 This list is growing by the day. 
How To Use Gemini Exchange
To get started on Gemini, visit the official website (gemini.com) and click on the Get Started icon.

Gemini Get Started

You will notice that the exchange offers two account types. As an individual, proceed to select the personal account.

Gemini Account Type

Choose your country of residence. Remember, the exchange doesn't support all the countries as we have seen above. If the platform is operational in your country, agree to the various terms, and then select Continue.

Gemini Registration Form

Enter your personal details, including your official names, email address, and set your password. The password should be strong to protect your account from being easily breached by hackers. Tick the term s box below and click on Create My Account.

Gemini Personal Data

Enter your phone number to set up two-factor authentication. A code will be sent, which you are supposed to enter to proceed to verify your account.

Gemini Link Your Phone

Gemini exchange verification process will require more of your time as there are four different verification stages involved. After setting the 2FA using your phone, you must have a legitimate bank account to be able to fund deposits and withdrawals.  Also, the account should belong to a bank that is located in a country where Gemini operates.

Gemini Bank Account

The third verification stage will see you submit photos of your government-issued ID card or driver's license for applicants based in the US. If you are an applicant who is based outside the United States, you will have to submit a passport to prove your identity accompanied by other supporting documents like a bank statement or utility bill, which helps confirm your identity. 

Once your account has been verified, proceed to deposit some funds to get started. Go to the menu and select the Transfer Funds icon. Then select "Deposit Into" the "Exchange" and then select "Bank Transfers." These types of transfers are limited to $500 a day.

You will notice the deposit you make will immediately be available for trading. Now proceed to buy any of the six supported currencies by navigating through the menu and picking your preferred trading pair. So if you made your deposits in USD, you could select BTC/USD or ETH/USD.

Gemini Trading

Enter the price and quantity you want to purchase and process your buy order. The exchange also offers an option to make trades through the marketplace that houses all the market orders that are made by other users.

Once the purchase is complete, your account will be credited with BTC/ETH. 
This Gemini exchange review wouldn't be complete if we didn't mention that the exchange offers institutional accounts. 
These accounts allow institutions to buy, sell, and store virtual assets. 
Also, the exchange states that multiple people within an organization can register and share access to the same trading account.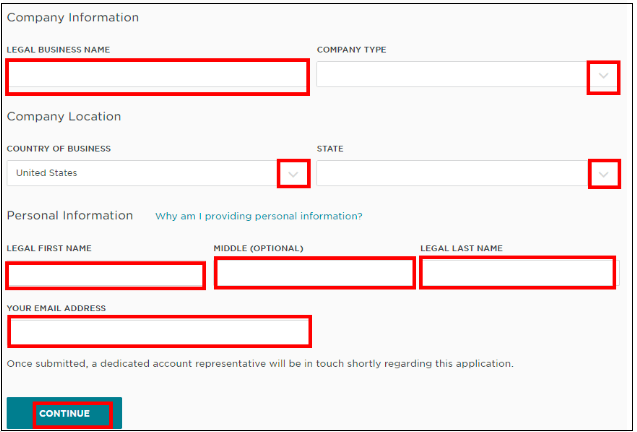 The registration process for these accounts is quite similar to the individual account, with a few differences. 
The involved party will have to submit the legal business name, company type, and location details on top of the personal information. 
After that, a dedicated account representative from Gemini will be in touch with you to discuss the application.
Interested parties can always reach out to the platform's customer support to get the full detail on how to go about this process.
Gemini Exchange Referral Program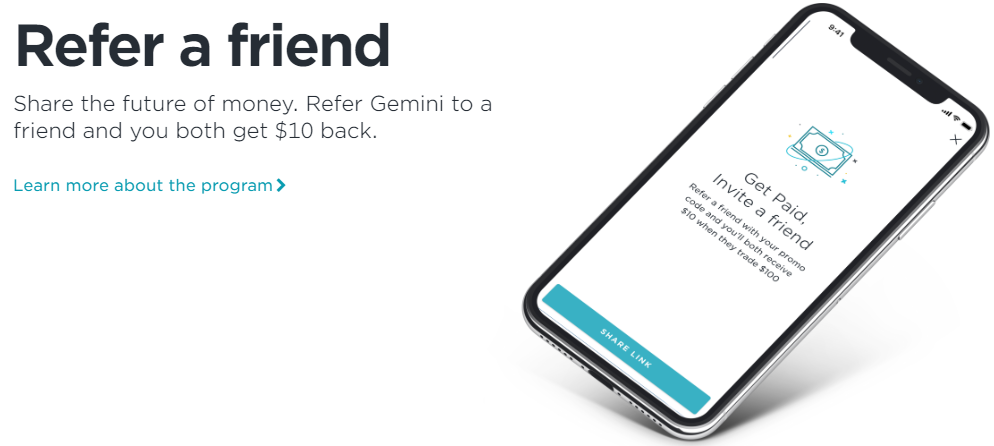 If you have the Gemini mobile app, you can access your referral link by visiting the "My Account" tab. 
Then you can share your referral link with your friends or any other individuals; however, they have to be first-time users. 
The person you share the link with will have to trade at least $100 and have their account fully verified within the first 30 days after they register their account. 
Once they have completed that process, the two of you will both receive a $10 credit on your accounts. 
Security
Gemini believes that security is a cornerstone of its culture and a crucial part of how the platform earns user trust. User funds are stored on both hot wallets and cold wallets. 
As for the cold storage system, the exchange uses hardware security modules (HSMs) that have the highest ratings. Also, all the private keys are generated on the HSMs, stored and managed there for their entirety.
The HSMs are distributed in various locations around the world, where they are monitored in access-controlled facilities.
Additionally, all the HSMs require the coordinated effort of multiple employees to operate them.
As for the hot wallet, its hosted on Amazon Web Services (AWS), which has a proven track record when it comes to physical security and internal controls.
Customer Support
The exchange also has a customer support team that is always ready to assist users who need help. 
For those that can't find solutions to their problems in the FAQ section, they can reach out to the customer support team through various channels, including an online help desk, email, live chat, Facebook, and Twitter. 
New users will find the customer support team very responsive, and they typically reply to queries within minutes or hours depending on the channel used to reach out to them.
FAQ
On the page with the most frequently asked questions, you will find some of the most common problems users ask now and then and their answers. 
Some of them include; if the exchange is regulated? Where it's based? How to open an account? How to deposit on your account? And many more. For every question, there is a clear answer that solves the issue for the users. 
Advantages
The exchange is fully regulated and compliant with different banking standards, which makes it suitable for individuals as well as institutional clients.

The platform takes extra measures to protect user funds. Only a small percentage of the crypto assets are held online. However, this doesn't mean you should store your assets there for long periods.

The exchange is very professional, and it offers high-end services.

The platform is designed with user-friendliness in mind. It has a simple interface with easily accessible features, which makes it great for beginners as well as for more advanced users. 

The Federal Deposit Insurance Corporation insures all US dollar accounts. Also, all the funds within the exchange are stored in a chartered bank that is based in New York.

Gemini boasts some of the lowest fees when it comes to exchanging assets. Also, the first 30 withdrawals of each month are free. Additionally, all bank, crypto, and wire deposits are free.

The exchange offers excellent customer support. On the platform, users have access to a FAQ section which has answers to some of the most frequently asked questions. Also, users can ask for help by writing to the customer support team via email or any other mode available. 
Disadvantages
The exchange has a limited number of funding methods.

There is too much information needed to register on the platform compared to other exchanges.

There is a limited number of coins that are available to be purchased.

The platform sometimes goes offline, especially when there is high trading traffic. 
Is Gemini Exchange Safe?
For the four years Gemini has been around, it has managed to create a pleasant reputation for itself as one of the most secure crypto exchange platforms around the globe. 
The exchange employs various methods to ensure it maintains a high level of security, which is on par with that of traditional financial institutions. 
On the platform, user accounts are protected using two-factor authentication, which offers an added layer of security.
That is on top of having their US Dollar Accounts insured and user funds being held in a chartered bank in the state of New York.
Also, the exchange stores all the digital assets in cold storage while online assets are hosted on AWS.
Due to its commitment to maintaining the highest levels of security, Gemini is always a popular choice among high net worth individuals and institutional investors. 
In conclusion, Gemini is a reputable exchange that occupies the same space as Coinbase. 
The platform allows users to make deposits and withdrawals straight from their bank accounts – a critical factor that has helped the exchange gain favor among crypto users, thereby gaining ground on its competitors.
All in all, the exchange is for users that seek to trade any of the supported cryptocurrencies securely and confidently.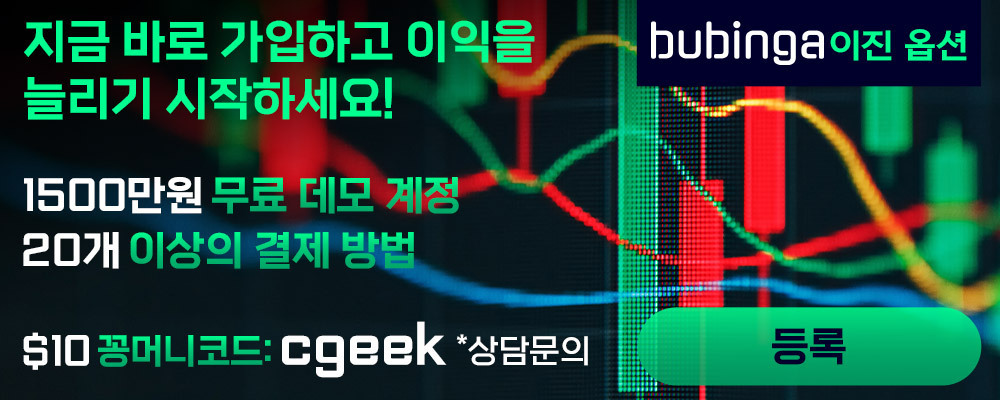 Rolan Urean
19 November 2019
I was a little confused when I was trying to complete the registration. I didn't receive any confirmation from the support that they received anything from me. Probably, I used the wrong address, I don't know. But I've been waiting since 12 November and have no idea how long I will be waiting.
Besides the high fee the exchange has a serious problem with the service. I barely finished the verification within the week and then started to deposit. But all this time couldn't find any trace of the support. I'm supposed to send them email request, but I feel none of my letter has delivered. Really poor service.
I see that they increased their fee, it's almost 2 % at that moment.Wow, guys, I think they took to much. I will think more thoroughly about using this exchange. I wouldn't want to lose a lot on the fee.
That's insane, they can take 1.5% as a fee while you selling BTC. Why is it so high? I would agree with it, if I can get some other benefits, but I don't. Even the support spent 2 days just to reach and give me the answer. It's not worth it.
Not so long here, but I see some bugs and problems. I guess, something must be done with the exchange site; it's often frozen, the links and buttons don't work. That's annoying and it leads to dissatisfaction.