Kraken Exchange Review 2023 - Is It Safe?
Full address:
Payward Trading Ltd c/o SHRM Trustees (BVI) Limited Trinity Chambers, P.O. Box 4301 Road Town, Tortola, VG1110 British Virgin Islands
Fees:
< 50,000$: 0.16% Maker | 0.26% Taker
< 100,000$: 0.14% Maker | 0.24% Taker
< 250,000$: 0.12% Maker | 0.22% Taker
< 500,000$: 0.10% Maker | 0.20% Taker
< 1,000,000$: 0.08% Maker | 0.18% Taker
< 2,500,000$: 0.06% Maker | 0.16% Taker
< 5,000,000$: 0.04% Maker | 0.14% Taker
< 10,000,000$: 0.02% Maker | 0.12% Taker
> 10,000,000$: 0.00% Maker | 0.10% Taker

Full fee schedule:
https://www.kraken.com/en-us/features/fee-schedule
https://support.kraken.com/hc/en-us/articles/360000767986-Cryptocurrency-withdrawal-fees-and-minimums
Fees:
< 50,000$: 0.16% Maker | 0.26% Taker
< 100,000$: 0.14% Maker | 0.24% Taker
< 250,000$: 0.12% Maker | 0.22% Taker
< 500,000$: 0.10% Maker | 0.20% Taker
< 1,000,000$: 0.08% Maker | 0.18% Taker
< 2,500,000$: 0.06% Maker | 0.16% Taker
< 5,000,000$: 0.04% Maker | 0.14% Taker
< 10,000,000$: 0.02% Maker | 0.12% Taker
> 10,000,000$: 0.00% Maker | 0.10% Taker

Full fee schedule:
https://www.kraken.com/en-us/features/fee-schedule
https://support.kraken.com/hc/en-us/articles/360000767986-Cryptocurrency-withdrawal-fees-and-minimums
May 19, 2020
Despite the fact that the field of cryptocurrencies is quite young, already now there are many platforms for exchanging and trading coins. It is often difficult for novice traders to choose a site for work that suits them. In this review, we will look at the popular Kraken exchange, talk about its strengths and weaknesses. Is Kraken safe to use? Should you really use it? Read this review and find out.
Kraken overview
Kraken is a fairly popular cryptocurrency exchange that is known to both experienced traders and beginners in this field. The Kraken exchange has been showing good results for years and it is called one of reliable cryptocurrency trading tools.
Over the past few years, the company has acquired a couple of small projects that provide exchange or exchange services. This significantly increased the company's influence and the popularity of the site in European countries.
Kraken exchange supports about 35 cryptocurrencies, among them Augur (REP), Basic Attention Token (BAT), Bitcoin (BTC), Bitcoin Cash (BCH), Cardano (ADA), Chainlink (LINK), Cosmos (ATOM), Dash (DASH), Dai (DAI), Dogecoin (DOGE), EOS (EOS), Ethereum (ETH), Ethereum Classic (ETC), Gnosis (GNO), ICON (ICX), Lisk (LSK), Litecoin (LTC), Watermelon (MLN), Monero (XMR), Nano (NANO), OmiseGO (OMG), PAX Gold (PAXG), QTUM (QTUM), Ripple (XRP), Siacoin (SC), Stellar Lumens (XLM), Tether (Omni Layer) (USDT), Tezos (XTZ), USD Coin (USDC), Waves (WAVES), Zcash (ZEC).
The functionality of the platform is very good, there is also an API. Versions are supported both for obtaining public information and for bidding. The exchange interface is translated into 10 languages, including Chinese and two versions of English. It is also possible to trade from a smartphone on Android and iOS through a special application.
Where is Kraken located
The official launch of the Kraken cryptocurrency exchange took place in July 2011. The founder and CEO of Kraken is known as Jesse Powell. The office of the company, whose exchange was first displayed in the Bloomberg trading terminal, is located in the city of San Francisco.
In Western countries, the exchange has gained an excellent reputation due to the fact that it always tries to adhere to the laws. Until now, it has not been seen in any serious scandals. Moreover, the platform continued to function in those years when competitors closed one after the other after suffering hacker attacks.
Kraken features
Kraken is known for its low transaction fees, a wide range of features and a high level of security.
At Kraken, you can purchase many popular cryptocurrencies using fiat currency, including dollars, euros, and yen. Experienced crypto traders can get a profitable margin trading offer. At the same time, the Kraken interface offers many options, but it is not the most understandable for beginners.
Deposits and withdrawals are available through SEPA and SWIFT. Often, operations take 1-5 business days. According to user experience, the average duration of an operation is 24 hours. It is worth noting that SEPA deposits are free, which makes the Kraken a good choice for EU residents. Bank transfer costs $ 5-10.
For high volume trades (over $100K) Kraken offers OTC service (Over The Counter), also frequent high volume traders can receive a dedicated account manager to support them.
Also, Kraken offers a dark pool for its customers. The order book is visible only for the trader who owns this book and makes the orders. For the rest of the market, it is invisible. So, the traders can anonymously place large buy or sell orders.
Kraken fees
The fee charged by the exchange for its services is one of the lowest compared to other exchanges. The amount you pay depends on the level of your account: the higher the level, the more cryptocurrency you can trade with your account. So Kraken deposit fees are fully dependent on the verification level. But, the higher the trading volume, the higher the commission. In each transaction, the commission is withdrawn from the buyer and seller, but the buyer always pays more. Commission may vary from 0% to 0.26%. You can find more information on the Kraken withdrawal fees and other fees here.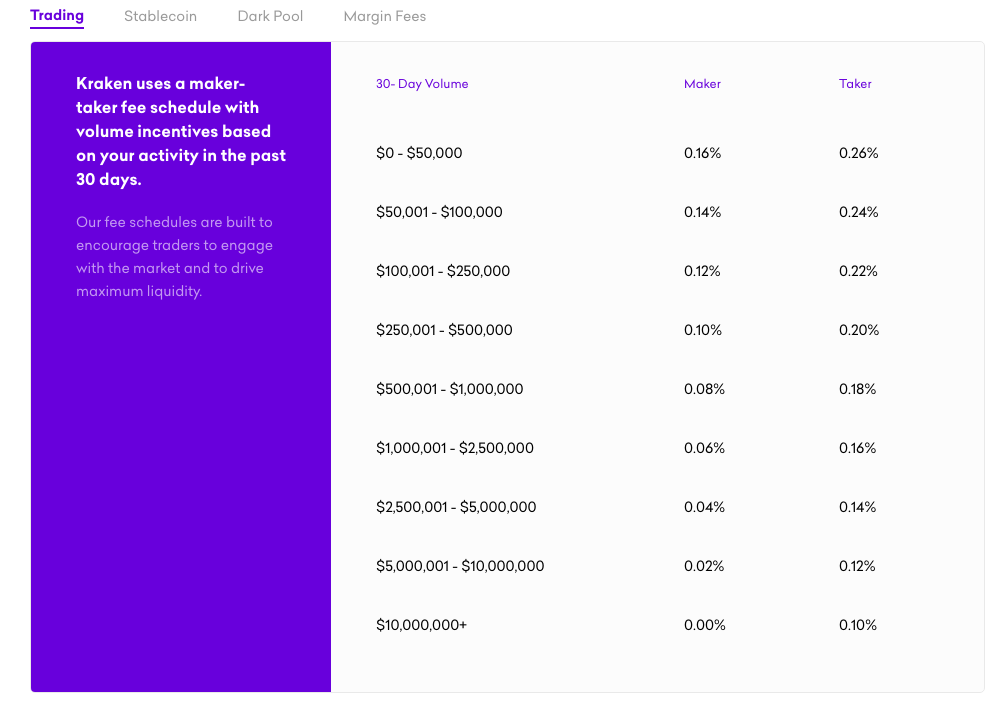 Kraken API
Kraken provides both a Websocket API and Representational State Transfer (REST) API which you can easily access through HTTPS requests.
There are two types of API methods: public methods and private methods. Anyone can use the public methods, for instance, to retrieve market data. All you need to do is to paste the HTTPS request in your browser or write a piece of code that sends these requests automatically. To access the private methods, you need to be a verified user and generate your personal set of API keys. 
Kraken API documentation provides all of the details needed to use Kraken API, including complete specifications for all of the REST API endpoints and WebSocket feeds.
Kraken REST API documentation is available here and our WebSocket API documentation is available here.
Kraken API support pages also include lots of useful information to help you use its API successfully.
How to use Kraken exchange
To trade on the exchange, you must register and pass at least a minimum verification. The process of creating an account is simple and consists of the usual input of the desired username, a password of eight characters minimum and an email address.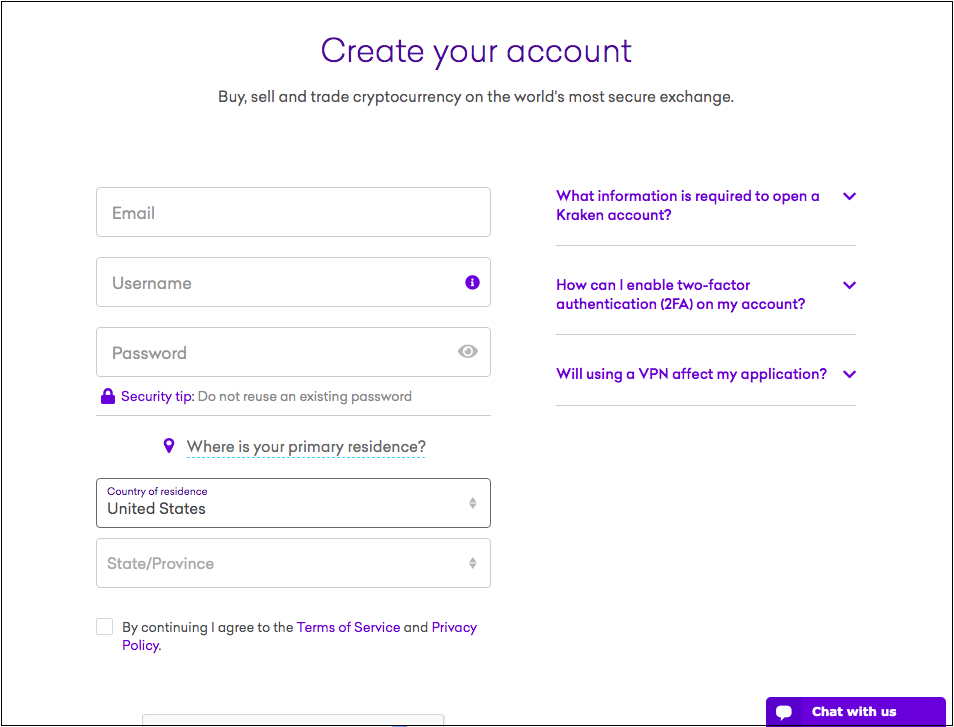 Your account will need to be confirmed using the link that you receive in the message. After that, you will have access to your personal account. However, trading will still not be possible.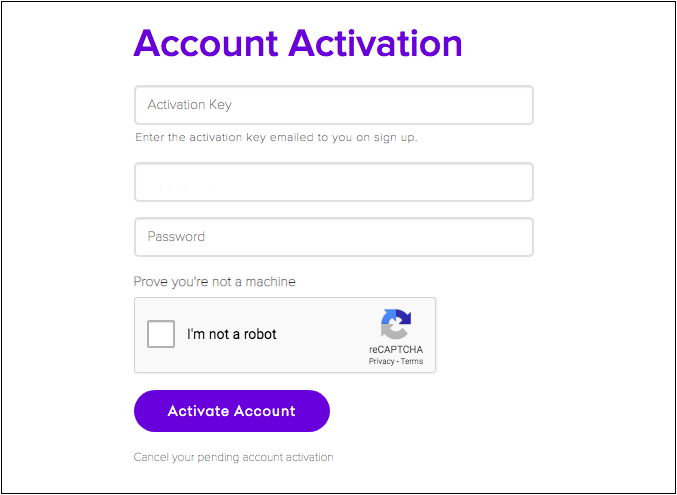 Once you used the link your account will be automatically created. However, to get privileges, you need to go through a complete verification.
Verification
After finishing your registration, you will be redirected to the trading page where Kraken will offer you to finish setting up your account. First of all, you must complete the verification process, since only verified users can use all the functionality of the Kraken exchange. Press "Verify".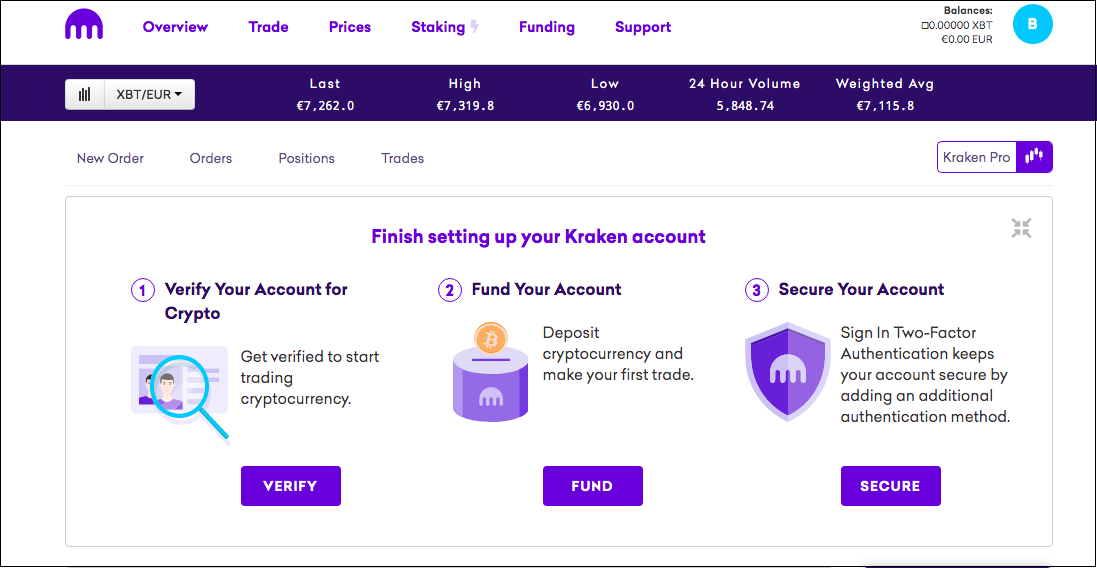 At this stage, you will be asked to choose the Account type. In accordance with the level of verification, the trading limit will be higher. Kraken notes, that by providing us with some basic information you can start trading with cryptocurrency, or with more information, you can get verified to also deposit, withdraw or trade with fiat currency (USD, EUR, GBP, etc.)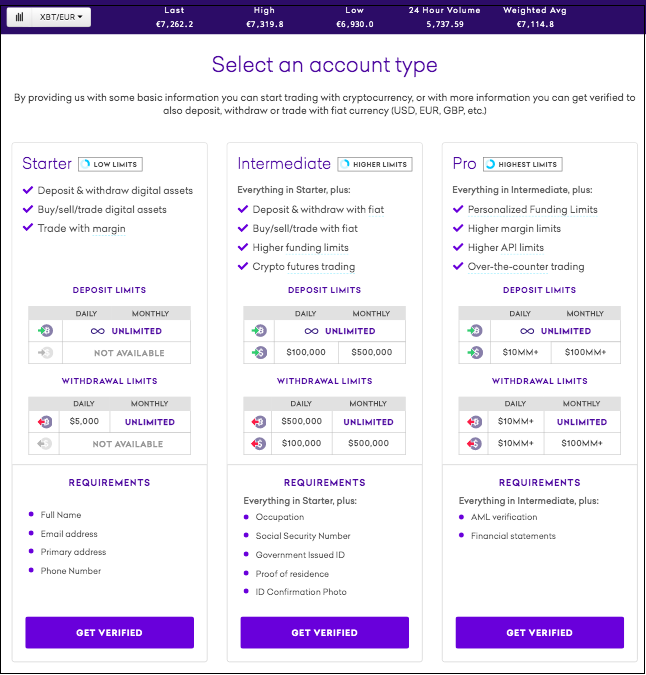 If you choose the "Starter" account, you must provide your Full Name, Email address, Primary Address and Phone number. In case of "Intermediate", you must additionally provide Occupation, Social Security Number, Government Issued ID, Proof of residence and ID Confirmation Photo.
With the full verification or "Pro" account, besides all the data that was already required in previous accounts, Kraken will ask us to go through AML (Kraken KYC) verification and provide the Financial Statement.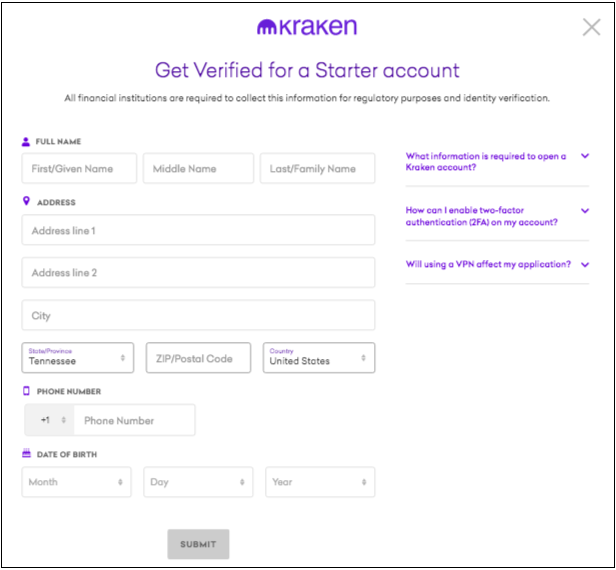 The Starter account form does not look very complicated to fill. Everything that is needed are your Full Name, Address, Phone Number and Date of Birth. Once the form is filled, press "Submit".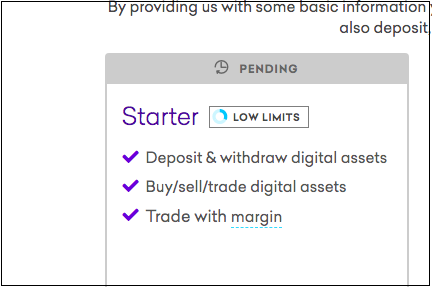 You will be redirected back to the Verify page where the pop-up message will note, that the Kraken verification time might take up to 24 hours.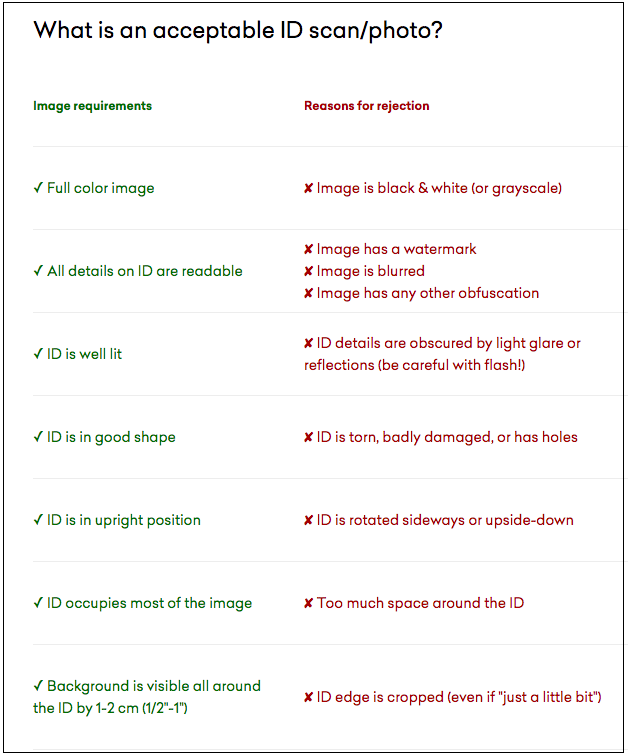 To go through the next verification level, you will need to provide the Occupation, Social Security Number, Government Issued ID, Proof of residence and ID Confirmation Photo. There is more information on the requirements related to the photo.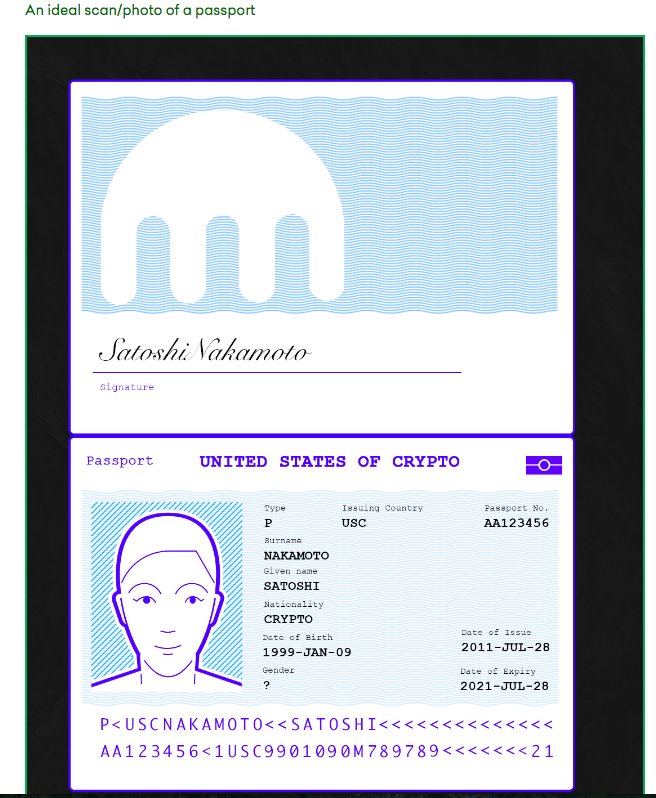 Also, there is a detailed list of the documents that need to be provided in the case to get the second level of verification.
You can also find more information on the Kraken AML policy.
Deposit on Kraken
Kraken has gained distribution in many countries due to the fact that it makes it possible to trade using a large number of fiat currencies, for example, US and Canadian dollars, Euros, Yen, Pounds. The balance for each currency is available in the corresponding section of your personal account.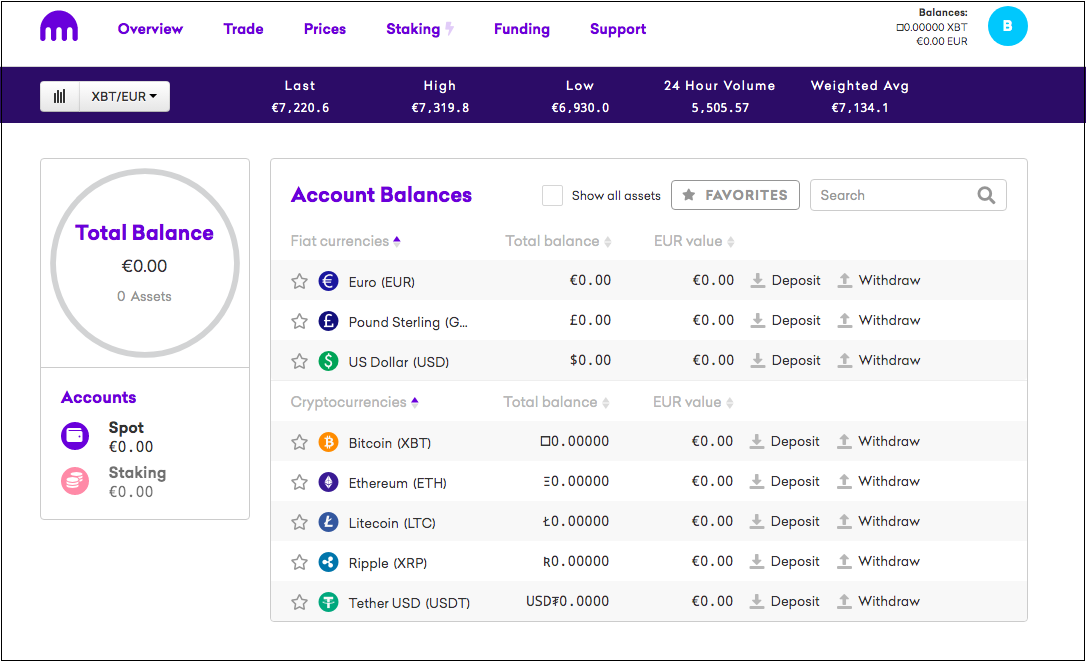 In the Funding tab, click "Deposit" in the menu select the currency which you want to deposit. Click on the "Yes, I Acknowledge" button (the exchange warns that it is not responsible for your errors in the wallet address, and you must acknowledge and accept this).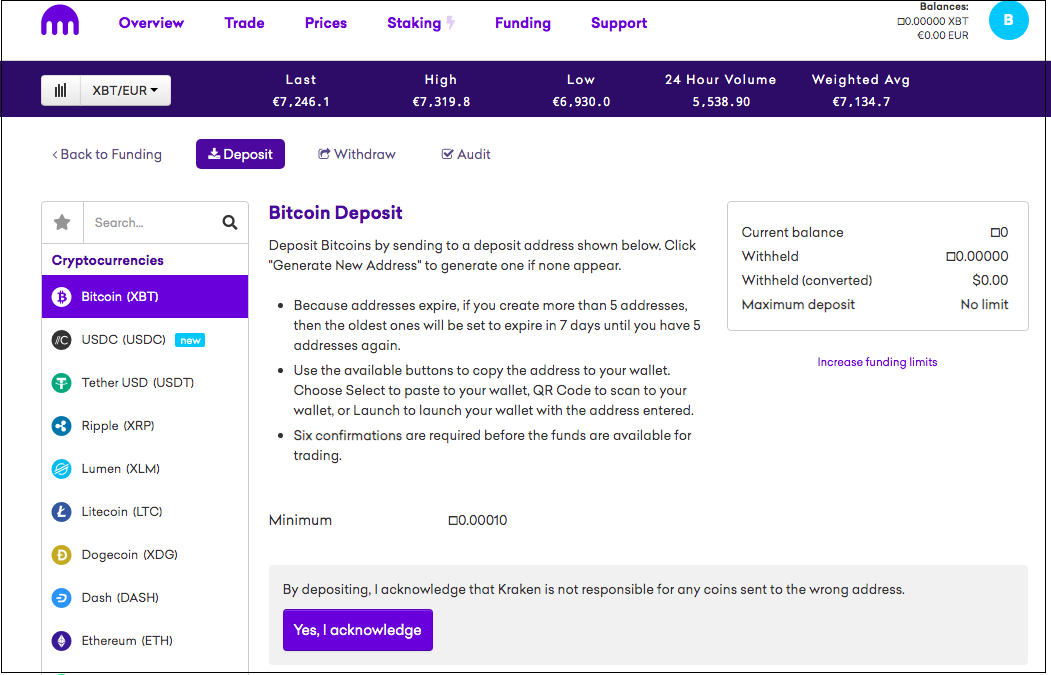 Then click "Generate new address". Transfer the funds to the address generated. 

The deposit will be available for trading after the transaction gained a sufficient amount of confirmations.
How to withdraw from Kraken
To make a withdrawal, you just need to click on the "Withdraw" tab, select a cryptocurrency, click "Add address", add a wallet address and form a withdrawal request.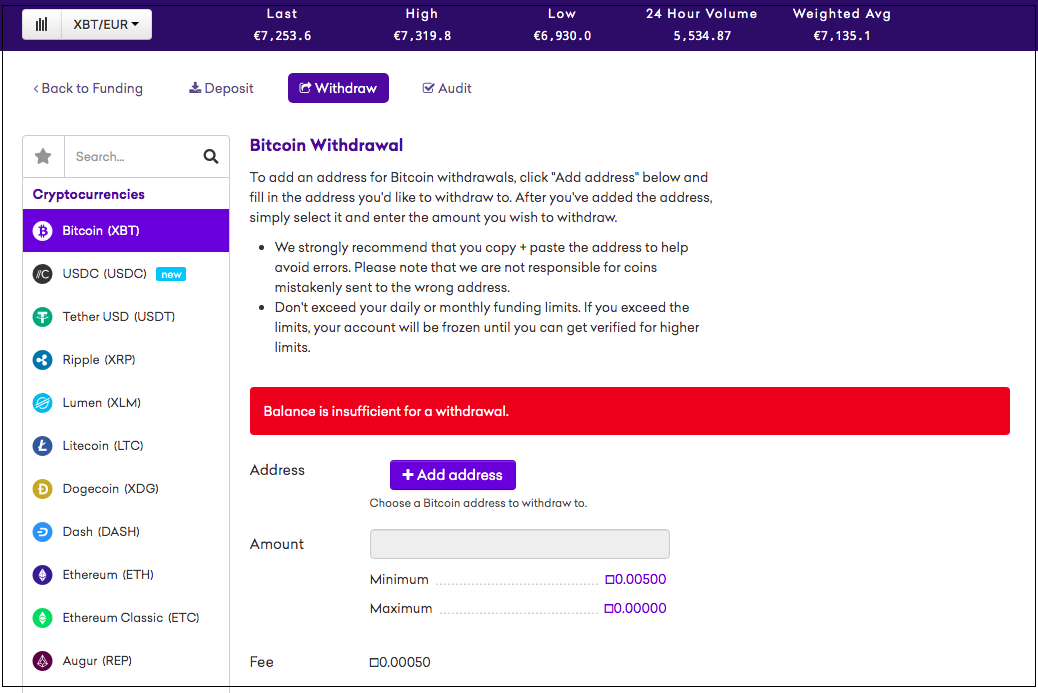 Be careful: if you exceed the input or output limit for your verification level, you will have to raise it.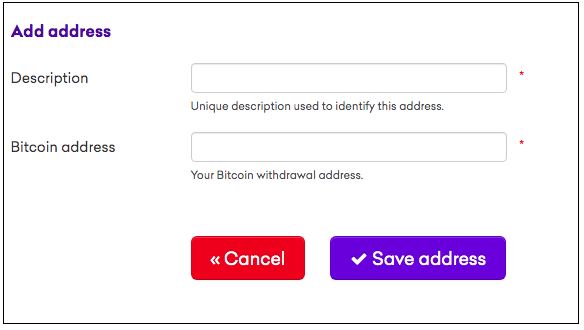 Trading on Kraken
To start trading, go to the "Trade" section in your account (upper menu).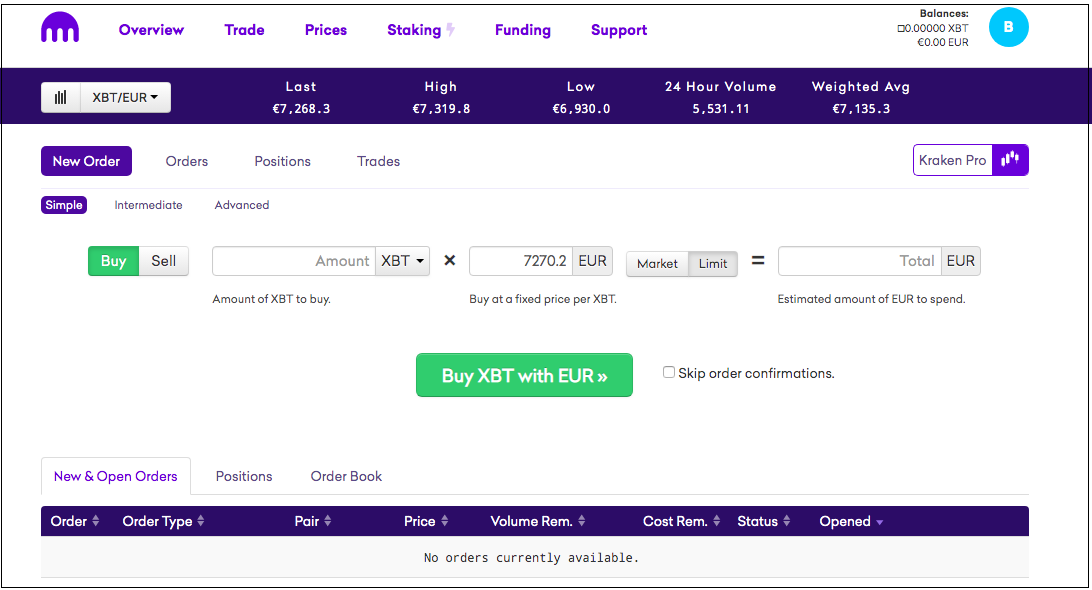 Kraken offers traders many different currencies. There are both popular coins and not too well-known tokens. In total, several dozen trading pairs are supported.
You can start trading immediately after receiving verification of the first level. Trading takes place on the "Trade" page.
The Kraken trading interface is divided into three sections: simple, intermediate and advanced. These sections are targeted at beginners, experienced users, and professionals respectively. A simple interface offers beginners to buy or sell digital assets on a market or limit order. Intermediate settings open options for margin trading (with a maximum leverage of 5x), offer to set the time for opening and canceling an order (if it is not executed). Advanced settings expand the options for limit orders and allow you to further customize the conditions for closing an order.
Kraken is unusual in that the standard trading interface does not display familiar charts and other market metrics. To display them, you need to click the Kraken "Pro" button, which will open the trading interface, very similar to the interface of the Cryptowatch service that Kraken acquired in 2017. There is also a TradingView chart near the button of the trading pair.
Customer service
The technical support service of the platform functions well, but in 2017 there were some difficulties in handling due to the sharp influx of new users. However, this situation also occurred with other trading platforms at that time. If you encounter any difficulties or something does not work for you, then you can contact support and they will answer you, even if this does not happen right away.
Over 8 years of operation, the Kraken exchange has been able to gain trust in the crypto industry. When it comes to security, few can compete with Kraken. Today, Kraken is one of the few large cryptocurrency exchanges that has never been hacked. 
However, despite the high reputation of Kraken, on the Internet, you can find a lot of negative comments about the platform. Most complaints mention verification problems and slow support. Also in 2017 on the stock exchange more than once there were failures against the backdrop of record trading volumes. You can find more reviews about Kraken on Trustpilot. 
Also, you can find more news and updates by following Kraken Facebook and Twitter.
The head of the exchange, Jesse Powell, says that he and all the employees of the exchange are "chronic paranoiacs." The exchange pays particular attention to the staff. If someone at the company does something suspicious, for example, looks at someone's account for which there was no corresponding request to the support service, an internal investigation will be launched. Due to the difficulties associated with the personal lives of employees, Kraken encourages everyone who works in the company not to tell anyone about this (especially on social media).
Is Kraken safe? 
It is important to say that Kraken is the first Bitcoin exchange that passed a cryptographic audit, which proved that it is well protected and suitable for safe use. Kraken is one of the few large exchanges that has an impeccable reputation for security and has become the first cryptocurrency platform to introduce a Proof-of-Reserves system that cryptographically verifies whether the users' balances on the exchange match the funds on Kraken wallets.
To achieve the highest possible level of security, Kraken stores most of its funds in cold wallets geographically distributed across several countries. Kraken servers are monitored around the clock and are protected by armed guards, and a team of cybersecurity experts regularly checks for potential vulnerabilities.
The exchange regularly conducts internal audits and tries to demonstrate transparency even in conditions of unfair competition. For example, a large number of less reputable exchanges are engaged in wash-trading in order to artificially increase their trading volumes. A recent report by the Blockchain Transparency Institute showed that no signs of wash-trading were found on Kraken, and the exchange (along with Coinbase) provides the most accurate trading data. So it means that Kraken's activity is legit.
Kraken vs Binance
In Binance review you can find the comparison between Kraken and the Binance exchanges.
Kraken vs Coinbase
In this review, you can find the comparison between Kraken and the Coinbase exchanges.
Conclusion
In general, it is fair to say that Kraken is an exchange that deserves attention due to its high level of security and low fees. Having passed the test of time, Kraken remains one of the leaders among cryptocurrency exchanges in the matter of security.
The exchange is best suited for European traders who want to trade in popular digital assets (Bitcoin and Ether) in a pair to the euro. The platform is still quite popular among traders from the USA and Canada.
What do you think of this service? Have you used it? Have you encountered any difficulties during the use? We invite you to share your experiences with other users in the comments.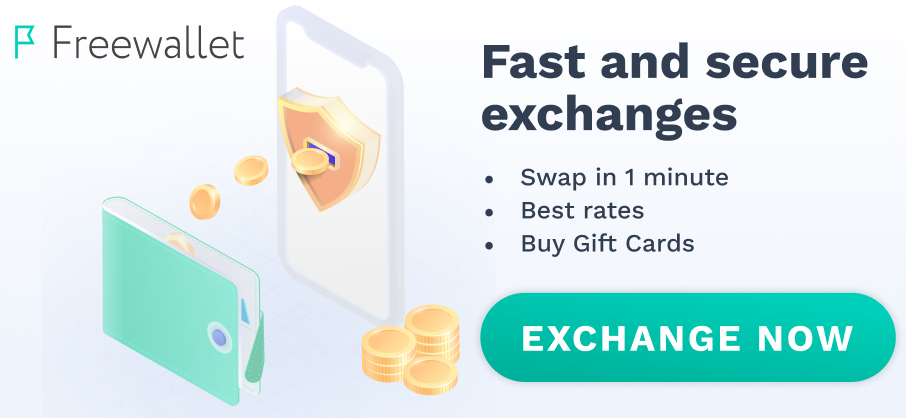 MariaAsuncion carrasco domingo
5 April 2022
Uno de los asesores que trabajan en la empresa me a estafado 19000 € tengo las llamadas pero no sé cómo ponerme en contacto con ustedes y enseñarles desde el día que me llamo que fueron muchas veces agradecería que se pusieran en contacto con migo y poder explicar todo con mas detalles muchísimas gracias
I'm not an active user of kraken, but It helps me to make payments with my tokepay. I gotta say that I didn't experience any big issues with that system.
The service of Kraken is getting worse. I feel that the support doesn't have to work.
The support is forever asleep. Lost touch with them.
They are savage. They came out to our rancheria in the woods, cut our power and raped our goats. I'm not sure who to call?