Huobi Global Exchange Review 2021 - Is It Safe?
Full address:
Huobi Global Limited Suite 10, 3rd Floor, La Ciotat, Mont Fleuri, Mahe', Seychelles
Fees:
Maker 0.2% /Taker 0.2%

Normal users (=1000 BTC) enjoy rates as low as maker 0.0098%, taker 0.0195%.

To activate HT deduction, log into your Huobi Global account, scroll over to profile, select 'Fee Settings' and choose 'Use HT Deduction'. Learn it at https://huobiglobal.zendesk.com/hc/en-us/articles/360000340382.
Fees:
Maker 0.2% /Taker 0.2%

Normal users (=1000 BTC) enjoy rates as low as maker 0.0098%, taker 0.0195%.

To activate HT deduction, log into your Huobi Global account, scroll over to profile, select 'Fee Settings' and choose 'Use HT Deduction'. Learn it at https://huobiglobal.zendesk.com/hc/en-us/articles/360000340382.
May 25, 2020
The number of existing cryptocurrencies is about to cross a 3,000 mark but the number of the cryptocurrency exchanges is insanely large, as well. Throughout the years many of these platforms failed to occupy a strong position on the market. Some were hacked, others didn't manage to offer anything special to the crypto community but there are several exchanges that keep working for many years and don't seem to vanish in the near future as millions of people trade on these platforms daily. Today we will review one of the top tier exchanges — Huobi Global.
What Is Huobi?
Huobi is a cryptocurrency exchange founded in China in 2013. Currently, Huobi is based in Singapore because this country has friendlier cryptocurrency regulations. The company is registered in  Seychelles. Before leaving China due to a cryptocurrency ban, the exchange was responsible for 90% of Bitcoin trading volume in this country. Now Huobi is an international platform with offices located in Singapore, Hong Kong, the United States, Japan, and Korea. In China, the company provides blockchain consulting services. Huobi has sub-exchanges: Huobi Korea, Huobi US, etc. Huobi Global is the biggest Huobi exchange. In November 2019 Huobi Global had to shut down all the accounts belonging to the US customers due to strict cryptocurrency regulations of the USA.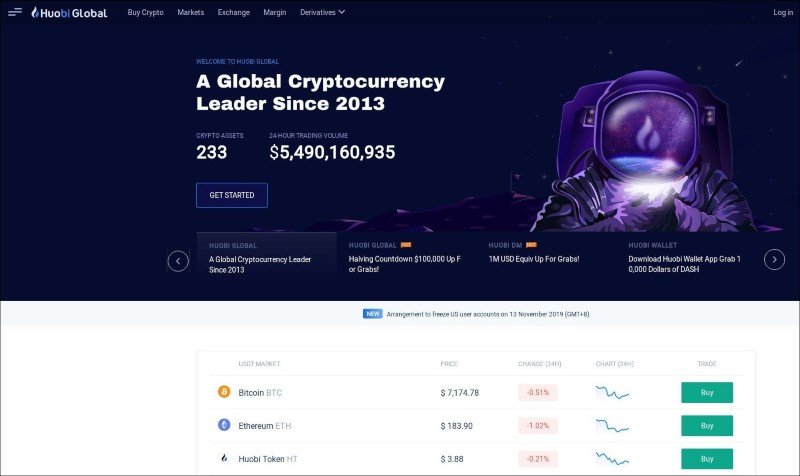 This exchange is one of the top 50 cryptocurrency exchanges by trade volume. On the Coingecko chart of exchanges, Huobi Global occupies the third position. The exchange has more than 500 markets and supports over 220 cryptocurrencies. As Huobi provides an option to buy cryptocurrency with fiat money, this exchange is a gateway for people who enter the cryptocurrency world.
Features Review
Huobi Global has a really wide range of functions. First off, this exchange provides an opportunity to buy cryptocurrencies with fiat money using a credit card and other payment means. This option is delivered in the over-the-counter trading section. There is a menu line in the upper part of the website. It begins with "But Crypto". That's where one can see the OTC offerings provided by Huobi. One can buy or sell the following currencies: Bitcoin (BTC), Ether (ETH), Tether (USDT), EOS, XRP, Litecoin (LTC), Huobi Token (HT), Huobi stablecoin (HUSD), and Bitcoin Cash (BCH). Please note, that there are not so many offerings especially for certain currencies. Normally there are many options for buying BTC or USDT. The prices and payment methods vary from one trader to another. You can pay with a credit card, some traders accept payments via Western Union, AliPay, and other services. If you wish to buy EOS or HT, at times you may find no options at all or only a couple of options. By default, it depends on your IP as first Huobi is displaying local traders but you can change the country and the currency you are going to spend and see other options. In general, the buy/sell section of the OTC tab is not too active — especially taking into consideration the tremendous trading volume on Huobi Global. More than that, the OTC trading is not available in a row of countries including Mainland China, Taiwan(China), the USA, Germany, Iraq, Cuba, Iran, North Korea, Sudan, Syria, Bangladesh, Ecuador, Montenegro, Tunisia, Lebanon, Libya, and others. In the rest of the countries, users can buy and sell the currencies mentioned above in exchange for USD or EUR.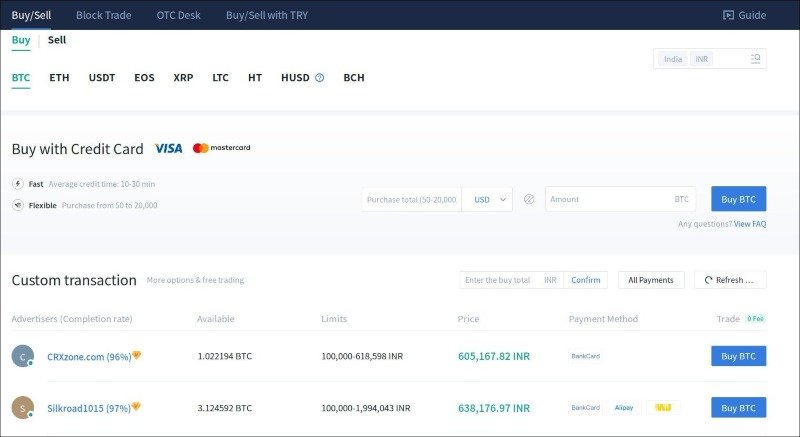 Besides OTC trading, there is a cryptocurrency exchange with hundreds of crypto-to-crypto pairs. The exchange supports market, limit and stop-limit orders. It gives traders some control over the situation and helps to secure the assets from trading in loss to some extent. In general, the exchange interface of Huobi is quite generic.
Those who have experience of trading on several other exchanges will find the interface familiar. It has a trading view with a candlestick chart on the left and the list of orders updating in real-time on the right. Under the charts, there is an order history. Under the list of market trades, there is a section where users can place orders. The candlestick chart is powered with numerous analysis tools and indicators. 
What makes Huobi Global more attractive for traders is the support of margin trading. In all margin trading pairs the currencies are traded against Tether (USDT). There are 6 cryptocurrencies that can be traded with x3 leverage: Bitcoin (BTC), Bitcoin Cash (BCH), Litecoin (LTC), XRP, Ether (ETH), and EOS.
Huobi Global is aimed to provide service both to small investors and institutional traders. That's the reason why the platform offers institutional accounts with special opportunities for corporate customers. Among these features, there are colocation options and other tools that provide the opportunity of seamless high-frequency trading. Additionally, institutional accounts can get special OTC loans.
One more feature is trading derivatives. Huobi provides two separate interfaces for that purpose: Swap trading and Futures trading platforms on Huobi DM. Moreover, it is possible to participate in IEO trading via the Huobi exchange. This feature requires the use of the Huobi Token.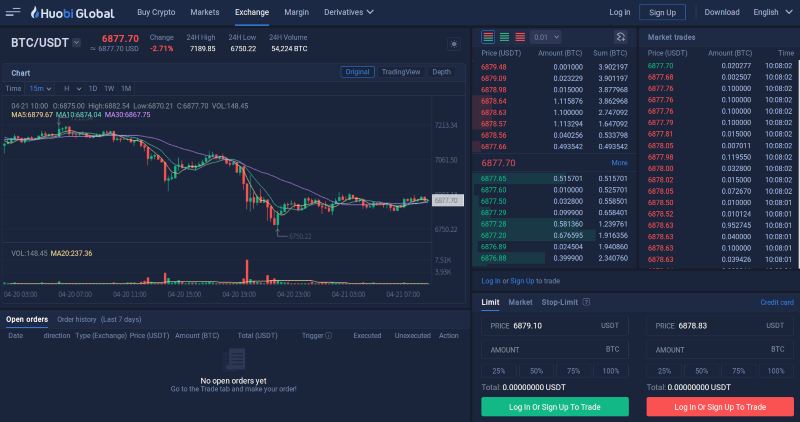 What makes Huobi more convenient is that the mobile app has full functionality of the web version so users don't have to compromise any of the exchange features if they prefer trading via mobile devices. Traders who like automated tools can use Huobi API (including REST API and WebSocket API).
Resuming the review of features available on Huobi Global we should say that this exchange provides a rich set of opportunities to all kinds of traders. The professional 24/7 assistance and quite a simple interface make this platform easily accessible for different people. Although the exchange lacks convenient functionality for fiat money, there are still some gateways to quickly buy some crypto with national currencies. The diversity of accepted payment methods makes it easier for different people from over 130 countries. The major drawback is the inability to use Huobi Global in a number of countries.
Fees and Limits
Unlike some other exchanges, Huobi doesn't incentivize its "normal" users to make liquidity through the taker-maker model. No matter if one places new limit orders adding liquidity on the exchange or just takes the orders from the order book removing liquidity, the default trading fee is the same — 0.2%. This fee is higher than on many other big cryptocurrency exchanges that usually charge 0.1 to 0.15%. However, it's important to add that the trading fee on Huobi can be decreased. Those who use Huobi Token have fee discounts.

The taker-maker model becomes actual for institutional traders as they have a different fee tier. Fees for professional traders are way friendlier starting at 0.085% for takers and then going lower and lower depending on the trading volume. Moreover, HT holders enjoy bigger discounts (up to 35%). See the full fee tier below.

It's fair to say that in terms of trading fees Huobi is much more convenient for professional traders however fees are not too high anyway. Additionally, those who want to reduce fees can use Huobi Token for that purpose.
Just like most of the centralized cryptocurrency exchanges, Huobi doesn't charge any deposit fees. 
Huobi applies fixed withdrawal fees. These fees are quite average or slightly higher than average. The minimum withdrawal amount for BTC is 0.01 while the fee is 0.0005 BTC. The minimum amount for ETH withdrawal is 0.05 and the fee is 0.005 ETH. Users can't withdraw less than 20 XRP. The fee is 0.1 XRP. The Tether withdrawal fee is 3 while the minimum amount available for withdrawal is 200 USDT.
Traders wishing to have a daily volume of over 0.1 BTC must execute a KYC check ("Know Your Customer").
Is It Safe to Use Huobi Global?
Security is one of the most critical points in the review of any cryptocurrency exchange.
Let's begin with the mention of the fact that in years since the launch of Huobi in 2013 there were no successful hacking attacks on the exchange. The platform was capable of keeping all the user assets safe. One of the assistants in providing security on the exchange is Goldman Sachs. 98% of user money is stored in cold wallets. The servers of the exchange are DDOS attacks resistant. More than that, the platform doesn't list coins that can compromise the security of the exchange users.
What's especially good is that Huobi is prepared for hacking. The company has a 20,000 BTC worth reserve for paying compensation in case the hacking takes place or users lose money because of the exchange malfunction. 20% of transaction fees collected by the exchange each season go to the reserve fund.
What users can do in order to protect their accounts? First off, it's important to set a strong password. Another important security measure is 2-factor authentication (2FA). This feature makes it impossible to access the account or perform any critical actions without entering a short one-time password. The password is generated on the user's personal mobile device solely. The hacker will have to steal the device itself in order to break into the account. This protection step is regarded as one of the most efficient.
The FAQ section isn't that comfortable in navigation. At times it's easier to find some info about this or that feature of the exchange in Google than on the Huobi website. However, Huobi boasts a quick and competent support team. It helps to maintain the security on the platform.
It seems not necessary to ask ourselves if Huobi is a scam or not because the platform is working for so many years and it is known as one of the leaders and trend-setters in the industry. Nevertheless, some sources question the reputation of this exchange. In 2014 the exchange mistakenly sent 920 BTC and 8,100 LTC to several wrong addresses. Later the exchange stated that most of this money was recovered. At that time this money was worth less than half a million USD. In 2017, Huobi and OKCoin were accused of investing at risk $150 million worth of the users' funds in "wealth-management products". Of course, these incidents can serve as red flags for those who think of trading on Huobi Global.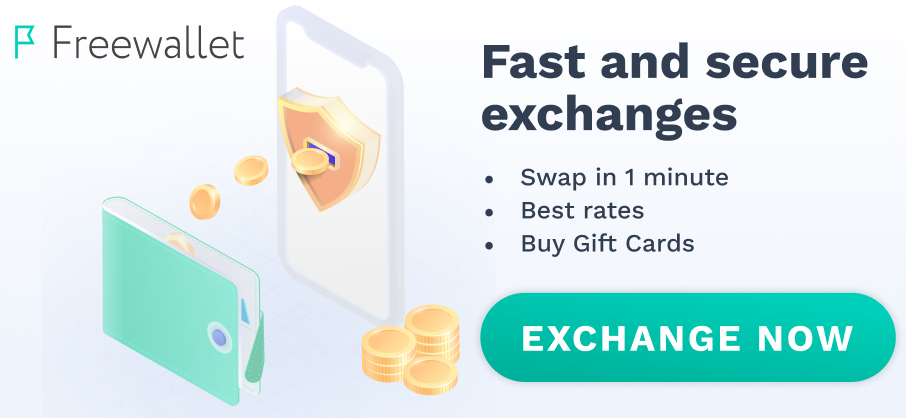 The support was quick to do KYC for withdrawal.
Manoj Gupta
31 August 2020
Never had issue. quick and fast
Strange exchange with the permanent verification requests.I've done it twice but despite that I was asked to complete it again. Too difficult to use.