Gate.io Exchange Review 2022 - Is It Safe?
Full address:
Trust Company Complex, Ajeltake Road, Ajeltake Island, Majuro, Republic of the Marshall Islands MH 96960
Fees:
0.2% fee for trading.

Tier Fee discount Trade Volume of BTC Equivalent
VIP0 No < 6 BTC
VIP1 5% Off ≥ 6 BTC
VIP2 10% Off ≥ 12 BTC
VIP3 15% Off ≥ 24 BTC
VIP4 20% Off ≥ 50 BTC
VIP5 25% Off ≥ 100 BTC
VIP6 30% Off ≥ 300 BTC
VIP7 35% Off ≥ 800 BTC
VIP8 40% Off ≥ 2000 BTC
VIP9 45% Off ≥ 5000 BTC
VIP10 50% off ≥ 10000 BTC
Fees:
0.2% fee for trading.

Tier Fee discount Trade Volume of BTC Equivalent
VIP0 No < 6 BTC
VIP1 5% Off ≥ 6 BTC
VIP2 10% Off ≥ 12 BTC
VIP3 15% Off ≥ 24 BTC
VIP4 20% Off ≥ 50 BTC
VIP5 25% Off ≥ 100 BTC
VIP6 30% Off ≥ 300 BTC
VIP7 35% Off ≥ 800 BTC
VIP8 40% Off ≥ 2000 BTC
VIP9 45% Off ≥ 5000 BTC
VIP10 50% off ≥ 10000 BTC
Mar 29, 2022
This survey includes topics such as Gate.io overview with information on critical facts about this exchange, main Gate.io features and fees, exchange customer service, frequently asked questions, and other things that are connected with user's safety.
Gate.io Overview
Gate.io was founded in 2013 by Lin Han. The platform is operated by Gate Technology Incorporated. 
What is Gate.io's location? Gate.io exchange headquarters are based on the greater Chicago area (MA, USA). The current public status of the organization is private. Gate.io exchange is funded by 5 BLOCKS CAPITAL, a private investment company based in Seoul, South Korea.
This year, April 17, Gate.io managed to raise raised $64,000,000 as an initial coin offering (ICO), and according to exchange CMO Mrs. Marie Tatibouet on April 8, 2019, it raised an undisclosed amount of capital from 5 BLOCKS CAPITAL.
Gate.io exchange is not available for the residents and citizens of the following states and countries as mentioned on the official page:
Washington DC (U.S.);
New York (U.S.);
Cuba;
Iran;
North Korea;
Sudan;
Syria;
Pakistan;
Venezuela;
The Crimean Peninsula.
The list except for countries and the U.S. state is considered neither too small nor too big and quite easy to explain.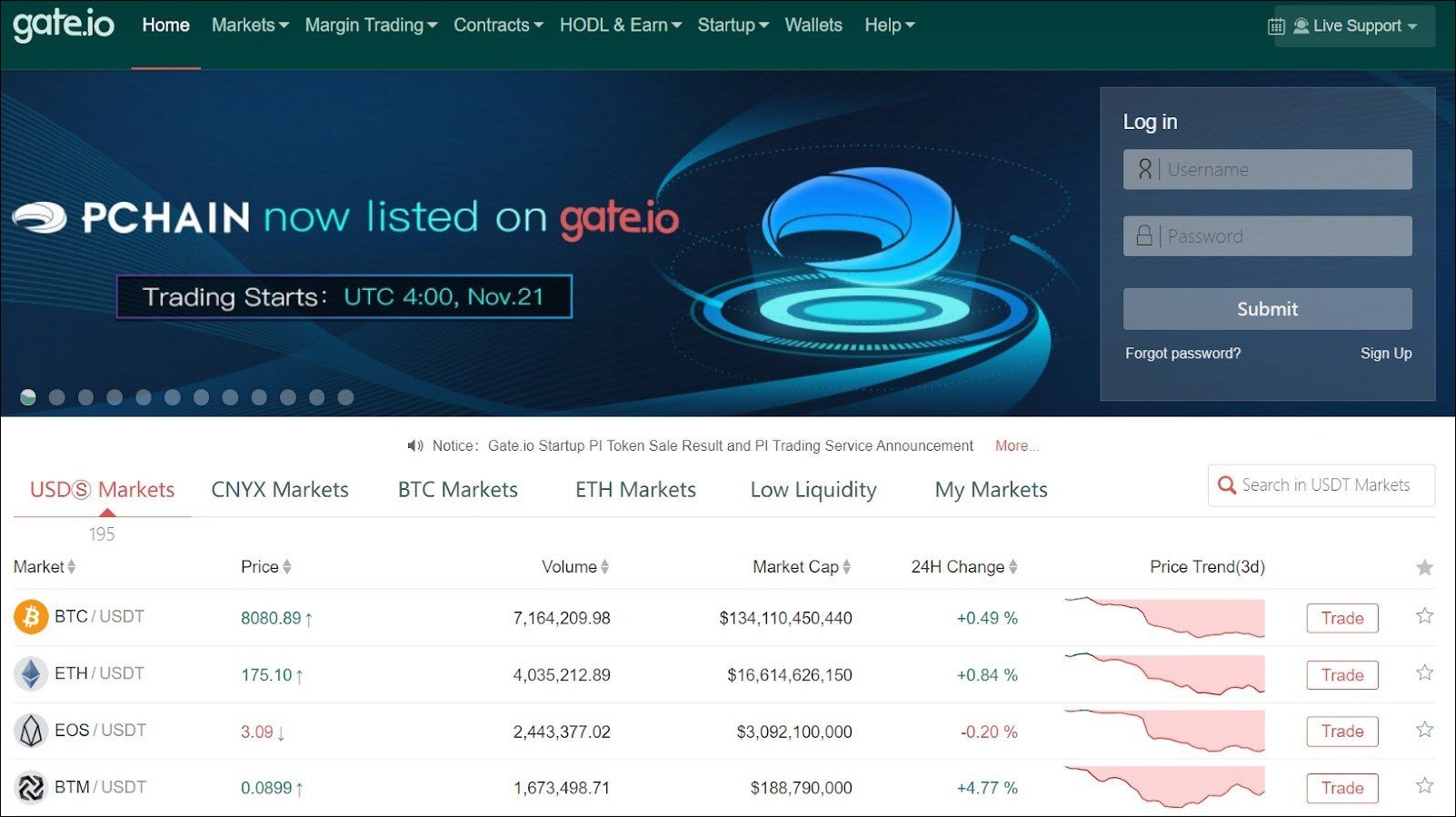 Pool Tokens to Earn Rewards on Binance
Pool Tokens to Earn Rewards on Binance
Supported Coins
There are 180 different coins and about 400 cryptocurrency markets available on Gate.io.
Gate.io offers the ability to rank the coins in three ways, default, symbol, and market capitalization. An investor or trader can find the most common coins such as Bitcoin, Ripple, Ethereum, Stellar, Tether, BinanceCoin, and other less common coins such as Atonomi, Traxia, Endor, Lino. For sure, Gate.io offers a wide variety of coins to choose from and trade.

Gate.io Exchange Features
Signing up is an easy task. But there is an unusual procedure for verification being a human and not a robot.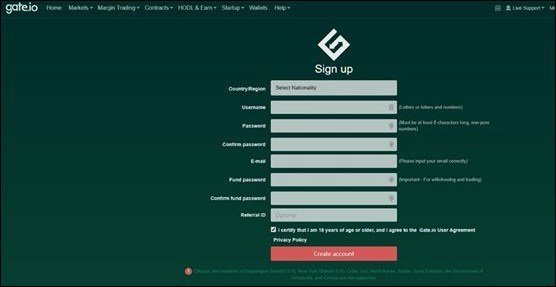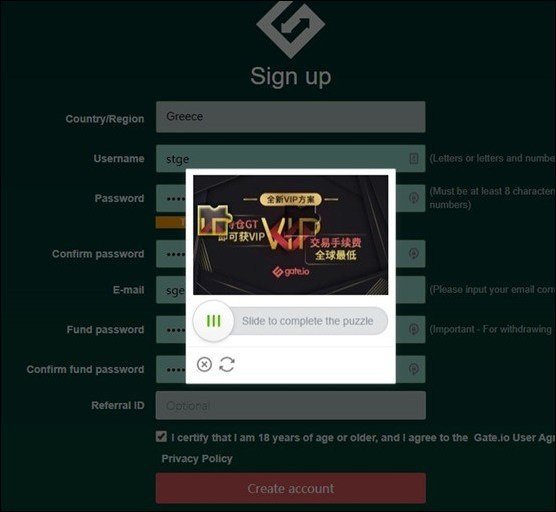 After clicking the link sent to your email, you can start using the main features of the exchange. There are several tabs to explore and some recent contests. Users can check the received prizes at gate.io/myaccount/mypurselog. The primary tabs are 'Home', 'Markets', 'Margin Trading', 'Contracts', 'HODL & Earn', 'Startup', 'Wallets', 'Help', 'Live Support' and 'Mobile App'.
Some of the key features are:
A considerable number of cryptocurrencies available. There are about 180 different coins and nearly 400 different cryptocurrency markets to choose from and trade or invest.
Trading is available using margin trade with up to 10 times leverage.
Still, there is also available margin lending or margin borrowing funds, traders and investors can participate in period investment plans, such as the Perpetual Contract, which is highly leveraged and there is a disclaimer for the associated risks. There is a crypto collateral loan also available.
Gate.io Startup is a blockchain asset discount offering platform to provide decentralized blockchain assets (BTC, ETH, etc.) sales with a discount.
Many exchange trading tools and possibilities. Technical analysis charts, information about order book, global markets, and trade history. Markets are classified into five main categories. USD markets, CNYX markets, BTC markets, ETH markets, Low Liquidity, and my markets. Low liquidity in the market with fewer coins available, only seven coins. USD markets are the market with more coins available, currently 195 coins.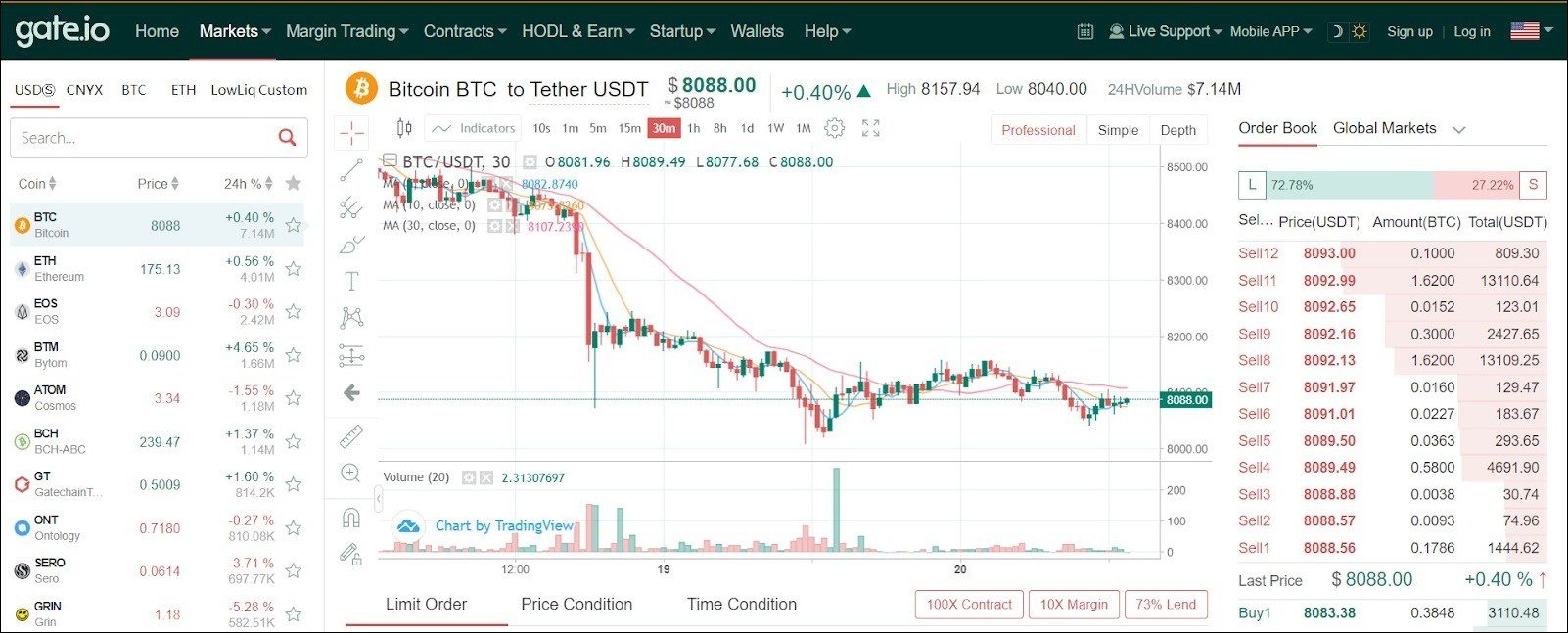 Buy & Sell Crypto In Minutes Lowest Fees on Crypto Market: Binance Exchange
Buy & Sell Crypto In Minutes Lowest Fees on Crypto Market: Binance Exchange
Available Deposit and Payment Methods
Gate.io doesn't accept fiat deposits. To trade any coin, the traders must transfer their cryptocurrencies to the exchange. This could pose technical difficulties for the beginner traders. In general, the deposits are free, but there is a withdrawal fee, which differs for every coin. What is very important to note is that there are daily withdrawal limits. 
Wallets on Gate.io exchange are provided free of charge to all account holders on the platform. To deposit, you can click on the Wallet tab and choose from the large variety of wallets available.

Traders must pay a lot of attention with deposits and withdrawals as the sending address will not be the same as with the deposit address. In the event of a deposit with any digital currency that is not supported by gate.io exchange, the funds will be lost as the exchange will not be able to make a refund. 
So, it is highly advisable to double-check these safety procedures for both deposits and withdrawals. The time to process both deposits and withdrawals is immediately, but there could be delays in the duration, which are mostly related to the speed of the blockchain.
Gate.io Fees
When trading cryptocurrencies, the various fees for depositing and withdrawing are always essential to take into consideration. 
So what are Gate.io fees?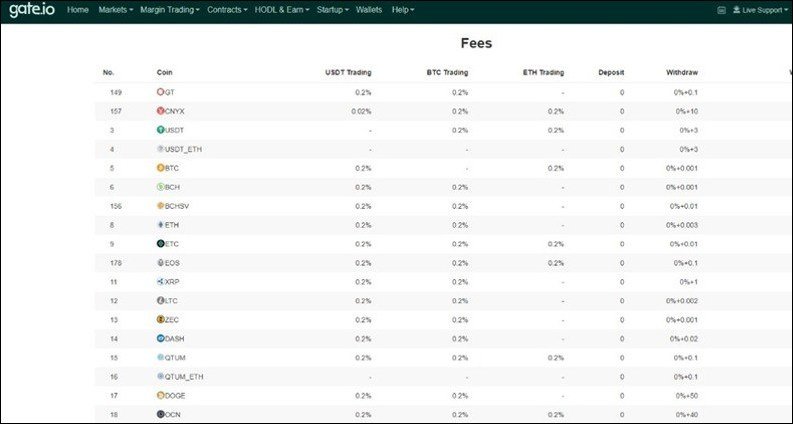 Withdrawal fees
For Gate.io withdrawals, a fee is charged per transaction, regardless of the amount you want to withdraw. While the withdrawal fee varies for each coin, the withdrawal fee is low in general.
Gate.io deposit fee
Gate.io deposit fee is zero.
Gate.io trading fees
Trading fees, however, a bit complicated. Low Fee for Perpetual Contract Trading.
Trading fee for Perpetual Contract: 
There are various trading fees. For the perpetual contract, a Maker-Taker fee schedule is used where takers pay fees, and makers receive a fee rebate. 
The Maker fee is -0.025%. The Taker fee is 0.075%.
Further discounts on trading fees are available. For taker fee, 0.025% will be paid in BTC-- that part will be given to the maker in the form of reward. 
The remaining part, 0.05%, can be paid by Point. 1 Point equals 1 USD in fee deduction. Gate.io will use the BTC/USD index price as the exchange rate to calculate the number of points to be deducted. 
The trading fee is charged based on the position value, irrespective of the leverage used.
Win up to $1.8M in Futures Trading Competition
Win up to $1.8M in Futures Trading Competition
Gate.io API
There is a very detailed page about gate.io API. Additional information on topics such as rest API, trading pairs API, market info API, and tickers API is provided. As for the minimum order size, it is about 1 USD in value for all trading pairs. Should you have any questions about any specific amount for a given pair, there is the ability to check it with Market Info API.
How to Use Gate.io Exchange?
Signing up is easy, but a trader needs to set two different passwords. One password for logging in and one gate.io fund password for trading any cryptocurrency and for withdrawing assets as well. 
One very new and exciting feature is the ability to change the background color of the main page by clicking the moon or the sun buttons, located next to the Mobile APP tab. For the night mode, there are three options, green, blue, and gray. Blue is the most relaxing color to use. For daylight, there are also three options, green, blue, and purple. 
The exchange has as expected an analytical procedure for the KYC verification (know your customer). So, we are sure with confidence that Gate.io exchange is not a scam.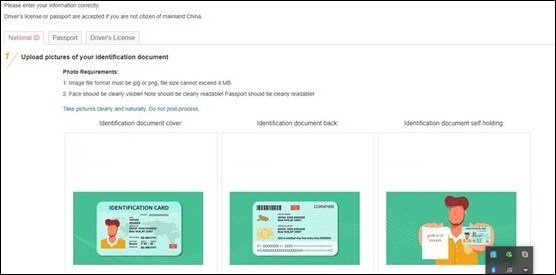 Is KYC required on Gate.io exchange? The Gate.io KYC procedure requires each new customer to upload either his/her national identification, passport, or driver's license. But there is even a stricter KYC process of verification needed. For Gate.io verification, the new customer must take a photo holding the chosen form of identification and on note the gate account ID. 
It seems strange at first, but it adds more security, and it should not be too lengthy or complicated. If you do not verify your details, you will not be able to use the exchange. There is a warning about that that keeps reminding you identity verification is essential.
The exchange deposits and payment methods, as mentioned before, do not support at all fiat money. What you need to do to buy and sell an extensive range of cryptocurrencies available, is to deposit your cryptocurrencies and then exchange them or trade them with the comprehensive list of almost 180 coins available. 
To buy on the exchange, the trading process and exchange withdrawal are all made via the Wallets tab. There you can find many options and coins with significant actions being a deposit, withdraw, trade. If you want to withdraw BTC, be aware that there is a daily withdrawal limit of only 100 BTC.  There is also a minimum amount of 0.011 BTC that you can withdraw. 
Customer Service
For the customer service, there is a Help tab on the main page with more options such as announcements, support center, submit a ticket, security center, feedback, downloads, and voting activities. Gate.io customer support center has a lot of information and a detailed user guide. There is the option to submit a ticket, and the exchange itself wants feedback from its users. Someone can send an email at [email protected] for this feedback.
Common user problems noted are that the exchange does not support now American users, and it is unknown if this will change in the future. The SEC regulations and rules are the main reason for this decision. So gate.io USA and gate.io US customers are two popular keywords that users search online if they are based in the U.S., providing the above information. 
The most common user problems are the fact that there is no support for fiat money, and that there is a withdrawal limit.
Is Gate.io safe?
In general, the exchange is safe. Gate.io also offers two-factor authentication and even SMS notifications and as expected KYC verifications. The two-factor authentication process requires a login password and a fund password for trading and withdrawing assets. Still, there is a story about the exchange being hacked back in January 2019. 
On Twitter, the gate.io account mentioned that the hacker returned a large amount of money, $100k worth of ETC back to the exchange, and ever since a stricter detection for more security and protection has been applied. 
Trade With Up To 125X Leverage on Binance
Trade With Up To 125X Leverage on Binance
Conclusion 
Gate.io offers a lot of exciting options and features and is worth considering if you are a cryptocurrency trader. There is an extensive range of coins, and there is the ability to use margin trading, which should be used with extreme caution and due diligence as it is hazardous. 
The site is functional overall, but there are many tabs, and someone may be confused at first until he/she becomes familiar with the primary tabs, and the most often actions are taken, such as deposit, withdraw, or trade. What is among the most exciting advantages of the exchange is the fact that it offers coins not found on other competitive platforms, especially the coins with very low liquidity. This, on the other hand, could be dangerous for conservative traders as inferior liquidity may not make it possible to trade often, and there could be large spreads as well. 
Besides, the marketing team has thought carefully to differentiate the site offering the potential to choose three choices in the night and daylight modes, which is a desirable feature to play with. 
This exchange is, in fact, an interesting and alternative suggestion to trade coins, but there are certain cons and pros to consider making the choice whether you will try it or not.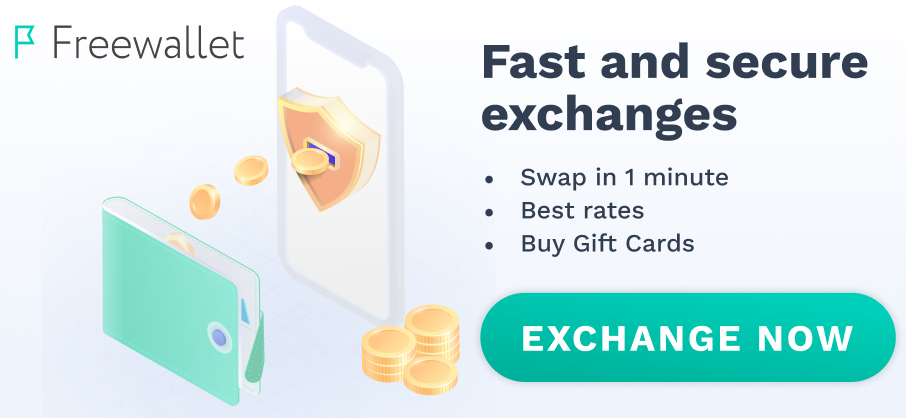 Давно пользуюсь биржой, не заходил около месяца, потом зашёл и завёл деньги, биржа сразу заблокировала мой акаунт, связался с администратором и выполнил все их требования, но акаунт и дальше заблокирован, на письма не отвечают, деньги не вернуть.
МОШЕННИКИ!!!!!
Jim Adkins
2 September 2022
Many many choices. Easy to use but/sell with limit orders.

Not for usa! Boo!
They blocked my 4991 usd without any reason 26 days ago.I send them my passport and other details but not solved,everytime they say same things in email,never ever use gate ip
They never let us withdraw, and they will never reply to there email or calls, I have no choice but to call an expert recovery company Finalresolute. com and in no time they got my funds back for me. contact them if you or any friends are involved in such situation.