Bithumb Exchange Review 2022 - Is It Safe?
Apr 22, 2021
Are you contemplating buying and selling some crypto on Bithumb, but you would like to know if the exchange is right for you? 
Also, you would like to know if the Bithumb is safe for you? 
Worry no more, in this Bithumb review we are going to take a look at the history of the exchange, the number of cryptocurrencies supported, the fees charged, security and other essential factors that are important to know of before getting started on the platform.
What Is Bithumb?
Bithumb is a cryptocurrency exchange that is based in Seoul, South Korea. 
The platform was founded in 2013. It allows users to buy, sell, and store various cryptocurrencies.
In South Korea, Bithumb is one of the largest exchanges, and it boasts some of the biggest crypto trading volumes.

Globally, Bithumb is among the leading platforms when it comes to Bitcoin trading volume.
The exchange is operated by a company known as BTC Korea.Com Co. Ltd. 
In October 2018, BK Global Consortium signed a deal that allowed them to purchase a majority share of BTC Holding Co., making the organization the largest investor in Bithumb.
Bithumb offers an easy to use platform that is ideal for beginners who might be in search of a user-friendly platform that lacks too many complications.
Despite being based in South Korea, one doesn't have to be fluent in Korean to access the platform. 
The exchange supports multiple languages with English, Chinese, Hindi, Spanish, and Japanese all on offer.
In addition to user accounts, the platform supports accounts for institutional investors. 
This ensures that there is enough liquidity in the market to make trades at all times, and it also helps explain the platform's high trading volume.
Supported Cryptocurrencies
Some of the crypto assets offered on Bithumb include:
Bitcoin, Ethereum, Ripple, Bitcoin Cash, Litecoin, EOS, BitcoinSV, Stellar Lumens, Tron, Cardano, ChainLink, Ethereum Classic, Qtum, Ox, Omisego, BitTorrent, Augur, Monero, Dash, NEM, Crypto.com Chain, Zcash.
As of the time of writing, the platform also has five new tokens; FAB Token, FNB Protocol, DVP, Function X, and Origo.
Fees, Deposits, Withdrawals, Trading
Bithumb offers very competitive fees. As for deposit fees, they vary depending on the type of crypto coin you want to fund your account with. 
Some of the popular cryptocurrencies are free, as we will see in the table below. However, there is a small fee that is charged for others.
The exchange also has a minimum deposit limit that you have to consider. 
However, as we researched for this Bithumb review, we found that the figures were quite low. For example, the minimum deposit for Ethereum Classic is 0.1 ETC, while that of Litecoin is 0.1 LTC.
Bithumb Fees
Withdrawal fees on Bithumb also depend on the type of crypto coin one is taking out. 
For example, Bitcoin will cost 0.001 BTC, while Ethereum will cost 0.01 ETH. 
But, it's vital to keep checking the official website of the exchange to ensure you are updated on price changes at all times.
When it comes to trading, fees are quite low compared to other exchanges and can be accessed using their coupons. The basic trading fee on the platform is 0.15% of the total amount one is buying or selling. 
So, if you are buying ETH worth $1,000, then 0.15% of that amount is $1.50, not bad.
However, if you are to use a coupon that can be purchased on the platform, the fees are much lower since they are discounted. They range between 0.01% - 0.075%.
To make this review more compelling, here is a table of all the fees involved in the exchange;
| | | | |
| --- | --- | --- | --- |
| Currency | Deposit Fee | Small Deposit Fee | Withdrawal Fee |
| Korean Won (KRW) | Free | Free | KRW 1,000 |
| Bitcoin (BTC) | Free | 0.001 BTC for deposits less than 0.005 BTC | 0.001 BTC |
| Litecoin (LTC) | Free | 0.01 LTC for deposits less than 0.3 LTC | 0.01 LTC |
| Bitcoin Cash (BCH) | Free | 0.001 BCH on deposits less than 0.03 BCH | 0.001 BCH |
| Ethereum (ETH) | Free | Free | 0.01 ETH |
| Ethereum Classic (ETC) | Free | Free | 0.01 ETC |
| Dash (DASH) | Free | 0.01 Dash for deposits less than 0.04 DASH | 0.01 DASH |
| Ripple (XRP) | Free | Free | 1 XRP |
| Zcash (ZEC) | Free | 0.001 ZEC for deposits less than 0.02 ZEC | 0.001 ZEC |
| Bitcoin Gold (BTG) | Free | 0.001 BTG for deposits less than 0.15 BTG | 0.001 BTG |
| Qtum (QTUM) | Free | Free | 0.05 QTUM |
| Monero (XMR) | Free | Free | 0.05 XMR |
| Tron (TRX) | Free | Free | _ |
| EOS (EOS) | Free | Free | 1.5 EOS |
| ICON (ICX) | Free | Free | _ |
| VeChain (VEN) | Free | Free |   |
Accepted Payment Methods
It's vital to consider the payment methods supported on an exchange before signing up to see if they suit you. The good news is that Bithumb has facilities in place that can process fiat deposits and withdrawals. 
However, the bad news is that this option is only available in South Korean Won (KRW).
However, if you are not based in Korea or have no access to KRW, you can still fund your account using cryptocurrencies. 
If you are a newbie who is getting started with crypto trading, you can open an account with an exchange that allows fiat purchase of cryptocurrencies like Coinbase, and then you can proceed to transfer the coins over to Bithumb.
Available Countries
Even though Bithumb is mainly focused on the South Korean market, the exchange can be accessed from various countries around the world, including the United States. 
You can contact the platform directly to get the full list of nations supported.
Getting Started
1) Visit the platform's official website (bithumb.com) and sign up for an account

2) Enter the information asked for like email address, password, phone number, and more. Also, ensure you tick all the small boxes that indicate you agree to their terms and conditions, Captcha, and then click "Sign Up."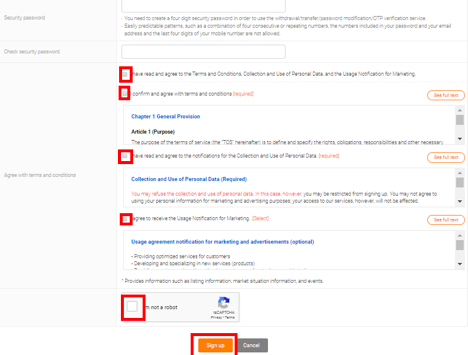 3) Go to your email inbox and click on the link that has been sent there to confirm your account. This will redirect you to your Bithumb account, where you will need to enter your email address and password to "Sign In."
4) Enter the security password that you set when signing up and then click "Confirm."
5) Now that you have successfully logged in, we highly recommend that you protect your account from being easily breached by hackers.
6) Ensure you set up 2FA as this will offer an extra layer of security.

7) Proceed to verify your identity to be able to deposit funds into your account.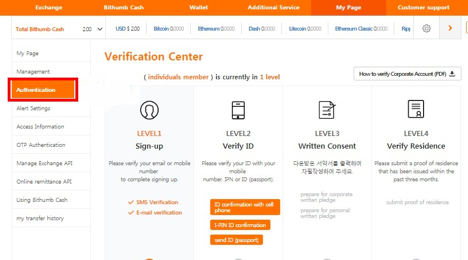 This can be done on the authentication tab on the left side of the homepage. After signing up, you get to level 1 automatically. To get to level 2, you have to verify your identity by submitting your government issued ID or passport.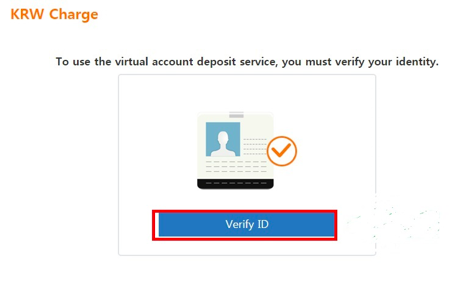 As for level 3, you will need a written consent, and level 4 will require confirmation of your residence.
8) Deposit funds to your account by selecting the "Wallet" tab on the top bar and then choose the "Deposit" option.
9) Finally, you can start trading on your Bithumb account by clicking on the "Exchange" tab on the top bar and selecting the currency you wish to purchase.
Privacy And Security
Most of the centralized crypto exchanges are far from being privacy-focused. Of course, they don't share the user info to third parties — at least if these exchanges are legit. However, due to regulations in the cryptocurrency field, exchanges have to collect identificational data from users. From time to time, crypto exchanges get hacked and data alongside the users' money leaks.
Bithumb doesn't offer anything special in terms of privacy. The South Korean government requires identity verification for anyone trading cryptocurrencies and the exchange has to comply. In order to trade on Bithumb users have to verify their identities via providing copies of the documents. Joining the platform is not that strict but when you will try to cash out you will have to provide documents. There is no chance that you will withdraw coins without verifying your personality. The requested verified data includes a copy of passport or other form of a national ID that can help to confirm the address of the user's residency. Those users who don't want to share this data better to look for a privacy-focused exchange.
Non-anonymous exchanges are better in terms of potential governmental support in cases of misconduct. You will be able to look for help from law enforcement if your money is stolen. On the other hand, when you share your personal data, its security depends on the platform. Bithumb had security issues in the past so entrusting your data to this exchange might be an uneasy decision.
There are several security measures applied by Bithumb in order to protect users' funds and data. The servers are monitored 24/7. Whenever suspicious activity is detected, the action is taken to halt it. The data on the company servers is protected by SSL encryption. As for users they can prevent account hacks by enabling 2-factor authentication (2fa).
Customer support
Bithumb understands the value of great customer support, and the exchange has set up a customer help team that works around the clock to answer the queries of their clients. 
There is an international customer support line that provides multilingual assistance to foreign clients. 
Also, it's possible to email your questions to the support team or access live online support through a chat by initiating one on your account.
In addition to the above methods, the platform maintains a small database that contains all the frequently asked questions (FAQs) along with their answers.
Concerns
Things haven't always been smooth sailing for Bithumb, and within the six years of existence, there have been several issues that have plagued the platform. 
From data breaches to hacks and accusations of fake volume reporting below, we are going to look at a few of the problems that have plagued the platform over the years.
In June 2017, Bithumb reported that hackers had stolen user information from one of its employee's personal computer even though they didn't disclose if the act had led to any negative consequences to the platform.
Fast forward to January 2018, and the exchange was raided by the South Korean government for alleged tax evasion. The platform was not found guilty. 
However, it still had to pay almost $28 million back in taxes.
Then in June of the same year, the exchange was breached, and cryptocurrency worth $32 million was stolen from the platform.
On March 29, 2019, the exchange announced that it had been hacked again this time around the finger was pointed at insiders. 
Later it was revealed that almost $20 million worth of XRP and EOS tokens had been stolen.
Hacking incidents aside, late last summer, when the prices of cryptocurrencies were tanking, Bithumb was accused by CER, a crypto rating service of faking as much as 94% of its trading volume.
It's an issue that has persisted on the exchange over time as even recent reports show that the exchange still does fake its volumes even though not by large margins as before.
Is Bithumb Safe?
Considering all the facts mentioned above one could ask is it really safe to use Bithumb? If we look at the data provided by the respected crypto industry-related platforms we will find out that Bithumb is still active and one of the top exchanges in terms of liquidity. Lately, the exchange wasn't involved in stories about security breaches, data leaks, money stealing, and so on. The past troubles can make us concerned. What is important is that the users affected by Bithumb security breaches were refunded and the exchange is working to elevate its security standards. The recent times demonstrate that Bithumb gets better in it. No exchange is immune to security breaches, even decentralized ones.
Bithumb is probably not the safest exchange on the market but at least you can rest assured that if it gets hacked and your money is stolen, you will be able to get compensation. The very legitimacy of Bithumb probably means more than the level of protection of the platform because it is a sign of a responsible company that doesn't leave their customers in trouble.
Many cases of crypto thefts happen on the individual level. Personal accounts get hacked when users of cryptocurrency platforms (exchanges, mining pools, wallets, etc) neglect the available security measures. It is important to set a unique strong password. It is recommended to use a separate dedicated email address created solely for crypto exchange. Avoiding phishing websites is important, too.
One of the main steps that should be taken by Bithumb users right after signing up is turning on 2-factor authentication (2fa). This protection measure is used on most of the centralized crypto platforms. Its popularity is not hard to understand — 2fa makes it nearly impossible for criminals to break into your account. It will require them to enter a one-time password which is generated locally on the account owner's device. Therefore, if criminals cannot get to the user's mobile device they are not likely to pass this security layer. The required code is updated every 30 seconds so the exhaustive search doesn't make any sense.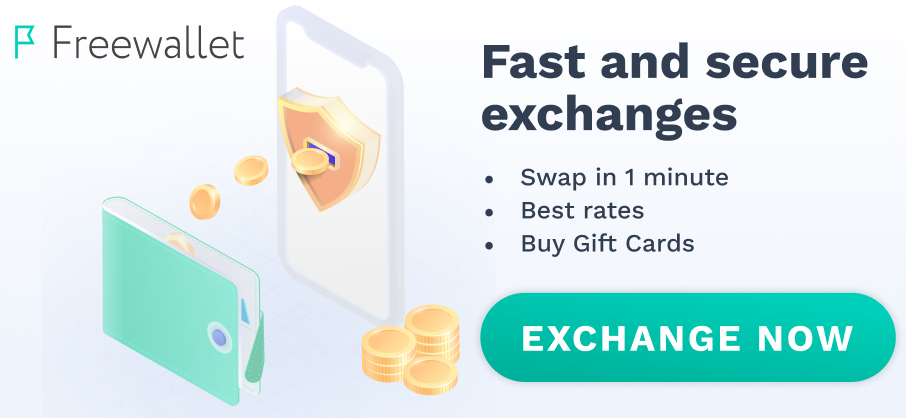 they freeze my withdraw , they didnt send my money out , support 0 help ,

now since 5 days i wrote evry day in a row to support. 0 help

i ask why and how long is my withdraw freeze.

they answer , we give it to techteam


i have look in internet alot about ratings, and i see people who wait 1-5 month to thair money

and we are talking about 100-5000 dollar payouts
João Firmino
16 July 2021
Não consigo sacar meus tokens da KIN que são cerca de 11 milhões de unidades.
A empresa não resolve o problema.
Solicito a liberação e saque dos meus tokens que hoje valem 700 dólares.
скам. не могу 60 дней получить ответ как забрать свои средства.!!! мой счёт нормально не работает. поддержка отвечает какими то детскими отговорками и обещаниями. xотитет потерять свой депозит- вам сюда.
Über moonpay Geld eingezahlt, moonpay hat auch alles abgewickelt, Bithumb schreibt seit drei Tagen nichts gut und reagiert nicht auf Nachrichten.

Ich kann nur dringend abraten Bithumb zu nutzen.
It should have this overtime fee for every actions. Avoid it.