Cryptomate Exchange Review 2021 - Is It Safe?
May 29, 2020
The growing popularity of cryptocurrencies has led to a rise in crypto exchanges which typically serve as intermediaries for transactions and trading. However, the subsequent increase in the number of crypto scam platforms means that crypto users have to make necessary analyses on which platform is safe and secure to buy or sell digital tokens.
Today, we will be taking a look at Cryptomate which is a fast-rising crypto platform that has been existing for a few years. The review is objective and highlights the various information required by the casual crypto beginner about the exchange.
After reading through the article, you will be able to decide whether Cryptomate is the right platform for your trading needs.
What is Cryptomate?
Cryptomate is a P2P cryptocurrency exchange that connects buyers and sellers of cryptocurrencies within the UK. The crypto platform also has a distributed crypto trading platform that lets users move deposits in British pounds for the purchase of crypto assets.
The exchange is registered in the UK, which is one of the few countries in the world that has encouraged the growth of cryptocurrencies. It currently has over 11,000 users and has transacted over £14 million since its inception.
One unique feature that makes Cryptomate different from many exchanges is that it only allows depositing money solely via UK bank transfers. In addition, the crypto platform also adheres to the working hours of UK banks.
This is due to the fact that the transfer of funds within the UK is done via Faster Payments Services (FPS) which allows British banks to make faster and cheaper transactions with each other.

Cryptomate does not have a native inbuilt wallet and traders will have to provide external wallets to receive assets purchased on the platform.  Users' information is secured on the platform with advanced SSL algorithms. This security protocol safeguards users' data in a secure database.
The exchanges mention three areas that it focuses on which are speed, security and user interface. It also aims to deliver the quick purchase of cryptocurrency within five minutes of purchase. 
Although this sounds quite absurd, the exchange is quite fast with transactions taking around 15 minutes. Cryptomate also has generally favorable user reviews online which bodes well for the exchange. The only few complaints that were noted were that of the lack of transparency on transactions. 
This is a common complaint about crypto exchange due to the high volatility of crypto assets.
Accepted Currencies
Cryptomate has a list of cryptos which it supports on its platform. This list of cryptos that are listed on its homepage with the exchange boasting of over twenty crypto assets on its platform.
The full list includes Ethereum, Ripple, Bitcoin, Bitcoin Cash, OmiseGo, EOS, Monero, Cardano, TRON, Electroneum, Zcash, ICON, Waves, Crown, Vechain, Stellar Lumens, ARK, Lisk, Litecoin, NEM, Dogecoin, Ethereum Classic, and Verge.
The crypto exchange regularly conducts surveys to find out which coins users want to be added to the platform. It is expected that the number of coins listed on the platform will increase in the coming years.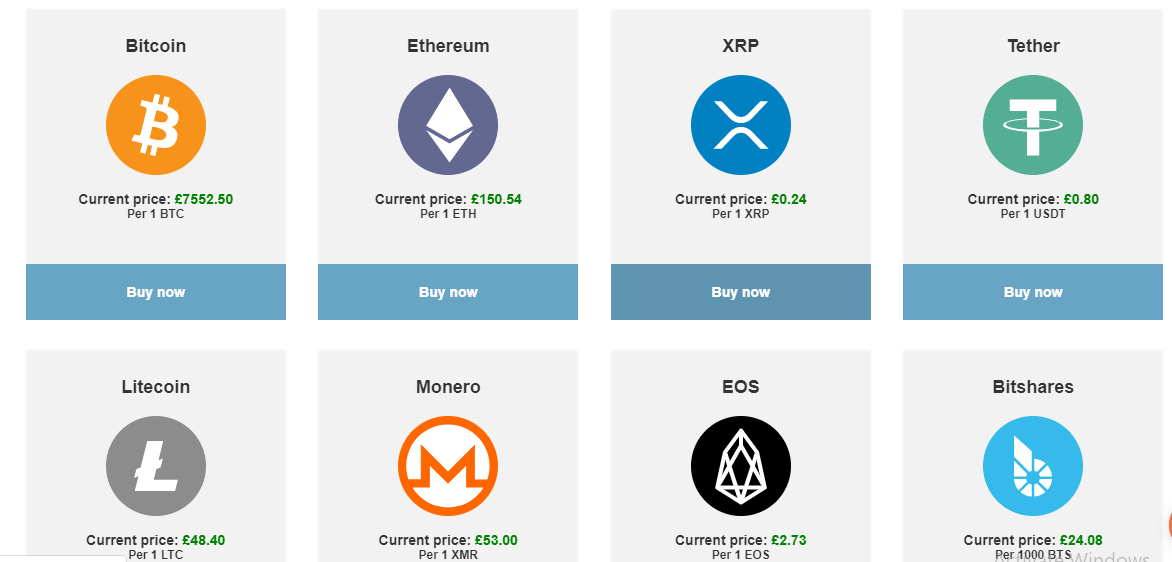 Deposit Fees 
Unlike other exchanges, Cryptomate is not transparent concerning its transaction fees. This is a grey area for the exchange as it only says that the fees are incorporated per transaction.
We can, therefore, presume that the value of the fees changes depending on the market values of the coins. However, from reports by Users, it can be speculated that users spend close to 7% on transaction fees for cryptocurrency purchases.  This is certainly not cheap when compared to other exchanges on the market.
Despite this, Cryptomate impresses with the speed of its transactions and the integration of the Pound as a direct payment currency.  
Withdrawal Fees
There are no withdrawal fees on Cryptomate since funds purchased are sent directly to the user's external wallet. Cryptomate does not store any cryptocurrency on its platform.
Account Limits
Cryptomate also imposes limits on unverified accounts which is the industry standard to encourage users to get verified as a result of growing KYC regulations.
Unverified accounts are limited to 200 pounds worth of crypto transactions daily, while verified users can make up to 1000 pounds in daily transactions.
Payment Methods
Cryptomate is fairly clear about the payment methods accepted on its platform. It only accepts bank transfers from UK banks with Pounds the domiciliary currency for transactions.
This means that there are no options for USD, Euro or Yen payments which limits the crypto exchange user base to the UK residents only. This can be a negative feature for users that want to purchase from the platform outside the UK.
There are several exchanges that allow multiple purchases of cryptos in USD and Euros and it is a surprising policy by Cryptomate. However, some traders prefer this method as it is clear and straightforward.
In addition, transactions are fast and straightforward as there is no need for conversion of currencies. It would be of great benefit to the platform if it can add an option like Skrill or Paypal as this would increase the visibility of the company to a global client base.
Customer Support
Cryptomate client support is similar to what most exchanges offer. The platform has a contact section where you can send the request to customer care representatives. There is a contact form where you can input a message and fill other personal information like your email, full name and subject matter for a quick response.

Many users' comments about Cryptomate customer support have been positive with many alluding to the responsive and supportive response by the crypto exchange.  This is a pleasant surprise as most exchange users tend to be vocal when customer response is slow.
In addition, there is a Faq section that provides a simple layout of general information regarding the platform. However, there are no in-depth articles regarding other potential problems that users can face on the exchange.
How Does Cryptomate Exchange Work?
Cryptomate despite its simple user interface has a system that matches users to sellers as they don't sell cryptos directly. Unlike other p2p exchanges like local bitcoin and Paxful where you need to browse different listings and chat with vendors directly.
Cryptomate has made the process easy for its users by creating a centralized system that saves time and speeds up the transaction process.
After placing an order, Cryptomate will dispatch your request to its network of crypto vendors. When a vendor accepts your order the crypto process begins. One thing that we noticed about the platform is that its vendors are trustworthy and handpicked by the exchange.
There are few cases of users not receiving their coins and their customer care appears to be quick to respond to such a situation. Cryptomate also refunds user's funds when Vendors are at fault and unwilling to resolve issues.  With more than three years' experience in the industry, their system appears to be foolproof and trustworthy.
Cryptomate system is also a good way of buying Bitcoins without getting flagged by your bank in the UK. It is a known fact that banks do not like cryptocurrencies and tend to flag crypto-based transactions.
You can easily trade for cryptocurrencies on Cryptomate without such risks as you send the funds directly to the vendor's bank account. This way it comes across as a regular payment to the bank.
Thus could be another reason why Cryptomate has been able to thrive in the crypto exchange industry despite competitions.
Signup Process
This is the first process that requires that you log into www.cryptomate.co.uk to register. You will be presented with a drop-down tab, where you will input your email, preferred password for the platform, name and tick the 'I am not a robot' box.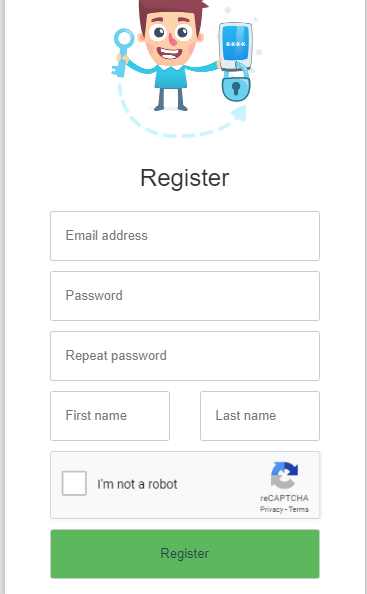 You will be sent a confirmation mail, log into your email to retrieve this mail to confirm your Cryptomate account.
Once you have confirmed your account, you will be redirected to the platform. With this process, you'll have access to purchase 100 pounds worth of coin without verifying your account.
Verification Process
To verify your account, you will need to give the following, a government ID, proof of address.
After verification, you will be able to purchase up to 1000 pounds worth of coins within the platform.
Deposits and Withdrawals
Cryptomate, unlike other crypto exchanges, does not store your cryptocurrency on its platform. This means that you don't perform deposits or withdrawals on the platform. Instead what occurs is that funds are transferred directly from the platform to your crypto wallet.
When you transact within the exchange, the funds are exchanged from the dealer directly to your external wallet. This means that Cryptomate has no direct contact with the coin during this process.
How To Trade On Cryptomate Exchange
Unlike other trading platforms that have different trading views from simple to complex. Cryptomate provides a basic platform that makes it easy for traders to buy cryptocurrencies on the platform.
All that it offers is an order book that features a price chart of the crypto to be purchased and order history. Since it is a platform aimed at the quick purchase of cryptos, it is not surprising that its features are simplistic. However, it lacks many features that will interest advanced traders.
To perform a trade all you need to pick a particular coin to buy and you get the current price that it is valued.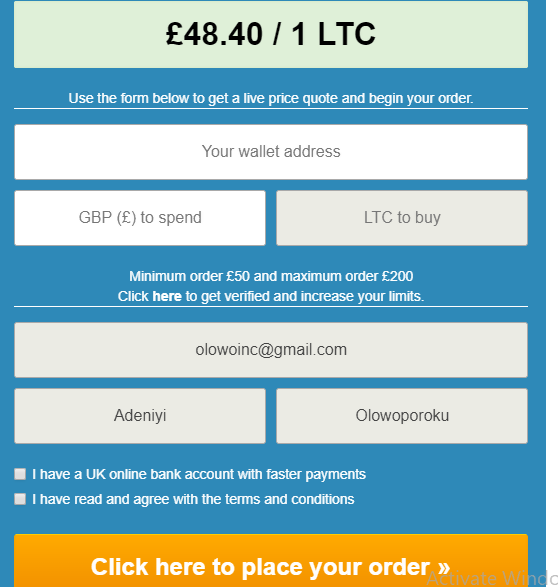 You will get a dropbox where you fill details such as the external wallet for the coin desired, email address and order amount. After performing this process and confirming the trade, you should receive the coins within an hour of purchase.
What Is the Most Effective Way to Store Your Coins When Using Cryptomate Exchange?
Since Cryptomate does not store cryptocurrencies, it is essential that you understand the type of wallet that is required before you make transactions. For beginners or new traders, a crypto wallet is a programming software that stores cryptos. Apart from the storage of coins, wallets also store keys related to particular crypto.
There are different keys the open key is the wallet address which is sent to individuals or exchanges to receive coins. While your private key is something that should never be shared with anyone. Loss or breach of this information could result in hacks or loss of coins.
Since most coins require wallets specific to the coin, there are tons of wallets that abound within the crypto market. This makes it important to make a good research before settling on a wallet best for your needs. We recommend popular wallets like blockchain wallet or trust wallet for your transactions on Cryptomate.
In addition, you can use hardware wallets like Ledger Nano S which is considered one of the most secure wallets in the market.
Cryptomate Vs eToro
Crytomate can be compared to another UK based crypto platform in eToro with both platforms offering services to different client bases. Cryptomate is specific to the UK but eToro is available to over 60 countries.
However, both crypto exchanges have something in common as they only accept a single currency for transactions. Cryptomate accepts Pounds while eToro only accepts US dollars as means of depositing funds.
Although both exchanges are registered in the UK, eToro is registered as a financial organization liable to different financial and trading regulations.
This is partly as a result of CFD trading that its permits. In addition, the platform is also bound to follow regulations within countries that have strict regulations for crypto assets.
eToro also differs from Cryptomate with its business model, while Cryptomate encourages the exchange of cryptos within its platform. It does not support liquidity and offers users little choices for trading.
eToro offers CFDs which are contracts that have a measure of funds related to the value of the cryptocurrencies. Although the price of CFDs is similar to buying coins. eToro CFDs contracts ensure that there is no panic on coins to buy since the contract guarantees benefits to users during trading.
This makes eToro a good platform for traders that want to invest in cryptocurrencies without the fear of high volatility. Cryptomate offers traders more versatility in coins that can be purchased, unlike eToro. This makes it a good platform for buying new coins as more coins are added by the platform on a regular basis.
Both platforms serve their purposes, if you want to purchase cryptos with for transaction or holding purposes with Pounds, then Cryptomate is the right platform for you. However, if you need to invest in different forms of crypto assets with the US Dollar then, eToro is the better choice.
Is Cryptomate Safe?
Cryptomate is a good crypto exchange platform from what we could observe from our review. Unlike some other exchanges, Cryptomate is registered within the UK which is a country known for its stringent financial laws.
In addition, the exchange focuses on trading high-quality coins within the crypto market. There are no obscure coins that are usually the target of the pump and dump by traders.
Cryptomate is also safer than many exchanges as it does not store your digital currencies. This works in two folds as they serve as intermediaries between the dealer and the buyer.
This means that private details like your keys, individual ID and passwords cannot be stolen from the exchange by hackers. There have been cases within the crypto market where exchanges have been hacked with coins stolen.
Since its inception, there has not been a case of loss of coins on Cryptomate which makes it a solid exchange for users. Its policy of only accepting a single form of payment in pounds also means that there will be fewer chances of extortion.
Cryptomate is not flawless as the limitation of the exchange to just UK citizens is negative for the exchange. However this can also be a positive as the exchange can also make its platform swift and user-friendly specifically for its target audience.
The only major problem with this exchange is that you need to buy cryptocurrencies in Pounds which is not the standard for most P2P. There are several P2P that offer different currencies and payment processes to ease the transaction process for users.
Nevertheless, the exchange has been in business for the past four years and has overtime shown its security and flexibility within the market. This makes Cryptomate exchange a legit and suitable platform for UK users.
Conclusion
Cryptomate has mostly good customer reviews online and our review of the website offers a similar sentiment despite its obvious limitations. 
If you are a trader in the UK and want a good, fast crypto exchange for crypto exchange then Cryptomate is the right platform for you. However, if you want more options, it is best to look for other popular exchanges that offer more features. 
Cryptomate has proven over the past few years to have a steady client base and has thrived in a competitive market. We advise that you read the review properly to make an informed decision for your trading needs.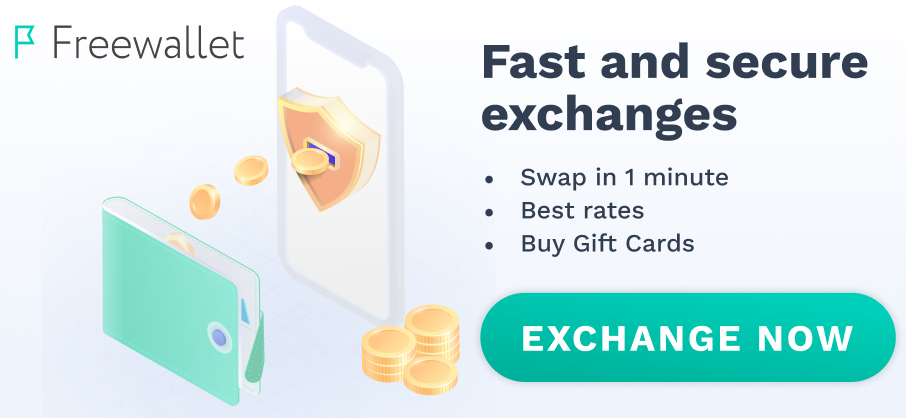 They are not regulated, and they want so much ID, and they have none, you have no idea who u are talking too or were they keep you data, that makes it unsafe
I'd agree with the positive comments below, the exchange is amazing, I don't have any issues with that at all. The fee seems rather high, but I think, it's worth to pay them to get such a good service.
Very good exchange
Every day in use
I used to remember that that some time ago it has some issues with the work of website and pending. But now I see that they've made a big progress, everything is stable and smooth. It could be better if they provide it's own wallet, that definitely will be a cool feature.
I'm glad that I found this exchange, it's quite all right and I hope I won't face any big failures. For good measures, Coinmate has a relatively fast support. The one thing bothers me, that I can't use the platform like the coin wallet, it will be much easier if I have this opportunity.