CoinSpot Exchange Review 2021 - Is It Safe?
May 31, 2020
The cryptocurrency market has achieved such enormous growth over the past few years that now everyone is trying to grab their piece of the pie from Bitcoin and choose a reliable exchange for storing and trading cryptocurrencies. However, 10 years ago no one heard about cryptocurrencies. No one knew that such a technological era would come, bringing with it the digitization of everything that was possible. 
That's why today we want to talk about CoinSpot, a cryptocurrency trading platform that allows users to buy, sell and exchange dozens of different cryptocurrencies and which was able to achieve considerable success during its existence. But what is CoinSpot? How good is it? Is it really safe? Let's look at the platform's cons and pros in this CoinSpot review.
CoinSpot overview
CoinSpot is one of the most popular cryptocurrency exchanges in Australia. The main reason for it is probably its local orientation. The platform was founded by Russell Wilson in 2013 in Melbourne as one of Australia's earliest cryptocurrency exchanges.
Trade With Up To 125X Leverage on Binance
Cryptocurrency is a technology without borders, but exchanges such as CoinSpot must comply with local laws and regulations. This can be both an advantage and a disadvantage. Traders who want more flexibility may prefer services that are not subject to Australian law.
However, others may enjoy the tranquility provided by a compliant exchange offering high-quality customer service. Laws related to cryptocurrency trafficking in Australia, as elsewhere, are constantly controversial. All cryptocurrency traders should keep this in mind when weighing investment risks. However, the Australian government is showing a very progressive attitude towards cryptocurrencies and blockchain technology. In the short term, Australia looks like a country with a friendly attitude to the cryptocurrency industry.
This means that Australians can make quick exchange transactions without commission for the transfer and exchange of currency, receiving on CoinSpot a much more favorable price-quality ratio than in other places. 
One of the CoinSpot mission is to provide with the most full list of cryptocurrencies in Austria. The exchange allows you to buy and sell about 140 cryptocurrencies for Australian dollars, such as: Bitcoin, Ethereum, XRP (Ripple), Bitcoin Cash, EOS, Litecoin, BNB, Tether USD, Bitcoin SV, Monero, TRON, Stellar, Tezos, Cardano, Dash, Cosmos, Neo, IOTA, ChainLink, Ethereum Classic, Ontology, Dogecoin, NEM, VeChainThor, Basic Attention Token, Zcash, Decred, Synthetix, Qtum, Lisk, 0x, Waves, Ravencoin, Augur, DigiByte, Bytecoin, Nano (RaiBlocks), Holo, ICON, OmiseGO, Bitcoin Gold, Theta, Siacoin, MaidSafeCoin, Komodo, Aeternity, Verge, Crypto.com (Monaco), IOStoken, BitTorrent, Ardor, BitShares, Enjin Coin, Steem, Zilliqa, Electroneum, Matic Network, Kyber, DentCoin, Enigma, Solve, Golem, Status, Fetch.ai, iExec, Factom, Zcoin, Decentraland, Pundi X, Stratis, aelf, Populous, Elastos, Ripio Credit Network, FunFair, Nuls, Walton, Ark, Aion, Revain, Loopring, Nebulas, Reddcoin, Civic, Wanchain, SingularityNET, Nxt, Fantom, Harmony, WAX, Power Ledger, Cindicator, Metal,Storj, Bancor, Nexus, Celer Network, Dragonchain, PIVX, Einsteinium, Obyte, Syscoin, Vertcoin, GoChain, GAS, Peercoin, Theta Fuel, Request Network, Tael, Storm, TenX, RChain, QuarkChain, Skycoin, Po.et, Raiden Network, AdEx, Simple Token, Quantstamp, Gifto, Nucleus Vision, SelfKey, ETHLend, WePower, GameCredits, district0x, Odyssey, Sirin Labs, Aeron, LBRY Credits, Ethos, Substratum, Ontology Gas, Gold Standard, Silver Standard, Hedera Hashgraph, Tierion.
CoinSpot is designed to be easily accessible and user-friendly for both newbies and experienced users.It also has a good reputation. It was founded in 2013 and has long been famous for its reliability.
CoinSpot doesn't currently have a mobile app. But it's website is fully responsive, meaning it has been optimised for use on mobile phones, allowing you to use CoinSpot on the go. The language of the interface is English only.
Also, if you are interested to become partners with CoinSpot, check the CoinSpot API documentation first.
The exchange has many advantages for Australians, but what are the fees and characteristics of the platform when compared with other market participants?
CoinSpot features
CoinSpot has a bunch of features that will be useful for everyone.
Deposit and trade directly from your CoinSpot account using AUD.
Knowledgeable Support Team
Friendly local support team equipped to help you every step of the way.
Store, receive and send tokens or coins available on CoinSpot.
CoinSpot is designed to be easily accessible and user-friendly for both newbies and experienced users.
Use cash to top up your account
You can top up your account with cash via BPAY and POLi.
Big range of cryptocurrencies
Currently, about 140 crypto assets are available to trade on CoinSpot.
To buy cryptocurrency CoinSpot offers us the different payment methods to use such as BPAY, POLi, cash, and another cryptocurrency.
CoinSpot fees
Fortunately, CoinSpot has very transparent commissions and there are no hidden fees to worry about. There is even something to learn from CoinSpot for some banks.
What is about CoinSpot transaction fee? When buying or selling on the markets the fee is 0.1% The fee for instant buying and selling coins is 1%.
There is no fee for Online bank transfer (using POLi Payments), the minimum deposit is $1 and the maximum is $10.000 per 24-hour period (request CoinSpot for a higher POLi deposit limit).
For BPAY fee is 0.9% and there is no minimum deposit and the maximum is $1.000 per 24-hour period
For cash (via blueshyft) the fee is 2.5% with the minimum deposit of $50 with a maximum of $1.000 per 24-hour period.
There is no CoinSpot withdrawal fee neither for AUD withdrawal (Australian bank accounts only) nor for cryptocurrency withdrawals to external wallet (network fee only).
Transaction limits
POLi deposit limit is $2.000 to $20,000 per 24 hours
Initial limit of $2.000 per 24 hours
Limit raised to $20.000 per 24 hours if you have deposited at least $2.000 and 7 days have passed
BPAY deposit limit is $10.000 per 24 hours
Cash deposit limit is $8.000 per 24 hours
There is no CoinSpot withdrawal limit.
How to use CoinSpot
Although CoinSpot is based in Australia and requires verification of documents for transactions with Australian dollars, investors from other countries can also use this exchange to access many cryptocurrencies.
Registration in CoinSpot is similar to registration on most exchanges, although the verification process requires some additional steps compared to other services.
In addition, residents of other countries can not pass the certification required to make or remove AUD.
As a first step click at the "Register" button in the upper right corner of the screen. Here you are going to fill all the lines with the following information: 
Your email
Password (twice) 
Referral link (in case you have one). 
Confirm the checkbox "I am not a robot" and tap "Create account".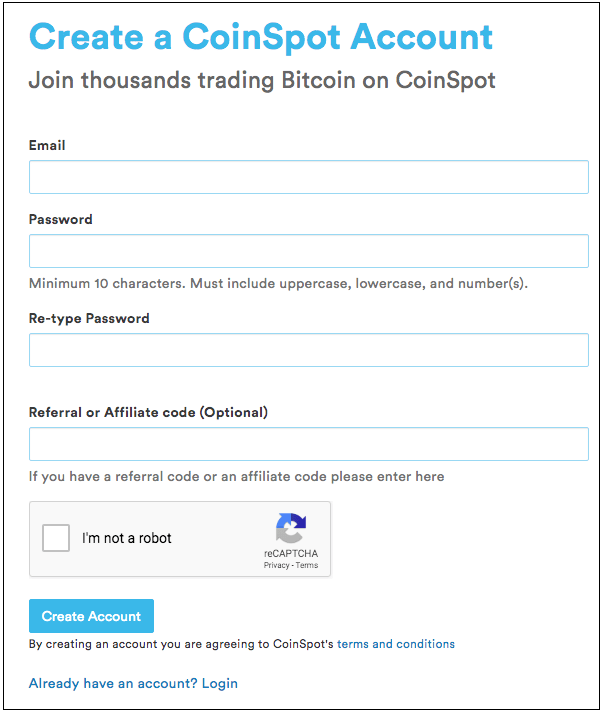 Once all the information is accepted you'll see the screen with the inscription "Your account has been created"! You can start the verification process right away or skip it.
To go through the verification process you need to provide your driver's license and deposit some funds to your account to start trading.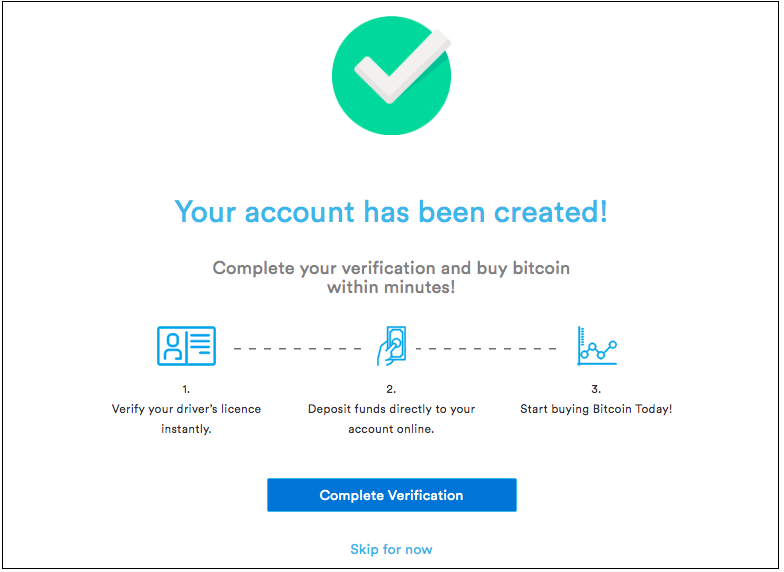 If you skip it you'll be redirected to the dashboard where you'll see the amount of funds on your balance and the most popular currencies for now.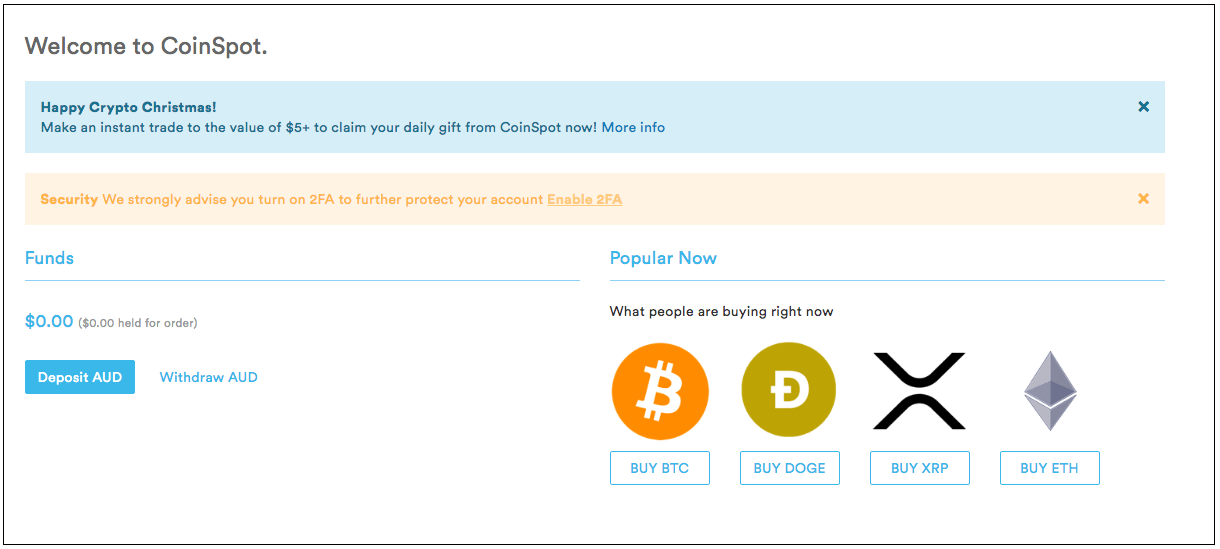 At your dashboard, you can also Deposit and Withdraw the funds. To do it you also should go through the verification process.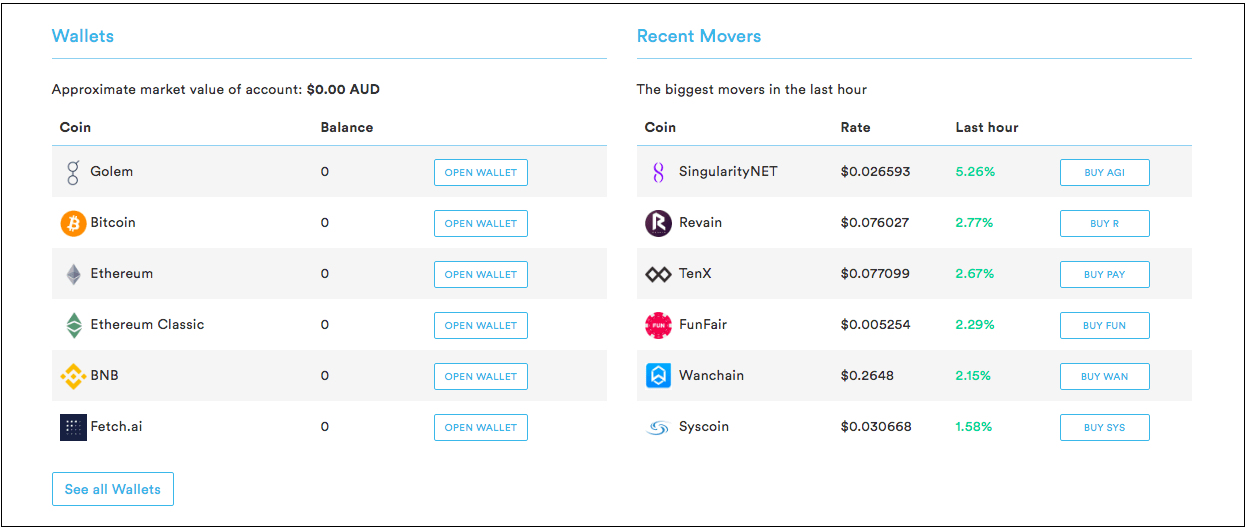 If you scroll the screen a bit down, you'll see the option to open the wallet for the specific currency and the recent movers on CoinSpot.
Deposit
You can fund your account in AUD or supported cryptocurrencies.
To deposit the Australian dollar, select the cryptocurrency you want to buy and your preferred deposit method.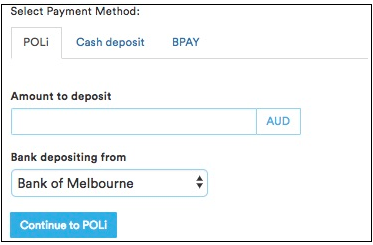 To make a cryptocurrency deposit, find the information about your wallet in the "Wallets" section. You may need to create a wallet address before making a deposit.
Trading
To start trading choose the currency you want to buy and specify the sum in AUD you want to pay.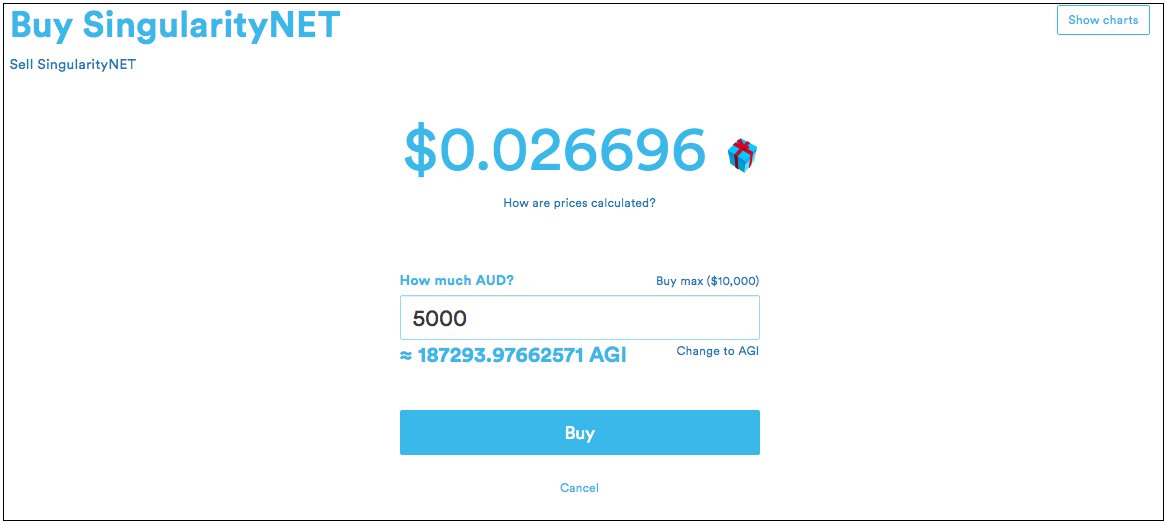 The pop-up window will be shown with the information related to the payment to confirm all the actions you make. Here you see the cryptocurrency chosen, the amount of crypto, CoinSpot fee (1%) and the total sum in AUD that you need to pay.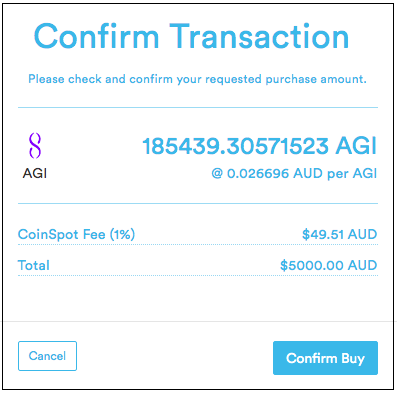 In case everything is correct press the button "Confirm Buy". In case you have verified your account you will see the payment methods available to fulfill this transaction.
Verification
To verify your account you have to choose the Account Type, it could be a personal account, a business account or a Self Managed Super Fund (SMSF) account. 
Also, you have to fill your Personal Data with the information, such as your First Name, Middle Name, Last Name, Date Of Birth. And Contact Information: Street Address, Suburb, State, Postcode, Mobile Phone Number (Australian). 
And don't forget to specify if you Are you a Politically Exposed Person (PEP) or not.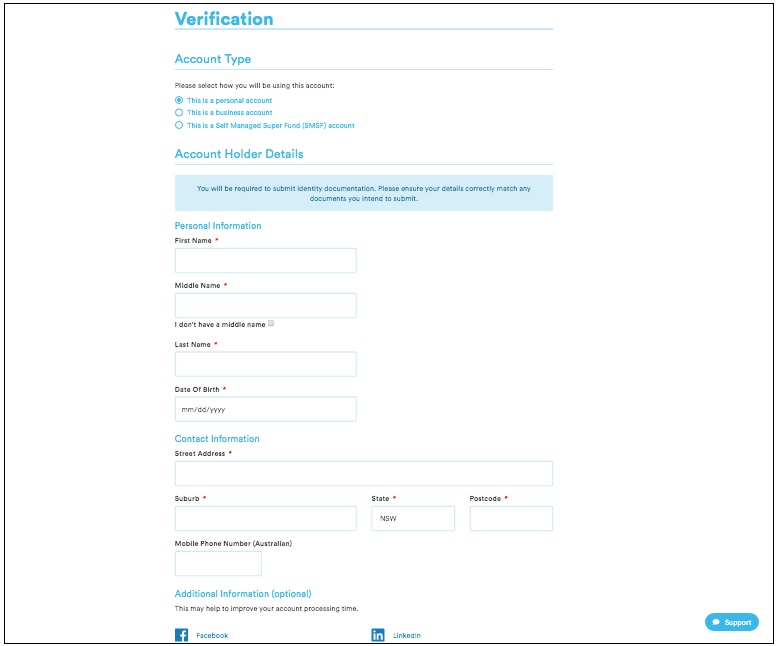 Also, CoinSpot asks us to upload copies of your identity documents so that they can verify the information you have provided and confirm who you are.
Please note that depending on the information and documentation provided you may be asked to provide additional documentation to confirm your identity.
You have to select and upload at least one of the below documents: Driver's License or Passport.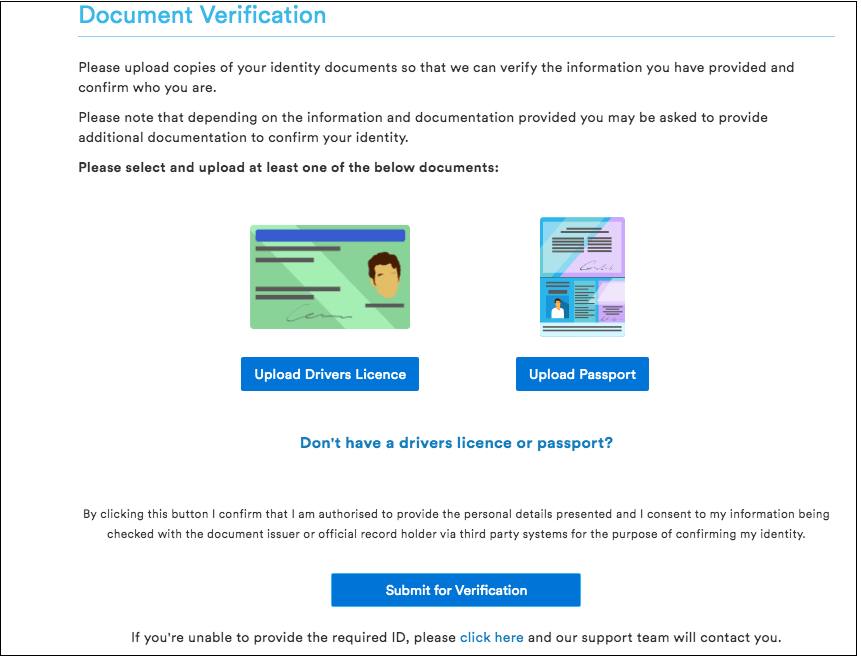 The CoinSpot verification time that takes to check and verify your account depends on how busy CoinSpot employees are. The procedure can be completed on the same day or take several days if there is a delay.
Referral program
CoinSpot referral program encourages active community users and gives 10$ in BTC. Refer a friend to CoinSpot and you will both receive $10 worth of Bitcoin after they complete their first AUD deposit. You can find the link generated for your account in the menu bottom of the CoinSpot main page.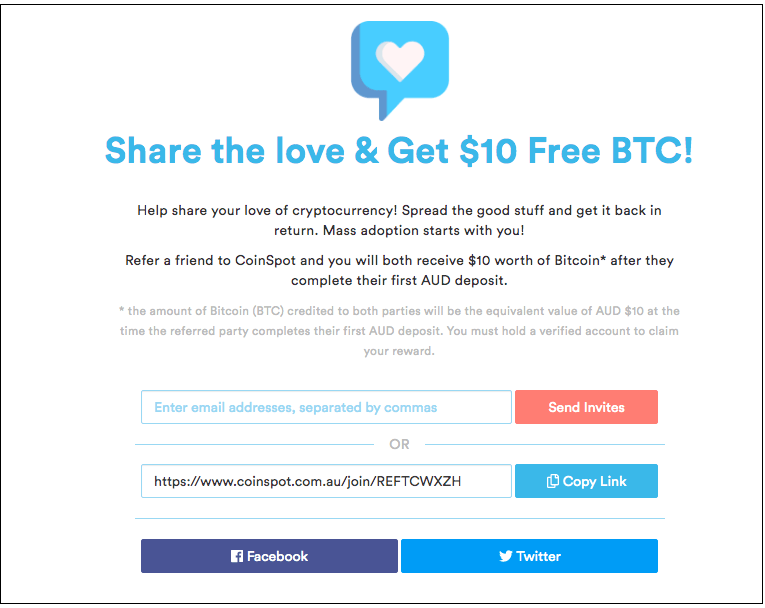 To do it just simply copy and post this link to your blog, social media or send the link to invite your friends to use it manually.
Customer service
CoinSpot customer service works through Zendesk to the highest standards. You can find more information about CoinSpot and its work in Zendesk at the "General Announcements and Updates" field. It also provides for direct contact via email.
In accordance with its user-friendly approach, CoinSpot offers to go to the help section of the links or use the free communication channel when necessary.
However, some users report a long wait for a response.
As for the CoinSpot reviews, there is almost no information on Trustpilot. If you check CoinSpot there, you will even find several CoinSpot pages on the platform with just a few reviews on each. The page seems to be unclaimed.
However, the CoinSpot exchange is quite active on social media. You can check for the latest updates on the platform on Twitter and Facebook.
Сoinspot vs Сoinbase
In 2019 year there are a lot of crypto exchanges that offer the best conditions to trade. But which one is the best? How to please the demanding use nowadays? Let's take a look at the differences between CoinSpot and Coinbase. 
CoinSpot is an exchange platform that was founded in Melbourne, Australia, in 2013. The company prides itself on being Australia's most popular crypto exchange. Coinbase was founded by Brian Armstrong and Fred Ersam in June 2012. The exchange is headquartered in California, USA, and operates in 190 countries.
Not a huge list of cryptocurrencies are available on Coinbase: BTC, BCH, ETH, and LTC. This means that the service is primarily aimed at individuals who feel insecure with cryptocurrency trading and, perhaps, are only taking their first steps in the crypto world. If you want to sell or buy some smaller cryptocurrencies, here CoinSpot has a significant advantage, having more than 140 cryptocurrencies in its arsenal.
When buying cryptocurrency on Coinbase, the purchase price offered by the exchange is usually slightly higher than on the market. The fee is not specified. This is a potential risk for you as an investor. In this regard, we strongly recommend that you make your own analysis of the commissions and price differences on this exchange before fulfilling any operations there. At the same time, CoinSpot has a transparent commission.
Coinbase safety rating is "B" according to the Mozilla-based Observatory test. This is much above average if you recall the list of cryptocurrency exchanges, and is clearly an advantage of Coinbase. So both of the exchanges are quite secure and reliable. 
BTC Markets vs Coinspot
BTC Markets is a huge cryptocurrency exchange platform located next to CoinSpot in Australia, in Melbourne. The exchange was also founded in 2013 and is also focused primarily on English-speaking users. The project is designed primarily for users of European countries, and the only language in which the interface available is English. Despite this, access to bidding is available to all countries without exception.
It is worth noting that the exchange is popular not only in Australia, but also in other countries: European countries, the USA, Japan, etc.
This is due to the fact that, unlike other similar projects, BTC Markets has high liquidity and offers users good terms of cooperation.
BTC Markets has minimal transaction fees and, like CoinSpot, has a high level of security, including protection against hacker attacks on the computer systems to steal user personal data, AML solutions and a two-factor authentication system, including confirmation of actions using a mobile phone.
But unlike CoinSpot, BTC Markets provides the ability to use working tools for demo trading - this allows new users to trade in trial mode, better understand Internet trading and study high-tech software in general, the essence of working with cryptocurrency and the principle of trading with them in particular. Also, the platform does not impose any restrictions on making deposits and withdrawing assets. The minimum deposit is 1 Australian dollar.
Nevertheless, the exchange offers only 12 cryptocurrencies for trading, while CoinSpot has a wide selection of coins.
Coinjar vs Coinspot
CoinJar is also an Australian platform that allows you to easily buy and sell cryptocurrency. It provides simple payment and withdrawal methods, supporting fiat currencies. Also, in addition to buying, you can store bitcoins in an online wallet.
CoinJar was launched, as was CoinSpot, in 2013. Since then, it has achieved great popularity and has been rated as one of the best exchange platforms. It is widely known as a crypto wallet that is suitable for beginners.
Another important feature of Coinjar is the Coinjar Swipe crypto debit card.
CoinJar has a very friendly and intuitive interface that is suitable for beginners and, unlike CoinSpot, has its own mobile application for IOS and Android.
At CoinJar, like at CoinSpot, fairly fair fees are only about 1%.
Nevertheless, CoinJar has a very limited range of cryptocurrencies, only 5. At CoinSpot we see a wide selection of cryptocurrencies.
Also, the cost of CoinJar is based on current spreads on the exchange and may vary.
CoinJar does not offer leveraged trading, much like the vast majority of cryptocurrency exchanges. 
Is Coinspot safe? 
CoinSpot is listed under the Australian Business Number (ABN) and is a member of the Australian Digital Commerce Association. So CoinSpot is fully legit to use.
These two factors are powerful starting points when evaluating CoinSpot's approach to privacy and security.
CoinSpot uses a two-factor authentication system (2FA), which requires users to verify their identity via email and mobile phone.
Two-factor authentication provides an additional layer of protection against any viruses or hacking attempts. It also helps reduce the risk of identity theft or using a fake account to trade on the platform.
In addition, CoinSpot operates under the 1988 Australian Privacy Act.
The terms of use of the platform contain standard warnings that you will find at many exchanges of this kind: you should not engage in illegal activities, and if you do this, your personal information may be transferred to the authorities.
Apart from this, CoinSpot provides users with a fairly high level of privacy. It seems to be quite fair protection and no way for CoinSpot to admit scam activity.
Conclusion
Cryptocurrency trading can sometimes be frustrating.
Anyone who has been comparing multiple exchanges has come across a large number of poorly designed websites with confusing element layouts, obscure features, and unattractive interfaces.
CoinSpot easy-to-use interface is like a breath of fresh air that shows other exchanges what to look up to.
The most difficult thing is to decide which cryptocurrency to buy and how much money to invest since CoinSpot truly has the most full list of crypto assets to trade. The process of buying and selling is actually very simple.
Just select the coin you need from the list and click on it. You will see its current value. It even includes a commission so that you can see how much the coin actually costs.
So, CoinSpot excels other exchanges in terms of protection, commission price, transparency, the operating time and the amount of cryptocurrencies available for trading. It's definitely worth trying at least moderate amounts.
Shane Saunders
24 March, 3:01 PM
1% is not right. Try moving something like decentraland into your own personal hardware wallet and they take a mighty hefty fee. Mine was like $50 worth for only $350 worth of transfer. Ripped off. And now I am waiting hours For a large Harmony one transfer with no 24/7 support that's advertised for . I assume they are staking my coins and all sleeping so my coins cant be transferred. Jokers this place.
Tony Farquhar
23 September 2020, 9:21 PM
I have enjoyed using CoinSpot ever since I ventured into the CryptoSpace in 2017. I have chosen to primarily use CoinSpot as my principal exchange for everything, I find the user face and fees fantastic. I don't know what some of these reviewer's are talking about concerning high fees? Their fee rates are very competitive.. no feefor POLI which has instant deposit, no withdrawal to bank fee, and a modest 1% fee for instant buy/sell.. seriously what are you people complaining about? As an Aussie it's a great feeling to know that when I transact with CoinSpot I'm doing so with the reassurance I'm doing business with an Australian owned and created exchange. The only suggestion I do have is phone support, surely after 7 years of business you (CoinSpot) are in a position to hire at least a few phone admin to assist Australian investors. But overall I score CoinSpot5/5!!
Thomas
13 July 2020, 10:42 AM
Saw the other post here. I'm also trying to close my account without any luck. Support is useless. What's so hard about closing an account?
Trades
13 July 2020, 10:34 AM
Beware. If you want to close your account you need to send your government id, a photograph or yourself and a written letter. No other crypto exchanges do this. Massive privacy invasion!
jbrown
12 February 2020, 4:01 AM
Instant verification, instant deposit (no fees), can buy and sell instantly. Trading fee is 0.1% on market which use for big coins like BTC/ETH. 1% for instant buy/sell, which is ok considering so many coins offered. Easy compared to sending to binance and have to take so long. Security seem very good, feel safe to keep my coins here. Have been trying a lot of exchanges, and this is my favorite so far.
Plus say are the biggest in AUS, have a lot of people on facebook/twitter. If price goes up very high I feel safe that they will give me my money when I withdraw. Some of the small ones, scared they cannot give everyone money when they try at the same time. Just my opinion better to be safer then sorry.
Vitebank
27 January 2020, 8:43 PM
I think the guys below used the other exchange, not coinspot. I don't see that problems. The fee is high? I don't think, it's quite loyal, I guess. The poor design? Really? I really thought it's an extremely simple and easy to navigate. The long pending? Never seen any. So many man so many minds.
Berner
26 January 2020, 11:00 AM
Coinspot needs to be updated. While many exchange easily may cancel the transaction or provide fast withdrawal, it seems that coinspot living in the past. They have to figure out all that problems soon. Otherwise I don't see any good reason to use it.
Crul
24 January 2020, 1:31 PM
There are many flaws like big spread, high commission, not so detailed charts and etc. I think, the solid cryptoexchange shouldn't have so many downslides.
Jack
23 January 2020, 11:55 AM
Not the fastest room but it provides a good level of traiding. I'd say that coinspot has a great perspective, no complaints.
Namien
22 January 2020, 12:10 PM
I don't like the unclear fee system, it depends on the different reasons and still don't understand them. The exchange works correctly, but that fee issue is a little bit frustrating.
Menge
21 January 2020, 9:43 AM
Frankly, it's quite all right. The service part is great. But anyway, it's still more expensive then the same exchange on the market. You have to choose between the good service and the high prices.
Costel
15 January 2020, 8:30 PM
Maybe it has some advantages but all of them is derailed by the expensive prices for the coins. Probably, it has some sense to trade in the platform, it's got a good support and design but that's not enough if it has such a big fee.
Redek
15 January 2020, 5:16 AM
The exchange charges the fee for every step you make. Depositing, transfering, withdrawing. That's too much, in my point of view.
Kert
13 January 2020, 10:04 PM
In the end, the fee is much higher then 1 %.it is unpleasant thing. The exchange says that I has to be 1 , but after the operation I realize that it could be 3-4 %. They mast have provided the correct information, I think.
Greg
9 January 2020, 4:11 AM
Nice review, I love using CoinSpot!

CoinSpot Exchange Review 2021 - Is It Safe?