Bitso Exchange Review 2021 - Is It Safe?
Full address:
Bitso HQ Campos Eliseos 400 601B Col. Polanco Reforma México DF, México 11530
Fees:
1.00% - 0.10% (BTC/MXN)
1.00% - 0.10% (ETH/MXN)
0.80% - 0.10% (XRP/BTC)
0.80% - 0.10% (XRP/MXN)
1.00% - 0.10% (ETH/BTC)
0.50% (BCH/BTC)
Fees:
1.00% - 0.10% (BTC/MXN)
1.00% - 0.10% (ETH/MXN)
0.80% - 0.10% (XRP/BTC)
0.80% - 0.10% (XRP/MXN)
1.00% - 0.10% (ETH/BTC)
0.50% (BCH/BTC)
May 03, 2021
This Bitso exchange review will provide an overview of the key facts about the exchange, various service fees, withdrawal and deposit, trading fees, information about exchange API, and how to use the Bitso exchange. It is an unbiased review focusing on the main facts about Bitso.
What Is Bitso?
Many users search for Bitso Mexico on significant search engines. The exchange is really based in Mexico, so Bitso Mexico is as expected a ubiquitous keyword used for search engine marketing and business purposes, to gain information on the exchange.
Bitso was founded in 2014, and the name of its founders is Ben Peters, Pablo Gonzalez, and Daniel Vogel. More details about the exact location of the exchange are provided on the Open Positions, with several jobs available, which mention the place of Ciudad de Mexico.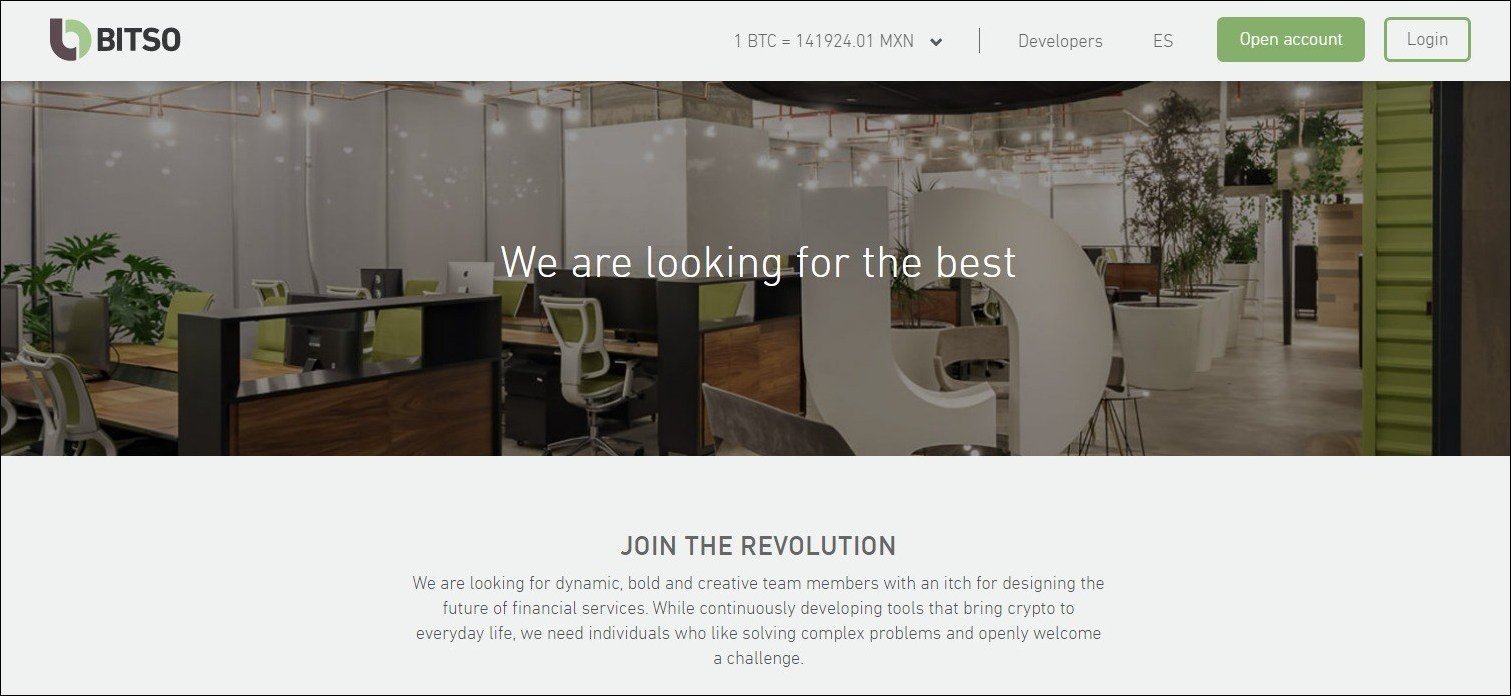 Bitso is a centralized exchange. On Nov. 27, 2019, the trading volume for the past 24-hours is $4,550,584 based on information taken by the CoinGecko website.
As Bitso exchange is based in Mexico, it is no surprise that the most active trading pair is one based on the local currency - the Mexican Peso. The most active trading pair is XRP/MXN, with a trading volume of $3.107.510 for the past 24-hours, followed by BTC/MXN with a trading volume of $1.289.304.
There are seventeen trading pairs and only nine coins. ETH/MXN is the third most active pair on the exchange. These three pairs account for almost 98% of the total volume. All the remaining pairs are very thinly traded, so liquidity is inferior to them.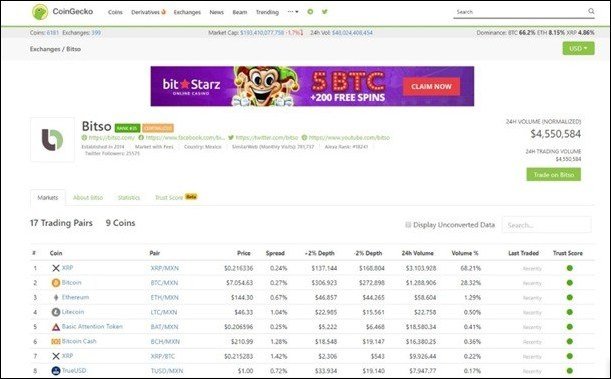 On the page named Legal Information, we note that there are two legal entities, Bitso International and Bitso Mexico. Bitso International is a regulated business entity, which is licensed by the Gibraltar Financial Services Commission under the Investment and Financial Fiduciary Services Act with license number FSC1348B. Bitso Mexico refers to another business corporation, Bitso, S.A.P.I. de C.V., a company incorporated in Mexico.
Bitso Mexico has a page named Licenses, which the last update on October 3, 2019, mentioning that the company has already applied with National Banking and Exchange Commission (CNBV) to provide Electronic Payment Institution services in the Mexican financial sector. One of the leading business partners of the exchange is Ripple.
An announcement was made in October 2019 by Ripple, considering the platform as the leading cryptocurrency exchange in Latin America. Earlier in 2019, Ripple launched a service called On-Demand Liquidity (ODL) capabilities with MoneyGram into Mexico, choosing Bitso to be the critical exchange partner. Ripple and Bitso have decided to enhance and support the expansion of blockchain technology and solutions, payments in the area of Latin America.
Pros and Cons
What are the main features of the exchange, the specifications, and the main advantages? 
Advantages:
A detailed Help Center;
Relatively Low Fees;
Support of Fiat Currency, only Mexican Peso;
It is a cryptocurrency available to international users;
There is a mobile application available for Android and iOS users;
Business cooperation with Ripple;
Availability of a referral program;
Enhanced Know Your Customer (KYC) standards with three levels of verification adding extra security;
Bitso International is regulated, Bitso Mexico has filed an application to be licensed in Mexico;
Video tutorials are available, only in Spanish.
Disadvantages:
Limited choices of cryptocurrencies and pairs;
No margin trading is available.
How to Fund the Bitso Account? 
There are mainly two different methods to deposit funds in your Bitso account, and the first one is to deposit local currency Mexican Peso (MXN) and buy or trade digital coins, or digital deposit currencies and then change these coins for Mexican Pesos. The United States of America is not a supported country.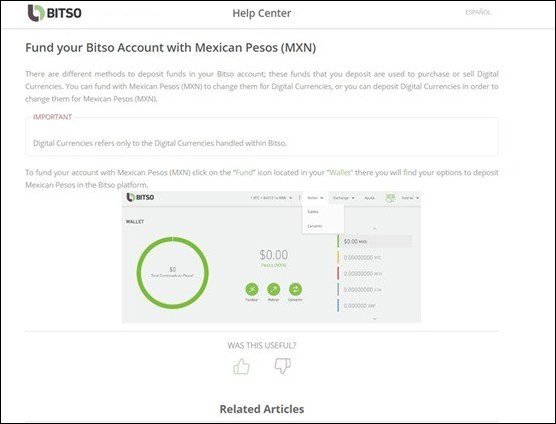 How to Withdraw Money From the Bitso Account?
To withdraw money from your Bitso account, you click on the Wallet tab, then withdraw selecting one of the available methods to withdraw local currency from your account by clicking on it. These available methods could be by SPEI transfer, either directly to your debit card, or even to your cell phone number through Transfer.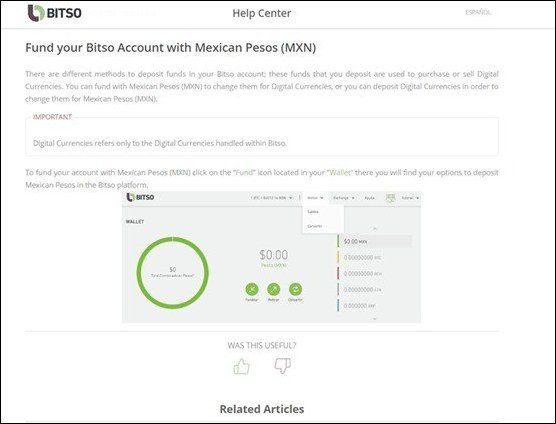 What Are the Bitso Exchange Trading Tools and Possibilities?
There is a disclaimer for the risks of cryptocurrencies. Once traders and users accept these terms, then the platform named Bitso Alpha is presented, Bitso's first platform designed only for traders. New interface and tools to give you more speed and control.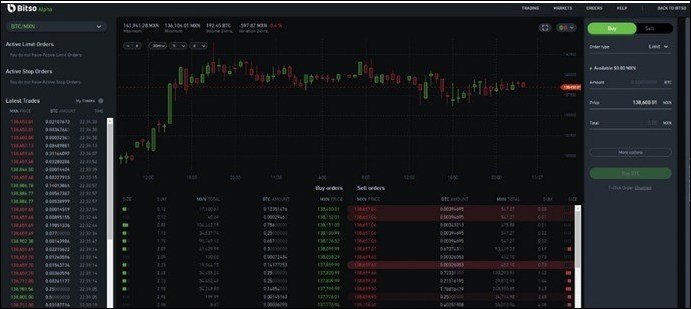 The platform offers only limited time frames to choose from. One of the main problems and disadvantages is that after you move to another section in the platform, then if you click on the Exchange tab and later the Trade button, there is another layout presented, very simplistic.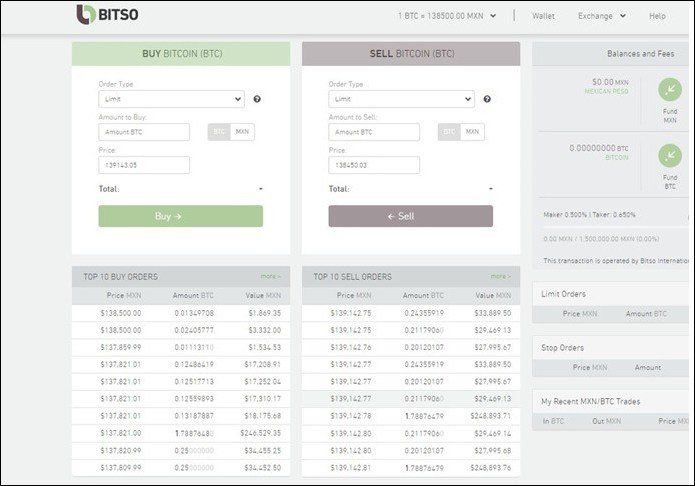 The most common types of trading orders are available, such as Limit, Market, Stop-Loss, Stop-Limit. Besides, the top 10 buy orders and top 10 sell orders are available. But not any technical analysis is available. Most recent trades are also available. There is a Market Overview available, Live Trades, and the Order Book.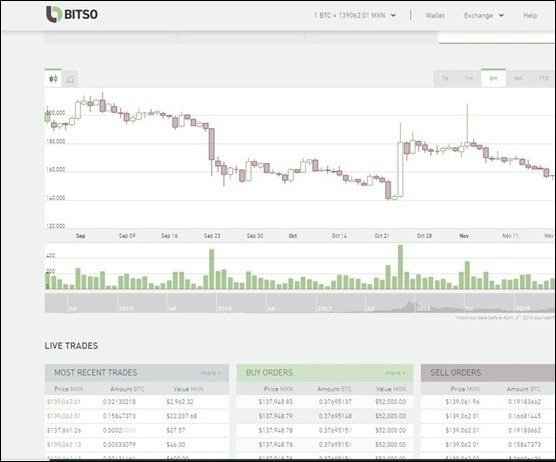 This is not the most sophisticated way to trade, as minimal trading tools are available. You cannot customize the various time frames to analyze the financial data, as there are only available the following time frames:
- Seven days;
- 1 minute;
- 3 minutes;
- 6 minutes;
- Year-to-date (YTD);
- One year.
Furthermore, only Japanese Candlesticks and the line chart are available for analyzing the market conditions. The mobile application should be more advanced for trading purposes, but this inability to trade from a desktop computer is a very major drawback. All trades are expressed in the local currency, Mexican Peso.
Bitso Exchange Fees
There are several types of Bitso fees. The Bitso fees are variable, and there are two fee models. There are the fees for the markets traded against BTC and the fees for markets traded against Mexican Pesos. There is the incentive to decrease your fees if your volume increase within a range of 30 days. There is a Market-Maker scheme for the fees, and there is a tutorial explaining how these fees work on Bitso.
The purpose of the exchange is to reward both parties, the makers, the takers, and the most active users. For the markets traded against BTC, the highest maker fee is 0.075%, and the highest taker fee is 0.098%. The lowest maker fee is 0.050%, and the lowest taker fee is 0.065%. For the markets traded against Mexican Pesos, the highest maker fee is 0.50%, and the highest taker fee is 0.65%. The lowest maker fee is 0.10%, and the lowest taker fee is 0.13%.
Bitso API
The Bitso API allows users and traders to interface with the Bitso trading platform from third-party applications or websites. The publicly accessible Bitso trading API can be called to return data on average BitCoin prices, the daily low and highs, the trade volume. Calls can be used to expose the Bitso order book, which includes lists of all recent BitCoin transactions.
An API key and encrypted signature are required to access the private API functions, which include several important information such as account balance, user information, placing trades, and even editing orders.
How to Use Bitso?
Signing up for a new Bitso account is both quick and easy. Once you have signed a welcome email arrives in your inbox saying the following:
"Welcome to Bitso! It is an exciting time for banking and finance, and one we are thrilled to watch unfold. If you are not already a Bitcoin user, please read about the benefits that it offers to modern society. The future of money is here. As you try out our platform, feel free to contact us if you have any questions. We're happy to help!
Get started then. Visit https://bitso.com to login and start trading!"
The exchange KYC and verification process requires to validate your details. You need to write your full legal name and be careful about that as you will not be able to change it later. You must write your age, and, oddly, they require to write your gender. You need to also confirm the source of funds and your cellphone number. Once you verify your cellphone with a code sent via an SMS, you are one, and you receive the message that now you may fund up to:
- MXN 4,500.00 via SPEI;
- MXN 0 in OXXO.
You can then go to the Wallet tab having three options to trade. You must fund your account with Mexican Pesos, Bitcoins, or Ethers. There are three options in the Wallet section. Fund, withdraw, and convert. There are two funding methods, SPEI transfer, and deposit cash. The transfer is free, but the deposit has a small charge.
To withdraw money in Mexican Pesos, there are three methods available. SPEI transfer, Debit card transfer, and Bitso transfer. All of them are instant and free. To convert, you choose the balance in Mexican Pesos, and then you chose the digital coin, and the amount you want to buy or sell. There are only nine coins available, Bitcoin, Ether, Ripple, Litecoin, BitcoinCash, TrueUSD, Basic Attention Token,Golem, and Decentraland.
In general, how to buy on the exchange, the trading process, and the exchange withdrawal process are simple. The navigation is very easy, and the layout of the platform is very light and user-friendly.
About Know Your Customer (KYC) standards, there are three levels of verification, connected with the limits on a trading account. Bitso exchange wants to prevent illegal activities such as Money Laundering, Identity Theft, and Financial Fraud. There are Level 1, Level 2, Level 3a, Level 3b, and Level 3c. There is also a Level Business 3b and a Level 3c.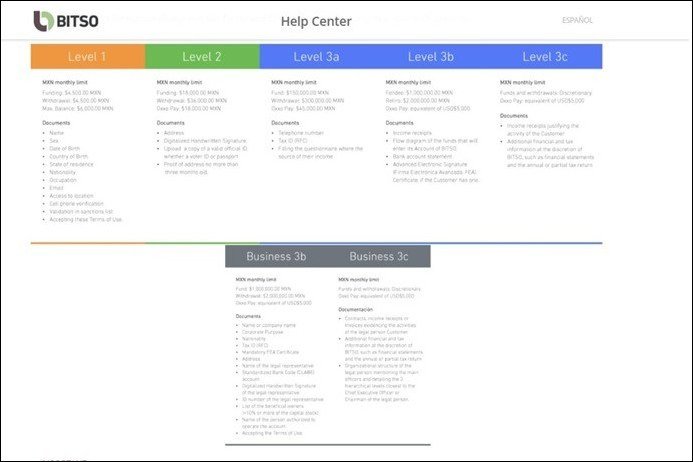 Customer Service
Next, in this Bitso review, we will mention the customer service, the exchange reputation, and user reviews about the exchange. The Help Center has several sections, a buying guide, tutorials, video tutorials, FAQs, most frequent problems, and Bitso App. There is the option to create a new support ticket. The most common issues are related to deposits, verification, forgetting the password, and there are answers for them. On Icorating.com site Bitso exchange has the twenty-fourth place in exchange ratings and is in number eighty in total scores, with three hundred thirty-seven overall ratings. The reviews from users vary from very good to very poor.
Frequently Asked Questions
Some of the questions which need to be answered are what are the available account funding or withdrawal limits, and whether Bitcoin is legal in Mexico. Bitcoin is not illegal in Mexico, but it is not yet a legitimate currency. A very general and interesting question is:
How much I need to pay for withdrawal from Bitso?
Bitso withdrawal fees are variable and complicated. Bitso Transfer®, SPEI Transfer, Mobile Phone Transfer, Debit Card Transfer, and Ripple are all free. For Bitcoin, the withdrawal fee is 0.00011568 BTC, and for Ether, the withdrawal fee is 0.00024150 ETH. There are other unique fees for each coin, such as Litecoin or Bitcoin Cash.
What about deposit fees?
Bitso deposit fee is free for many possible ways, except from Oxxo Pay (Cash), for which there is a fee of 2.6% + Tax. The time differs for the various deposit methods. Bitso Transfer® and Ripple have an instant deposit, while other ways have a period ranging from five minutes and several confirmations, up to 24-hours for the SPEI Transfer.
Is Bitso safe?
The question about the safety of Bitso exchange is typical for any other cryptocurrency exchange. Even the biggest exchanges can fall short in terms of security. Before you start using an exchange you should make sure it offers all the security measures that you find satisfying. In general, we regard Bitso as a safe platform.
Bitso is one of the exchanges that strive to follow the regulations and use law to enhance security while many exchanges are working in a gray area. Bitso is licensed by the Gibraltar Financial Services Commission. Bitso Mexico has also made an application with the local National Banking and Exchange Commission to be authorized and provide services in the Mexican financial sector. License supposes that the company is not anonymous and is audited. Therefore, Bitso is a responsible company that can be trusted and definitely Bitso is not a scam. 
In May of 2020, there was fake news about the alleged Bitso hacking. The "hacker" was demanding a ransom. However, it soon became clear that Bitso safety protocols are working well and the criminal was speculating about the outdated irrelevant user data that couldn't do harm. Although Bitso appeared to be a safe platform, the news about the "hacked" spread all over the crypto community and unjustly harmed the exchange's reputation. If you see the reports of the 2020 Bitso "hack", don't buy it. Rather it is a sign that the source cannot be trusted. 
However, the fact that Bitso is a legit company doesn't necessarily mean that it is safe to use it. In order to keep the user funds and data safe, Bitso uses multi-signature wallets. It makes it much harder for intruders to steal the money from hot wallets. On Bitso you can safeguard your account via enabling 2-factor authentication (2FA). When 2FA is on, one needs a one-time password to enter the account or withdraw the funds. The password is generated locally on the account owner's device. Therefore, this feature makes it impossible for anyone who doesn't have your mobile device to enter your account or steal your money. The additional security measure is a transaction PIN-code.
Conclusion
This Bitso review mentioned several topics such as the trading platform, various fees, the verification process, customer service, and how to use the exchange. The platform is very user-friendly and very easy to navigate and use.
The exchange has a blog with practical tips and advice on topics such as how to trade candle charts, the different types of orders, the critical aspects of the trading platform explained. Bitso has only a few numbers of coins available, only nine, and supports only the local currency, Mexican Peso.No margin trading is possible.
The most significant advantage of the exchange is its new business cooperation with Ripple. This is big news and adds a lot of credibility to the exchange, possibly as a future leader for the blockchain technology in Latin America. Bitso Alpha, the trading platform seems interesting, but we do not like the fact that there are only a very few selected time frames to choose from to analyze the financial markets.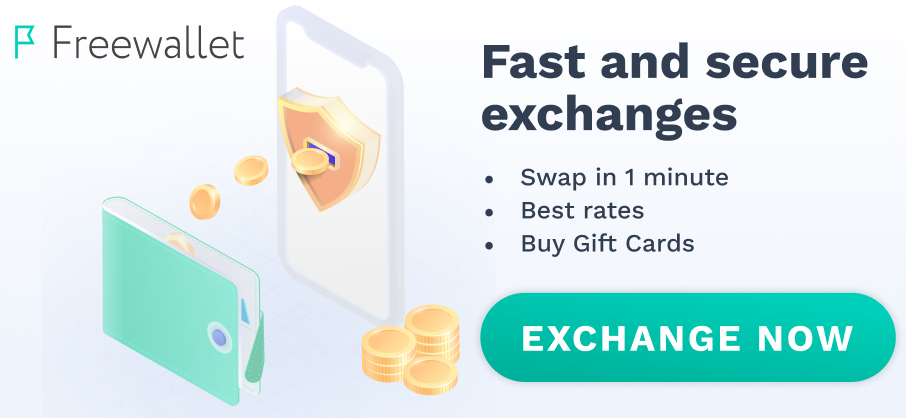 Carlos baltazar alba alarcon
16 November 2022
Hasta ahora muy práctico
Edgar Uriel Lozano Moreno
3 April 2022
soy de mexico y es muy facil convertir las criptomonedas a mi moneda local. Solo por eso estoy feliz
Boddolla umesh
14 March 2022
Bitso is not safe, we need to check 200 times before investing
He invertido mi error fue que compré muy apresurado aún no veo ganancia esperare en el futuro. pero me gusta lo claro que es espero resultados en el futuro.
Le doy 5 estrellas gracias que me deja convertir mi dinero fiat mas facilmente e introducirlo a criptomonedas.