Binance Review 2021 - Is It Safe?
Volume:
$ 1,023,663,221.0
Full address:
Valletta, NA - Malta, Malta (The exchange does not disclose the exact location of its office)
Fees:
Trading fees:
Level | 30d Trade Volume (BTC) &/or BNB Balance | Maker/Taker | Maker/Taker (BNB 25%off) | Maker/Taker (BNB x Referral 25% off x Kickback 20%)
VIP 0 < 50 BTC or ≥ 0 BNB 0.100% / 0.100% 0.0750% / 0.0750% 0.0600% / 0.0600%
VIP 1 ≥ 50 BTC & ≥ 50 BNB 0.090% / 0.100% 0.0675% / 0.0750% 0.0540% / 0.0600%
VIP 2 ≥ 500 BTC & ≥ 200 BNB 0.080% / 0.100% 0.0600% / 0.0750% 0.0480% / 0.0600%
VIP 3 ≥ 1500 BTC & ≥ 500 BNB 0.070% / 0.100% 0.0525% / 0.0750% 0.0420% / 0.0600%
VIP 4 ≥ 4500 BTC & ≥ 1000 BNB 0.070% / 0.090% 0.0525% / 0.0675% 0.0420% / 0.0540%
VIP 5 ≥ 10000 BTC & ≥ 2000 BNB 0.060% / 0.080% 0.0450% / 0.0600% 0.0360% / 0.0480%
VIP 6 ≥ 20000 BTC & ≥ 3500 BNB 0.050% / 0.070% 0.0375% / 0.0525% 0.0300% / 0.0420%
VIP 7 ≥ 40000 BTC & ≥ 6000 BNB 0.040% / 0.060% 0.0300% / 0.0450% 0.0240% / 0.0360%
VIP 8 ≥ 80000 BTC & ≥ 9000 BNB 0.030% / 0.050% 0.0225% / 0.0375% 0.0180% / 0.0300%
VIP 9 ≥ 150000 BTC & ≥ 11000 BNB 0.020% / 0.040% 0.0150% / 0.0300% 0.0120% / 0.0240%

Full fee schedule: https://www.binance.com/en/fee/schedule
May 22, 2020
Cryptocurrency and blockchain can be called one of the most popular and developing areas. The market is growing and new projects are constantly appearing that are created taking into account the shortcomings of their predecessors. In 2017, the Binance cryptocurrency exchange became one of the most high-profile novelties. In a short time, just a few months, it has become one of the main platforms for exchanging cryptocurrencies and has been awarded the title of the best cryptocurrency exchange for trading. It is Binance that will be considered in this article. But is it safe to use in the year 2020? We will talk about how to register and start work there, how to buy a cryptocurrency and how to go through verification, we will consider in detail other aspects of interaction with this project. Let's read this Binance review and find out how secure the Binance exchange is!
Binance Overview
Binance is a Chinese exchange for trading cryptocurrency Bitcoin and other digital assets. It began its work in early 2017. Over the 2 years of its existence, it has gained immense popularity among users. Now Binance is in the TOP 3 exchanges in daily trading volume. 
At Binance you can buy about 600 cryptocurrencies, among them the main assets such as BTC (Bitcoin), ETH (Ether), LTC (Litecoin), BCH (Bitcoin Cash), BNB (Binance Coin), EOS (EOS), XRP (Ripple), XLM (Lumens), DASH (Dash), TRON (Tron), USDT (Tether), XMR (Monero), ZCash (Zcash), etc.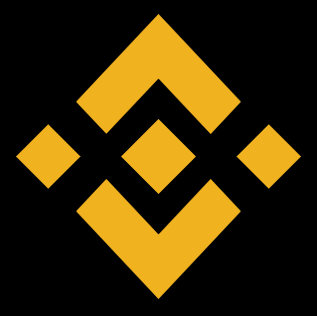 Get Profits with HODLing on Binance Earn
The trading volume is quite impressive as well, the average daily volume on Binance is usually about 750.000 USD or 100 BTC.
Binance Exchange has its official website with a domain name www.binance.com. The domain was registered on April 1, 2017. The Binance site is very progressive but at the same time a simple site. It is available in 16 languages. The site's interface is clear, everything is the same with other cryptocurrency platforms. That's exactly what developers can be praised for, as it is for a block of current news, distribution of free cryptocurrencies and draws.
Where is Binance Located?
The Binance platform headquarters is located in Shanghai and is headed by Changpeng Zhao. However, the project attracts users from all over the world and can be considered international. There is no restriction on the registration of traders from other countries.
This is an entire ecosystem of socially controlled social projects. The competent policy of Changpeng Zhao is to eliminate dependence on the regulatory bodies of different states, they had to expand by opening branches in different countries.
Binance Features
Each exchange platform has its own unique features that distinguish it from competitors. One offers a huge selection of trading pairs, the second - low fees for exchange operations or even their absence, a strong advantage of the third - the most thought-out account security system. In this Binance review, we will see what kind of features this exchange has.
Despite the fact that Binance is quite a young exchange platform, the project immediately began to gain worldwide popularity and occupy the first positions in the ranking of exchange sites. And in January 2018, Binance became the world leader in trading volume. The cryptocurrency community enthusiastically accepted the new player with its chic trading conditions: a loyal commission policy and an impressive set of tools for trading. A competent advertising campaign, a generous referral system and a number of skillful team actions also helped to achieve rapid success.
The main advantage of the exchange is the ability to process up to 1.4 million transactions per second: this means that you can safely trade, despite the busy site. In addition, Binance offers competitive market rates for its trading fees (commissions): 0.1% on each side of the transaction or 0.075% if you use your Binance tokens (BNB). In this Binance review, we will talk more about fees.
Binance also encourages its users to store their cryptocurrencies on the Binance exchange, making it possible to receive regular airdrops. This is a great advantage for those who want to regularly trade their coins, while at the same time receiving financial rewards (GAS) for their hold.
Also, Binance supports the apps for PC - macOS, Windows, and mobile devices - Android, IOS, that makes the trading process the way easier and faster.
Binance offers the users to buy or sell Bitcoin or any other cryptocurrencies through Simplex, Koinal, TrustToken, and Paxos. 
Binance is proud that they are an exchange for everyone (it is not surprising when their slogan is "Exchange the world"), claiming that it provides a convenient and intuitive interface for mobile and web platforms for beginners, and with the touch of a button make a complex UI for experienced traders. 
Binance Fees
The commission for trading on Binance is 0.1%. This will be charged every time you buy and sell a coin. So it is a Binance deposit fee and Binance withdrawal fee. However, discounts are provided for holders of BNB tokens. The system assumes that the discount on the commission will be proportionally reduced by half every year for five years.
Thus it will make:
50% in the first year
25% in the second year
12% in the third year
6.5% in the fourth
0% in the fifth 
If you are a market taker – meaning that you simply use the liquidity that is already available on the platform, then you can reduce this down to 0.09%, if you trade more than 500 BTC (or cryptocurrency equivalent) in a 30 day period. The lowest fee available for market takers is 0.04%, albeit, you would need to trade at least 150.000 BTC in a single month.

More information on the Binance fees you can find on this page.
Trading Fees
In accordance with the information posted on the Binance website, at 00:00 AM (UTC) every day, your trading volume over the past 30-day period and your current BNB balance are evaluated. Your Tier level and corresponding maker/taker fees are updated one hour later.

Binance API
The Binance API is designed to provide an easy and efficient way to integrate your trading application into our platform. 
Binance Exchange provides users with API keys - a software interface for trading automation. To create an API key on your Binance account, 2FA must be activated. You can find General Info for Binance API here. More in this Binance review we will check how to use this exchange.
How to Use Binance Exchange?
To register Binance, you need to go to the site. Then click on the "Register" button, after which you will be taken to the page you need. Immediately after entering your email and generating a password to enter the exchange, you will need to go through a captcha.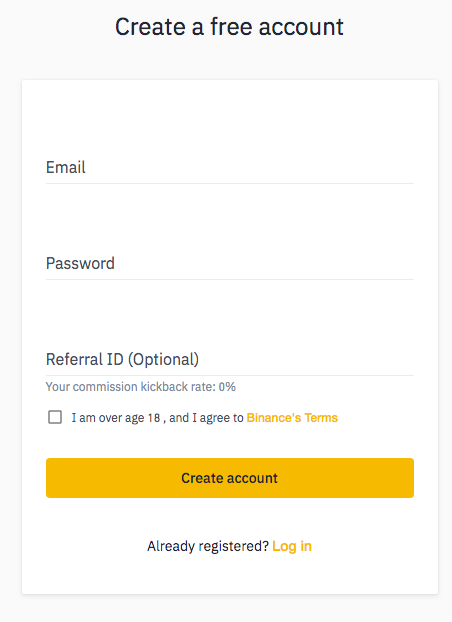 An email will be sent to confirm your email address. It contains a code to confirm your email address, which will need to be entered in the verification field. By entering the password, you activate your account.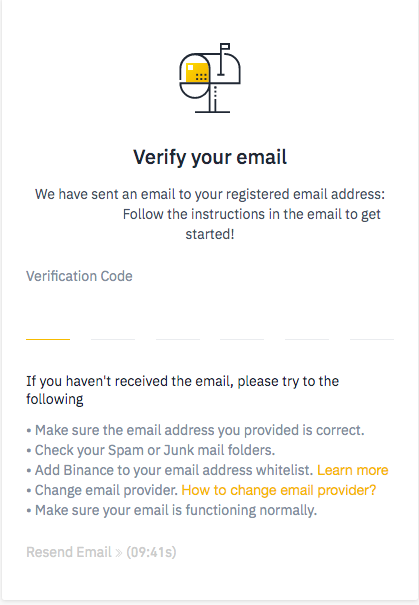 Next, you will be offered the two-factor authentication settings. You can choose either Google Authentication or SMS Authentication. Two-factor authorization on Binance is an additional measure of your security, in fact, access to the exchange website for two or more factors. For example, confirmation via Google Auth and followed by email.
Recently, there has been a wave of phishing attacks when the site the user needs is replaced by its fake version. The official Binance website is no exception, it is worth checking every time you connect. In the browser address bar, check the Binance.com domain name and the HTTPS encryption protocol.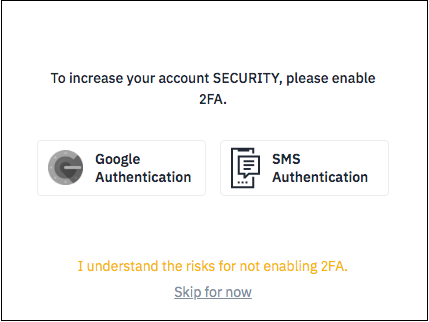 Verification
After completing the creation of a new account, the user can begin to use the full functionality of the platform. It is true that the withdrawal of funds will then be limited to the amount of 2 BTC per day. It can be increased to hundreds of bitcoins per day, but this will require standard verification.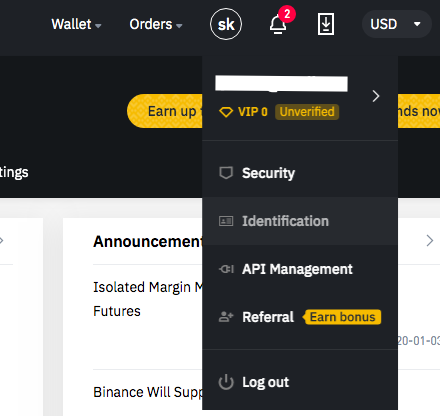 To do this, you will need to go to your "User Center" (your Account logo at the right corner of the screen) and press on "Identification".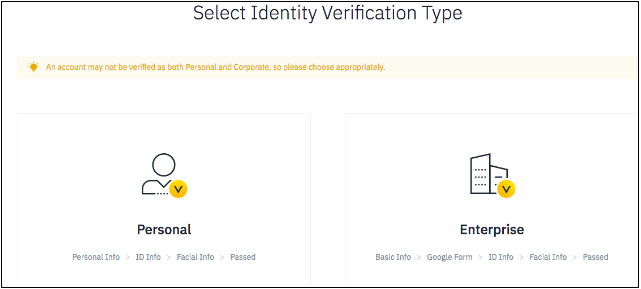 At this menu, you will see two options for verification. To complete your personal identity verification, choose the "Personal" option you'll see on the screen to proceed further. To complete an enterprise identity verification, choose the "Enterprise" option. In this guide, we will choose "Personal Verification Type".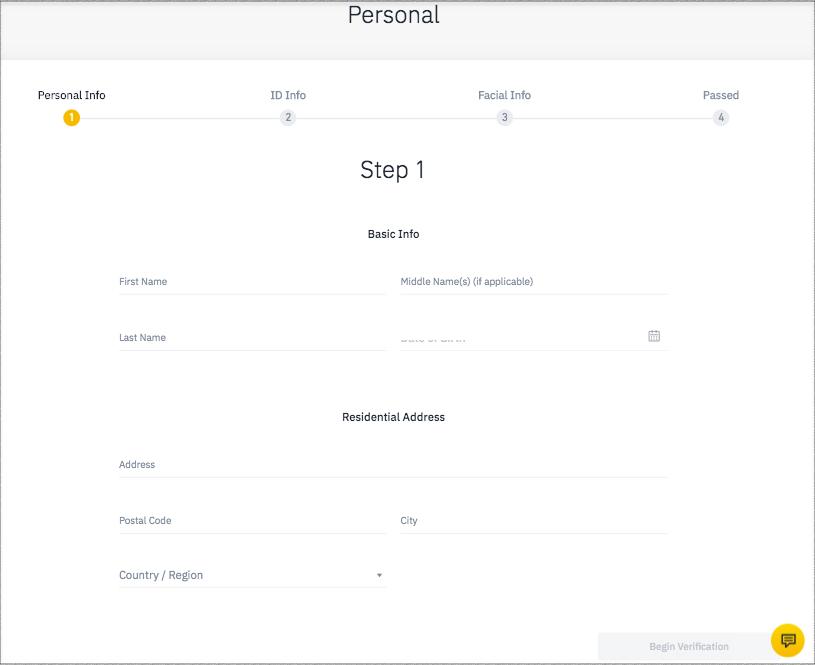 To complete your "Personal Verification" indicate the full name, date of birth, address, city, postal code and country of residence. Once finished, press on "Begin Verification".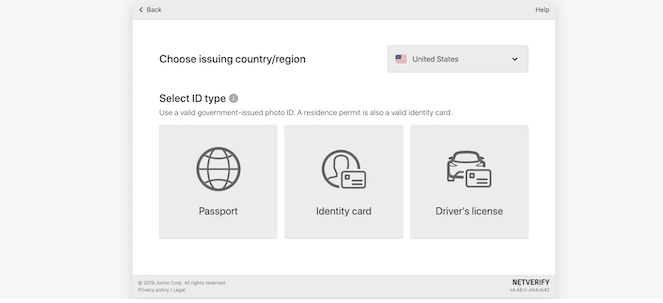 Depending on the country where your ID documents were issued you will have to choose a valid ID type. For most users, you can choose a passport, ID card, or driver's license.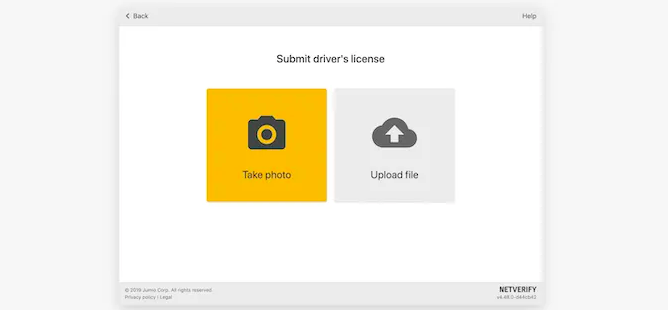 The scan of the selected document will need to be uploaded to a special form on the site. Moreover, the user will have to take a selfie with a document in his hand and a leaflet with the current date and the name of the exchange.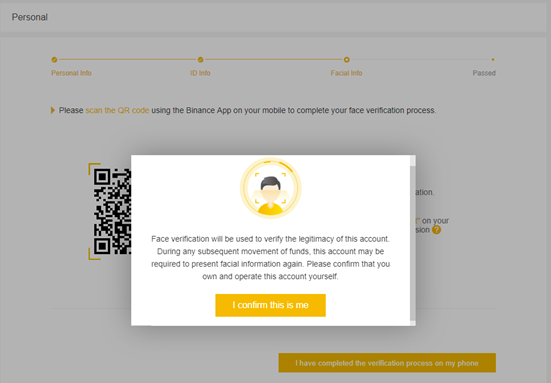 After you have uploaded the required photos, you will be directed to the facial verification process. Сlick on "I confirm this is me" to proceed further.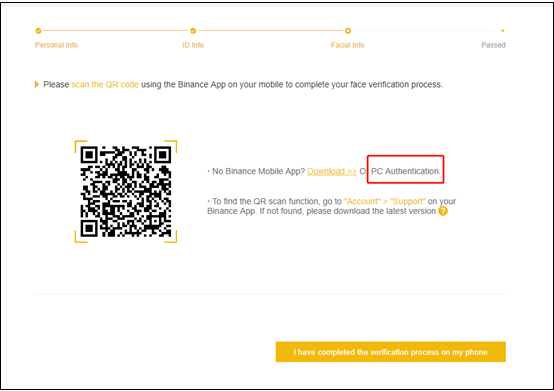 To proceed with the verification further, you will need a Binance mobile app. Scan the QR code using the app to complete the facial verification process.
Binance KYC
It is important to remember that Binance will require you to go through a simple KYC procedure before they can accept your deposit request. This is to ensure that Binance remains in compliance with all relevant anti-money laundering laws. This is especially important for the exchange at a time when they want to obtain the necessary regulatory approval to launch the exchange in the United States.
To do this, you first need to enter your full name, home address, country of residence and date of birth. After that, you will be redirected to a third-party platform verification partner - NetVerify. To complete the Binance KYC process, you need to download a copy of your government-issued ID. It must be a driver's license, passport or national ID.
Deposit
The next step after registration and verification of the account is to replenish the balance at Binance. Previously, the Binance exchange only worked with cryptocurrency, fiat was not supported. Users could not replenish the account with the card in dollars, euros, payment cards or in other ways using traditional currencies. Now, operations for depositing and withdrawing money to Binance are conducted both with digital cash and with fiat.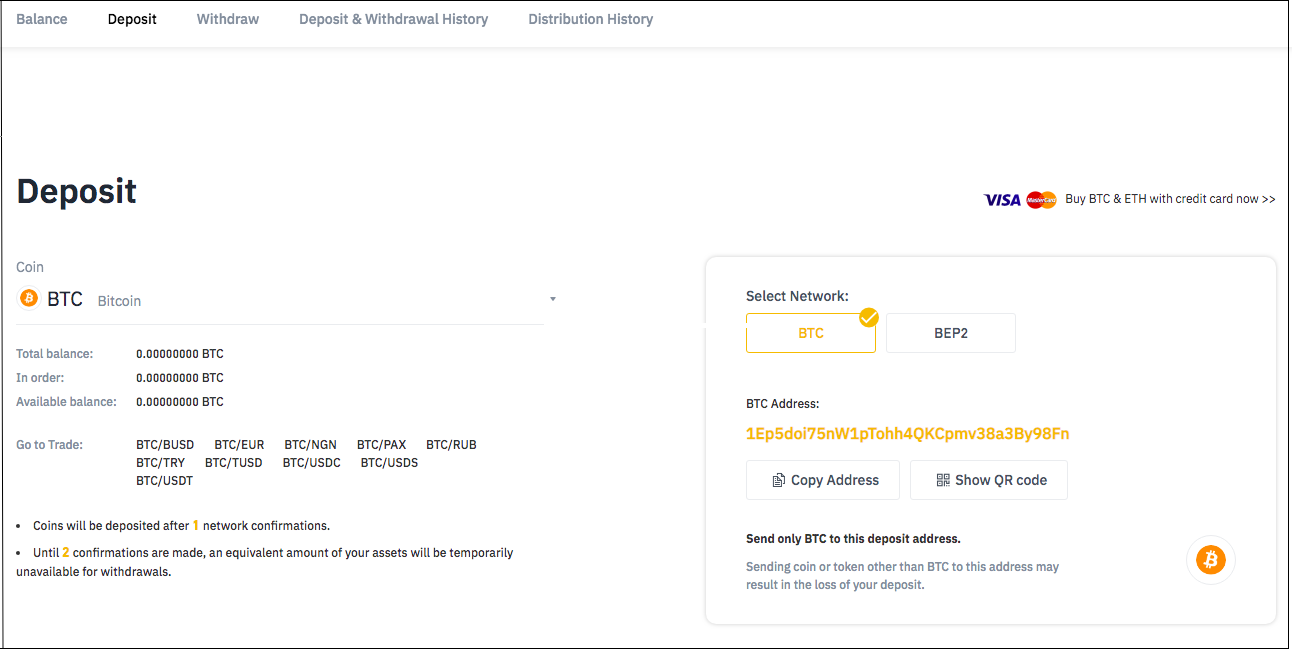 Go to your account and click the "Deposit" button. On the deposit page, you'll need to choose the currency you want, to do it you should click the "BTC" logo to see the full list of currencies supported. Once you find the assets you want to buy, click on it to deposit into Binance. 
Copy the unique wallet address that is provided to you, and use that to transfer the funds from your private wallet.
How to Buy XRP on Binance?
You can buy stablecoins listed on Binance by wiring money from your account to the providers of these coins. Then, use these stablecoins to buy XRP on the Binance exchange.
To find more information on how to buy XRP on Binance, you can check on its website.
Trading on Binance
Once your cryptocurrency deposit has been credited – which usually takes no more than 10-20 minutes, you are then ready to start trading. Hover over the 'Exchange' button at the top of the screen, and select whether you want the 'Basic' or 'Advanced' trading platform. If you're just starting out, then go with the former.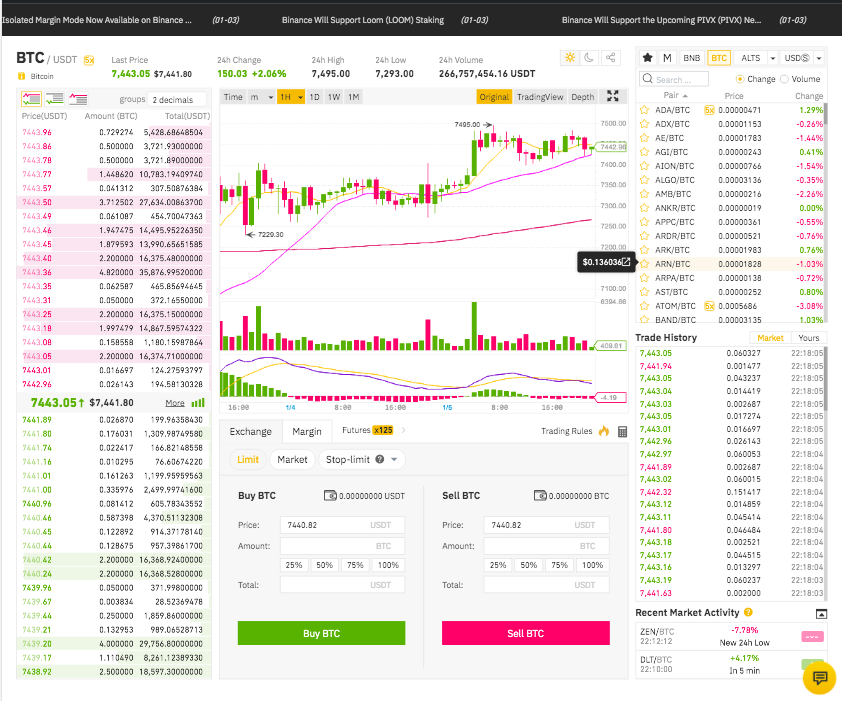 You now have access to over 540 individual trading pairs. If the coin you want to purchase is not directly related to the cryptocurrency with which you deposited money, you will need to make an additional transaction.
When you finish trading, your recently purchased coin will be available in your Binance account. You can leave it on your Binance account or withdraw it to an external wallet.
Binance also offers an API that allows you to connect your account to several Crypto Trading robots and allow them to trade on your behalf, automating your strategy and hoping to profit from bot transactions.
As for the minimal amounts to a trade, you can find the full list of Binance minimum trade amounts for every crypto asset here.
How to Withdraw?
The withdrawal of funds is on the same page as the input. The only difference is that you need to choose "Withdraw". There you will need to enter data on the transfer amount and address. Next, you just need to confirm the withdrawal.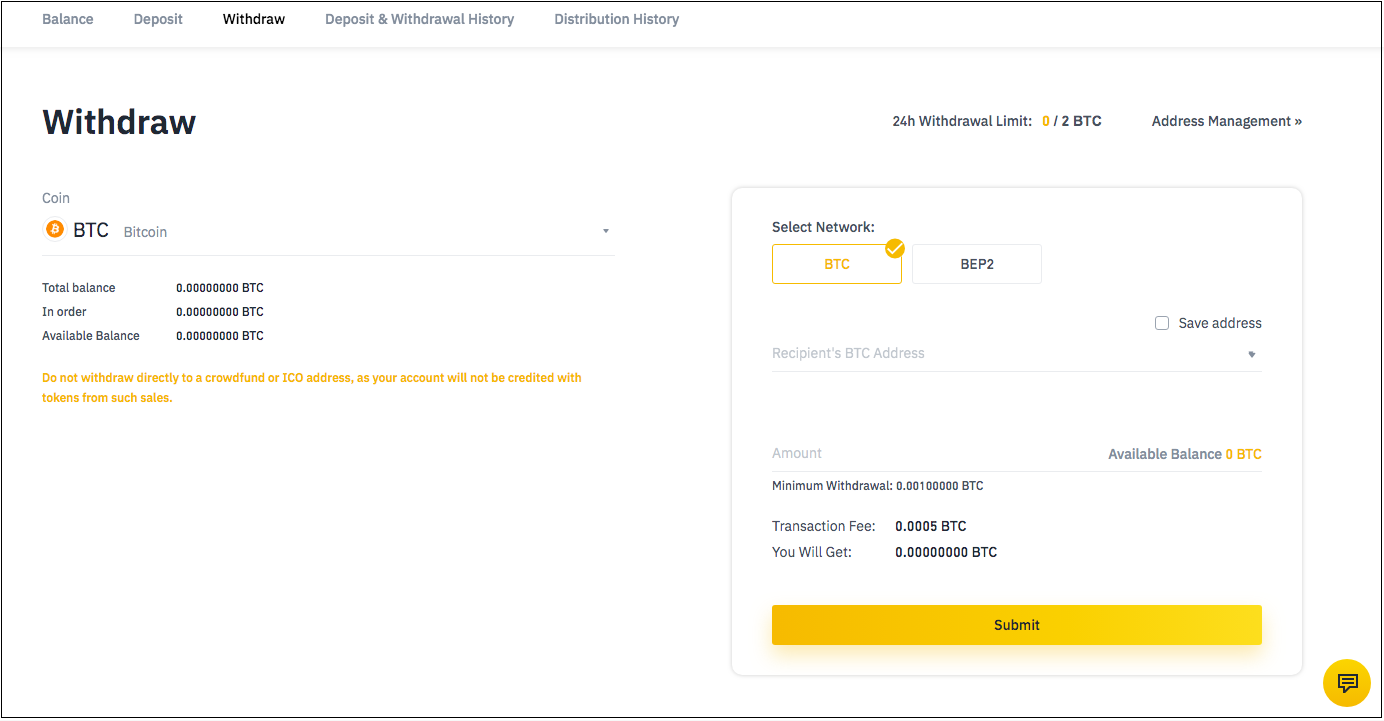 To do it, you also have to choose the asset you wish to withdraw and enter the recipient address of the currency chosen. Once all the information double-checked, press "Submit".
Customer Service
Binance exchange customers respond positively to the work of the Exchange technical support specialists. According to them, support works quickly, providing competent assistance and advice.
Also, to provide users with technical support, the developers have identified a separate dashboard. On it, you can find the answer to one of the frequently asked questions (FAQ) or submit a request to a specialist if something does not work as it should.
Technical support reviews are different. Among them are descriptions of positive work experience and dissatisfaction. At Trustpilot, we can see the full picture of the customer's reviews and the issues that they could have experienced. 
You can also stay tuned on all the news and announcements via Facebook, Twitter or Telegram.
The most common issue Binance users are contacting the Support Center with is 2FA Error that they could see. However, Binance has already described the solution to such a problem in their FAQ.
As the platform's advantages, users usually note a convenient multilingual interface, low fees, a large volume of transactions, a large selection of coins, including rare ones, a high-quality support service and various channels for communication with specialists, high and uninterrupted operation speed and fast order execution, convenient withdrawal currencies, the availability of mobile trading, currency sweepstake.
Traders working with the exchange note that it is profitable to trade here, transactions are carried out very quickly and you can store coins in crypto-wallets. Binance is rightfully considered to be one of the best and most stable platforms for trading cryptocurrency, both for beginners with small trading volumes, and for ardent crypto sharks who daily carry out large transactions.
Objective disadvantages of the platform are the difficulty of verifying the account and limitations in its absence, frequent account blocking.
Is Binance Safe? 
Binance takes security very seriously, the platform offers a number of security safeguards to ensure your funds remain safe from the threat of external malpractice. At the very beginning, customers are asked to set up two-factor authentication (2FA) when registering an account. 2FA is an additional level of security that sends a special code to your mobile phone every time you want to enter, exchange or withdraw funds.
Moreover, if you attempt to log in from a device or IP address that has not previously been used on Binance, you will need to confirm this via your registered email account. You can also choose to receive email notifications when key account functions are performed, such as withdrawals. But is Binance safe to entrust with our savings?
The Binance website also uses the CryptoCurrency Security Standard (CCSS) to protect accounts, which is the industry standard for large exchanges. You can always have some extra protection using a VPN service. According to Vpnpro, good VPN encrypts and hides your location, IP address, some of them even have a AES 256-bit cipher which helps to protect your personal information from hackers.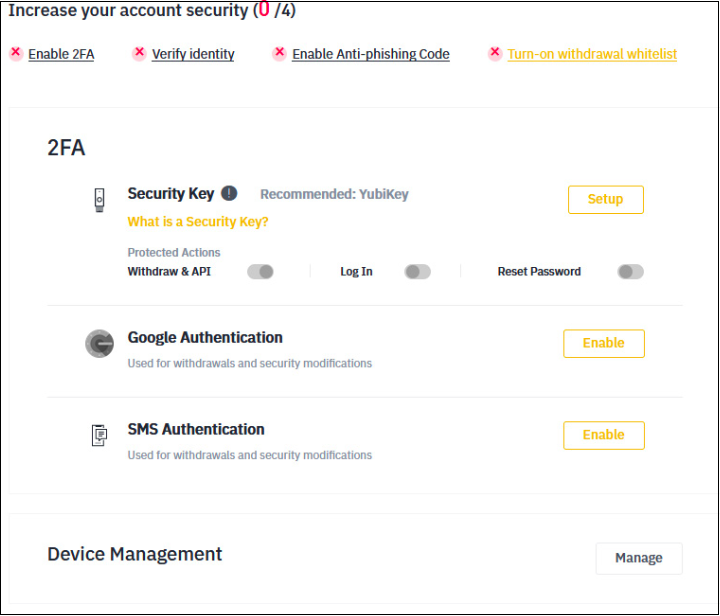 Binance recently introduced its 'Address Whitelisting' feature. Ordinarily, you have the option to withdraw your cryptocurrency funds to any wallet address. However, if you set-up the address whitelisting feature from within your account, you can ensure that withdrawals can only be made to a single address. You can, of course, amend this at any time, although you'll need to go through an extra couple of security steps. 
However, Binance could not avoid hacking. The company was hacked on May 7th at 12:15 Eastern Standard Time. In addition to stealing bitcoins, hackers received a large number of user API keys, two-factor authorization codes, and other information. The stolen bitcoins are insured by the fund existing at the exchange and were paid to all users. Nevertheless, there are rumors that the exchange itself organized a "hack" because on the OTC market, there was a large application for the purchase of crypto, and in order to satisfy the application, it temporarily froze users' bitcoins. It remains to be hoped that this will not happen again and everything will be fine with Binance.
The big advantage of Binance exchange is how the Binance team responds to threats and solves problems, and in terms of reliability, since there were precedents, then it's not worth overpraising it. The design and convenience of trading, of course, are at the high level, since the development of this exchange is well underway.
Binance vs Coinbase
Coinbase is one of the leading digital asset exchanges based in San Francisco, California. The exchange was founded in 2012. They focus on the US market, however, the company currently operates in 31 countries and offers storage of Bitcoins in 190 countries around the world.
In 2014, the company created the Global Digital Asset Exchange (GDAX), a platform for trading a wide range of digital assets and directly exchanging Bitcoin and Ether for fiat currency. GDAX is intended primarily for professionals with large volumes.
The Coinbase offers the most reliable protection in the entire Bitcoin exchange market. More than 97% of the coins are stored in the cold storage. Private keys used to authorize cold storage operations are stored in fragments between autonomous hard drives and paper, in different places with backup in case any sheets are lost. This kind of protection of users' data inspires confidence. It is a strong competitor to Binance both in terms of operating time and reliability of information storage.
Binance vs Kraken
The Kraken cryptocurrency exchange was created back in 2011 by Jesse Powell, one of the first bitcoin enthusiasts, as an alternative to the (now closed) Mt.Gox exchange.
Kraken is one of the few large exchanges that has an impeccable reputation for security and has become the first cryptocurrency platform to introduce a Proof-of-Reserves system that cryptographically verifies whether the users' balances on the exchange match the funds on Kraken wallets.
Over 8 years of operation, the Kraken exchange has been able to gain credibility in the crypto industry. The exchange regularly conducts internal audits and tries to demonstrate transparency even in conditions of unfair competition. When it comes to security, few can compete with Kraken. Today, Kraken is one of the few large cryptocurrency exchanges that has never been hacked.
To achieve the highest possible level of security, Kraken stores most of its funds in cold wallets geographically distributed across several countries. Kraken servers are monitored around the clock and are protected by armed guards, and a team of cybersecurity experts regularly checks for potential vulnerabilities.
For users, Kraken offers many additional options to protect your account. They include additional two-factor authentication, as well as blocking account settings. 
Unfortunately, the Binance exchange was hacked and it can't boast such an impeccable reputation, especially considering that the Kraken exchange is 3 times older than Binance.
Conclusion
Summing up, it should be said that Binance is one of the best options for trading and investing. This is evidenced by popularity, and trading volume, and the number of supported currencies. The exchange is suitable for both professionals and beginners, thanks to the availability of appropriate modes. In addition, on the platform, it is not necessary to verify and withdraw not the smallest amounts. The project continues to actively develop and open new offices around the world. Is Binance safe enough? Is Binance legit? Or is Binance scam? For this kind of exchange, we can say that the Binance exchange is quite safe and secure to trade average amounts. And what do our readers think about Binance? Have you used this trading platform? We invite you to share your opinion in the comments to the review.
Minerva
8 September, 8:25 AM
So many negative opinions show the intention of manipulating the result. It is good that Cryptogeek gives opinion as an expert, because the majority of opinions do not add value or help other users. My experience in Binance has been positive, even when I have had problems I have always received a response, somewhat slow at times, but I have always been able to solve everything. It is also important to find out how it works so as not to make absurd mistakes.
Guilherme
4 September, 1:36 AM
I was robbed in an amount of 999 USD in Binance. I no longer trust the platform's security. They should put dynamic authenticator for EACH transaction.
Danny Flower
9 July, 3:51 PM
My bank details were hacked on Binance. I can guarantee you that this site is not safe to use at all. I prefer to use this site for cloud mining and it at least gives me money.
I have sent over a half dozen different forms of documentation to confirm my address with Binance and they have all failed verification. I have sent a dozen emails, since there is no customer service or chat, and I have received one response which went nowhere after the first one - I have still received no assistance to get my verification approved. Binance needs a complete overhaul on customer service
My bank details were hacked on Binance, while i am in Binance, There is no support - I left many messages and have received no response .
Kwang young y ko
24 April, 1:19 AM
Binance us 으로 부터 피해를 받은 거래자 입니다. 거래시 신중하게 거래 하시고
가급적 다른 거래소에 거래 하시기 바랍니다.

본인 ACH (은행계좌) 에서 바이낸스 USD로 1100불 디파짓 했는데 바이낸스 자체 시스템 에러 발생으로 디파짓 실패를 했는데요. 그러나 제 은행 계좌에서 돈이 빠져 나갔으며 바이낸스 USD 의 잔고는 없었구요 . 바이낸스 거래소에 조치 해달라고 여러번 문의를 했는데도 거래소 잘못이 아니기 때문에 돈을 돌려 줄수 없다고 답변이 왔습니다. 바이낸스 시스템에
문제가 많습니다. 출금 할때도 에러가 발생합니다. 남은 코인 모두 팔고 가입 탈퇴 하려 합니다.

참고로
은행 거래 내역을 보여 드리겠습니다.

my bankTransaction
1. wells fago
Prime Trust LLc YTS7 BINAN 2104153706547557FD
4/16/21. $300

Prime Trust LLc W8TB BINAN 2104157AEABEB1D21D
4/16/21. $200

Prime Trust LLc X18TK BINAN
2104155717DB32B479
4/16/21. $200
Total $700

2. First inter continental bank
1. Prime Trust LLc WGLP BINAN
9E5A8E 024C774D3
4/16/21. $100
2. Prime Trust LLc X18TK BINAN
818C02FF3D044BE
4/16/21. $300
Total. $400
Binance company was
over several deposit failures.
Very reliable and with great financial instruments. I dont understand so much negative vote with a star, it seems that they seek to manipulate the review.
Looks as if my bank details were hacked on Binance. Fortunately my bank picked up a suspicious withdrawal from a US IP and blocked my account - I wasn't in the US so this tipped the bank off something was wrong. Zero customer support response when I contacted Binance over this. I am now transferring out of Binance to another exchange. Be a bit wary of using Binance. It's popular - perhaps too popular and attracts both good and bad.
I tried to set up an account without success. There is no support - I left many messages and have received no response . It makes me feel that this exchange is 'shonky'
Ryan Arizona
20 March, 1:06 AM
You lost me at "China"
Guillermo
15 March, 5:59 PM
Hoy he transferido 2000 pesos en BTC desde Bitso a Binance. De Bitso han salido 1976 pesos hacia Binance una vez restadas comisiones, a Binance han llegado 1076 pesos. Adovina adivinanza , quien se ha quedado con mi lana, los mineros, binance, O Bitso ?
Another difficult to use platform, that wants all your data, you have no guarantee, your data is safe, they have photo passport, bill, bank, driving Licence, enough data to clone you..
Tellas
13 February, 11:51 AM
I'd like to see a good fast support feedback and user's chat. I feel lack of that things.