Bitrue Review 2023 - Is It Safe?
Full address:
Palo Alto, CA, United States. (The exchange does not disclose the exact location of its office)
Fees:
Withdrawal Fee • 0.098% Taker Fee • 0.098% Maker Fee
Fees:
Withdrawal Fee • 0.098% Taker Fee • 0.098% Maker Fee
Nov 24, 2021
The crypto exchange industry is decentralized as it has numerous centers all over the world. One of the centers in Singapore. Many cryptocurrency brands are hailing from this country. One of them is Bitrue. Liquidity reported by this exchange is regarded differently but anyway this exchange is among the industry leaders in terms of the trading volume. Reported liquidity is not the only concern about Bitrue. Many users claim they cannot withdraw their money from the platform. These reports don't necessarily mean that Bitrue is a scam, however, it shows that the platform has some issues with security or has unstable service. In this review, we will try to figure out if this exchange is a scam, how safe it is, and what are the main features of Bitrue. After all, big liquidity can still be a reason for considering using this platform.
What Is Bitrue?
Bitrue is a Singaporean cryptocurrency exchange. The platform is characterized by huge liquidity, an intuitive interface, a high-end core pair trading system, and a layered security structure. More than that, Bitrue supports over 300 cryptocurrencies, allows users to trade cryptocurrency futures, buy or sell crypto in one step, borrow Tether, Bitcoin, Ethereum, or XRP with no delivery deadline, or invest crypto to earn interest. Like many other exchanges, Bitrue has a native token (BTR) providing users opportunities to save or earn money through it.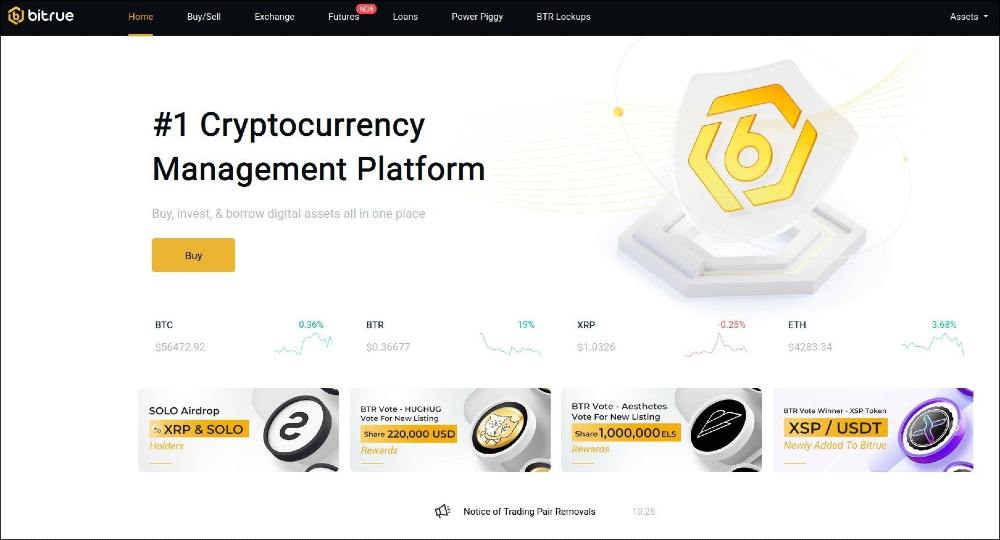 Bitrue was created by cryptocurrency enthusiasts in 2018. Bitrue has several offices in the USA, Europe, and Asia. The website doesn't specify the addresses of these offices nor even mention the cities or countries apart from the US. However, the exchange is not fully anonymous. The CEO's name is Curis Wang. Other known members are Iris Chu, who is Head of Marketing, and Advertising Chief & Marketing Officer Adam O'Neill. As for geography, there is no mention on the Bitrue website, pointing out any countries where people cannot use the exchange's services. We assume that Bitrue is probably available globally. The website is available in English, Korean, Chinese, Japanese, Arabic, Indonesian, and Spanish.
Registration and KYC
Launching an account on Bitrue is easy. You just need to provide an email address, set a password, and confirm the registration via a verification code sent to your email address. Even without completing KYC, you are free to trade and withdraw up to 2 BTC daily. Loans are not available for users who didn't do a KYC.
KYC procedure became quite a standard procedure for centralized crypto exchanges. Please note that KYC on Bitrue is impossible without enabling 2-factor authentication first. To complete KYC you will have to provide the following info: first name, last name, birth date, ID number, and residential info. To confirm the provided data you will be requested to upload a selfie with your ID. When the Bitrue team will confirm this data, verification will be complete.
Main Features
In the Exchange section, you will see a standard trading interface with a candlestick graph, order book, etc. The graph is customizable. You can use numerous indicators to analyze the markets. You can choose from the following markets: Bitcoin, USDT, USDC, Ethereum, XRP, and EFTs. On Bitrue, you can use Market, Limit, and Trigger orders. Diversity of order types allows you to prevent serious losses as you can set the price at which the order automatically declines in the cases when the market trend is opposite to what you need. There are over 30 trading pairs in the Futures section. All of the perpetual are traded against USDT.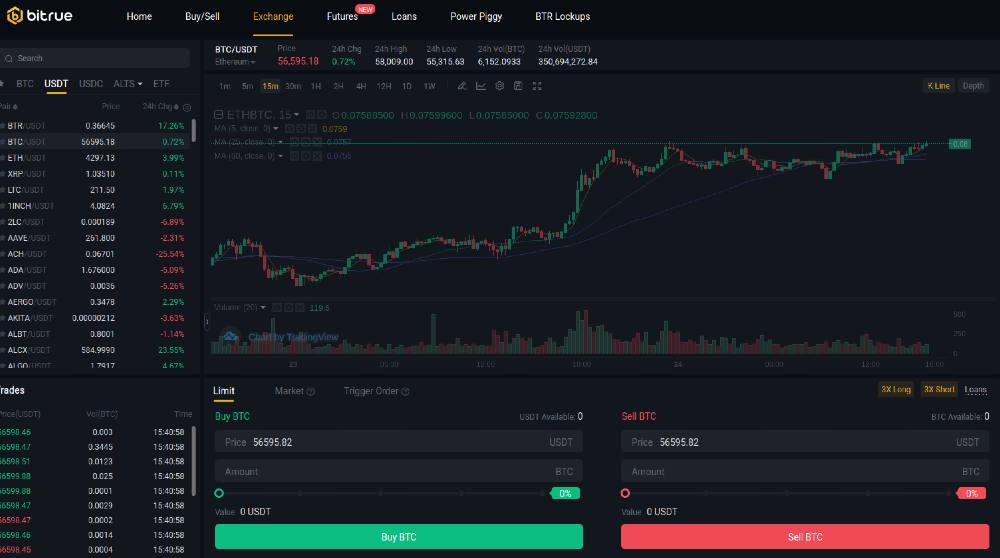 If you want to buy some crypto for fiat money quickly you can use the section Buy/Sell. Legend Trading, Credit Card-Simplex, and Trust Token are three services that can be used for buying crypto. Via these services, you can pay using a wire transfer and VISA/Mastercard card. More than that, Trust Token allows you to buy crypto for crypto.
Borrowing money via Bitrue takes place on simple conditions. You should click on Loan and pledge some crypto (the minimum amount is 100 USDT). You can pledge one of over 20 cryptocurrencies. The borrowing period is not limited. The interest rate is floating and is recalculated daily. The lending pledge rate is set at 50% - 65% while the mandatory delivery rate is 70 to 90%.
Another feature is called Power Piggy. It is a service allowing users to earn interest via investing their money. There are different conditions for different currencies. For instance, BTC has a 2.1% interest rate, unlimited lock-up period, and the minimum amount is 0.01 BTC. 
👀 $BTR is on the fastlane to reaching its true value, up 20% today!

Our platform token is used to fuel your investments, with #BTRVote and BTR Lockups regularly giving returns of 50%+ APY.

Buy BTR at https://t.co/O9cpeqG027 pic.twitter.com/2ufsMmJV0r

— Bitrue (@BitrueOfficial) November 24, 2021
Speaking of the Bitrue exchange native token (BTR), we should mention that the token holders can enjoy lower fees and higher interest rates when using Power Piggy.
Fees
Fee rates are an important factor to consider while choosing a crypto exchange that will fit you the best. The reason is clear: no matter how much you have earned — if this money is taken away from you as fees you might end up making less than on the exchanges you consider as less convenient. 
Unlike most exchanges, Bitrue charges different fees depending on the trading pair. Pairs XRP/BTC, XRP/USDT, XRP/ETH are charged with a 0.2% fee. The rest XRP-based pairs cost 0.28% per transaction. These rates are higher than average. Happily, the rest trading pairs are much cheaper when it comes to trading fees — only 0.098% which is close to average.
Withdrawal fees may change depending on the blockchain conditions and differ from coin to coin. These fees are quite alright. For instance, when you withdraw BTC, you lose 0.0005 BTC in fees. Tether withdrawal fee is 2.6 USDT. In general, it's safe to say that it is possible to find exchanges with better fees, however, it would be an exaggeration to state that fees on Bitrue are a daylight robbery.
Is Bitrue Safe?
Safety is one of the key factors to consider when you choose an exchange. If the exchange turns out to be vulnerable to hacker attacks or a scam, you will have to walk extra miles to get your money back instead of enjoying your earnings. Moreover, there is no guarantee that you will manage to get your money back. It means that if you consider using some exchange you should see what are the available protection measures offered by this platform and read the user reports to see if they complain about being scammed or neglected. 
We have already mentioned in the beginning that the company's reputation is questionable due to a huge amount of users' negative reports. The strange thing is that there are little to no critical comments in the Bitrue Twitter account although it would be the easiest way to address the problem, contact the platform, and warn others. However, there are many negative reports on TrustPilot. There is no way to tell these reports are authentic. Mostly, people claim they cannot withdraw their money from the platform. If we look at the number of such reports and compare it to a probable number of users we might decide that rather the company is slow to react to users that stumble upon some tech issues. It doesn't picture Bitrue in a good light but at least we don't see serious reasons to suspect Bitrue of being a scam.
Now, let's see what security measures you can apply to safeguard your account on Bitrue. First off, it is important to turn 2-factor authentication on. Happily, you won't be able to use the exchange properly if you won't activate this feature. Why is it so important? The thing is that 2fa significantly decreases the chance for your account to be hacked. When 2fa is enabled, no one won't enter your account or withdraw money from it without providing a one-time password first. The password is generated on the account owner's mobile device locally in the Google Authenticator app. If hackers won't steal your wallet they won't be able to empty your Bitrue wallet.
Another layer of protection is enabling a PIN. This shortcode will be requested every time withdrawal is initiated. Providing a mobile phone number for security reasons can enhance security even better. The phone will be used while logging in. More than that, you can get updates associated with your trading activity via your phone. Apart from that, you can set a whitelist of addresses. Such a feature limits the valid withdrawal addresses to those that are included in the list. So if criminals hack into your account, they won't be able to withdraw money to one of their addresses. Finally, every user gets a unique code that is attached to every email from Bitrue. If you get a message without this code, it's a sign that someone is impersonating the Bitrue team to scam you. 
Overall, it is a solid set of security measures. Setting the complaints aside, Bitrue could be considered a safe platform. However, the known issues tell us that the exchange has room to grow.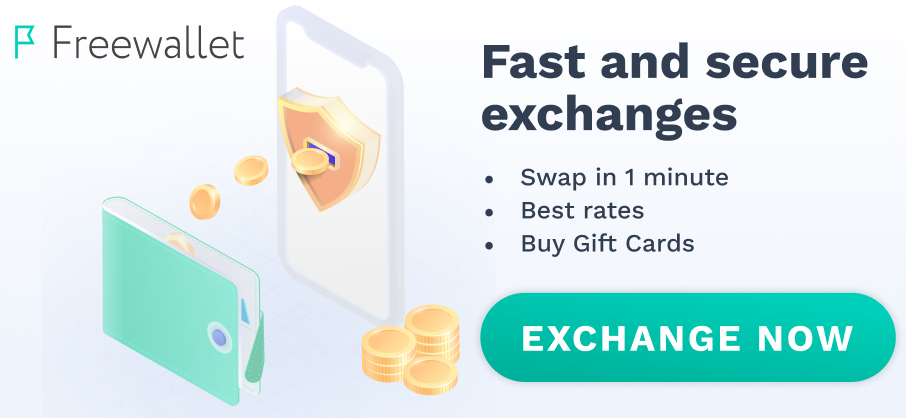 Robert A Miller
24 May 2022
I have not had access to my account for 7 days and cannot get any help.
I haven't had an issue and I withdrew over 25000 dollars of crypto. I have read others having an issue. My withdrawal was one crypto. I think when your going back and forth with deposits and withdrawals is where the issue arises. If I ever have an issues when withdrawing the rest of my crypto, I will update but so far I am happy with Bitrue.
Bitrue is a great exchange, I never had a problem with them.