Bisq Exchange Review 2022 - Is It Safe?
Full address:
The exchange does not disclose its location
Fees:
Trading fees are based on trade amount and distance to market price. Min. fee (MF) = 0.0002 BTC, default fee (DF) = 0.002 BTC, amount factor (AF) = 1/BTC, market price factor (MF) = square root of percent value (e.g. 1% -> 1, 9% 0 -> 3, 0.01% -> 0.1). Trading fee = max(MF, DF * amount * AF * MF). E.g. 0.002 BTC for 1 BTC trade at 1% market price distance.
Fees:
Trading fees are based on trade amount and distance to market price. Min. fee (MF) = 0.0002 BTC, default fee (DF) = 0.002 BTC, amount factor (AF) = 1/BTC, market price factor (MF) = square root of percent value (e.g. 1% -> 1, 9% 0 -> 3, 0.01% -> 0.1). Trading fee = max(MF, DF * amount * AF * MF). E.g. 0.002 BTC for 1 BTC trade at 1% market price distance.
Apr 21, 2021
Bisq exchange was launched back in 2014. At that time it was one of the first Decentralized Autonomous Organizations (or simply DAO). According to the founders of the exchange, one of the goals of the Bisq network is to "keep the original spirit of Bitcoin alive".
To date, Bisq can be found on numerous lists of the best decentralized exchanges. It's safe to say that this exchange is not free of issues typical for decentralized exchanges, but it has become a significant player in this market.
What Is Bisq?
According to the official website, Bisq is an open-source, peer-to-peer application that allows users to buy and sell cryptocurrencies in exchange for fiat money or other cryptocurrencies. More than that, it is stressed on the website that the service doesn't require registration or approval of any authority. Bisq exchange supports Bitcoin, Ethereum, US dollar, Euro, yuan, and many other currencies. In total there are over 120 cryptocurrencies and about the same number of national currencies traded on the exchange.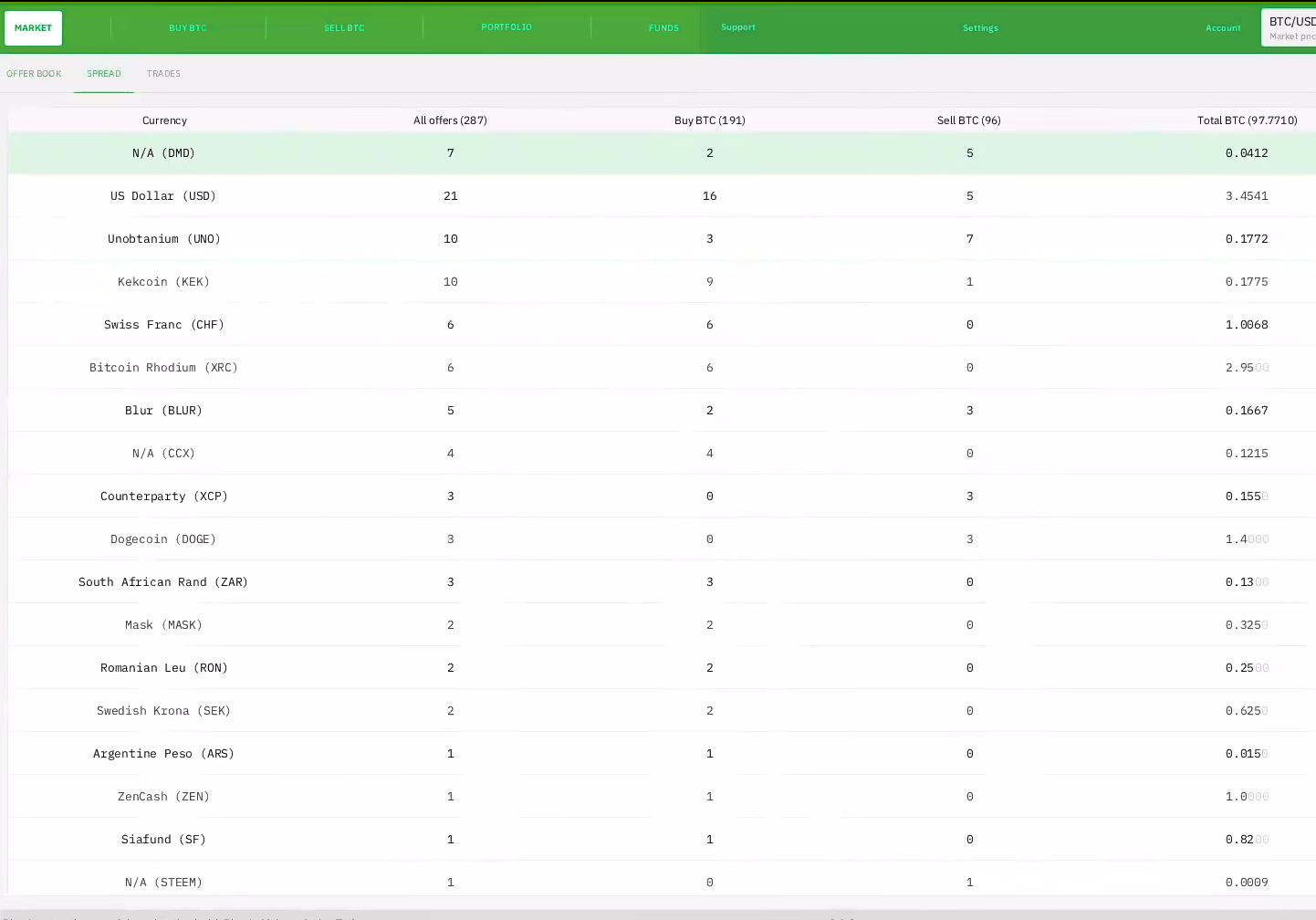 Most of the exchanges are centralized and web-based (Kraken. Binance, Huobi, HitBTC, etc). Unlike most of the exchanges, Bisq exists in the form of a client, not a website. The trading process takes place right on the blockchain and not on the servers of the exchange. It is an important feature that saves the Bisq network from censorship and prohibitive regulations. The exchange users don't share their information with anyone besides the parties involved in the transactions. There is no central server that could be successfully hacked in order to steal money from users, so Bisq is believed to be both safe and private. Although in April 2020, hackers managed to steal money from 6 or 7 users.
Nevertheless, the lack of authority is viewed differently by different people. Some users might value independence and freedom, while others can't feel safe when there's no central authority responsible for the security of their funds. More than that, the necessity of using its own blockchain, requires all traders to pay fees even for placing orders on the exchange which can drive some traders away from using it.
Another significant feature of Bisq client is that it has a relatively simple interface. Decentralized exchanges often have a complicated design that can't be called user-friendly. It is one of the reasons why many people lean to centralized exchanges even if they wish to switch to decentralized ones. The developers have successfully coped with this problem and created a comfortable interface for this decentralized trading platform.
Bisq hit 70,000 trades all-time yesterday. This, just 6 months after hitting 50,000.

Says a little something about the pace of the network's growth...

Question though, why do you yanks charge so much of a premium on your bitcoin?

EUR much more friendly 😁 pic.twitter.com/JzwF9zucEG

— Bisq (@bisq_network) August 19, 2020
In contrast to many centralized exchanges, Bisq provides little market information. The exchange offers no sophisticated trading features that could be used for automated trading, protection from trading in loss, etc. Margin trading is not supported as well. In general, all that Bisq does is connecting buyers with sellers. 
A "Bisq" of History
Bisq was founded by a software developer from Austria Manfred Karrer in 2014. Initially, the project was called Bitsquare. It was made in an attempt to provide an opportunity to buy and sell Bitcoin without the need to use centralized platforms that collect user data. The idea of decentralized open-source and anonymous exchange meant to keep Bitcoin in a private peer-to-peer zone.
Since the moment of its launch, dozens of developers made their contributions to Bisq exchange. Currently, developers are free to participate in further development communicating via Slack and GitHub.
How to Send Money to Bisq and How to Use The Exchange?
There are two trading options on Bisq exchange:
1. The trader places an order on the trading book and waits for another trader to take it.
2. The trader takes the order placed by someone else.
The exchange users have numerous options for how they can send money to the platform. It includes Bank Transfers, AliPay, OK Pay, Perfect Money, Zele (ClearXchange), US Postal Money Orders, SEPA, and Faster Payments. Participants of the trade should decide which withdrawal method they are going to use before the trade takes place.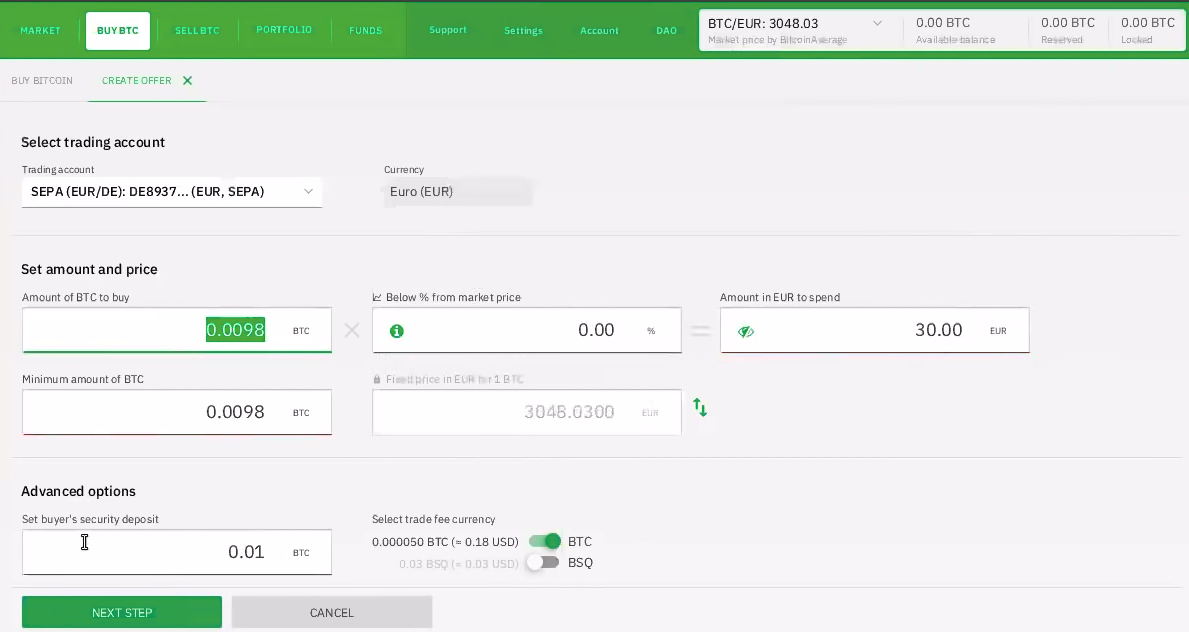 For example, if a seller is going to sell some BTC from his wallet in exchange for USD, he shares his USD bank account details with a buyer and makes the transaction. A certain amount of BTC gets debited from the seller's wallet and some amount of USD is credited to his bank account.
After the matching, the money involved in a transaction moves to a multi-signature address (here you can learn about it) and then these coins get to the wallets of the traders. To secure themselves from fraud, the participants pay a security deposit which is refunded as soon as both sides receive the money involved in the trade deal. Both parties must provide a certain additional amount due to collateral requirements. When the trade is over both parties get this money back via withdrawal.
Bisq Exchange Fees
On the exchange website, it is stated that "trading fees are distributed to contributors without the confines of a corporation or other legal entity".
For years the trading fees calculation system on Bisq was quite complicated and the fee was depending on multiple factors. Bitcoin buyers have been paying 0.0002 - 0.002 BTC depending on the market price distance and amount of trade.
The current trading fee system is more straight-forward. It's aimed to encourage the growth of liquidity on the exchange. Traders who add new orders (offer makers) pay 0.1% commission. Those who take orders (offer takers) have to pay 0.3%. There's a minimum fee set as low as 0.00005 BTC.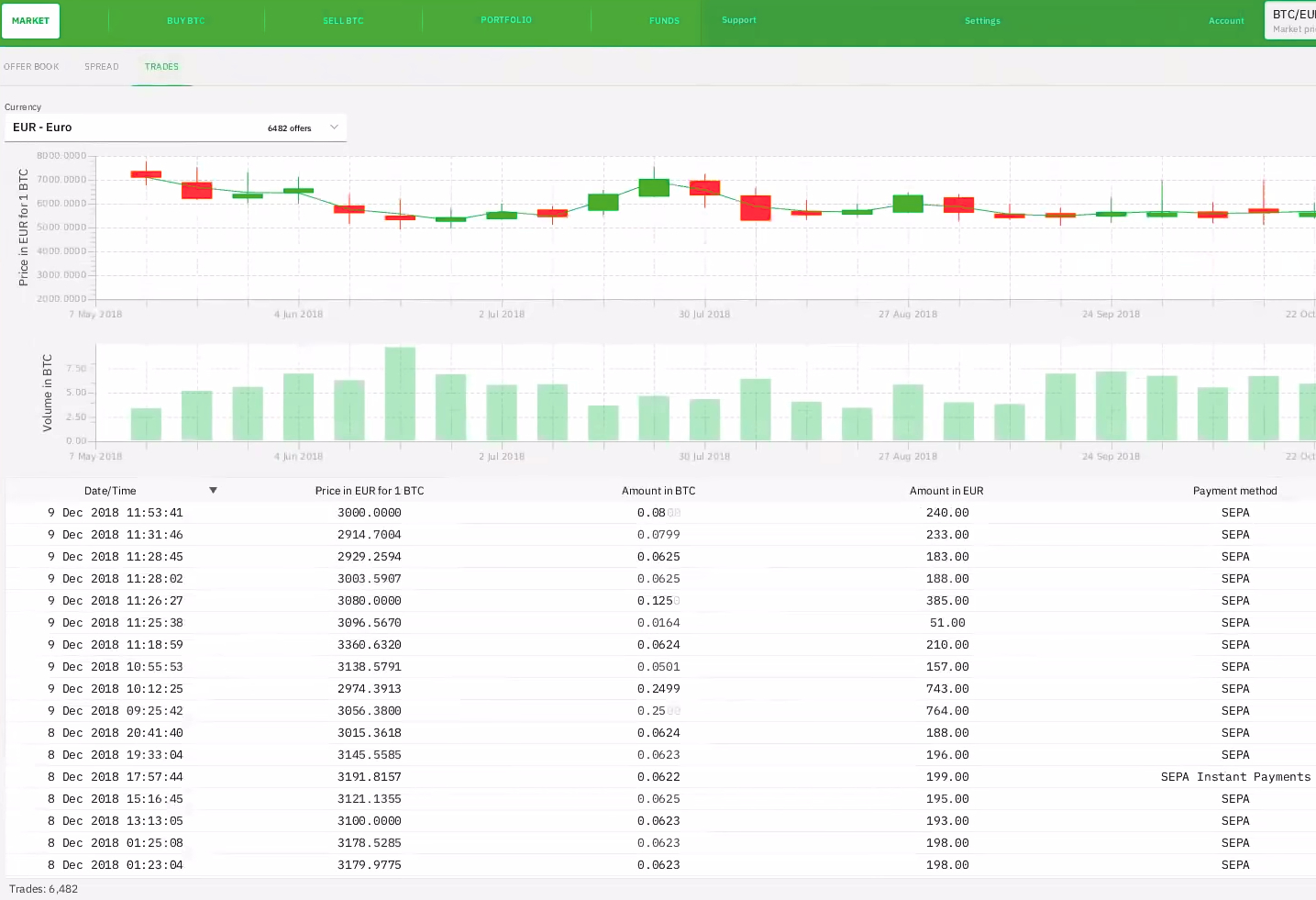 Another part of the fee system is a mining fee. The "makers" pay only a trading fee transaction while "takers" have to pay the trade fee transaction, deposit transaction, and payout transaction.
Also, it's important to mention that traders using the Bisq native token (BSQ) to pay fees can get a discount of up to 90%.
Bisq Token
Bisq token is not an object for trading outside the Bisq exchange. It's rather has a function of fuel for the network. First 25 tokens were given to the core contributors as a reward for their work. An opportunity to receive Bisq tokens attracts developers and contributors because, as was mentioned, the fees on the exchange are lower for those who pay in BSQ.
Technically BSQ is a bitcoin, but it's marked in a special way (the wallet address with a 'B' prefix) and kept separate from other bitcoins. The owners of BSQ tokens are stakeholders and they participate in the governance of the platform.
Is Bisq Safe?
Bisq's decentralized structure supposes that there's no way to steal users' money or affect the speed of operations. If one of the servers gets hacked, the network will keep on working using the rest of the servers. In case if hackers manage to hack several (or all) servers they won't be able to steal money as Bisq doesn't hold its users' assets, it rather operates the transactions. The user data is supposed to be stored solely locally on the users' devices.
Many believe that decentralized exchanges are safe by design. However, there were cases proving it's not like that. Unfortunately, Bisq is one of the several decentralized exchanges that were hacked. In 2020, after a regular system update a security vulnerability occurred and was exploited by cyber criminals to steal money from users. They accessed fallback addresses and outwaited the trades' time limits. It has allowed them to send money to their wallet. In the criminal operation Bitcoin and Monero coins were stolen from six or seven Bisq users. At the time of the incident, it was around $250,000. The operations were halted for a period of time. Then a hotfix was made, the vulnerability was removed, and trading continued. Many users reported of tech problems with trading occurring with the hotfix. The victims of stealing were promised a repay from the future revenues of Bisq via DAO.
The case demonstrates both sides of security on decentralized exchanges. On one hand, these platforms are hard to crack, however, when it happens there are no funds or entities who can quickly compensate for the stolen money. The fix is made by enthusiasts and turns out to cause problems to other traders. The lack of central authority is both a benefit and an additional risk. Apart from the 2020 case, Bisq users experienced no huge security issues on the platform. Therefore, we can with some reservations call Bisq a safe place for trading.
Reputation
User reviews about Bisq are mixed.
sorry, I tried trading on your decentralized exchange and it was worse than watching paint dry

— Clever Bonobo (@CleverBonobo) August 20, 2020
On the one hand, the exchange is praised for its high security and resistance towards censorship. Experienced traders regard that the Bisq interface is better compared to other decentralized exchanges. Reviewers say that it is not typical for decentralized exchanges to provide so many supported currencies including fiat money. On the other hand, even given the better interface of Bisq it is still not very simple for total novices, while veteran traders won't be happy about the lack of numerous specific trading features.
If you have experienced trading on Bisq yourself or if you can say something significant about the code of this exchange, please leave your review here.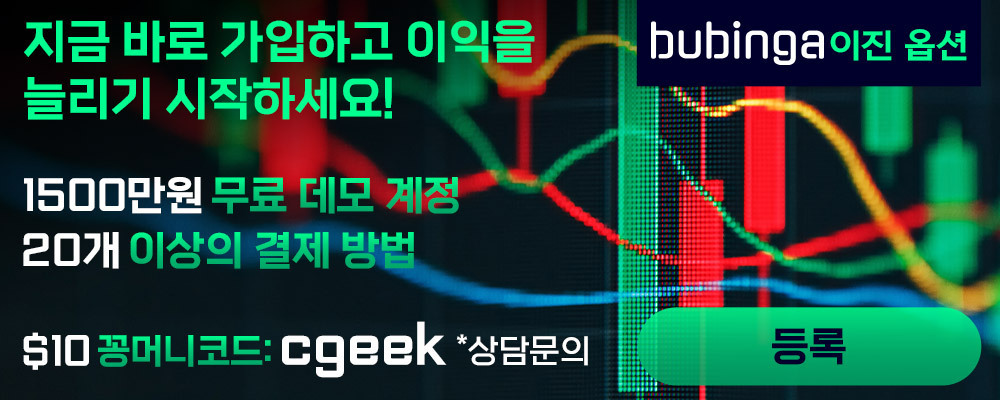 BISQ, while a bit clunky in it's client p2p design, it is quite awesome in accomplishing it's goal of making trades private and personal. As more and more countries clamp down on cryptocurrency, it is reassuring to know we have options for privacy or to purchase crypto that may have unfair legal hurdles. I applaud what the BISQ team has done. It is commendable!
CLAY HAVOK BLAÍNE
25 February 2022
Thank you for your interest in TRTL+COMPATIBILITY/UNIVERSALITY!
The functionality might be better. Sometimes I need to make 5 or 10 clicks to make a transfer. The competors have better options.
low liquidity makes trading here absolutely pointless, and the interface is really outdated
What's happened with the captcha when I try to login,I can see it properly. I've been having this problem for 3 days.