Top 20 Bittrex Alternatives Which You Can Use in 2022 | by Cryptogeek team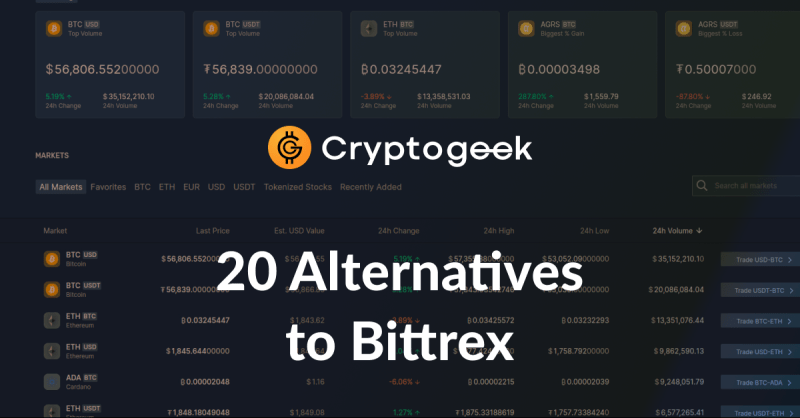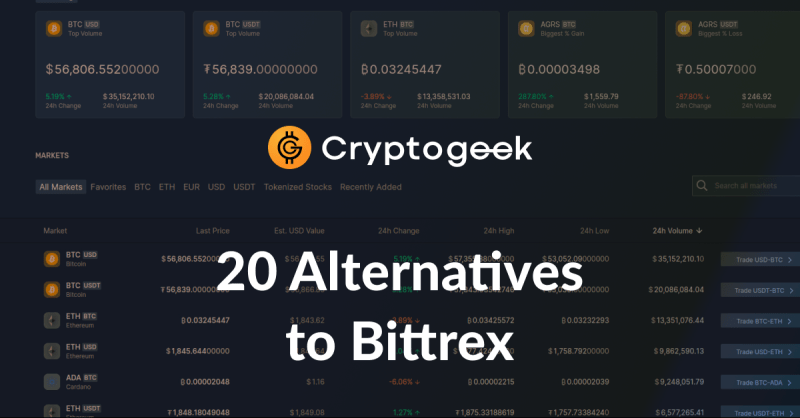 Bittrex is an American cryptocurrency exchange notable for its high daily trading volume, a large number of supported coins (over 300 assets), strong security, and a long-standing reputation — the platform was founded in 2014. However, as the cryptocurrency industry is growing and developing quickly, currently there are many strong Bittrex competitors on the market. In this article, we will showcase possible reasons that make people seek Bittrex alternatives and what brands can be called the strongest Bittrex competitors in 2021.
Why Do People Seek For the Bittrex Alternatives?
Bittrex is one of the top exchanges but it doesn't go without downsides though. First off, trading fees on Bittrex are far from the lowest in the industry. The exchange charges both makers and takers 0.2% per transaction while many rivals collect smaller commissions. Fiat money can be deposited via Visa and Mastercard with a 3% fee. The holders of the other banks' cards would probably need to find a different exchange if they want to buy some crypto with fiat currency.
At Bittrex, we want to make sure everyone can lean into the excitement of trading #Bitcoin $BTC and other cryptocurrencies. Here's four things that will give you the confidence to make your first trade.https://t.co/YCJWD68rcW

— Bittrex (@BittrexExchange) February 9, 2021
Several modern exchanges provide such a feature as margin trading. This is not the case for Bittrex. People who want to use leveraged trading will need to seek the alternative to Bittrex. More than that, some traders probably find other exchanges more convenient in use. Also, there is an opinion that the Bittrex liquidity leaves a lot to wish for.
The Options Available in the USA
Some of the exchanges are not operating in the US because the local crypto regulations are quite strict. Many companies prefer just to drop the US market instead of trying to meet the requirements. In this chapter, we will list the exchanges that are working in the USA and other countries.
KuCoin
KuCoin is a multifunctional exchange that supports over 200 coins and has liquidity as twice as bigger as on Bittrex. It charges only 0.1% in trading fees. It supports staking, lending, margin trading, OTC-trading, and trading futures. Unlike Bittrex, KuCoin doesn't allow users to deposit fiat money via bank transfers.
Kraken 
Kraken is one of the best-known US exchanges. It was launched in 2011. It boasts high liquidity, regulations-compliance, a diverse set of supported functions including margin trading and others, and multiple accepted payment methods. It supports around 50 coins while Bittrex offers over 330; however, by most characteristics, Kraken is a great alternative.
Coinbase
Coinbase is the US cryptocurrency exchange. Coinbase was created in 2012. The exchange is fully regulated and beginner-friendly. Its functionality is quite limited. It doesn't offer more coins than Bittrex and charges relatively high fees but has much higher liquidity and top-notch security. 
Freewallet
Freewallet has been on the market since 2016. The company provides user-friendly wallets for different coins and a multi-currency wallet, as well. Freewallet can be web- or app-based. The service provides a feature of quick crypto swaps. The feature is relevant for all ERC20 tokens and most of the top coins. More than that, it is possible to buy dozens of cryptocurrencies by paying in fiat money.
Cex.io
Cex.io is a British exchange available in over 20 states of the US. The platform has lower liquidity than Bittrex and supports fewer coins. Nevertheless, market makers on Cex.io pay lower fees. More than that, Cex.io users are free to perform leveraged trading. Multiple payment options are in place.
Paxful 
Paxful is a US-based Bitcoin peer-to-peer exchange. If you want to trade other altcoins you will need to look for another platform. However, if you think about buying/selling BTC, Paxful is a great platform. It supports around 300 payment methods. Buyers don't pay fees.
Coinmama
Coinmama is an Israeli digital finance platform launched in 2013. Coinmama has a user-friendly interface. It supports an impressive number of payment methods. The main drawback is that the trading fees are high. However, Coinmama doesn't charge you when you withdraw your coins.
Gemini
Gemini is an American crypto exchange founded in 2015. In no way it outperforms Bittrex except for being the most regulated and safe exchange. It even insures the users' funds. On the downside, it charges high fees and supports only a few currencies.
Bitstamp
Bitstamp is one of the oldest active cryptocurrency exchanges. It was founded in the UK in 2011. Bitstamp charges high trading fees (0.5%) and supports only 10 coins. However, Bitstamp has deeper liquidity. Most of the convenient payment methods are available for Bitstamp customers. The exchange is totally law-abiding and is subjected to annual audits.
ShapeShift
ShapeShift is a Swiss cryptocurrency exchange founded in 2014. It supports instant swaps of over 40 cryptocurrencies. The exchange provides a decentralized solution for peer-to-peer transactions. No fiat money is accepted. Also, ShapeShift has an intuitive interface and doesn't charge fees. The exchange is not regulated.
Bibox 
Bibox is a crypto-to-crypto exchange supporting around 1.5 hundred currencies. It was founded by a team of Chinese developers in 2017. Bibox relies on algorithms enhanced with AI. The platform has better liquidity than Bittrex and charges smaller trading fees. Moreover, Bibox collects smaller withdrawal fees than most cryptocurrency exchanges. The platform is not regulated.
Robinhood
Robinhood is an app-based trading platform. Apart from trading cryptocurrencies, on Robinhood users can trade stocks and options. Margin trading is also available on the platform. Unlike most of the exchanges, Robinhood doesn't charge trading fees. Probably the platform is not good for trading veterans due to some functionality limitations, however, many beginners find Robinhood convenient.
Revolut
Revolut is a mobile app-based cryptocurrency bank launched in 2015. Revolut provides bank cards supporting cryptocurrencies. The app allows sending and exchanging fiat currencies, cryptocurrencies, and buying stocks. The platform is safe and fully regulated.
The Options For Traders Outside the US
Although some exchanges don't meet the requirements of the US regulators it doesn't mean these exchanges are somewhat bad. Some of these platforms are the leaders of the industry. You will easily find the highest-liquidity exchanges and the secure platforms supporting the highest numbers of coins in the list below. All of them can be a good alternative to Bittrex.
HitBTC
HitBTC is one of the most long-standing exchanges in the industry. It was launched in 2013 and keeps on developing in multiple directions. The company is registered in Seychelles. HitBTC supports hundreds of coins, provides a leveraged trading feature and an OTC desk. Cryptocurrencies can be bought by a credit card. The trading fees are below 0.1%. Depending on individual trading volume, these fees can be reduced, eliminated, or even get compensated.
Crypto.com
Crypto.com is a multi-functional cryptocurrency exchange founded in Hong Kong in 2019. Despite being a young platform, Crypto.com has already gained an impressive user base and high liquidity. The exchange allows multiple fiat money deposit methods, trading nearly 50 coins, staking tokens, etc.
Changelly Pro
Changelly Pro is a cryptocurrency exchange created by the team of the popular trading orders aggregator Changelly. Changelly Pro offers nearly 40 cryptocurrencies. The platform is characterized by low fees, a user-friendly clean interface, and multiple supported payment methods. 
Bitfinex
Bitfinex is a crypto exchange registered in the British Virgin Islands. The platform supports 150 cryptocurrencies. As for liquidity, Bitfinex firmly excels Bittrex in this measure. Bitfinex has wide functionality. For instance, it provides such features as margin trading and margin funding. The maximum margin isn't that big though (only 3.3x). Traders may opt to use the algorithmic trading strategies on Bitfinex. The exchange charges 0.1% per trade from market makers and 0.2% from market takers. The fees decline as the individual monthly trading volume of the user grows bigger. Money can be deposited only via wire transfer. Probably this limitation is the main major disadvantage.
Huobi Global
Huobi is a Chinese exchange registered in Seychelles. The platform strongly outperforms Bittrex in terms of liquidity. As for fees and the number of supported currencies these exchanges are nearly equal. On Huobi users cannot deposit money via credit cards, wire transfers are accepted though. 
FTX
FTX is an exchange launched in 2019 and registered in Antigua and Barbuda. FTX supports over 200 currencies. The main focus of this exchange is derivatives trading. Despite being a young platform, FTX has already gained an impressive daily trading volume. The exchange charges nearly the lowest trading fees — for instance, takers pay only 0.07% per trade. Another nice feature is the support of margin trading (up to 3x). OTC-desk is also available. All in all, this exchange can be a solid alternative to Bittrex.
OKEx 
OKEx is a cryptocurrency exchange based in Malta. It has a much bigger 24h trading volume than Bittrex and charges only from 0.1 to 0.15% in trading fees for those who trade in small amounts. High-liquidity traders pay lower fees. More than that, market makers get rewarded for their trades. OKEx is unusual as apart from trading crypto it allows trading futures and derivatives. on OKEx fiat money can be deposited via wire transfer or via banking cards.
---
---