"You are an Idiot" - Comments by Elon Musk 2021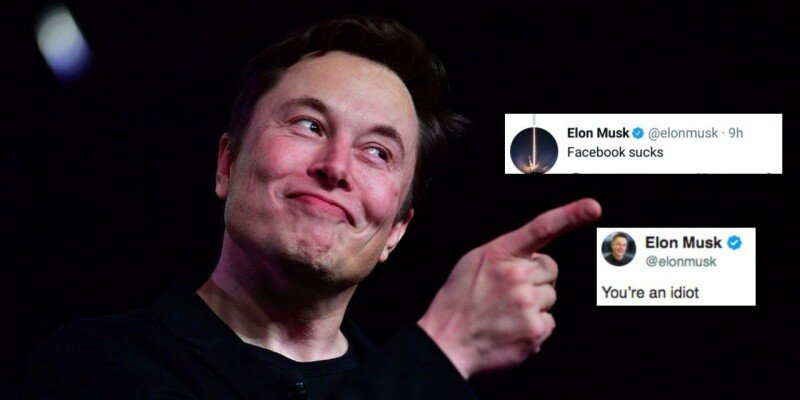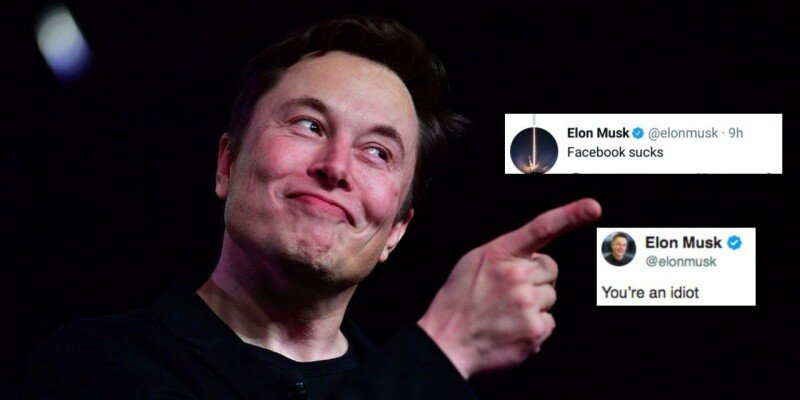 Elon Musk is one of the entrepreneurship idols of this generation. Many believe that Elon Musk is what Steve Jobs, Bill Gates, or Mark Zuckerberg were to previous generations of aspiring entrepreneurs.
Like any influencer, Elon Musk uses social media to not only share his thoughts but also comment on the work of many projects or industries in financial and other fields.
Doge to the Moon?
In February of this year, the head of Tesla and SpaceX Elon Musk actively wrote a series of posts on his Twitter account about the Dogecoin cryptocurrency.



Musk also made voting among subscribers, thus riveting more attention to the currency and creating big hype around it. What is it for? What goals did Musk pursue?

Also, on February 10, the billionaire shared that he bought Dogecoin for his son named X A A-12, who was born last May. Immediately after that, altcoin quotes jumped 18% to a local peak of $ 0.081.
According to rumours, the US Securities and Exchange Commission (SEC) may fine Musk for his recent tweets about cryptocurrency, since the billionaire's tweets could be viewed as a broker without registration or violating the law by offering and advertising securities.
The fact that the SEC should pay attention to Musk's posts about cryptocurrency was also stated in an interview with CoinDesk by Nouriel Rubini. according to him, the regulator should check the statements of people like Musk for market manipulation.
"It would not be surprising if the SEC asked Musk, given the attention to his tweets, Bitcoin price changes and dramatic market movements," former SEC Enforcement Chief Doug Davison told the Telegraph newspaper.
He was supported by the former vice-president of the European Central Bank Vitor Constancio. He emphasised that the SEC will certainly study the impact of Elon Musk's posts on the cryptocurrency market.
Also, in January, there was a sharp jump in the value of the cryptocurrency by $ 6 thousand, which led to the liquidation of the margin positions of users of trading platforms.
In the last 4 hours of that day, crypto traders lost $ 220 million in pairs with bitcoin, according to bybt. Most of the liquidations fell on the Binance exchange, where transactions for $ 114.5 million were forcibly closed. This happened against the background of a sharp rise in the bitcoin rate by $ 6 thousand - from $ 32 thousand to $ 37.9 thousand per coin.
The latest surge in the growth of quotations of the first cryptocurrency occurred after the head of Tesla and SpaceX Elon Musk mentioned it on Twitter. He added the hashtag of the first cryptocurrency to his account profile and posted a message:

"In retrospect, [we understand that] it was inevitable."
Robinhood Gives its Money to the Poor?
So Elon Musk has added his voice to speculation that the controversial trading app Robinhood is one of the world's largest Dogecoin holders.
Musk tweeted that he would help Dogecoin (DOGE) become the "currency of the Internet" if the major holders sell their stake in the cryptocurrency.
Following Musk's message, several of these large holders, known as "whales", appear to have either cashed their Dogecoins or transferred them to other digital addresses.
BitInfoCharts data shows that seven of the 635 largest holders reduced their balances after Musk's tweet, but the largest holder increased its stake by more than 2,000 Dogecoins.
This has led to speculation on Dogecoin online forums that the largest wallet belongs to an online trading platform like Robinhood.
Freewallet Sucks!
On February 10 this year, Musk also could not resist commenting on the crypto project Freewallet, responding to their post regarding the rise of the Doge cryptocurrency.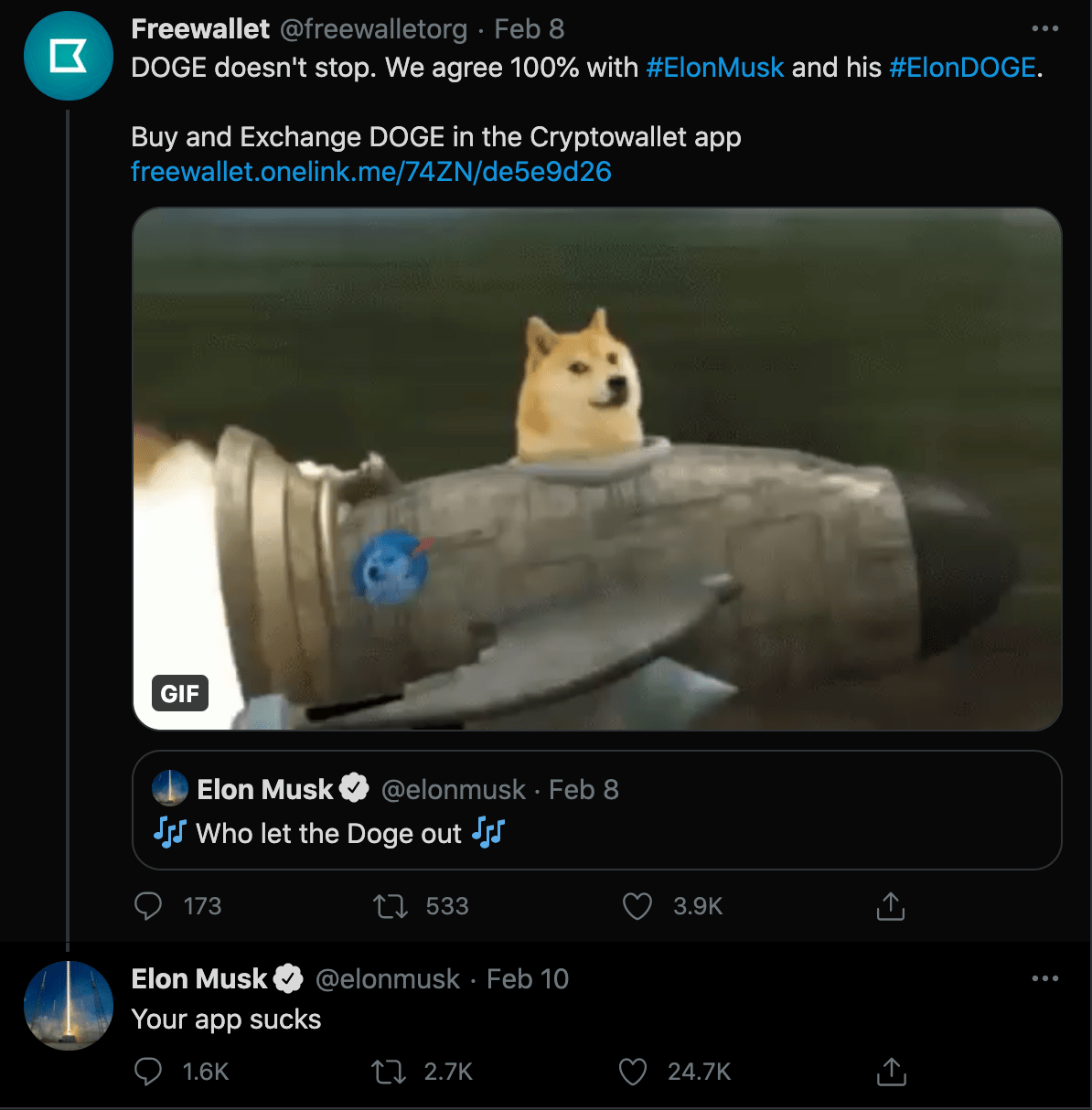 In his comment under the post, Musk wrote "Your app sucks" after which it turned out that Elon Mask's account was frozen for a short period of time. After solving all the problems, Elon wrote "Thanks for fixing".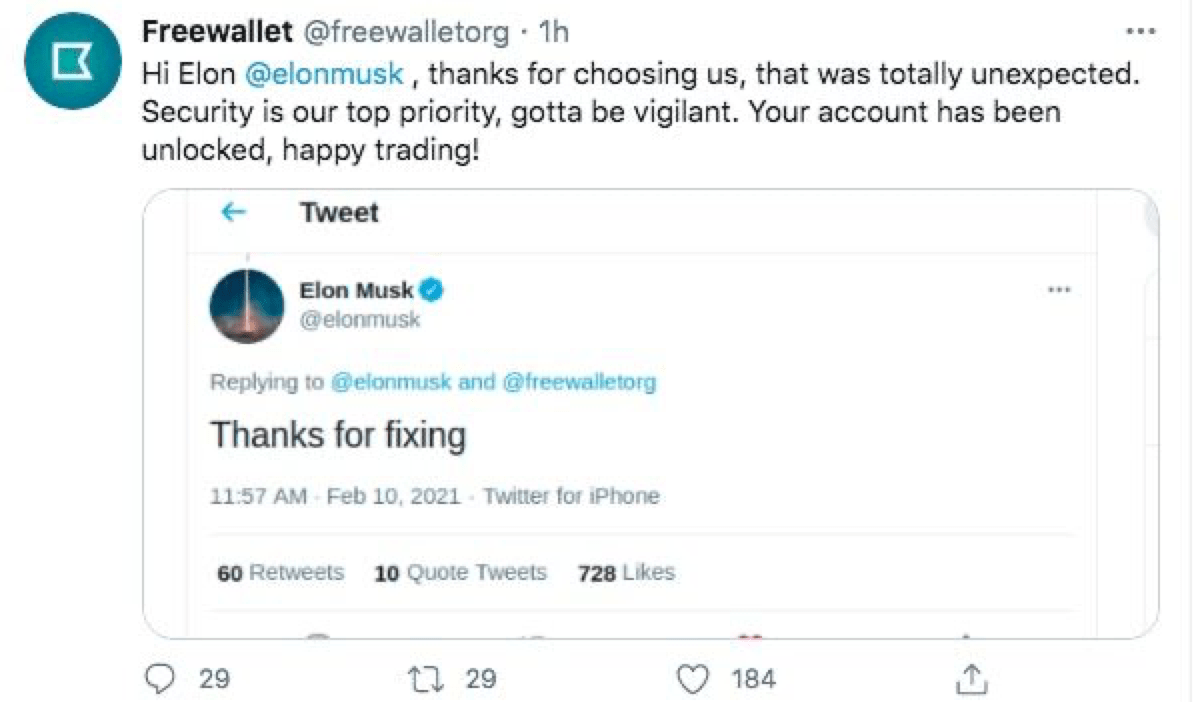 A very bizarre and inappropriate attraction of attention from Elon Musk, however, this negative comment attracted genuine interest in the Freewallet project. Who said that negative comments have negative consequences?
After making a little research, I came across a few more articles that highlighted this post and Musk's reaction to what was happening. In this article by Invezz, you can read an interview given by Freewallet employees, what awaited them after this skirmish. Benzinga also covered the topic of how Elon Musk's comments can affect the company's business.
Are you crazy, Amazon?
Thus, Elon Musk called Amazon a monopoly. "It's time to break up Amazon. Monopolies are wrong!" the billionaire wrote on Twitter in response to a post by former New York Times journalist Alex Berenson. He complained that an internet retailer had taken his book on coronavirus off the market.

In a separate tweet, Musk reached out to the Amazon founder. "This is crazy, Jeff Bezos," he added, tagging Bezos's account. after this tweet, the book was returned, and there was also an influx of customers to buy this book on Amazon, which in turn caused a hanged attendance on this platform.
Coronavirus is dumb
Also, I would like to recall how Elon Musk responded to the words of Bill Gates, who criticized the head of SpaceX and Tesla for his contempt for the coronavirus pandemic. Musk's words were featured on the Sway podcast available on the New York Times website.
In early March, a SpaceX and Tesla executive called the coronavirus panic stupid. Musk's words posted on Twitter surprised and angered some of the entrepreneur's followers, who called them bad.

We understand that most Americans are tired of this terrible global pandemic that we all face, but unfortunately, tiredness is not a good enough reason to ignore safety regulations and possibly lead to its continuation. But when did the United States listen to common sense?
Elon Musk's fans can only be described as fanatics, and they will catch his every word, good or bad. Therefore, for him to publicly downplay the importance of a deadly disease around the world, it is detrimental to the overall effort to prevent its spread.
"You're an idiot"
In December, there was a Twitter battle between Musk and Jarrett Walker, a public transportation policy consultant with a doctorate in liberal arts.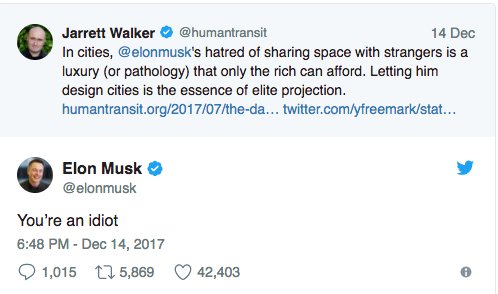 Their Twitter feud began over Elon's comments at the AI conference. Musk called public transportation a "pain in the ass" and that you could end up sharing a trip with someone "who could be a serial killer." This led to a series of Walker's tweets targeting Musk, saying that Musk wanted to create a public transportation system designed to protect the elite. To which Musk simply replied, "You're an idiot." a very "wise" end to the dialogue.
Facebook Sucks
Tesla and SpaceX CEO Elon Musk tweeted that "Facebook sucks" following a controversy over AI on Twitter.
Pesenti said on Twitter that many people in the AI community would be happy to publicly criticize Musk, stating that Musk "has no idea what he's talking about when he talks about AI. There is no such thing as AGI, and we are nowhere near matching human intelligence. "
In response, Musk simply tweeted, "Facebook sucks."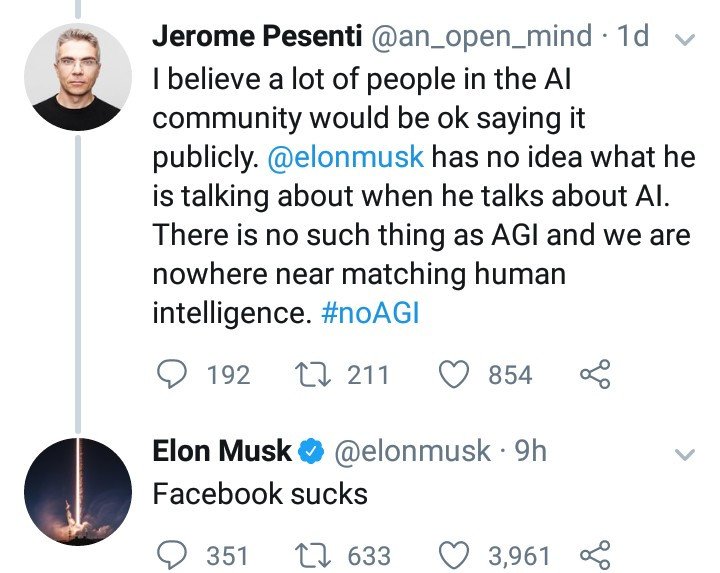 Twitter and Pronouns sucks, too
Last summer, Musk added a red rose to his Twitter name in an apparently derisive reference to a symbol used by members of Democratic Socialists of America.

Then, 11 hours after posting that "Twitter sucks," Musk shared what many thoughts was an offensive and transphobic tweet, noting that "pronouns suck." Musk's tweet appears to be a derisive critique of gender-neutral personal pronouns used by many to reach out to transgender and non-conforming people.

On Twitter, he seemed to want to be himself more, too. Sometimes on social media, Musk seems sane and collected, sharing tidbits about science and climate change. at other times, he's messy and irrational, tweeting things that seem to spoil the alternative right, male rights activists, and occasional conspiracy theorists. While his attacks on conventional wisdom about the coronavirus continued at the beginning of the year, Musk ignored those who tried to point out how blatantly wrong his understanding of COVID-19 was and how deadly the disease was. The new Elon Musk didn't care. Like a child covering his ears and screaming "la-la-la-la-la," he just didn't want to hear it.
Tesla is too high, imo
Of course, all of this is not the stupidest thing he ever tweeted. Musk has made countless boring posts, meme-style posts and some ultra-modern WTF posts, but some of his tweets have actually done real damage to his image and his companies. "
Elon even said in an interview with his biographer: "Either you can say things that do not contradict each other at all, and then you get bored and no one cares about it. Some things I would like to give up. Not that I endorse every tweet I've ever done. Some of them were definitely very dumb. "
So, according to Elon's review of his own page, we decided to dive in and find some of those tweets that were "extremely dumb".

They say opinions are like ass, everyone has them. We assume that a lot of people thought Elon Musk was quite a big deal when he tweeted that Tesla's stock price was too high, causing it to plummet.
This is just a terrible thing to say about your company. While this may be the opinion of some investors or stock experts, we assume that it is generally the bad business practice to tell anyone with a stake in your company that it is too expensive.
Minutes after this tweet was sent out, the share price dropped $ 15 and then $ 30.
Whether or not Musk really intended to lower the price as a result of this tweet is a prime example of the power of social media.

This was tweeted just after he had his fifth child, the first child with his girlfriend Grimes. In a separate tweet after that, he said that his girlfriend is mad at him for this post, and rightly so. How would you feel if, right after your child was born, someone told you that they were going to sell all their property and not have a home? I think crazy enough to name my kid after a plane.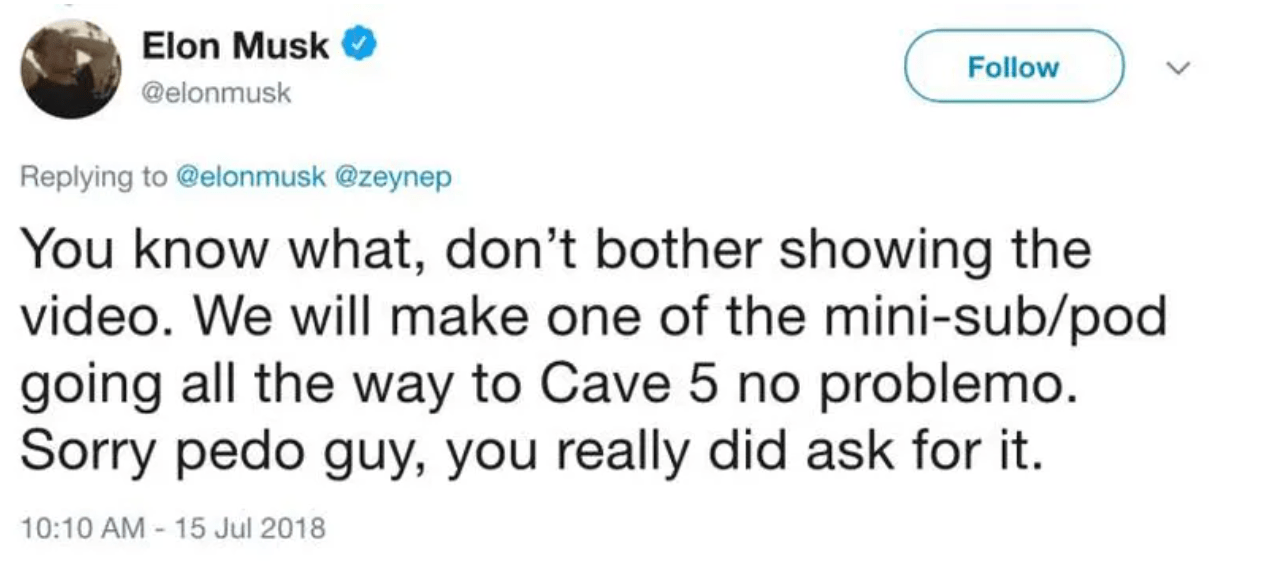 In 2018, a group of children in Thailand were trapped in a cave after the water level rose too high. a rescue operation began: the divers took out the children one by one.
after making a bunch of empty promises to help the stranded children, Elon instead decided to just publicly dump everyone involved in the rescue on Twitter. Great strategy, billionaire.
Dumb Conclusion
As yet, I have consistently considered Elon Musk an extraordinary pioneer and innovation leader and I really respect him. In any case, these comments stunned me a lot. After a small google search, I found a few different articles that cast it in a negative light. It made me keep thinking about whether I was a fool for believing that he was an incredible person. It likewise caused me to understand that I truly don't know a lot about Musk. Just one stupid comment can ruin or lift a company to the skies. This left me with one burning question: is he a moron or an innovative leader we should strive for?
---
---