Robinhood Review 2021 - Is It Safe?
Aug 09, 2020
Robinhood Overview
Robinhood is a zero commission US-based broker, a financial and technology startup. The company was founded in 2014 and is a member of FINRA, the American regulator, and provides maximum investor protection of up to $ 500,000, which includes a cash limit of $ 250,000.
Robinhood allows you to trade US stocks without commissions, and there are no fees for withdrawals or inactivity. At the moment, Robinhood is not listed on stock exchanges and does not have a parent company represented by a bank.
Also, it provides a user-friendly mobile trading platform and web interface. Finally, the account opening process is smooth, completely digital and very fast.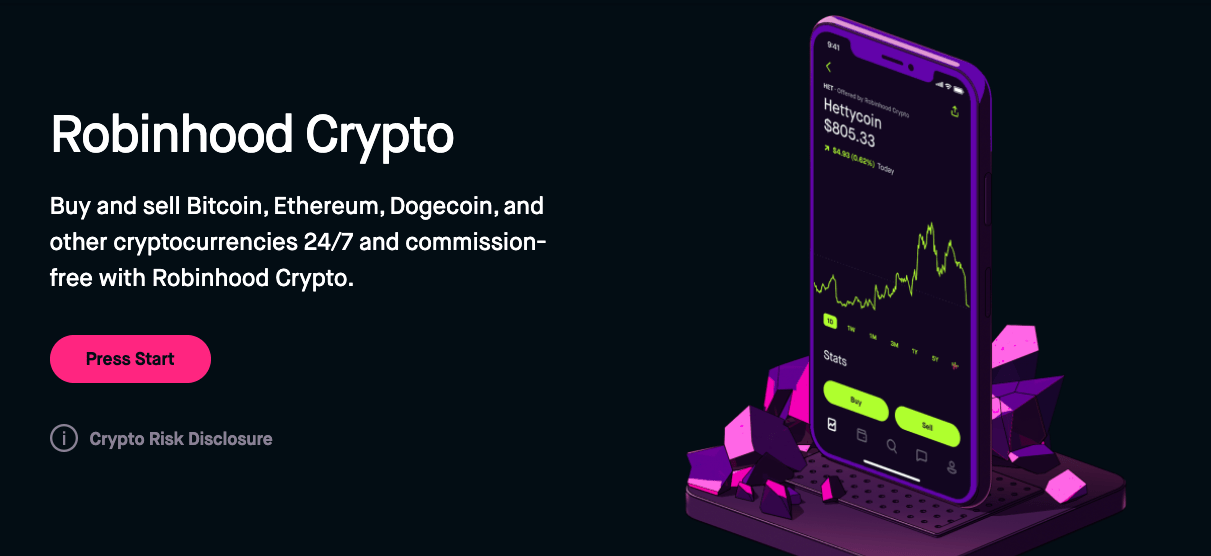 Robinhood was founded in 2013 by Baiji Bhatt and Vlad Tenev as a mobile platform for buying and selling stocks. The founders of the business were unable to get funding quickly, so they had to go and get their message across to over 70 investors. They finally found some venture capitalists who saw the company's vision and made the investment. Robinhood even counts celebrities like the acclaimed American rapper Snoop Dogg as one of its financial backers.
The app was finally released to the general public in 2015 and has grown to over 3 million users since then.
One of the most compelling features is its no-commission business model, backed by a pool of investors who together have contributed enough to value the company at over $ 1.3 billion. They raised their last round of capital in May 2018 to ensure that their app retains funding while maintaining its cost-effective model.
The level of interest in relatively new Robinhood offerings can be gauged by how the platform began receiving over 200,000 signups per day after the launch of its crypto services.
Robinhood consists of two main legal entities: Robinhood Financial LLC and Robinhood Crypto LLC. The former enables stock and options trading, while the latter is for cryptocurrency trading.
One of the key features of the Robinhood platform is its simple design that makes it easy to use. The Robinhood platform lacks some of the more sophisticated features than the competition, so it prefers a concise interface. But this oversimplified design comes with obvious trade-offs: a lack of resources and an in-depth look at the companies you invest in, which you can find on more advanced platforms.
Features
Robinhood is designed with newbies in mind, with no commission trading, a simple registration process and an intuitive interface. No account minimum means newbies can open an account with no upfront investment and purchase fractional shares for as little as $ 1 apiece.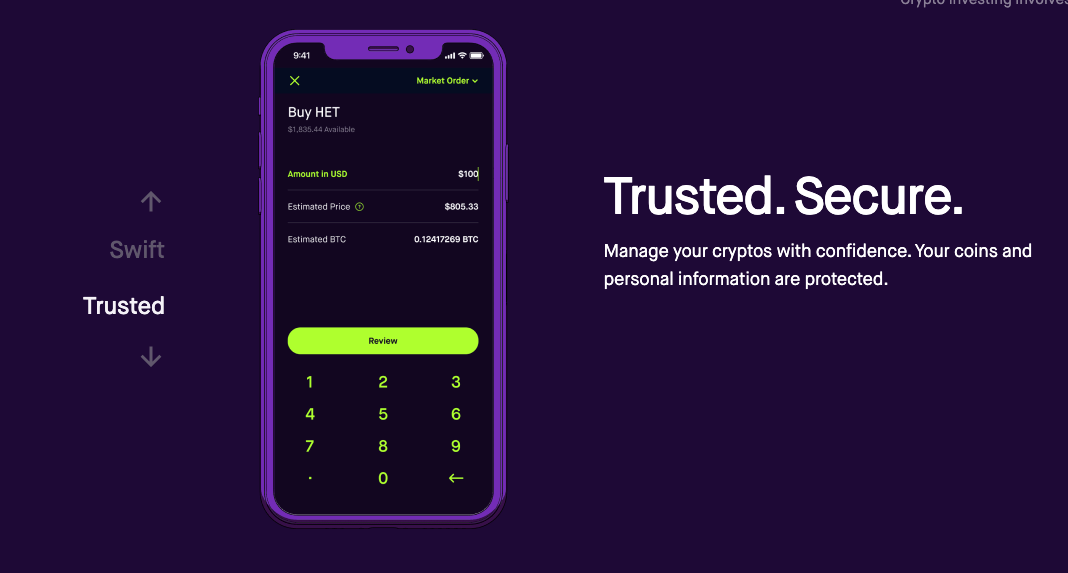 The app is simple and allows users to immediately start buying and trading stocks, ETFs and cryptocurrencies without the minimum amount of money stored in the app in the form of a portfolio like many other investment platforms do. The app is directly linked to the users' bank account, allowing them to easily use their money to quickly start buying securities of interest. The layout of the app is simple and intuitive, allowing the average layman to use it effectively as easily as someone who makes a living.
The platform does not provide for customization of their charts or information, and there are no research centers or other sources of information on the respective traded companies. That said, it makes a lot of sense, Robinhood is targeting a broad base of budding clients, aiming to reach a wide audience.
The app also offers a premium subscription option called Robinhood Gold for more serious users, which allows for features such as long-term trading and the ability to trade on margin. This service requires a minimum account balance of $ 2,000 and starts at $ 6 per month.
However, for the average user, these differences are insignificant, and the absence of transaction fees allows ordinary users to save money while trading.
Robinhood offers unlimited commission-free trades on the following investment products:
Cryptocurrency. Buy and sell 17 different cryptocurrencies at any time of the day, including Bitcoin, Litecoin and Ethereum.
Shares and funds. Browse over 5,000 stocks and ETFs available, including fractional stocks for just $ 1.
Parameters. Learn to trade options without contract fees.
Other advantages of the service include:
Account Minimum: Robinhood doesn't have one, which means investors can get started right away. Of course, in order to invest, you will need enough funds to buy the investment you are counting on.
High Yield Savings: In December 2019, Robinhood began offering a cash management account that currently yields 0.30%. The account comes with a debit card and free cash withdrawals at over 75,000 ATM machines and offers up to $ 1.25 million in FDIC insurance through Robinhood's multi-bank agreements.
Robinhood employs instant verification with many major banks, eliminating the need for users to report micro-deposits to an account to verify the information. Wire transfers up to $ 1,000 are available for investment instantly, as are up to $ 1,000 income from the sale of stocks. It will take four to five business days to process a deposit of over $ 1,000. Users can set up automatic deposits on a weekly, bi-weekly, monthly, or quarterly schedule.
Streamlined interface: This can be a negative point, as the service doesn't offer all the bells and whistles of a typical online broker. But for investors who know what they want, the Robinhood platform is more than enough to get things done quickly. It supports market orders, limit orders, stop-limit orders, and stop orders.
Like any other service, the platform has its drawbacks:
Customer support. The client assistance is slow and inquiries can only be sent via email. In addition, the product portfolio is mainly limited to the US market.
Only one account option on the platform. For investing, Robinhood only supports individual taxable accounts (often referred to as brokerage accounts; you can read more about these accounts here). For most investors, investing through a taxable brokerage account should only occur after they have deposited 10% to 15% of their retirement income into a tax-exempt account such as a 401 (k) or IRA.
Recommended for novice traders and long-term investors targeting the US stock market.
Robinhood Fees
Robinhood has been trading commission-free since its launch in 2015. At the time, the lack of commission fees was a pretty big deal, giving Robinhood an economic edge over the competition There are also no inactivity fees or withdrawals. Robinhood's zero commissions provide significant savings when trading US stocks. In addition, there are no commissions for trading options and cryptocurrencies.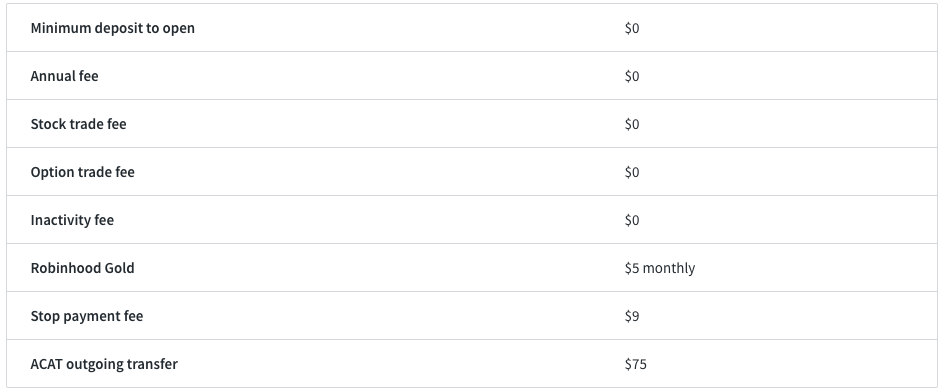 On the other hand, Robinhood charges very high commissions for trading in non-US stocks, and the funding rate is also not competitive. Robinhood charges the highest commission to date for trading European stocks at $ 50.
Also, Robinhood has very attractive non-trade fees. For example, there are no withdrawal fees and no inactivity.
How to Get Started with Robinhood
As with any other platform, in order to start working on the exchange, you must complete the registration process. To do this, in the upper right corner, click on the "Sign Up" button.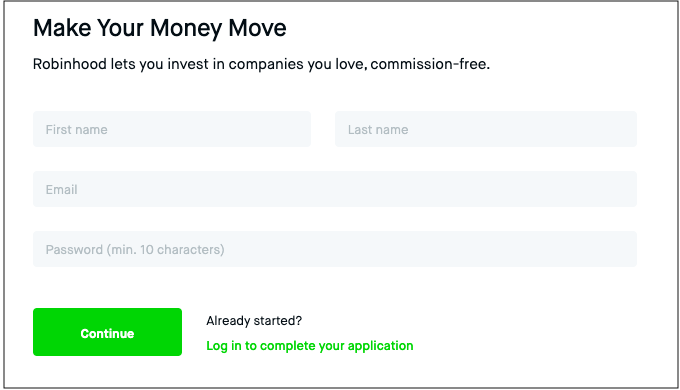 Robinhood crypto services are currently only available to US citizens. Therefore, you can only enroll in the service if you are a US citizen and reside in one of the US states.
A registration window will open in front of you, where you need to enter primary information about yourself: First name, Last name, Email, and Password (minimum 10 characters). After filling, click "Continue".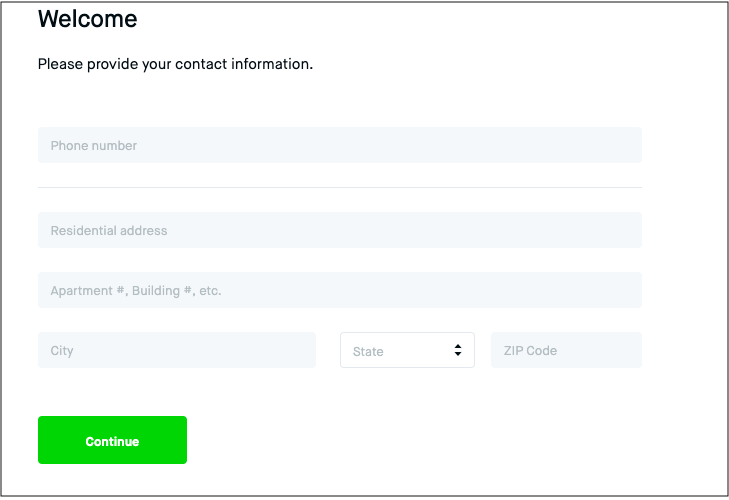 In the next window, you will need to fill in your phone number and residence address (street, house number, city, state, and zip code).
That's it Now you are ready to go with Robinhood!
How to Use Robinhood 
The cryptocurrency exchange capability, launched in February 2018, is a significant leap forward in the app's capabilities. The platform allows you to track and buy many different cryptocurrencies, including many of the most popular digital assets.
However, since Bitcoin and Ethereum are the most popular and widely used currencies available at the moment, the platform effectively opens up the opportunity for the regular investor to enter the digital currency world.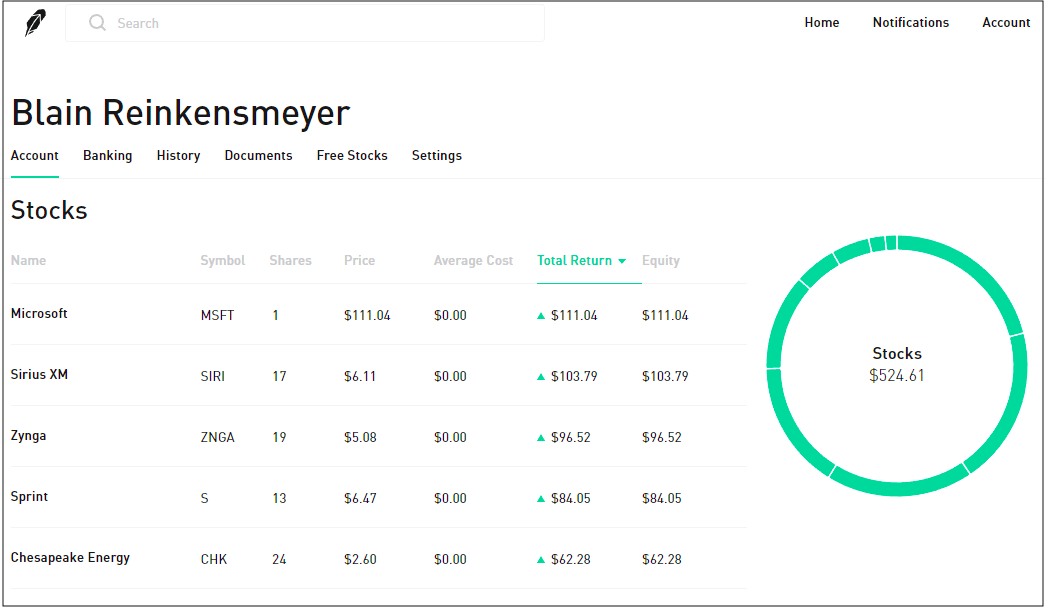 Since the interface is quite easy to navigate, it presents no problems even for the most novice cryptocurrency users. What really sets Robinhood apart is its ability to provide the required solutions in an easy-to-use manner, and this remains one of its unique end-user benefits. Here you can find sell and buy stocks, invest, buy cryptocurrencies, trade, follow trends and more.
How to Trade on Robinhood
The Robinhood platform currently supports Bitcoin (BTC), Bitcoin Cash (BCH), Bitcoin SV (BSV), Dogecoin (DOGE), Ethereum (ETH), Ethereum Classic (ETC), Litecoin (LTC).
Compared to most crypto exchanges, the number of coins available is quite limited. While Robinhood is not currently available for trading on an exchange, it also maintains real-time market data for ten additional cryptocurrencies. These include Bitcoin Gold (BTG), Dash (DASH), Lisk (LSK), Monero (XMR), NEO (NEO), OmiseGO (OMG), Qtum (QTUM), Ripple (XRP), Stellar (XLM), and Zcash (ZEC). It is possible that they could be added to the list of traded cryptocurrencies on Robinhood Crypto at some point in the future.
One of the biggest constraints on current trading opportunities is the lack of stablecoins. When you trade altcoin on another exchange and then transfer funds to Robinhood to cash out in fiat currency, this can be a hindrance for some traders. Basically, if you want to convert cryptocurrency to fiat, you need to know how long it takes for funds to be credited to your Robinhood Crypto account and the possible price fluctuations during that time period.
Limits
Robinhood limits deposits and withdrawals to $ 50,000 per day. It also has requirements for pending withdrawals from your account. This applies to funds that you transfer to your account as well as funds that you trade on the Robinhood cryptocurrency exchange.
Approval may take several days (or more) if additional documentation is required to complete account verification. Once Robinhood Crypto approves your verification, you can link your bank account to instantly deposit up to $ 1,000. It usually takes four to five days for a deposit to be transferred to a US bank account.
Customer Service
Customer support is Robinhood's weak point, you can only send inquiries to it via email, and there is no phone or live chat service. Currently, users can contact the team by email: [email protected] or through social networks such as Twitter or Facebook.
The main complaint that most negative reviews have in common is that users receive monosyllabic responses that do not reveal the essence of the customer's problem.
Even so, the customer service reviews are mostly positive. However, most customer reviews to date refer to other services offered by the company and not cryptocurrency trading. This is understandable, especially when you consider that cryptocurrency is a new and more geographically limited part of Robinhood's business model.
Is Robinhood Safe?
Robinhood consists of two main legal entities: Robinhood Financial LLC and Robinhood Crypto LLC. The former enables stock and options trading, while the latter is for cryptocurrency trading.
Robinhood Financial LLC is a member of the Financial Industry Regulation Authority and is subject to the US SIPC investor protection scheme. The SIPC Security Amount limit is $ 500,000, which includes a $ 250,000 cash limit.
The second division, Robinhood Crypto LLC, is not a member of FINRA or SIPC. This means that cryptocurrency trading is not protected by any investor protection scheme.
Robinhood has no banking support behind it, and the company itself is not listed on exchanges. Brokerage companies with a bank as their parent company are usually more stable. In addition, a broker who is himself listed on any stock exchange is more transparent, since he is obliged to openly publish his financial statements. You should also be aware that Robinhood does not provide negative balance protection.
As with other centralized exchanges like Coinbase, with Robinhood you don't actually own your coins or private keys. This is considered by many to be Robinhood's biggest problem. Additionally, you cannot transfer cryptocurrency from your account to a wallet outside of Robinhood without additional verification steps.
Overall, Robinhood has never suffered from a massive hack of its services. However, users have reported hacking of individual accounts on various social networks. If you choose to use Robinhood Crypto, there are several different ways to improve the security of your account. For example, you can enable Touch ID or Face ID in a mobile app. You can also add your own PIN or enable two-factor authentication.
Conclusion
Robinhood is not the first company to allow crypto exchange and investment with other companies offering similar services. However, the fact that it is easy to use and does not require commissions, fees, or transaction fees, Robinhood has proven to be successful in its strategy.
With that said, in order to be successful in the long term, you need to be more flexible. If you are attracted to the commission-free ability to trade US stocks and want a user-friendly platform, Robinhood is the best choice.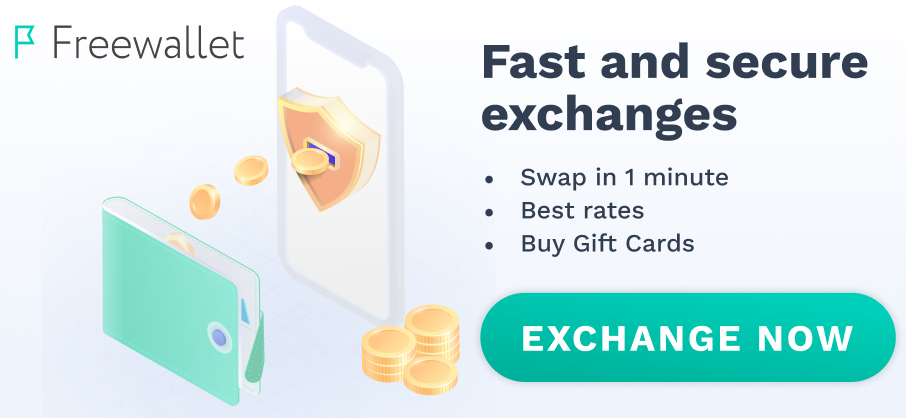 I use it all the time. Seems okay