Toast Wallet Review 2021 - What Happened to Toast Wallet?
Features:
Hierarchical Deterministic
Mar 31, 2021
Toast wallet was an XRP wallet. It has been operating in 2017 - 2020. In 2020, it was shut down because Ripple and Xpring stopped funding its further development. Users with funds left on Toast are withdrawing their coins successfully. Below you can see the review written prior to the cease of the wallet's operations.
What Is Toast Wallet?
Toast Wallet was one of the oldest XRP wallets. It stopped working in 2020. If you enter the wallet's website, you'll see an announcement reminding that the Ripple network has a reserve requirement (20 XRP). According to the announcement, these funds cannot be returned until the reserve requirement is not lowered. However, it doesn't mean that the funds cannot be retrieved by the ex Toast wallet users. The source code can be accessed via the website. 
This wallet had versions of almost all operating systems: Android, iOS, Windows, Linux, Mac OSX, and there is also a version installed as an extension to the Chrome browser.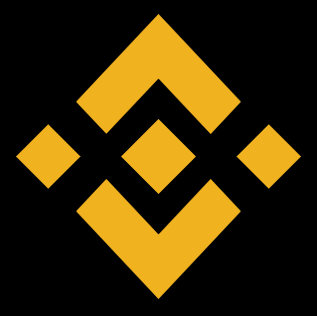 Get Profits with HODLing on Binance Earn
You could download the appropriate version on the official wallet website. 
The project was launched in 2017 and it is a product of StarStone Limited, a software company was based in Dunedin, New Zealand. The website didn't contain lots of information about the people behind the Toast wallet, although it mentioned Richard Holland as a director.
Main Features
The Toast wallet is a cross-platform Ripple wallet that is simple and safe to use. It is an open-source application that developers have introduced in different versions. Wallet versions are available for computers: Windows; Linux Mac OSX.
And for mobile devices: Android; iOS. 
A browser version for Chrome is also available. 
Toast Wallet is absolutely free for everyone and it does not charge any fees but 20 XRP at the registration step to activate your Toast Wallet account since it is a feature of the XRP network.
The project was created without superfluous details and the website does not differ in verbosity. Nevertheless, due to its transparency and simplicity, the Toast wallet was able to gain the trust of more than 100 thousand users all over the world. You will see with your own eyes that is not in vain.
Furthermore, it is so easy to top up your account and also there is the feature in the wallet to create multiple addresses at once. To replenish your funds to the Toast wallet you do not have to forget about destination tag. The Toast Wallet destination tag is usually required to indicate if you send coins to your balance of the cryptocurrency exchange, since on the trading platform, as a rule, a common account for all users and the destination tag only will help identify you as the recipient of funds. Otherwise, the money will fall into a common pot and you will have to tediously prove that your coins.
Fees
Toast Wallet does not charge any fees. The app is completely free to use and always will be (how the Toast Wallet claims itself on the official website). The only required thing is 20 XRP reserve that is a feature of the XRP network. 
How to Use Toast Wallet?
Inside, the Toast Wallet wallet is very simple and minimalistic. Installing and registering different versions of the wallet is similar. Consider the example of a mobile option. 
The first thing we see when loading a page is a warning on a red background. Firstly, the fact that upon activation of the address 20 XRP will be frozen and this is not a whim of the developer, but the requirements of the Ripple system itself - it seems that the creators of the software are fed up with the baseless accusations of angry users who did not bother to sort out such nuances and subsequently not only lower the rating wallet but also write angry reviews.
Here they tell you that all your personal data is stored on your devices and no information is sent to the developers' servers, and therefore if you lose your backup or recovery phrase, no one can help you. 
After reading all this and reading the license agreement, we find at the bottom of the page three buttons: 
-Create a new wallet; 
-Recover an existing wallet; 
-Make an offline transaction. 
We need the first one. We press, after which we are offered to set a pin code, which we will use to enter the wallet.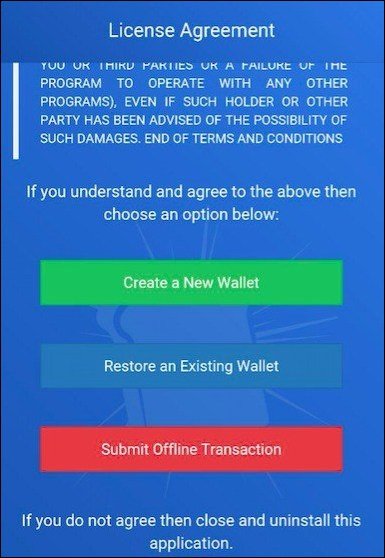 On the next step, we enter the passphrase - it is used when sending tokens. The phrase should be long enough and reliable and contain at least one number.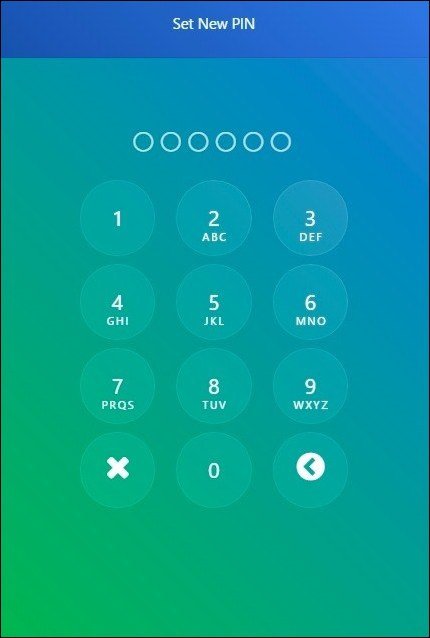 After entering the PIN code a second time, we automatically get to the next page with a request to come up with and enter the passphrase "Set Passphrase".
A passphrase will be needed in the future to confirm your actions. For example, when sending coins.
The passphrase must contain uppercase and lowercase letters, numbers, as well as characters. I think that you have already faced this requirement more than once. And you know what to enter. Write it out and store it like the apple of an eye.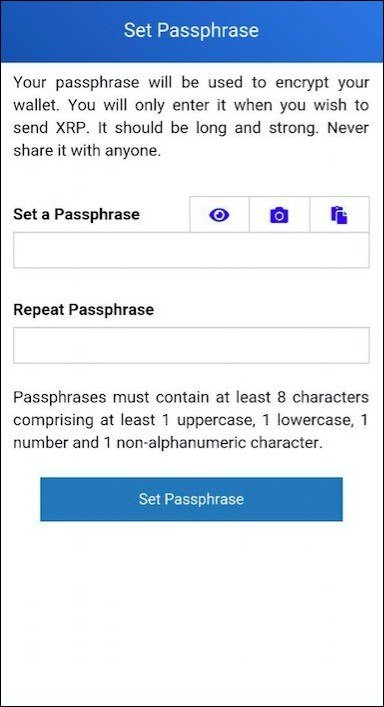 Then a window appears in which 6 words are indicated that must be written down. It is with the help of these 6 words that in the future it will be possible to restore access to your balance.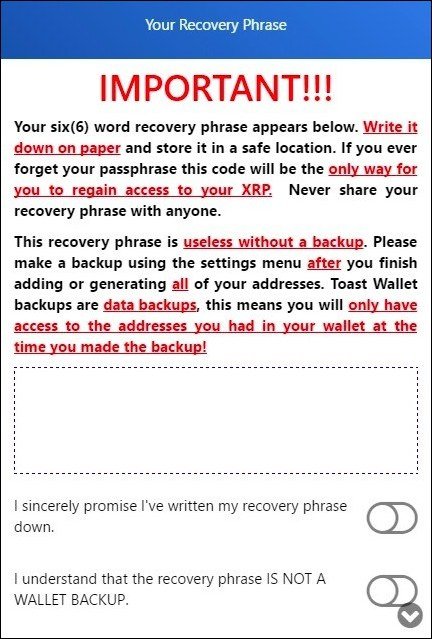 After you have saved 6 of the words below, we move the sliders to the right, confirming that you wrote down the words indicated on the screen and agree that these words are not an archive copy of the wallet. We go down below and click on "Finish Setup".
This ends the wallet setup. And the account setup begins.
Click on the bold plus at the top of the screen.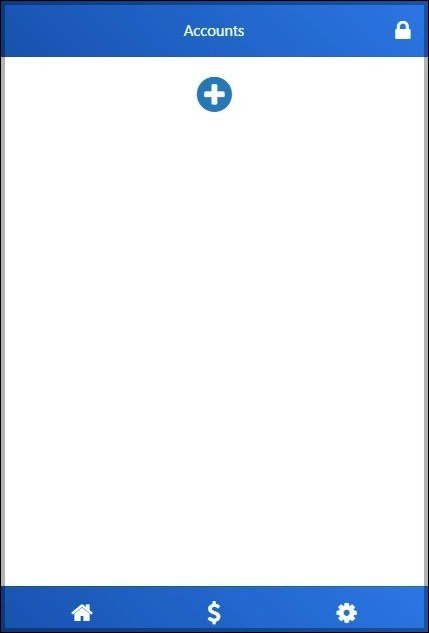 Now we can either generate a new address or add an existing one. Create a new one - Generate a new address.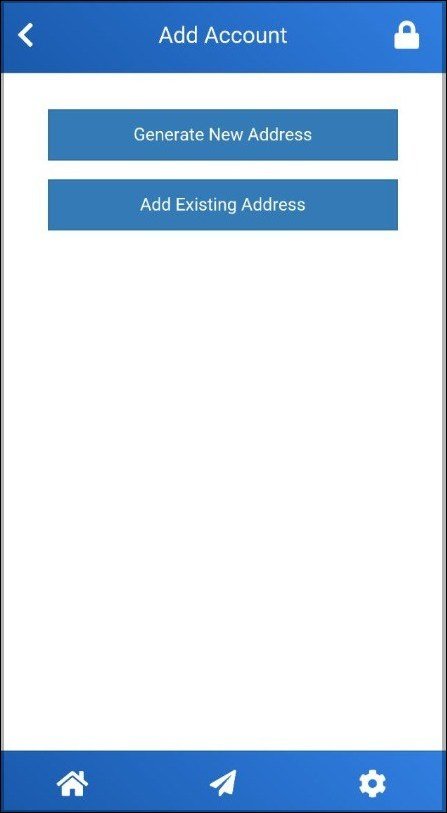 A new window appears with the generated address. Below we enter/invent a login and even lower enter the passphrase "Set Passphrase", which we already thought up earlier.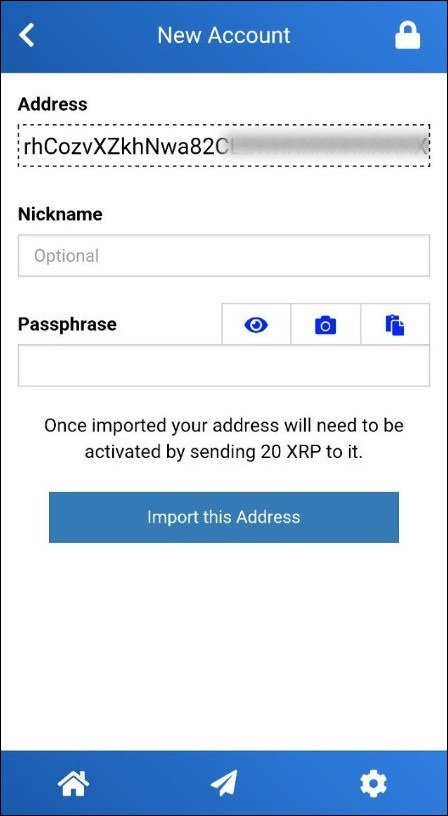 After that, click on "Import this Address". Do not forget to pay attention to the inscription above this button: "Once imported your address will need to be activated by sending 20 XRP to it."
Then a window appears with a proposal to make an archive copy of the wallet: "Create a Backup Now". With which we certainly agree.
The program code of the archive copy of the wallet appears on the screen. Click on the "Copy" button and save the contents of the clipboard to a text file.
It is important to remember - when making any changes to the wallet, somehow adding new accounts, changing the PIN code or password, the backup must be performed again.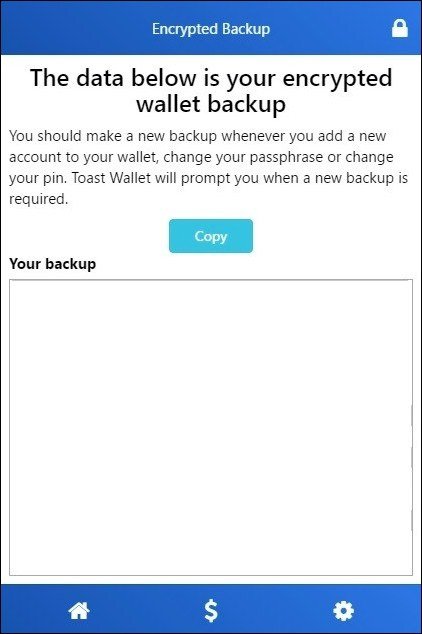 That's it, wallet and account are configured. It remains to activate the account to transfer to your  Toast Wallet Ripple address an amount equal to 20 XRP or more. Remember that you need at least 20 coins to activate your Toast Wallet  XRP address.
This is how the wallet window looks when the account is just created. Please note that the account is not activated.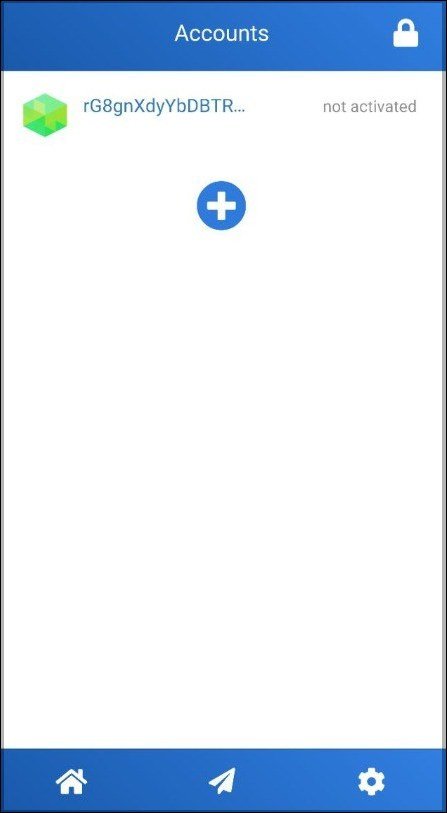 This is what the token sending tab looks like. Here you need to choose a wallet account from which we will send funds to, recipient address, destination tag - if necessary, and the amount.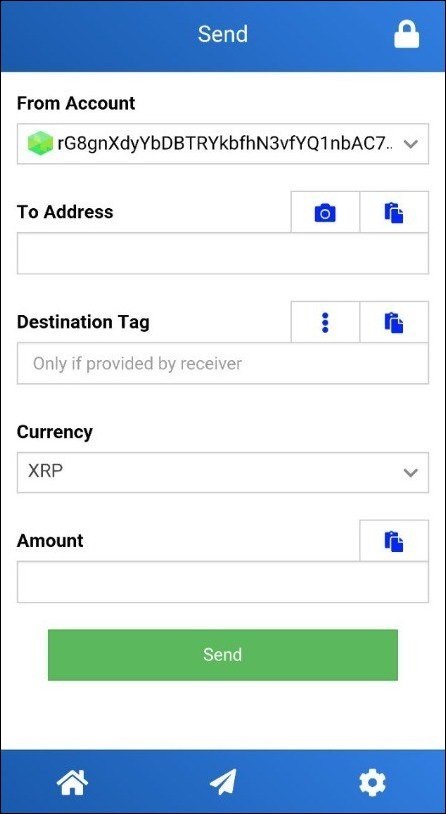 And these are the wallet settings. Here you can make a donation to the developers of the program, read the FAQ / Help. Change the PIN code, change the passphrase, backup the wallet, restore the wallet and even create an offline transaction.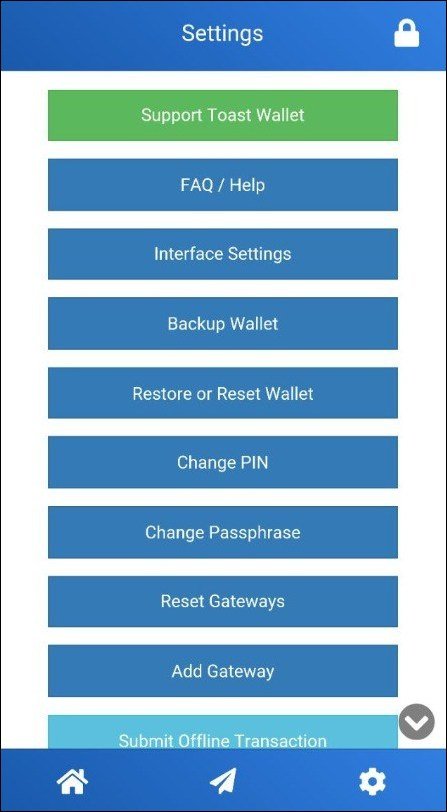 That's all. The wallet is activated and ready to go.
Watch, test, and use. The wallet is easy to handle. Above all, do not forget to deposit 20 XRP or more on it for activation.
Customer Service
The Toast Wallet has several channels where you can leave your request, question or review.
If you have any questions regarding the wallet usage etc, the project has created the Discord account in a case to save the hours of development teamwork. In Discord other Toast Wallet users can help you to solve any issues or answer your questions.
Also, before writing your question to the Discord channel, do not forget to check the FAQ of the Toast wallet team on their official website. You may find the answer to your question there.
Do not miss the updates and news from the team, join Toast Wallet Facebook and Twitter.
Common Users' Problems
If you send tokens to another address and receive an error in response, then the address which you transfer your coins to is probably inactive. To activate it, you must send 20 XRP to the Toast Wallet, which will be frozen as a deposit. You can check the status of the address using the RPC Tool.
Also, if you have problems sending coins, you can try updating your wallet to the latest version - sometimes it helps. If it shows an empty balance, there may be problems with connecting to the network. In this case, you need to close the application and re-enter it. In some cases, when problems arise, a complete reinstallation of the wallet helps. For extra information feel free to check the Toast Wallet FAQ
Wallet Reputation and Reviews
Well, Toast Wallet reviews are varied. Some compliment the application for its simplicity and speed. Others leave angry posts on forums and social media that, having got even more than 20 tokens, they are not able to then withdraw the remainder. Of course, you can also find the reviews blaming that Toast Wallet is a scam.
At the same time, there are users who, without understanding, accuse the wallet that it is he who freezes funds, not knowing what such requirements of the Ripple network itself are. 
Nevertheless, the Toast Wallet has about 1000 reviews among iOS and Android users, which can only mean one thing, that Toast leaves no one indifferent. Throughout the network, the wallet rating stays a little less than 4.
Toast Wallet vs GateHub
GateHub is often recommended as one of the best ways to store XRP and other cryptocurrencies online. For beginner Ripple users this is probably the best wallet to start with. The layout is very simple and the functionality is easy to use. 
It is trusted by many holders with great amounts while Toast Wallet is good to store small amounts. Toast is very easy to use and friendly for new XRP users. And it supports Ripple (XRP) only.
GateHub allows you to store XRP and as well as purchasing them using USD or Euro, and the process of depositing funds and purchasing XRP coins on GateHub is very simple and fast. It is not possible with Toast Wallet, unfortunately. 
However, there are some issues with the GateHub wallet.
The main issue with GateHub is that it is a web wallet. Web wallets are less secure than hardware wallets, and even less secure than desktop wallets or mobile wallets.
Toast also works on the desktop. It also has first-rate security as the private keys are kept safe on the device.
You can actually use both to manage the same wallet. Export your secret key from the Toast wallet and add it to GateHub.
As long as you have your secret key recorded on paper somewhere you can always access your XRP.
Is Toast Wallet Safe? 
Many are interested in the reliability of the Toast Wallet. If such questions arise, developers suggest that you study the source code of the application, which is open and make sure that the Toast Wallet is safe.
In addition, your personal data remains with you and is not sent to third-party servers. It is also important to remember 3 factors that will ensure safe operation with the application: 
-a reliable passphrase; 
-reliable storage of phrases for recovery; 
-mandatory backup application. 
Keeping your password, passphrase, and backup is best offline.
Conclusion
There are for sure more advantages neither than disadvantages in the Toast Wallet:
Toast Wallet is absolutely free for everyone and it does not charge any fees but 20 XRP at the registration step to activate the Toast Wallet account. 

The application has versions of almost all operating systems: Android, iOS, Windows, Linux, Mac OSX, and there is also a version installed as an extension to the Chrome browser.

Open Source wallets are generally safer to use than closed source wallets because their codes are publicly available to everyone, thus secured by many.
С кошелька исчезли деньги,без каких либо транзакций
TOAST WALLET was unable to check your account balance at this time.
Cannot take out my xrp.
Luda
6 December 2020, 10:02 AM
I agree it's simple to use, but I'd like see proactive support as well.
Rogerio
23 August 2020, 2:32 PM
It shows a stable work on my iPhone. I don't feel any complication.
Administrator
22 July 2020, 7:01 AM
Security is simply not available or it simply does not exist, my xrp was stolen and the passphrase was memorized in my mind, no one had access to the secret words. I have been using xrp for a long time, and then I was robbed. My advice is not to use your wallet for toast
Fish
29 December 2019, 9:03 AM
I've read that someone couldn't work with the app, but I downloaded and it operates fine. The wallet provides a good service and features, no complaint.
Karri
28 December 2019, 11:56 AM
It says it's free, but frankly it's not completely free. You're supposed to deposit 20 non refunduble XRP. It seems to me a little bit tricky, but anyway, the wallet is good.
Rodri
27 December 2019, 8:15 AM
Just a high fee. That's all, all the advantages are wiped out by the fee. Probably, the interface and other features are quite all right, but it doesn't help.
Parker
25 December 2019, 12:20 PM
The wallet is fine, I used the dekstop version. I decided to download the app, but I can't use, I see the error that I have update my Android. But I've bought a new phone and it doesn't need a new version, that's strange. The wallet will be amazing if I could use the app.
Firdaus
24 December 2019, 2:17 PM
It perfectly matches for small xrp amount. I don't see any big issues so far. It keeps money and I'm to use to them. No need more.
Benn
23 December 2019, 9:28 PM
Good wallet for XRP. It doesn't need a lot of knowledge and skills to use, just deposit and just withdrawals. I like this simplicity. Maybe, it deserves more modern interface, but that's my opinion.
Carls
22 December 2019, 12:31 PM
I have some XRP and wallet has been keeping my funds safely since this March. I didn't use them a lot frankly, but if I need them there is no any problem to use them via wallet. Good one.
Pro
21 December 2019, 3:41 PM
I didn't find this wallet that fast as I read. Frankly, it works fine and I haven't experienced any lost or something. But I'm glad to see the faster wallet.
Helmut
21 December 2019, 12:19 PM
That's a simple wallet for XRP. It works fine. It keeps money and for the last year I've not experience any hacks. I don't have a big demands for the wallets. My money is safe and I'm satisfied