Electrum Wallet Review 2021 - Is It Safe?
Mar 15, 2021
There are multifunctional, simple, and reliable wallets. But can a wallet combine all these qualities together in one? In this article, we will tell you about a service that can claim the title of one of the simplest and at the same time reliable wallets - Electrum. Is Electrum safe enough to store the funds? Is it a scam or a reliable service? We will answer all of these questions in this article.
Electrum Overview
Electrum wallet is a software interface for operations with Bitcoin cryptocurrency. There are client versions for bitcoin forks: Litcoin, Bitcoin Cash, Dash, and Vertcoin.
The main feature of the wallet is speed, low resource use, and simplicity. It starts instantly, as it works in conjunction with high-performance servers that handle the most complex tasks of the Bitcoin system. The blockchain is stored and updated on the company's server, and the client interacts with it through special software for stationary and mobile devices.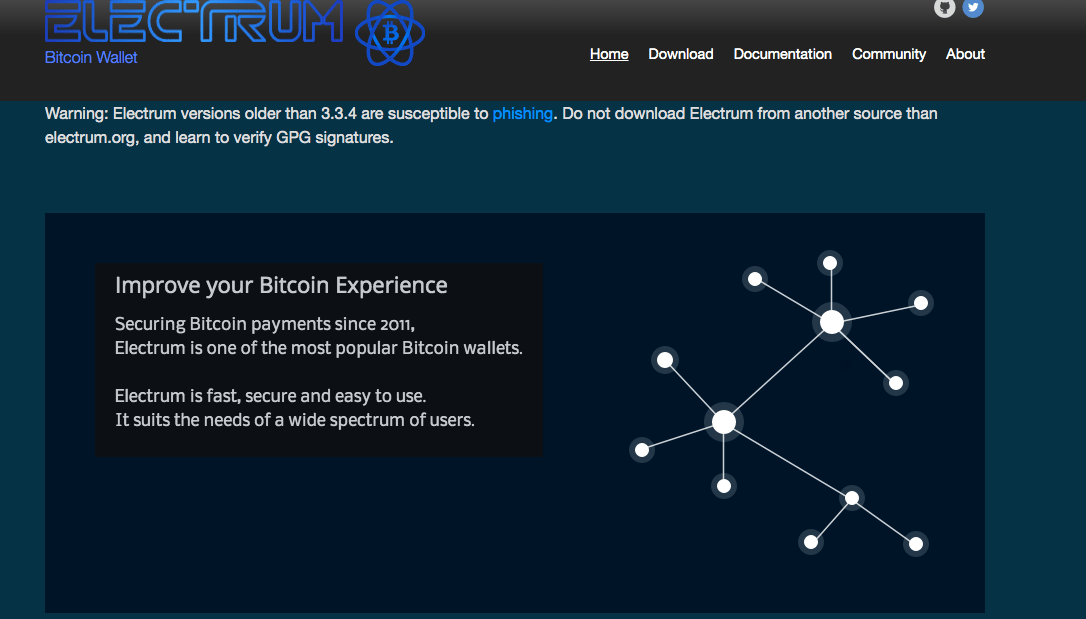 The progenitor of the Electrum crypto wallet is Thomas Voegtlin, a specialist in neural networks. In 2011, Thomas thought that a reliable wallet would be very useful for the user, which does not require downloading the full BTC blockchain and allows you to access funds from any device where the client is installed. The first version of Electrum was released in mid-November 2011.
The solution gained popularity quite quickly due to the almost complete lack of competition, as well as due to the respectable appearance of the application. The next 4 years passed in continuous improvements and refinements of the project, which Voitlen spent with his team.
Despite the declared multicurrency, each Electrum wallet works with only one coin. After downloading the wallet from the official website, the user can only work with BTC, although he/she can create any number of wallets on one platform. The same applies to other currencies.
To download an Electrum wallet, for example, for Dash, users need to go to the Dash website. The list of officially supported cryptocurrencies (i.e., developed by teams of coin developers) includes only three assets:
Bitcoin (BTC) - electrum.org;
Dash (DASH) - electrum.dash.org;
Vertcoin (VTC) - electrum.vertcoin.org;
The rest of the coins (most of them) are supported by the community, which is made possible thanks to the open-source code, as well as the policy to activate third-party developments based on the Electrum source code that has been publicly declared since 2016.
As a result, there was a situation in which the popular client for Litecoin cryptocurrency is an unofficial application, and the client for the much less common Vertcoin coin is an official wallet. Download Electrum Wallet for Litecoin (LTC) users can on the Litecoin website. Finding versions for other coins is also straightforward. However, you need to be extremely careful not to run into fraudulent sites. According to the developers themselves, only the original Electrum wallet designed for Bitcoin (BTC) has 100% reliability and security. Responsibility for the safety of using others lies entirely with the user.
Today Electrum-3.3.8 version is available for download. But you can see the rest, previous releases of the Electrum wallet on the here. There are several versions for Windows: Portable, Standalone Executable, Windows Installer. Portable is a portable version, after installation, the file can be transferred to another device (USB flash drive, computer). When using a portable type of wallet, you should carefully consider the security of your computer.
Features
Electrum wallets oriented to different cryptocurrencies are different programs, they are downloaded separately, used separately, and cannot be combined into one wallet in any way.  
Due to the fact that Electrum uses the method of simple payment verification (SPV), the application can remain light. The SPV client does not need to download a complete transaction chain, it only needs to download block headers, which are much smaller than full blocks. To verify that the transaction is in the block, the SPV client asks for confirmation of inclusion in the form of a Merkle branch.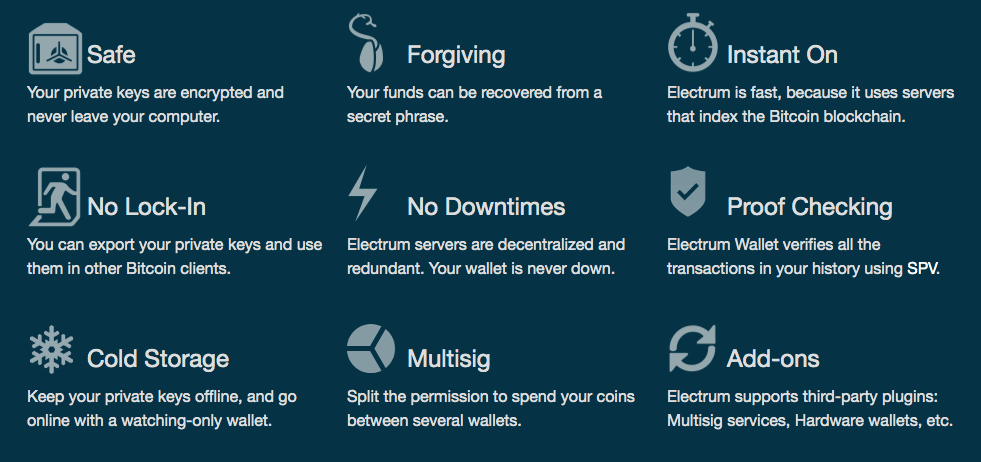 The main advantages of the Electrum wallet:
Fast start. It's very quick to start working with the wallet; synchronization with the blockchain is not required.
Decentralization. The wallet is fully decentralized.
Security. Electrum cares about the security of its users and provides an additional means of protecting your account from hacking.
Control over private keys. Their import or export.
Cold storage. Electrum stores all your funds in cold storage, so no one from the network can steal your money.
Wallet recovery using seed-phrase from which private keys are generated.
Transparency, which is provided by the publication of open-source code.
Manually set commission size.
Bulk translations.
Multilingualism. There are translations in different languages ​​in the wallet.
Electrum supports integration with all popular hardware cryptocurrency storage wallets - Trezor, Ledger, KeepKey. There are versions for Windows, Linux, OSX, and Android.
In addition, in Electrum wallet available the following features:
The ability to use third-party plug-ins to obtain additional information (for example, cryptocurrency courses);
Manual setting of the size of commissions;
Choice of server for connection, manual and automatic mode;
The ability to export keys and transaction history;
Electrum Fees
The Electrum commission is up to 0.7 sat/byte. You can reduce it to 0.1 if there is no need for a quick transfer. If the transaction amount together with the commission is more than what is on the balance, the wallet will display a warning. You can choose in the wallet to specify the size of the fee manually and the ability to replace the commission after sending the transaction if its size is insufficient.
How to Get Started with Electrum
To install the Electrum wallet, you need to go to the official Electrum website. In the "Downloads" section, select the operating system and download the installation file. In the review, we will consider the installation on Mac.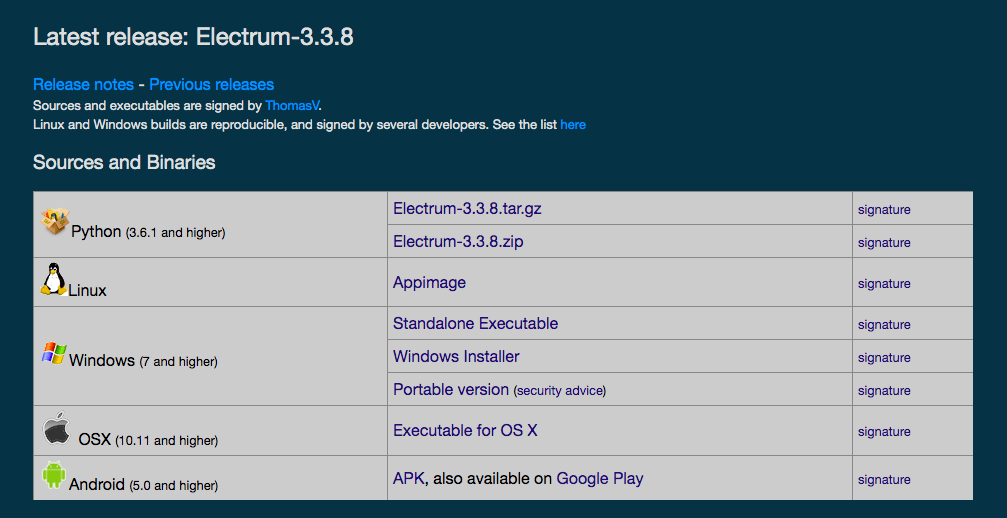 You must run the setup file and follow the instructions of the install wizard.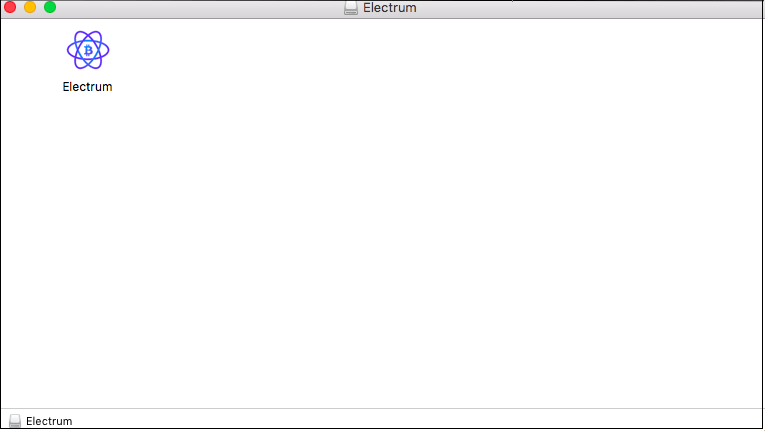 After completing the download process, click on the installed file, and in the opened window click on the Electrum icon (also, your Mac may show you a notification about this file and it will be necessary to confirm that you agree to open the file from an unverified source).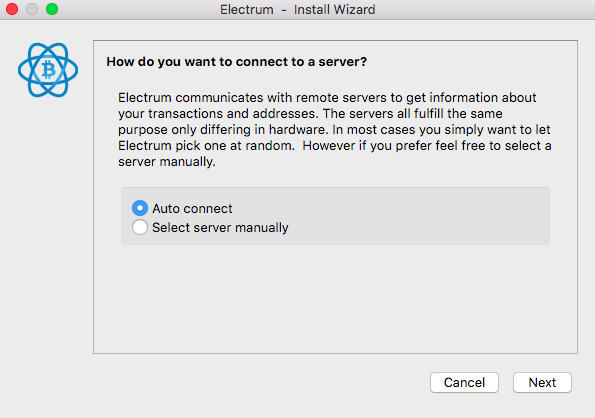 At the next step, you need to answer the question "How do you want to connect a server?" Electrum communicates with remote servers to get information about your transactions and addresses. The servers all fulfill the same purpose only differing in hardware. In most cases, you simply want to let Electrum pick one at random. However, if you prefer to select a server manually, feel free to do it. Choose the option and click "Next".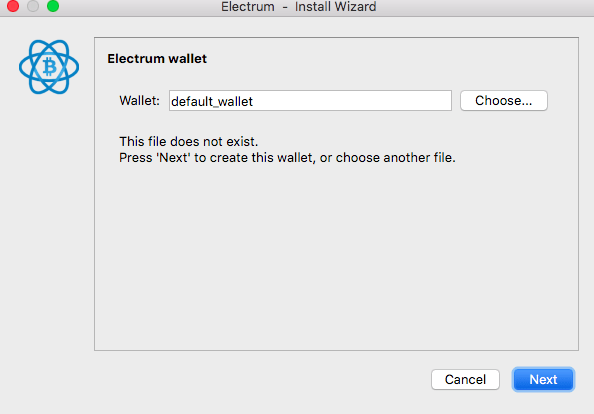 Create the wallet or choose another file and press "Next" (Electrum will make a "default_name" of the wallet by default).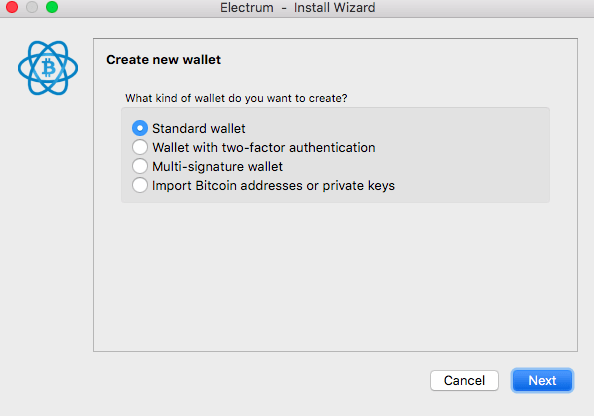 Choose what kind of wallet you want to create:
Standart wallet
Wallet with two-factor authentication
Multi-signature wallet
Import Bitcoin addresses or private keys
Make your choice and press "Next".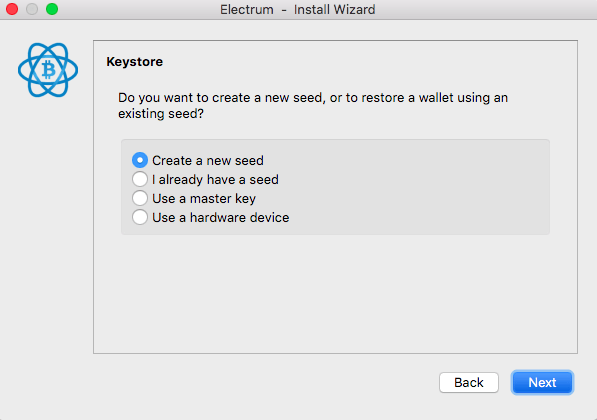 Choose whether you want to create a new seed, or to restore a wallet using an existing seed. Make your choice and click "Next".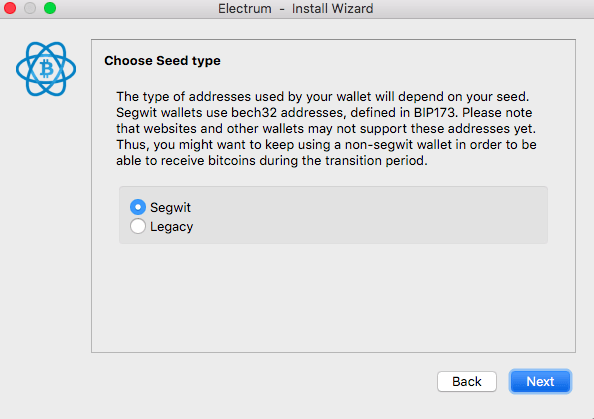 Choose the type of your address. The type of addresses used by your wallet will depend on your seed. Segwit wallets use bech32 addresses, defined in BIP173. Please note that websites and other wallets may not support these addresses yet. Thus, you might want to keep using a non-segwit wallet in order to be able to receive bitcoins during the transition period. Upon a completion click "Next".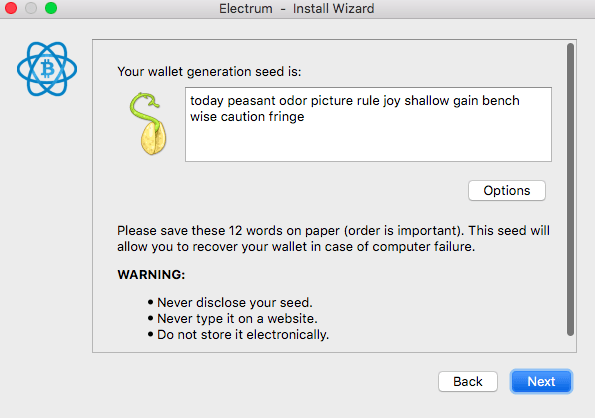 Electrum will generate a seed phrase for your wallet. Please save these 12 words on paper (order is important). This seed will allow you to recover your wallet in case of computer failure. 
Electrum warns us to never disclose your seed, never type it on a website, and do not store it electronically.
In case you save your seed phrase, press "Next".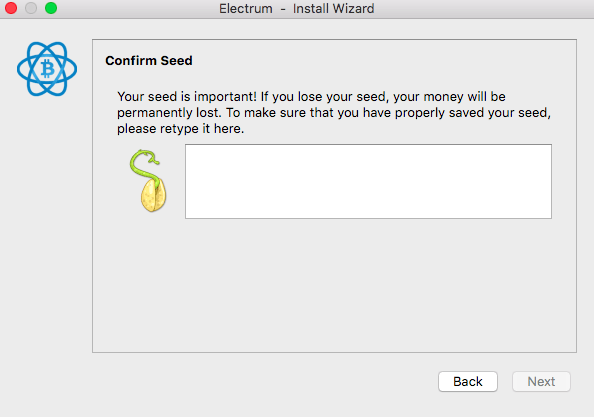 To make sure that you have properly saved your seed, please retype your phrase in the window. Upon a completion, press "Next".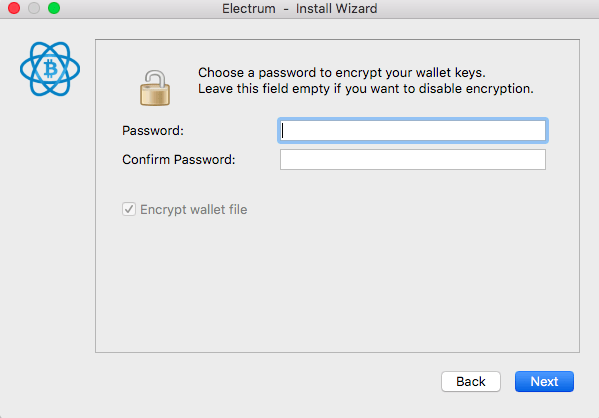 Choose a password to encrypt your wallet keys. Leave this field empty if you want to disable encryption. Once finished, press "Next".
That's it! The Electrum is successfully launched on your PC and now you are ready to use all the wallet features.
How to Use Electrum 
After starting, the main page of the wallet has opened for you.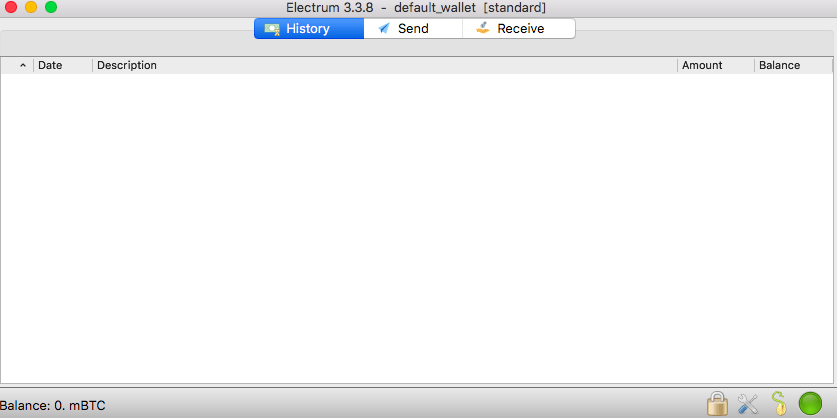 At the bottom of the Electrum wallet you will see:
A green circle means that Electrum is connected to the servers. When clicked, detailed information on the number of nodes and their names will appear. You can select servers manually or automatically.
Seed icon - view the seed phrase at any time after entering the password. If it was not saved during installation, you must do this without fail.
The next item is the settings. Similar to the top menu "Tools" - "Settings".
Lock - change password.
Balance - the number of cryptocurrencies in your wallet.
At the top, you can access the "File", "Wallet", "View", "Tools" and "Help" menu.
How to deposit Electrum
To receive bitcoins on the Electrum wallet, you need to click "Receive".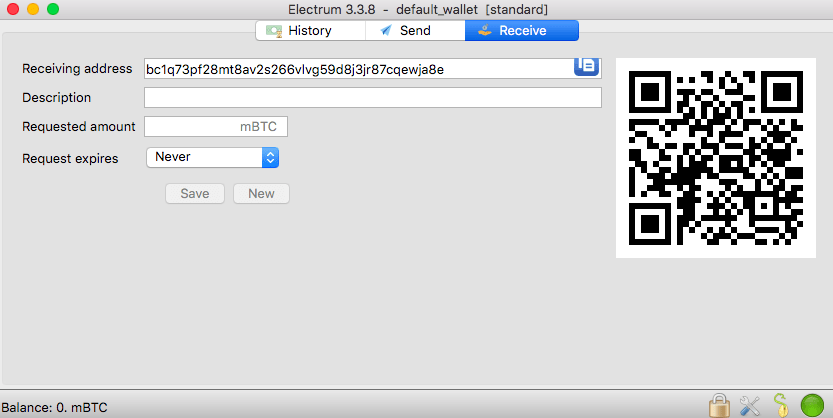 A public bitcoin address for receiving cryptocurrency will appear. It looks like a chaotic set of letters and numbers 33–34 characters long. It is also presented as a QR code. You need to copy the address and indicate it during the translation. In addition, you can add a description, if needed.
How to withdraw from Electrum
To transfer bitcoins from the Electrum wallet, you need to go to the "Send" menu, specify the recipient's wallet address, amount, description (if needed), and fee. Click "Preview", check the information and click on the "Submit" item.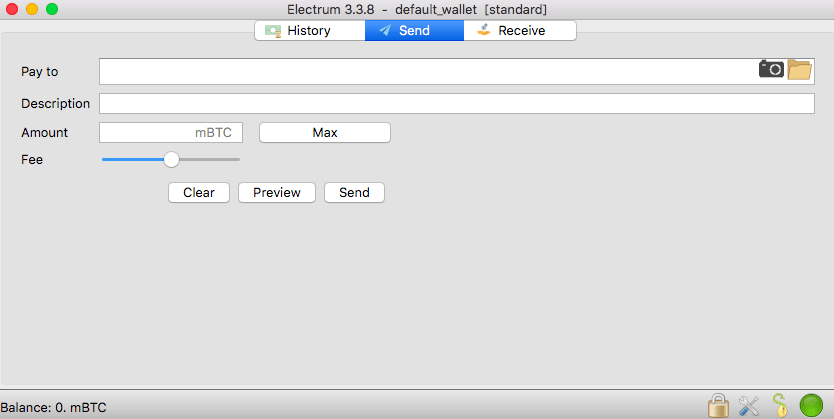 The commission can be set manually or use automatic calculation. Its size and estimated confirmation time should be viewed here. Information is analyzed in the last 3 hours.
Customer Service and Reviews
There are no obvious buttons on the site for creating an application for support or online chat. Users can find answers in FAQ(frequently asked questions) on the site.
Also, on social media, you can find the latest news and write your questions in private messages.
Users are sure that Electrum is a very reliable, well-protected option for storing bitcoins. However, there are some things that users do not like, for example, there are several versions of the wallet for other cryptocurrencies, only Bitcoin-Electrum Dash-Electrum and Verge-Electrum are official of them.
Nevertheless, Electrum is quite popular among users. It is easy to install and very simple to manage. Electrum combines all the benefits of cold storage with ease of use online. The application does not burden itself with a heavy blockchain but refers to it only to update information.
Is Electrum Safe?
When choosing a wallet we consider such factors as ease of use, support of the coins we want to hold, fees, etc. However, the top priority factor is safety. The main function of the wallet is to keep our funds and data secure and out of the strangers' reach. Happily, Electrum provides users with a number of solutions that make this wallet a safe one.
Electrum is one of the most reliable and safe wallets on the market. It had some security issues in the past but the company has come through a series of improvements and now the wallet is considered to be a safe one. Moreover, Electrum has an open source code so the possibility of huge security breaches is low by now.
Synchronization and execution of operations occur online on remote decentralized servers. Electrum has a high degree of security. There is no point where any entity can access the account as only the owner retains full control over private keys. They are generated locally on the device and are not available to third parties. All the info stored on the device gets encrypted. If keys are lost there is a chance of accessing the account via backup solutions. You can restore access to Electrum Wallet using a seed phrase, a password-protected wallet file, or a private key. However, it's worth saying that if you lose both a seed-phrase and a password, you won't be able to access your funds. That's the risks you take if you want to use one of the safest technologies for protecting your data and money. 
Probably the most important security features available for the Electrum users are multi-signature and 2-factor authentication. The latter is widely used in the crypto industry. The principle is not hard to grasp: you download an authentication app to your mobile device. This app creates a token generating one-time passwords for your wallet account. Each of these passwords is good only for 30 seconds so there is no use in keeping it, remembering it, or... stealing it. The only way to access the account is via checking for a new password on the only mobile device associated with the account. It makes hacks nearly impossible. Multi-signature is a rarer feature. It requests several sides to validate the transaction before the funds move. This makes every transaction safer.
Of course, a portion of responsibility is a user's burden. Make sure your password is strong, your device with a 2-factor authentication token is under your control, update your wallet regularly, and avoid phishing websites. If you do these things, your account is not likely to be hacked.
Conclusion
Electrum wallet is one of the safest ways to store Bitcoin cryptocurrency. This wallet is distinguished from others by its simplicity, high stability, and reliability. This wallet is suitable for both beginners and professionals.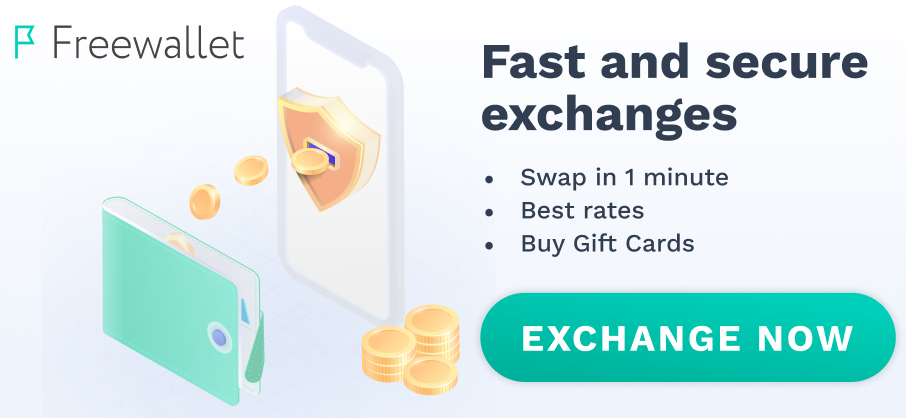 Vanclei Alves da Silva Ferreira
26 Jun
Tenho gostado dessa carteira
Hartmut Drescher
1 November 2021
Sehr schade, sie sollten mindestens eine schriftlichen chat, support anbieten
Hartmut Drescher
29 October 2021
Electrum ist gut, nur traurig das es keinSupport gibt
Hartmut Drescher
28 October 2021
Da ich hier neu bin, vermisse ich "sehr" einen Support, und wenn es auch nur in schriftl. Weise stattfinden würde. - Wie bringe ich einen Betrag X zu Electrum. - Wie leite ich Betrag X an ein Bank oder andere Unternehmen ? . . .
У меня с вашего кошелька украли биткоины
Помогите мне разобраться как это могло произойти
И найти злоумышленников
Я была уверена что Ваш кошелек надежный
адрес кошелька моего кошелька