CryptX Wallet Reviews 2021 - Is It Safe?
Has trading facilities:
yes
Features:
2 Factor Authentication
ValidationType:
Centralized
Aug 05, 2021
Times when crypto wallets were just crypto wallets and nothing else have gone long ago. For years, wallet brands have equipped their products with multiple additional functions. Modern wallets allow storing dozens or even hundreds of crypto coins, exchange them on different terms, see the rates, read the industry news, and so on! Interestingly, the new brands still have something more to offer and it seems that CryptX Wallet has managed to bring a refreshing product. In this review, we will talk about the main features of CryptX Wallet, see if it's safe to use, answer the question if CryptX Wallet is a scam, and so on.
What Is CryptX Wallet?
CryptX Wallet is a custodial multicurrency and multifunctional hot crypto wallet developed by CryptX in 2018. The latter is a Georgian company responsible for several other cryptocurrency projects including a crypto exchange, a platform for trading bots management, etc. CryptX Wallet is a natural element of the CryptX ecosystem. Nevertheless, using CryptX Wallet outside this ecosystem can bring a strong experience as the wallet provides some really interesting features. On top of that, the wallet boasts institutional-grade security — a crucial characteristic for cryptocurrency wallets.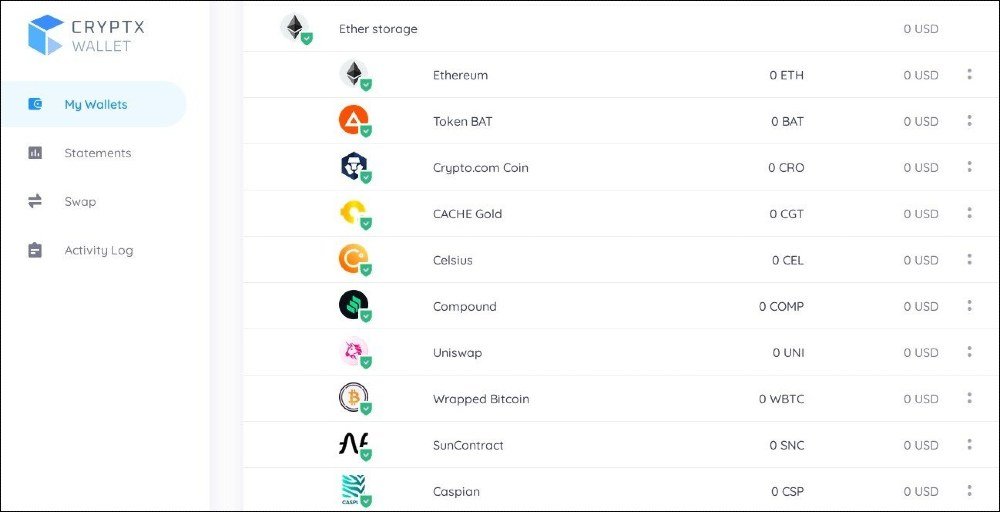 CryptX was created in 2018. The CEO is George Gvazava. He is a finance expert providing lectures in France and Georgia and once was included in the "30 under 30" Forbes list. The company strives to provide as user-friendly services as possible to make cryptocurrencies a simple tool for everyone. It is reflected in the CryptX Wallet's user-friendly design. However, it is important to note that CryptX wallet is good not only for fresh cryptocurrency owners but also for merchants and institutions operating dozens of transactions at the time.
Main Features
Let's begin with the number of supported assets. CryptX Wallet allows you to store up to 108 cryptocurrencies based on 7 blockchains. You can store on CryptX Wallet such popular coins as Bitcoin, Tether, Ethereum, Chainlink, Litecoin, Bitcoin Cash, Zcash, Basic Attention Token, Bitcoin Gold, and others.
CryptX Wallet allows you to create a multi-address Ethereum wallet. For such a wallet, the support team provides a fee address. It is necessary to add more Ethereum wallets or swap coins. It is important to maintain 0.05 ETH on the fee address all the time. It is impossible to withdraw from the fee address. A Recycling feature when enabled stops the creation of a new address for each transaction. Instead, the already existing addresses will be used for the following transactions. It is possible to set a time threshold after which the new addresses will be created for the new transactions no more. Because you have to pay additional fees for creating each new ERC20 address, Recycling can be a solution.
One of the definitive features of CryptX Wallet is that the coins stored in the wallet can be automatically swapped to USDT to keep the overall portfolio's value at the preferred level and don't let it go down. The swapping occurs nearly instantly so the entire operation won't create any discomfort for a wallet owner. More than that, the settings of auto swapping can be customized by the user in order to regulate the accuracy of these exchanges and so on. For instance, you can choose how many coins you want to be swapped. Besides auto swaps, the standard swaps are also in place. So you can exchange the coins inside of your wallet nearly instantly without much hassle. 
How your #Bitcoin business can save on transaction fees with CryptX Wallet https://t.co/rflGaTubPI

— CryptX Wallet (@CryptXWallet) June 1, 2021
Merchants or other users that deal with numerous transactions sent in a short period can use transaction batching. Multiple transactions can be sent in one batch and the fee is paid once per batch. The fee is determined by the speed of the batch and can be set by the user (1 Satoshi per vByte). There are tools to automate the batching of transactions and triggering this feature as soon as the number of active transactions reaches the set batch fee. To decrease the possible transaction fees you can consolidate unspents using the Consolidate feature. The Sweep feature allows you to combine all your unspents and send them to another address at once. 
In case, if you have already sent money but all of a sudden decided to change some parameters of the payment it is possible to edit pending transactions on CryptX. It's worth mentioning that this action increases the fee.
How to Use CryptX Wallet?
CryptX Wallet can be accessed only via an Internet browser. Signing up doesn't require much time. You just should enter the first and the last names, an email address, and set the password. As the account is verified via email, you can start using CryptX Wallet.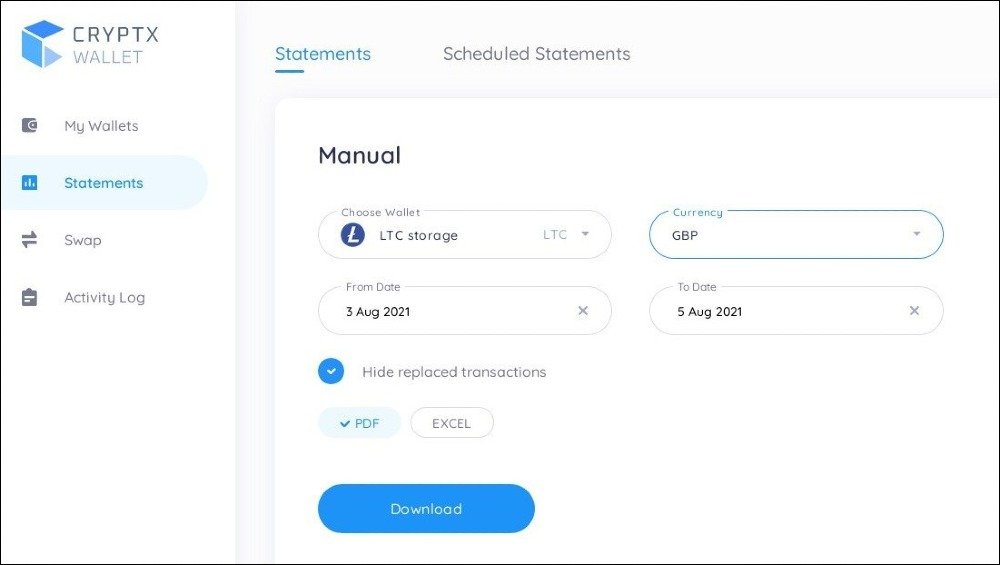 The interface of CryptX Wallet is clear and simple to use. The wallet has a vertical menu on the homepage: My Wallets, Statements, Swap, and Activity Log. In the My Wallets tab, you can add the wallet addresses for further transactions. Each wallet can be given a custom name so it would be easier for you to recognize each wallet and use it properly. The Statements tab is needed to download and schedule the statements. In the Swap tab, you can swap any supported coins between each other. The Activity Log provides info about the logins to your wallet with all the related info whether it's an IP, date, etc.
As you click on any currency in your wallet, you get to the page with all the related info including the balance, the transaction history, the number of unspents, etc. There you can send and receive coins.
Fees
As for the fees, CryptX Wallets charges you a 0.2% fee per transaction. Depositing and other actions require no payment.
Is CryptX Wallet Safe?
There are a lot of scams and frauds in the crypto industry. How can we make sure that CryptX is a legit enterprise? As CryptX is not an anonymous company, its key team members are public, so CryptX isn't likely to be a scam. The company is registered in Georgia and can be held accountable in case of misconduct. Another serious reason to believe that CryptX is a legit operation is that to date there is little to no negative feedback from users of the wallet. The clients' private keys are stored in the institution-grade Hardware Security Modules (HSM) developed and operated in Switzerland.
There are several protection measures you can apply to ensure the safety of your money on CryptX. As soon as you create an account, CryptX wisely recommends you activate 2-factor authentication. That's one of the most popular and safest protection measures in the crypto industry. To activate it you will need to install a special app on your smartphone. This app generates one-time passwords. Such a password is requested when anyone is trying to enter your account or withdraw money from it if 2fa is enabled. Hackers who don't have your smartphone won't be able to break into your account. Thanks to the Activity log, you can always check if there were unwanted guests in your account lately. If you see some unauthorized activity you should terminate all sessions and change the password immediately. The withdrawal addresses can be whitelisted. It is fair to say that CryptX has done a good job at making its wallet safe.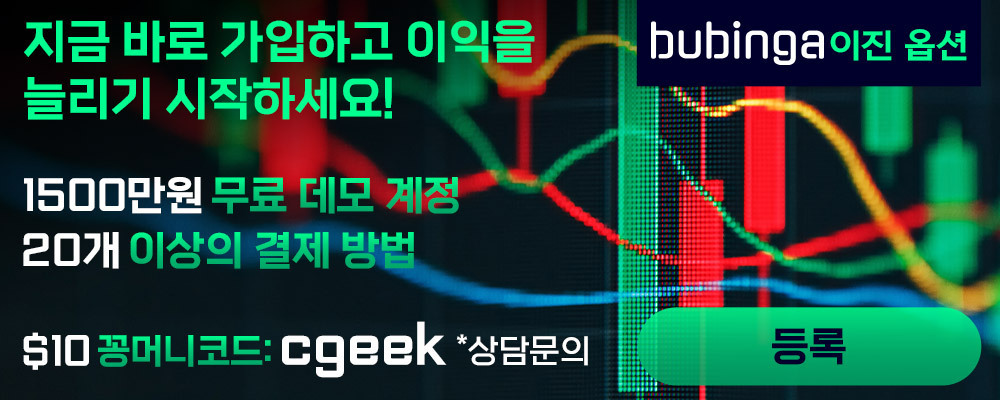 greenbear
27 September 2021
Not perfect, but reliable wallet