CoinTracker Reviews 2022
May 31, 2020
Cointracker is a unique web application that is responsible for monitoring, tracking, and taking updated information on a user's crypto portfolio while at the same time, automatically generating tax forms for the individual. 
In just a few clicks, users can get many things across different exchanges done. Also, the platform allows users to be informed on transactions and any other relevant developments that may be related to their portfolio. 
The overall goal of the application is to help the user to keep track of the value of their crypto portfolio while at the same time organizing the data for tax purposes.
Cointracker Overview
Cointracker was founded on August 22, 2017, by Chandan Lodha and Jon Lerner. The company is based in San Francisco, California, and being a portfolio and tax manager for virtual currencies; it specializes in accounting, fintech, blockchain, digital currencies, and some other financial services.
The company's services are available to users across the globe, and the platform supports/tracks over 2,500 crypto coins, including the likes of Bitcoin, Ethereum, Ripple, Litecoin, Binance Coin, and many more.
Cointracker features a unified dashboard that displays everything that is happening around the user's assets. On the dashboard, you will see real-time token prices, tokens' historical data, deposits, withdrawals, and market caps.
If you want to get ahead of the game, @CoinTracker will get your crypto taxes calculated and your tax forms filledhttps://t.co/t0Ttm9RFPU

— CoinTracker (@CoinTracker) August 21, 2020
Unlike some other platforms that offer the same services as Cointracker, this application is not entirely free. Users are expected to pay a subscription fee to gain access to the platform's leading feature; tax filing. 
However, the fee varies depending on the value of the user's assets.
Cointracker Features
Tax Form Generation

The application doesn't only track developments around crypto portfolios; it allows users to generate capital gains report, which is in line with their crypto assets. The IRS form 8949 is used to generate the tax form, and users can easily lower the taxes they pay to the concerned agencies by wisely harvesting the losses made by crypto tokens. As a result, users can spend their trading profit more wisely.

Auto Wallet Synchronization

Even though this is a common feature among wallet tracking apps, the Cointracker application takes this feature to the next level by allowing it to automatically synchronize the user's portfolio data across thousands of crypto tokens. Also, the app adjusts the user's portfolio value based on real-time developments in the crypto market. It takes advantage of the fact that several exchanges support auto wallet synchronization, and so far, there are 300+ exchange integrations, more than any other provider has. It is also possible to add to this list manually.

Multiple Cost Basis Methods

Cointracker is perfect for individuals that are scared of being audited. The application offers users five different cost basis methods through which they can generate their tax forms. They include First In First Out (FIFO), Highest In First Out (HIFO), Last In First Out (LIFO),  Share Pooling (AS), and Adjusted Cost Base (ACB). 
To choose the best method for yourself, you can consult a professional advisor. Also, it's important to note that different methods bring different results.
Cointracker Pricing
The application is free to use by anyone at the basic level; however, to get more advanced plans that aid with advanced tax calculations, you have to buy them. 
Let's have a look at the various subscription plans;
Free plan – it's free
200 transactions

Portfolio tracking

Capital gains

Error reconciliation
Premium – this one will cost you $127
3,000 transactions

Portfolio tracking

Capital gains

Error reconciliation

Tax-loss harvesting guidance

Margin trading

DeFi functionality

Tax summary by wallet

Chat support
Unlimited – Priced individually
Unlimited transactions

Portfolio tracking

Capital gains

Error reconciliation

Tax-loss harvesting guidance

Margin trading

DeFi functionality

Tax summary by wallet

Priority support

Custom features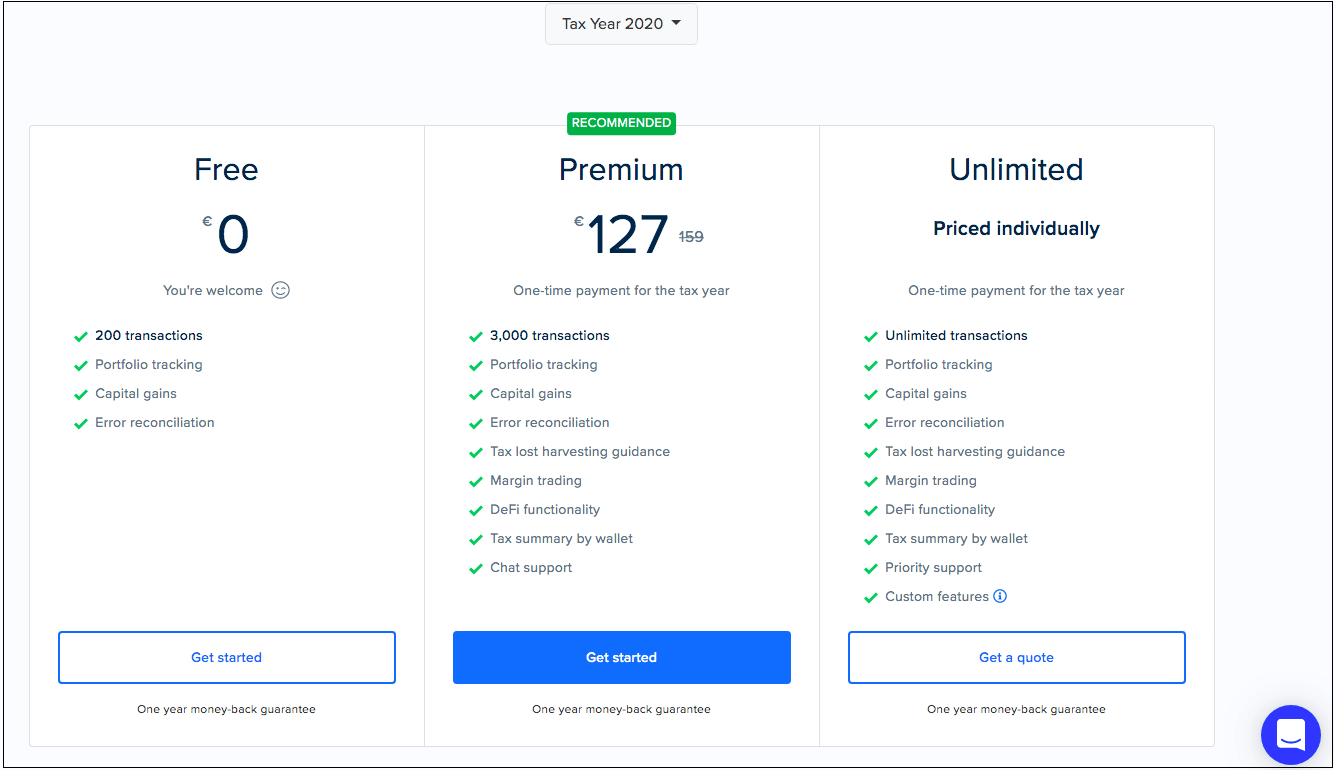 Advantages Of Cointracker
The application is simple, and one doesn't have to be a professional trader to use it. All you have to do is connect your account to the various exchanges and wallets you may be using, and you can start to enjoy the services.

Cointracker is quite scalable, and regardless of the plan one is subscribed to, the application will get your crypto taxes done in just a few minutes.

The application is quite accurate, given that the information displayed on the dashboard is sourced from exchanges you are on and wallets you hold in real-time.

The platform integrates with over 300+ crypto exchanges.
How To Use Cointracker 
To get started on this platform, visit the cointracker.io website, and click on the "Get Started" icon.

You will be taken to a page where you have to choose how you would like to get started. Once there, you will see three options, including sign up using Coinbase, your Google account, or email. Select your preferred mode and proceed to sign up.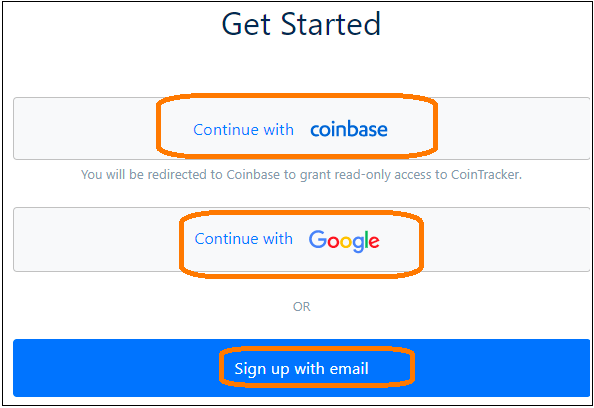 Go to your email inbox and click on the link that has been sent there to complete registration.

After you successfully log in, on the dashboard, you will see the option of adding exchanges and wallets.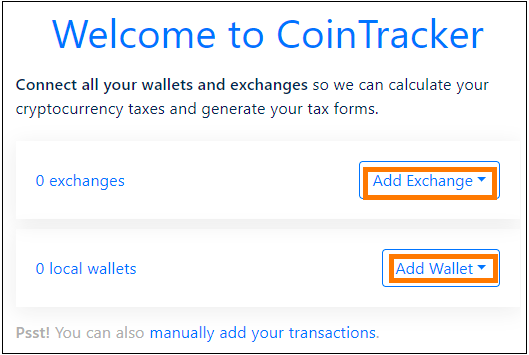 There are over 300+ exchanges supported and several wallets.
First of all, secure your account by setting the 2FA. Click on the user icon on the top right and select the settings section

Select enable the two-factor authentication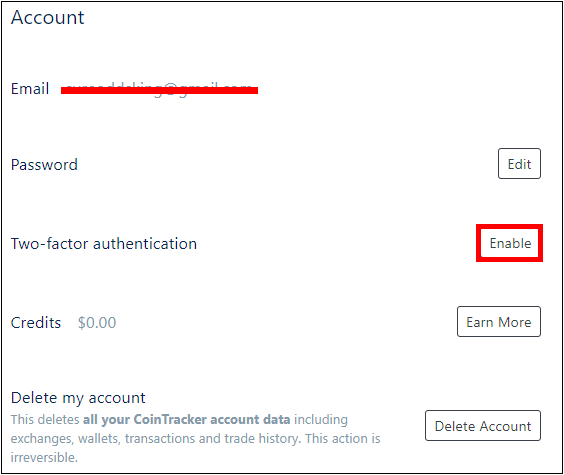 Now you can proceed to add exchanges and wallets. For example, if you decide to add a Coinbase account, you will be directed to a page where you have to log in to your account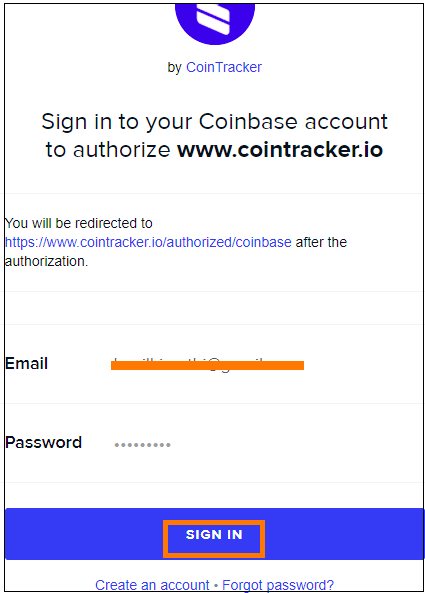 A verification code will be sent to your mobile phone via SMS, and you have to enter it to complete the process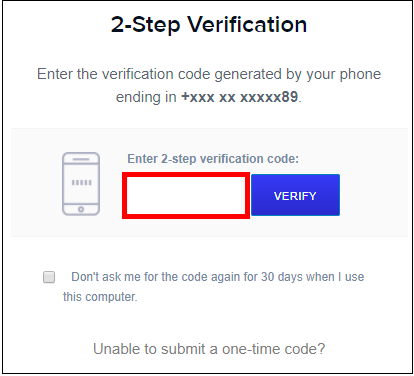 You can repeat the process for other exchanges and wallets you hold, and you are good to go
Customer Service
Cointracker provides its customer support through a live chat window at the bottom of the website. Users can ask for any kind of assistance related to the platform.
Also, there are other resources, including a crypto tax guide, blog, and an FAQ section that contains answers to the commonly asked questions.
Cointracker vs. Cointracking
When comparing these two crypto asset tracking platforms, Cointracker.io seems to have the edge over Cointracking.info for several reasons including; support for UK tax rules, unlimited tracking for free, simplicity and ease of use and many more. 
Cointracker vs. Bitcoin.tax
When we compare Cointracker.io to Bitcoin.tax, both seem to be on par on many grounds. However, Cointracker has a free offering, Bitcoin.tax does not. All in all, both are excellent applications for tracking your digital assets.
Is Cointracker Safe? 
From our research, we can confidently say that Cointracker is a safe application. On one review site, the platform scored a 5/5 from 36 reviews with all participants seemingly quite happy.
Conclusion
Even though the subscription fees may be quite expensive when compared to those of its competitors, the application offers additional features that are hard to find anywhere else. Cointracker is for the serious trader who needs more than just the basic cryptocurrency tracker.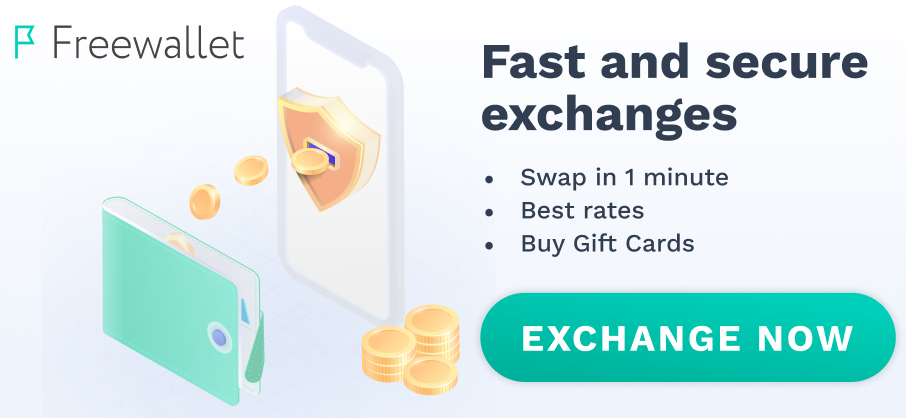 I had entered transactions that appeared not to show up after entering them.I emailed Cointracker shortly before 5PM and they found my error in entering the date incorrectly in less than 4 hours they had me back on track. Cointracker's customer service is AWSOME! You will not find a quicker response from most any other wesite.
Yes I have found it is a great program. I am exploring tax programs now. One good one seems to be cryptotrader.io. Not sure of the cost yet but it has been recommended for the tax angle. Glad to hear everyone seems to think it is secure.
Really fast operations, everything is good, I like the room
Simply the best crypto tax software available!
My attitude to this tool is highly positive. I can admit, that fee may seem high, but it's worth it. It makes traiding easier and more enjoyable .