Etherscan Reviews 2021
Oct 11, 2021
Etherscan is built for mostly Ethereum amateurs. The platform gives an option for everyone to view the data on the Ethereum blockchain in real-time: without registration or paid subscription. That's why some call Etherscan Ethereum's leading "block explorer".
What Is Etherscan?
How to Use Etherscan?
What is TxHash?
How To Get Profit
Interesting Features
Alternative Ethereum explorers 
Is Etherscan Safe? 
What is Etherscan?
Etherscan has a simple design with quite an intuitive UI, and it is not overloaded with functions. This platform is not associated with the Ethereum Foundation and operates independently. 
Matthew Tan is Etherscan's CEO and founder. One of the websites mentions that the project is based in Malaysia. The main feature of this platform is showing its users the data regarding the last transactions: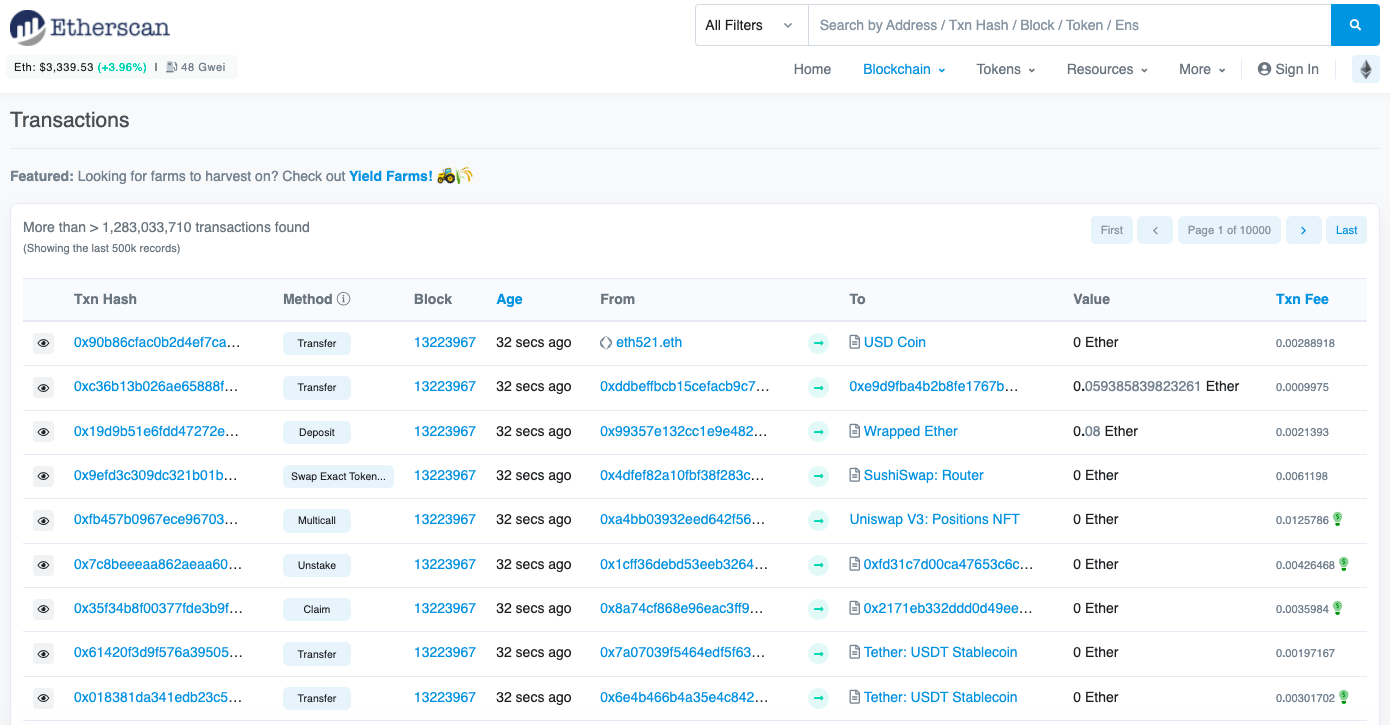 The Ethereum blockchain has a public ledger which thanks to Etherscan can be indexed, searchable and accessible. It is a real search engine that lets users look for and confirm their transactions. The search works fast, without any lags.
Etherscan is a №1 public explorer for the Ethereum blockchain, where you can look up an Ethereum transaction and its status. It is also an API and analytics platform for this blockchain. 
It is not optional to register and create an account to use Etherscan and most of its services. Etherscan is not a wallet provider, so it can't store people's private keys and control the transactions over the Ethereum network.
How to Use Etherscan?
An interesting fact is, this platform is used by people from all over the world and even blockchain developers can monitor the data themselves. That makes Etherscan a unique and quite popular platform. One of the recent improvements on Etherscan is the possibility to verify ownership of a contract address.
This platform might be a bit difficult for the newbies who decided to start using Etherscan. However, many things could be difficult for the first time. Especially if newcomers are not sure what the platform exactly should be used for. 
The answer is: showing real-time data on transactions made through Ethereum blockchain. This information is clearly visible on the main page of the site.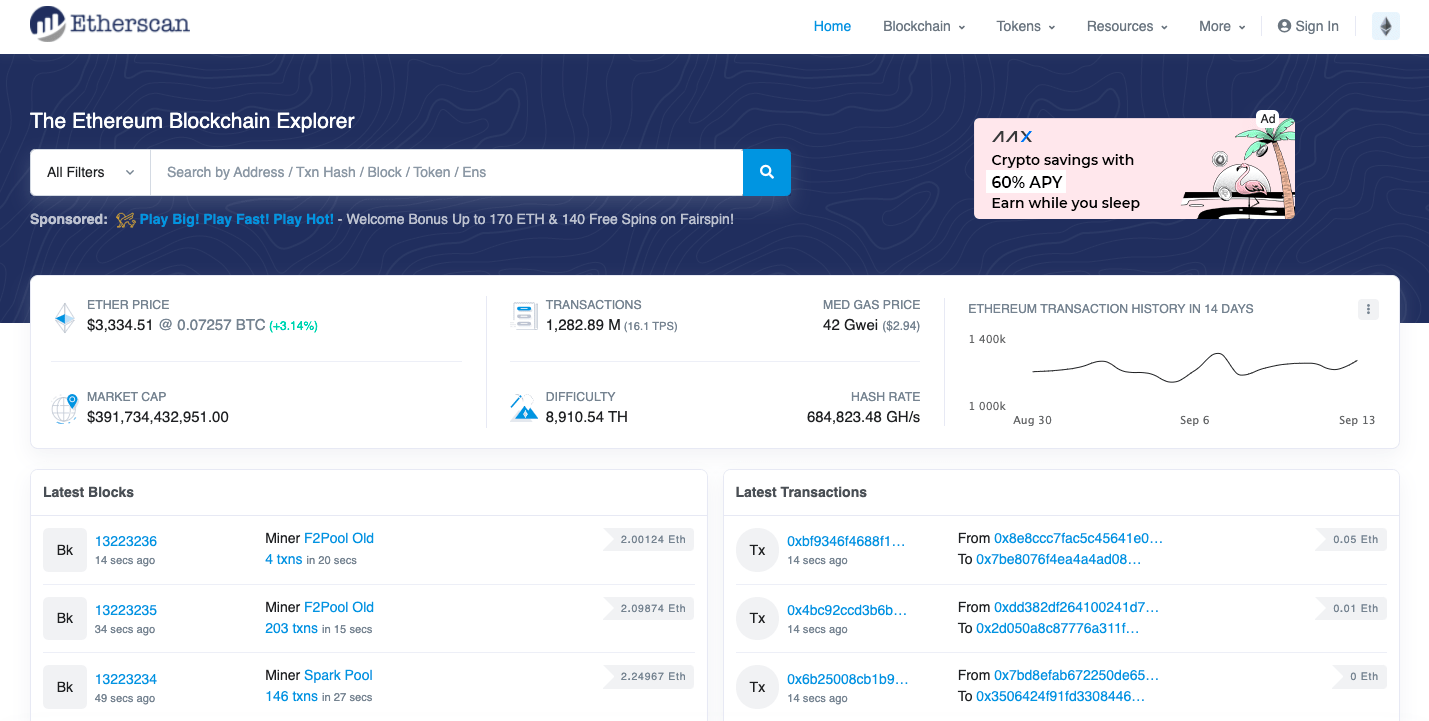 To look closer, we'll find out that the upper part of the page shows all the information possible on data about the coin:
Value in US dollars; 
Market cap;
Percentage alterations;
Number of transactions in 2 weeks;
Hash rate;
Mining difficulty. 
Another useful option is the ability to turn off the constant data update and view the previous data instead. There's also the search field which can be helpful too as it is the most popular feature of the platform: most users visit Etherscan just to find out the status of their transaction. 
The bottom of the page shows another useful piece of information: 
The list of the most recent blocks (Bk) on the left;
Transactions (Tx) on the right. 
A full list of processed transactions can be found on the "Blockchain" tab: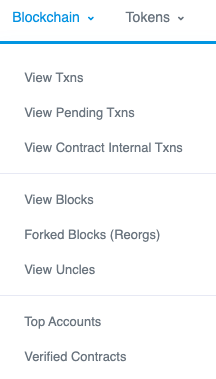 What is TxHash
As it was mentioned before, Etherscan lists information for each and every transaction. And it's high time to mention the TxHash. TxHash or transaction hash is also known as the transaction ID. 
It shows the number of the particular block where the transaction was recorded. TxHash also keeps the information on such points as:
The exact time when the transaction was confirmed;
Who it was from;
To whom the transaction was;
The value being transacted;
The total fee.
All this information is clearly placed on the tab: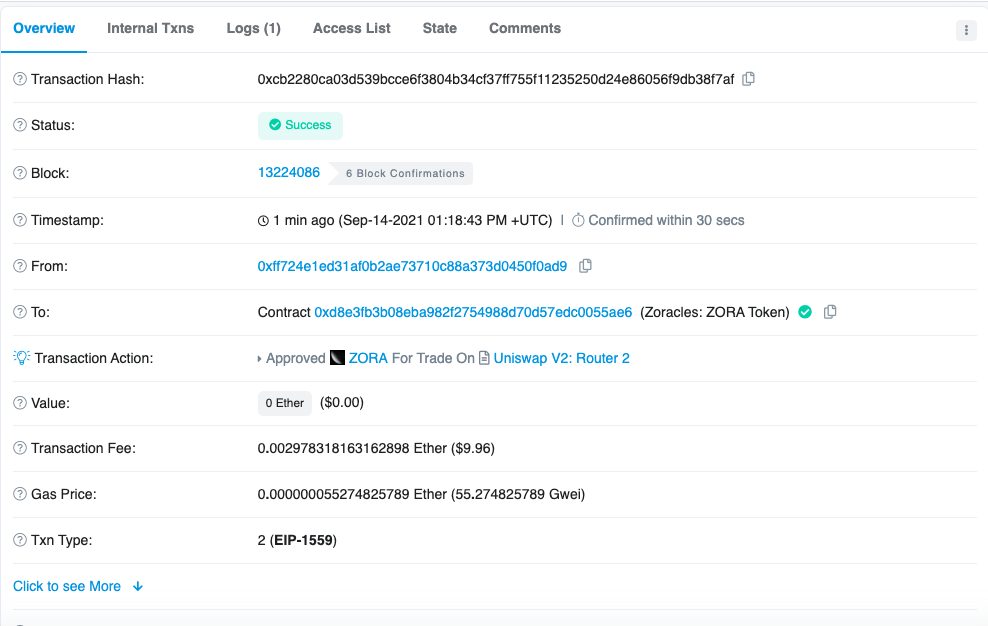 Another way of using TxHash is to track and trace the status of a transaction. When placed into the search bar, all of the transaction details will appear: 
The TxReceipt status (successfully sent or failed); 
The block height (the number of the block where the transaction was recorded); 
The value of the transaction; 
The exact units of gas; 
The actual cost; 
The number of the transaction sent from the sender's address.
How To Get Profit
To get more profit, traders can register and create an account. Since then, it would be possible for them to add a transaction address to the "watch list" and be notified by email of any changes. 
As for developers, they can access a set of API services to either build dApps or become data feeds for Ethereum blockchain information.
When the account is created, users can choose only between English and Chinese, because other languages are not available yet. However, it doesn't stop Etherscan from being popular and widely used among users.
Especially Etherscan can be helpful for such categories of users as:
Miners. The site provides stats on blockchain hash rate, mining difficulty, average time per transaction, and a custom calculator.
Investors. As it is possible to use Ethereum for long-term and short-term investments. Also, charts on the site help to predict some future trends or popularity of a certain coin.
Owners of ETH wallets. Etherscan makes it possible to review the state of the wallet and shows the exact amount of coins in it. This allows users to protect tokens from theft.
All the interesting and useful information cryptocurrency amateurs can find on Etherscan's Twitter account. They have a large community of 54k subscribers.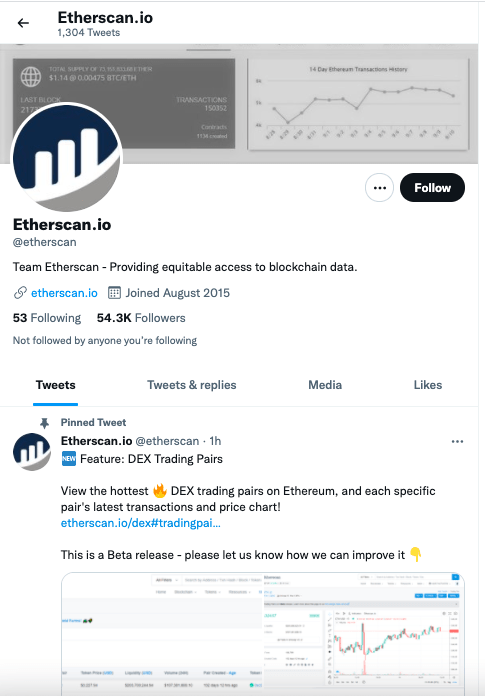 Interesting Features
The services of Etherscan do not limit their users from viewing, searching, and checking the status of blocks or transactions. Here are some other helpful stats:
Charts, diagrams, and datasheets are located in the "Resources" tab. They give access to trends and activity levels of a cryptocurrency one is interested in.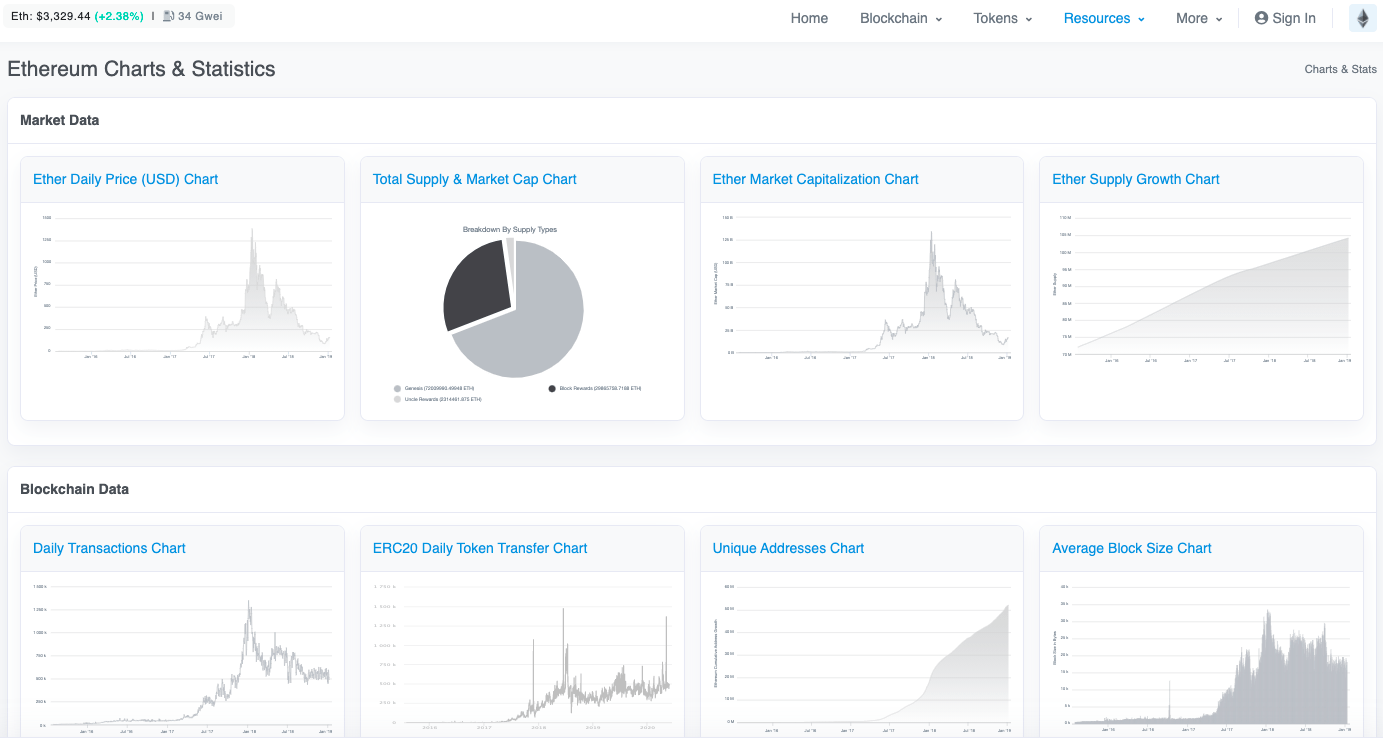 All charts can be easily downloaded as an SVG, PNG, PDF, or JPEG file. Also, it is possible to download a datasheet in CSV format to paste it into an Excel file.
ERC20 tokens review. There are a total of 150 000 smart contracts to be found on the site. To learn more, all the user has to do is click on the name of the token, which would redirect to the page containing general information about the token, its price chart, current exchange requests, and comments from other users.
The mining calculator. This tool is used to estimate rough profit by entering data regarding the mining power and cost of electricity.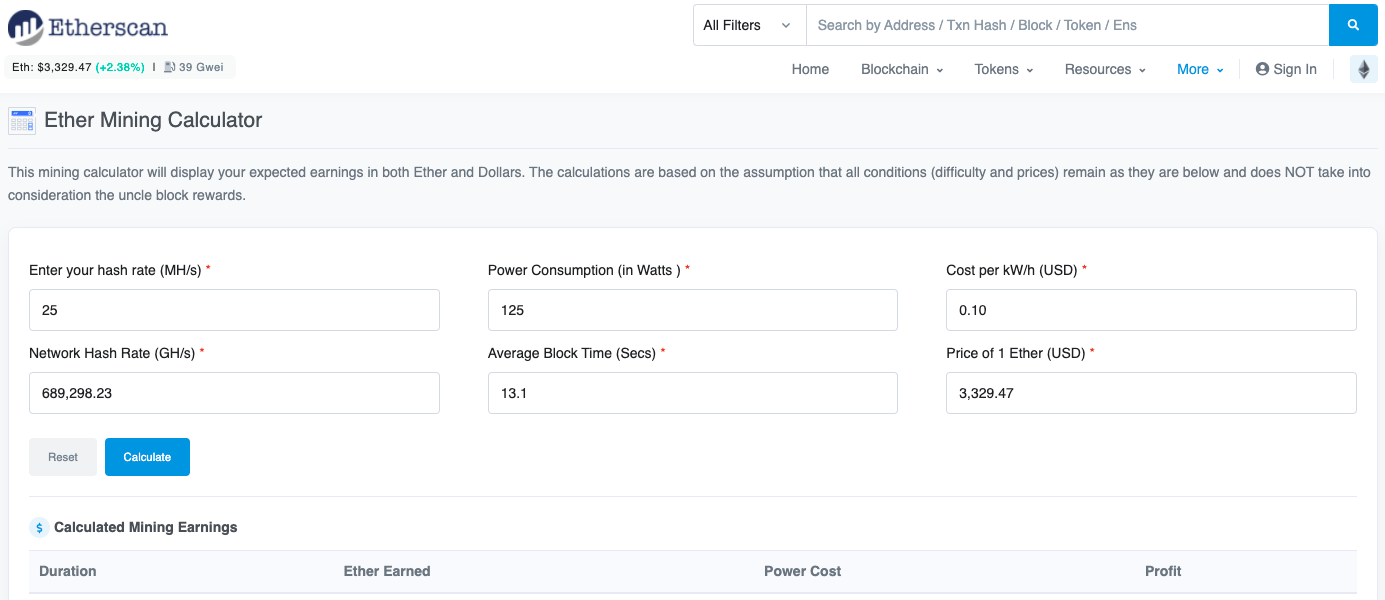 This mining calculator is a useful option for a person who only intends to mine coins to assess the profitability of mining.
Gas price tracker. It is well-known that the Ethereum network can suffer congestion problems: congestion drives up gas prices, increases transaction costs and as a result, some transactions fail. This function allows tracking for gas price dynamics, which is especially helpful during the network's congestion. Etherscan supplies data on the whole network, such as information charts, historical data, mining stats, total Ether supply. 
Finally, those with the account can just discuss mining and cryptocurrencies, ask and answer questions while sharing the experience with other users of the Etherscan site.
Alternative Ethereum explorers 
Ethplorer
Apart from the details of a transaction and address, Ethplorer allows for tracking prices in chart mode. If you'd like to look at tokens at a glance, Ethplorer's interface is a good option for that. For example, you'll see Ethereum tokens' activity, such as the total market cap of tokens, volume, and operations. 
Etherchain
This explorer is very similar to Etherscan. In addition to blockchain data, it displays data on hard forks, charts on the Ethereum economy, as well as the correlation calculator
Summary
Etherscan is a useful resource for all Ethereum Network users. It has the ability to track transactions, check smart contracts, and find out stats. It's free to use and there's no need to register to use the main features. 
Etherscan can't be used as a block explorer for viewing Ethereum transactions. This platform has all the required data that a miner, investor or cryptocurrency wallet owner might need. It is also possible to view the data on ERC20 tokens here. Users get information about the blocks and transactions of Ethereum in one place and in real-time.
To sum up this research, we can say that Etherscan is an intuitive, simple, and safe platform.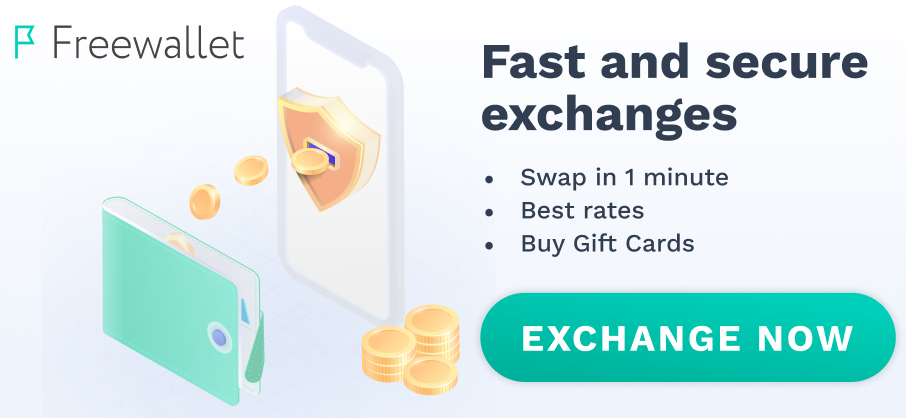 Oliver Freitag
18 February 2021
Etherscan ist eine reine Geldsammelmafia. Geringe Investitionen werden ignoriert und die Geschäftsgebarden gleichen einer Drückerkolonne die es nur auf Geld abgesehen hat. Ich wurde nach 5 min direkt nach 30-40 tsd Euro angehauen. Seit meinem verneinen ist weder was zu sehen noch was zu hören.
NYILINHTET
22 August 2020
Balance
Cool thing to follow any ETH wallets operations. It helps to understand how to deposit or transfer coins. Really helpful.
Actually, it's a irreplaceable website for tracing the ETH activity. It helps checking the different resources and wallets without visiting them. It's a big help, there are many scum platform out there. Any suspicions can be confirmed here.