T-Rex Miner Tutorial & Review
Jun 01, 2022
T-Rex Miner is a dedicated ETH mining program for Windows and Linux that leverages NVIDIA GPUs. The program can be downloaded from the official website or the official GitHub.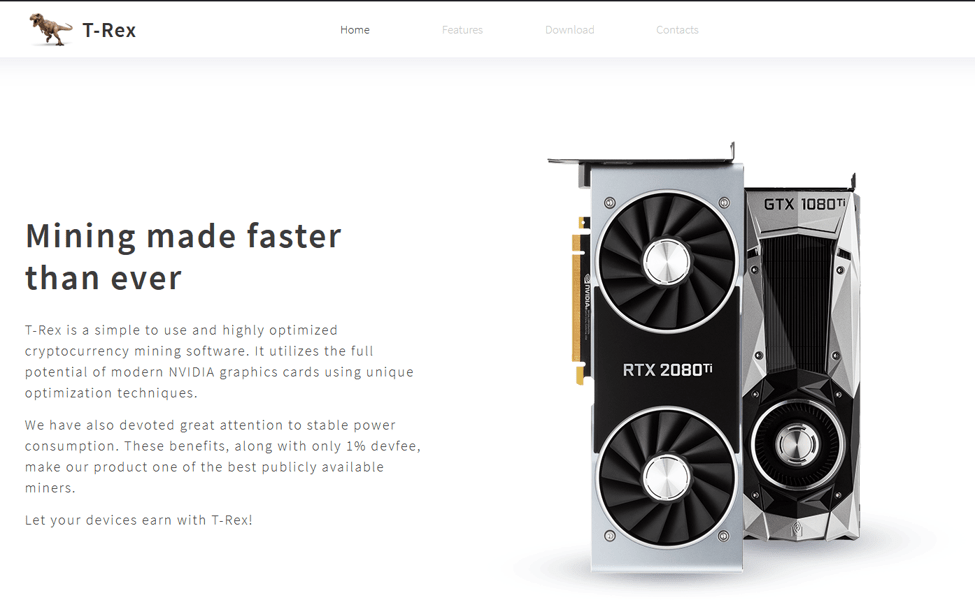 As of May 22, 2022, T-Rex Miner is at version 0.26.1, with the Windows SHA-256 checksum:
71c7178edf8a273b1ffe70374637bb963f8835b6370a31ddd5945aceac6c6cfc
and the Linux SHA-256 checksum:
96c92ac2cc01fa7587308f9d72970f57f4be5733e9d7f76d0aec21f6f84bc65d
Read on to find out:
where to find the right T-Rrex Miner download;
how to pick the best T-Rex Miner;
how to make T-Rex mining more efficient;
is it worth mining ETH in 2022.
What is a T-Rex Miner?
T-Rex Miner for Windows is a ZIP archive (TAR.GZ for Linux) with 35 BAT files. The Readme file inside the archive describes the program as a versatile crypto miner and states the dev fee to be 1–2%. The description in the Readme lists 15 supported mining algorithms:
ETHash;
Blake3;
FiroPow;
ETChash;
KawPow;
MTP;
MTP-TCR;
Multi;
ProgPow;
ProgPow-Veil;
ProgPow-VeriBlock;
ProgPowz;
Tensority;
Octopus;
Autolykos2.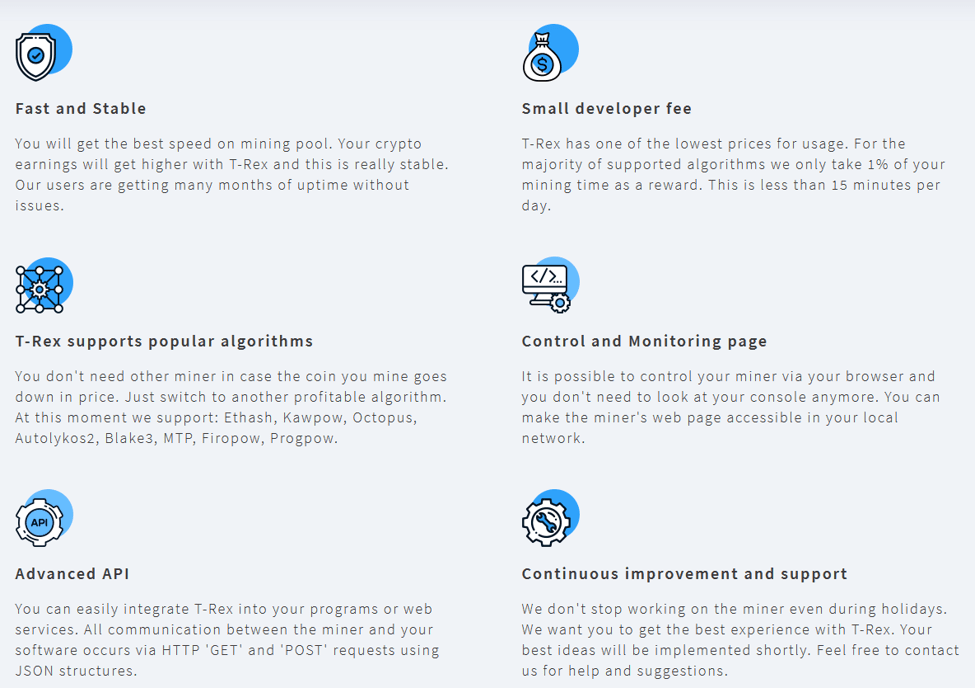 According to the feature list on the official website, T-Rex Miner provides six benefits:
API access;
speed and stability;
small dev fee;
support for algorithms;
ease of management;
constant updates.
What to mine on T-Rex?
A 2019 guide on T-Rex Miner shows that different mining algorithms have wildly different profitability. For instance, Zcoin's MTP has 1.6–4.3 Mh/s while Ravencoin's x16rv2 produces 6.5–38 Mh/s on the same hardware.
You can use the 2CryptoCalc mining profit calculator before you settle on a GPU, coin, or an algorithm to use in mining. Get involved in a community and visit discussion forums where miners share their experiences with crypto mining.
Keep in mind that most calculations are estimates. Prices may drastically change in just a few days.
GPU Hash Rates On T-Rex
You can use a GPU's video game benchmark to estimate its hash rate in T-Rex Miner. For instance, the 2019 guide that reveals NVIDIA RTX 2080 8GB produces 31 Mh/s mining Ravencoin, while 2080Ti 11GB produces 38 Mh/s. Comparing the two graphics cards on UserBenchmark, a benchmarking website, that reveals the latter has 15% more EFps (effective FPS), which roughly correlates with its Ravencoin hash rates.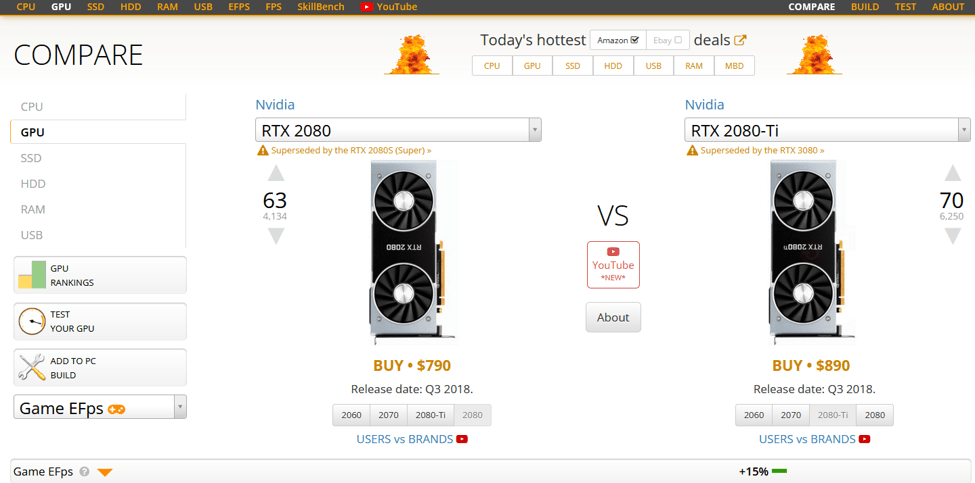 According to GitHub user comments on dual mining, you may have different hash rates even if you install multiples of the same GPU in the same rig and mine the same coin. The solution appears to be tweaking their settings until you sync them up.
Is it available in the USA?
There are no geographical restrictions for downloading, installing, and running T-Rex Miner. However, you might not be able to access an exchange to sell your mined coins due to your location.
Ethereum infrastructure can also be throttled or blocked in your area due to legal limitations. In that case, you could still run T-Rex mining but you wouldn't be able to sell your coins.
The ideal location for crypto mining is somewhere far from civilization, in a cool place, and with cheap electricity. This is because crypto mining is noisy, generates heat, and consumes a lot of power. Otherwise, you're setting yourself up for failure.
In 2018, one Brooklyn Bitcoin mining rig generated so much radio interference that the owner was sent a warning by the FCC to cease operation. The device was Antminer S5, a Bitcoin miner.
Where to download T-Rex?
Visit the official website and click the "Download" link under the operating system you're using. If you visit the official GitHub repo, click "Assets" and download the archive file of the version you want.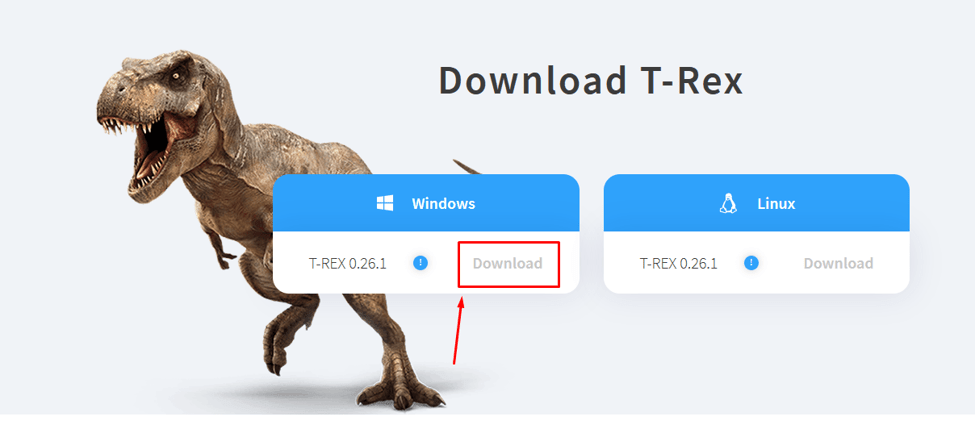 How to set up T-Rex?
Extract the T-Rex Miner archive to a folder, whitelist that folder in your antivirus program, and choose one of the BAT files. Their names indicate which currencies they're optimized for and which mining pool they work with.
Right-click that BAT file, click "Edit", and replace the wallet address inside the file with yours. If you skip this step, the mined ETH will go to the address written inside, which is most often a dev's wallet. Save the file, close it, and launch it by double-clicking. Since T-Rex Miner has no GUI, this will open a Command Prompt window.
For a more hands-on explanation, watch this T-Rex Miner setup tutorial.
How to use it?
Readme explains that T-Rex Miner uses all GPU resources, which can damage the GPU if it's overclocked. Therefore, make sure the GPU is not overclocked, test that it works properly, and slowly ramp up the performance while testing the stability along the way. Your goal is to find the balance between performance and stability that maximizes profit and minimizes maintenance.
T-Rex Miner has the Watchdog module that tracks miners' crashes and other signs of instability. Readme notes that Watchdog can count the number of T-Rex Miner restarts in an interval and perform some action if the limit is breached. For example, if the program crashes 5 or more times within 20 minutes, Watchdog can restart the machine.
Finally, you can use command-line switches to run T-Rex Miner with a JSON config file. You will likely have to run T-Rex Miner with admin privileges to unlock all its features.
The best T-Rex Miner GPUs
Some NVIDIA RTX 3000 Series GPUs have a limitation called "LHR" (Lite HashRate). According to a 2021 article on the topic, LHR detects when a GPU is used for mining ETH and throttles the card's performance by up to 70%. The intention is to discourage cryptominers from buying all GPUs on the market to leave none for others.
GPUs without any limitations are called "FHR" (Full HashRate) and those between LHR and FHR are called "Semi-LHR". T-Rex Miner apparently has an autotune feature that detects LHR and compensates for it. To discover the best T-Rex Miner GPUs, you will have to do some research, in particular in crypto mining communities.
FAQ
How do I know it's working?
Visit the mining pool's website indicated in the BAT filename, such as 2miners.com, and search the site for your ETH wallet address.
Where can I get more information?
Check out the Reddit community at r/EtherMining, which has people commonly asking and answering various T-Rex Miner questions. There is a dedicated BitcoinTalk forum thread dedicated to all T-Rex Miner questions and information as well. User "trexminer" is the creator of the program; he occasionally posts in the thread.
How do I choose the best mining pool?
Look for the mining pool with the highest combined hash power and the lowest fees. That will give all mining pool members the maximum payout.
How to disable LHR?
This Reddit thread from April 2022 recommends reducing GPU memory overclock if the card often activates LHR. Disconnect all monitors from the GPUs you use for crypto mining.
How long does it take to mine 1 ETH?
Depends on the hash rate. This 2022 article estimates mining 1 ETH takes more than a year on a 100 Mh/s mining rig, which pays around $10,000.
Can T-Rex Miner mine Bitcoin?
No. The list of supported crypto is found on this page; Bitcoin is not listed there.
Is it worth mining ETH?
Probably not. ETH is almost mined out, leading to high difficulty for mining one block. In 2022, we can expect ETH 2.0, which will center on proof-of-stake rather than proof-of-work.
Can I trust T-Rex Miner?
You should exercise caution and use sensible cybersecurity practices in all things crypto. Don't use the mining rig for anything else, such as web surfing or banking, and keep your personal information safe.
Can mining damage my GPU?
Yes, if the GPU gets too hot. Temperature is the most important factor in determining your hardware's longevity.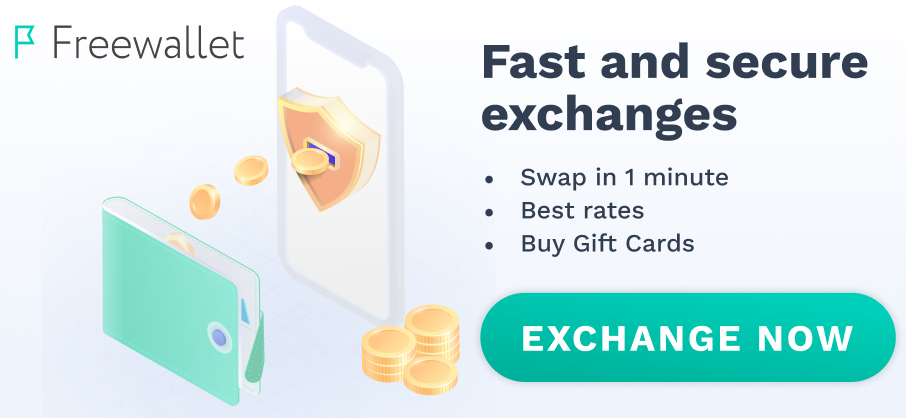 Here are no reviews yet. Be the first!