BitMain (Antminer) Review 2021 - Should You Really Use It?
Aug 04, 2020
Bitmain is one of the top mining equipment providers with a solid reputation for long-lasting high-quality mining equipment products from their small USB connectable devices - great for beginners - through to their S series - which are steadily lowering the power consumption and increasing the GH/s.
Bitmain has also moved into the mining contract arena with its new and easy-to-use hashnest software suite. You can buy direct from Bitmain and ask them to install and manage your mining hardware or buy GH from them.
Bitmain is the brand for a number of hardware mining products focused on cryptocurrency. The website has two language versions: English and simplified Chinese. 
About the developer
The developing company behind the brand is Bitmain Technology Holding Company which works on AI and blockchain solutions. Its products include cloud products, servers, and chips. Bitmain has been among the leading designers of ASIC products. Besides, it operates one of the leading blockchain explorers BTC.com along with a large mining pool Antpool. The company was established in 2013 with the headquarters in Beijing and R&D departments located in the USA, Singapore, and Hong Kong. Its founders are financial and IT experts.
The company mainly develops chips and ships ASICs across the world. Its chips are cloud-based and construed with a focus on deep learning technologies. There is a wide range of use cases for Bitmain's chip technology, including smart governance, security, and cities, as well as medical services and facial recognition. 
According to "Conditions of Use", the company complies with the laws of Hong Kong. The company has also elaborated training courses known as "Ant Training Academy".
Bitmain products
Antminer
The Antminer S1 was the first product of Bitmain. Antminer is the Bitcoin miner equipment, or, in other words, ASIC hardware. Let us remind you that ASIC stands for an application-specific integrated circuit. There are 3 Antminer models presented in Bitmain's online shop. 
Antminer S19 Pro - 110TH/s   
Antminer S19 - 95TH/s
Antminer T19 - 84TH/s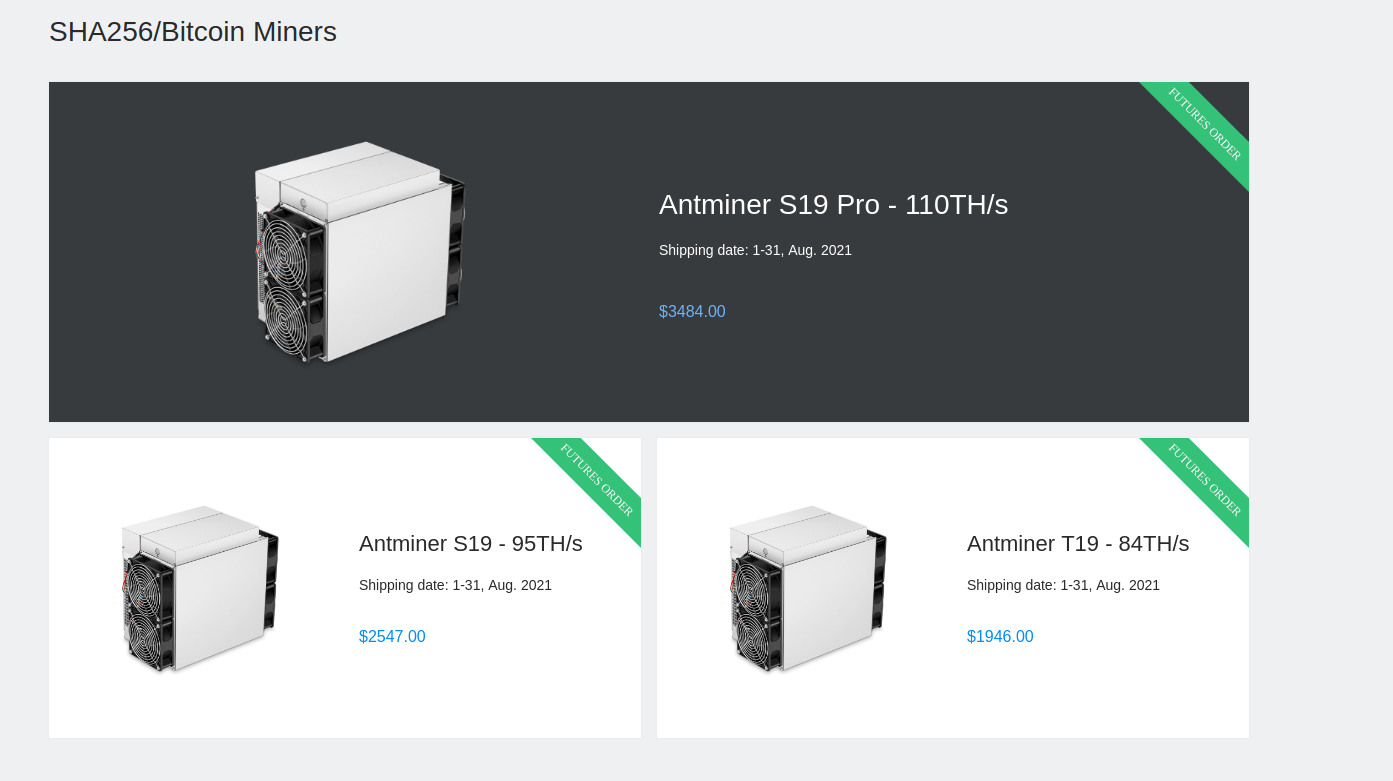 The TH/s parameter indicates the number of tera hashes generated per second.
Antminer has in-built chips that help generate better efficiency and higher hash rates. The Bitmain's online store currently offers 3 types of Antminers, ranging with hash power from 84 TH/S to 110 TH/S. This is a custom-built product marked with the "Futures orders" levels. The estimated delivery time is 8 months. The price of the cheapest Antminer is $1946 whereas the price of the most advanced Antminer is $3484.
In order to run Antminer, you'll need a PSU (power supply unit) because you cannot just plug Antminer in the wall. So, prepare extra money (around $150) to finance the purchase of PSU. 
Antbox is a full mining solution and is offered by Bitmain as an "independent mining farm". It has 2 modifications: Antbox N5 SE ($14 896) and Antbox N5 ($29 821). Antbox is made of reliable and safe fireproof materials. Both modifications are "coming soon" and should be ordered in advance. 
Accessories and spare parts for Antbox can also be purchased in the store. They include power supply, cables, control board, fan, signal cable, etc.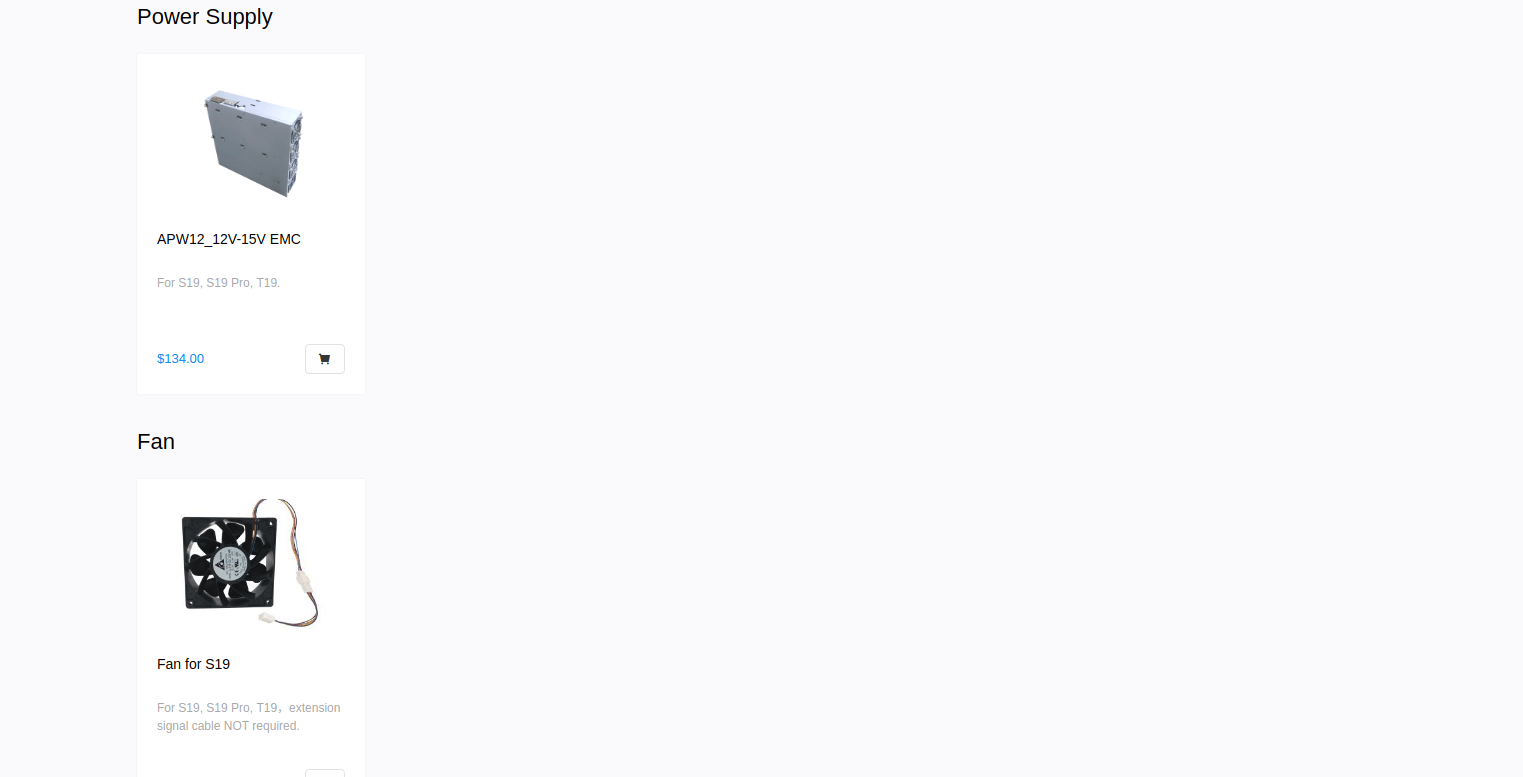 BitDeer
BitDeer is a strategic partner of Bitmain. It sells Antminers S17Pro with varying price plans. However, the website shows that every miner in the schedule is out of stock or sold out. 
Antminer App
The mobile Antminer App has been designed for both Android and iOS users. Thanks to this application, one can shop for Antminer products and accessories, receive discounts, and enjoy the aftersales service. The app's languages are simplified and traditional Chinese, as well as English. One can also learn about up-to-date market trends and read news about mining right in the app.
There is a special page where one can check certificates of the product.
Antsentry
Antsentry is the hash rate management system for the farm. In December 2020, Bitmain launched its international version. The main functions of this system are the following:
- Maintains the operation of super large farms in an efficient way. It means that managing 50 000+ miners on a single farm are a feasible task, due to Antsentry. 
The system's upgrade speed is able to go up to 800 miners per hour if a scale is 10 000 miners.
The task is automatically implemented by the system for the task-based operation of miners.
- Provides the features for alarm and real-time monitoring Miner data can be acquired as frequently as every 2 minutes.
The operator receives the data in a timely and automatic manner.
The preset alarm rules allow for categorizing and collecting faulty miners. Alarms are sent in real-time via email, SMS, DingTalk, and other channels
- Protects hash rate safety 
This feature identifies potential viruses, as well as locates sources of trouble, and delivers alarm. Thanks to the real-time monitoring and, therefore, interception, it's possible to prevent illegal mining, as well as recover hash rate loss.
Repair
If needed, a buyer can make a repair request. The warranty period for miner's products varies. If warranty time expires, the maintenance fee will be charged. This period, however, has certain limitations. For example, it won't apply if you set a higher speed on the miner than it was designed for. The same works for using the wrong power supply. Maintenance service can only be conducted in special service locations. Therefore, it's necessary to ship the machine that is going to be fixed. 
Partners
In this section of the website, the two partner companies are listed: Phoenix Technology and New IT Project LLC. As resellers and distributors, they sell Bitmain products across the Middle East and post-Soviet countries, respectively.
It became known in December 2020 that Bitmain had concluded a successful deal with Core Scientific, the largest hosting company in North America. According to its terms, Bitmain will deliver 58,000 additional S19 Series Antminers. Before that, the first cooperative repair center was set up in North America. This step was taken to reduce the waiting time for those miners who had to send their spare parts or machine to China for repair. Riot Blockchain was another partner ordering a large batch (20 000 items) of Antminers from Bitmain (as of October 2020).
KASH PARTNERS, the Korean largest mining company, cooperates with Bitmain to achieve its ambitious goals of a 30MW mining facility.  
Support and feedback
Support channels of Bitmain company include not only email but also a hotline for customers. The news channels are represented by Twitter, Facebook, and the company's blog, which sees regular articles.   

Bitmain Talk is the community on the support portal of the company, where every miner can post to exchange information on mining or the company's products. 
Bitmain Antminer has 3.8 out of 5 stars on Amazon. This rating is close to the company's rating on other public sources and indicates that generally, customers are satisfied with the quality of these products.  Some customers note that this product is not quite about 2 GHz and others compare it with a "self-funding heater". Its good construction has also been observed. There are reviews complaining about hard communication with Bitmain's technical support. Quite a long thread on BitcoinTalk is one of the informative sources of feedback on Bitmain's miners, where customers exchange their user experience. The Hash rate for the miner can differ from what is announced, so, it's recommended to make sure to know the exact specifications of the equipment you are going to buy. 
The profitability of the miner's purchase depends on various factors, and your electricity cost is not the last among them. There are a lot of mining profitability calculators on the web to help you make this choice. You may start estimating this parameter with the understanding of how much is your electricity cost per hash.