Yobit Exchange Review 2021 - Is It Safe or Scam?
Full address:
Not Available
May 28, 2020
So few cryptocurrency exchanges that support rare and exotic cryptocoins and provide a complete set of trading tools. Today we will review YoBit - an exchange that supports thousands of crypto-pairs for trading and at the same time allows you to purchase cryptocurrency for fiat. Is YoBit safe to store the funds? Is it a scam or reliable service? All of these questions we will review in this article.
YoBit Overview
YoBit is a cryptocurrency exchange with a large number of coins, including new altcoins just released on ICO. One of the main advantages of the exchange is a large number of supported cryptocurrencies and currency pairs. Among the pairs, there are both cryptocurrency and fiat. YoBit supports all major, top-end, most forks of major currencies are supported, as well as numerous little-known currencies, among which there are once popular, and old unsuccessful, and new little-known, and tokens of recent ICOs.
YoBit was founded in the summer of 2014, and trading became available in early January 2015. The founders of the YoBit exchange, unfortunately, are unknown. Sometimes the place of registration of the exchange is called the United States, but there is no official confirmation of this information. Since its launch, the exchange has been slowly developing and improving, focusing both on the CIS and the Asian region.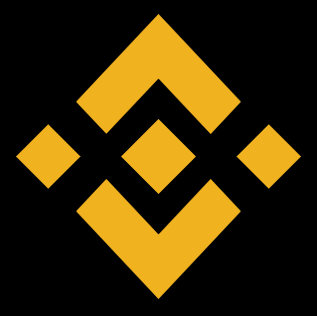 Get Profits with HODLing on Binance Earn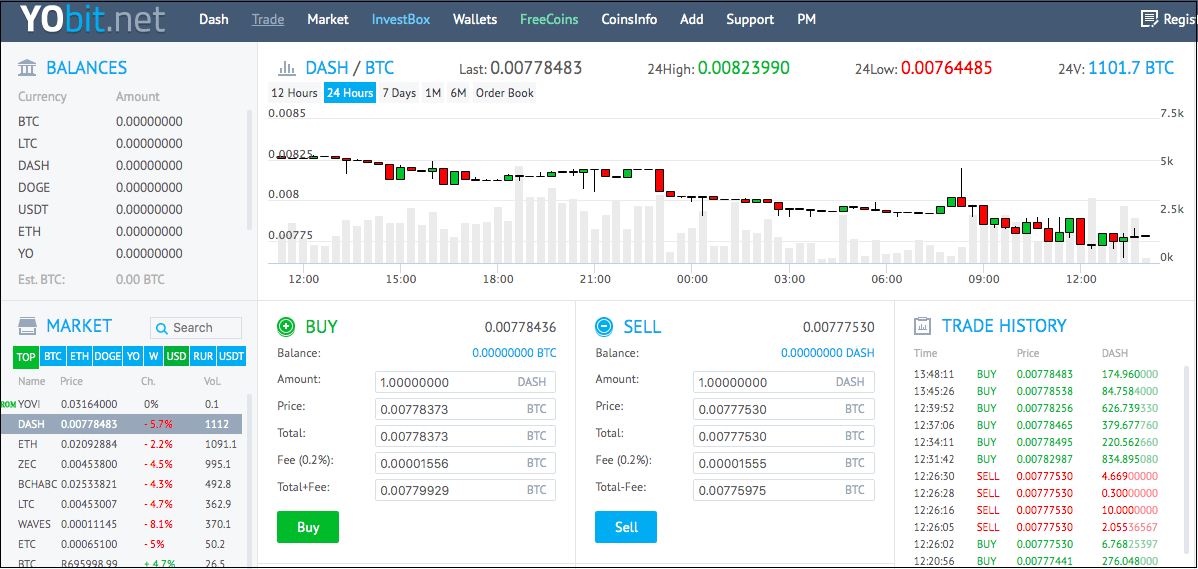 The site is truly amazing in its diversity since the exchange provides over 8500 pairs for cryptocurrency trading, and at the same time, it is a popular exchange with a lot of opportunities. YoBit has many different additional functions besides trading, an exchange deposit system, distribution of free cryptocurrency, etc.
It is simple and convenient to deposit and withdraw funds on the exchange. For fiat, such systems as QIWI, Perfect Money, Payeer, AdvCash, etc are supported. In many cases, there is no commission for depositing funds. In addition to ordinary wallets, cryptocurrency cards and payment systems can be used on the service.
The exchange website is available at yobit.net, yobit.io, and yobitex.net -  every website is the same YoBit trading platform.
On November 16, 2017, the Yobit exchange launched its token - YOB2X, which was received free of charge by all holders of bitcoin on the exchange in a 1:1 ratio.
Features
YoBit is a multifunctional exchange. In addition to trading, it provides several rare opportunities. The most prominent are the following:
Convenient thoughtful design, clear functionality, and simple withdrawal of funds make the YoBit exchange very attractive for users. But this is not all the benefits of working with this exchange:
Support over 8575 pairs for cryptocurrency trading (at the time of writing);
Low fees for depositing and withdrawing both cryptocurrencies and fiat;
New coins appear on YoBit earlier than on other exchanges;
A large number of different daily bonuses;
2FA and email confirmations as protection mechanisms;
Convenient menu and the availability of translation in three languages;
Active chat, where users can share their thoughts on the current market situation;
Relatively profitable referral program. The platform pays 20% of the commission of referral transactions;
Support for payment systems Yandex.Money, QIWI, Webmoney, AdvCash, Payeer, Perfect Money, Capitalist; Visa, and Mastercard cards.
But like any other service, YoBit also has disadvantages:
Lack of margin trading;
High exchange fee on the withdrawal of some cryptocurrencies;
Lack of official exchange data.
YoBit Fees
The trading commission on the platform is 0.2% for all operations, regardless of the volume of traders. For depositing (except for cryptocurrencies) the commissions differ depending on the service.
QIWI - commission 1%;
Perfect Money - replenishment without commission 0%;
Payeer - 0%;
AdvCash - 0% for USD, 3% for RUR;
For withdrawing funds:
QIWI - 7%;
Perfect Money - 9%;
Payeer - 5%;
AdvCash - 0% for USD, 3% for RUR;
To Mastercard Virtual (QIWI) - 6% + 70 RUR;
Webmoney (QIWI) - 7%;
Mobile Account (QIWI) - 6%.
For cryptocurrencies, the commission is established individually. 
How to Get Started with YoBit
Registration on the exchange is as simple as possible and takes no more than 5 minutes. On the main page of the exchange in the upper right corner, click on "Registration".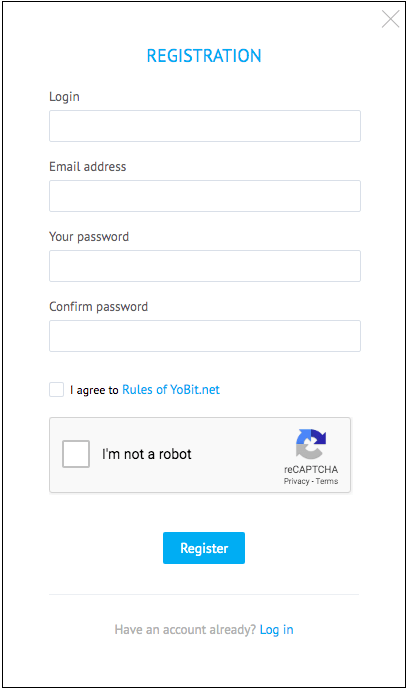 A registration form will appear on the screen in which you need to fill in your details such as login, email address, and password (twice). The password should not be less than 8 symbols and contain at least one capital letter, one small letter, and one number.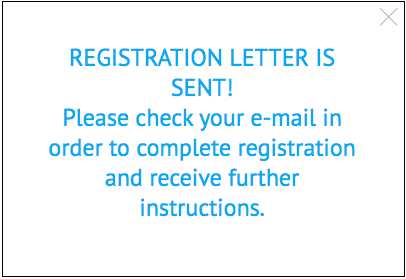 A registration letter will be sent to the email address provided. Check your email in order to complete registration and receive further instructions.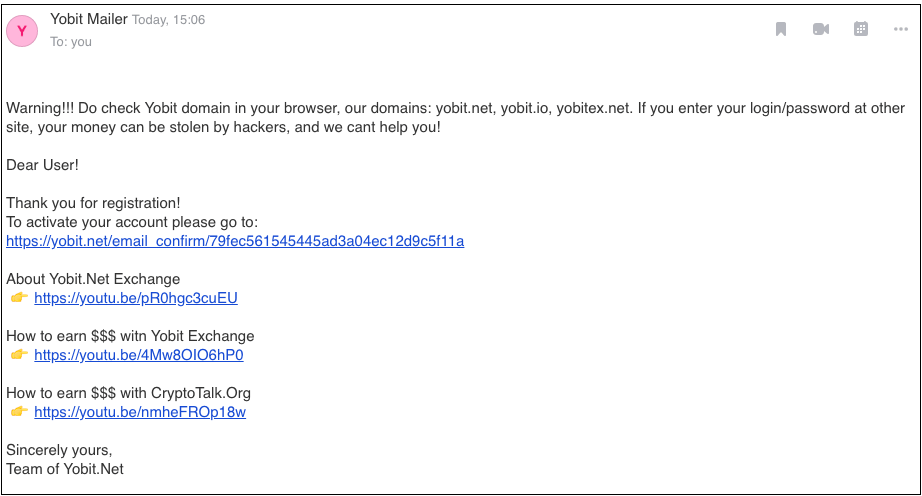 Find the message and press the link in case to activate your account.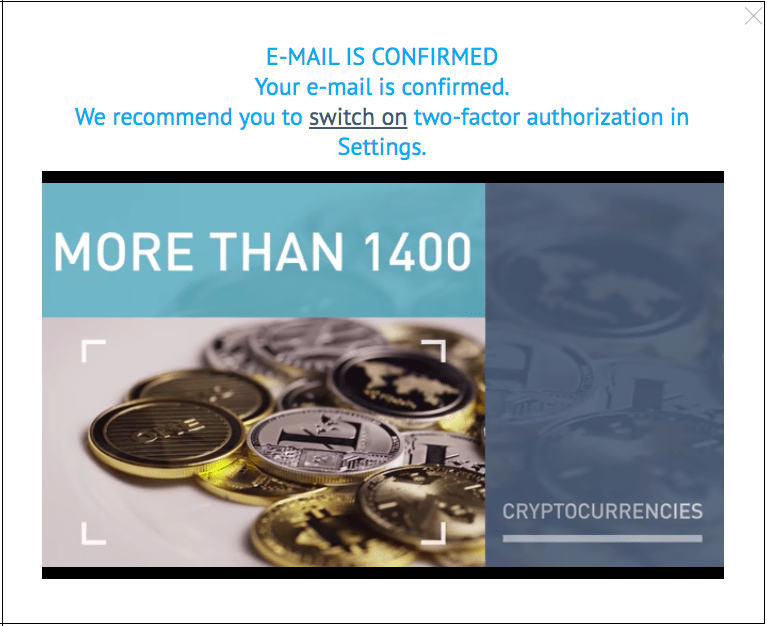 That's it! Your email address is confirmed and you have successfully registered on YoBit.
How to Use Yobit 
Trade is the main page of the site, which shows the trading volumes of the most popular currency pairs to date, this information is changing daily.

Market displays information on all currency pairs available for trading. To find the right pair, you can use the search at the top of the page. 
Wallets - balances of all currencies available in your account on the exchange are displayed here. 
Orders - this page shows all the orders that you put up for sale. You can place a sell order on the main page of the exchange. Select the currency, write the price at which you want to sell and wait for the purchase. When your order is booked, the amount is automatically credited to the wallet balance. 
History - the history of all operations on the exchange.
Support - here you can write on all issues and problems that arise while working with the exchange.
Verification
One of the features of the platform is the complete lack of verification. Users do not need to confirm their identity, regardless of the payment methods used or the volume of trades. Accounts are not limited in any way. This is one of the reasons for the growing popularity of YoBit.
How to Deposit to YoBit
Users can deposit funds both in cryptocurrency and in fiat. To replenish the crypto, you need to click on the "+" sign in the line with the cryptocurrency, copy or scan the address that appears and transfer the cryptocurrency to it from your wallet.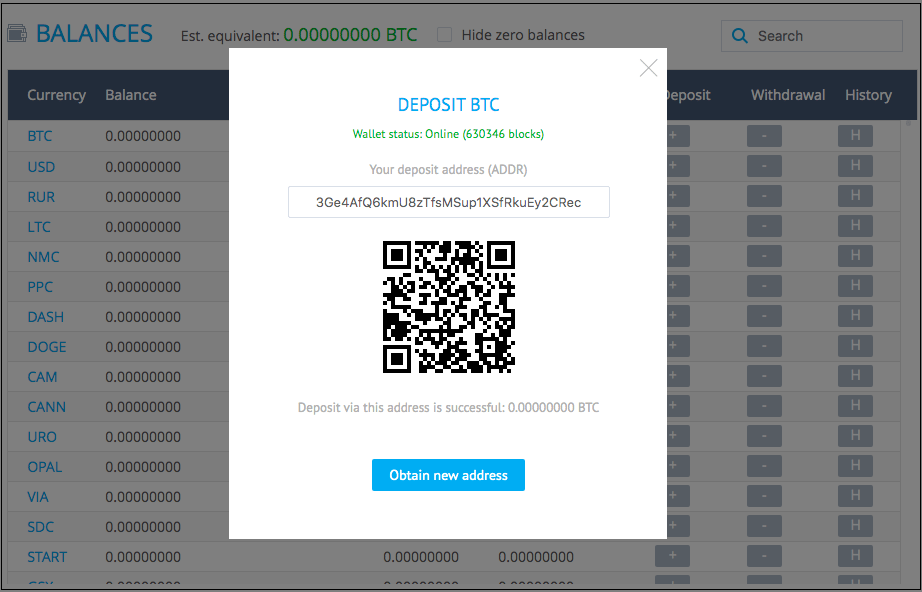 In order to exchange fiat for any cryptocurrency, you must first replenish the fiat account on the exchange. To do this, go to the balances, look for the currency in the search and click "+" and top-up.
How to Withdraw from YoBit
If you want to make a withdrawal of funds, then you need to follow a similar system. Click on "-" and in the "Wallet address" field, insert the address of your wallet, to which money will be withdrawn from your account on the exchange.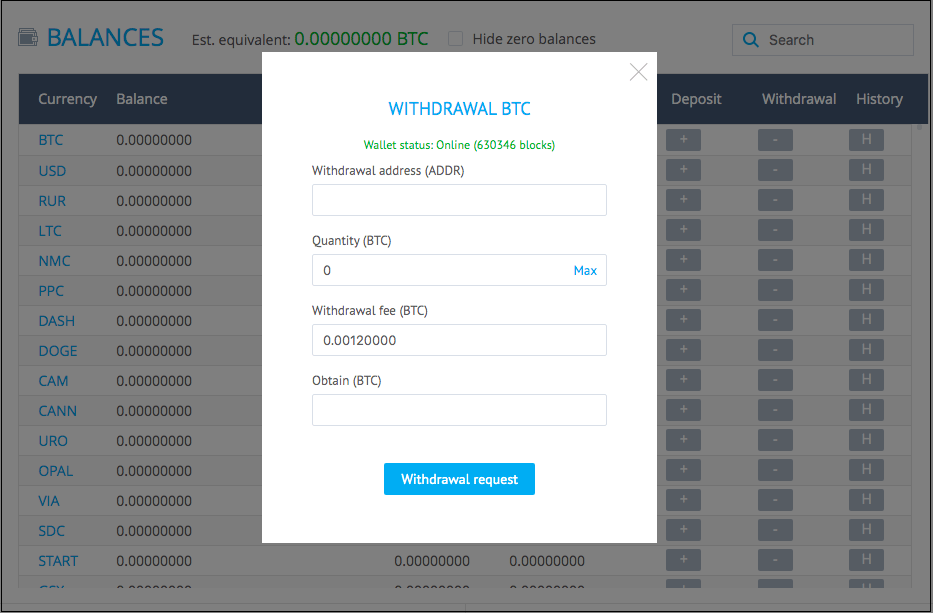 As for fiat currencies, the replenishment and withdrawal options that are currently available for ruble/dollar - PerfectMoney, AdvCash, Payeer, Capitalist; additionally withdrew on Visa / Mastercard issued by Payeer, Qiwi.
Replenishment of the account is free, but the commission fee for withdrawal in fiat is different.
How to Trade on YoBit
By the number of trading positions, the platform stands out from the top exchanges in the market. Both large cryptocurrencies and very small ones are traded here.
When you go to the YoBit website, the visitor immediately enters the trading interface. The "Trade" tab is responsible for it.
There are no significant differences compared to other platforms. In the platform interface, users can find:
Chart with Japanese candles and time scaling;
Panels for buying and selling;
History of transactions in the market;
A glass of Buy / Sell orders.
Customer Service and Reviews
There is no FAQ or help center familiar to all users on the exchange website. However, users who have questions can leave a request in the Support section. In the same section, the request status could be tracked.

Reviews about the YoBit exchange are very different - there are both positive and negative ones. Mostly, YoBit users complain about one common problem: delayed withdrawals. However, to objectively evaluate the website, you need to personally use it. 
Is YoBit Safe?
After registering the account and confirming the email address, you will be asked to activate two-factor authentication. In addition, according to the exchange information, to ensure the security of user accounts and the safety of their funds, YoBit uses SSL, anti-DDoS, as well as a hot and cold wallet system. The exchange also provides such types of modern progressive protection as file encryption and real-time backup of sensitive data in a secret form.
Despite repeated requests from customers, the license and other official information about the company have not been published. This makes it impossible to return the money lost through the fault of the exchange, as well as excludes the possibility of legal prosecution of the owners of the site.
Also, a user account may be blocked if the system determines the actions performed in it as suspicious. It can be: committing the same type of actions with high speed, too many micro-transfers, attempts to overload the system with requests, etc. However, we cannot surely say that YoBit is a scam.
Conclusion
YoBit is an exchange which popularity is growing simultaneously with the growth of the entire cryptocurrency market. The platform offers an exceptional selection of altcoins for trading, a number of additional services. However, the reputation of the exchange is unclear. We do not recommend to store all your saving on this exchange. This service will be a good option for those who value their anonymity.
Na rápida experiência com a yobit os resultados foram animadores! Acredito que em breve a mesma terá um crescimento exponencial !
sergei
9 July 2020, 3:40 PM
Extremely interesting exchange, it has a lot of tools for making money. Moreover, there is an English-speaking community in a telegram, which only helps to learn and shows real interest in the exchange.
Oleg
15 June 2020, 3:48 PM
This exchange atcually made me rich.... I started with few hundred bucks and now have 1 BTC on deposit. thanks their ICOs and investbox
amako
10 June 2020, 10:02 AM
i remember i put 0.3 btc to yobit investbox in btc. i used to play dice evryday to follow rules of investbox. though, i received additionally 0.1 btc. risky, but worth it. yobit is nice exchange
Oleksandr Kryvachenko
4 June 2020, 7:00 PM
glad to see how exchange supports new traders. usual giveaways and airdrops. games with real chances to win bitcoins. respect yobit!
adelaida
4 June 2020, 6:48 PM
yobit platfrom is pretty cool to trade and hold money. many times i bought unknown coins and made profits with them, but sometimes lost money. think using your own brain. yobit is great but people's moves sometimes really stupid
Artem Rogov
3 June 2020, 4:18 AM
Quite a wide range of projects for investment, I have been dealing with cryptocurrencies for about a year, on the whole, I am satisfied with the exchange. I am especially pleased with various ICO and IEO projects.
PROPS
Pretty interesting exchange, I've heard of it. It is convenient to sell BTC, because the rate is higher than on Binance. I recommend .
horlinviktor
26 May 2020, 11:12 AM
yobit looks as the strong product. i rely on only old product. yobit has on its back expirience more than 5 years. it's the main reason to trust them
Paul
26 May 2020, 10:58 AM
The best features of Yobit, in my personal opinion, are various ways to try yourself to earn money. Actually, it's exchange, some people lose, some people earn. Keep you mind clear and make your own decisions. Yobit is just a tool, but very fast, user friendly and fair tool.
huge platform with great friendly community from all over the world. im really surprised about it. yobit is respectful from many influencers in crypto sphere. I'm not a first year and newbie in this business. I can distinguish nice and trustworthy project.
DJIN
21 May 2020, 2:28 PM
Read some new articles about yobit and tried to use their platform. so now decided to move 50% of my btc to yobit because there are many ways how to earn money on this exchange.
Maik sanders
21 May 2020, 12:55 PM
trade on yobit safely and reliably. they recently supported a new fork of bitcoin, you could get a good profit. I really hope that they will launch even more such events for users. so if you want a safe place to keep your bitcoins and earn more, choose yobit
Nikita Kretov
21 May 2020, 12:54 PM
From all exchanges that I've tested yobit is the most suitable one. They have trust and authority in crypto community. They older than binance, bitfinex and hitbtc! Moreover, I usually find on youtube and in articles some information about earning schemes: it might be ico or gambling however you can earn real money with it
Denis Green
10 May 2020, 7:33 PM
Im owner of small closed trading community and one of my friends recommended me to try yobit. I've deposited 0.7 btc and started trading. Based on 4 months experience I truly want to claim that yobit is very competitive exchange even among "top tier" exchanges. Many mature traders work on yobit also ecause it allows to keep anonimity. Trades are usually very active even for nameless altcoins. Now yobit is the most used crypto exchange by me