WazirX Reviews 2021
Full address:
The exchange does not disclose its location
Fees:
WazirX's fees are 0.20% for both takers and makers.
Fees:
WazirX's fees are 0.20% for both takers and makers.
Nov 09, 2021
There are many crypto exchanges in India where many people are interested in cryptocurrencies and IT technologies in general. New platforms continue to emerge. Today we will speak about WazirX, a quite young, yet popular trading platform from India. In this review, we will figure out if this platform is safe, is WazirX a scam, what are the main features of this exchange, and answer other important questions.
What Is WazirX?
WazirX is one of the biggest Indian crypto exchanges. It was launched in 2018. In November 2019, WazirX was acquired by Binance. In terms of trading volume, this exchange occupies a position a bit below the top 50 list. Its trading volume stands in line with such popular exchanges like Gemini and is much higher than the 24 volume on Bittrex which is also very popular. Apart from high liquidity, WazirX is prominent for a wide choice of supported cryptocurrencies. As of November of 2021, the exchange supports over 200 coins. The users residing in the countries that are under sanctions from the USA or EU are not allowed on WazirX.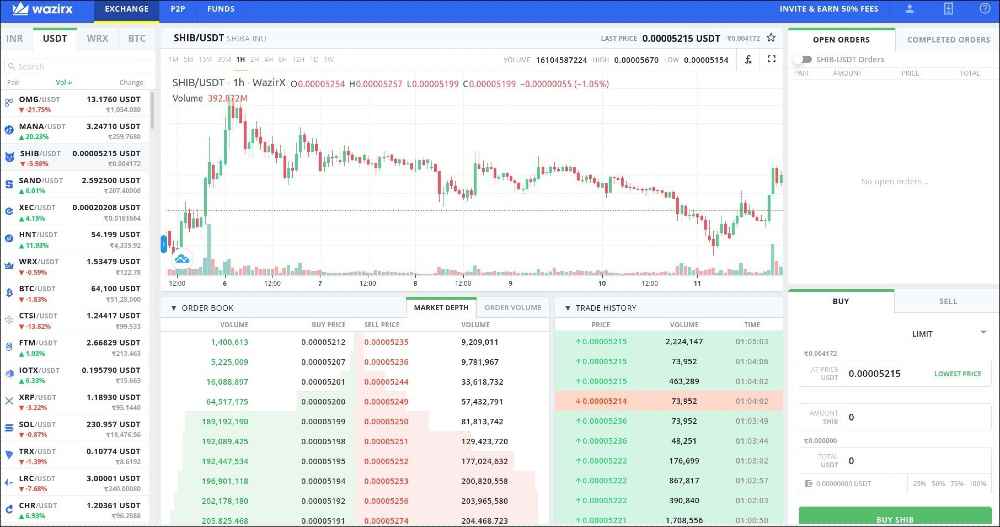 The platform can be accessed online or installed on a smartphone (iOS or Android) or as a client to the computer (Mac or PC) which makes WazirX a handy tool. The platform is an entry-level exchange as users can deposit fiat money there and exchange it for cryptocurrencies. Apart from a regular exchange, WazirX offers a p2p exchange platform. Like several other crypto exchanges, WazirX has a native token that serves as a backbone of the WazirX ecosystem. It's called WRX. The exchange aims at being a safe, easy-to-use, and fast platform. Security measures provided by crypto exchanges are crucial to telling good ones from bad ones as crypto wallets and accounts on exchanges are constantly targeted by cybercriminals. One of the reasons for the WazirX prominence is the safety of the platform. We will highlight the security features provided by WazirX in the respective part of the review.
The exchange is maintained by a strong team that already has experience in creating a Crowfire app. The leader of the WazirX team is programmer and crypto evangelist Nischal Shetty. He is on the famous Forbes 30 under 30 list. Other key members are Sameer Mhatre and Siddharth Menon. The latter is th head product at WazirX. Mhatre is a main tech expert of the team. The fact that the exchange is governed by a publicly open team is a good sign meaning that the leaders of the ecosystem are accountable for what they are doing.
How to Start Using WazirX?
First off, you should sign up. The process is very easy and won't take long. You just should provide an email address and set a password. After a confirmation via email you will be offered to turn on security measures. For instance, you may switch on 2-factor authentication which seriously decreases the chances of being hacked.
The next step, a KYC procedure (know your customer), takes more time. During the KYC procedure you will identify yourself through sending WazirX a series of photos of your documents and a selfie. The first step of KYC is providing such info as the country of your residence and telling if you are a person or a rep for a company. These steps are obligatory. When you finish with this part, you will be able to deposit money and trade. If you want to be able to deposit rupees, use the P2P platform, and withdraw, you will need to complete KYC. 
To complete KYC you will have to provide more personal information including first name, middle name, and last name, birth date, the full address including the state, city, and zip code, and Pan card. Then, you will need to send photos of an identification document. It can be aadhaar, passport, or driving license. Apart from the photos of a chosen document, you should enter the number. Another image that you should submit is a selfie so the WazirX representatives will be able to make sure that the sent documents are yours. When the sent data will be verified you will be able to use WazirX at its fullest.
Main Features
Now, let's review the main features of WazirX. Probably, the principal feature is the trading platform. In the Exchange tab, you will see a candlestick chart, the list of markets on the left, and the box with open and complete orders on the right. Under this box there is the section where you can initiate Buy and Sell orders. There you can specify the amount of coins and the order type. Under the charts, there is an order book. The colors marking the numbers in the chart designate market depth or order volume (you may switch between the two). You can choose one of four markets (or in other words you can choose against which currency you will trade): Indian rupee (INR), Bitcoin, (BTC), Tether (USDT), or the WazirX native token (WRX). There is quite a standard set of drawing tools for charts. Dozens of indicators can be used for the market analysis.
Another trading platform available on WazirX is a peer-to-peer exchange. On the P2P platform, you can buy and sell USDT in exchange for national currencies. There are 8 supported fiat currencies on WazirX including rupees, euros, rubles, etc. The interface is quite minimalist. You only see an order book, a market depth chart, match history, trade history, and the box where you can fill in the info about the trade you are going to make. The WazirX P2P platform makes it easier for people from many countries to enter the cryptocurrency market as you only need to buy USDT for your national currency. As soon as you have USDT, you might start trading it for other cryptocurrencies. The citizens of India have an even better option as they can trade rupees against several cryptocurrencies on the main exchange.
There is a referral program on WazirX. If you participate in it you will receive 50% of commissions paid by the people you brought on the platform. The rewards are paid out every 24 hours. 
Another marketplace where you can diversify your portfolio is a WazirX NFT market. There you can see the trending creators, trending collections and NFTs, and trending auctions. You can follow collectors and artists to track the news of the industry. One more way to earn money on Wazirx is through participating in trading contests.
High-volume traders wishing to escape the market volatility risks may get advantage of using an OTC-desk. On WazirX, the minimum order on the OTC-desk is $50,000. To use this feature, users must be verified via KYC. There are only three cryptocurrencies supported on the OTC-desk: Bitcoin, Tether, and Ethereum. All of them are traded against the Indian rupee.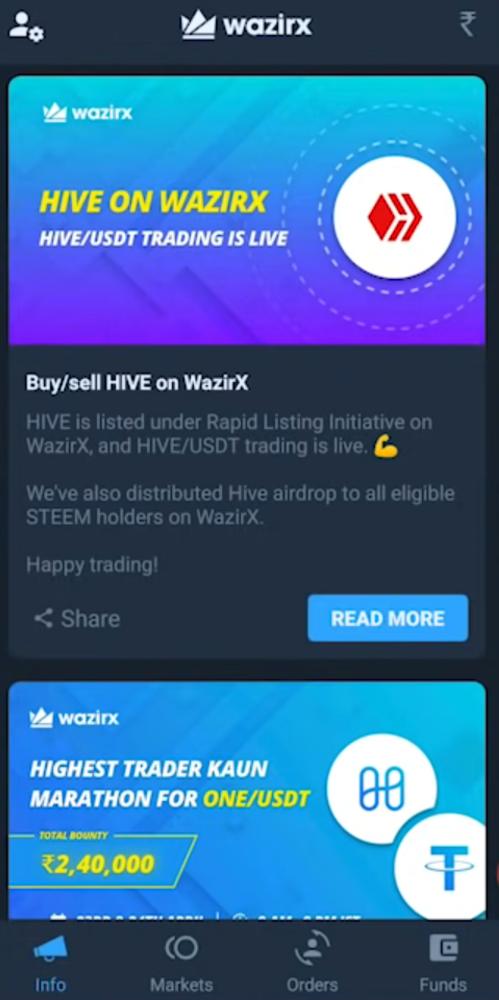 Trading via mobile app is very easy as the interface is simple and intuitive. There is a 4 options menu in the bottom part of the app. In the Markets tabs, you can choose one of the markets (BTC, INR, USDT, or WRX) and place or take orders in the market tabs. In the info tab, you might quickly learn the latest news about the exchange. Your balance is available in the Funds tab. The trading history including open and past orders can be found in the Orders tab.
Fees
The fees on WazirX are as follows: for trade you are charged with a 0.2% fee regardless if you are taker or maker. Withdrawal fees vary from currency to currency. For Bitcoin the fee is 0.0006 BTC while the minimum withdrawal amount is 0.0012 BTC. Deposits for most of the crypto coins are free. You may deposit fiat money via bank transfer. Note that the bank will charge you something for the transaction.
Is WazriX Safe?
If you are going to invest your money on a platform, you should make sure that this money won't be stolen. You should check if the company is reputable and accountable and see what are the security measures available so you can protect your data and funds.
WazirX is definitely a legit company. The exchange's team members are heavily present on social media and don't try to avoid a public eye. They literally put their reputation in dependence on the security of WazirX. That's a good sign and it means that most probably WazirX is not a scam. Another reason for trust is that the exchange's Twitter lacks accusations. Some users complain about some issues in the comments but these problems are quite standard and not seem to be serious. Technical problems can occur on any platform. What really matters is how the platform handles them.
3 common cryptocurrency scams:

🥸 Imposter scams
🪞 Clone websites
🥰 Romance scams

Learn how to identify these & mark yourself safe 👇https://t.co/Kn4JFSTEIq

— WazirX: India Ka Bitcoin Exchange (@WazirXIndia) November 9, 2021
On the exchange website you can find recommendations on how to maintain security of your account. First off, WazirX recommends you to make sure that you have downloaded the legit app created by Zanmai Labs Pvt Ltd. The company stresses that you shouldn't download the app from sources other than Play Store and App Store. Also, it is recommended to set a strong unique password. 
One of the best and most popular ways to prevent unwanted access to your account is enabling 2-factor authentication. This step will make it impossible to enter your account or withdraw money without entering a one-time password that can be generated only on the mobile device of the account owner via the Google Authenticator app. It means that anyone who hasn't access to your mobile device won't be able to steal money from your account. If you lose access to your mobile device (for instance, it gets broken or stolen) or if you delete the authenticator app you will need to recover your access to your account. It is possible to do that automatically. When you enable 2-factor authentication you are provided with a backup code. It's up to you to store it wherever you wish but you should make sure not to lose it because if you do you may end up unable to access your funds. 
A convenient way to make sure that your account isn't hacked and no one has accessed it without your authorization is an activity log which can be opened in the profile menu. There, you can see the time and date of the current visit and the info about the previous visits. More than that, you can see the IP addresses, and the actions made during the visit. Unfortunately, there is no way to terminate all current sessions in one click. It would have improved the safety.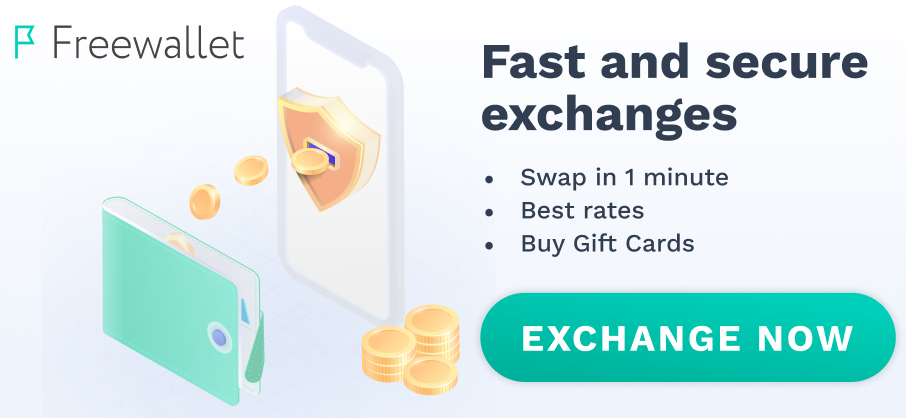 Abhishek Pillay
9 May 2021
Poor App Navigation
The telegram channel is truly supportive. I got a number of good advices.
I accidentally found the exchange, I didn't have any big dellusion but it had a good website and volume Therefore I tried to use. It's not bad, frankly, the service is great for a such small platform, I didn't expect that