Leonicorn Swap Review 2022 - Is It Safe?
Aug 03, 2021
Leonicorn Swap Review 2021 - Is It Safe?
Cryptocurrencies are still popular and in this review we'll take a look at a completely new exchange called
Leonicorn Swap
. It has already become an advanced and well-known platform for dealing with cryptocurrencies. Some features like Automated Market Makers (AMM) model, NFT Marketplace, Lottery, IDO make it unique and wanted. The exchange provides its users with productive and secure crypto solutions. 
Let's find out how to use Leonicorn Swap and whether this platform is a scam or not.
What Is Leonicorn Swap?
Main Features
How to Use Leonicorn Swap?
Fees
Is Leonicorn Swap Safe?
What Is Leonicorn Swap?
Leonicorn Swap is one of the decentralized exchanges. What makes it a bit different, it is built on the Binance Smart Chain (BSC). It is a very user-friendly and simple platform working on blockchain technology. 
Its founder and CEO is Mofassair Hossain. He is also serving as an angel investor. Mofassair entered the Top-10 Blockchain Startup Marketing Advisers of 2018. He raised $600 million in 5 years by taking part in approximately 60 different projects and performs as a Member of Global Blockchain advisory professionals. As we can see, Mofassair is aware of blockchain technology and has enough skills and knowledge for starting his own project. 
In their Whitepaper, Leonicorn Swap team claims that they take into account the present cryptocurrency market dynamics and bring the innovative features useful for further adoption of cryptocurrencies and supporting their user's investment decisions. Leonicorn Swap also provides its users with an ability to trade digital assets with the full control over money and investments, or an ability to choose their trading options. 
Main Features
Leonicorn Swap has a good technical background and everyone can trade here with ease. The platform has just gone live and thanks to its development, already gathered a wide community. At the moment of writing, its social media is more than 39k users in Telegram and 73k in Twitter. Grateful community helps the Leonicorn Swap to reach some tops and enter trends: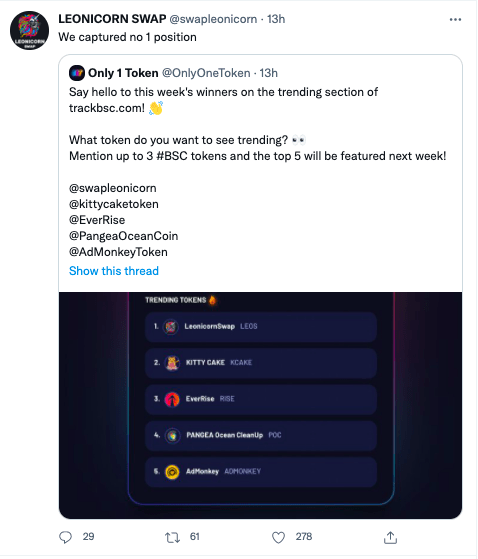 DeFi and NFT ecosystems which the exchange is building could be very helpful for investors and their wide range of investment and income opportunities. One of them is decentralized trading supported by the AMM model and powered by its native cryptocurrency named LEOS token. The provided token model allows a 2% auto staking reward for all holders and they also receive another 1% token burn for each transaction made. Quite reasonable, isn't it?
The whole token supply is 120 million LEOS. These tokens are listed on a number of crypto exchanges but cannot be purchased with fiat. First users have to buy Bitcoin and then transfer it to the exchange that offers trading BTC to LEOS. The most popular exchange at the moment is a Pancake Swap. Yet, the number of supporting exchanges is increasing.
Among these abilities Leonisorn Swap has a token swap exchange, liquidity and hunting pools, Initial Farm Offering (IFO), lottery structure, token economics, and their Non-fungible token marketplace. Thanks to some of those features, users can easily earn or win tokens. 
To sum up, the Leonicorn Swap users enjoy all trading options in one marketplace. 
How to Use Leonicorn Swap?
Cryptocurrency enthusiasts can use Leonicorn Swap not only for trading but for providing liquidity for their projects, buying and selling NFT, raising funds for the projects with the help of the IDO/IFO models. According to these abilities, the exchange might be considered as a good solution for both Users and Traders.
Leonicorn Swap can also be represented as a marketplace for filling the network with advanced DeFI tools and products for sales. Its features allow it to copy the transaction data and spread it across the network of computers. According to the blockchain scheme, every new transaction is updated in the network and reflects the changes.
The fact that Leonicorn Swap has a huge community with an interest in various projects this platform offers, their Pre-sale phase is doing very well:

To join the Public Sale, each participant has to complete a Whitelist form. Leonicorn Swap provides an accurate guide to help its potential users in defining rules, finding the required BEP20 addresses, and explaining how the tokens could be used. 
Fees
One more advantage of Leonicorn Swap is their fees. Thanks to the project solution built on BSC, Leonicorn Swap rates can reach no more than 1 cent. Traders won't have to pay high gas fees. That makes quite fast transactions at the lowest fee possible for millions of users. Every process here is transparent with some instant payouts making it very convenient for sellers. 
Users will also avoid extra fees for foreign payments made during the transactions. 
Is Leonicorn Swap Safe?
As a decentralized marketplace, Leonicorn Swap has high levels of security and does its best to keep user's funds safe while trading. Moreover, this ecosystem provides its users with a personal key pair to sign a transaction and anonymize the data. Those digitally signed agreements or intelligent contracts is another way to secure the funds and avoid third-parties interference. All contacts have to be signed before transactions and when the conditions are met, the agreement continues automatically.
Currently, there is no information on Leonicorn Swap being hacked. And there are no signs that can make us think that this platform might be a scam. 
To keep the account more secure, traders might follow some recommendations provided. The devs of Leonicorn Swap advise their clients to carefully manage the account's private key to avoid any potential risks of being hacked. For example, multi-signature wallets could be a nice variant.
Here are some other solutions available at this platform: 
Time-lock with reasonable latency; 
Assignment of privileged roles to prevent single point of failure; 
Increasing transparency and user involvement with a DAO, governance or voting module.
And considering the lack of negative feedback from traders, we conclude that Leonicorn Swap is safe to use and does its work well.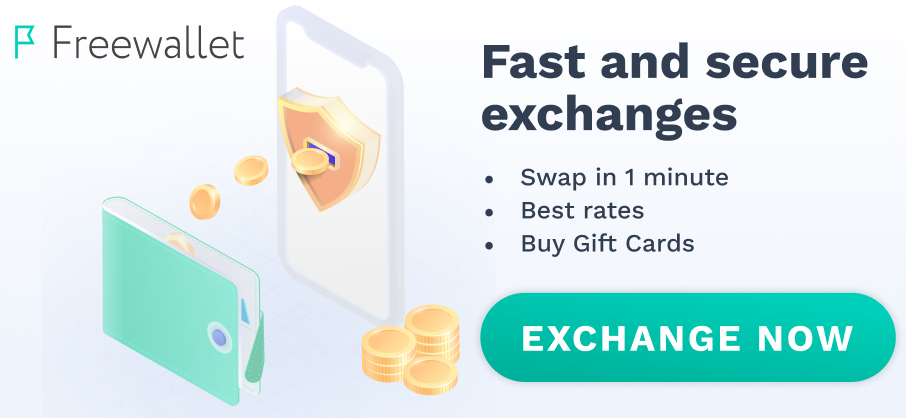 I saw that "not many exchanges support it" as a con... So I wanna say "yeah for a project that is 1 month old" and this is the most profitable investment i have ever made🦁🔥🚀
CryptoMerry1901
6 August 2021
I bought Leos since whitelisted. Glad i bought it, hit 18x since presell. All team member are amazing, they always work hard and always listen to community. They have amazing team and amazing community. This project is good and will go for long term.
Good start for a new platform. I'm in.