IDEX Exchange Review 2022 - Is It Safe?
Fees:
Maker: 0.1%
Taker: 0.2%
Fees:
Maker: 0.1%
Taker: 0.2%
May 28, 2020
IDEX is a cryptocurrency exchange that was launched early last year. The exchange aims to offer users the experience of a centralized exchange that boasts the security benefits of a decentralized platform. 
The exchange provides a peer-to-peer trading environment. It also uses smart contracts to relay transactions over the Ethereum blockchain, and this allows the order book of your account to be updated in real-time.
The exchange allows users to retain full control of their funds. IDEX cannot access your funds until you cryptographically sign permission to do so. To add an extra layer of security, the private keys are encrypted and then destroyed. 
In this IDEX exchange review, we are going to look at the fees involved, how to trade on IDEX, the cryptocurrencies supported, and other perks offered by the platform.
IDEX Overview
IDEX exchange is part of the Aurora project, a finance and banking company that consists of Ethereum based applications and protocols. The Aurora group consists of crypto enthusiasts with the parent company Aurora Labs S.A., is located in the Republic of Panama.
The Aurora team is led by Alex Wearn, who holds two MBAs in Design and Innovation and Finance and Operations from Northwestern's Kellogg School of Management. 
Other members of the Aurora and IDEX team include Phil Wearn, the chief operating officer, Raymond Pulver, the chief technology officer, and Forrest Whaling, who is in charge of marketing.
The team held a token sale in January of last year and managed to raise a total of 5411.38 ETH. 
The exchange commenced operations soon afterward and within the short period of existence, has managed to establish itself as a force to reckon.
Some of the key features offered on the exchange include functionality, security, excellent customer support, and a plethora of trading options.
Supported Currencies
Since IDEX is an Ethereum based crypto exchange, it deals exclusively with ETH and ERC20 tokens. In total, the exchange supports hundreds of digital tokens, which can be accessed through ETH and some other four markets.
Introducing IDEX Multiverse: trade @Polkadot and @binance Smart Chain tokens from the safety and security of your IDEX account. Learn more about the Multiverse initiative and how you can earn Multiverse tokens: https://t.co/8GUiYlh6rs pic.twitter.com/dc4JrrT6E5

— IDEX (@idexio) November 24, 2020
Some of the tokens supported on the exchange include Ethereum, Quant, Lition, DigitalBits, Etherbase Coin, Constellation, Morpheus Labs, Lendingblock, TrueFeedBack, Flexacoin, Karatgold, Reserve Rights, Fantom, Lamden, NKN, Celsius, Next exchange, Swarm, Everex, Chainlink and many more. 
The full list of the token on offer can be seen here.
IDEX exchange will continue to offer users access to a wide range of tokens as the Ethereum network grows. 
The platform also supports the AURA token, the native token associated with the exchange, which encourages users to stake the currency to help support the network.
The AURA token allows stakers to earn a share of the fees generated by the platform together with some other Aurora products. 
By staking the token, node operators are rewarded proportionately depending on their percentage stake. Also, 50% of the fees charged is allocated to be paid to AURA stakers.
Transaction Handling Speed
In this IDEX review, we thought it would be best to assess the transaction handling the speed of the platform. It's vital to note that the platform conducts multiple confirmations of deposits before processing them.
It usually takes around one minute to complete a trade. However, processing an order takes half the time. Compared to other decentralized exchanges, IDEX is quite fast, and this allows users to place several trades within a short period.
IDEX Fees
For users who create new orders for the order book better known as market makers, they are charged a 0.1% maker fee. 
Their role is to improve liquidity. As for takers, those that fill an order book and take away liquidity they are charged a 0.2% takers fee. On the exchange, takers pay the transaction gas fees. The process is explained on the platform's FAQ page.
Each trade costs around 140k gas. However, users on the exchange don't compete for the same orders, and at times they risk wasting gas. The platform allows users to cancel trades without having to pay extra since the exchange executes all trades.
The platform's smart contract is in charge of broadcasting all transactions to the network.
Also, IDEX makes use of minimum order and withdrawal limits. The minimum order limit is $10 for takers and $20 for makers. As for the withdrawal limit, you can withdraw as less as $1.
How to Use the IDEX Exchange?
To get started on IDEX, you first need to create an account by visiting the official website (idex.market) of the platform. Once there, you will be greeted by a pop-up message that will provide you with the option of exploring your website or unlocking your wallet.
If you choose "Explore," on the right side of the top bar, you will see a create account icon, go ahead and click on it.
Proceed to enter your email address and enter your password, tick the Recaptcha box and click on "Sign Up."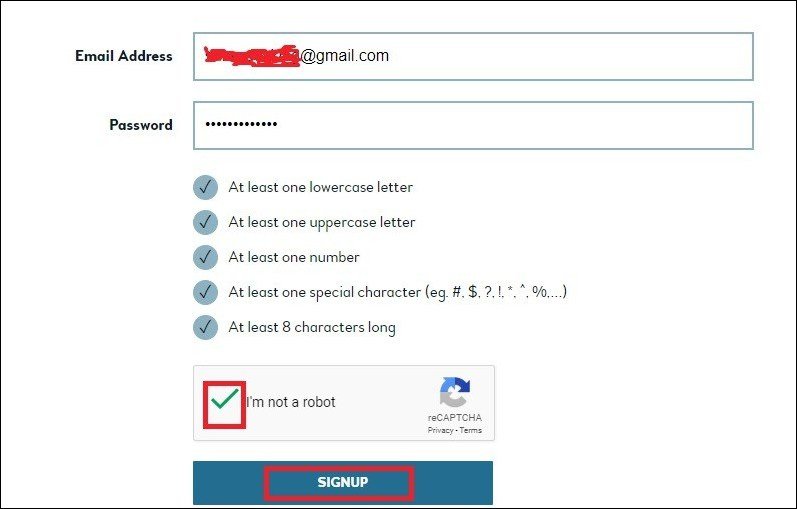 Go to your email inbox and click on the link that has been sent there to confirm your email
After confirming the account, proceed to log in to your account by entering your email address and password.
Fill in the necessary details to get tier 1 verification, which allows you to trade and withdraw up to $5,000 daily. (tier 1)
On the top bar, select the "Unlock Wallet" icon. This will allow you to deposit funds into your account by integrating an existing wallet that you already own. 

There you will find five options, namely; KeyStore file, private key, software wallet, ledger wallet, and Coinbase WalletLink. You can select the type of wallet you want to link to your account.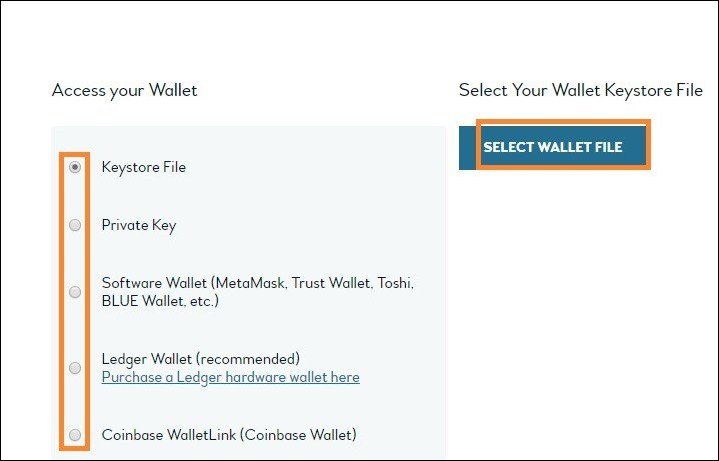 It's advisable to use the Ledger Nano hardware wallet or Metamask since they don't expose your private keys to the site; hence, they are not susceptible to DNS hacks.
Creating a New Wallet
The platform also offers users the chance to create a new wallet by clicking on the "New Wallet" icon. Once there, you can enter a password, and the platform will generate a private key and produce a downloadable JSON file that you have to save.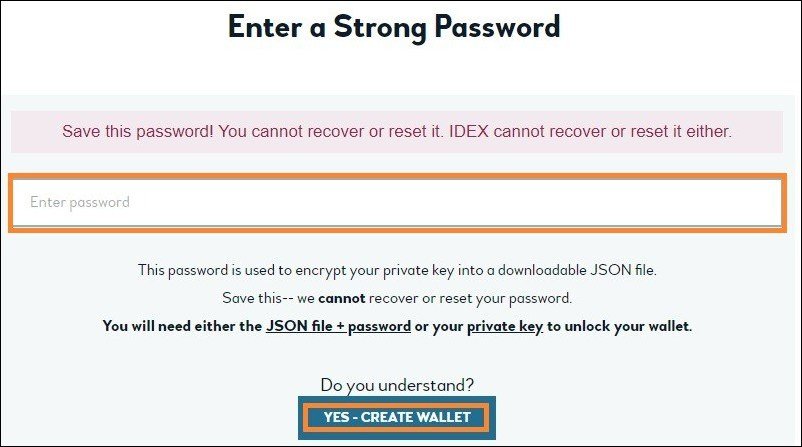 How to Trade On IDEX?
Once you have integrated a wallet, you will need to deposit funds into the platform's smart contract. This will help keep your funds safe and allows IDEX to broadcast the transactions directly to the Ethereum network. 
On the homepage, click on the "Balances" tab on the top bar, you will be able to make deposits. Also, you can adjust the transaction gas price.
Fund your account with some ETH or DAI from your wallet, and now you are free to start trading by utilizing all the trading features and charting functions.
You will realize that the platform offers trading pairs in ETH, DAI, TUSD, USDC, and EURS, and once you have funded your account, you can proceed to the "Exchange" trading screen to start trading.
On the left column, you will see the five trading pairs on offer. You can select the token you would like to use to trade, and under it, you will see the available tokens. 
By clicking on one of the tokens, you will see the price chart and depth chart along with other relevant information such as the last price and the 24-hour trading volume.

To initiate a trade, you can look for the Buy and Sell boxes that are located below the main charts, and there you can enter your price and the amount you would like to trade.

Below that chart is a list that shows the Asks and Bids, which allows you to get an idea of the prevailing prices pertaining to the token you wish to buy/sell.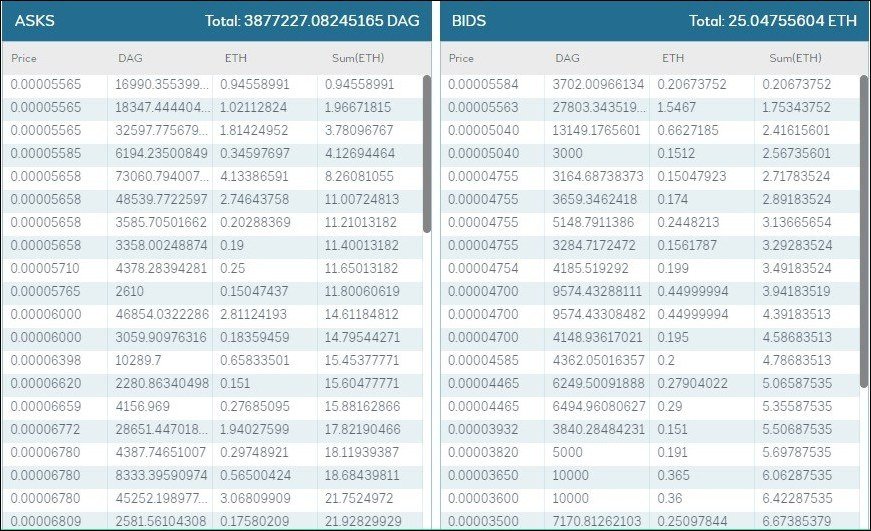 How Safe Is IDEX?
This IDEX review wouldn't be complete if we didn't assess how safe the platform is. The exchange uses several protocols that are designed to maximize security. 
For example, any private keys that are accessed directly on the exchange are always encrypted. 
They are stored in the browser memory; however, they cannot be obtained from outside of the IDEX app.
The private keys can only be accessed locally whenever one needs to sign transactions, and the moment they sign out, they are deleted from the memory.
Also, the platform's smart contracts are used to lock the funds safely until a private key is used to sign a transaction. That's when they can be transferred. 
Therefore, users can keep their funds on the platform without having to worry since they are always under their control.
IDEX exchange also has an "escape hatch," which allows its users to withdraw directly from the smart contract after a lengthy period of inactivity. 
Therefore, it's still possible to withdraw your funds in a worst-case scenario where IDEX servers become unavailable.
The exchange also has incorporated Ledger Nano hardware wallet and Metamask, both of which add an extra layer of security as they let users trade on the platform without revealing their private keys.
Customer Support 
IDEX customer support can be assessed through various channels, including their official telegram and Reddit channel. 
On the website, there is also live help where you can ask questions through a chat, and the platform replies almost immediately. 
There is also the frequently asked questions (FAQs) section that has answers to some of the more common questions asked by users.
Conclusion
In less than two years of existence, IDEX has managed to establish itself as one of the leading lights when it comes to decentralized exchanges. 
However, the platform has somehow stalled after experiencing massive growth in 2018. This is evident on coinmarketcap.com, where the exchange has a trading volume of a meager $385,364 over the past 24 hours. 
We can only speculate the reason for the low numbers, maybe the recent decline of ICOs has something to do with it.
Also, on the exchange, many tokens show almost no activity, which means they are not being traded at all.
All in all, the exchange uses a unique transaction settlement model that allows its users to have a smooth trading experience when compared to other decentralized exchanges.
Also, the exchange can support real-time trading and a high number of transactions coupled with an off-chain trading engine and smart contract, which all combine to provide users with a secure and fast trade execution platform.
Therefore, the platform is a good option for users that may be looking to buy ERC20 tokens that could be difficult to find on other exchanges.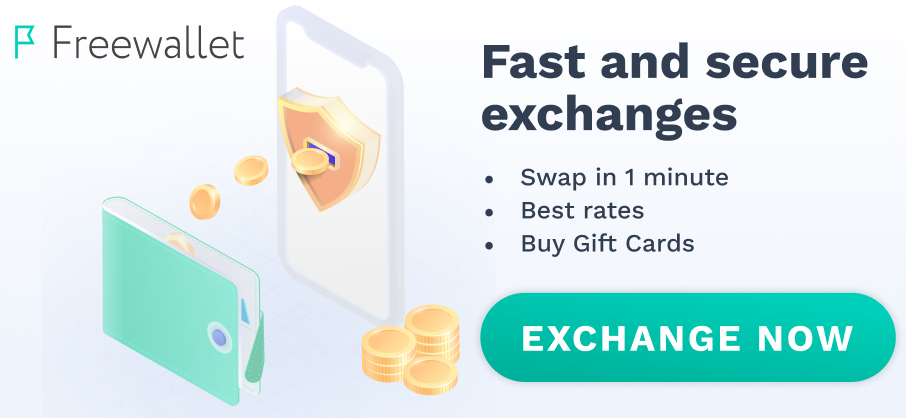 I hate their support team, they are lazy and unresponsive
It's the perfect training room, I can accept that. But it works fine and it is commendable
The exchange provides the possibility to chose the way of traiding, you can use the different type of the keys and verification process. It's up to you how your are going to trade and I like that variety of choices.
I'm going to use it a bit, right now I'm contented the way they are communicating with clients, but it's true it could seem a difficult to use at first glance.
Wallet and exchange in one package. No need to keep money somewhere else. It's convinient and quickly.