Hotbit Exchange Review 2021 - Is It Safe?
Full address:
Central Ave Shanghai, Shanghai 200120, CN
Fees:
BTC 0.00047 Withdrawal Fee • 0.20% Taker Fee • -0.05% Maker Fee
May 25, 2020
Hotbit is quite a young centralized cryptocurrency exchange with a wide range of supported digital assets. The exchange provides over 500 trading pairs. It took not much time for this exchange to gain relatively high liquidity and get into the top 50 list of exchanges by trading volume (according to some estimates Hotbit is even among the top 25 exchanges). The team behind Hotbit has experience both in cryptocurrencies and the conventional finance sphere. According to the Hotbit website, the company has partnerships with F2pool, Spark Pool, Mytoken, Slow Mist, and HashQuark.
Is Hotbit safe? Should you really use it in 2021? We will cover all these questions in this review.
The exchange exists as a web-based platform that is available from any device at any time. Moreover, there is a local client and mobile versions. The website is available in six languages including English, Russian, Chinese, Korean, Thai, and Turkish. Hotbit exchange is available in many countries including the US. There's no data that could confirm that Hotbit is not available in some countries.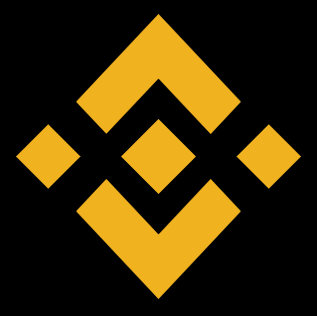 Get Profits with HODLing on Binance Earn
The platform was launched in 2018. It is registered in Estonia and Hong Kong. Most of the team members are the citizens of China, USA, and Taiwan. 
Note: You can exchange cryptocurrencies at the best rate in a few minutes here.
Hotbit Features Review
As it was mentioned above, Hotbit supports a lot of cryptocurrencies (although there are exchanges with an even wider choice of coins). Some of them were already supported by Hotbit prior to listing on Binance, Huobi, and other top exchanges. One of the special features of Hotbit is the distribution of current daily deposit interests among users. This feature requires no freeze of the user assets making it quite convenient. Interests are distributed in such currencies as Bitcoin, Ethereum, ATOM, DASH, and many others.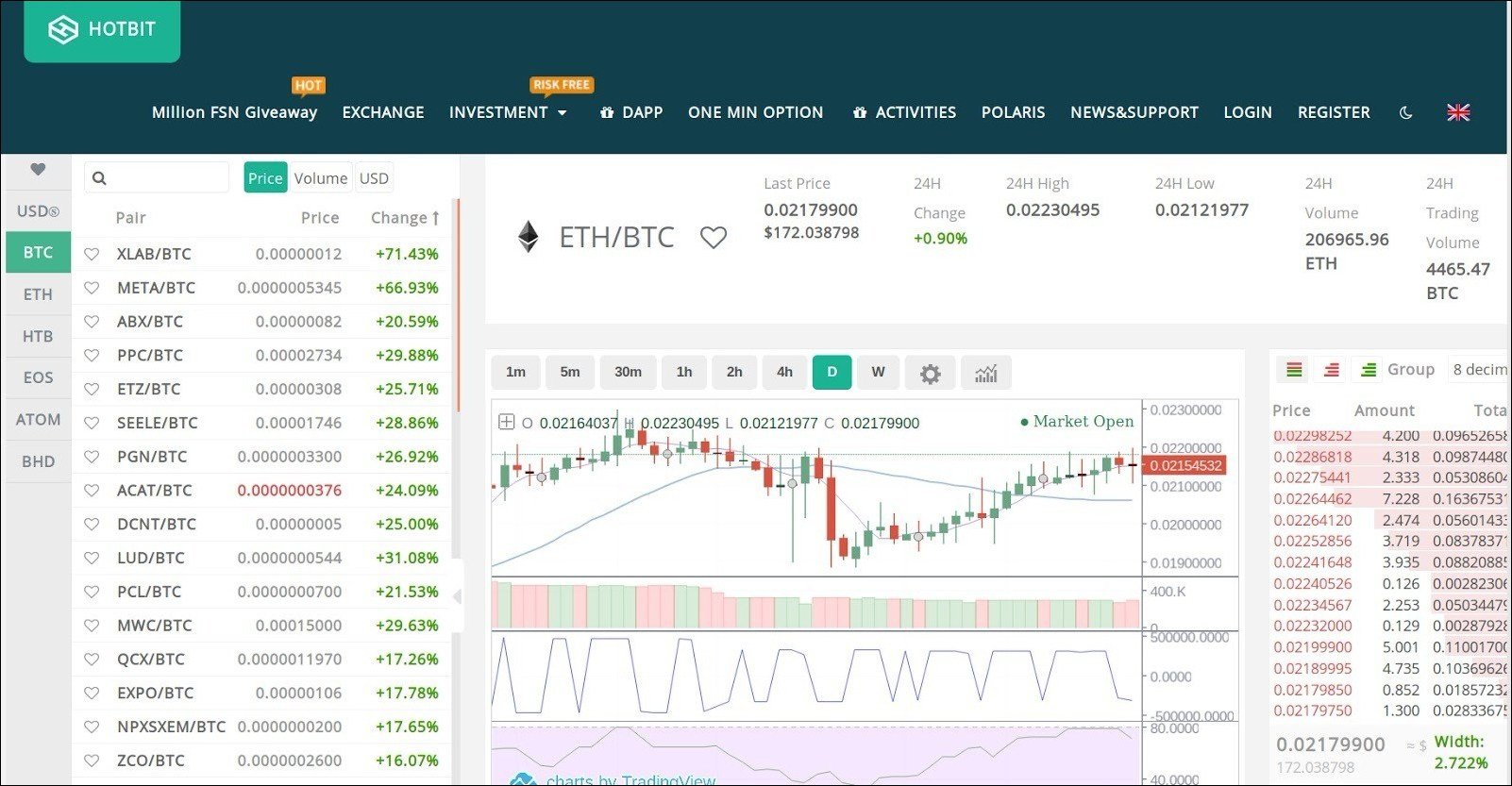 In the Exchange tab, there are 7 markets. They include USDT, BTC, ETH, EOS, HTB, ATOM, BHD markets. There are over 250 currencies that can be traded against BTC. The charts are quite basic. The user can add some extra indicators to the candlestick graph. Also, the user may change candles for hollow candles, or display Commodity Channel Index, Net Volume, and many other tools. Above the graph, there are info on prices (24h high, 24h low, 24h volume, 24h change, and Last Price. In general, the execution is clear and intuitive. The users are free to place limit orders or take ones from the order book. Also, there's a so-called "Lazy Mode" that allows exchanging the assets quickly but probably not for the best price. Most of the currencies on Hotbit are traded against BTC and ETH.
The price of the highly-anticipated ETH has exceeded $424.97 ! The bull market is here to stay!

Trading 👉 https://t.co/RmTDRxQMWA#Hotbit #Ethereum #ETH #Cryptocurrency #Bitcoin #cryptoexchange #cryptotrading pic.twitter.com/OYw5SmzxTV

— Hotbit (@Hotbit_news) August 14, 2020
Unfortunately, there's no way on Hotbit to deposit the fiat money. Leveraged trading is not supported, too.
Hotbit Fees Review
Depositing on Hotbit is free of charges just like on many other centralized cryptocurrency exchanges. The withdrawal fees vary from coin to coin and depend on the network fees and other factors. Trading fees are equal for makers and takers. So it doesn't matter if the trader places limit orders increasing liquidity or takes orders from the order book removing liquidity, she/he will be charged with a 0.1% fee. Such a fee is quite a low fee if we compare it with trading fees on other exchanges. However, the fact that makers and takers pay the same fees doesn't incentivize people to "make" liquidity. Some other exchanges have a rebate system that provides discounts on fees or even rewards instead of fees for those who place limit orders. Hotbit offers a different method to decrease trading fees — one can do it via using HTB coins (Hotbit native token) to pay fees. In case of activation of this feature, traders pay only 0.05% as a trading fee.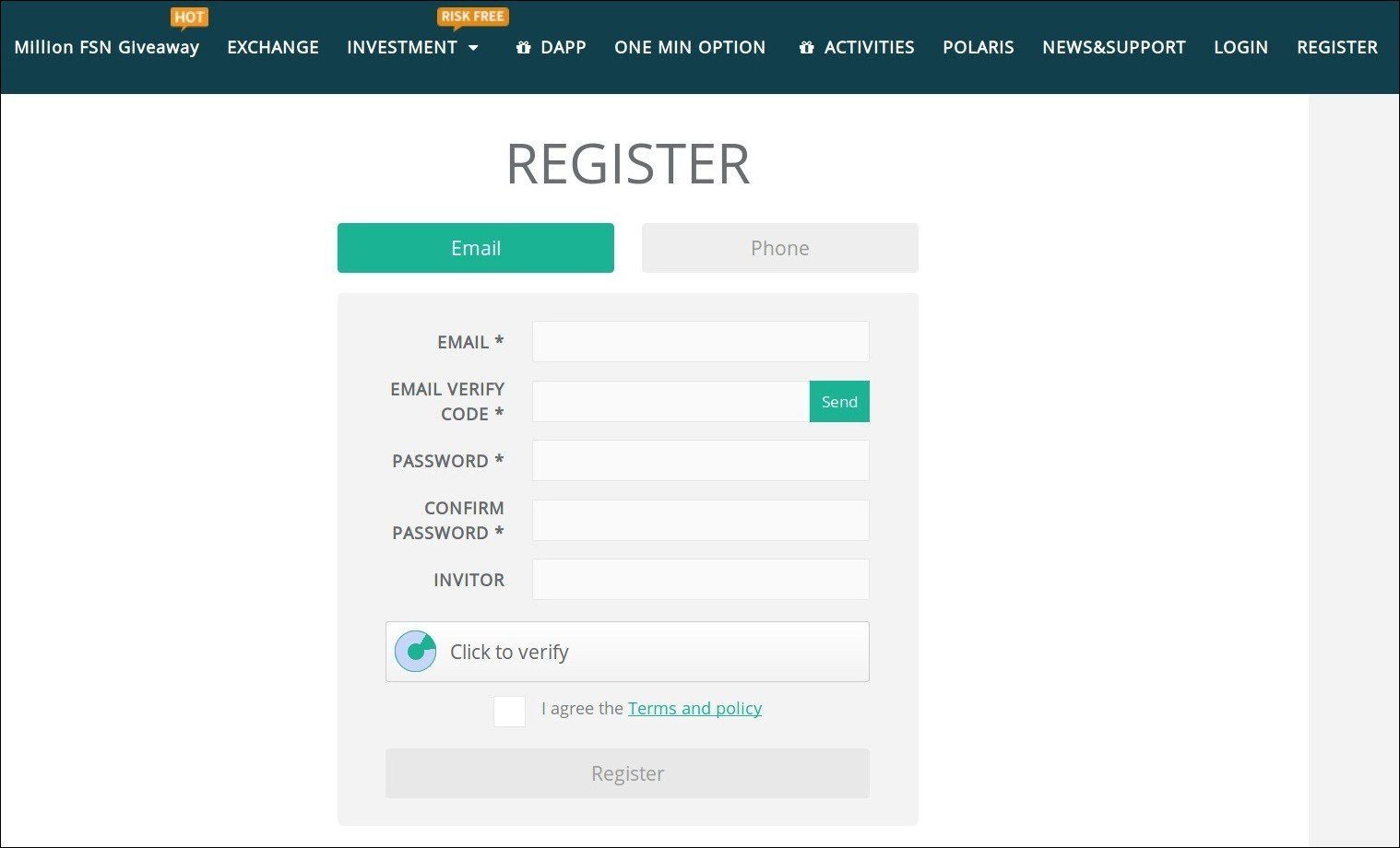 Hotbit API Review
Although there is an API link at the bottom of the Hotbit website, as for November 2019 it leads to an announcement that API is going to be opened soon. The date is not specified and no other info is given. Currently, Hotbit has no active API.
How to Use Hotbit?
First, one needs to register. The Register button can be found in the upper-right corner of the website. The potential user should provide an email address and set the password. Alternatively, it is possible to sign up using the mobile phone number. After verifying the email address it is required to set 2-factor authentication. That's a good requirement because 2fa critically decreases the chances of being robbed. Many cryptocurrency platforms don't obligate users to activate 2fa right during registration. In some cases, it results in sorrowful consequences. 
When the password is set, the email address is confirmed, and 2fa is turned on, the user should log in and deposit some money. There's a Fund button in the top part of the website. The next step is choosing the proper currency and its amount. Hotbit provides a deposit address that should be used to fund the account. In order to withdraw coins, one should proceed to the same section (Funds), choose the currency and tap on the Withdraw button. The next step is inserting the label and the receiver's wallet address. There's no info about the withdrawal limit on Hotbit. Some users are required to complete KYC in order to withdraw their funds.
All trading processes are operated via the Exchange tab of the website. At the bottom of the page, one can see the order book, and on the left side, it is possible to create the new limit order.
Customer Service
According to information on the website, customer service is working 24/7. Besides, there are many short informative articles in the Support section of the Hotbit website that can help to solve some of the occurring questions.
Is Hotbit Safe?
It was already mentioned that setting 2fa on Hotbit is obligatory. It automatically means that accessing the account is not possible without the use of the personal mobile device of the account owner. This measure critically decreases the potential amount of intrusions.

If we look into the user reviews about Hotbit, we will find out that some people have unpleasant experiences of using this exchange. Complaints are quite typical. Some say that they were suddenly stuck with KYC when they were about to withdraw money. Many people complain about the lack of response/action from the support team. Also, there are allegations concerning fake volume. Some find Hotbit's withdrawal fees too high. It's understood that many of these accusations are quite typical in the industry. Some of these cases may be frustrating, but they don't mean that Hotbit is a scam. Nevertheless, it's better to do research before deciding on whether or not to use this exchange. Anyway, it should be used with caution.
Carmen
22 October, 10:40 AM
Hotbit:
Atención al cliente te contesta a los 3 días, en mi caso el authentucador de google de repente ya no era valido y me piden txid de transacciones que vinieron de fuera hacia la plataforma, no me Dan solución, y si me la Dan me desactivan la cuenta durante 3 meses.Y mis fondos que? Ya no tengo acceso a ello.LO PEOR DE TODOS LOS EXCHANGE
Ali Reza
12 October, 6:19 PM
shame on you .you just stolen about 100 token of SHIB1D5S from my account and did not solve my problem ever I sent several times email to you customer servise you are so thief shame on you mother fucker guys
RENE HEMSY
22 September, 7:16 PM
High withdrawal fees, I had no negative experience
Edson
18 September, 11:17 AM
Nota 0 pra Hotbit, meu celular quebrou,entrei e com contato com a Hotbit, e tudo que pediram fiz e enviei, e agora estão exigindo a relação das minhas transferência ,se tem meus dados não vou dizer qdo tenho lá,estão dificultando, e aqui expresso minha indignação com tô isso, já havia relatos que a Hotbit tem essa postura em caso de resgate da conta, qdo se perde ou quebra o celular, e eu não dei crédito, então aqui fica minha indignação com esse tipo. De comportamento.
JacintoT
5 September, 8:11 PM
Hace aprox. 10 meses que invierto en Hotbit, compartiendo carteras con Crypto y Binance. Para el caso Hotbit es el que mejor se ha comportado como exchange, por su cantidad de diversas inversiones y tokens listados. La app se actualiza bastante seguido, y no suele caerse.
Tyrone A Coleman
2 September, 1:06 AM
so far so good. happy with it
wagner1485
13 August, 6:11 PM
Consulta, alguien que tenga conocimiento del porque hay monedas congeladas no suben ni bajan por ejemplo invertí en kishu inu y su monto no se mueve esta congelado
Jacques KABRE
11 August, 10:30 AM
J'ai problème avec mon compte. Je ne reçois pas de SMS de vérification. Comment faire ?
Hotbit is a total scam. I've been trying to reset my password for 2 months and and never receive a reset password code, all I get I automatic replies with no solutions. I would recommend to stay away from this site.
I would have to agree, Im not sure that these poor reviews are real. its the same accusation 'Hotbit stole my money" with no screenshots or proof. Also, hotbit is NOT a wallet, its an exchange. RULE #1 you DO NOT keep your assets on an exchange, you transfer them to a decentralized wallet as soon as you buy them. I havent had any issues with hotbit in the time i have been using their exchange. I am receiving my daily percentage on my staking as promised. Transaction fee's are low (unlike BNB if using trust wallet). Use your own judgement, but remember, crypto's and crypto exchanges are still just 9-10 years past their birth, THEY ARE A RISK. PERIOD.

p.s. high risk, high reward. be smart.
Christian Cerrano
9 June, 6:32 PM
no puedo iniciar sesion en mi cuenta porque no puedo activar el 2FA con el codigo QR de la pagina web
wilson almeida
7 June, 7:49 PM
otima corretora, unico ponto negativo muita manutençao
Please do not use Hotbit.
My account was banned without warning.
Assets cannot be withdrawn.
leonardo Cerda
3 June, 3:53 PM
Estos días estuvo en mantención, durante la plataforma inhabilitada el precio llegó a la orden de venta establecida y está no cerró cuando vuelve la plataforma el precio bajo ya estoy en pérdida de un 50% de la pasicion quien responde por esas situaciones?
Thi Hotbit is horrible my inversion missing NO USED THIS PLATAFORMA. 0/5