Exrates Exchange Review 2021 - Is It Safe?
Full address:
Tornimae tn 7, Kesklinna linnaosa, Tallin, Harju maakond, Estonia, 10145
Fees:
Deposit: 0%
Withdrawal: https://support.exrates.me/article/fees-pairs
Trading: 0.2%
May 29, 2020
The current drive towards cryptocurrencies means that more people are accepting cryptos as a means of payments across the world. This has opened a new industry of crypto trading with a number of exchanges cropping up in the past five years.
Today, we will be reviewing Exrates, a growing crypto exchange that has been around for a couple of years. Is Exrates safe to use? Should you really use it? What are the pros and cons?
After reading this review, you will be able to make the decision, whether Exrates is the right exchange for your trading needs.
What is Exrates?
Exrates is a crypto exchange that was founded in 2016 which makes it an older crypto exchange. There is not much information about the founders but the site reveals that it is registered in Estonia under a company named DexTechnologies OU.
Estonia is one of the few countries in the EU that have clear laws regarding crypto exchanges and licenses.
They seem to offer a REST API which allows for the automation of at least some of the actions that are available via the web interface.
The cryptocurrency exchange offers fiat to crypto and crypto to cryptocurrency pairs which makes it attractive to beginners in trading.
Exrates has a user base of over 100,000 traders with $100, million daily trading volume and has been able to thrive despite the competition in this sector.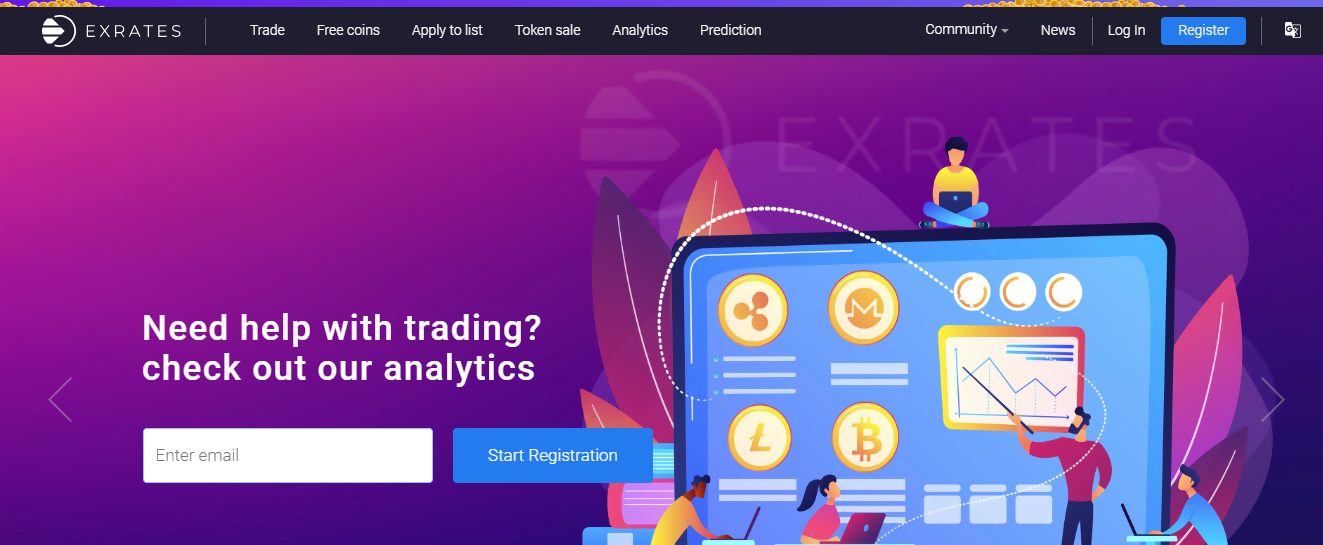 Exrates Security
Exrates utilizes advanced security protocols to secure users' data on its platform. This includes end-2-end encryption and also encourages users to use two-factor authentication.
Since its inception, there have been no cases of hacks on the platform suggesting its security strength. However, there have been complaints from a section of users on review websites regarding the mishandling of accounts by the platform.
Some users also claim that the customer support team is lax in replying messages regarding issues on the exchange. This is a major area where Exrates can improve upon and get better.
Supported Countries
Exrates is not regulated like many exchanges within the crypto industry which may be positive or negative depending on how you view it.  The website supports two languages which are English and Russian.
Exrates also has a community presence in Russia, China, Indonesia and Korea which suggests that most of their userbase comes from these regions.
However, the exchange also offers services to most countries across the globe without restrictions. This is not surprising since it is an unregulated crypto exchange.
Supported Coins
Exrates claims to support over 400 trading pairs. On a closer look at the platform, it could be said that there are a wide range of coins supported on the platform. These include popular coins like Bitcoin, Litecoin, Ripple, Dash, Omisego, Tether. There are also several obscure coins that can be exchanged for.
In addition, Exrates has a host of fiat currency that can be exchanged on the platform. Some of these include Euro, USD, NGN, and CNY. These options make the platform desirable for users from different users to easily purchase cryptos with their local currencies.
Exrates Fees
Exrates Deposit Fees
Exrates does not specify a deposit fee on its website but according to users' review of the platform, it is comparable to other exchanges. The platform allows users different options of depositing funds. Users can use LiqPay, Perfect Money, Payeer, Nix Money and Advcash Money.
There are also several local fiat currencies that can be used to deposit for cryptocurrencies.
Exrates Withdrawal fees
Exrates has a detailed chart regarding withdrawal fees for different coins supported on its platform. Unlike some exchanges that offer flat percentage rates for withdrawals, Exrates differ.
For example, the withdrawal fee for popular crypto Bitcoin is 0.0005 BTC while that of Ethereum is 0.01 ETH. These give the exchange some transparency as there are no hidden charges for withdrawals.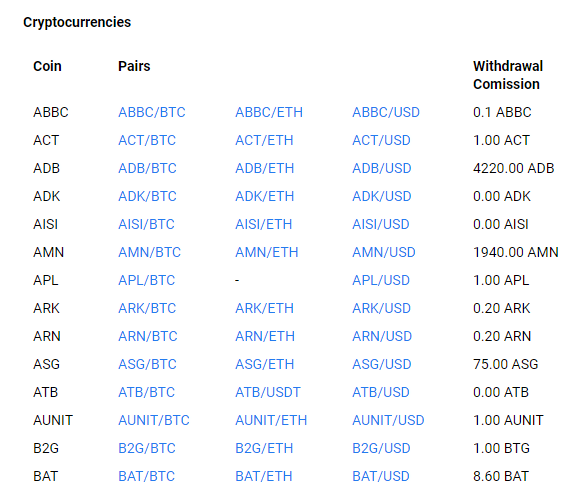 Exrates Trading Fee
Exrates exchange uses a flat fee model for its trading fees. This means that all transactions have a predetermined percentage for trading fees. According to the information on its platform, Exrate charges a trading fee of 0.25% which is a similar fee to that of the industry standard.
Mobile App
Exrates has mobile apps that optimize the desktop experience for users. The app allows users to buy, sell and exchange coins without the need to log onto their desktop computers.
There are two major versions of the mobile app for Android and Windows users. However, the Android app, in particular, has low ratings from users which suggests that the experience is not satisfactory.
How To Register On Exrates?
Registration on Exrates is a straight forward process that takes less than five minutes to complete. Go to the website at www.exrates.me and click on the register button at the top right corner of the desktop.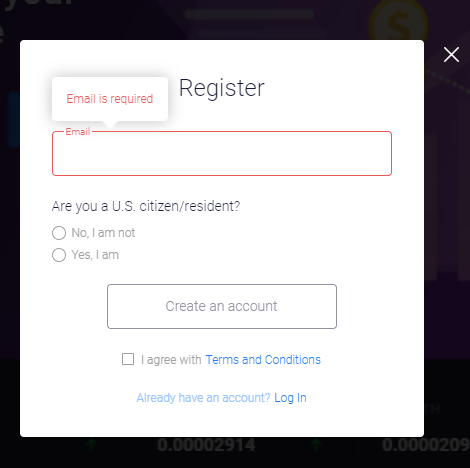 This would lead to a drop-down menu where you would input your email and answer a question about whether you are an American citizen. After filling the form and submitting it, a confirmation mail would be sent to your inbox.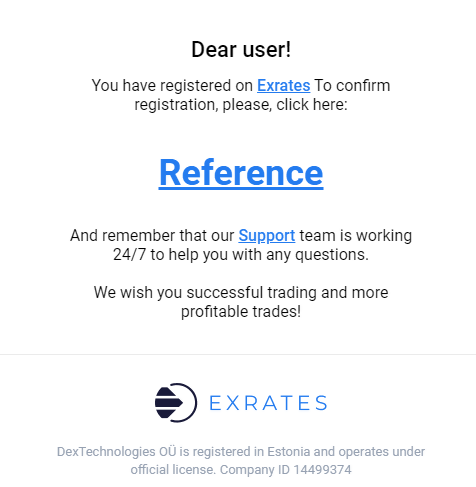 Click on the reference prompt to confirm your email which would lead to a page for password confirmation. Input your desired password twice and click register to complete the login process.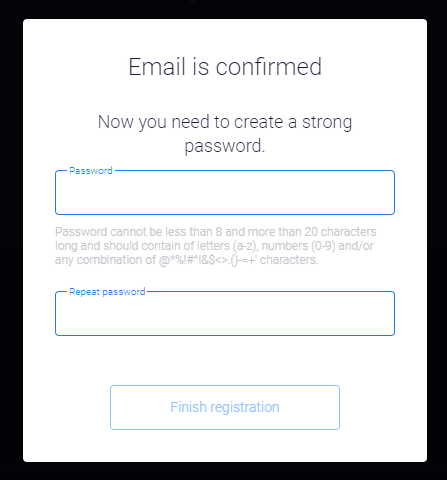 You would be redirected to your personal page with all the cryptocurrencies supported by the platform arranged in alphabetical order. You can deposit funds into your preferred wallet to begin trading.
Trading Platform
Exrates integrates a user friendly and simple interface for users. This could be partly due to its target audience consisting mainly on novice traders. The interface contains the minimum tools that a trader would need for transactions.

The order book is placed beside the chart provided by tradingview. The order book is comprehensive with constant changes to the volume of the pairs viewed. In addition, the chart has several tools despite its simplicity.
users can view real-time movements of prices and use different tools to make analysis regarding trades. Just below the order books are the different orders that traders can make on the platform.
Like most crypto exchanges, Exrates only offers Limit orders and Market orders. This is arranged in a way that traders can easily buy and sell coins with up to 100% leverage trading available.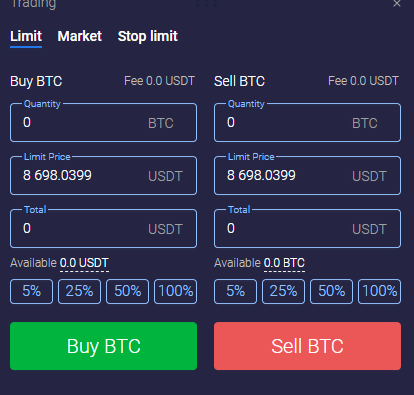 You can also view the history of your Buy and Sell options in the history tab of the trading platform.
Exrates excels with the number of trading pairs options offered with the coin dividing the markets into Top market consisting of the popular coins (BTC, ETH, USD, and USDT) and junior markets which features obscure coins.  It is also easy to switch between the two options easily.
Customer Support
Exrates offers a comprehensive customer support system that features different options for users to table complaints. The site offers online chat, email as well as a ticket option for its users.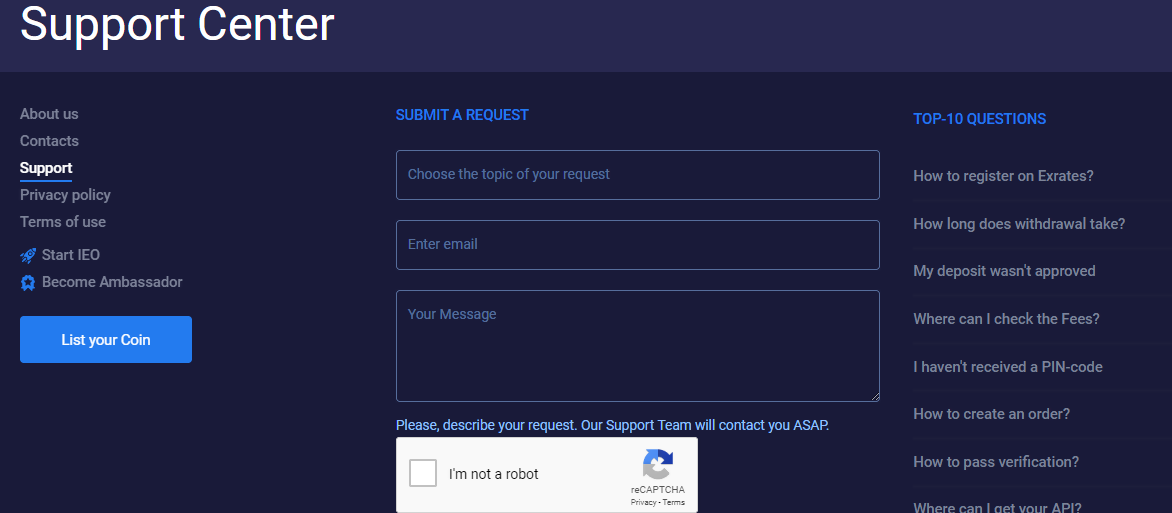 Despite this, there have been complaints from users that responses on the customer support chats are automated. Email responses have also been said to be slow and take time for response.
Its FAQ section is well designed with the major questions that customers complain about treated with practical solutions. However there are still some missing features that we feel can be added to the customer support section.
For example, there is no phone call option and the website does not specify how long cases are treated by its customer service personnel.
Pros Of Exrates
Low trade fees
Exrates has some of the lowest transaction fees in the crypto market at just 0.2%. This is partly why the exchange has been able to thrive and achieve its userbase of over 120,000 customers. Its transaction fees of 0.2% is lower than the average fee in the market which is typically close to 0.5%.
Multiple Coins Supported
As said earlier, Exrates supports multiple coins and gives traders wide options for trading. The popular coins such as Bitcoin, Ethereum, Litecoin, Tron and XRP are supported by the platform. In addition, there are over 100 crypto pairs available on  the exchange which is a decent amount for any crypto exchange.
Fiat Currencies Supported
Exrates offers users access to purchase digital assets directly with cash in their local fiat currencies. This ensures that many mainstream traders can access cryptocurrencies as the platform supports popular fiats like the USD, AED, NGN CND and many more.
It is also easy to deposit funds to the platform with different payment options such as debit cards/ credit cards accepted for payment.
Several users have attributed this feature as the driving force behind the use of the exchange for crypto transactions.
Good Liquidity
Exrates trading volumes are not too low for most pairs with the exchange maintaining the right levels of liquidity. This is not surprising, given that the crypto exchange has been in the business pre-2017 when the crypto boom occurred.
Nice Trading Interface
Exrates user interface is nice, easy to use and functional for both advanced users and newbie traders. It features tools such as order books, online chat, trading history menu and many more.
The price chart also has some cool features that make it easier to monitor price changes and trends.
Exrates Cons
Not enough Information About The Parent Company
Exrates provides little information about the company behind it and there are some controversies regarding the founders and management of the exchange. This is indeed poor for a company expected to deliver good financial services.
Poor Mobile App
Exrates provides mobile apps for Android and iOS users as it looks to optimize trading on a smaller screen. However, looking at the reviews from the Android PlayStore and Apple Store is disappointing.
There are negative comments from users suggesting that the mobile app is a half-baked effort from the crypto exchange.
No Margin Trading Option
As with the case of most cryptocurrency exchanges, users cannot access margin trading in digital currencies. The only trading options available on the platform are Limit and Market orders. 
It is not known whether the crypto exchange plans to add this option in the near future.
Is Exrates Safe?
Exrates from our review is a safe cryptocurrency exchange to use as it offers similar options like other popular exchanges such as Binance and Bithumb. 
One of the things we liked is that it supports a lot of fiat and cryptocurrencies. We also like that user's data are kept secured using end-2-end encryption technology.
The only major cons that we could point out is the lack of information regarding the management of the firm. As well as the lack of margin trading on the platform, which is a reoccurring issue for most crypto exchanges.
In conclusion, Exrates is a good platform for beginner traders that want easy access to purchase and trade crypto assets from their local currency.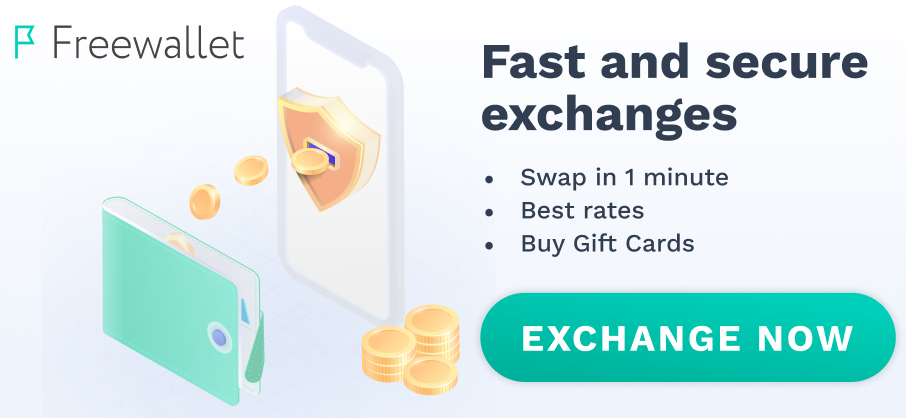 Scam exchange, can't withdraw your coins
exrates is scam, you can't withdraw your coins. do not use this exchange